Fishing report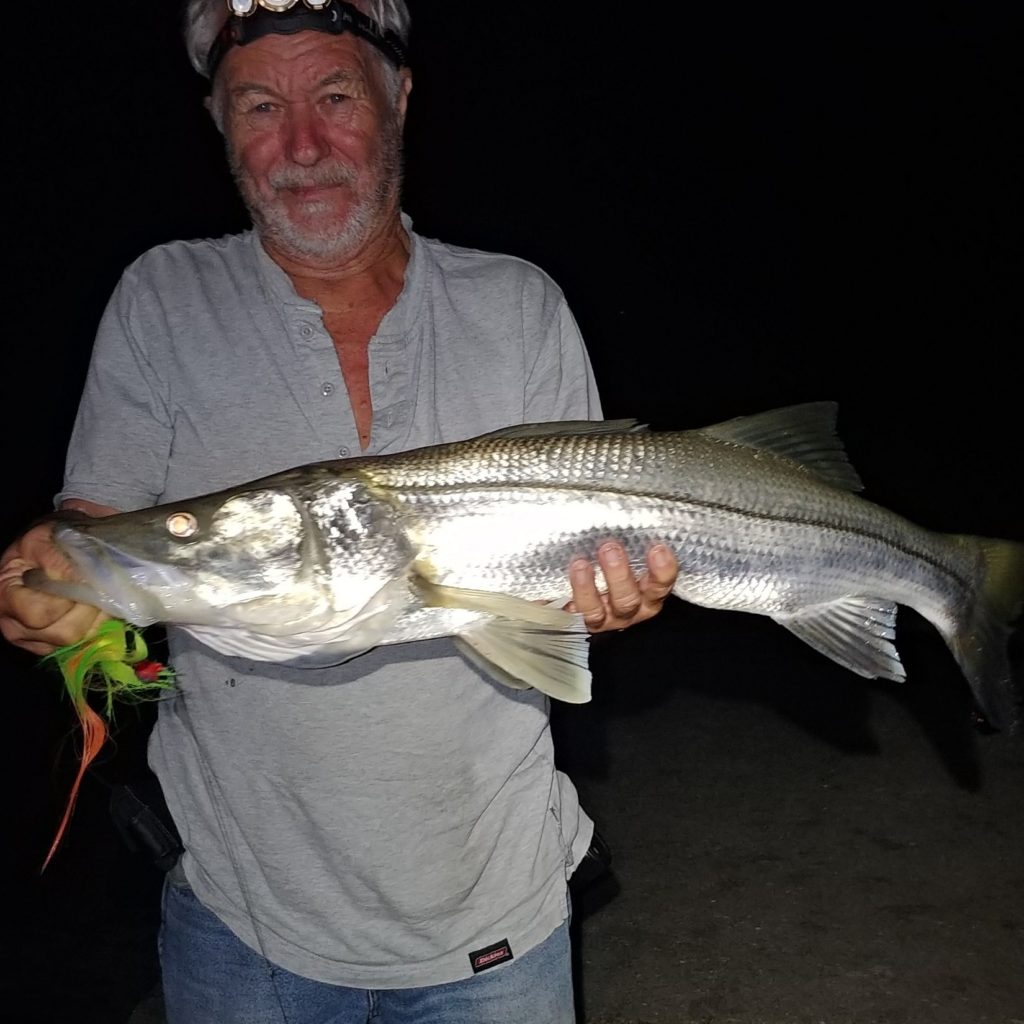 Inshore- This week's fishing around the pass has been a little tougher with the warmer water, but the night bite has still been going well. We have seen the snook and redfish biting well around the docks inside Johns pass. Smokey, our all day first mate, and Myself, Capt Dylan Hubbard, caught a few nice snook and a upper slot redfish off the dock Thursday morning using pinfish for bait under the dock around four thirty am with hand lines. The local snook guru, Mr. John Sasser, reported he had a tough week for snook catching only landing one big one that was photo worthy but he did say he had caught a few more that just weren't worth taking photos. He loves using the chartreuse and pink rattlehawk flairhawk jigs from the north jetty of Johns Pass right at the start or end of the incoming tides. The trout have been around the pass too! Out on the beaches they are catching the speckled trout in the sandy troughs running parallel to the beach as they are hunting down the live shrimp along the beach and the small whitebait moving along the shore. The night time has the trout stacked up in the dock lights around the area too, especially with the new moon there's not much light around other than the dock lights. Due to this, the bait and predators alike stack up in the dock lights, bridge lights and any area that can shed some light on the situation. Great time to get out there and hit the lights at night during the full moon, especially the residential canals near the passes. One of my favorite areas is around blinds pass the little points and pockets inside that pass hold some serious fish on their docklights, but the same is true around pass a grill, Clearwater and Johns Pass too. Flounder have been around but they are fairly few and far between right now in the area. We still have tarpon around for now, they typically will hang around until September. Most of the time you can find them in the passes at night or heading out of the pass around sunrise then they will move up and down the beaches during the day in small schools around 50-100 yards from shore hunting for mullet, crabs, and big white bait like threadfins. Mangrove snapper are thick around the bay, passes and shorelines where they can find structure to hide out around and ambush the prey that passes by in the current. Great time of year to hit the bridges, jetties or docks close to the passes to chum up a cloud of these aggressive and good eating mangrove snapper on some light tackle.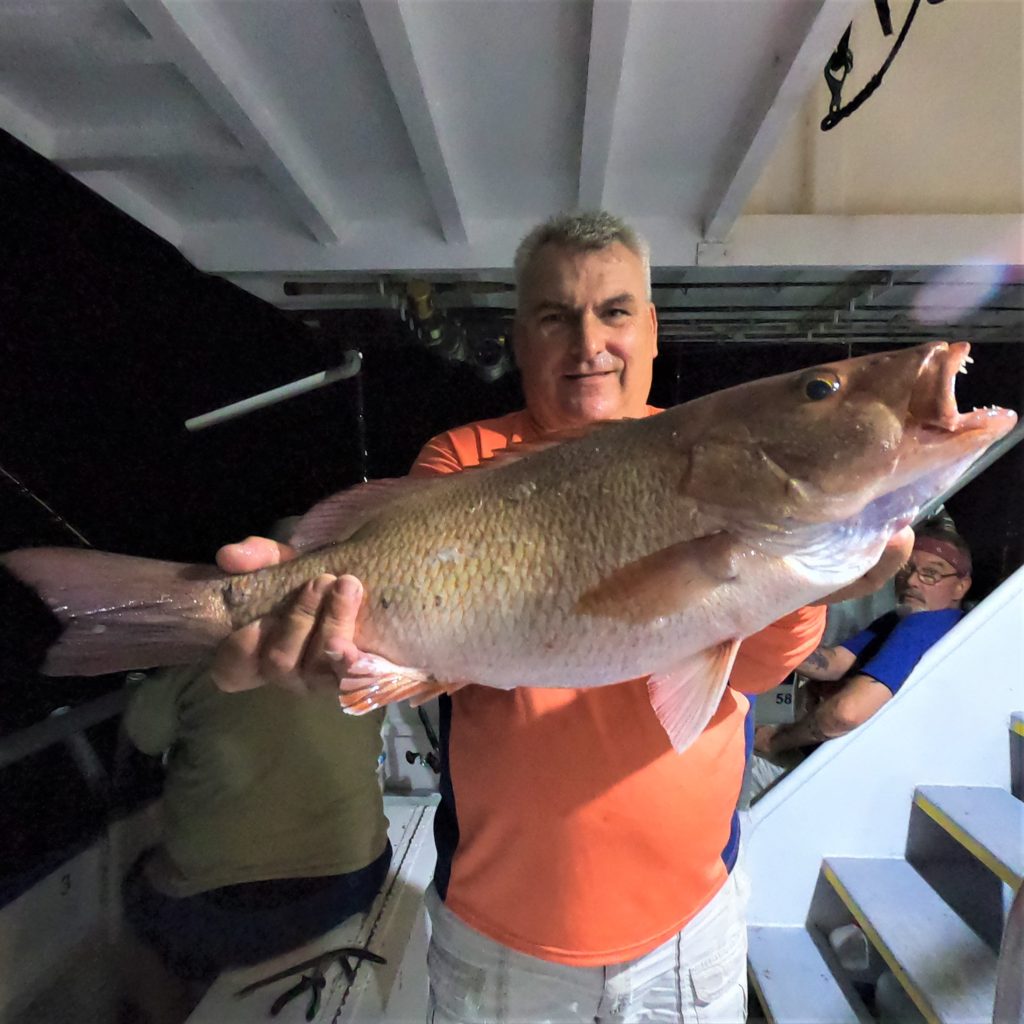 Near shore- The night time 12 hour night mangrove snapper trip has been doing well on the snapper species. We target the mangrove snapper but we also catch plenty of the lane snapper, vermillion snapper and porgies with the occasional yellowtail snapper mixed into the catch. We fish the deepest near shore waters aboard this trip which is where I would recommend starting any bottom fishing trip this time of year with the water as hot as it is. The double snell rig with a threadfin plug is by far the BEST option to get these smart, quick biting and good eating snapper species into the boat. In the near shore waters, out to around 20 miles I would use around 30-40lb floro leader with 4-5ot double snelled hooks with 3-4oz leads on a high speed conventional reel with a super light sensitive 20-40 or 30-50lb rod with a decent back boat too it in case you hit the jackpot hooking into a near shore gag grouper or red grouper while targeting these snapper species. The two speed reels are great for this reason, it's like having two reels in one and with the press of a button your able to quickly 'shift gears' or change reels while fighting a fish. I typically prefer my daiwa saltiga or daiwa saltist ld 50 two speed reel and I fish in high speed with the lever drag in 'strike' with around 75% of the drag capacity. Then if I hook up to a big fish that giving me a tough time a quick press of the button and slamming that lever forward I am now downshifting to a much lower gear with 25% more drag and it makes a WORLD of difference if you do happen to hook into a larger fish while targeting those smaller quick biting fish like the mangrove or yellowtail snappers. I love my custom Hubbard's Marina Bull Bay Rods for this type of fishing since they have the ultra-light feel but still have ultra-power and crazy sensitivity. Plus, they have an extra-long butt for more comfort and to help keep the reel further from your body for more power. Also, we have added a unique fore grip with a crisscross pattern to allow for better and more comfortable grip as well! We even have some spinning rods custom made from bull bay rods for our Hubbard's Marina tackle shop to specialize in the hogfish or mangrove snapper near shore fishing or for offshore knocker rigging too!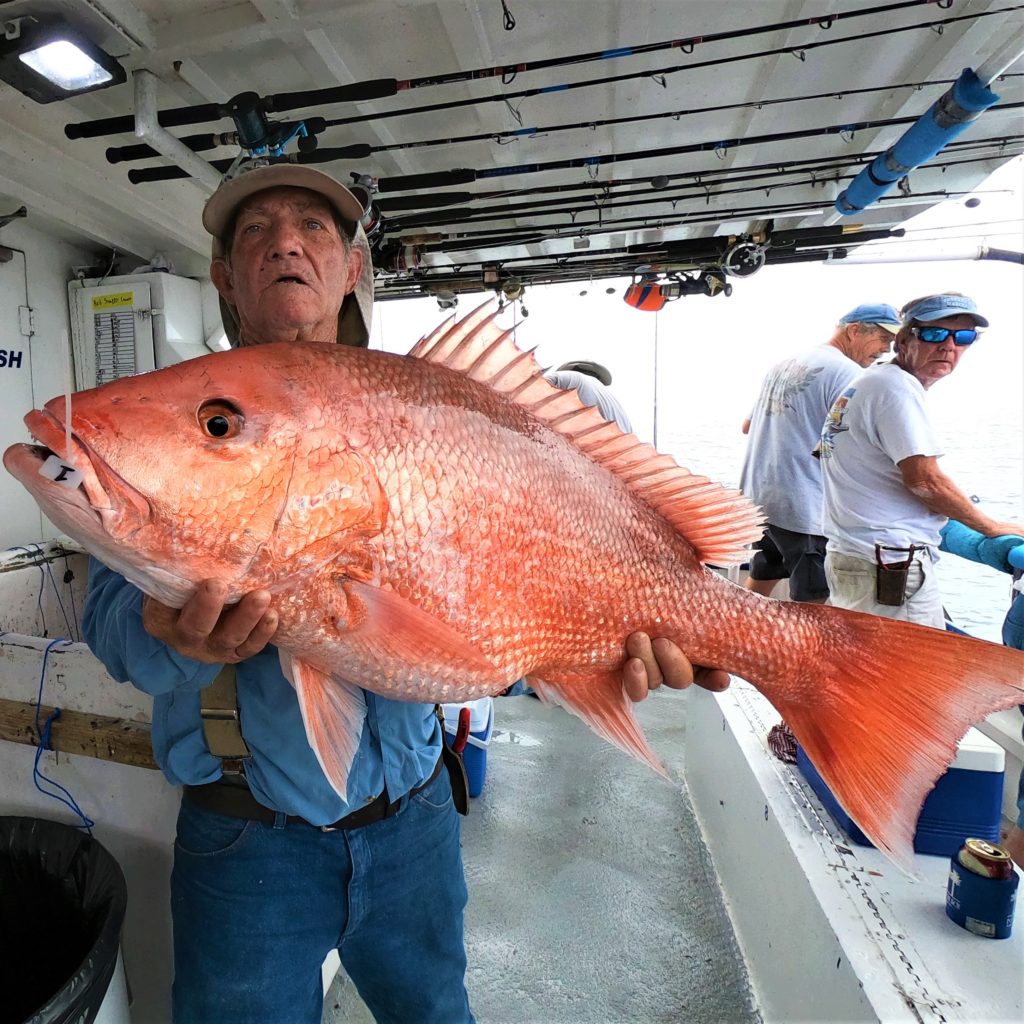 Offshore – Our red snapper season has now officially closed for now, however, if we did not reach the full quota there's a slight possibility of a later season perhaps that may open. If we get any wind of this information, we will for sure keep you informed via this newsletter and also our Facebook page as well. The chances of this happening are pretty low, but we are pushing for this since we had so many bad days of weather this season the assumption is there's a big possibility there's still quota left on the table for us to go catch later in the year. Same applies to the private recreational red snapper season that the FWC controls. The FWC already plans on an October opening if they have any private recreational quota left on the table, however, any FWC season openings will not apply to our boats since we are federally managed and under federal jurisdiction as far as our fishing seasons and quota goes. Besides the red snapper, our Amberjack season just opened yesterday August first and that season will be open until the end of October. At least that is the plan, were hoping and praying they will not close the season early but time will tell on that because they do have the option and ability to close down the amberjack based on the quota. The big amberjack love some big live baits like the porgies, mullet, spadefish, blue runners, or whatever else you can find that's big and lively and ready to get eaten in depths greater than 120-130ft of water. We start to see the jacks around that depth but the best area to target them is around 150-200ft or deeper up to around 300ft. We are seeing some BIG amberjack in the 40-70lb range out deep right now but the big mass of fish haven't shown up in our area yet. They definitely get more consistent later in the year when the water cools off, so later in the season closer to the end of October is when the bite will be at its best, but then again you run the risk of the season perhaps and possibly closing early so it could be a gamble waiting for the end of the season when the bite should be better. Our mangrove snapper bite has been going well out there around 130-150ft of water on the double snell rigged threadfin plugs with 50-60lb floro and double snelled 6ot hooks. Gag grouper have been a little hit and miss with some trips catching good numbers while other trips struggle more to find high numbers, but we are catching them in decent numbers for how hot the water is. The reason we are is due to fishing deep, you MUST go deep where the waters are cooler to find the gags this time of year!
Want to watch Capt Dylan Hubbard's Daily video reports? Check out the Hubbard's Marina YouTube channel and don't forget to SUBSCRIBE! – Hubbard's Marina daily fishing & boating report
Upcoming up at Hubbard's Marina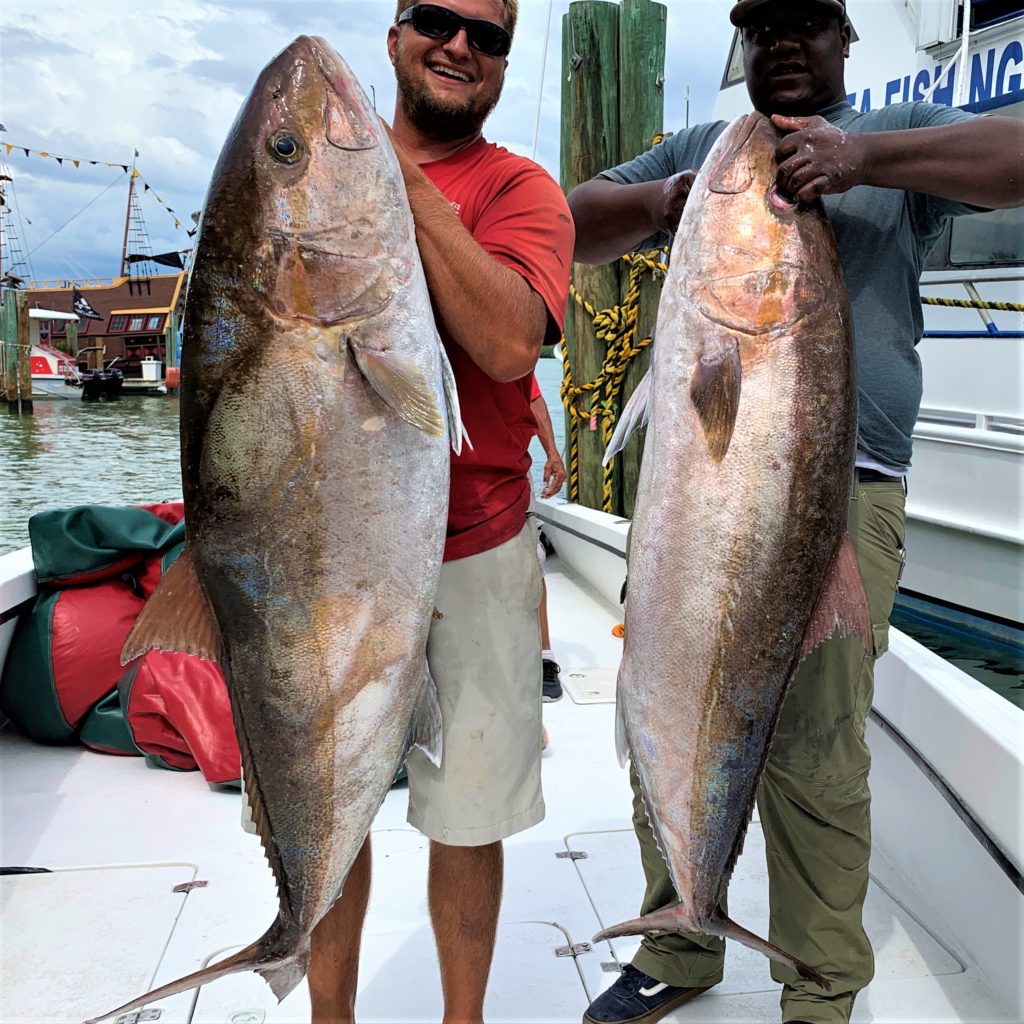 Red snapper season is OVER, but AMBERJACK season is now open for three months! Plus, we still have TONS of other great fish to catch too! Jacks opened yesterday August first and they will remain open until end of October, Hopefully! PLUS, we have gag grouper season running until end of December if you want to get out for some big grouper action. The gags bite best in October, November and December but we are seeing some good ones currently too. If you join us in the next three months you have a chance for ANYTHING in the gulf besides the red snapper and triggerfish! Join us for a 12 hour extreme, 39 hour, or long range private charter for the amberjack and gag grouper fishing! Call us at (727)393-1947 or book online at -> https://HubbardsMarina.com
Want to WIN FREE FISHING TRIPS? Come out to join Capt Dylan Hubbard for one of the Sunday night live stream shows coming up, or for the NEW August 10th Bass Pro Shops seminar coming up Saturday August 10th at 2pm! Check out our events page on our site to see more info on both these great events -> https://www.hubbardsmarina.com/events/
Fox 13's Good Day Tampa Bay show has picked up a fishing segment with Capt Dylan Hubbard Scheduled for every Friday morning starting around 8:15am! These segments will have tons of fishing tips, tricks, updates and more. Please tune into Fox 13 on Friday mornings to watch the show and if you are not local, you can watch it LIVE on their website -> http://www.fox13news.com/live
Enjoy learning more about fishing? Attended a seminar or watched our LIVE Q&A show Sunday nights but want to see the tips and tricks in action on the boat? We have filmed a mangrove snapper, grouper and red snapper mastery course with Salt Strong and they built me my own private page to give my fishing friends steep discounts on these crazy cool courses… PLUS, you also have the opportunity to become an insider member and join the community with great giveaways, raffles, the strike score tool, spot dissections, tons of free fishing videos and tips for inshore, near shore and offshore and MORE this is a super cool family of anglers and the positivity and openness of anglers is wild in this group… in the community people share what they caught, when the caught it, what tide they caught it, what bait or lure they caught it one and often WHERE they caught it too… you HAVE to check this out if you like fishing: https://SaltStrong.com/Hubbard
Captain Jack's dolphin corner
We have tons of fish action around the back bay waters right now like big schools of jack crevalle and ladyfish that have the local dolphins working in big teams to school up these aggressive fish and feed heavily on them! It makes a great view from our dolphin cruise big blue boat. Plus, occasionally they will even play 'catch' with their caught fish to teach the juvenile dolphins how to better utilize their sonar and learn to hunt the fish more effectively.
Besides the big pods of feeding and active dolphin we are seeing large herds of manatee cruising our local back bay waters which makes a great view from our daily dolphin watching nature cruise and eco tour boat! These big slow moving animals are so unique to spot around the bay since they can hold their breath for so long, but since they are in larger groups that makes it much easier to spot the group moving around the grass flats or sand bars.
The local waters are really clearing up too since we haven't had any heavy rains lately and the new moon has been bringing us lots of fresh water influx so the clearer waters make spotting the dolphins, manatees and occasional other wildlife even easier and the cruises much more beautiful as well!
Call us today to book your dolphin tour at (727)393-1947 and get more information on this trip at our website here -> https://www.hubbardsmarina.com/dolphin-watching-cruises/
Tampa bay ferry News
The islands are waiting for you and your family to come visit for the day, it's a great time of year to go out and enjoy the beautiful island paradise! The crowds are dissipating as the kids are going back to school making it even more enjoyable at the islands and making the shells even more bountiful. Plus, the lack of rain as of late has really helped clear up any of the mosquitoes that were around the island paradise!
We are seeing lots of dolphins, manatees, sea turtles and even some rays while cruising to and from the islands thanks to the super clear waters we are seeing on the big incoming tides around this new moon phase!
The Egmont key ferry from Fort De Soto offers 10am and 11am ferry rides to the island daily this time of year, plus on Tuesday, Thursday and Saturday we offer a 2pm ferry ride from Fort De Soto out to Egmont Key Island! You get three hours on the island after around a 20-30 minute ride out and back to the island. Plus, we often see dolphins, seabirds and sometimes even sea turtles on the ride out and back thus the ride time can fluctuate a bit depending on what we spot during the cruise out to your island oasis! For more info on the Egmont key ferry, visit this page of the Hubbard's Marina website – https://www.hubbardsmarina.com/egmont-key-ferry-cruise/
Our Shell key ferry trips are a great way to spend the day and offer more flexible schedules compared to the rigid Egmont key schedule! We offer these trips DAILY from the boat ramp at Fort De Soto County Park and they run at 10am, noon and 2pm and the final return time is 4pm! You have much more flexibility during the shell key trips compared to our Egmont key ferry because you get to choose the time you return to fort de Soto from Shell key! If you're looking for plenty of time on the island and great shelling opportunities then the shell key ferry trip is your best bet! Check out all the information on this special ferry ride at this link – https://www.hubbardsmarina.com/shell-key-ferry/
Regular's club
Hey guys, we have our 2020 clubs starting up around the end of November or Early December. If you are interested in signing up or learning more about our loyalty program that will make it more affordable for you to go fishing even more often then make sure to reach out to Capt Dylan at his email below!
If you are an existing regular's club member make sure to start paying close attention to those special regular's club email newsletters as the announcements start to come about the renewals for the 2020 clubs!
Captain Dylan Hubbard
Vice president and Co-Owner
(727)393-1947 ext. 306
CaptHubbard@HubbardsMarina.com
UPDATED Coupon information
25% off Hubbard's Marina branded apparel for your next offshore adventure or day of fun in the sun!
Expires August 9th, 2019
While supplies last
Must have coupon in hand, or electronically to present
Preferred partner spotlight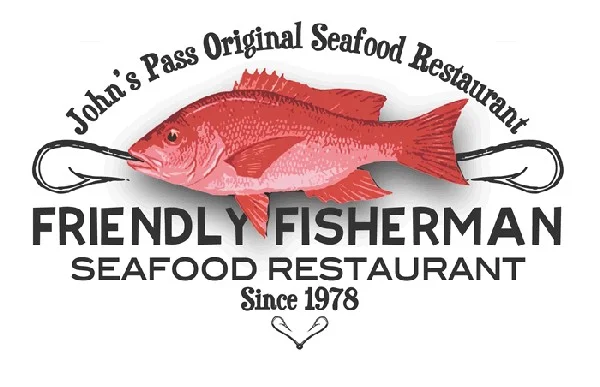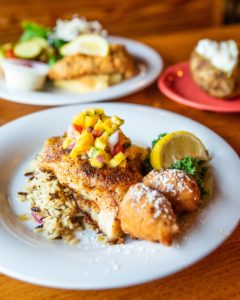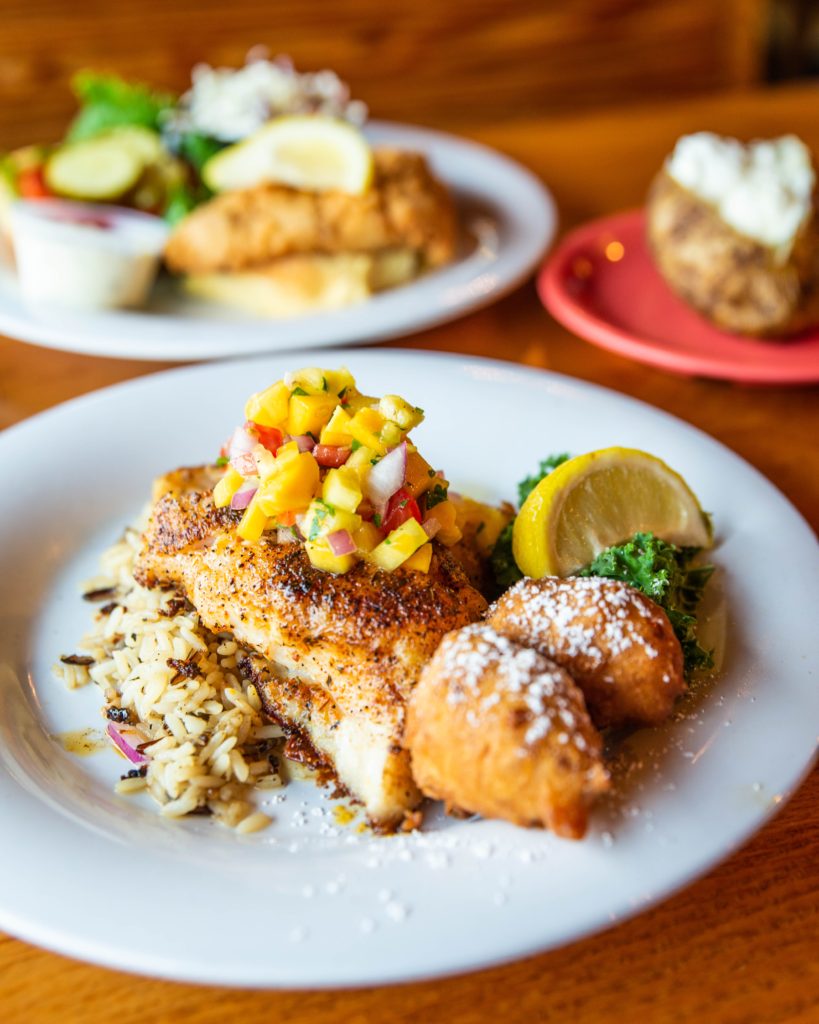 It's grouper week from St Pete Beach to Clearwater beach, come join the Friendly Fisherman to Celebrate this once a year grouper celebration in style with some of their incredible fresh grouper options in their upstairs water front view dining area, or downstairs at their on the water deck and bar!