Travel to an uninhabitated barrier island with white sand, warm water and shells galore!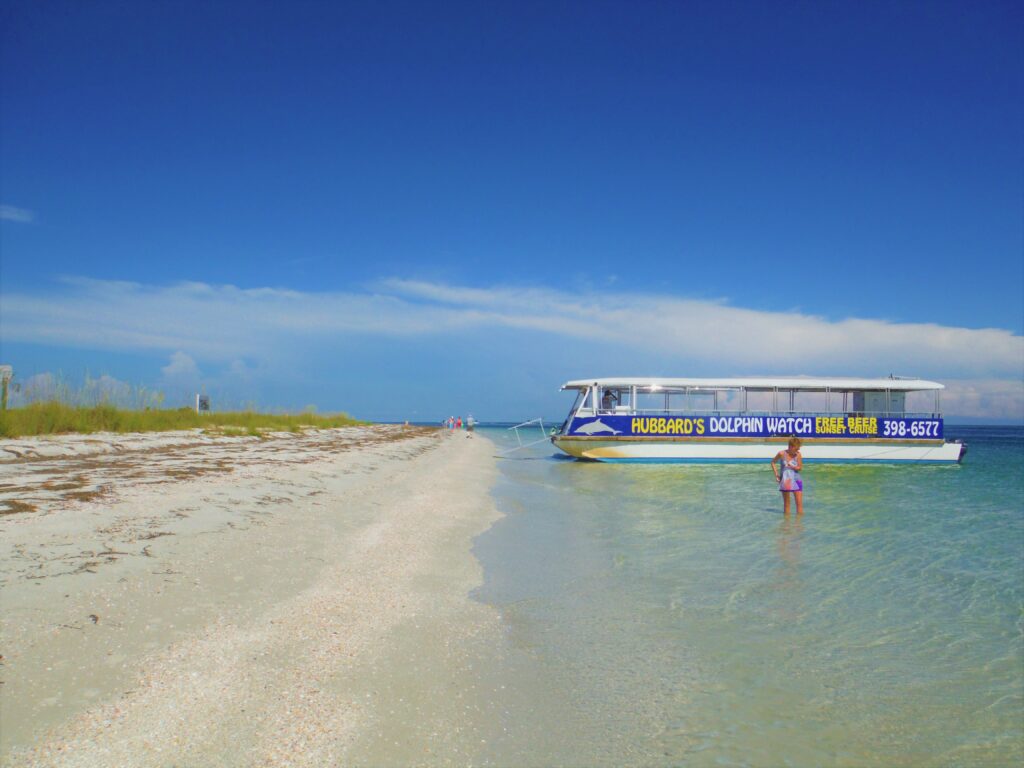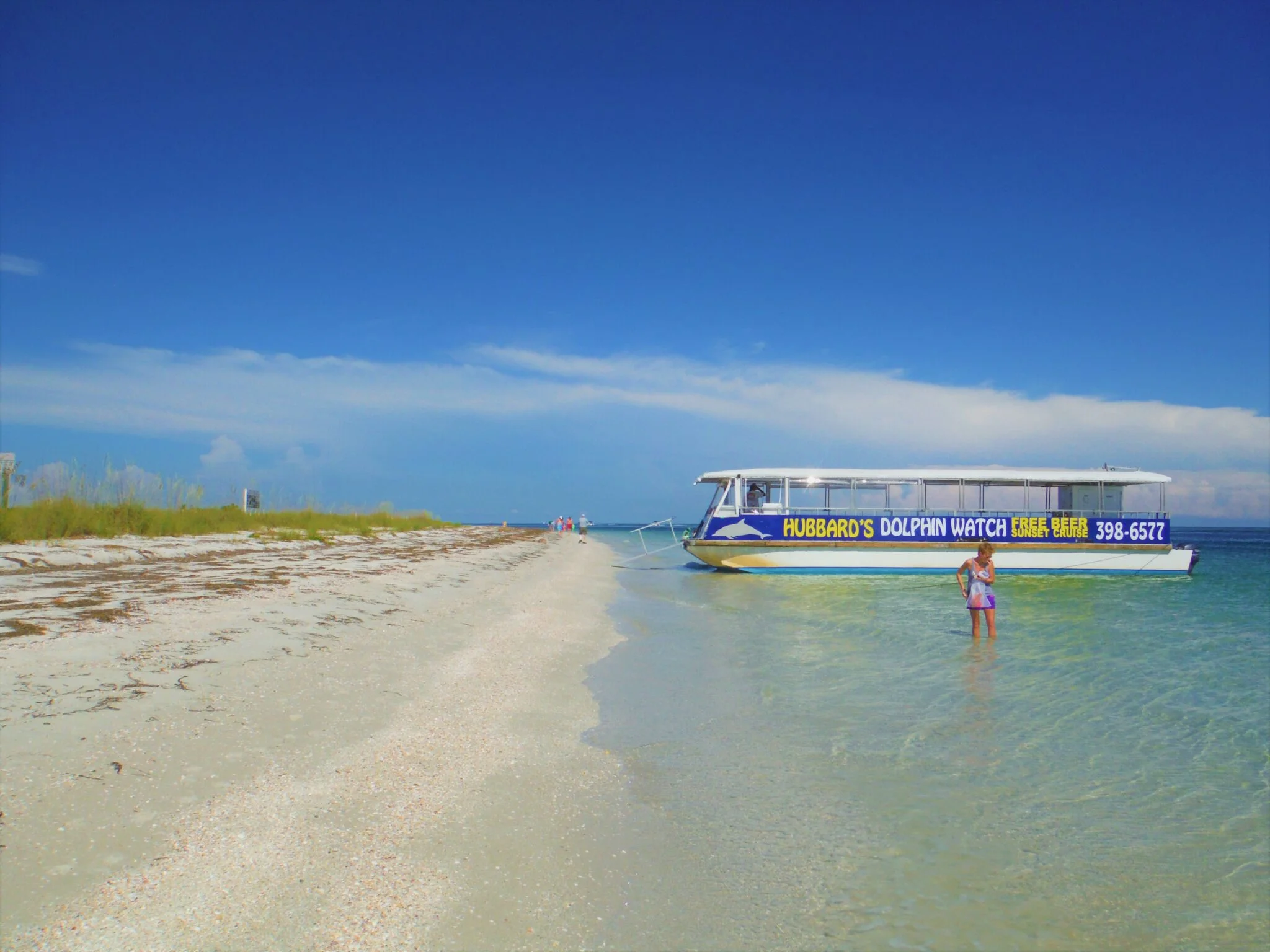 Discover the hidden gem of Shell Key, an uninhabited barrier island with pristine white sand, warm water, and abundant shelling opportunities. Join us for a scenic ferry ride from the Fort De Soto boat ramp and spot dolphins, sea turtles, and even manatees along the way. Our ferry operates daily during peak season and nearly every day in the fall and winter, providing easy access to this natural wonder.
For an unforgettable adventure, try camping on Shell Key, accessible with a "camper" ferry ticket and a camping permit. This secluded island, home to a large nature preserve and an abundance of nesting birds and sea turtles, offers an epic night under the stars.
Before your ferry ride, make sure to pack for a day at the beach, including sunscreen, towels, and sun protective gear. There are no facilities on the island, so come prepared with a cooler of food, drinks, and water. While the ferry boat is docked, you can use the bathroom and purchase snacks, soda, and water from the galley on board. Book your ferry ride to Shell Key today and experience a unique and unforgettable day in the sun!
You cannot bring alcohol, glass, pets, kites, or drones to the island because it is a  wildlife preserve and these items are prohibited.
Quick Details:
Duration: 3-7 hours | Options of pick up times
Departure Times: (from Ft Desoto): 10am, 12pm, 2pm Daily until Labor Day. 
Labor Day – beyond: 10am, 12pm, 2pm – Wed, Fri, Sat, Sun, Mon. 
Pick up Times: (from Shell Key): 12:30pm, 2:30pm, 4:30pm Daily
Capacity: 49 Passengers | Groups larger than 4 require 1 form of payment. 
Trip Type: Family Friendly (No smoking allowed on trip)
Cruise: Travel to an uninhabited barrier island with white sand, warm water, and shells galore, you can even spot dolphins, sea turtles, and maybe even some manatees!
Camping Available: we offer an overnight experience on Shell Key! All you need is your "camper" ferry ticket, a camping permit from Shell Key and all your camping gear to have an epic night under the stars.
Multiple Departure Locations: This trip departs from Fort De Soto, If you are looking to depart from "John's Pass in Madeira Beach" Click Here
Cancellation Policy: 24 hours notice or more required.
No Call / No Shows – 100% of trip fare.
Cancellations within 24-hours – 50% of trip fare.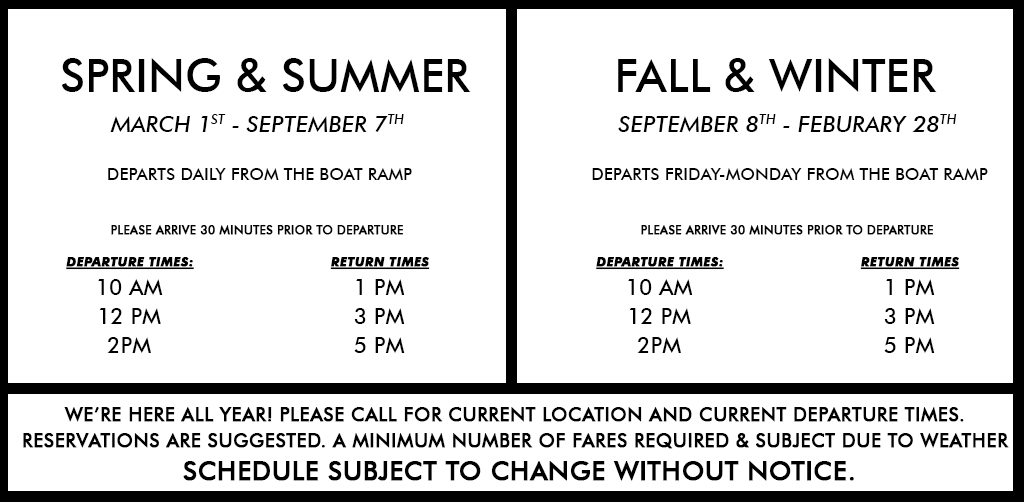 Experience a one-of-a-kind adventure with Hubbard's Ferry – the exclusive ferry service to and from Egmont Key and Shell Key, a family-owned and operated business since 1928. Explore the pristine beauty of Shell Key, a white sand island in Florida, surrounded by warm waters and abundant shelling opportunities. This island was formed from a neighboring island in the early 1990s and has been designated as a Wildlife Preserve by Pinellas County.
Begin and end your journey at Fort De Soto, a historic military outpost built during the Spanish-American War, listed in the National Register of Historic Places, and now Pinellas County's largest park. Explore the fort's unique features, including 12-inch rifled mortars and two British breech-loading 6-inch Armstrong rapid-fire guns. This beach park has been rated the number one beach in the United States.
Join us on a daily ferry ride to Shell Key and enjoy a day of fun in the sun. Pack like you're spending the day at the beach and come prepared with sunscreen, towels, bathing suits, sun-protective gear, food, and drinks. Shell Key is a pristine island without any shops or restrooms, so make sure to bring everything you need. Take advantage of the opportunity to camp overnight on the island, with just your camping gear, ferry ticket, and a camping permit from Shell Key. Come and discover the natural beauty and historic significance of this Florida paradise!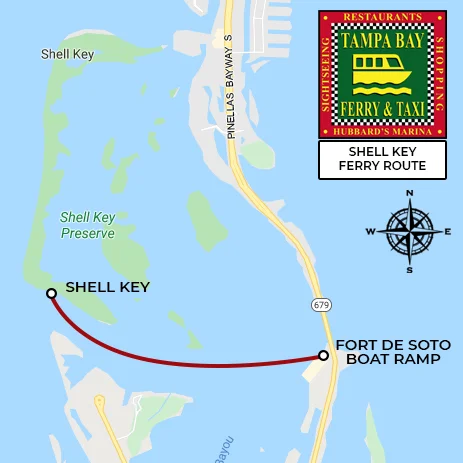 Cruises we think you may like
PARKING AT FORT DESOTO / SHELL KEY
There is a $5 fee per car, Payable by Plate with multiple kiosks available to enter Fort De Soto or the Shell Key Lot.  This fee is to enter the county park and is not something we have control over. However, we wanted to make sure you were aware of this fee. Also, depending on your route to the park there will be at least one small toll to pay. Also the boat is entirely cash only so it does help to come prepared with some extra cash above the cost of the trip.