Fishing report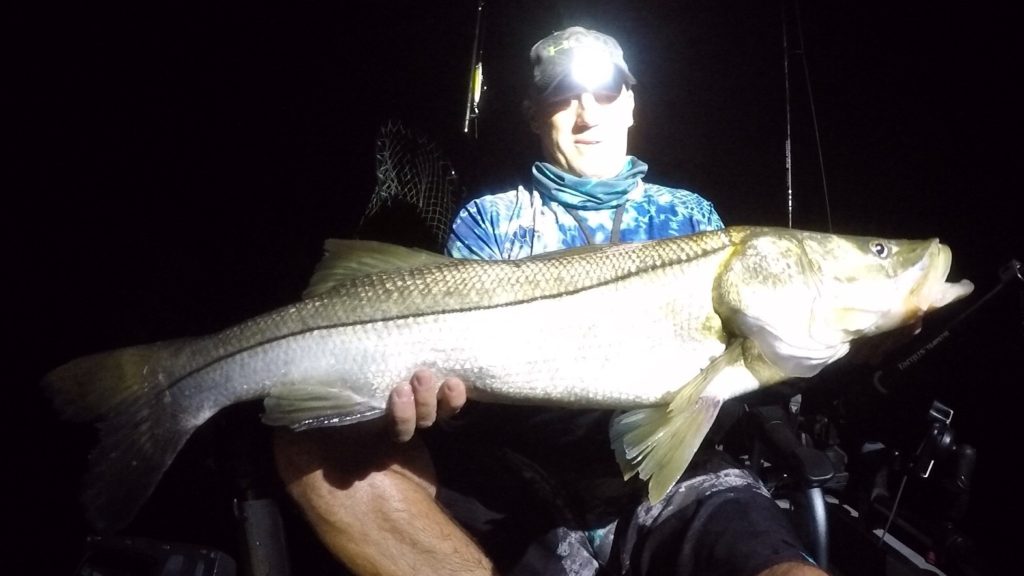 Inshore- We had a very rainy end to the week but the fishing has been good inshore. Early in the week we had the snook stacked up in the pass feeding very actively overnight on the passing live shrimp and pass crabs. However, by the weeks end the water had gotten pretty dirty in the pass from all the rain so you can see the snook as stacked but you could still hear the tell tale 'popping' of the active snook feeding well in the pass. Many snook anglers love the rougher rainy, windy and wavy weather claiming they actually bite best in that turbulent condition. No one proves this more than our friend and Johns Pass legend, Mr. John Sasser from Largo. He caught a few nice snook this morning when the 4ft waves were crashing into the jetty and the rain was coming through in close waves of torrential down pours before the lightning ran him off. The raising tide has been his most successful time with the fish crashing his rattlehawk jigs closer to the rocky jetty on his retrieve. The outgoing tide is working out well for me from the dock especially earlier in the week drifting out some medium to large live shrimp on a 3ot circle hook with 50lb floro and 30lb braid on a 4000 series daiwa saltiga reel and our custom Hubbard's Marina Bull Bay rod just slapping snook around the docks and bow of the boats as the shrimp nears the structure the snook just can't help themselves. Crabs are definitely the best baits if you can net one of those in the passing current since they stay right on the surface and their swimming legs disturb the surface which rings the dinner bell for the snook waiting on the down tide side of the structure to ambush passing prey in the lee of the current. Whether your free lining live baits or working artificials its very imperative to 'think like a fish' where are they tucked in to avoid having to fight the current. These snook are ambush predators feeding opportunistically on passing baits that wander to close to the structure they are set up behind. Always remember to present your bait naturally within reach of those snook lying in wait.  We are also seeing some nice trout caught at night around the lights of the bridge and the dock lights around Johns Pass with live shrimp or small white bait free lined out there, or the slow moving DOA shrimp. The redfish have been few and far between but some real pigs were caught this past week with dead bait weighted to the bottom or the bigger live shrimp weighted to bottom around the docks and under the north side of Johns Pass Bridge. Mangrove snapper are also thick around the pass especially along the south side of the pass where it's deeper and more rocky where those mangrove snapper can hide out in larger concentrations to feed on the white bait and shrimp moving through the pass. The light tackle, minimum weight and pieces of shrimp or greenbacks are a great way to target these prolific and quick biting great eating snapper inside Johns Pass.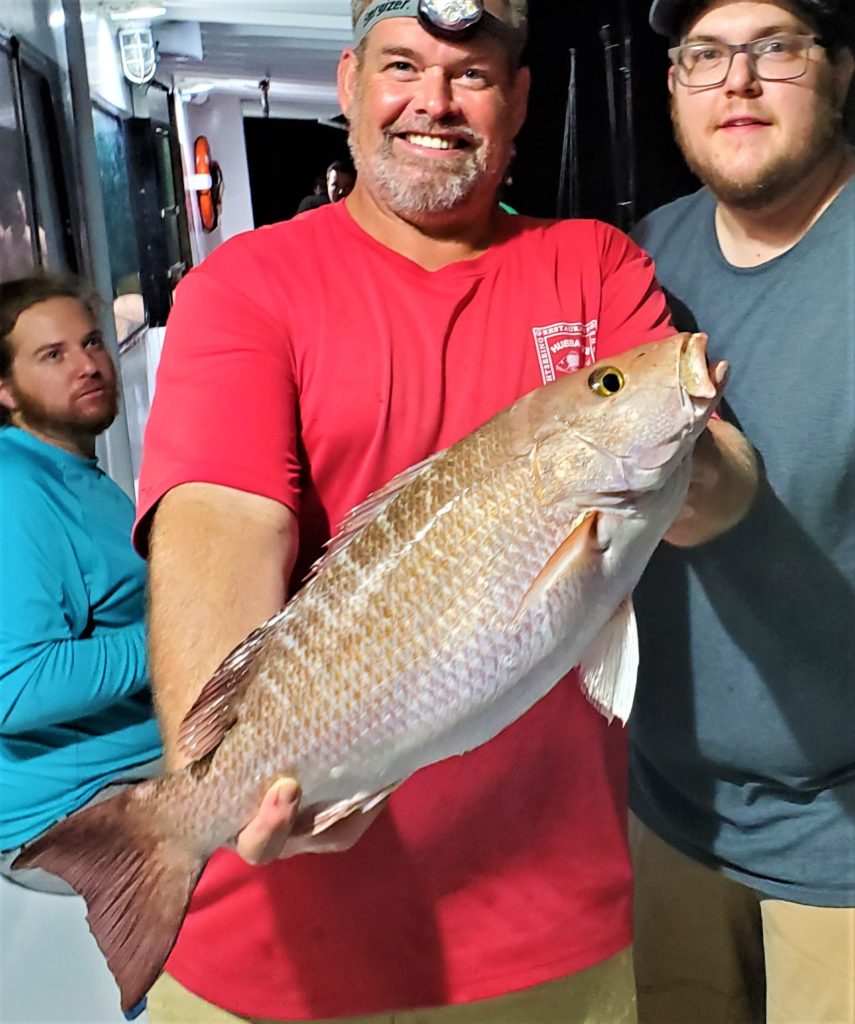 Near shore- The 12-hour night snapper trip this past Friday did pretty darn well on some nice mangrove snapper, fat lane snapper and some vermillion and porgies. This was fishing the deepest near shore waters at night for those snapper species. The double snell rig with the threadfin plug is my favorite way to target these quick biting and intelligent mangrove snapper. Cut the head and the tail from a threadfin and trim off it's belly and you got a really nice piece of meat to thread onto your double snell rig with around 5ot hooks near shore like this. 40lb floro and 4-6oz lead and a high speed reel with a very sensitive rod with a decent back bone like our 20-40lb custom Hubbard's Marina Bull Bay Rod is a great option and set up for near shore mangrove snapper slaying. This combo and technique works well for a variety of snapper species near shore and even offshore and even during the day too. I fish this method 90% of the time while near shore or offshore fishing from 60-200ft of water when targeting most any snapper species but when moving deeper the leader size and hook size does gradually step up to bigger and stronger varieties. Near shore though the best action is from 80-110 foot of water for those mangrove snappers. Plus, mixed in with the mangroves on the ledges and rock piles you will find some nice sized lane snapper in that depth of water with the plentiful vermillion and porgies mixed in for a good variety in your catch. The red grouper action near shore is still okay, but its definitely slow compared to years past when this time of year would be prime for red grouper drifting around 60-100ft of water with the squid strips and 60lb test and 6ot hooks and 6oz leads. However, you can still pick a few off here and there around these depths even now.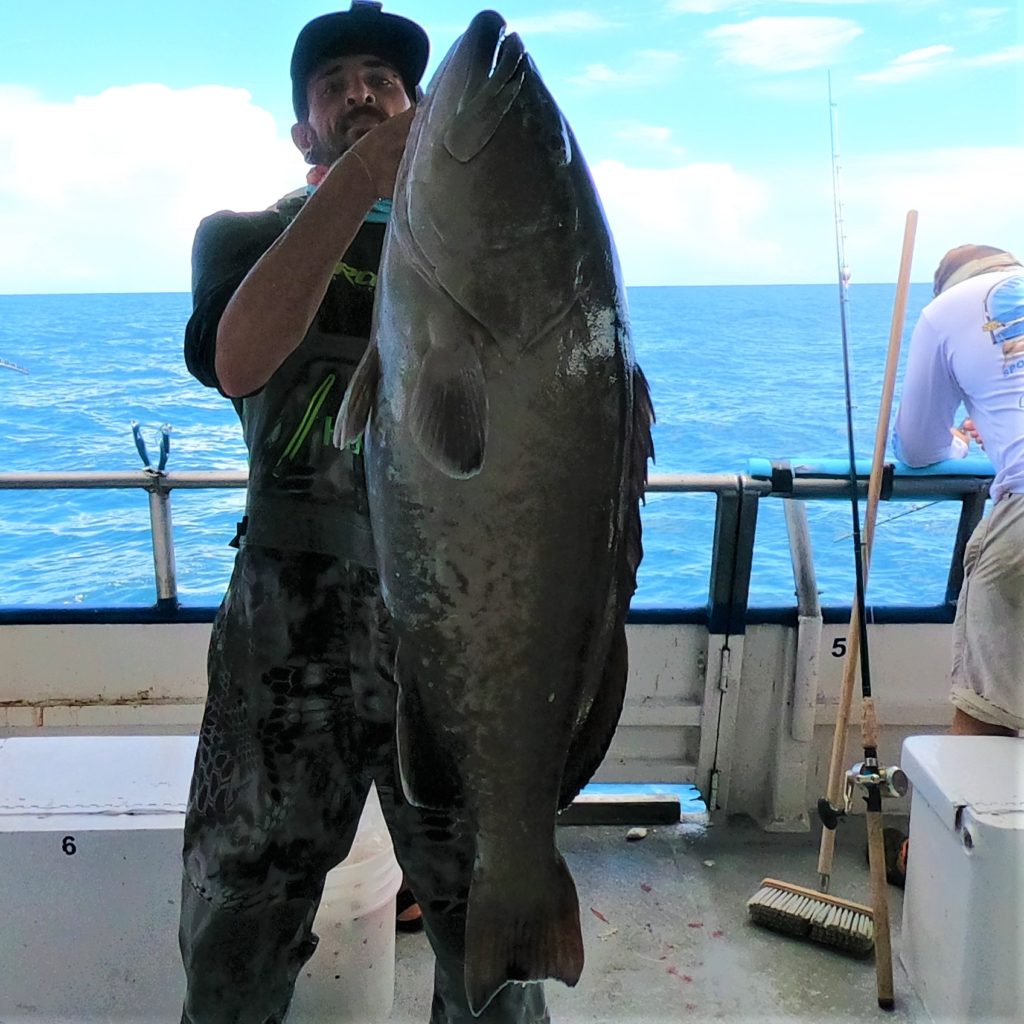 Offshore – Yet again the best action we are seeing is out deep! We have another week of red snapper fishing ahead before they are closed for the year, unless an extension gets announced. Due to this, we are still fishing around 150-200ft of water or more nearly all the time on our 12 hour extreme trips, 39 hour long range overnight trips and our long range private fishing charters aboard the Flying HUB 1 and Flying HUB 2. This week we have nailed some truly trophy fish like a nearly 44lb gag grouper and a beautiful sailfish we caught and released and a handful of nearly 20lb red snapper too. The big mangrove snapper have been biting well but they are a little hit and miss right  now, depending on if the weather allows us the opportunities to dial in on the mangroves. If its not the current holding us back its been stormy, rainy and windy weather holding us back from getting the mangrove bite fired up. However, early this week on the Sunday 39 hour private charter they had the great weather we needed and some very experienced anglers on board and they brought home a mess of nice mangrove snapper in the 7,8 and even 9lb range with the jackpot mangrove nearly 10lbs.  The sailfish we caught and released was caught by accident really aboard a Flying HUB 1 private fishing charter by Capt Joe Drew. He was dropping down a threadfin while targeting fat red grouper and red snapper around 170ish foot of water and as soon as it hit bottom on his first stop of the trip he thought he'd hooked a big grouper since it was taking a run for the bottom and he was using big grouper tackle so he put the heat on the fish cranking like a mad man and lifting as hard as he could. Once he got the fish off the bottom he thought he had a 20+lb red grouper coming up when all of a sudden it took off on a huge run. Then on the other side of the boat a guest yells 'sailfish' as we could see it tail walking on the surface 50-60yards from the boat. He quickly moved to the opposite side of the boat under the anchor line and realized he had hooked a beautiful fish instead of what he now thought was a big bonita. Once he got clear of the anchor line the line was slack and for a second he thought he had lost the fish due to a spit hook. Luckily, he didn't give up reeling in the slack as quickly as his big 9ot would go and all of a sudden as the line came back tight the fish appeared at the side of the boat almost to say 'he you win, lets end this early and get me back in the water'. They were able to hoist him into the boat for a quick photo and hook release and get him back in the water expeditiously. Since it was such a very quick fight and expert hook release while taking a photo that fish swam off very strong and even did a few free jumps as if to say 'thanks for getting be back quickly' before disappearing out to the west. The nearly 44lb gag was 43lbs and change caught on the 39 hour long range overnight trip early this week. The gag bite prior to the full moon mid July was very good and then it slacked off a bit around the moon and now it seems to be heating back up for us out deep closer to the 200ft mark. This huge gag was one of many caught aboard this particular 39 hour fishing trip. Andrew Campos was the skilled and very lucky angler to boat this monster gag grouper using a slow pitch jig on a crazy ultra light jigging rod with only 30lb test and a very small sized reel! Crazy catch for sure on such a unique set up but that's what these jig fisherman use to land some truly awe-inspiring catches and as the slow pitch jigging scene continues to grow after stories like this we continue to see more and more epic fish caught on some tackle that looks like it couldn't handle a 10lb bass at your local golf course pond.  
Want to watch Capt Dylan Hubbard's Daily video reports? Check out the Hubbard's Marina YouTube channel and don't forget to SUBSCRIBE! – Hubbard's Marina daily fishing & boating reportPage Break 
Upcoming up at Hubbard's Marina 
Red snapper season IS COMING TO AN END at the end of August first officially ending August 2nd at 12:01am. Make sure to get em' while you can! Our last 39 hour trip for red snapper is Tuesday July 30th with some room left on it if youd like to get after some nice red snapper before the fat lady sings and season closes! We are also seeing some nice scamp, red grouper, gag grouper, mangrove snapper and MORE offshore right now. Call us at (727)393-1947 or book online at -> https://HubbardsMarina.com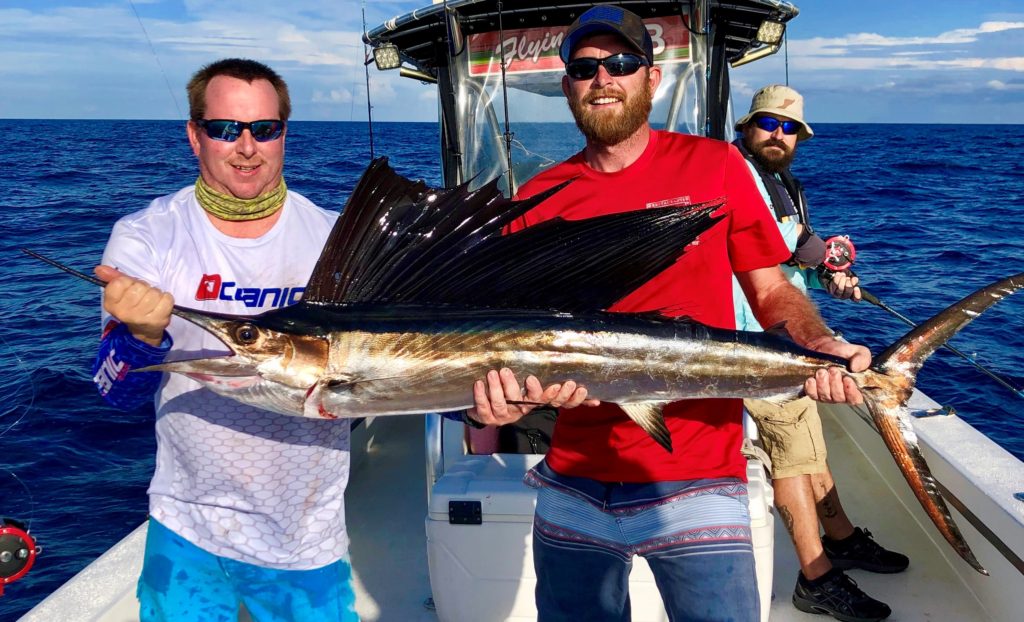 Don't fret, after red snapper season closes we still have TONS of great fish to catch. Remember, august first AMBERJACK SEASON OPENS and will continue until end of October. PLUS, we have gag grouper season running until end of December if you want to get out for some big grouper action. The gags bite best in October, November and December but we are seeing some good ones currently too. If you join us in the next three months you have a chance for ANYTHING in the gulf besides the red snapper and triggerfish! Join us for a 12 hour extreme, 39 hour, or long range private charter for the amberjack and gag grouper fishing!  
Want to WIN FREE FISHING TRIPS? Come out to join Capt Dylan Hubbard for one of the Sunday night live stream shows coming up, or for the NEW August 10th Bass Pro Shops seminar coming up Saturday August 10th at 2pm! Check out our events page on our site to see more info on both these great events -> https://www.hubbardsmarina.com/events/   
Fox 13's Good Day Tampa Bay show has picked up a fishing segment with Capt Dylan Hubbard Scheduled for every Friday morning starting around 8:15am! These segments will have tons of fishing tips, tricks, updates and more. Please tune into Fox 13 on Friday mornings to watch the show and if you are not local, you can watch it LIVE on their website -> http://www.fox13news.com/live   
Enjoy learning more about fishing? Attended a seminar or watched our LIVE Q&A show Sunday nights but want to see the tips and tricks in action on the boat? We have filmed a mangrove snapper, grouper and red snapper mastery course with Salt Strong and they built me my own private page to give my fishing friends steep discounts on these crazy cool courses… PLUS, you also have the opportunity to become an insider member and join the community with great giveaways, raffles, the strike score tool, spot dissections, tons of free fishing videos and tips for inshore, near shore and offshore and MORE this is a super cool family of anglers and the positivity and openness of anglers is wild in this group… in the community people share what they caught, when the caught it, what tide they caught it, what bait or lure they caught it one and often WHERE they caught it too… you HAVE to check this out if you like fishing: https://SaltStrong.com/Hubbard   
Page Break 
Captain Jack's dolphin corner 
The heavy rains lately have made our local dolphin population very active and playful as the bay's salinity levels fluctuate the dolphin get a surge of new prey to 'play' with as they teach the new juvenile dolphins how to hunt and hone their skills using their sonar. Plus, the local dolphins are pretty well grouped up hunting the schools of mullet and ladyfish moving around the back bay waters while they are a little more murky due to the heavy rains this week.  
The warmer waters have the local manatees out in good numbers cruising the back bay grass flats chomping down on their favorite food, our local turtle grass. This makes it easy to spot these unique creatures. Typically they are hard to spot only sticking their snout out of the water for a few seconds and then diving down deep for up to 8-10 minutes before poking their small nose out again. Right now, along the shallow grass flats its easy to spot them and they seem to chill out giving our passengers great opportunities for plenty of photos from the big blue boat, our dolphin cruise boat at Hubbard's Marina inside Johns Pass!  
It maybe very late in the season but our local bird nesting island or rookery named Dog Leg Key has plenty of baby birds left in their nests and the juvenile birds born further back are starting to hop around the branches and learning to fly making it a great time to Join us at Hubbard's Marina for one of these relaxing, fun for the whole family, dolphin watching nature cruise and eco tour aboard our big blue boat departing Johns Pass daily at 1,3 and 5pm!  
Call us today to book your dolphin tour at (727)393-1947 and get more information on this trip at our website here ->  https://www.hubbardsmarina.com/dolphin-watching-cruises/  
Page Break 
Tampa bay ferry News 
The warm summertime weather is here making it a great time to escape to the islands with us aboard the Tampa Bay Ferry by Hubbard's Marina. Walking the beaches in the morning looking for the sharks teeth and shells and then spend the day time swimming or snorkeling is a great family fun escape from the tourist filled beaches on the mainland. Also, we are seeing tons of local marine life traveling to and from Egmont Key and Shell Key islands! For more info on our cruises check out all the options on our website -> https://www.hubbardsmarina.com/sunset-dolphin-cruises-gulf-beaches-florida/  
The warmer weather has the local tortoises out to play at Egmont key island, great time to visit the island to see plenty of these slow moving tortoise sunning themselves and enjoying some rays during the day!  
We have been spotting lots of manatees around the Egmont Key and Shell Key Islands lately, come join us for a day of fun in the in the sun at the island aboard the Tampa Bay Ferry by Hubbard's Marina.  
We also have tons of sea turtle nests at both Egmont Key and Shell Key islands and it's the peak of sea turtle nesting season! Great opportunity to see some nests and maybe spot some sea turtles cruising the water ways. However, its important to remember and remind your friends, family and children to fill in any holes you dig while enjoying the beaches as the sea turtles that come ashore to lay eggs and make nests can become trapped or disorientated by holes left by beach goers.  
Right now they are doing beach re-nourishment on the west side of Egmont Key Island right now which inhibits exploring the full north end of the island like normal. However, that does make it a killer time for sharks teeth finds as the sand they bring up to the beaches and set down on the existing sand is ripe with great fresh shells, fossils and huge sharks teeth even the big pristine megladon teeth that people find as trophies during their visits to Egmont Key island!  
If you enjoy snorkeling NOW is the time to get out to Egmont Key Island for some snorkeling fun. The waters are super clear right now especially on the incoming tides, but once the water continues to warm and the summer time afternoon rain storms become normal occurrences daily then the local waters lose their super clear appearance. Come join us asap for a day of island fun with a side of snorkeling adventure aboard the Tampa Bay Ferry from the Bay pier at Fort De Soto park to Egmont Key Island.  
Our Shell Key ferry ride aboard the Tampa Bay Ferry from Fort De Soto's boat ramp to Shell Key Island is spotting tons of manatees right now along their route to their island. It's a great time to visit that island too for great shells, crystal clear waters on the west side of the island and great exploring on the west side of the island.  
The Egmont key ferry from Fort De Soto offers 10am and 11am ferry rides to the island daily this time of year, plus on Tuesday, Thursday and Saturday we offer a 2pm ferry ride from Fort De Soto out to Egmont Key Island! You get three hours on the island after around a 20-30 minute ride out and back to the island. Plus, we often see dolphins, seabirds and sometimes even sea turtles on the ride out and back thus the ride time can fluctuate a bit depending on what we spot during the cruise out to your island oasis! For more info on the Egmont key ferry, visit this page of the Hubbard's Marina website – https://www.hubbardsmarina.com/egmont-key-ferry-cruise/  
Our Shell key ferry trips are a great way to spend the day and offer more flexible schedules compared to the rigid Egmont key schedule! We offer these trips DAILY from the boat ramp at Fort De Soto County Park and they run at 10am, noon and 2pm and the final return time is 4pm! You have much more flexibility during the shell key trips compared to our Egmont key ferry because you get to choose the time you return to fort de Soto from Shell key! If you're looking for plenty of time on the island and great shelling opportunities then the shell key ferry trip is your best bet! Check out all the information on this special ferry ride at this link – https://www.hubbardsmarina.com/shell-key-ferry/  
Page Break 
Regular's club 
Hey guys, we have our 2020 clubs starting up around the end of November or Early December. If you are interested in signing up or learning more about our loyalty program that will make it more affordable for you to go fishing even more often then make sure to reach out to Capt Dylan at his email below!  
If you are an existing regular's club member make sure to start paying close attention to those special regular's club email newsletters as the announcements start to come about the renewals for the 2020 clubs!  
Captain Dylan Hubbard 
Vice president and Co-Owner 
(727)393-1947 ext. 306  
CaptHubbard@HubbardsMarina.com  
Page Break 
UPDATED Coupon information 
25% off Hubbard's Marina branded apparel for your next offshore adventure or day of fun in the sun!  
Expires August 9th, 2019  
While supplies last  
Must have coupon in hand, or electronically to present  
Preferred partner spotlight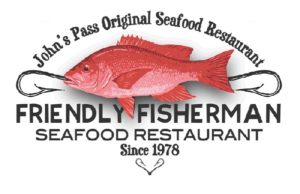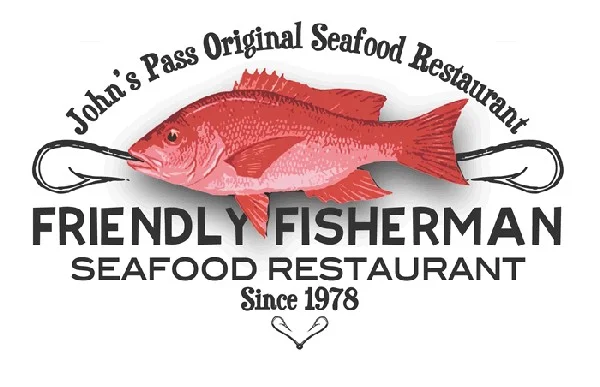 Try one of our new menu items at the Friendly Fisherman like the super amazing Fresh Grouper Tacos!  
Two tortillas with shredded cabbage, pico de gallo,  
cheddar cheese, chipotle mayonnaise and sour cream. 
For only $17.45