Want to spend some time on a beautiful and pristine island paradise?
If you want to spend some time on a beautiful pristine island paradise, the ferry to Egmont Key State Park from Fort De Soto is a great choice for you and your family! Get ready for a day of fun in the sun with Hubbard's Marina. Our ferry boat operates from the Fort De Soto Boat Ramp daily in the spring and summer and nearly every day in the fall and winter (check the schedule for exact times and days of availability). The ferry ride to the island is about 30 minutes and offers great chances to spot dolphins, sea turtles, and sometimes even manatees! We often spot sea birds on the ride to and from Egmont Key Island aboard the Hubbard's Ferry, our big blue boat.
Once on the island, Egmont Key offers great shelling, swimming, and opportunities for adventures. There is even a large fort on the island named Fort Dade you can access and explore. This fort dates back to the Spanish American war era and is spread out along the island's interior. Egmont Key is also home to a large population of native gopher tortoises! These large, slow-moving tortoises are an endangered species, so you can't touch them, but they make for great photos as you spot them throughout the island's interior.
Egmont Key is also home to a large nature preserve – nearly half of the island is blocked to guests, allowing the native seabirds and sea turtles a section of undisturbed beach. This nature preserve area is home to tons of nesting birds and nesting turtles and we cruise around this area by boat when you take the snorkeling cruise option.
If you'd like to take a ferry ride to Egmont Key with us, pack like you're spending the day at the beach! Bring sunscreen, towels, bathing suits, sun protective hats, shirts and other gear. Egmont Key is a pristine island, so there isn't a bathroom or any type of shop on the island so make sure to come prepared with a cooler full of water, food and drinks.
ATTENTION: Due to the multiple trips that we offer, the boat will not always be present.  While the boat is docked, you will be able to use the bathroom, buy snacks, soda and water from the galley on board.
Please note:
We HIGHLY recommend that you reserve your tickets in advance.
Plan to arrive 60 minutes in advance for check-in and boarding.
This trip departs from the Ft Desoto Boat Ramp (click here for directions)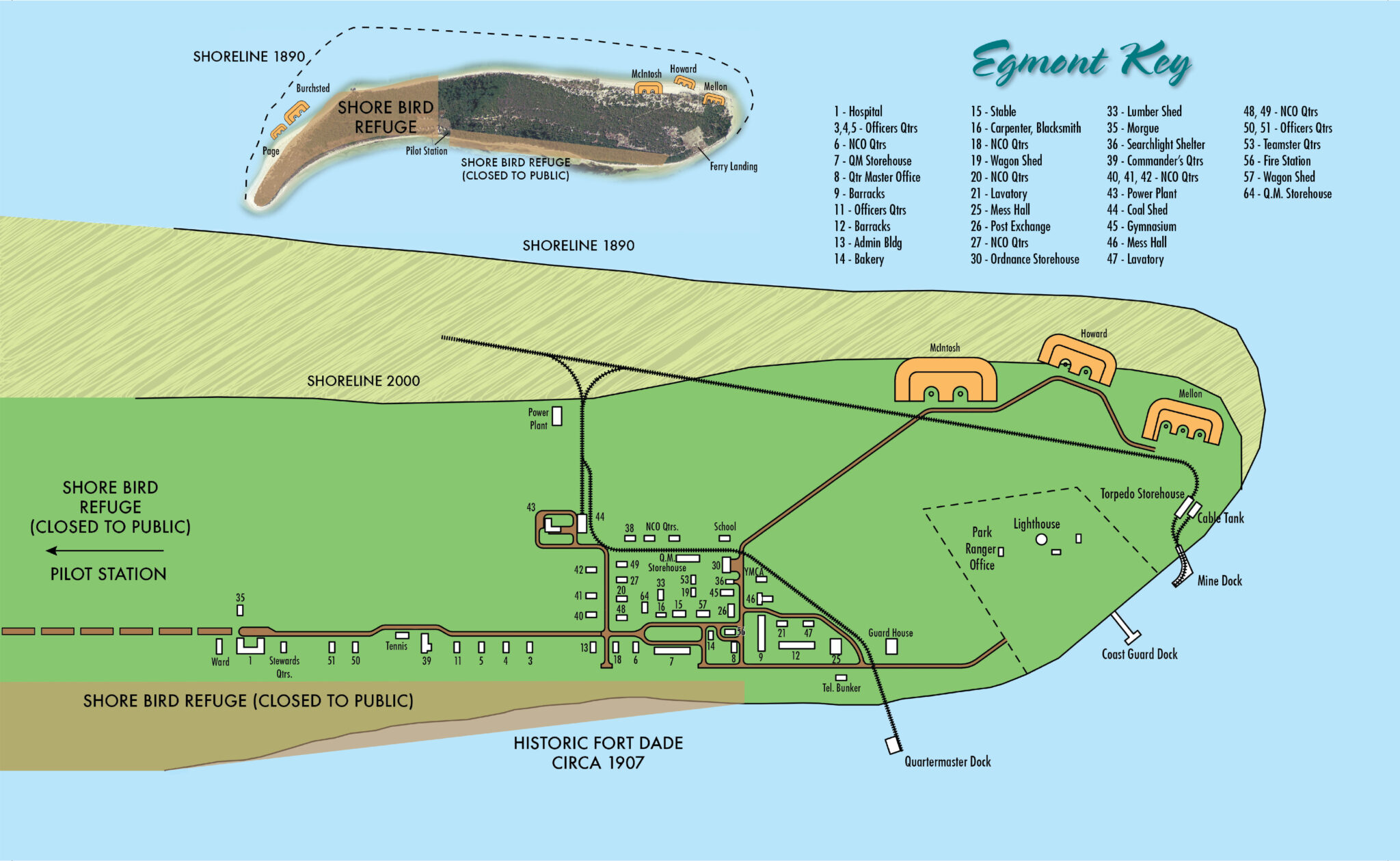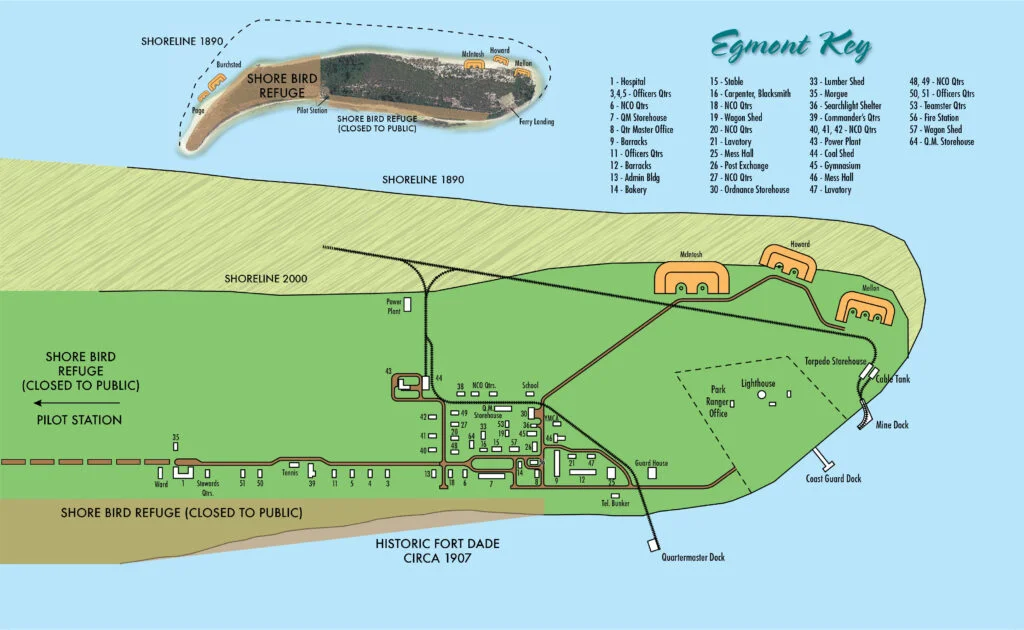 Quick Details:
Duration: 5 hours total | 3 hours island time | 60 mins to and from dock
Departure times: 11am Daily!
Capacity: 49 passengers, Groups larger than 4 require 1 form of payment.
Trip Type: Family Friendly (no smoking allowed on this trip)
Location: This trip is departs from the Ft Desoto Boat Ramp
Snorkeling Option: Snorkeling is sold separately on the day of your trip, and not always guaranteed. Snorkeling is dependent upon water clarity, strong winds/ currents, and predator fish/jelly fish
You cannot bring alcohol, glass, pets, kites, or drones to the island because it is a  wildlife preserve and these items are prohibited.
Cancellation Policy: 24 hours notice or more required.
No Call / No Shows – 100% of trip fare.
Cancellations within 24-hours – 50% of trip fare.https://www.hubbardsmarina.com/egmont-key-ferry-cruise/
TOLL BOOTHS ON ROUTE TO FT DESOTO
There is a $5 fee per car, Payable by Plate with multiple kiosks available to enter Fort De Soto or the Shell Key Lot. This fee is to enter the county park and is not something we have control over. However, we wanted to make sure you were aware of this fee. Also, depending on your route to the park there will be at least one small toll to pay on your way into the park and a total of two tolls if you come from the beaches area. However, the total of the tolls is less than $3 but make sure to have quarters with you for the tolls and some cash to make the entrance payment quick and easy. Also the boat is entirely cash only so it does help to come prepared with some extra cash above the cost of the trip.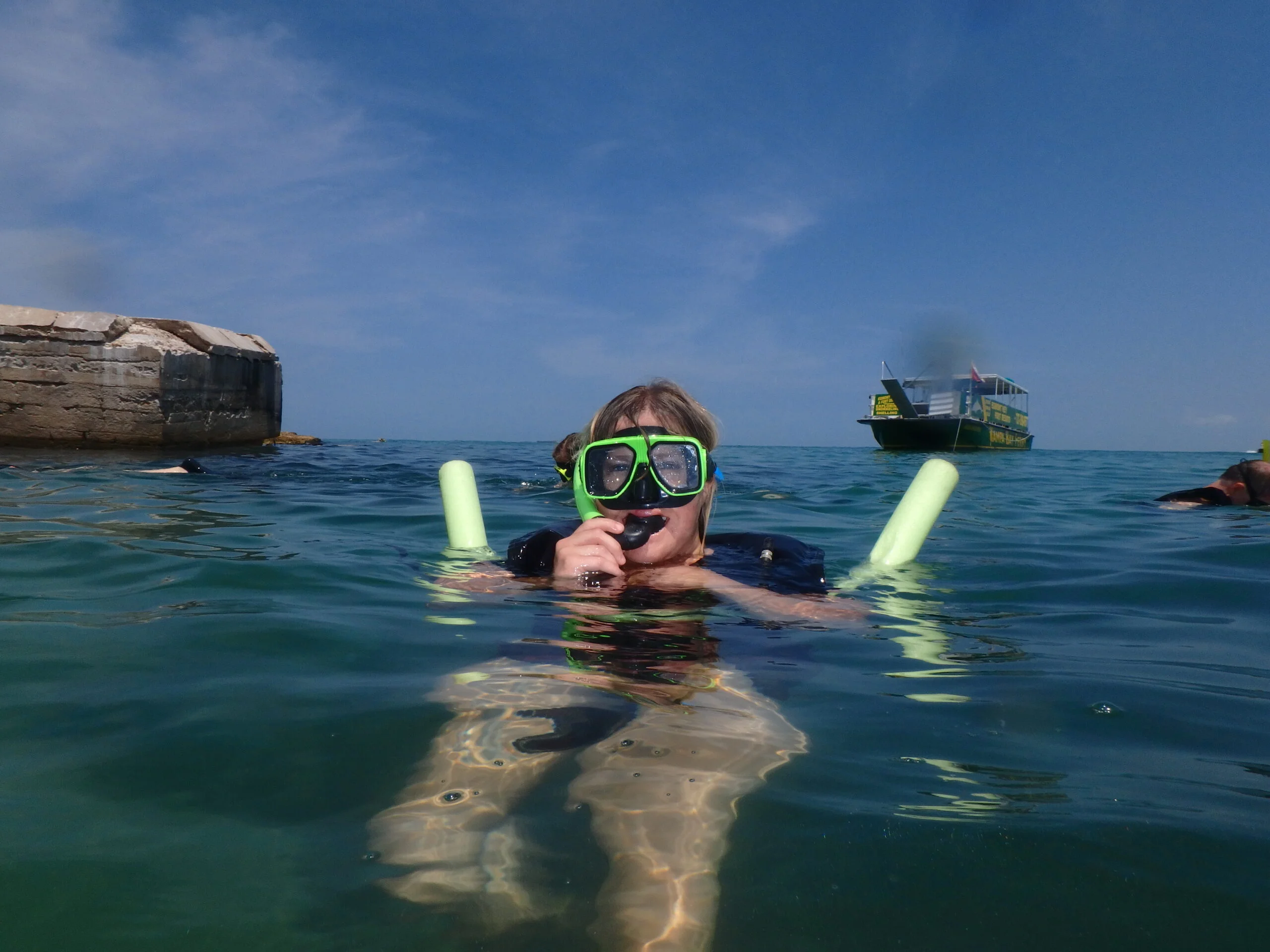 Snorkeling is another option while out on Egmont Key Island with us at Hubbard's Marina. We snorkel the sunken ruins of fort Dade, or the grass flat beds depending the weather and conditions at the island.  If you need to rent snorkeling gear (Mask, snorkel and fins) we do have equipment available.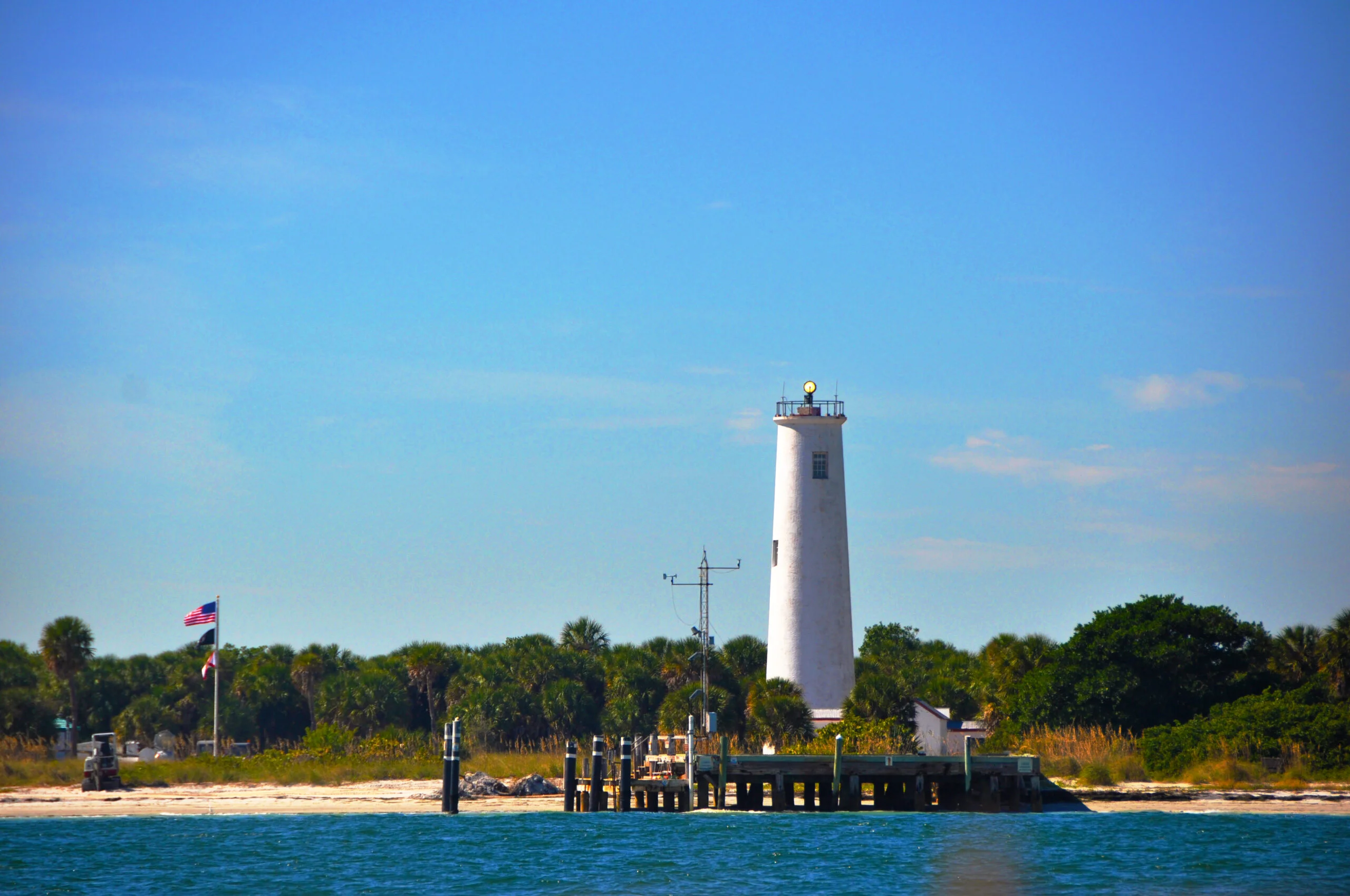 Egmont Key has a fully operational lighthouse that has been helping ships navigate the waters of Tampa Bay since the 1800's. Although the Lighthouse is in service, the tower is unfortunately  closed to the public. However, if you see the ranger on the island, they will tell you all about it!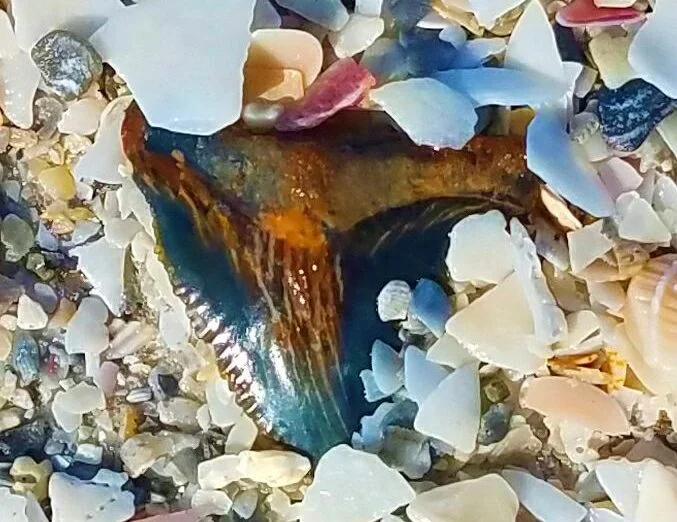 Spend the day looking for the perfect seashell on the pristine white sand beaches surrounding the island or search for Megalodon Teeth peppered around as well. You can also find them while swimming or snorkeling, just remember to please leave any living shells on the island!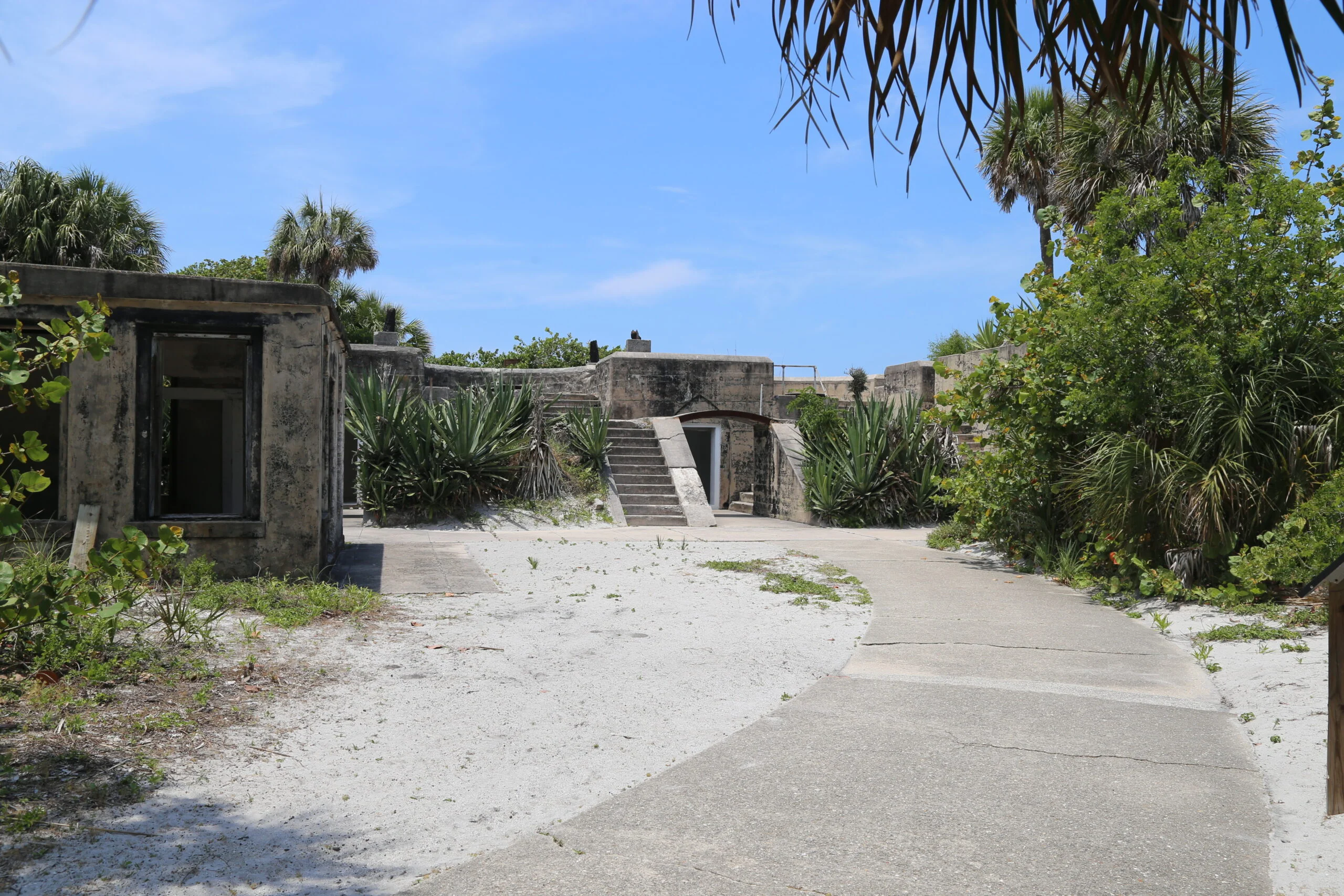 Egmont Key is also home to historic Fort Dade, built in 1898 and served during the Spanish American War. Although it never saw any battles it was occupied as a military reservation protecting the inlet of Tampa Bay until 1923. There is also a sunken battlement that you can snorkel as well!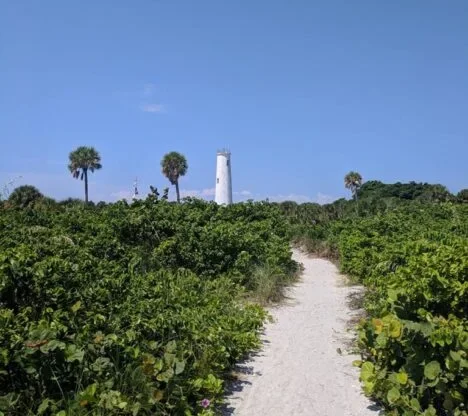 Egmont key has plenty of nature trails to adventure down, explore the old town center still lined by a brick road. Hook a left then a right and your at the fort or turn around and find the clay stoves still scattered around from the Seminole Indians.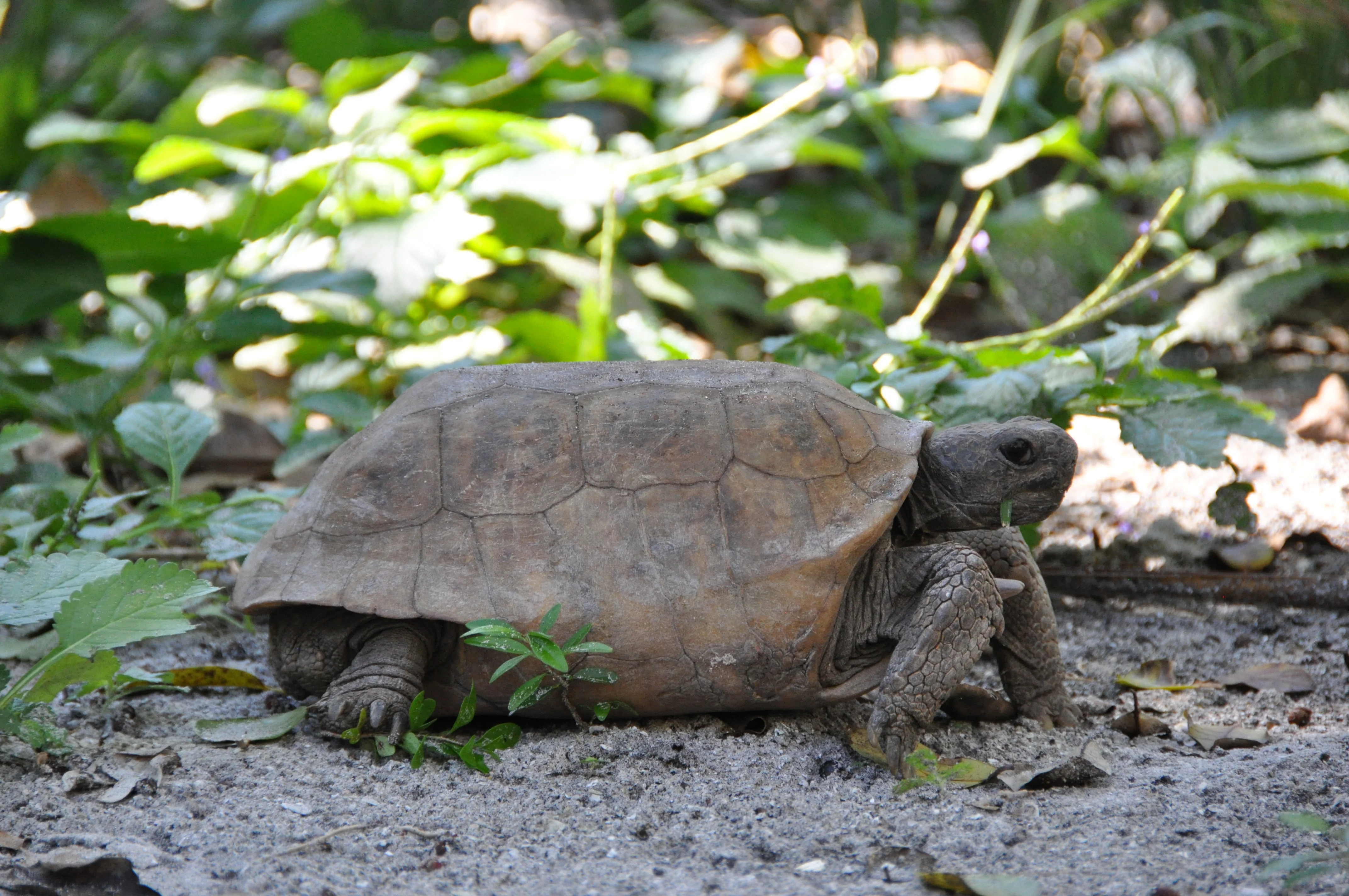 Since the island is only accessible by boat, and since becoming a Florida State Park and National Nature Preserve in 1974, the island has become home to plenty of local wildlife and migratory birds. Most notable residents are the Gopher Turtles.