Fishing report
Inshore– Inside Johns Pass the sheepshead and flounder have been the most commonly reported catches this past week. However, before the rain started we were hearing and seeing lots of anglers pulling in nice slot or close to slot snook on large shrimp inside the pass. Also, the pigfish or grunts working best around the structures. Pompano and trout are being caught on our beaches, especially around the morning or dusk. Art Seiple and Susan Mongan both from North Reddington beach were fishing with their friend Brenda awan from St. Petersburg on the north jetty of Johns Pass catching Trout, flounder and whiting on live shrimp and cut bait all weighted to the bottom. Art also did very well fishing the Johns Pass bridge using shrimp for sheepshead and mangrove snapper. James Miller from Largo reported the outgoing tide helped him catching nice sheepshead, mangroves, and even a large mackerel using live shrimp. When he free lined his largest shrimp into the pass he caught a beautiful snook too! Mark Herman fishing both jetties inside the pass using live shrimp reported the sheepshead and the big drum were biting well for him this past week. Edward Suendrys from Tampa area also reported catching beautiful snook on live shrimp inside Johns Pass. Keep in mind that we have all the bait, beer, and tackle you need for your johns Pass fishing trips inside our office at Hubbard's Marina!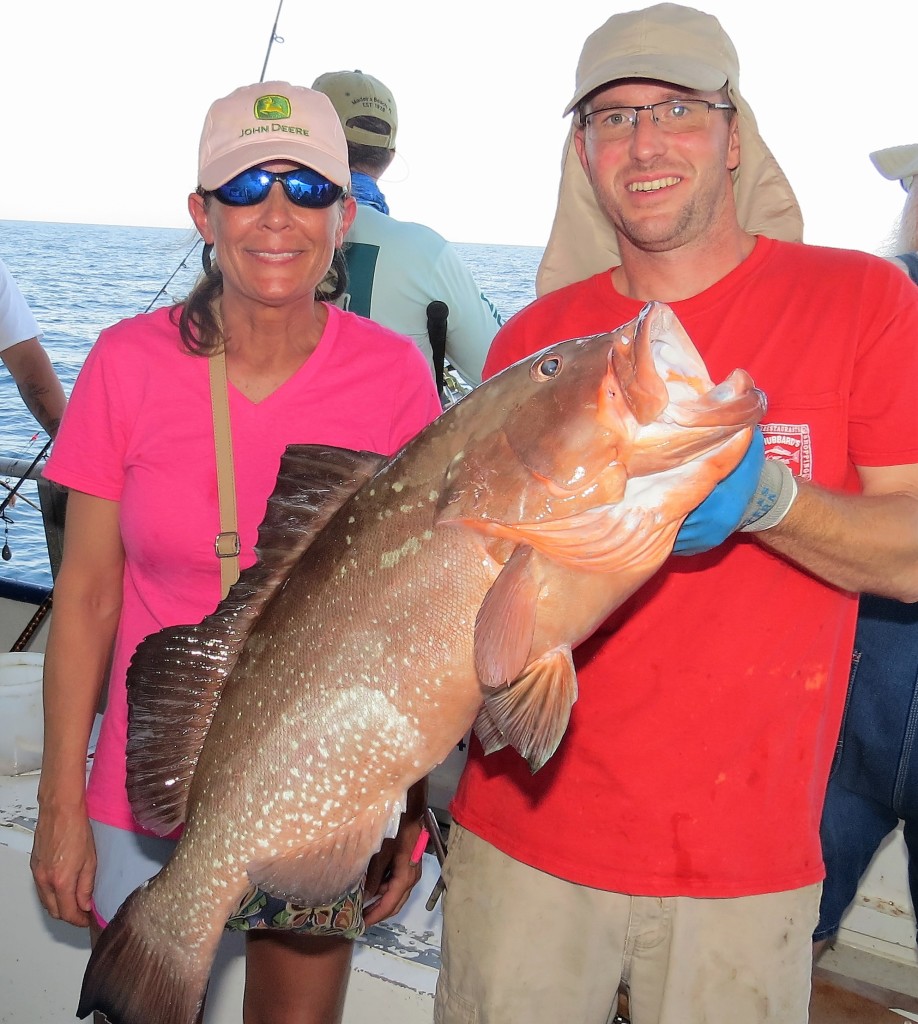 Near shore– The day time bite near shore was tough mid-week due to the large full moon we had, and the high pressure didn't help very much either. However, the start of this past week was great with the hogfish and even some red grouper on our private charters. The fishing is improving finally as the barometer stabilizes and the moon gets smaller each day casting less light at night not allowing the fish to feed all twenty four hours which helps the day time bite improve dramatically. Yesterday's private charter on the Mrs. HUB and the Flying HUB did well on the mangrove snapper and monster porgies using large live shrimp and even some hogfish! The HUB private charter also did great along with the half day, it was great to see the vast improvement over the mid-week catches. As the water warms we expect the kingfish and mackerel to return followed by the sharks and were hoping for a more aggressive red grouper bite too.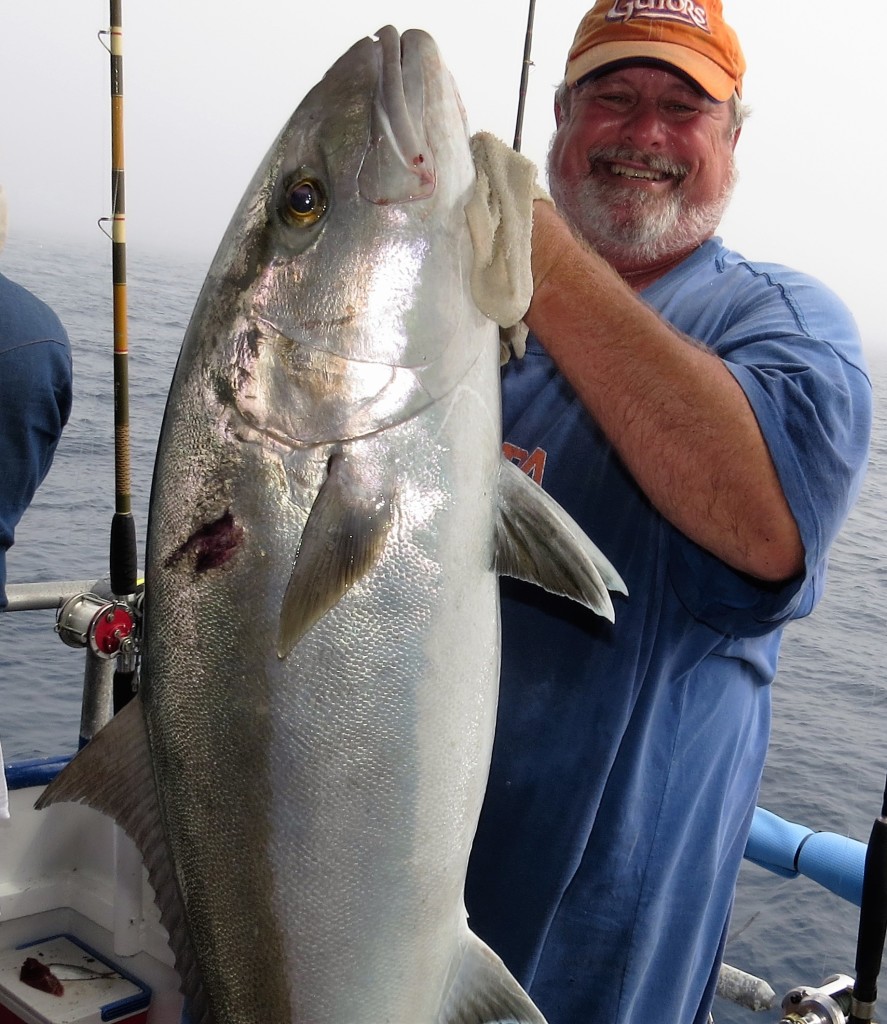 Offshore– The only offshore bite we had a chance to take advantage of recently was our 12 hour party boat trip this past week. However, due to the full moon and high pressure combination we had troubles even getting snapper to bite during this narrow window of fishing time. However, the very next day the Flying HUB was able to find some amberjack, red grouper and big mangroves but the bite was still slow. We Hope that the better weather outlook and the more stable barometer at the beginning of the coming week helps us to capitalize on some great fishing.
Want to read the past reports? Check out this link: https://www.hubbardsmarina.com/hubbards-marina-fishing-reports/
Captain Jack's dolphin corner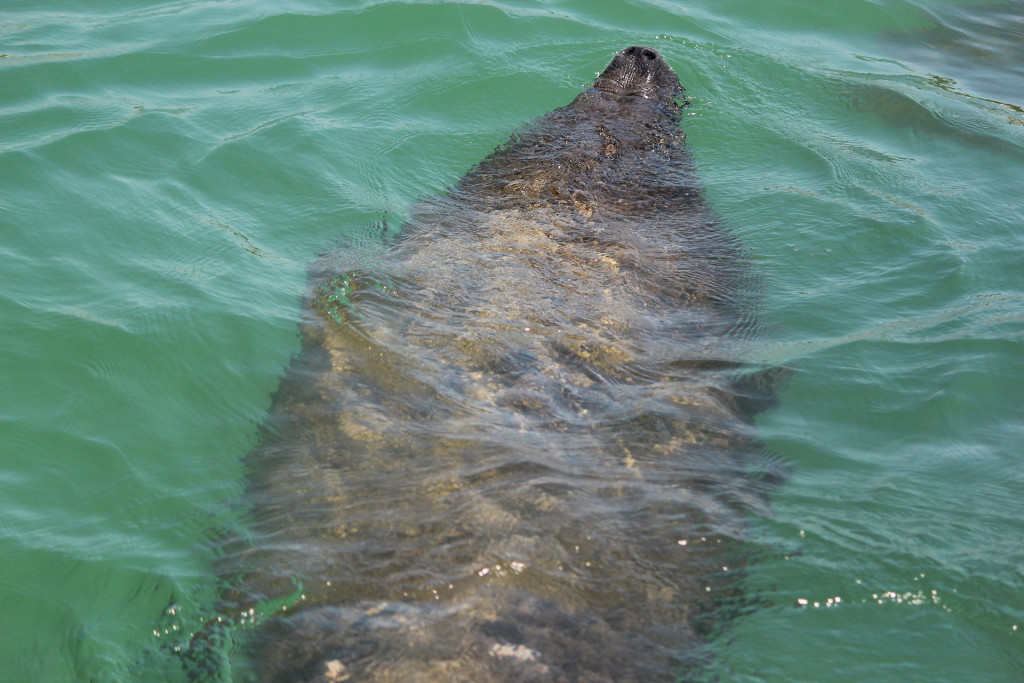 The water temperature is finally up in the bearable range for us Floridians. Now that the local gulf beaches are warming up to around mid to low 70's we are starting to get more interest in our snorkeling trips. Just this past week, one of our snorkeling trips had a great encounter with a local manatee that decided to swim between our boat and the snorkelers investigating the grass flats. To learn more about our snorkeling option, check out this page: https://www.hubbardsmarina.com/snorkeling-tours-tampabay/ However, keep in mind to snorkel you have to be out at Egmont key after you have taken a ride out to the island on our ferry boat. To learn more about our ferry boat trips, check out this link: https://www.hubbardsmarina.com/egmont-key-ferry-cruise/
Manatees have returned to Boca Ceiga bay as well! Not only are the manatees around Fort de Soto and Egmont key they are now heading inside Boca Ceiga bay as well. We have spotted a handful in the past week on our dolphin watching nature cruise and eco tours. Recently, we even spotted a manatee with one of the fancy radio tags which was a unique sight for all our guests. For more info on our dolphin watching nature cruise and eco tour that offers guaranteed dolphin sightings check out this link: https://www.hubbardsmarina.com/dolphin-watching-cruises/
The three hour shelling trip is quite the hit during spring break and today's shelling trip came in with the largest load of sand dollars we have seen in quite a while, plus they had bags and bags of other great treasures and shells. This relaxing cruise is very fun for the whole family and offers great sightseeing, time on the island and even a chance to spot the local wildlife too! For more info on our special 3 hour shelling cruise, visit this link: https://www.hubbardsmarina.com/florida-shelling-cruise/
The dolphins have been playful and very active as of late, we have been spotting huge groups of dolphins lately too making the cruises more exciting. Also, two of our local female dolphins appear to have gained some serious weight this is a sign we may have some new born dolphins on the way in a few short weeks! These baby dolphins are very easy to spot due to their small size and the telltale fetal folds that are apparent along the sides of their bodies.
This is the best time of year to do some bird watching on our dolphin watching nature cruise and eco tour. The reason for this is due to the birds roosting this time of year on our local rookery at dog leg key. Our boat cruises by this island rookery on every dolphin watching nature cruise and eco tour and many trips are spotting nests full of baby birds. We have some professional photographers coming out this week to help us take some photos so stay tuned!
Our sunset cruise with free beer and wine is now a daily cruise once again as the weather gets nicer! Join us sometime soon for a fun filled trip and a beautiful view of the sunset. It's the best bar on the water guaranteed! For more info on the sunset cruise, visit this link: http://deepseafishingtampabay.com/sunset-cruise/
Upcoming up at Hubbard's Marina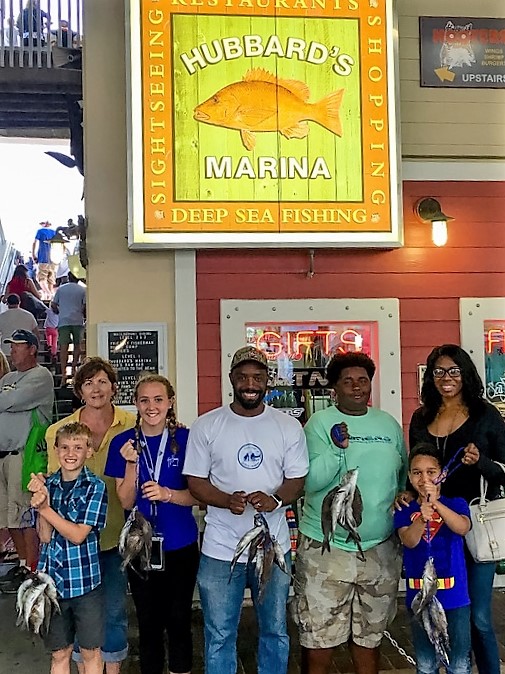 Don't forget that Hubbard's Marina offers a very wide variety of private charters along with our party boat options. Many people don't realize how many different boats and options we offer for these private excursions. At Hubbard's Marina we have 4 smaller fishing vessels for charter than can take 1-6, 7-14 or 14-24 plus we have two large party boats that can allow 17-110 so no matter what your groups size and no matter where or how they want to fish or cruise we have the perfect charter options for you and your group no matter your size! Check out the options at this link, and fill out the form to get your very own detailed quote based on exactly what you'd like included and what you'd like to target: https://www.hubbardsmarina.com/private-charters/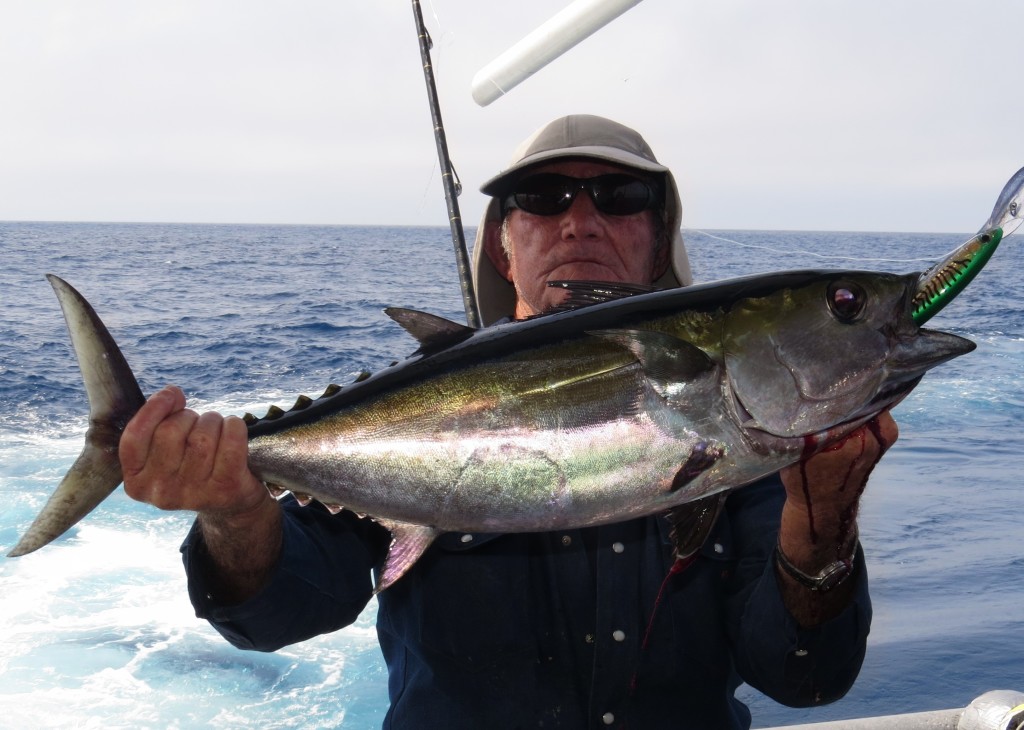 We have four 12 hour night mangrove snapper fishing trips coming up this April, who's ready for some night time snapper fun?  Join us on April 1st, 15th, 22nd or 29th for some specialty trip fishing aboard one of these unique 12 hour night snappers. These night trips offer 8-9 hours of fishing time in 70-120 foot of water 15-35 miles from shore targeting mangrove snapper, porgies, vermillion, yellowtail and more! The 12 hour specialty trips are $129 per angler, to find out more: https://www.hubbardsmarina.com/12hr-night-fishing-trip/
We have two of the long range day time 12 hours offering a little fishing time in the super deep waters 40-60 miles from shore. These are for advanced anglers only, just like any of our specialty trips. On April 7th and 28th you can come join us for the hunt for big jacks, fat grouper and snapper. These special 12 hour day trips are completely different than the night 12 hours. The day trip goes super far unlike the night snapper that stays closer to shore! Due to the long run you don't get a bunch of fishing time, but you do get to fish 120+ foot of water during a day trip. This 12 hour trip is the same price as the night trip, its $129 per angler. For more information on the trip: https://www.hubbardsmarina.com/12hr-day-fishing-trip/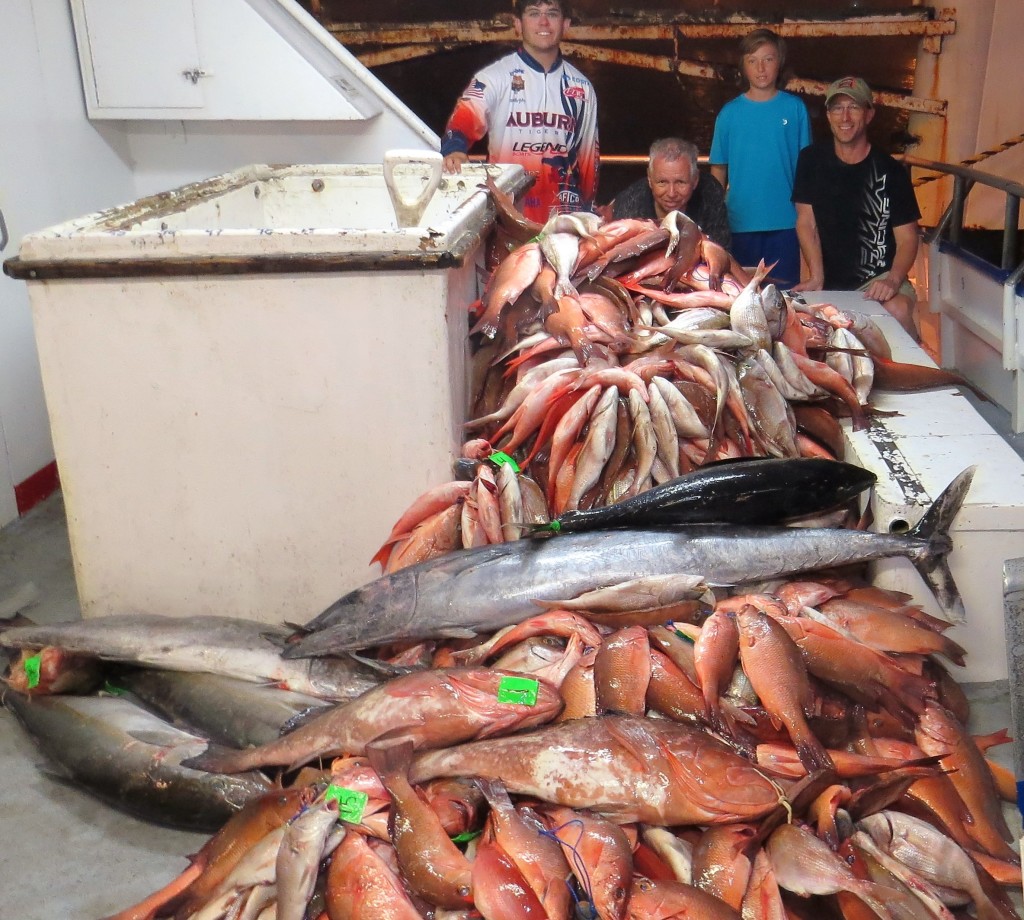 April 8th, 15th, and 19th we have more chances to try our very special 39 long range overnight fishing trip to the Florida middle grounds and surrounding areas. These trips offer around 20 hours of bottom fishing time and around 14 hours of trolling time as well! Not only do you get the weekend on the water, but you also get to take home a two day bag limit too or double what you could keep during a typical day trip. The 39 hour trips are $329 per angler and to find out more: https://www.hubbardsmarina.com/39hr-overnight-fishing-trip/
Like our 39 hour but have you ever wanted more night fishing time during the trip? Try our unique 44 hour full moon trip that offers a full night of fishing on a full moon rather than the partial night of fishing time the 39 hour offers. The next 44 hour is coming up April 22nd. This trip gives you around 25-26 hours bottom fishing time and tons of daytime trolling on the way out to the bottom fishing areas. This 44 hour offers two day bag limit much like the 39 hour offers. To learn more about our 44 hours check out this link, but don't forget that you can't book our 44 or 63 hour trips via our website you still have to call us for these very special trips at (727)393-1947 but here's the link to learn more: https://www.hubbardsmarina.com/44hr-full-moon-fishing-trip/
Our first 63 hour deep drop pelagic trip of 2016 will be April 28th! These trips offer tons of fishing time in the 300-1,200 foot range and plenty of trolling time for the pelagic fish as well. We also have two more schedule before dry dock in September check out the specialty trip schedule to see all the 63 hour dates in 2016. To see more about these trips, check out the video on our new 63 hour deep drop pelagic trip page on the brand new website here's the link: https://www.hubbardsmarina.com/63hr-pelagicdeep-drop-fishing-trip/
Keep in mind that 44 hours and 63 hour trips must be booked via phone, and cannot be booked via our online reservation system. We will be addressing this issue soon when we re do our online reservations system. Once this is done you will be able to book every trip through that system
Regular's club
Regular's club signups are coming to an end. If you fish more than 5, 10, 15 times a year or know someone who does let's talk about getting you or your friends into the club before we close the ranks until 2017 club signups. Typically we do this around May each year so if you want to get someone signed up for discounts on the trips and other great benefits for fishing multiples times throughout the year then call Dylan Hubbard or email him today!
Dylan Hubbard
Vice president and Regular's club manager Hubbard's Marina
(727)393-1947 ext 306
For Coupon Click Here