Hubbard's Marina Fishing Report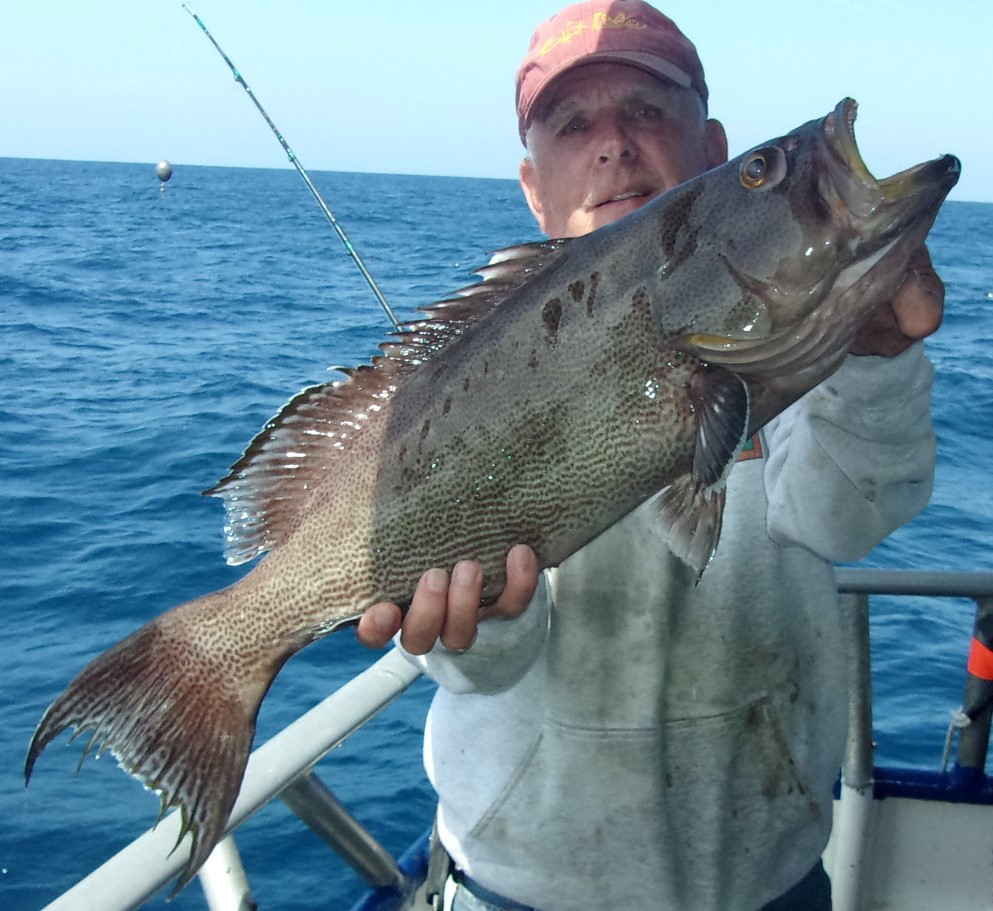 Inshore– The snook are really starting to set into the area biting very well inside the pass and down our beaches. The best bites seem to be first or last light or overnight whenever the water is moving. The recent big boys were caught on live pigfish or grunts and also on spooltek lures. The trout bite is going off at night around the dock lights last night I personally caught over 2 dozen in a very short amount of time finishing off a cigar after a long flight home from checking out the new Flying HUB 2! Those new Nekid Ball Jigz in the super light sizes really helped me slay the speckled and silver trout in the dock lights of Johns Pass. The white bait is still trickling in the pass, but we noticed down at Blinds pass and Pass a Grille there seems to be more white bait looming in the clearer waters. Johns Pass water volume tends to stir up the waters more making it tough to spot the bait schools but if you wait till the clearer incoming tides it makes it very simple to see what you're looking for. It's the dirty waters pouring out from the back bays on an outgoing tide that makes spotting bait tough along the jetties. Also, great news with the strong North East winds followed by strong East winds the past week or more all of our red tide in the area has disappeared! No more coughing, no more dead fish, it's great the only affect has been making it difficult to catch pinfish and pigfish in our traps were having to go 5-7 miles offshore to find these low water column baits that seemed most affected by the very short local bloom of red tide that has now disappeared.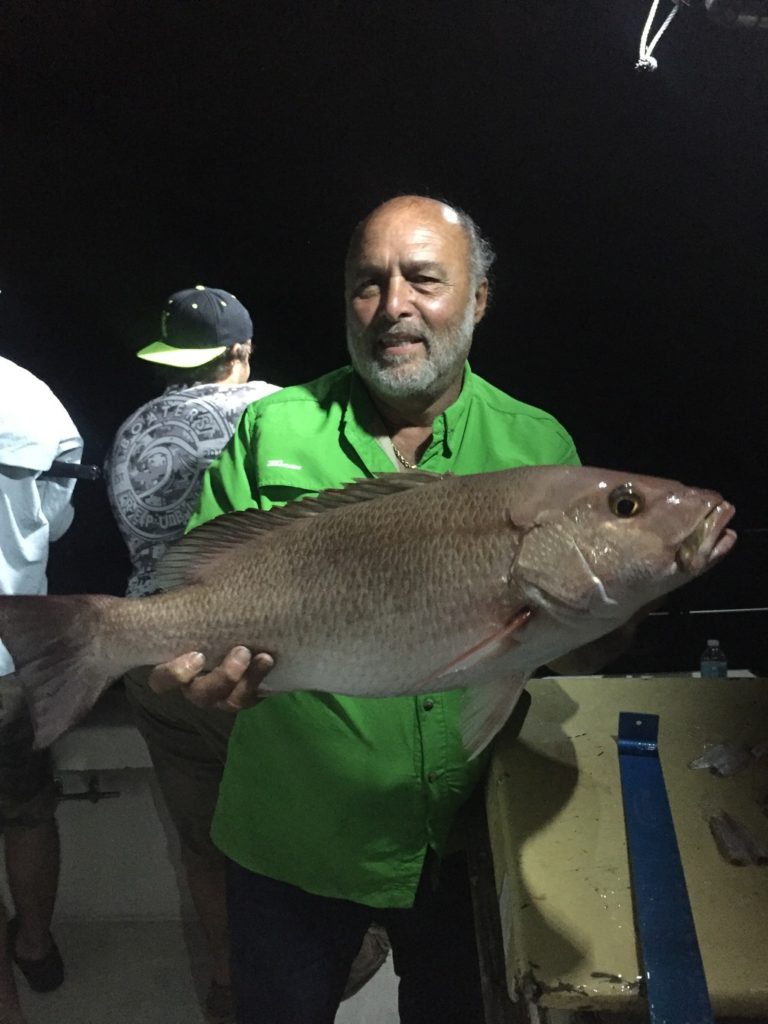 Near shore– The mangrove snapper bite is on FIRE in the near shore waters! Captain Anthony Belmonte took a group of 7 anglers offshore Friday night for a night snapper 10 hour private charter and boy did they crush the fish with the Brandon Smith group from Georgia. They even caught one mangrove north of 8lbs! Plus, to top off the great fishing our 12 hour night snapper aboard our party boat came in this morning with a monstrous load of mangroves, beeliners, yellowtails, and lane snapper! Captain Bobby Peruche reported nearly 200 mangroves, 150 liners and 80 yellowtails and that is one serious catch! Also, the kingfish are still in the area were catching 24/7 right now on the day trips and at night it's been slower than normal season not really getting super thick this year but were getting a few here and there. Mostly on the flat lines the trolling hasn't produced like it did for us during the spring kingfish run last year.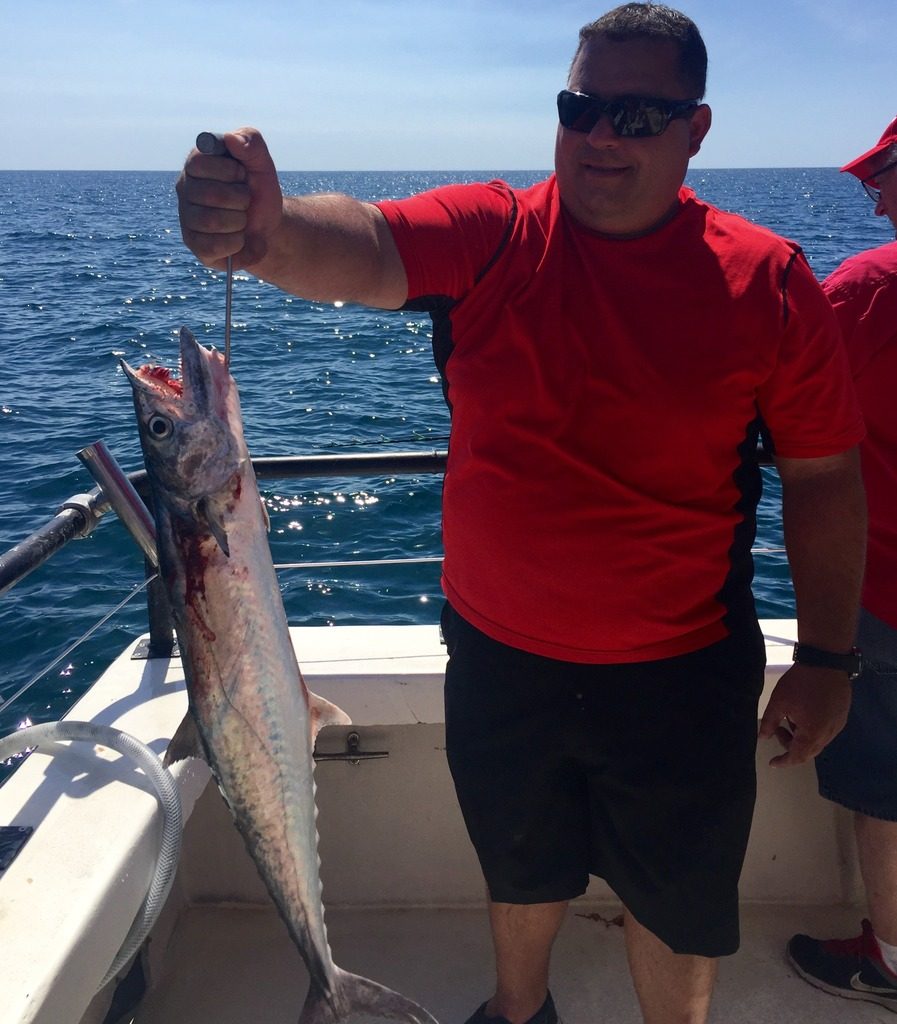 Offshore- The offshore bite for the mangroves is also very hot right now. We're landing monster goozers out in the deeper offshore waters while the nearshore waters are going great but mostly under the 3lb range. The Amberjack bite has been good when we can find them but they have been awfully spread out this year so far. The grouper bite is hot but unfortunately the gags have been biting best making it tough to get our baits past them to the keeper red grouper but we are getting some beautiful ones though! The kingfish, tuna, and cobia are also much more prolific for us in the 20+ mile range. The mid-week 39 hour that just returned Thursday had some big kings and nice blackfin tuna! The HUB private charter caught a nice big 40lb+ cobia this past week too! We have a 44 hour full moon trip offshore now and we hope to see it return tomorrow with packed boxes full of mangroves, join us around 6am tomorrow to see the offload or watch live from home: http://HubbardsMarina.com/webcams/
Want to read the past reports? Check out this link: https://www.hubbardsmarina.com/hubbards-marina-fishing-reports/
CAPTAIN JACK'S DOLPHIN CORNER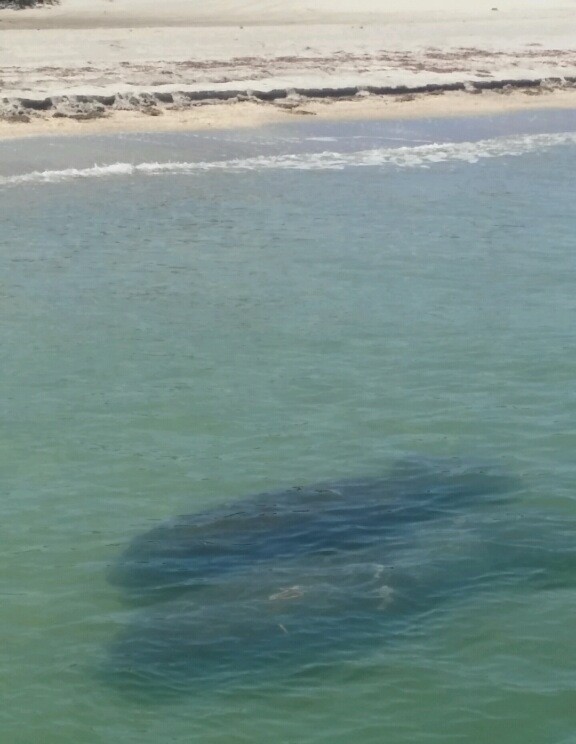 We have a 2nd new baby dolphin in our local area around Johns Pass! This makes the 2nd dolphin born in the past month it's such a great time of year to get out for a relaxing dolphin watching nature cruise and eco tour with us at Hubbard's Marina! To learn more about our relaxing, calm, fun and education tours, check out our cool website: https://www.hubbardsmarina.com/sunset-dolphin-cruises-gulf-beaches-florida/
We also have plenty of new baby and juvenile sea birds out at dog leg key our local island rookery that we cruise by on every dolphin watching nature cruise and eco tour! If you want a chance to spot the newest additions to the local seabird population come out and join us for a fun in the sun cruise or tour at Hubbard's Marina. Check out the photo in this email of the pelican returning to his nest! We're working with a very good local photographer named Robert McCoy and we hope to get plenty more exciting photos like this one coming soon!
New juvenile bald eagle has been spotted patrolling our local waters feeding on mullet, ladyfish and the occasional sea trout. It's great to see this sight showing us the local population is growing nicely with new birds being born and maturing before our eyes! This time of year is a perfect time for birdwatching enthusiasts to join us at Hubbard's Marina for a dolphin watching nature cruise and eco tour since we cruise by the local bird nesting island called dog leg key.
New baby manatee was spotted cruising through the backwaters or Boca Ceiga bay! She was spotted cruising next to her mother just inside the mouth of Johns Pass cruising the docks looking for fresh patches of sea grass. These pair is just too cute not to come check out first hand. We look forward to seeing you for a dolphin watching nature cruise and eco tour sometime soon we even guarantee dolphin sightings!
We have a new baby dolphin in our local area! This newborn dolphin joined us this past week and the first time we spotted it was down around Egmont key only a 12-24 hours after it was born. We are proud to see our local population is getting stronger and we are expecting another newborn soon since one of the Boca Ceiga mothers is looking like she's ready to pop. Gestation for a dolphin is 12-13 months so it's been a long wait but were excited to see she's ready soon! For more info on our dolphin watching nature cruise and eco tour that offers guaranteed dolphin sightings check out this link: https://www.hubbardsmarina.com/dolphin-watching-cruises/
The water temps are now into the mid-seventies, and they are only climbing. To learn more about our snorkeling option, check out this page: https://www.hubbardsmarina.com/snorkeling-tours-tampabay/ However, keep in mind to snorkel you have to be out at Egmont key after you have taken a ride out to the island on our ferry boat. To learn more about our ferry boat trips, check out this link: https://www.hubbardsmarina.com/egmont-key-ferry-cruise/
The three hour shelling trip is tons of fun at Hubbard's Marina and offers great chances for tons of shells and beautiful sights! This relaxing cruise is very fun for the whole family and offers great sightseeing, time on the island and even a chance to spot the local wildlife too! For more info on our special 3 hour shelling cruise, visit this link: https://www.hubbardsmarina.com/florida-shelling-cruise/
Our sunset cruise with free beer and wine is now a daily cruise once again as the weather gets nicer! Join us sometime soon for a fun filled trip and a beautiful view of the sunset. It's the best bar on the water guaranteed! For more info on the sunset cruise, visit this link: http://deepseafishingtampabay.com/sunset-cruise/
Upcoming up at Hubbard's Marina
Don't forget that Hubbard's Marina offers a very wide variety of private charters along with our party boat options. Many people don't realize how many different boats and options we offer for these private excursions. At Hubbard's Marina we have 4 smaller fishing vessels for charter than can take 1-6, 7-14 or 14-24 plus we have two large party boats that can allow 17-110 so no matter what your groups size and no matter where or how they want to fish or cruise we have the perfect charter options for you and your group no matter your size! Check out the options at this link, and fill out the form to get your very own detailed quote based on exactly what you'd like included and what you'd like to target: https://www.hubbardsmarina.com/private-charters/
Ready to our first 63 hour deep drop pelagic trip of 2016 will be April 28th! This upcoming trip only has around a dozen anglers on board leaving six open spots since we only allow up to 18 anglers on these super special 63 hour trips. We are going to be heading out 150 miles from Johns Pass but never more than 100 miles from shore. The targeted depth to start is 300 foot for mutton snapper, mangroves, red grouper and black grouper. Then we will be working out to around 700-800 foot for snowy grouper, yellowedge grouper, tilefish, deep water snapper and more unique deep water species before trolling back north to hit more deep water wrecks. To see more about these trips, check out the video on our new 63 hour deep drop pelagic trip page on the brand new website here's the link: https://www.hubbardsmarina.com/63hr-pelagicdeep-drop-fishing-trip/
Keep in mind that 44 hours and 63 hour trips must be booked via phone, and cannot be booked via our online reservation system. We will be addressing this issue soon when we re do our online reservations system. Once this is done you will be able to book every trip through that system
We have three 39 hour overnight trip in the month of May coming up, don't miss your shot at 20 hours of bottom fishing time a 100 miles from shore! May 3rd, 6th and 31st we have these special long range party boat trips they are very fun and unique hope you get a shot to get 'hooked' on deep water fishing at Hubbard's Marina! To learn more about the trip, check out the updated site: https://www.hubbardsmarina.com/39hr-overnight-fishing-trip/
Want to try out our unique 44 hour full moon trip? This trip offers a full night of fishing on a full moon rather than the partial night of fishing time the 39 hour offers. The next 44 hour is coming up is going out fishing on May 20th at 10am. This trip gives you around 25-26 hours bottom fishing time and tons of daytime trolling on the way out to the bottom fishing areas. To learn more about our 44 hours check out this link, but don't forget that you can't book our 44 or 63 hour trips via our website you still have to call us for these very special trips at (727)393-1947 but here's the link to learn more about the trip before you call to book it up! https://www.hubbardsmarina.com/44hr-full-moon-fishing-trip/
Don't miss your chance for the last 12 hour night mangrove snapper fishing trip in April! The last two april 12 hour night snapper trips crushed the snapper from mangroves to yellowtails! So be sure to join us on April 29th for some specialty trip fishing aboard one of these unique 12 hour night snappers. These night trips offer 8-9 hours of fishing time in 70-120 foot of water 15-35 miles from shore targeting mangrove snapper, porgies, vermillion, yellowtail and more! The 12 hour specialty trips are $129 per angler, to find out more: https://www.hubbardsmarina.com/12hr-night-fishing-trip/
We only have one more of the long range day time 12 hour trips offering a little fishing time in the super deep waters 40-60 miles from shore. These are for advanced anglers only, just like any of our specialty trips. On April 28th you can come join us for the hunt for big jacks, fat grouper and snapper. These special 12 hour day trips are completely different than the night snapper 12 hours. The day trip goes super far unlike the 12 hour night snapper that stays closer to shore! Due to the long run you don't get a bunch of fishing time, but you do get to fish 120+ foot of water during a day trip. This 12 hour trip is the same price as the night trip, its $129 per angler. For more information on the trip: https://www.hubbardsmarina.com/12hr-day-fishing-trip/
Regular's club
Regular's club signups are coming to an end. If you fish more than 5, 10, 15 times a year or know someone who does let's talk about getting you or your friends into the club before we close the ranks until 2017 club signups. Typically we do this around May each year so if you want to get someone signed up for discounts on the trips and other great benefits for fishing multiples times throughout the year then call Dylan Hubbard or email him today!
Dylan Hubbard
Vice president and Regular's club manager Hubbard's Marina
(727)393-1947 ext 306
View this Week's Coupon: Tap Here