Fishing report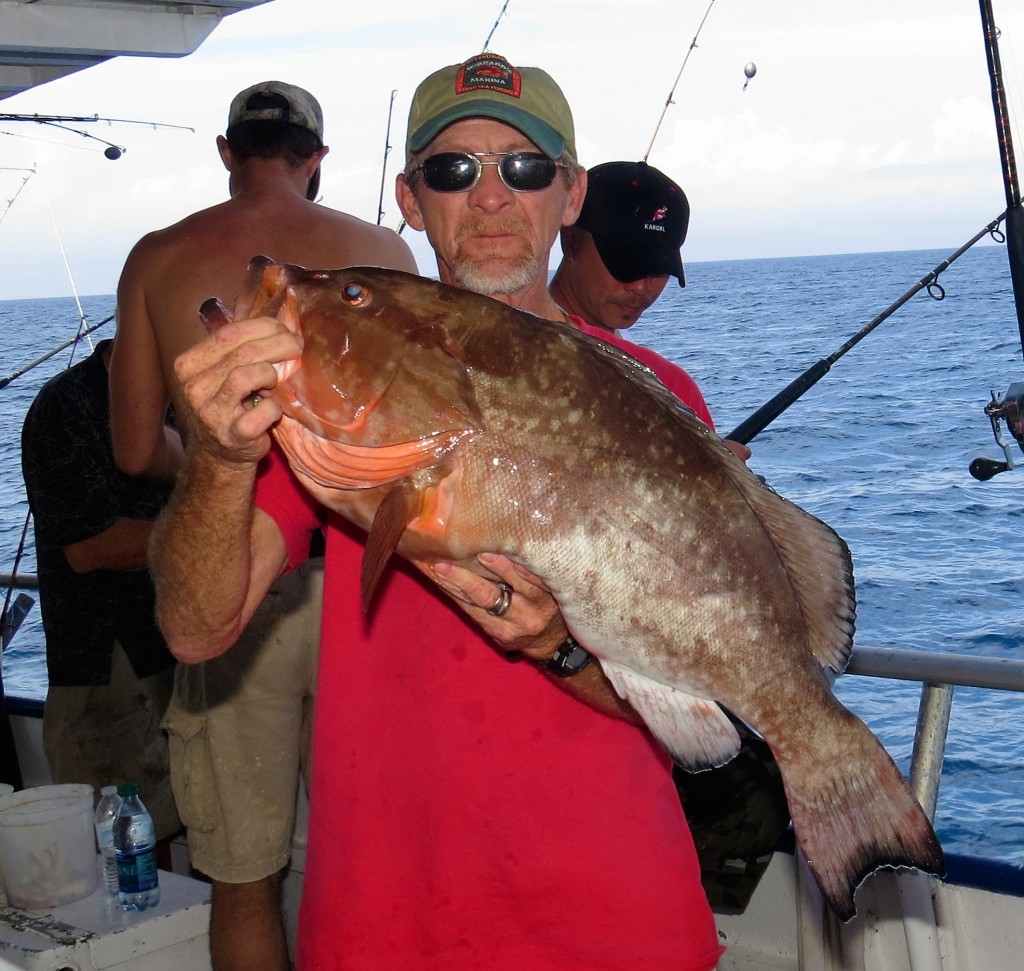 Inshore– Ronald Chapman, a Pinellas County local, reported that the bite inside Johns Pass and around the northern jetty is going really well for him lately. He was fishing frozen shrimp and some sand fleas catching nice flounder, plenty of pompano, and even some whiting. Ron reported his best success was around the first part of the outgoing tide. James Miller, a largo resident, was fishing on the top of the Johns Pass Bridge catching sheepshead, mangrove snapper, and grey snapper on shrimp and squid on the incoming and outgoing tides he fished all day and filled a five gallon bucket with great eating fish. Jack Linehan, from Detroit Michigan, reports that the pompano are biting well around fort De Soto County Park too! He reports catching a few this past week on squid of the gulf pier inside the park. Angelo Rivero, from Largo, was catching big flounder this past week using a doc's goofy jig combined with a yellowtail fly free-floating up and down his mainline.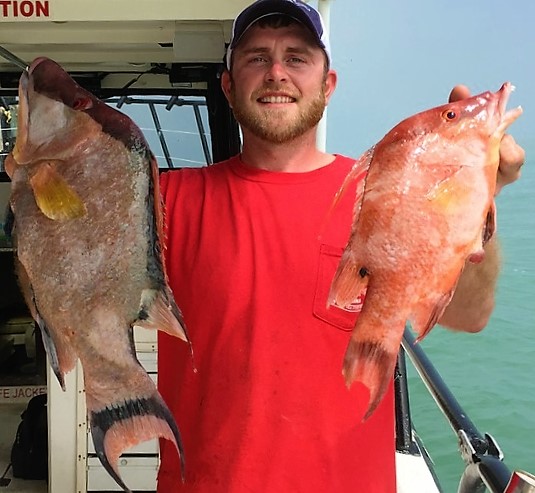 Near shore– The hogfish bite lately is heating up just like our near shore waters. They are loving live shrimp or fiddler crabs. The trick to the hogs is the least amount of terminal tackle possible, light tackle and long fluorocarbon top shots. We like to knocker rig for them, jig head fish for them tipped with shrimp, or simply use a Nekid ball jig tipped as well.  The water temp is getting closer to 73-74 degrees now in the near shore waters allowing the mackerel to show back up in small numbers. As the water continues to warm the mackerel will only get more prolific followed closely by their larger counterparts the king mackerel or kingfish. The Mackerel will most likely be here in force after the next full moon and the kingfish will be here thick two full moons from now these pelagic fish seem to hop up and down the costal passes on the moon phases following the flow of whitebait. The red grouper bite is finally starting to warm up with the local waters we expect it to only improve from here as the summer heat sets in pushing these fish even closer to shore in higher densities.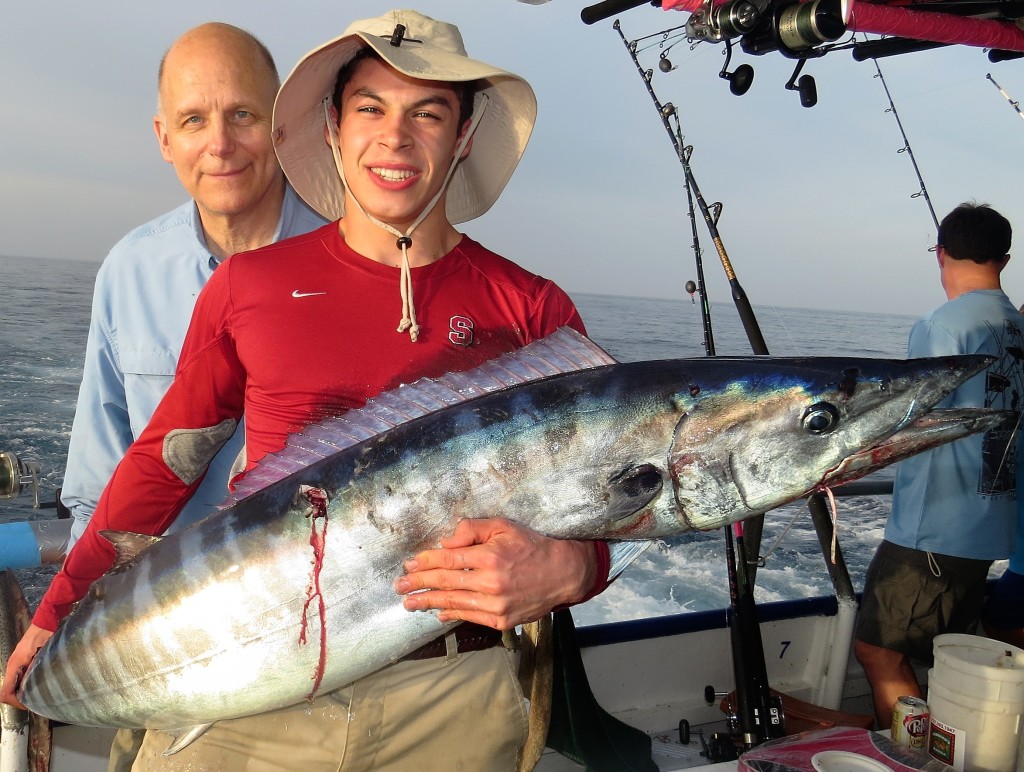 Offshore– The Tuna, Kingfish and Wahoo are biting very well on the trollers in the offshore deep blue waters. The last two long range 39 hour trips have pulled in more than a dozen nice tuna, more than a half dozen big kings and this most recent 39 hour pulled up a 55lb wahoo on a Rapala x-rap magnum that we sell in our bait shop. The red grouper bite is great in the offshore waters much better than it is in the near shore waters but you have to stay shallower than 120 foot right now to keep grouper so be careful to stay in the limit once you have grouper in your box. We have been going past the line to get the jacks and mangroves then come in a bit to start keeping the grouper, once we come in and keep grouper then we can't go beyond that line again. Even though the commercial vertical line boats are fishing 30 foot of water 10 miles from shore and keeping 18 inch grouper, the recreational guys can't go past 120 foot and we have to wait till the reds are 20 inches. Doesn't seem right that we can't go out there where the commercial guys live, but they can fish our back doors just outside the Egmont channel where ninety percent of the recreational industry fishes in the first ten miles from shore but I digress. We love the commercial industry and we don't want to knock them, just want to coexist logically and sustainably.
Click Here For More Information About Our Fishing Trips and Charters
Captain Jack's dolphin corner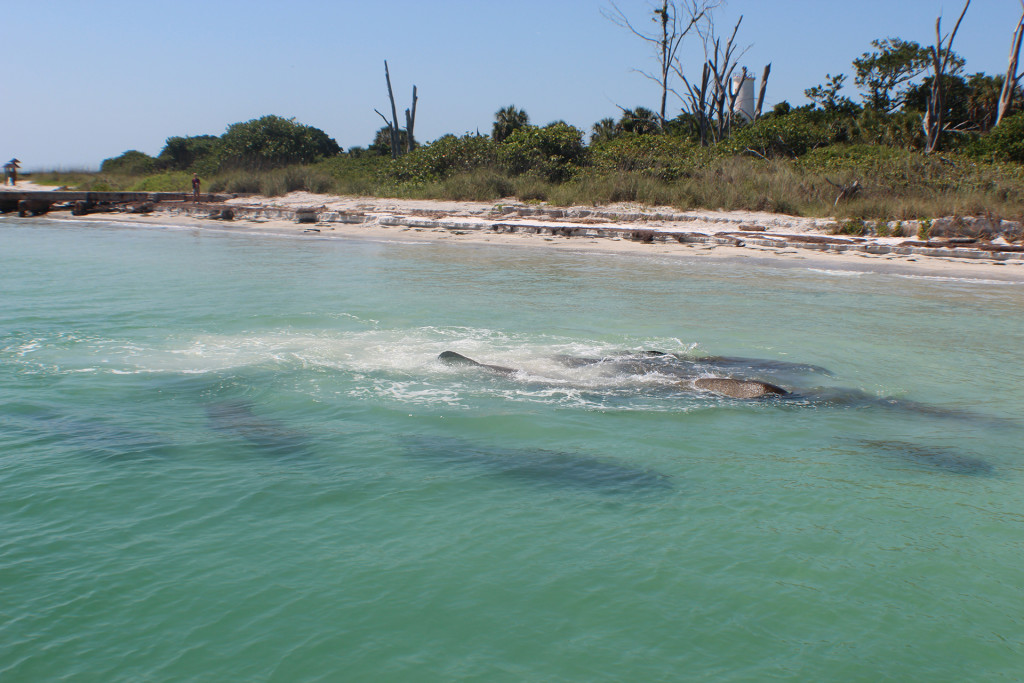 The water is warming up which has allowed the return of our local manatees to the area! They are just starting to appear in the local waters and on our beaches and as the water continues to warm over the next few weeks they will only become  more and more common and they will even start returning to our back protected bay waters inside Boca Ceiga bay.
This is the best time of year for a dolphin watching nature cruise and eco tour because not only are you guaranteed to see dolphins, this time of year also allows you a guaranteed sightings of baby birds at Dog Leg key our local island rookery.
We have the visitor dolphins in town from our surrounding areas, one big bull that is very noticeable is our southern visitor from the Sarasota area. His name is Shop and he is very noticeable due to a highly mutilated dorsal fin that was damaged by a boat's propeller or a big shark on his journey across Tampa bay.
Our local dolphins have been very playful and active in the past weeks as the water warms and spring weather sets in. This is also causing the local dolphin population to get excited about pairing up for the upcoming baby dolphin season. We are keeping our eyes peeled for any newborn local dolphins, stay tuned!
The shelling at Egmont Key and Shell Island has been out of this world! This weekend's weather should push even more great shells onto the beaches come out with us Tuesday or Wednesday to grab the latest and greatest shells that washed up from the late weekend front.
Due to the weather heating up this is going to be the last month you can explore the interior of Egmont key easily and freely without being hassled by mosquitoes or paralyzing heat in the interior of the island. The coast of the island always stays beautiful with the water and cool gulf breeze.
The water is warming up locally, the snorkeling should become popular anytime now. The waters around Egmont key are still in the low 70's though so it will be a few weeks before the locals are ready to get wet.
Our sunset cruise with free beer and wine is now a daily cruise once again as the weather gets nicer! Join us sometime soon for a fun filled trip and a beautiful view of the sunset. It's the best bar on the water guaranteed!
 Click Here For More Info On The Dolphin Watching Nature and Eco Tour
Upcoming up at Hubbard's Marina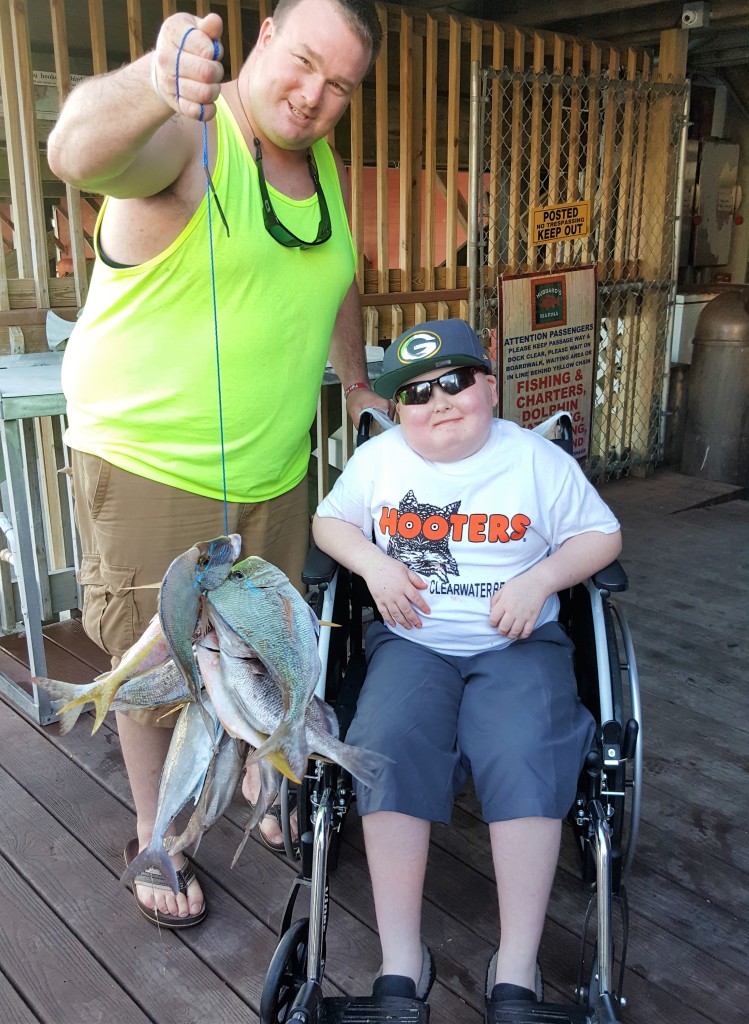 Want to go night fishing? Our 12 hour night snapper trips start up in March! These night trips offer 8-9 hours of fishing time in 70-120 foot of water 15-35 miles from shore targeting mangrove snapper, porgies, vermillion, yellowtail and more! The 12 hour specialty trips are $129 per angler, to find out more: https://www.hubbardsmarina.com/12hr-night-fishing-trip/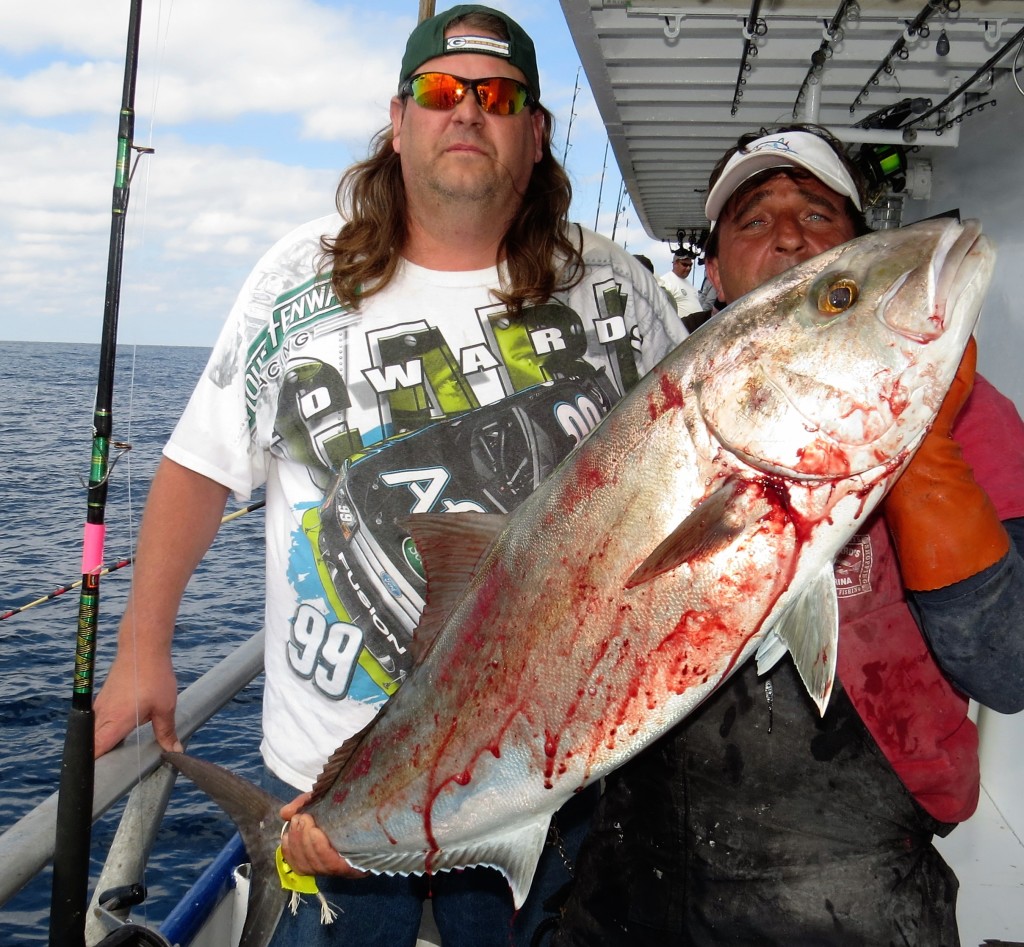 Ready for big jacks? The 12 hour day trip is starting up in March too! These special 12 hour day trips are completely different than the night 12 hours. The day trip goes 40-60 miles to hunt the super deep water for fat AJ's, big red grouper, and mangroves! Due to the long run you don't get a bunch of fishing time, but you do get to fish 120+ foot of water during a day trip. This trip is for advanced anglers only since were fishing for large hard fighting fish is super deep depths. This 12 hour trip is the same price as the night trip, its $129 per angler. For more information on the trip: https://www.hubbardsmarina.com/12hr-day-fishing-trip/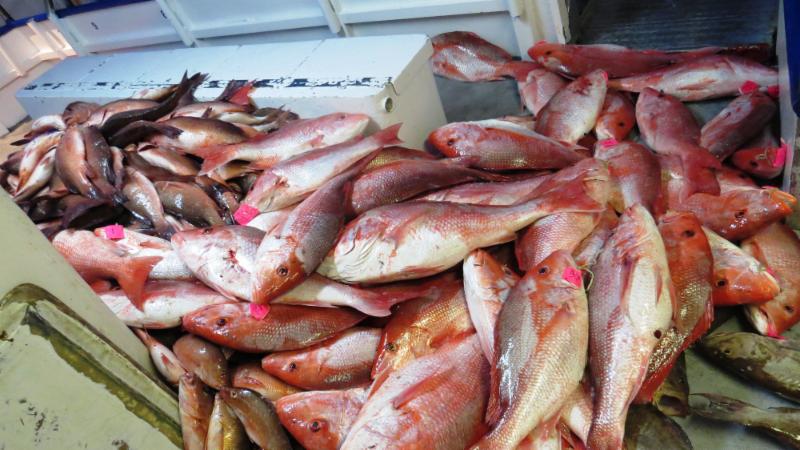 Want to do some 'reel' fishing? Try our 39 hour overnight fishing trip to the middle grounds and surround areas. We only have one more of these special 39 hours this month, it leaves this coming Tuesday the 15th. This trip offers around 20 hours of bottom fishing time and around 14 hours of trolling time as well! Not only do you get the weekend on the water, but you also get to take home a two day bag limit too or double what you could keep during a typical day trip. The 39 hour trips are $329 per angler and to find out more: https://www.hubbardsmarina.com/39hr-overnight-fishing-trip/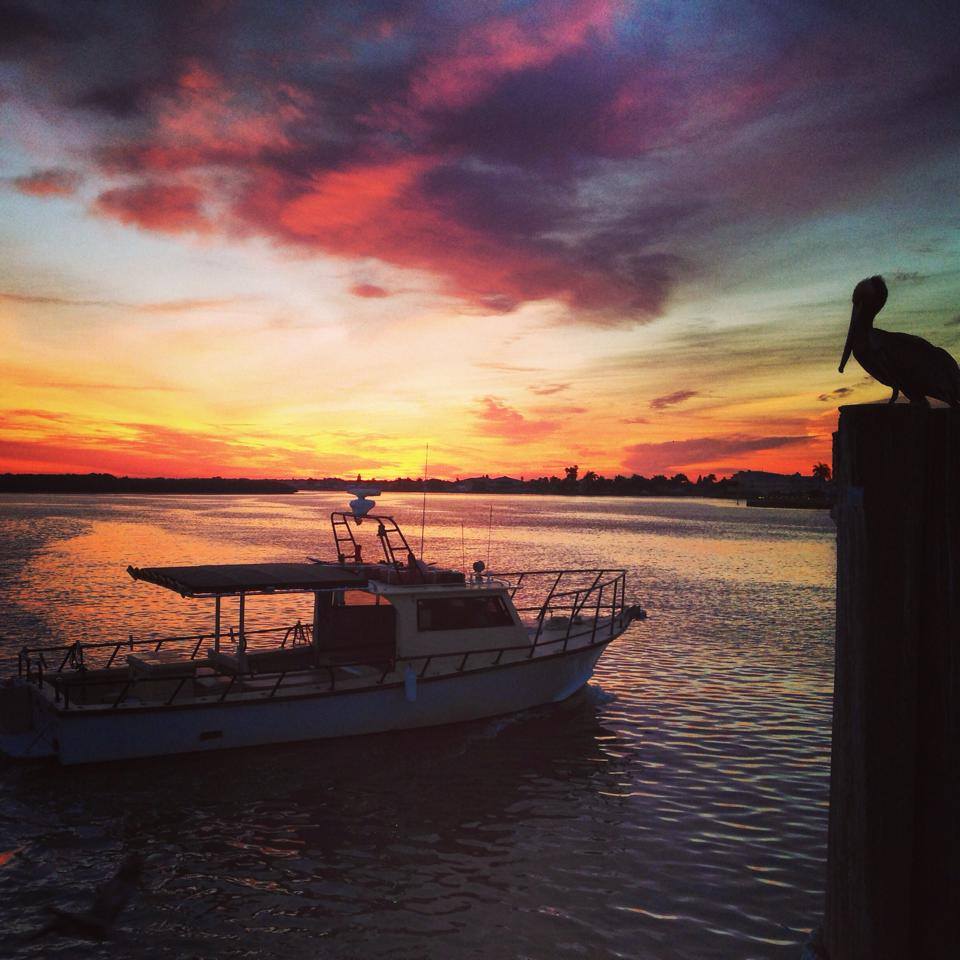 The Mrs. Hub and the Flying HUB 1 are finally ready for bookings, call Angela fitting if you are ready for a unique fishing opportunity with our expanded private charter fishing fleet at Hubbard's Marina. If you want to see every boat we offer for charters and more info on them check out the BRAND NEW charter page at our new site, this new page gives you all eight boat's and their photos so you can choose the boat you want to charter and find out more info about it!
Want more night fishing time? Try our unique 44 hour full moon trip that offers a full night of fishing on a full moon rather than the partial night of fishing time the 39 hour offers. This trip gives you around 25-26 hours bottom fishing time and tons of daytime trolling on the way out to the bottom fishing areas. This 44 hour offers two day bag limit much like the 39 hour offers. The next 44 hour is coming up April 22nd.
Our first 63 hour deep drop pelagic trip of 2016 will be April 28th! These trips offer tons of fishing time in the 300-1,200 foot range and plenty of trolling time for the pelagic fish as well. We also have two more schedule before dry dock in September check out the specialty trip schedule to see all the 63 hour dates in 2016. To see more about these trips, check out the video on our new 63 hour deep drop pelagic trip page on the brand new website.
Keep in mind that 44 hours and 63 hour trips must be booked via phone, and cannot be booked via our online reservation system. We will be addressing this issue soon when we re do our online reservations system. Once this is done you will be able to book every trip through that system
Regular's club
Regular's club signups are coming to an end. If you fish more than 5, 10, 15 times a year or know someone who does let's talk about getting you or your friends into the club before we close the ranks until 2017 club signups. Typically we do this around May each year so if you want to get someone signed up for discounts on the trips and other great benefits for fishing multiples times throughout the year then call Dylan Hubbard or email him today!
Dylan Hubbard
Vice president and Regular's club manager Hubbard's Marina
(727)393-1947 ext 306
For This Weeks Coupon, Click Here