FISHING REPORT
Inshore
The sheepshead and flounder bite is still strong inshore. The snook bite is mostly been at night lately when the water is moving strong. When it gets cold remember the fish cannot put on jackets like me and you they get a bit of shock and once that initial shock is gone they still move slower and react more slowly because they are cold blooded animals. Remember this when your fishing cooler water next time, working the bait slower will greatly increase your catch ratio when fishing these conditions. Steve Tatavitto, from Clearwater, was fishing with his buddies this past weekend inside Johns pass with live shrimp. They were slow to start but once they started scrapping the pilings with a flat ended shovel the chum attracted some nice sheepshead they caught plenty of nice sheepshead and black drum. The tide didn't matter, as long as it was moving they were hooking some fish. They even pulled in some small grouper.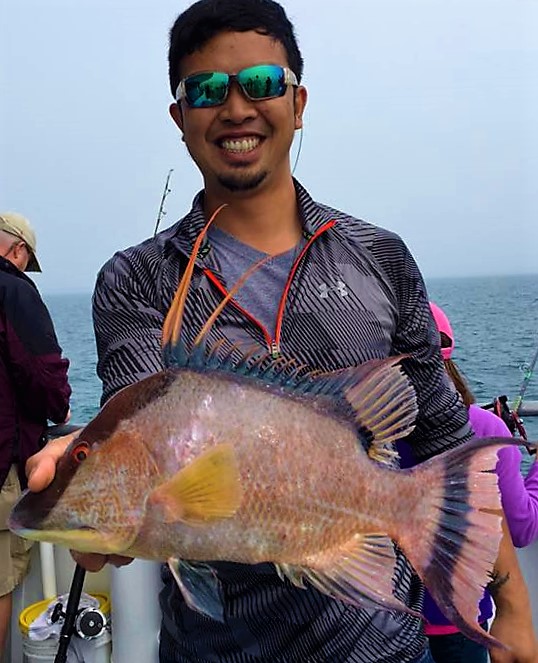 Near shore
The hogfish bite on our last ten hour all day was one of the best we have seen in a very long time. We took home nearly 30 nice big hogfish from this past Tuesday's ten hour all day. Ananthachai Nantakul, from Tampa, was on this trip with us and between him and his buddy they caught 5 beautiful hogfish, 3 fat sheepshead, tons of grey snapper and more! They said that the light tackle helped them catch plenty of hogfish on live shrimp. The red grouper bite has still been tough due to the seemingly endless supply of cold fronts back to back, but we have faith they will come on strong as the water warms.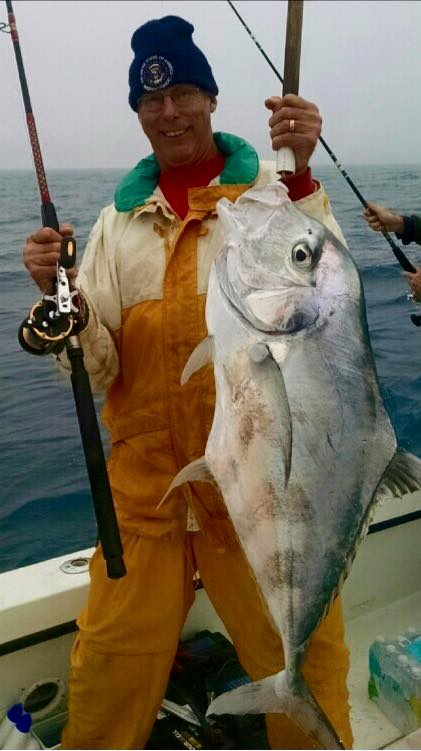 Offshore
The Flying HUB 1 got its first trip at Hubbard's Marina under its belt this past week. Captain Bryon Holland and Captain Mark Hubbard and the crew took it 60-70 miles in heavy fog in about two hours. If the weather was clear and the waters calm we could have gone another 20 miles in the same two hour run! This boat was so much fun and so fast we were fishing in 170 foot before we even knew what hit us. The big jacks were thick and ready to fire at the 150-180 marks especially on the wrecks. They were crushing big live baits just as they disappeared under the boat. Within the first few hours of fishing we easily limited out on 40-80lb amberjack. Once we finished on the jacks we all started fishing for the fat mangroves, yellowtail, and mutton snapper. We caught plenty of big mangrove snapper nearly limiting out with the biggest nearly 9lbs. The big yellowtail bit very well for us too in the 140-160 range with the largest nearly 6lbs caught by Joe Drew on a small live pinfish knocker rig believe it or not! Captain Mark Hubbard only fish a small portion of the trip but every time he dropped he caught something of true quality. He caught the largest amberjack that nearly pulled him over, then shortly after he caught a beautiful big African pompano while targeting mangrove snapper with cut sardines. Plus, on top of all the great fish we caught we put a hurting on nearly 30 keeper sized fat gags that all had to be caught and released since they don't open until July first.
Captain Jack's Dolphin Corner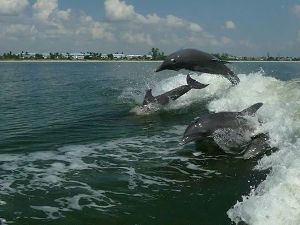 The local great American egrets have started to sport their mating plumage again so the pelicans aren't the only seabirds gearing up for the spring mating season. These egret's mating plumage nearly caused their extinction in the 1920's and 30's when the long wispy feathers along the bird's back became super popular in lady's hats causing hunters to nearly drive these great American egrets to extinction. They became the first seabirds protected by the national autobahn society after this nearly complete wipe out of their population.
The recent nice weather window had our local dolphins playful and enjoying the nice weather. This was a very interesting site to see since lately we have been seeing them more focused on feeding and plain survival during the cooler days or bad weather periods. When the sun came back out and warmed up the waters it was like the dolphins went into summer mode playing and jumping and following the boat's waves. Great to see them capitalizing on the good weather while they could.
White pelicans are still in our area and will remain in the area all winter long. However, they have really seemed to move out of Boca Ceiga bay and seem to be congregating around Fort De Soto and Egmont key areas. This means you have a much better chance of spotting them while heading to Egmont key than if you took a dolphin trip this time of year.
The local dolphin population is getting full on fat mullet this time of year. The mullet pour out of our local rivers, lakes, and bayous around the cold fronts to head offshore to the near shore wrecks and ledges for their annual spawn. This mass exodus of big mullet is what the dolphins wait for all year, this period in the late fall early winter is when the dolphins can really pack on the pounds as they eat tons of big mature mullet trying to head offshore for spawning. The mullet fisherman can be found racing the dolphins to the schools of mullet and it's always added entertainment on our cruises this time of year!
Unfortunately the weather has become too cold for our local manatee population. This means they have moved north to the natural springs for the winter or to the local power plant outflows where the water stays 72 degrees or higher all year around. Since manatees are marine mammals its important they stay in waters above 72 to help them regulate their body temperatures.
Upcoming up at Hubbard's Marina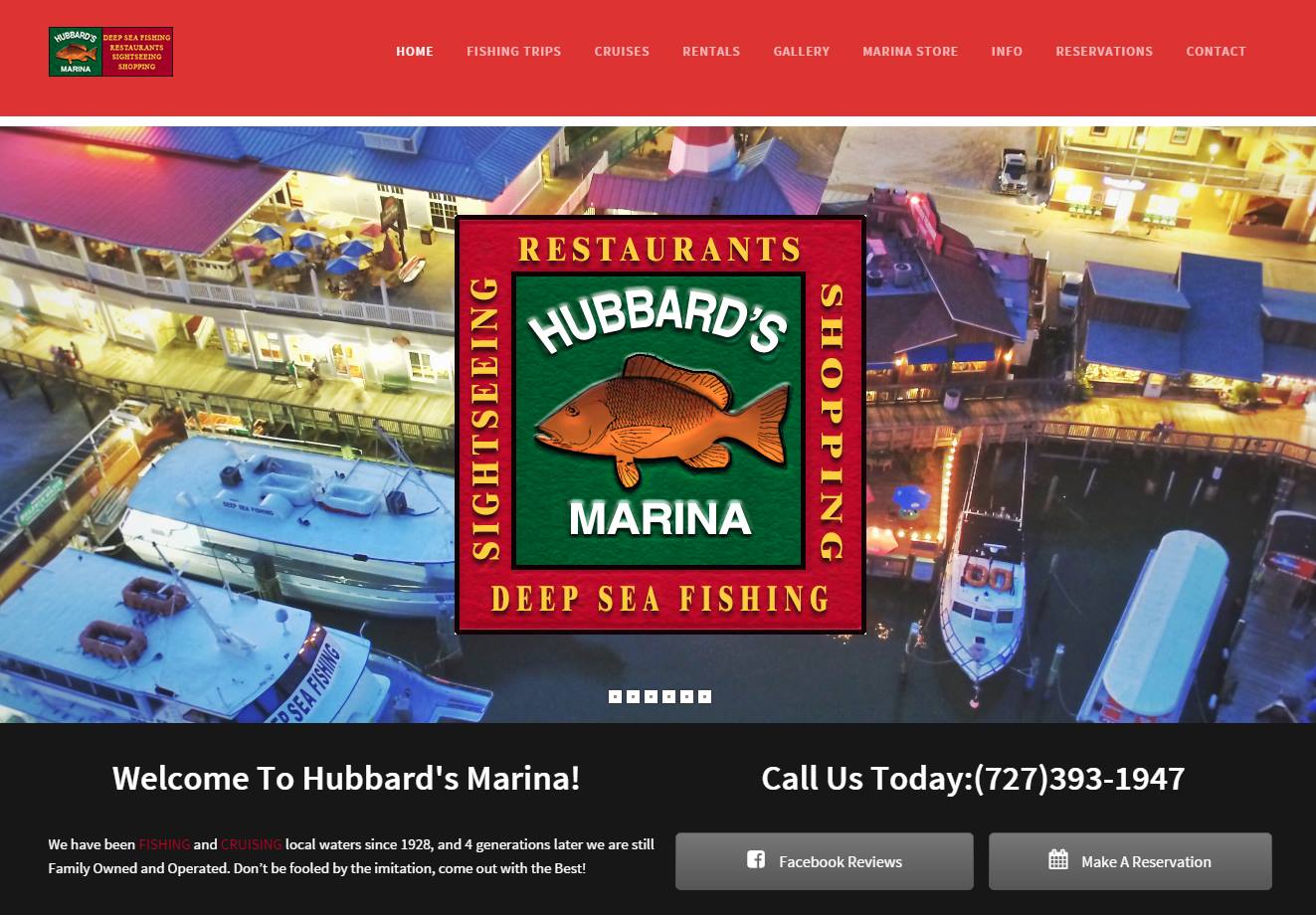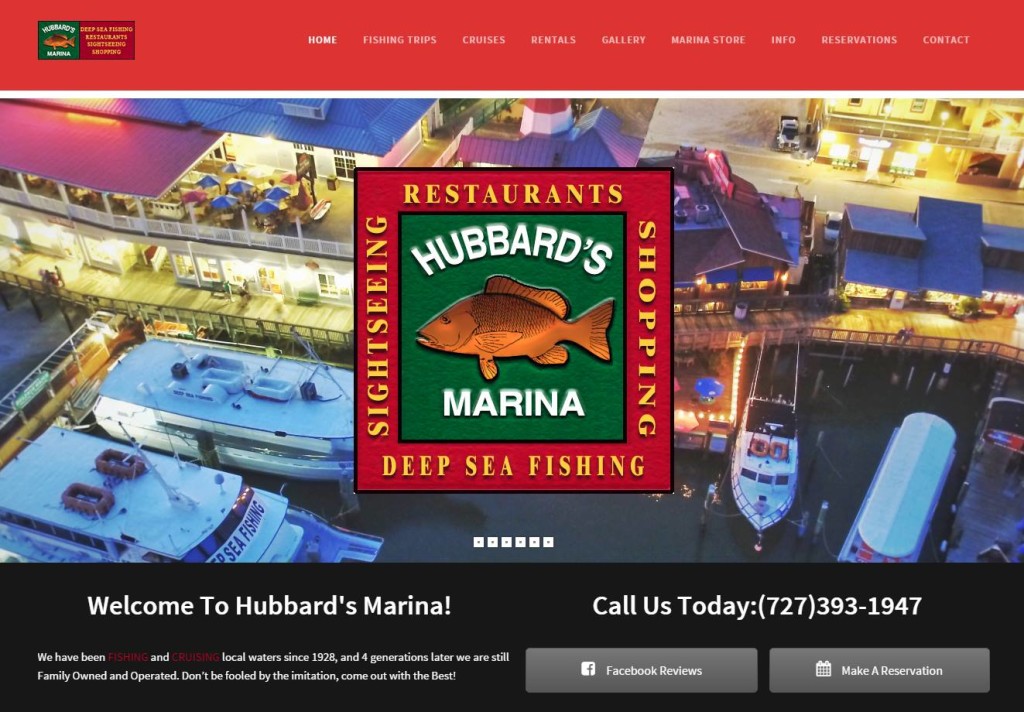 You have to check out our BRAND NEW website! Hubbard's Marina is happy to announce that we have finally completely revamped our site to bring it up to date with info, photos, videos and more! This new site has a totally new look and easier navigation making finding out more information easier than ever before. In order to see the latest version make sure to delete your browsing history and clear your cache, once this is done when you visit our site you should see the latest updates! Too see the new site: http://Hubbardsmarina.com
Please take some time and check out the new website and don't forget to tell us what you think! Email Dylan Hubbard to tell him how he did dialing in the newest version: info@HubbardsMarina.com and a big thanks to Quick Reach Media for helping us complete this in depth project!
We have one more 39 hour trip coming up in the month of February. This next 39 hour overnight trip fall on February 26th. This trip offers around 20 hours of bottom fishing time and around 14 hours of trolling time as well! Not only do you get the weekend on the water, but you also get to take home a two day bag limit too or double what you could keep during a typical day trip.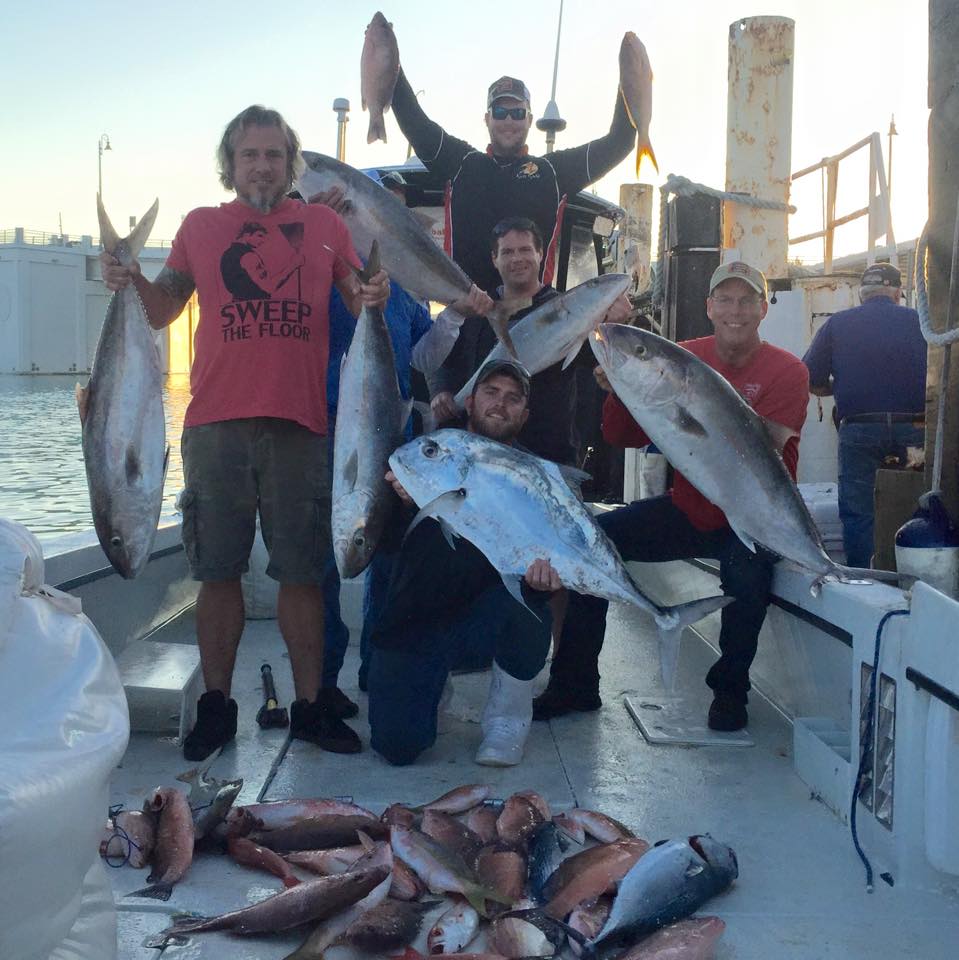 The Mrs. Hub and the Flying HUB 1 are finally ready for bookings, call Angela fitting if you are ready for a unique fishing opportunity with our expanded private charter fishing fleet at Hubbard's Marina. If you want to see every boat we offer for charters and more info on them check out the BRAND NEW charter page at our new site, this new page gives you all eight boat's and their photos so you can choose the boat you want to charter and find out more info about it!
Want more night fishing time? Try our unique 44 hour full moon trip that offers a full night of fishing on a full moon rather than the partial night of fishing time the 39 hour offers. This trip gives you around 25-26 hours bottom fishing time and tons of daytime trolling on the way out to the bottom fishing areas. This 44 hour offers two day bag limit much like the 39 hour offers.
The 12 hour day and the 12 hour night snapper trips will start in March this year and run until August check out the specialty schedule to see their dates and get booking now! Keep in mind that during spring we will be releasing the Flying HUB fleet's 12 hour days too!
Our first 63 hour deep drop pelagic trip of 2016 will be April 28th! These trips offer tons of fishing time in the 300-1,200 foot range and plenty of trolling time for the pelagic fish as well. We also have two more schedule before dry dock in September check out the specialty trip schedule to see all the 63 hour dates in 2016. To see more about these trips, check out the video on our new 63 hour deep drop pelagic trip page on the brand new website.
Keep in mind that 44 hours and 63 hour trips must be booked via phone, and cannot be booked via our online reservation system. We will be addressing this issue soon when we re do our online reservations system. Once this is done you will be able to book every trip through that system!
Regular's club
Regular's club signups are coming to an end. If you fish more than 5, 10, 15 times a year or know someone who does let's talk about getting you or your friends into the club before we close the ranks until 2017 club signups. Typically we do this around May each year so if you want to get someone signed up for discounts on the trips and other great benefits for fishing multiples times throughout the year then call Dylan Hubbard or email him today!
Dylan Hubbard
Vice president and Regular's club manager Hubbard's Marina
(727)393-1947 ext 306
For this weeks Coupon, Click Here