Inshore– Andrew Romeo, from Seminole, was fishing the end of the Hubbard's Marina dock this past week catching black drum and snook on sand fleas oddly enough. His buddy Lonnie Kasten, from St. Petersburg, was also using sand fleas but he was catching nice sheepshead on them closer to the pilings of our main dock. Will McClure and Captain Anthony Belmonte were also fishing around the Hubbard's Marina docks this past week catching big sheepshead, flounder, mangrove snapper, and also big black drum! Will McClure even caught a juvenile tarpon recently while trying to target sheepshead under our dock.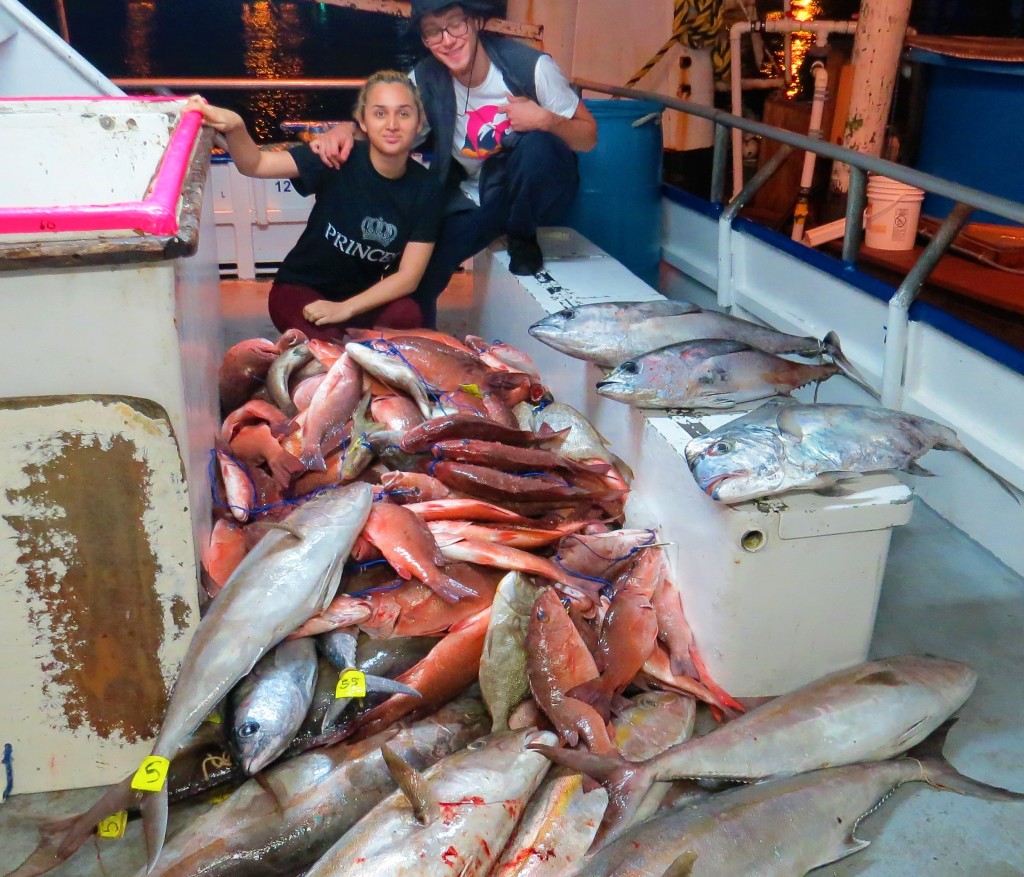 Near shore– When we have been able to slip offshore between the recent fronts and bad weather we have been doing surprisingly well for how dirty and cold the water has gotten lately in our near shore waters. Seems that we had a nice warm fall and early winter and now were paying for all that nice weather here in January, hope this trend dies down for February! The hogfish bite has gone well any day the weather has been nice enough to go target them. The clearer the water the better the bite has gone, and they are still loving the live shrimp or fiddlers. Red grouper bite has been slow, no way around that but the gag grouper has randomly picked up quite a bit now that the water temps have finally got into the 'winter' weather range. The cobia and triple tail are spreading out more due to this dirty water and recent weather making it harder to find and target them.

Offshore– Still waiting to get back offshore, the weather has canceled multiple long range party boat trips and the first few Flying HUB 1 trips! Can't wait for this weather to relax so we can get out to the blue water and put a hurting on those big plentiful fish that are waiting for us to come back! The Flying HUB 1 is ready to get broken back in Hubbard's Style, check out our BRAND NEW website to see the new charter area where all our boats are photographed and better explained. Always remember, "If You're too busy to go fishing, You're just too busy!"
Captain Jack's dolphin corner

The recent nice weather window had our local dolphins playful and enjoying the nice weather. This was a very interesting site to see since lately we have been seeing them more focused on feeding and plain survival during the cooler days or bad weather periods. When the sun came back out and warmed up the waters it was like the dolphins went into summer mode playing and jumping and following the boat's waves. Great to see them capitalizing on the good weather while they could.
The local great American egrets have started to sport their mating plumage again so the pelicans aren't the only seabirds gearing up for the spring mating season. These egret's mating plumage nearly caused their extinction in the 1920's and 30's when the long wispy feathers along the bird's back became super popular in lady's hats causing hunters to nearly drive these great American egrets to extinction. They became the first seabirds protected by the national autobahn society after this nearly complete wipe out of their population.
Unfortunately the weather has become too cold for our local manatee population. This means they have moved north to the natural springs for the winter or to the local power plant outflows where the water stays 72 degrees or higher all year around. Since manatees are marine mammals its important they stay in waters above 72 to help them regulate their body temperatures.
The local dolphin population is getting full on fat mullet this time of year. The mullet pour out of our local rivers, lakes, and bayous around the cold fronts to head offshore to the near shore wrecks and ledges for their annual spawn. This mass exodus of big mullet is what the dolphins wait for all year, this period in the late fall early winter is when the dolphins can really pack on the pounds as they eat tons of big mature mullet trying to head offshore for spawning. The mullet fisherman can be found racing the dolphins to the schools of mullet and it's always added entertainment on our cruises this time of year!
White pelicans are still in our area and will remain in the area all winter long. However, they have really seemed to move out of Boca Ceiga bay and seem to be congregating around Fort De Soto and Egmont key areas. This means you have a much better chance of spotting them while heading to Egmont key than if you took a dolphin trip this time of year.
Upcoming up at Hubbard's Marina
You have to check out our BRAND NEW website! Hubbard's Marina is happy to announce that we have finally completely revamped our site to bring it up to date with info, photos, videos and more! This new site has a totally new look and easier navigation making finding out more information easier than ever before. In order to see the latest version make sure to delete your browsing history and clear your cache, once this is done when you visit our site you should see the latest updates! Too see the new site: http://Hubbardsmarina.com
Please take some time and check out the new website and don't forget to tell us what you think! Email Dylan Hubbard to tell him how he did dialing in the newest version: info@HubbardsMarina.com and a big thanks to Quick Reach Media for helping us complete this in depth project!
Want to join us at this weekend's Florida Sportsman magazine outdoor expo? This show will be at the Lee County Civic center down in Fort Myers. We will be raffling off a FREE 39 hour overnight trip at our booth over the weekend too for free if you stop by the booth. Captain Mark and Dylan will also have seminars both days of the show too. Hope you can join us for all the food, fun, boats, tackle, gear, seminars, and demonstrations at this weekend's show!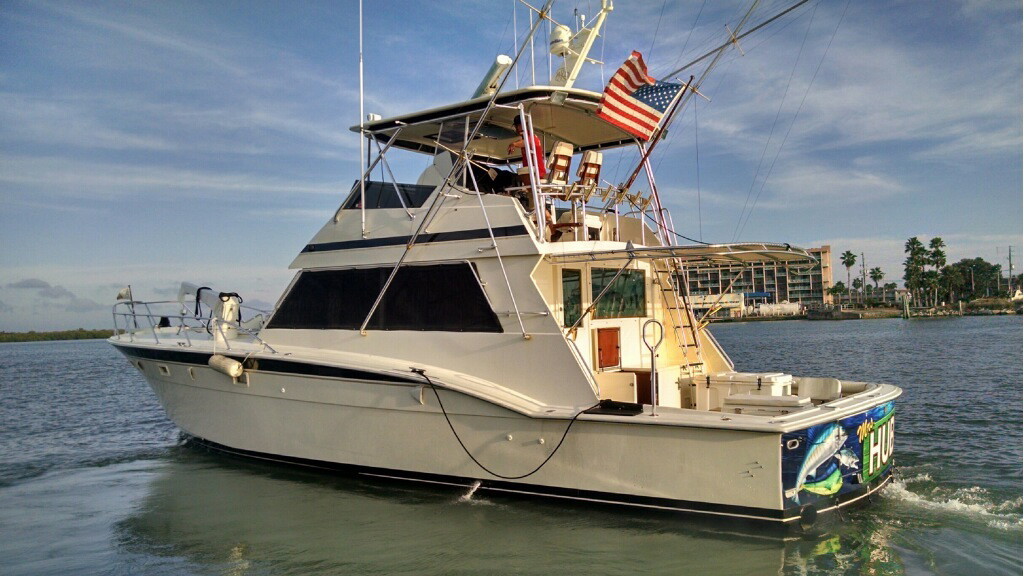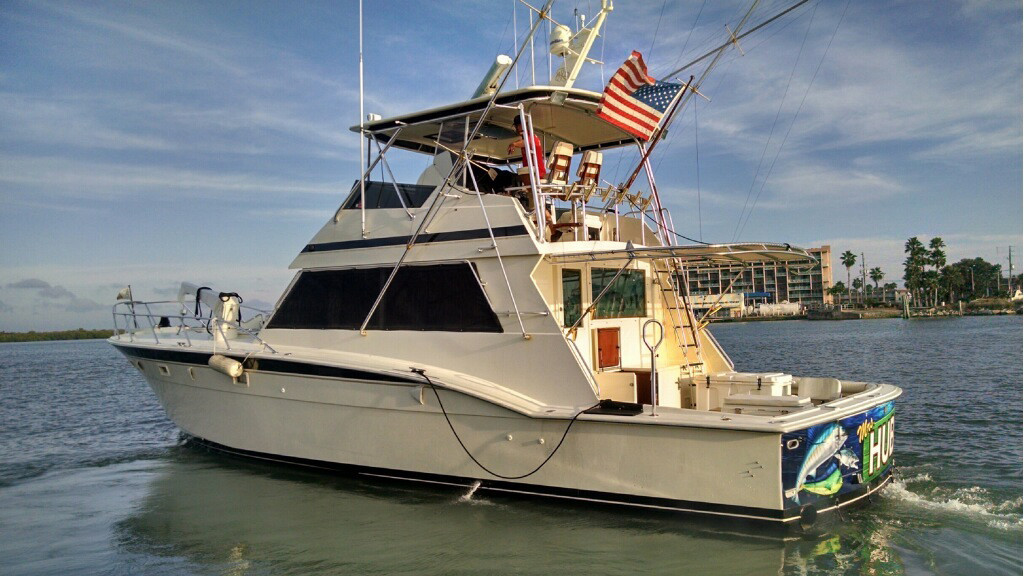 The Mrs. Hub and the Flying HUB 1 are finally ready for bookings, call Angela fitting if you are ready for a unique fishing opportunity with our expanded private charter fishing fleet at Hubbard's Marina. If you want to see every boat we offer for charters and more info on them check out the BRAND NEW charter page at our new site, this new page gives you all eight boat's and their photos so you can choose the boat you want to charter and find out more info about it!
We have two 39 hour trips coming up in the month of February. The first 39 hour overnight fishing trip is Friday February 5th and the second 39 hour that month falls on Friday February 26th. Both of these trips offer around 20 hours of bottom fishing time and around 14 hours of trolling time as well! Not only do you get the weekend on the water, but you also get to take home a two day bag limit too or double what you could keep during a typical day trip.
Want more night fishing time? Try our unique 44 hour full moon trip that offers a full night of fishing on a full moon rather than the partial night of fishing time the 39 hour offers. This trip gives you around 25-26 hours bottom fishing time and tons of daytime trolling on the way out to the bottom fishing areas. This 44 hour offers two day bag limit much like the 39 hour offers.
The 12 hour day and the 12 hour night snapper trips will start in March this year and run until August check out the specialty schedule to see their dates and get booking now! Keep in mind that during spring we will be releasing the Flying HUB fleet's 12 hour days too!
Our first 63 hour deep drop pelagic trip of 2016 will be April 28th! These trips offer tons of fishing time in the 300-1,200 foot range and plenty of trolling time for the pelagic fish as well. We also have two more schedule before dry dock in September check out the specialty trip schedule to see all the 63 hour dates in 2016. To see more about these trips, check out the video on our new 63 hour deep drop pelagic trip page on the brand new website.
Keep in mind that 44 hours and 63 hour trips must be booked via phone, and cannot be booked via our online reservation system. We will be addressing this issue soon when we re do our online reservations system. Once this is done you will be able to book every trip through that system
Regular's club
We have finally finished our 2016 Regular's club renewals! Now that everyone has been called or emailed we are now doing signups, renewals, or first time signups whenever you guys are ready. If you want to join the clubs for the coming year sooner is better than later allowing you more time to use the discount since no matter when you sign up your membership expires on December 31st, 2016.
For club info, club questions, or to sign up contact Dylan at the email below or call him at his desk (727)393-1947 Ext 306.
info@HubbardsMarina.com

For Coupons and Specials Click Here