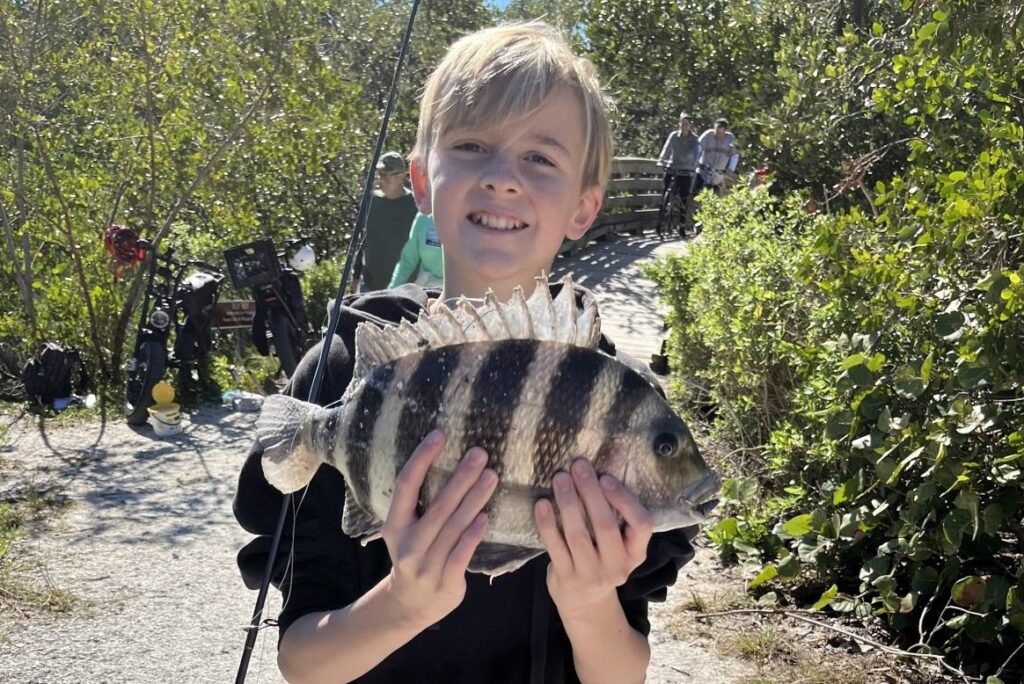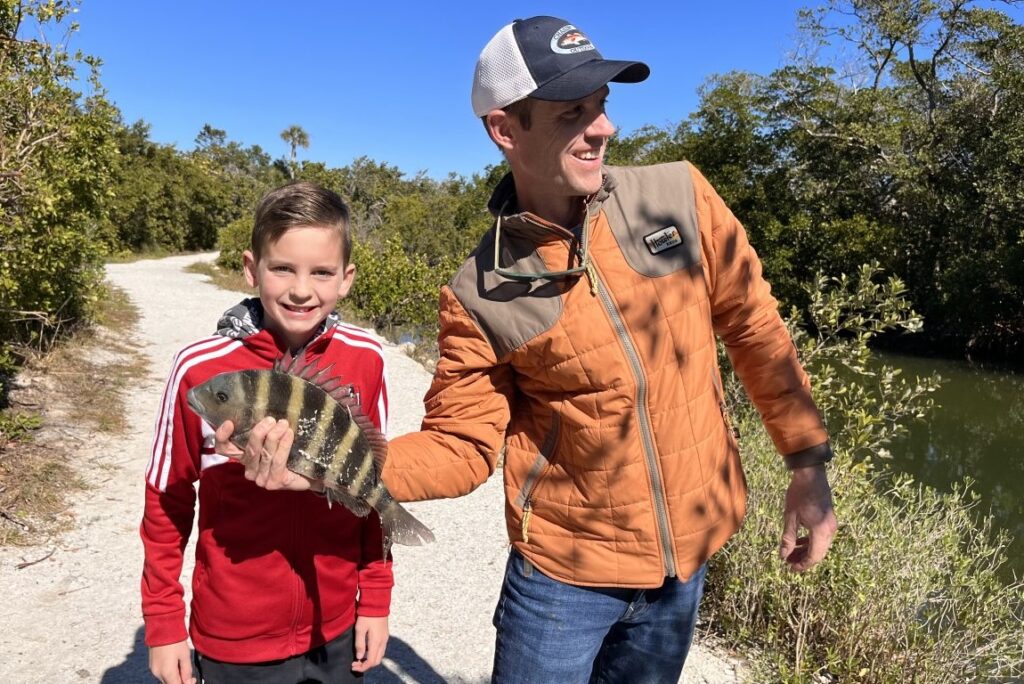 Inshore right now we see a lot of sheepshead. The sheepshead bite is typically pretty darn good around this time of year. We see the sheepshead stack up around docks, piers, bridges and jetties and any areas that hard structure can accumulate growth from barnacles, oysters, clams or anything else. Sheepshead love to eat crustaceans like small fiddler crabs, mangrove crabs, shrimp and a variety of other species. The sheepshead will even feed actively when other species aren't like the backside of a cold front when the water gets really muddy and the fish get finicky. Sheepshead seem to thrive in that murky muddy water. You can even find sheepshead cruising sea walls. When looking for bigger sheepshead, often deeper faster moving water is a good area to look. Sheepshead are similar to hogfish in the fact that you need lighter tackle and minimum weight; they are pretty leader shy at times and can be pretty finicky as well. However, they have a very small mouth unlike hogfish and their mouths are also very hard so you need a smaller but strong hook when targeting sheepshead inshore.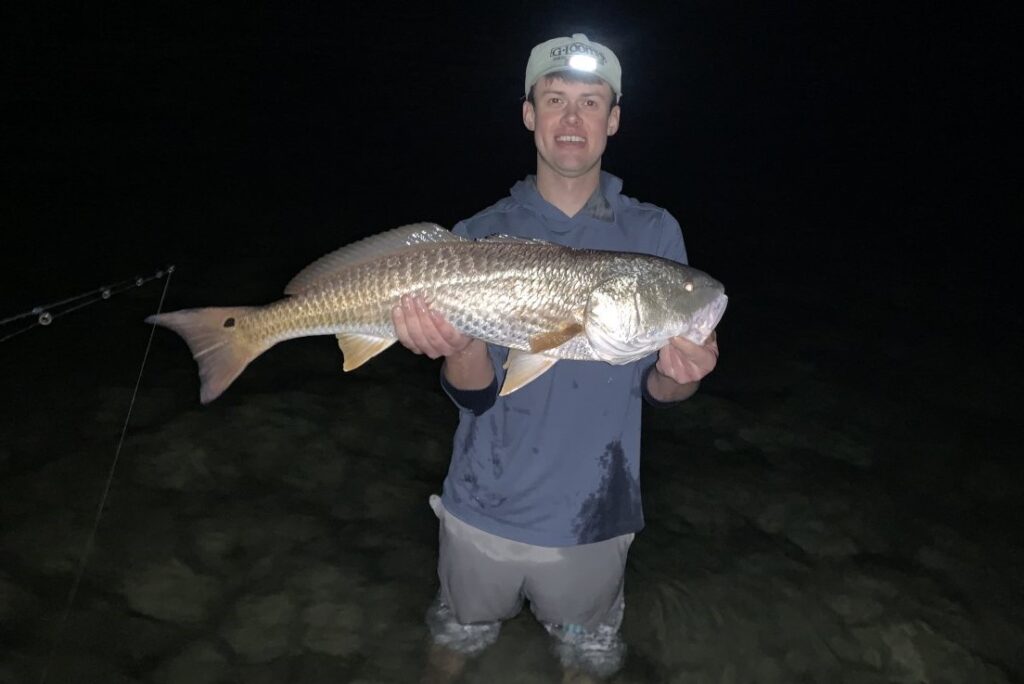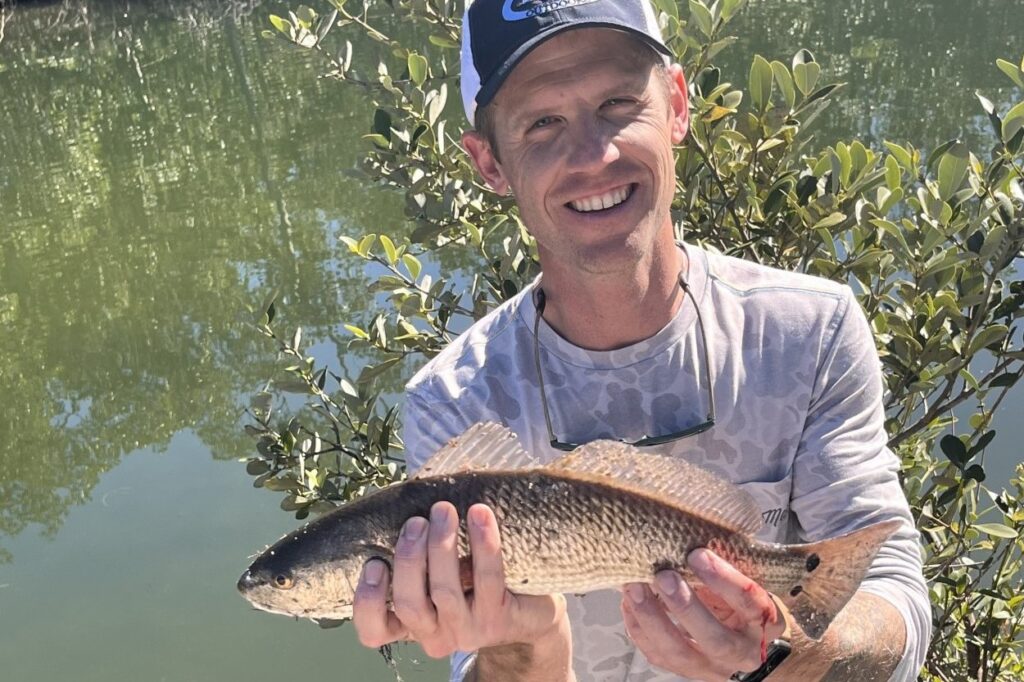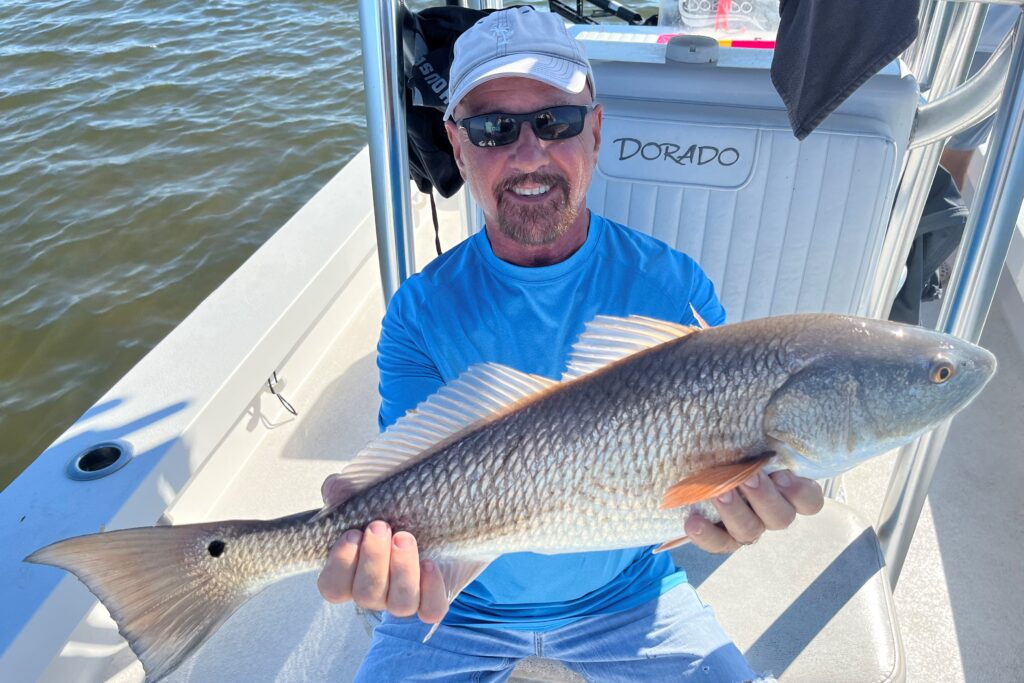 Redfish action is going well but mostly around those inshore dock lines. residential canals. and areas where red fish can find some reprieve from the cooler temperatures. Redfish this time of year going after the live shrimp well. If you can find a dock line with Shelly bottom that gives plenty of places for the crustaceans like shrimp and crabs to hide it's a good area to find those redfish. Redfish this time of year are also following the schools of mullet. The bigger redfish are often keyed in on the dead bait around mullet schools or big areas of oysters. When using artificials to target those redfish the soft plastic has been a go to, with anywhere from a 1/6 to 1/8 oz jighead.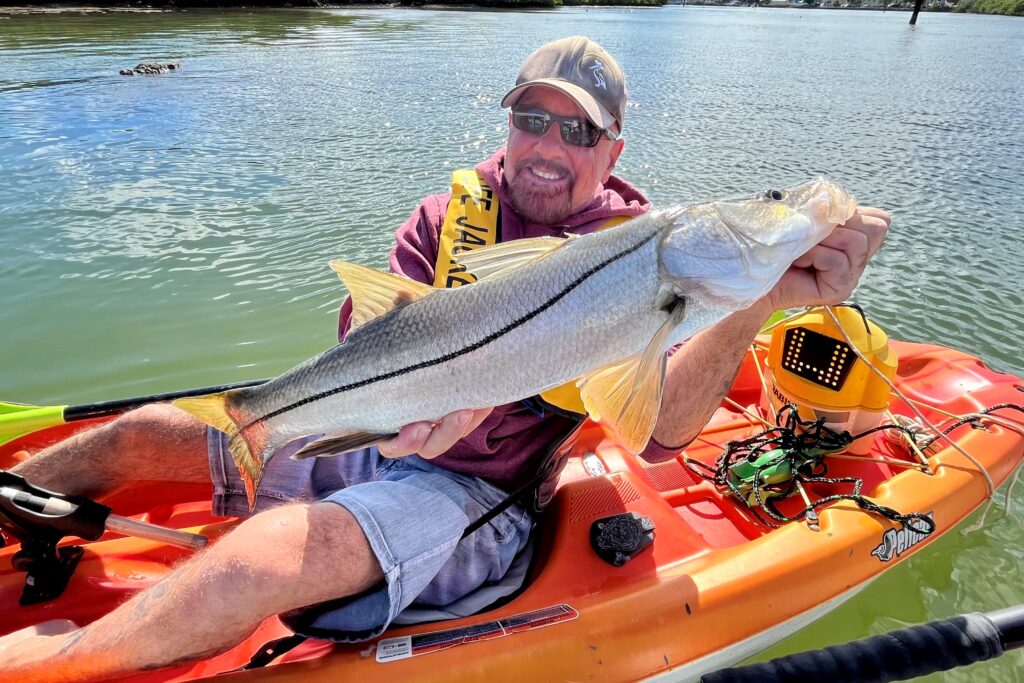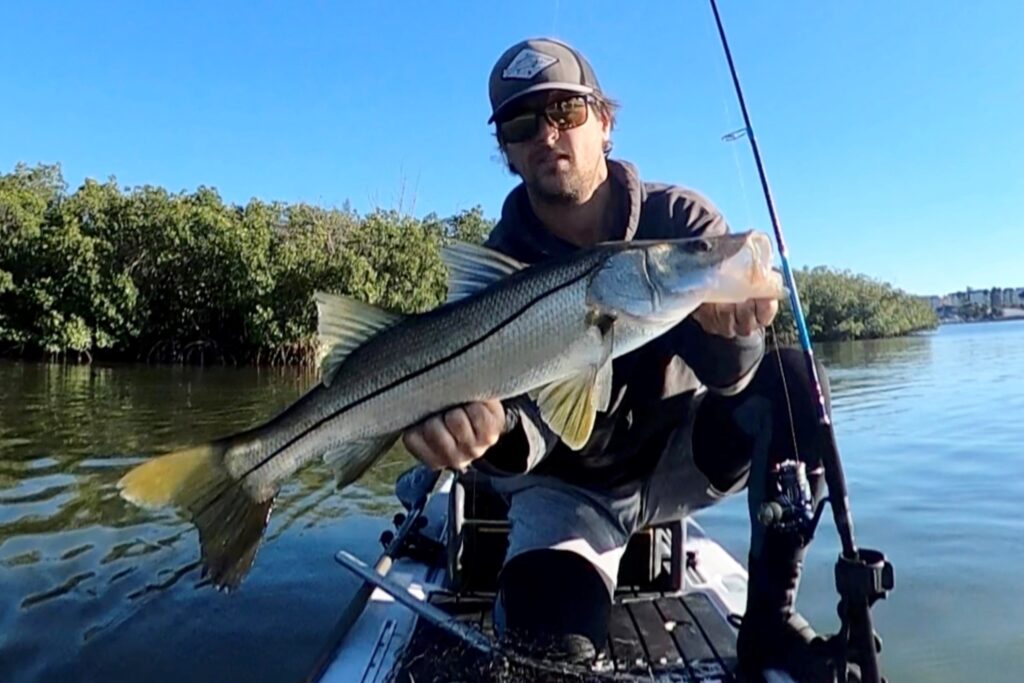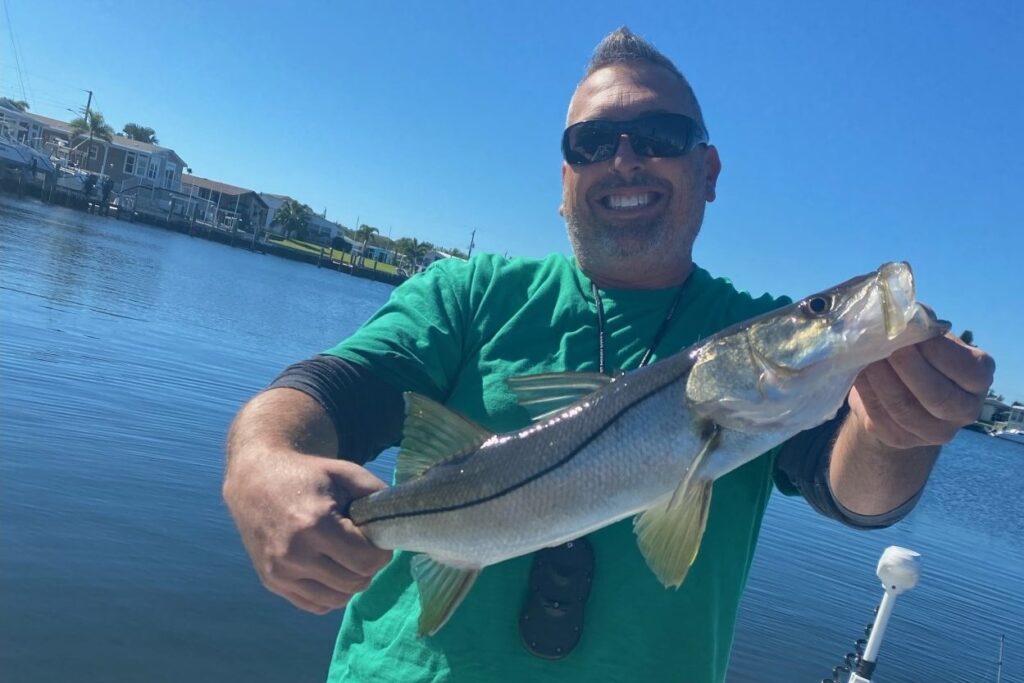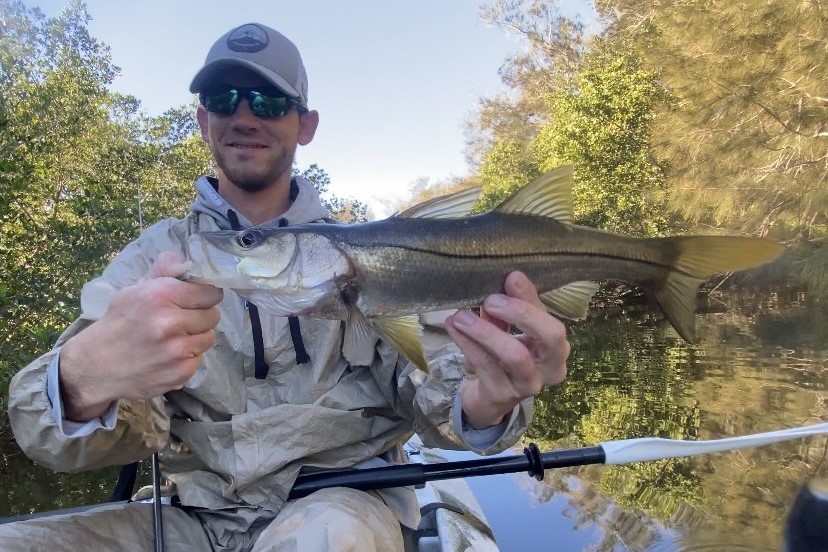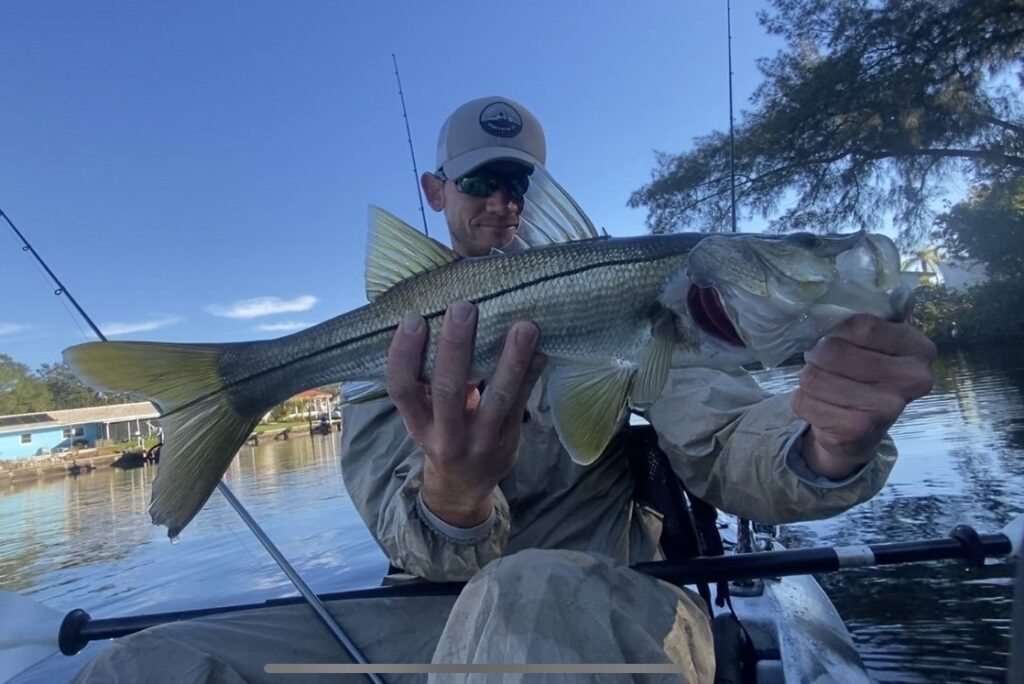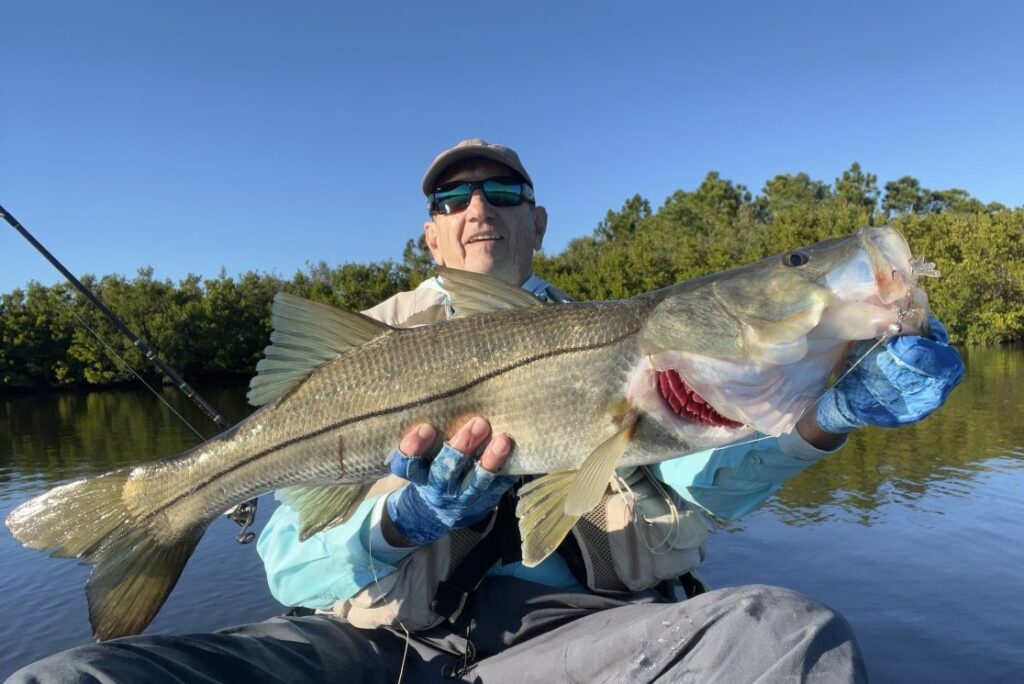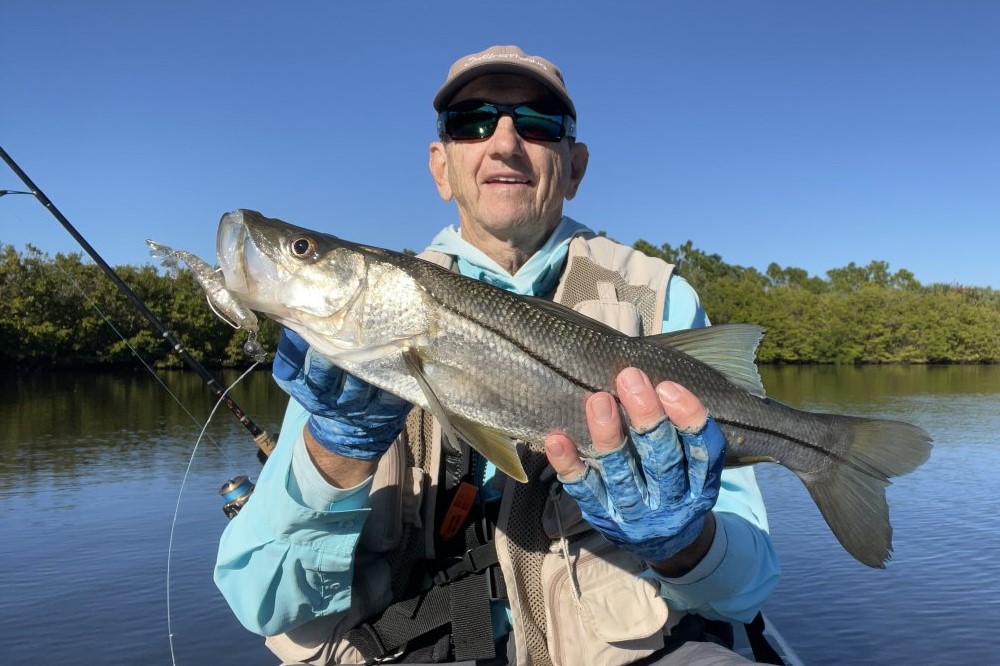 Snook are more active in the upper Bay and Back Bay areas. We're seeing most of the snook action up around the mouths of creeks, rivers and bayous. However, we've had some periods of warm-ups and those warm-ups do tend to bring the snook out of the back bay areas. But for the most part right now we are seeing most of the snook in the back bay area. Snook are definitely keyed in on live shrimp and larger live baits like pin fish or pig fish.
Trout are definitely prolific and aggressive this time of year, catching them during the day and at night in our Back Bay waters. Trout are hanging out on little cuts and potholes in pockets of our shallower grass flats in the Back Bay areas. If you can find a flat that drops from shallow to deeper water it's a good area to find trout. The trout are hanging shallower because they're trying to stay warm. Trout are going after slow moving soft plastics, live shrimp and small pinfish. The best way to target trout is to find those areas that they're schooled up where bait has moved in and out and they're able to find a little reprieve from the cooler temperatures and concentrate on the deeper pocket around structure like grass or mangrove shorelines any sort of area that might congregate bait.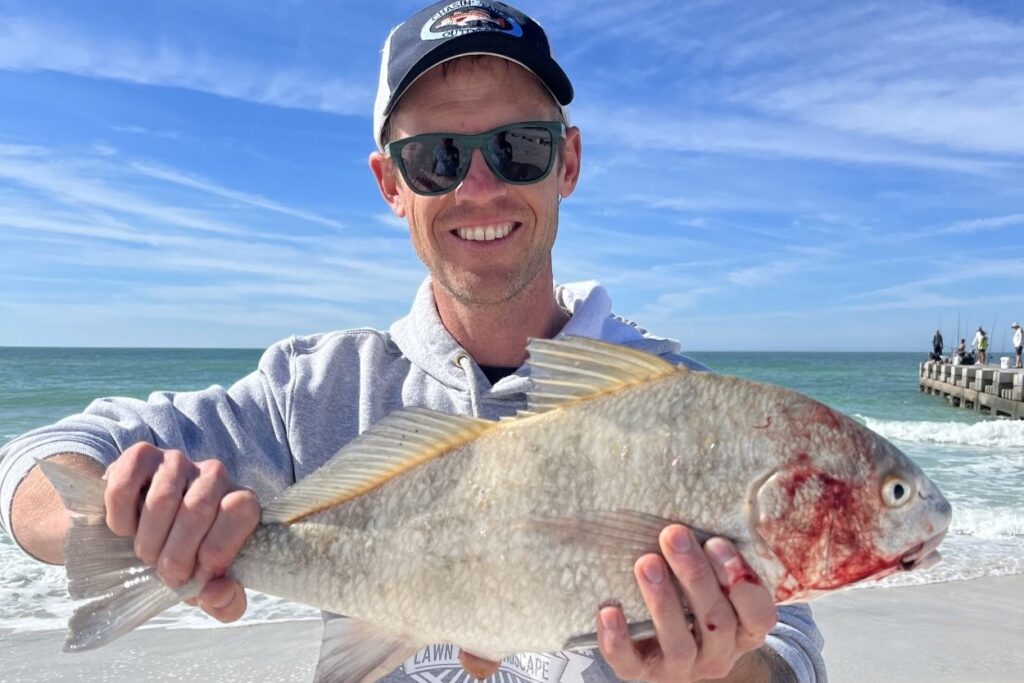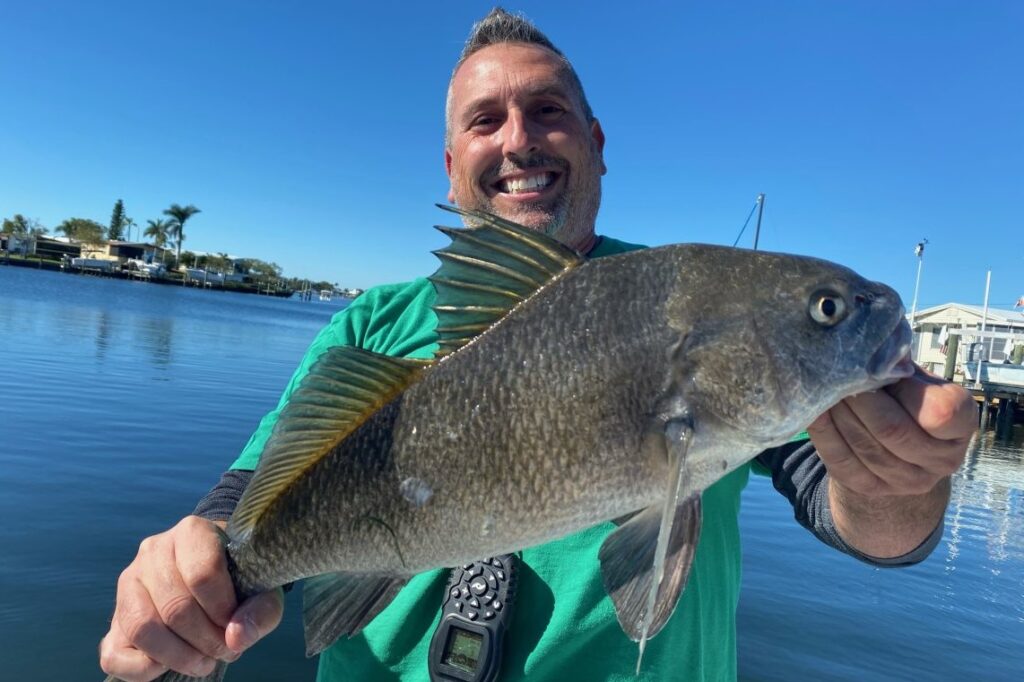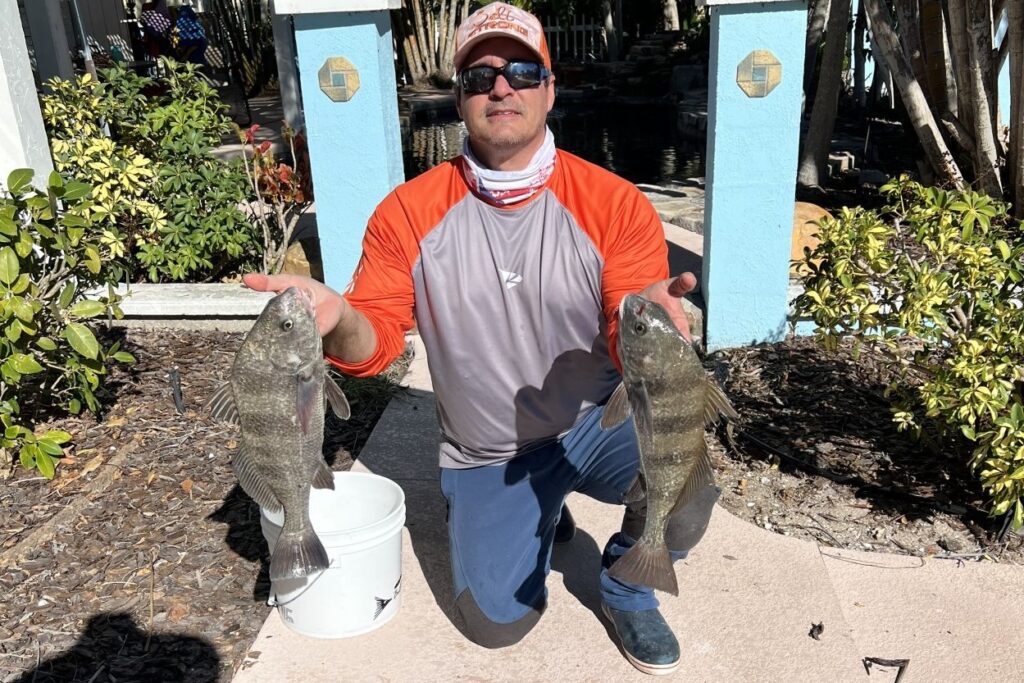 Black drum are super prolific around the area right now too. We're seeing a lot of black drum in our Back Bay areas all the way to the passes and beaches especially around docks, piers, bridges, and jetties. Black drum typically feed right on or around the bottom and they love large shrimp and crabs. The best way to target black drum is hanging out on one of the bridges with cut crabs weighted to the bottom. They're always feeding right on the bottom and they really like a smelly stinky crab.
Out on the beaches right now you have a chance for a Pompano but we're seeing mostly whiting and silver trout. These Whiting and silver trout can be found just past the surf on most any gulf beach right now. We're also seeing lots of bonnet head sharks around too. Pompano are definitely the fish most go after but unfortunately, right now with the murky muddy water and more consistent cold fronts it's difficult to find and stay on top of the Pompano.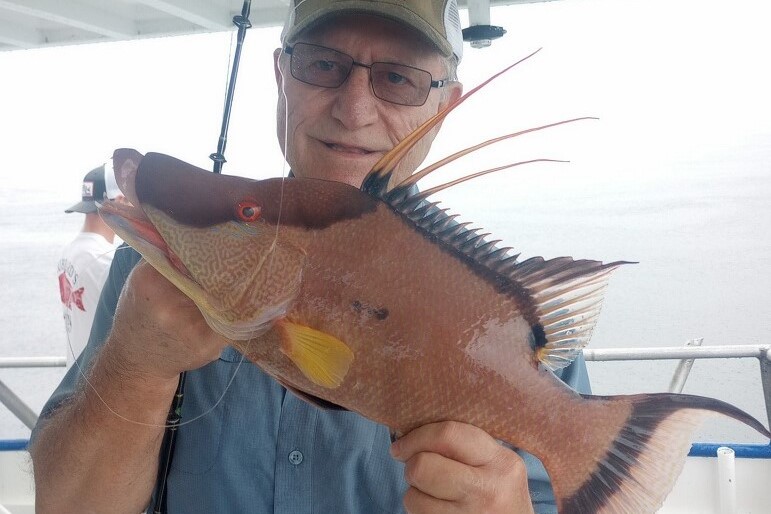 The hogfish bite lately has been going really well for us. We're seeing those hogfish anywhere from around 30 to about 80 feet of water. The hogfish love live shrimp, that's definitely their go-to prey item. We see hogfish biting well on our five-hour half day, 10 hour all day, and our private fishing charters as well. The private fishing charters aboard the hub and flying hub two are great ways to really go after and target those hogfish easily and efficiently. However, you do have a great opportunity to target those hogfish on party boat trips too; it's just a little bit more tricky on a party bow where we're going after a variety of different species for a variety of different parties whereas on a private charter we're more catering to one group and able to more easily dial into something like hogfish that is a more specialized fishery. When targeting hogfish we use three different methods either the ball jig method, the knocker rig method with beads, or will use our new banana jigs. Typically around 30-pound braided line is a good start with a 15 to 20-foot piece of 30-pound fluorocarbon top shot.
We're also seeing good action on lane snapper near shore. The lane snapper bite has been super good in our nearshore and offshore waters anywhere from about 60 foot of water up to as deep as 180 foot we're seeing active and prolific lane snapper. Lane snapper love live shrimp but they'll bite anything from squid to cut thread fins and more.
Mangrove snapper are around near shore, and we're seeing some nice mangrove snapper anywhere from about 50 foot of water up to 100 foot, which is our deepest near shore area. Mangrove snapper typically like live shrimp or cut pieces of threadfin on double Snell rigs.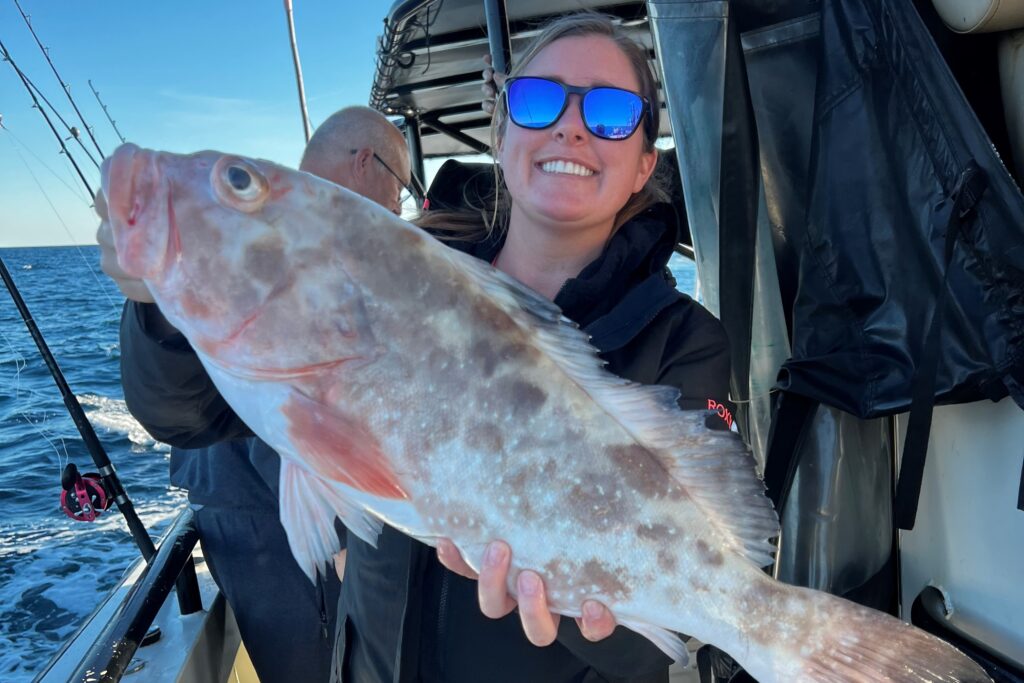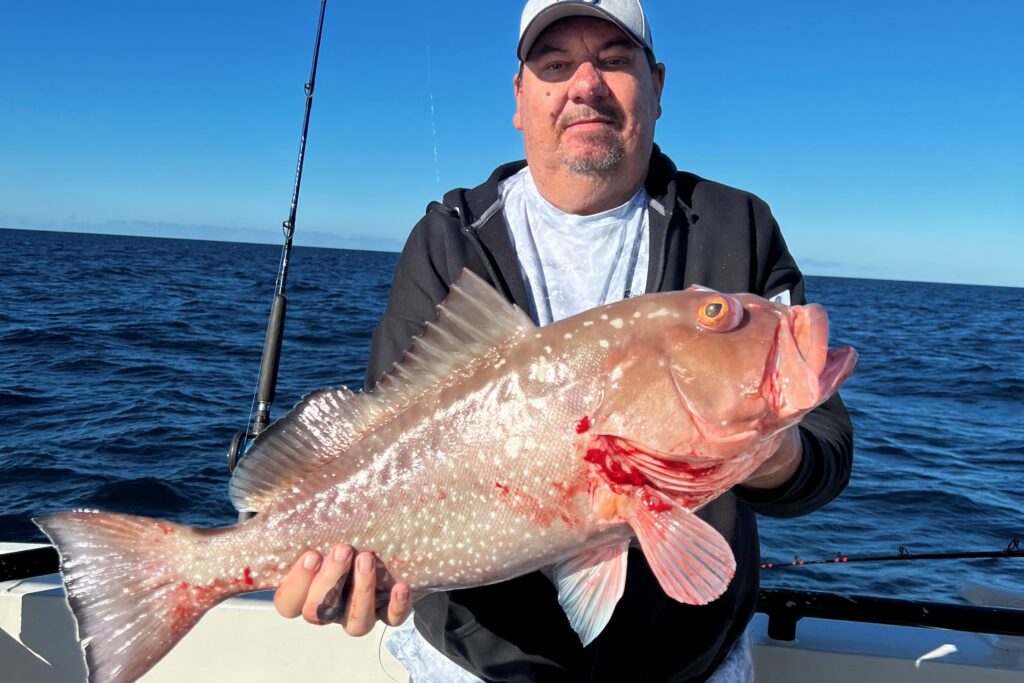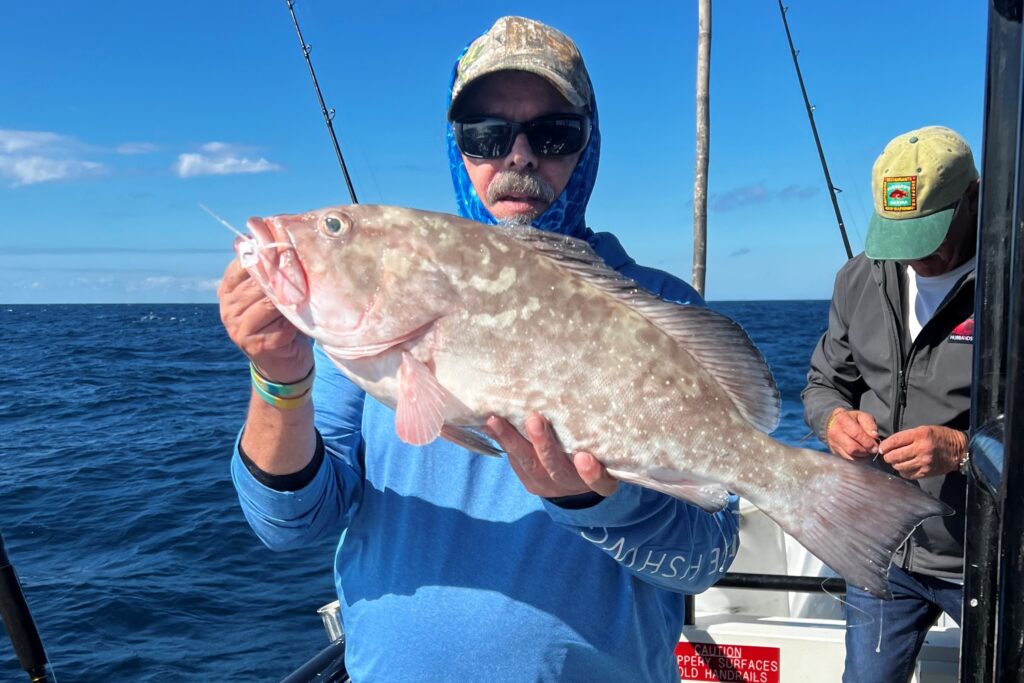 Red grouper fishing has been absolutely incredible offshore right now. Any trip that's allowing us to get out there past 110 to 120 foot of water have been absolutely crushing the red grouper. Especially the 12 hour extreme style trips, where we've been doing extremely well on red grouper. Red grouper are loving the big live baits, big dead baits and even the vertical jigs and slow pitch jigs. Virtually anything we're putting down in front of those red grouper are getting eaten well. There are still a lot of small red grouper around which is a great sign for the fishery. However, you have to be prepared and very careful while offshore fishing for red grouper or any species for that matter. Make sure you're ready and able to get rid of any undersized, out of season or over-the-bag limit fish quickly, and easily while mitigating barotrauma. It's extremely important that we all do our part and take personal responsibility for those fish that we're catching and releasing while offshore; especially once we're out past 100 foot of water where barotrauma is more prevalent. We're finding the red grouper most commonly around smaller ledges and potholes in areas of flat hard bottom with plenty of cracks and crevices for those red grouper to hide. Once you get to the bigger larger reliefs; the tendency is for more gag grouper to show up and not as many red grouper or not as much concentration of red grouper. The gag grouper bite is still going really well offshore too and we're having to dodge those in order to find big pockets and concentrated numbers of red grouper.
Scamp grouper fishing has been going well offshore too. We see a lot of those bigger scamps especially as we get closer to around 200 foot of water.  Scamp grouper love those small to medium pinfish. Typically, we find the scamp grouper mixed in pretty well with the red grouper when we're targeting them in areas like potholes and small relief this time of year. Scamp grouper are extremely good-eating fish and it's always an added bonus to have a good number of scamp grouper mixed in with our red grouper, mangroves, yellow tails, vermilions, porgies and more that we're catching this time of year.
Mangrove snapper fishing has been going well for us offshore right now as well. We're seeing a lot of mangrove snapper while fishing beyond 120 foot of water. This time of year we typically see a pretty large average size of the mangrove snapper too which is always an added bonus. Mangrove snapper love cut thread fins or cut sardines. I like to cut the head and cut the tail of a threadfin and sometimes even trim the belly so you're left with a nice chunk of meat with plenty of area for that inside juice to leak out into the water and to attract plenty of fish and plenty of surface area to hide your two double snell hooks.  Sometimes when the mangrove snapper get a little bit more finicky it helps to have a little bit of a smaller bait to make sure your hooks are hidden well but you always want to make sure your barbs are exposed when fishing for mangrove snapper because they're such quick biting fish you really want to make sure those barbs are poked out of the bait so you have the best chance of hooking up and not missing the bite.
Pelagic wise offshore right now we're seeing some nice blackfin tuna action. We see the blackfin tuna while trolling and sometimes while flat line fishing too. Often we catch them just by happenstance when dropping live bait or dead bait to the bottom or retrieving the live bait or dead bait from the bottom. The tuna will grab it on the way up or way down. We also have a chance for wahoo this time of year offshore when the water is cooler we see those wahoo persist in the area much like kingfish will show up in the spring hang out through the summer and then get more concentrated in the fall while who seem to show up in the fall stay around through winter and kind of give a last hurrah in spring.