Hubbard's Marina Fishing Report
Inshore Fishing Report
Another week of positive trends in red tide for Tampa Bay. Currently the overall bay area has trended a bit more positively with large areas of water clearing up. Also, forecasts show that it should continue. However, from Northern Boca Ceiga bay north and from around Egmont Key south at the shorelines seem to be more concentrated with negative trends towards a more concentration of red tide bloom. Keep an eye on the forecasts and reports via this link if you are interested -> http://ocgweb.marine.usf.edu/tbm/hab/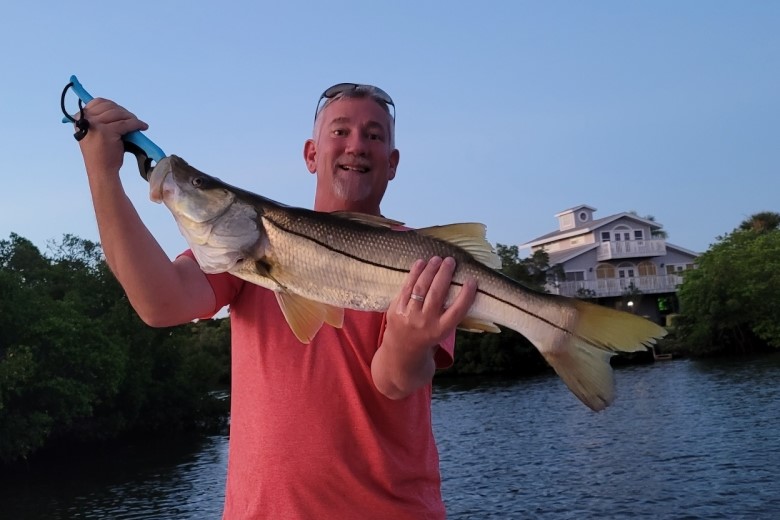 Snook fishing has picked up in those areas where the clean water can be found with lots of smaller fry baits around the snook are hiding out from the sun along that more foliage covered shorelines or in the shade of docks, piers or bridges trying to find some reprieve from the summer sun. During the heat of the day the bite has been a little slower and you want to target them in the early morning or later in the day once the heat breaks a bit. Snook fishing at night around bridge lights or dock lights seems to be improving in areas you can find good water. They are mostly found around those points, pockets and passes where the water is moving, and the waters are clear and as red tide free as possible.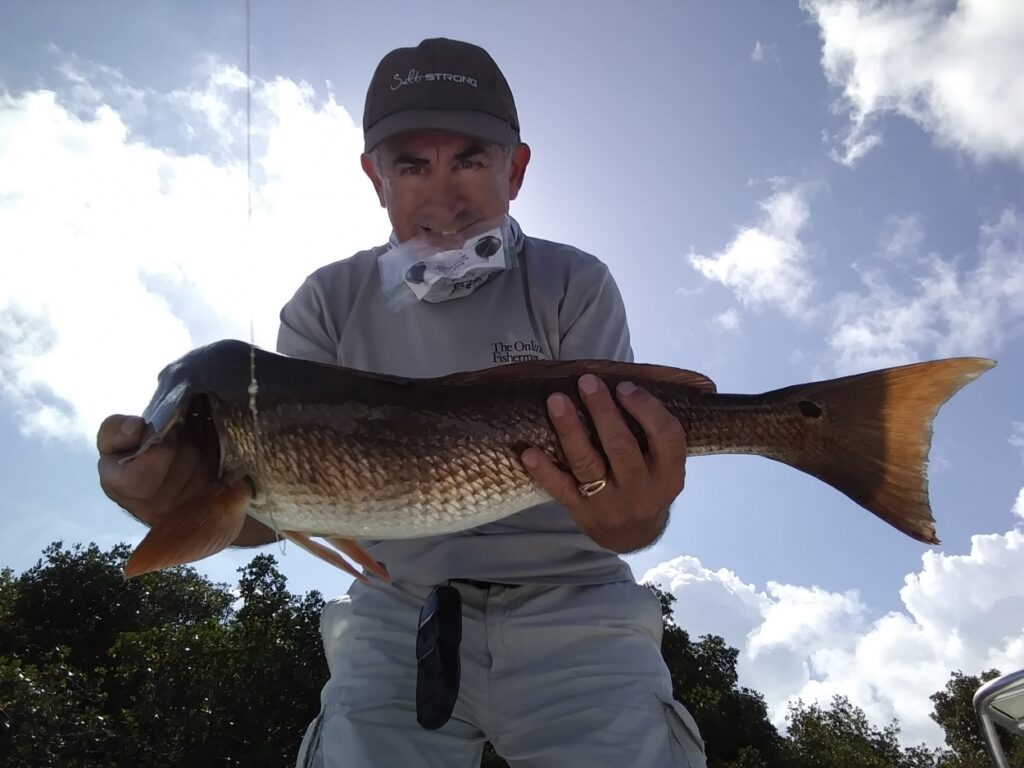 Redfish have been biting well in shallower waters at the edges of those same mangrove covered shorelines or around oyster bars. Like snook any most any inshore species the best action is in the start or end of the day when the sun isn't cooking up the shallow waters adjacent to the areas they forage for food like grass flats, oyster bars, or mangroves.
Trout action has been going well on those deeper flats at the edges, potholes, cuts or anywhere they can stack up to hit passing baits. Live shrimp, white bait and soft plastics are a great option for the trout.
This time of year, early morning top water lures especially in low light conditions provide an exhilarating rush when fish will blow up trying to get the lure. Skipping soft plastics under docks and mangrove overhangs and working the lure out of the coverage is the best way to produce action in the start of the day.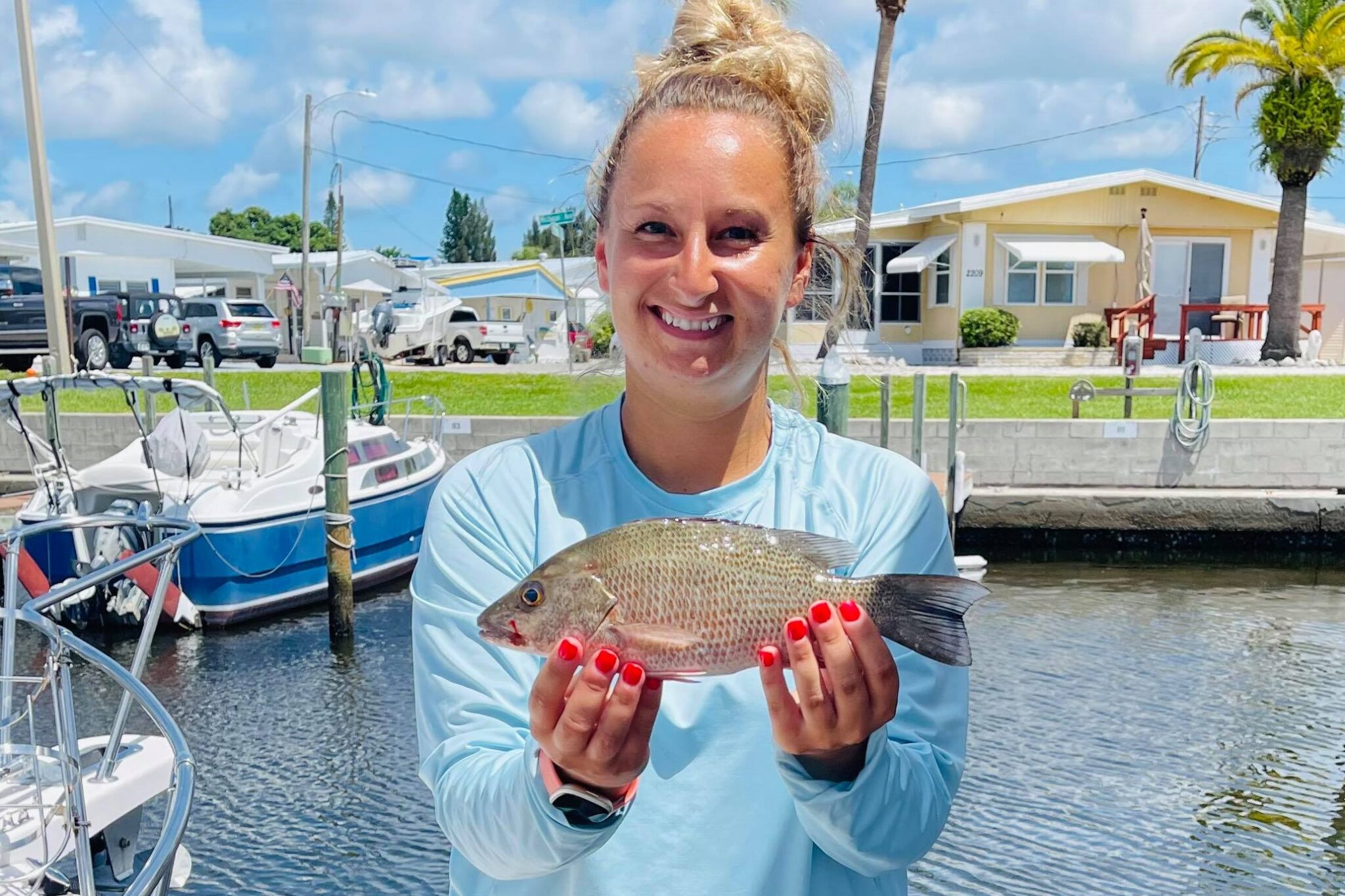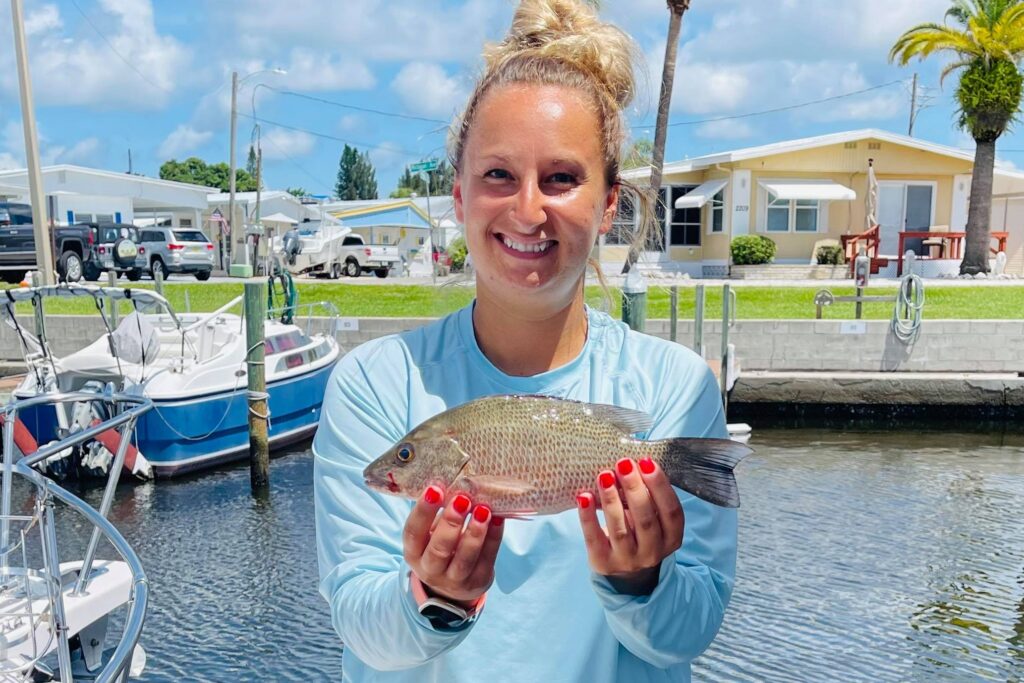 The mangrove snapper bite has been hot even during the heat of the day around local structures like docks, piers, jetties and rock piles. Look for them with small pieces of shrimp or white bait and light tackle with minimal weight. Smaller hooks, light leader and sensitive fishing rods help to produce plentiful mangrove snapper bites.
Nearshore Fishing Report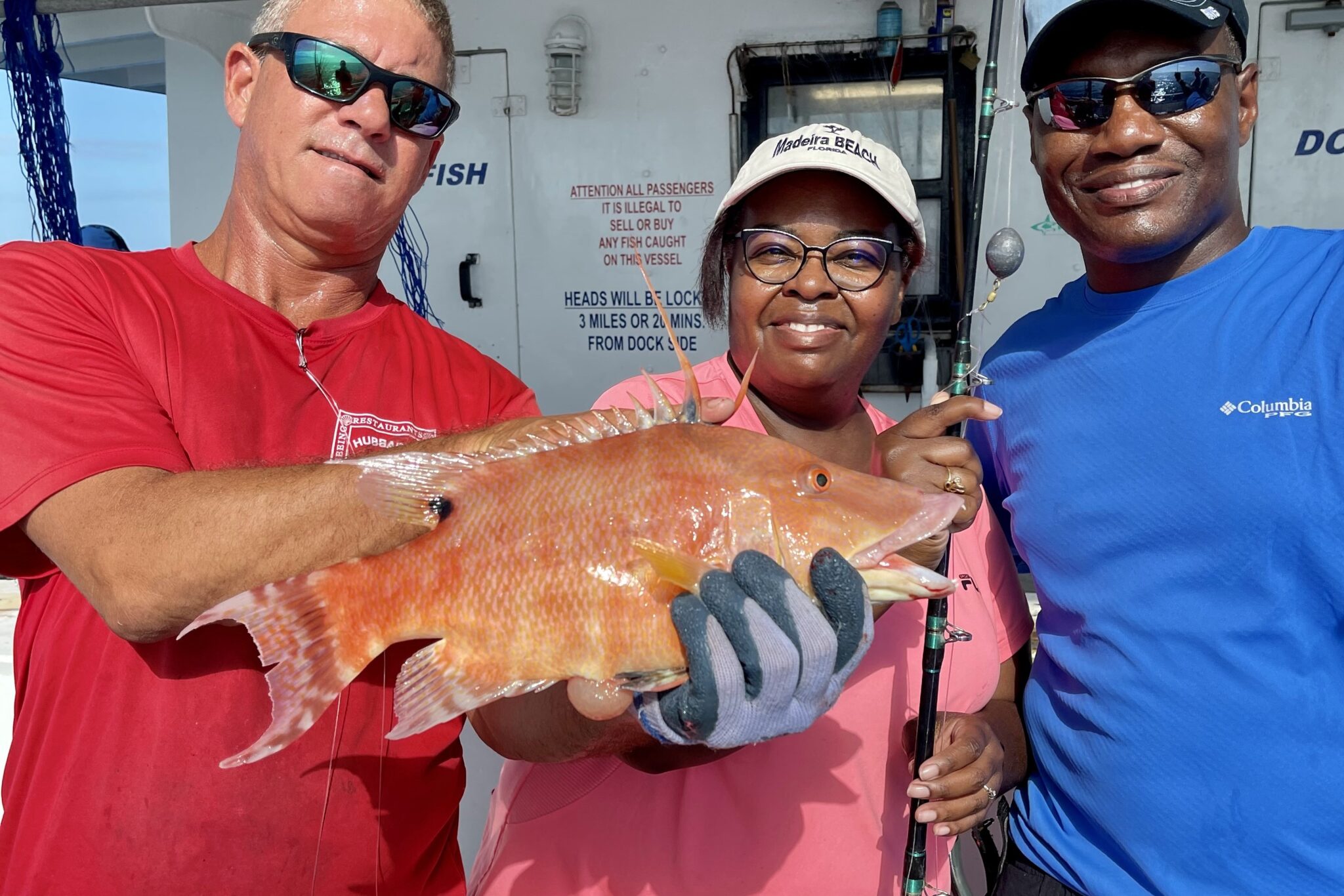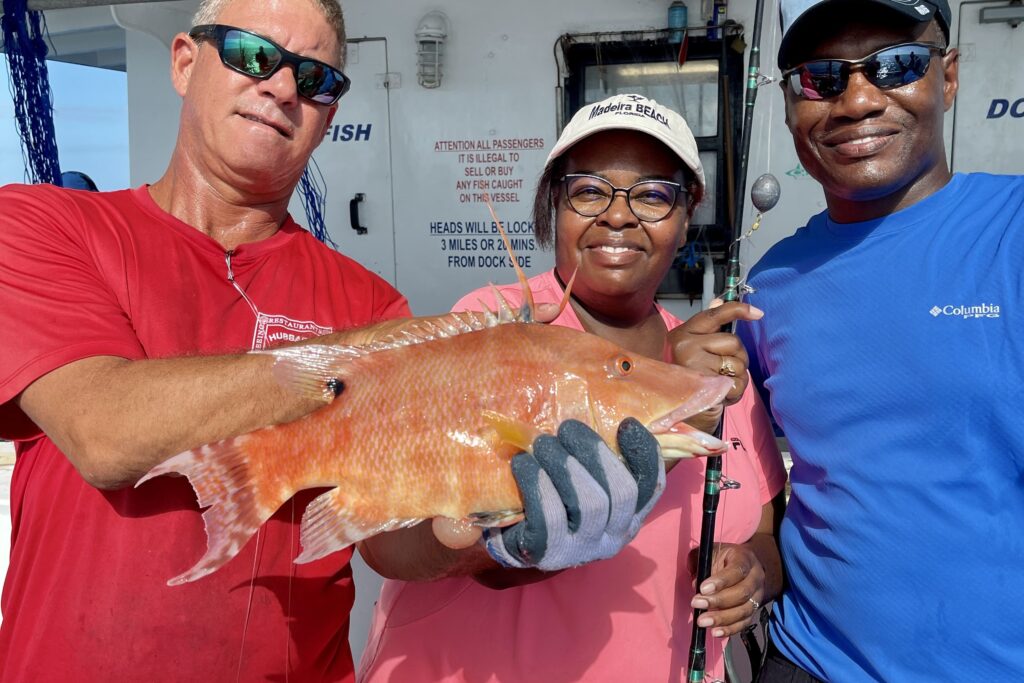 Hogfish action picked up for us this past week with a great near shore bite happening around 40-60ft of water but we have seen them up to around 90ft of water. The bite isn't crazy like we see in cooler months, but a large improvement compared to what we typically see this time of year and what we have been seeing. They love those live shrimp on lighter tackle, but with the size of shrimp being overall smaller around local bait shops we have been using doubles when needed to get more smell going and entice more hogfish to bite.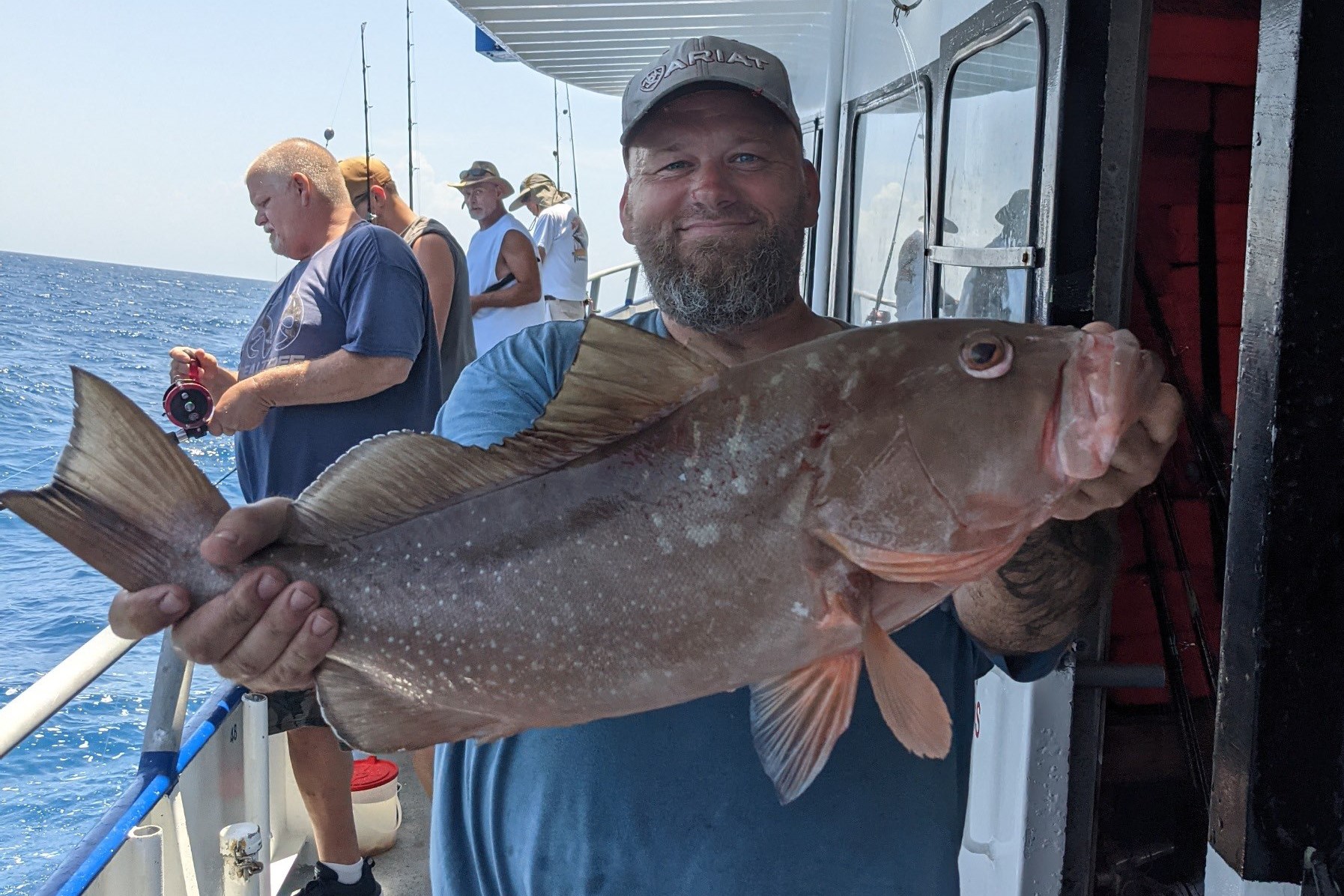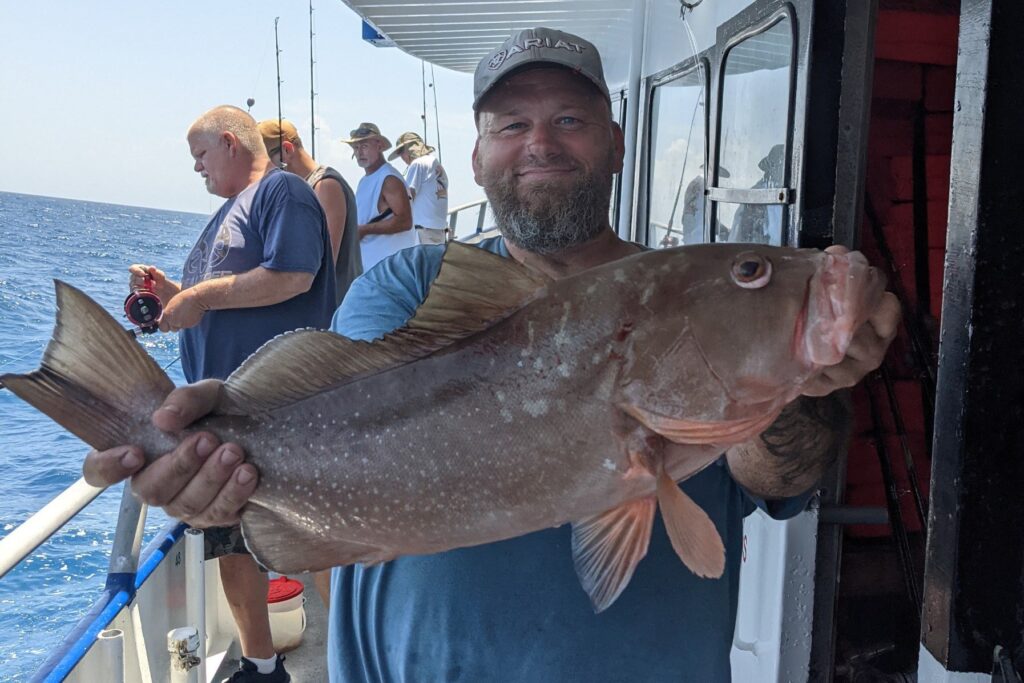 Red grouper action has really heated up over the recent weeks in that deeper near shore water around 60-100ft of water. We are seeing them bite best on those bigger pieces of dead bait like bonita strips, squid strips or octopus tentacles. Look for them on those potholes, small ledges or areas of flat hard bottom. Around 40-60lb test and about a 5-6ot hook is plenty near shore for the red grouper. Offshore, we are seeing plentiful red grouper as well with the same style approach as the near shore red grouper but they are best on even larger dead baits with around 7-8ot hooks and 60-80lb test in around 140-200ft of water.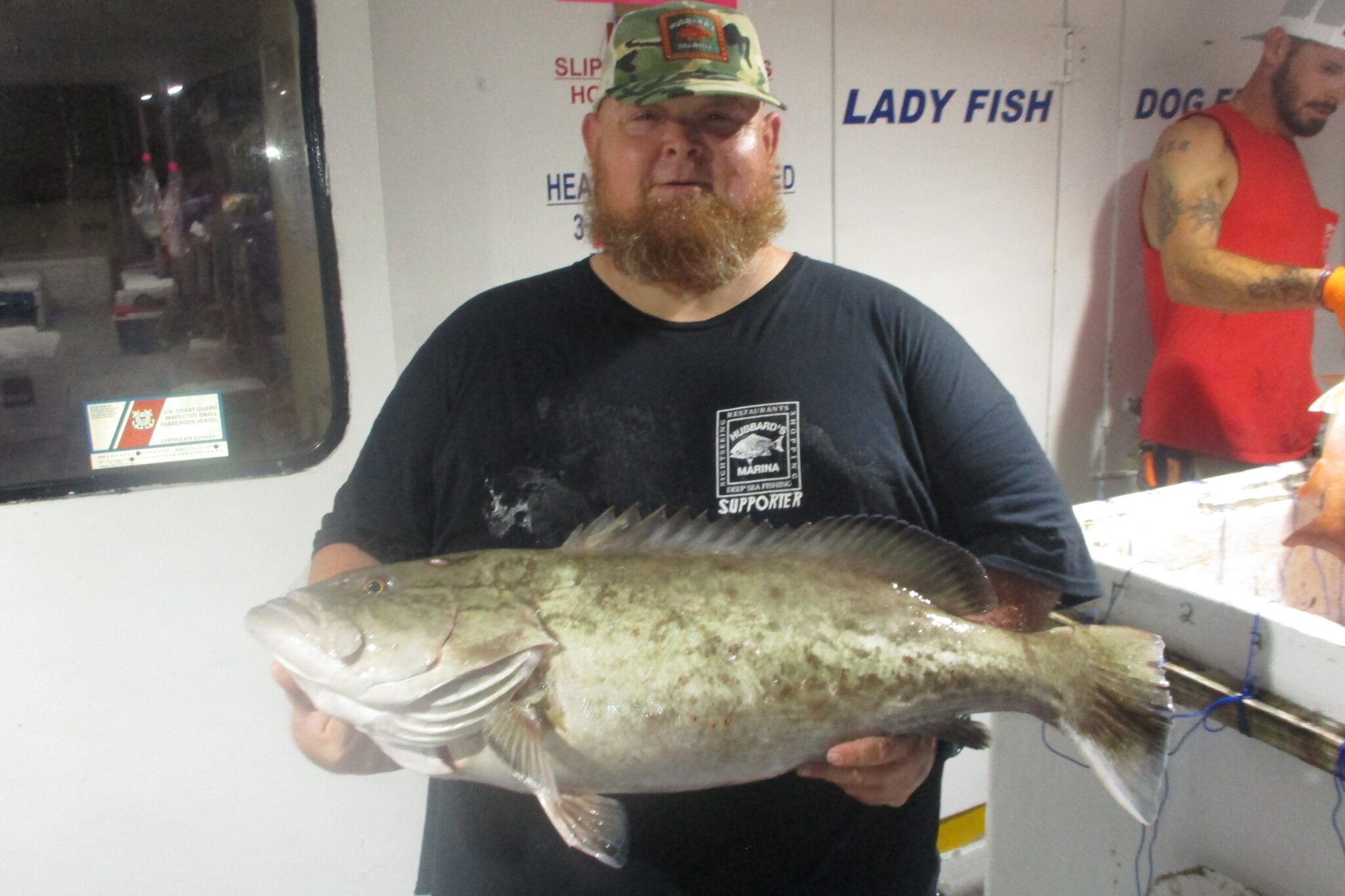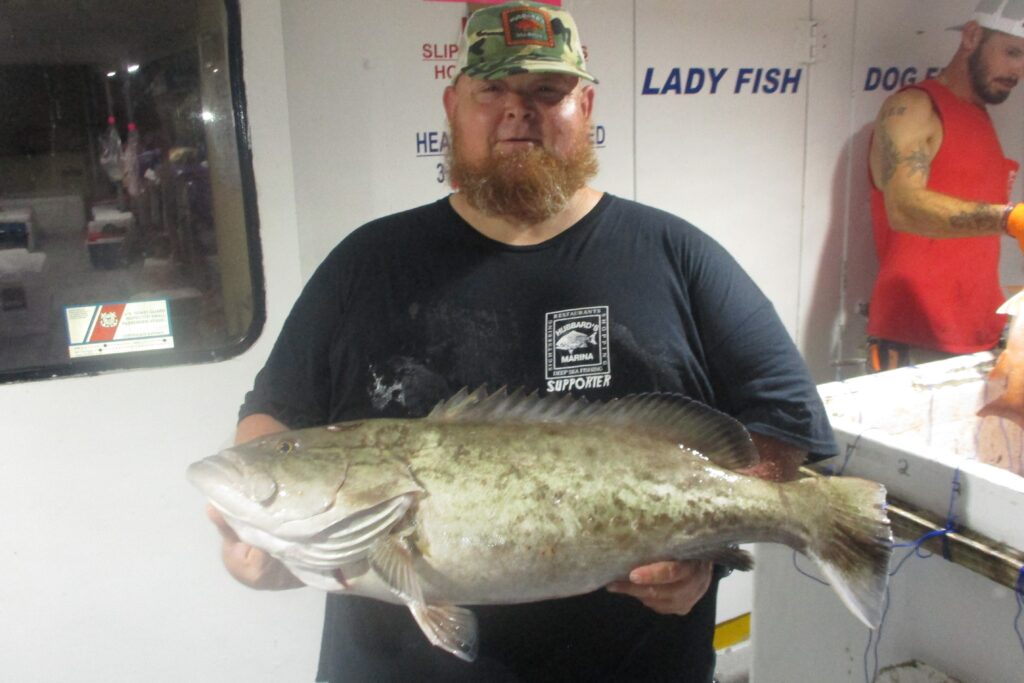 Gag grouper have slowed a bit recently, but with red snapper season wrapping up on us we will be focusing out deep to target these big gag grouper, fat red grouper, scamp grouper and triggerfish with hopefully some amberjack sprinkled in. The largest challenge to the gag fishing right now is getting the big live baits offshore and keeping them alive to use for the gag grouper bait. However, we have had luck with dead threadfins, bonita, octopus and even whole squid. Use heavier tackle when targeting gags or seeing them come up with 80lb leader minimum.
Amberjack season has re opened for the next three months until the end of October. They are tricky to find in large concentrations of bigger keeper size, however, we are getting lucky from time to time. Plus, this past weekend we had some of the best amberjack action we have seen in a very long time even through all of the amberjack season we had in May. Hoping this trend will continue for us this weekend on the backside of this low pressure.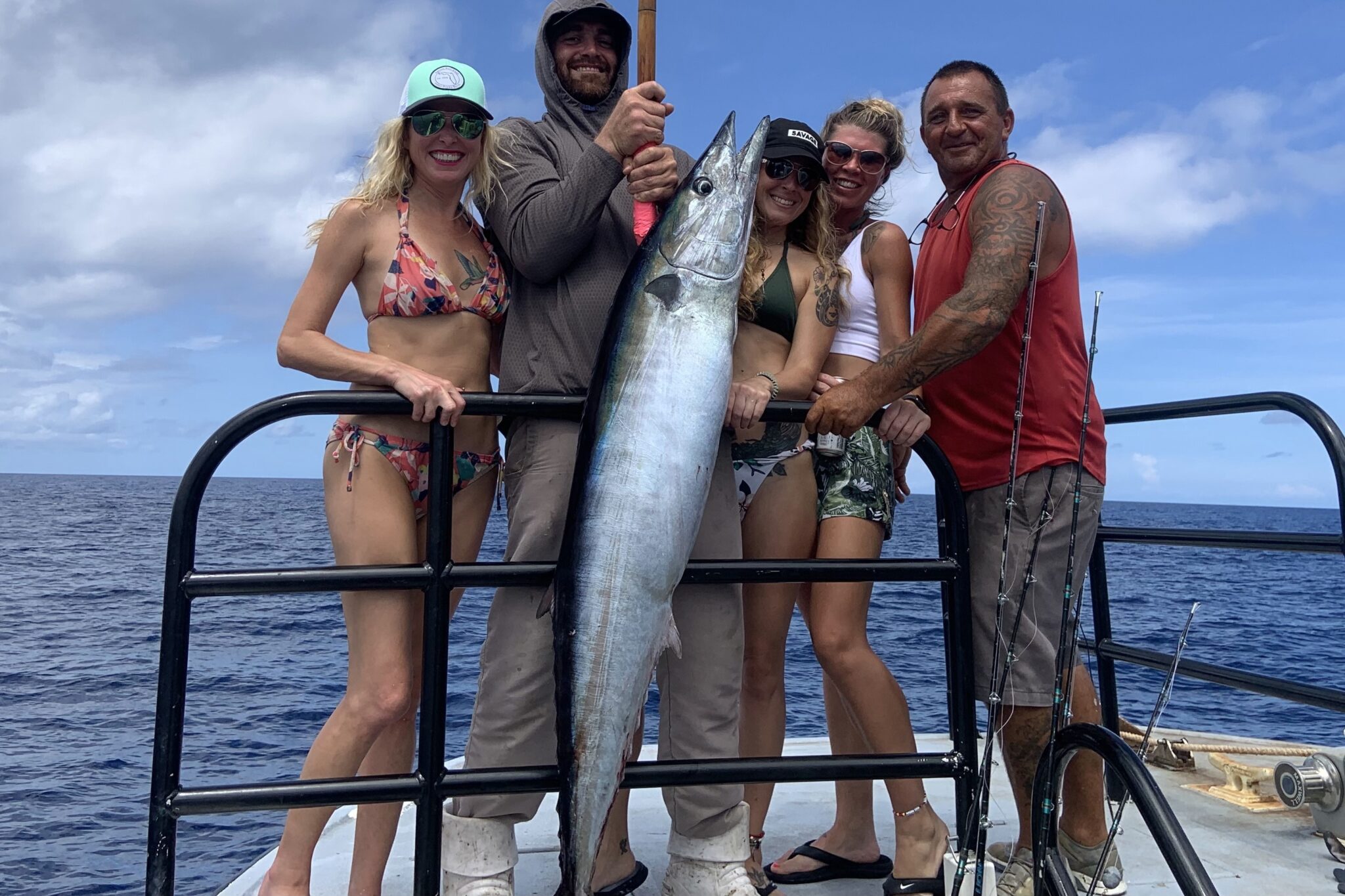 New moon is upon us through the weekend and into the start of next week that means bigger currents and tides offshore to battle when fishing deep for bottom fish. However, the new moon also typically improves the bite during the day when the fish are not as active at night when there's little to no light available. Typically the pelagic action is best around the new moon and full moon as water is moving around more. We did see a great wahoo caught this past week and the kingfish have been active too with the occasional blackfin tuna.