Fishing report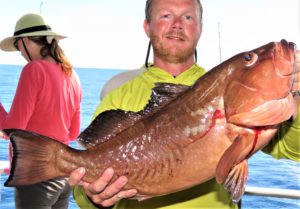 Inshore- The snook continue to be the big inshore fishing report story, they seem to be every where right now biting the live pigfish or the grey snapper carcasses. The big boy 35-40-inch snook are caught most often using the bigger 60-80lb floro leader 7ot hooks and a big reel like a 4-6ot and a small fish carcass or even the fish fillets. Something about the big bait and the hot water, they seem lazy and lethargic and that big bait soaking on the bottom gets em chewing well. We are also seeing some mangrove snapper action around the pass, especially on the rocky south side of the pass. Hearing lots of whiting and pompano are being caught along the beach and west end of the jetty by people coming to buy shrimp from us which is great to hear them still around ready to eat. The shrimp supply is finally coming back up, but they are going to be smaller sized shrimp for a while. Every year around the July 4th holiday weekend the shrimp supply dries up for a week or two then when they finally start being caught again they are little baby fry shrimp for a few more weeks until the beginning of August when they return to normal.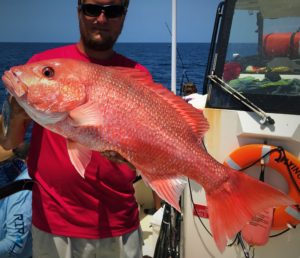 Near shore- Lots of cobia around near shore right now were seeing them come up to the charter boats and party boats while we are bottom fishing checking out to see if we have the flat lines out or the pitch rods read. I love to keep a white bucktail with a long dark green plastic worm on the hook that enables me to present a bait to a passing cobia quickly and efficiently. You can also use a flat line with a tail hooked pinfish and 40-50lb floro leader and 4-5ot circle hook, I prefer not to use a balloon with this set up but sometimes you must to keep the live bait from swimming to the bottom for protection. We are catching the hogfish still, somewhat steady supply but they are pickier this time of year. Like the snook in the passes the super-hot near shore waters seem to make the hogfish lazier and even slower to bite. Chumming seems to help get them fired up and ready to eat, plus it helps feed the more aggressive fish, so you have a shot at hooking up with a hog. Mackerel are around near shore but fairly spread out and the kingfish are nearly disappeared near shore, but still seeing them out deeper occasionally.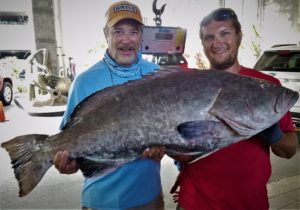 Offshore- The bite offshore has been great out deep past 150ft of water 60-70 miles or more offshore, however, the shallower offshore waters like the 40-60-mile stuff has really slowed down quite a bit. In our opinion and experience, this time of year that area is hit very hard by lots of boaters trying to pick out their red snapper before season ends and with the red snapper season wrapping up they were out there in droves tearing the fish up in that area. Out deeper, past the range of most boats were seeing big scamp, fat gags, plentiful red snapper and the occasional big red grouper. Plus, the wahoo are getting plentiful on the trollers too. However, the tuna and kingfish bite has pretty much sucked as of late on the trollers and on the flat lines. The gags seem to be biting best around 150-250 foot of water, red snapper at least 150ft or more, scamp 170-250 and the red grouper are all mixed in those depths. Hot bait lately is cut Bonita strips allowing that oily smell to permeate the waters get the fish excited and has helped us overcome the slow down that tends to happen after a high pressure red snapper derby.
Want to watch Capt Dylan Hubbard's Daily video reports? Check out the Hubbard's Marina YouTube channel and don't forget to SUBSCRIBE! – Hubbard's Marina daily fishing & boating report
Captain Jack's dolphin corner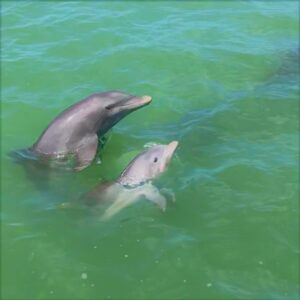 Right now, is an awesome time to experience some great times on the water at Hubbard's Marina while cruising the back-bay waters of upper Boca Ceiga bay aboard the big blue dolphin boat out of Johns Pass Madeira beach. Our hour and a half dolphin watching nature cruise and eco tour with guaranteed dolphin sightings has been spotting large pods of dolphin and it's been super nice weather for us too. Plus, our entire cruise is narrated so the captain will tell you all about the local area and local wildlife as well. If you want to learn more about the relaxing, fun and family friendly Johns Pass dolphin watching tour with us at Hubbard's Marina check out this page – https://www.hubbardsmarina.com/dolphin-watching-cruises/
The shelling lately has been phenomenal around shell key and our three-hour shelling trip Monday, Wednesday and Friday from 9am until noon is a great way to spend an hour on the island hunting for tons of great local shells. Plus, you have an hour ride down to the island through the beautiful intercoastal waterways and then you have a relaxing hour ride back from the island along our gorgeous gulf beaches. What a great way to spend the morning with your family, friends or whoever you want to show off our gorgeous local islands too and share some awesome shelling opportunities with. For more information on the fun filled three-hour shelling adventure with us at Hubbard's Marina check out this page – https://www.hubbardsmarina.com/florida-shelling-cruise/
Baby face our local famous dolphin that was hit by a boat's propeller has made a miraculous recovery and just recently had a baby of its own! This is great to see this dolphin doing so well after such a traumatic injury and her and her newborn are doing well and can be spotted easily aboard our dolphin watching nature cruise and eco tour or the Madeira beach water taxi service!
The waters in the back bays has been gorgeous lately! The weather has been great for dolphin watching nature cruise and eco tours because the dolphins are playful, birds are roosting, and waters are super clear making dolphin watching easy and fun! Plus, lots of manatees and sea turtles are around right now too. For more info on our guaranteed dolphin sightings tour check out this informational link with some great Madeira beach dolphin tours info – https://www.hubbardsmarina.com/dolphin-watching-cruises/
Hubbard's Marina Sea Adventures, Tampa bay ferry and taxi, and the Madeira beach water taxi are all now proudly power by Honda Marine! If you come visit us for a dolphin tour, sunset cruise, Egmont key island trip, snorkeling, shelling, water taxi ride or any type of ferry or pleasure cruise trip then you will be riding a boat powered by Honda Marine! These new motors look great, are super quiet and are great on fuel economy! It was tough to get four boats re-powered with new engines but it was well worth the change and were very happy! Hope you get a chance to see these brand new super cool engines at work on board one of our pleasure cruise and ferry boats! To learn more about Honda Marine engines for your boat, check out their website: https://marine.honda.com/ they have the best warranty in the industry right now, you get a full 5 years and you just can't beat that!
Tampa bay ferry News
The shell key ferry has been spotting lots of manatees around shell key and bunces pass lately while cruising to and from the island. This island ferry ride is a great way to experience shell key and offers tons of flexibility on how long or how short you want to spend time on the island shelling, swimming and exploring this pristine island paradise! For more info on how you can join us for a ride to shell key aboard the shell key ferry by Tampa bay ferry and Hubbard's Marina check out this page – https://www.hubbardsmarina.com/shell-key-ferry/
Ready for a great way to see the area and relax on the water? You would LOVE the Tampa bay ferry by Hubbard's Marina we have the Madeira beach water taxi service, a shell key island ferry, Egmont key island ferry and MORE to come as well! You don't want to miss a great day of fun in the sun shelling, snorkeling, or cruising the bay bays in style with us at Tampa Bay ferry.
The Madeira beach water taxi by Tampa bay ferry & Hubbard's marina is currently running 7 days a week and we have tons of pick up and drop off locations around Madeira beach, Treasure Island and western St Pete. If you want a way to avoid the beach traffic and parking Fees Park FREE at ABC marina and catch the ferry or Jungle Prada and hop on the ferry, there. Check out this like for our Madeira beach water taxi schedule by Tampa bay ferry – http://tampabayferry.com/madeira-beach-water-taxi/route-and-schedule/
Don't forget to check out the BRAND NEW shell key ferry from Fort De Soto County Park out to the beautiful shell key preserve! This is a great way to see the island, go shelling and enjoy a day on the water with a flexible schedule. For more info on this new ferry route check out this link to the Tampa bay ferry shell key page – http://tampabayferry.com/shell-key-ferry/route-and-schedule/
The Egmont key ferry is running daily as well with multiple rides out to the island from Fort De Soto's bay pier. Tuesday, Thursday and Saturday there's an afternoon ferry option too instead of just mid-morning. Check out the website for ferry prices and times. Plus, while on the island they offer a snorkeling trip too!
https://www.hubbardsmarina.com/egmont-key-ferry-cruise/
Upcoming up at Hubbard's Marina
Want to win some FREE fishing trips with us at Hubbard's Marina? Join Capt Dylan Hubbard at Bass Pro Shops Tampa at 2pm on Saturday July 28th for a chance to win a free 5-hour half day for two guests or a FREE 10 hour all day fishing trip for two guests. All you must do is attend this free seminar and get a free raffle ticket just before the seminar begins and at the end, Capt Dylan Hubbard will draw the two lucky winners plus during the hour-long seminar he will give away whatever tips, tricks and techniques you want to learn about. Plus, this is held at the wonder Tampa bass pro shops location where there's so much to do, see and learn about. Also, next door is a new Dave and busters arcade and top golf is across the street as well so it's a great place to spend a Saturday. After the seminar you can join Capt Dylan Hubbard for a drink and gator bites at the Islamorada fish company right inside the bass pro shops, it's one of his favorite restaurants and a great way to spend more time with him before he runs back to Hubbard's Marina. For more info on the event, check out the event page on Facebook, and PLEASE LIKE AND SHARE the event to all your friends – https://www.facebook.com/events/217049122254622/
Plus, we always have the Weekly fishing conversation or seminar by Capt Dylan Hubbard LIVE on the Hubbard's Marina Facebook page if you don't want to leave your house to catch a seminar! We also then upload this video to the Hubbard's Marina YouTube page shortly after the live video is over. This is weekly on Sunday nights from 8:30pm until 9:30pm, check out the event page and PLEASE LIKE AND SHARE the event if you have a Facebook page, and invite your friends as well! https://www.facebook.com/events/249881722421418/
Amberjack season is closed now but will be re-opening August first until the end of October so if you are ready to tango with a monster reef donkey start booking your trips today. The best trips for big jacks would be our twelve-hour extreme trip aboard the Flying HUB 2 or the 39-hour long range overnight fishing trip or our 44-hour full moon overnight fishing trip. Plus, don't forget you can catch jacks on our 10-12 hour Flying HUB 1 or Flying HUB 2 private charters as well, or you can do a long range extended private charter on the Mrs. HUB like a 39 hour or more for big jacks as well.
Red snapper season is over as of the end of the day today, but don't worry there's tons more great fish to be caught at Hubbard's Marina! If your ready for some fishing, check out the 10 hour all day for a chance for some nice hogfish or near shore grouper and plenty of great eating grey snapper. The 12-hour extreme trips are a great way to go deep and be home for dinner. We also have tons of 39,44 and 63-hour trips coming this fall. Plus, you can always customize a private fishing charter experience with us at Hubbard's marina aboard one of our many custom built USCG inspected private fishing charter vessels.
Regular's club
Our regular's club loyalty program is now closed for 2018, if you would like info on joining for 2019 you can email Capt Dylan Hubbard anytime and he can send you the info and get you on the list for a 2019 membership!
Captains Mark and Dylan Hubbard
Vice president and Regular's club manager Hubbard's Marina
(727)393-1947 ext. 306
CaptHubbard@HubbardsMarina.com