Fishing report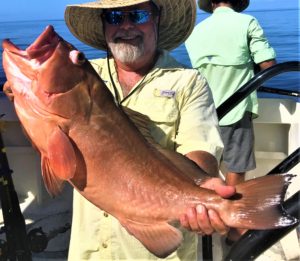 Inshore- This past week the weather has been very rough, that has stirred up the near shore waters and back bays and we have some very muddy looking waters. This has really got the sheepshead and black drum firing well lately. Around the local docks, pass and bridges the sheeps head are biting well on pieces of shrimp or live fiddler crabs. We have also been seeing huge black drum being caught from the jetties and from the beach behind our shop on fiddler crabs, larger pass crabs and even cut squid lately. These large drum are really fun to catch and a great fighting fish too. We have also heard, but not seen the whiting are biting well along the beaches now that the surf laid down a bit and anglers are able to get baits out there and sitting somewhat still. Unfortunately, the catfish love the muddy murky waters too so there's tons of catfish action as well around the Johns Pass area which makes fishing a little annoying occasionally.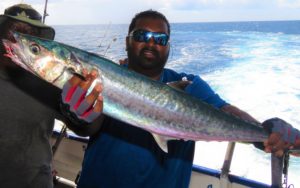 Near shore and Offshore- Due to the rough weather the past 5-6 days we haven't been fishing since you guys got our last newsletter update. However, we have amberjack season about to open up August first and were very excited for the big jacks to start coming over the rails on our 12 hour extreme trips, 39 hour long range overnights and the 44 hour full moons. Amberjack season is going to be open starting the beginning of august until the end of October! We also have trigger fish re-opening August first as well so both these seasons re opening is very exciting and were looking forward to this for sure. Plus, now that the 12 hour all day trips on the party boats are over, we are starting up our 10 hour all day trips and as the weather clears we will be targeting the hogfish once again and as the water cools off this fall the hogfish will begin biting better and better.
Keep in mind behind this weather the near shore fishing can be very slow until the waters clear up, right now the muddy waters make the fishing very tough, but by Friday/Saturday sometime the waters should clear up and the fishing should improve significantly. Here's a great video to show you more about how weather affects fishing – https://www.youtube.com/watch?v=7pE_CJwZHes&t=32s
Want to watch Capt Dylan Hubbard's Daily video reports? Check out the Hubbard's Marina YouTube channel and don't forget to SUBSCRIBE! – Hubbard's Marina daily fishing & boating report
Captain Jack's dolphin corner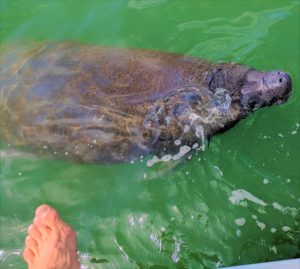 Plenty of manatees have been spotted lately around Johns Pass aboard the Hubbard's Marina Johns pass dolphin tour. The sea grass beds in our back bay waters are super healthy and they are holding lots of manatees lately feeding on the turtle grass beds inside Johns Pass.
Dolphins have been grouped up and very playful lately as they socialize the five local baby dolphins that have been born over the past four months. With all the local babies there's large pods of dolphins to be spotted and they have been very active to say the least making it a great time to get out on the water.
We are seeing lots of birds at the bird nesting island in the late evening, during the day the island is pretty sparse since the baby birds are now mostly juveniles who are leaving the nests. However, in the afternoon or late evening we are still spotting the mother birds feeding some of the younger Juvenile birds.
On top of all the other local wildlife we are seeing lots of spotted eagle rays and bat rays as of late jumping around the local back bay waters aboard our dolphin tours, sunset cruise and three hour shelling cruise at Hubbard's Marina inside Johns Pass.
We are also seeing lots of sea turtles as of late especially on the higher tides after a long incoming tide the bigger sea turtles who are coming inshore to lay eggs on the beach are getting pushed into the passes with the strong incoming currents, and make it very special to spot these unique animals!
Right now, is an awesome time to experience some great times on the water at Hubbard's Marina while cruising the back-bay waters of upper Boca Ceiga bay aboard the big blue dolphin boat out of Johns Pass Madeira beach. Our hour and a half dolphin watching nature cruise and eco tour with guaranteed dolphin sightings has been spotting large pods of dolphin and it's been super nice weather for us too. Plus, our entire cruise is narrated so the captain will tell you all about the local area and local wildlife as well. If you want to learn more about the relaxing, fun and family friendly Johns Pass dolphin watching tour with us at Hubbard's Marina check out this page – https://www.hubbardsmarina.com/dolphin-watching-cruises/
The shelling lately has been phenomenal around shell key and our three-hour shelling trip Monday, Wednesday and Friday from 9am until noon is a great way to spend an hour on the island hunting for tons of great local shells. Plus, you have an hour ride down to the island through the beautiful intercoastal waterways and then you have a relaxing hour ride back from the island along our gorgeous gulf beaches. What a great way to spend the morning with your family, friends or whoever you want to show off our gorgeous local islands too and share some awesome shelling opportunities with. For more information on the fun filled three-hour shelling adventure with us at Hubbard's Marina check out this page – https://www.hubbardsmarina.com/florida-shelling-cruise/
Baby face our local famous dolphin that was hit by a boat's propeller has made a miraculous recovery and just recently had a baby of its own! This is great to see this dolphin doing so well after such a traumatic injury and her and her newborn are doing well and can be spotted easily aboard our dolphin watching nature cruise and eco tour or the Madeira beach water taxi service!
The waters in the back bays has been gorgeous lately! The weather has been great for dolphin watching nature cruise and eco tours because the dolphins are playful, birds are roosting, and waters are super clear making dolphin watching easy and fun! Plus, lots of manatees and sea turtles are around right now too. For more info on our guaranteed dolphin sightings tour check out this informational link with some great Madeira beach dolphin tours info – https://www.hubbardsmarina.com/dolphin-watching-cruises/
Hubbard's Marina Sea Adventures, Tampa bay ferry and taxi, and the Madeira beach water taxi are all now proudly power by Honda Marine! If you come visit us for a dolphin tour, sunset cruise, Egmont key island trip, snorkeling, shelling, water taxi ride or any type of ferry or pleasure cruise trip then you will be riding a boat powered by Honda Marine! These new motors look great, are super quiet and are great on fuel economy! It was tough to get four boats re-powered with new engines but it was well worth the change and were very happy! Hope you get a chance to see these brand new super cool engines at work on board one of our pleasure cruise and ferry boats! To learn more about Honda Marine engines for your boat, check out their website: https://marine.honda.com/ they have the best warranty in the industry right now, you get a full 5 years and you just can't beat that!
Tampa bay ferry News
The shelling right now aboard the Shell key ferry and Egmont key ferry is some of the best shelling we have had locally in the past five years says our first mate extraordinaire Lani. She has been working these tours for many many years so when she said this I was very impressed to hear. They are spotting some very special shells, sharks teeth and more!
Also, just like the back bay waters we are spotting tons of manatees around Shell key and Egmont key island as well. So cool to see these huge groups of manatees moving along the beautiful beaches of shell key and Egmont key islands while aboard the Tampa Bay Ferry boats by Hubbard's Marina.
There's tons of sea turtle nests around the local area and our barrier island beaches so make sure while searching for the great shells and enjoying our gorgeous beaches you are careful to avoid the marked off sea turtle nests.
The shell key ferry has been spotting lots of manatees around shell key and bunces pass lately while cruising to and from the island. This island ferry ride is a great way to experience shell key and offers tons of flexibility on how long or how short you want to spend time on the island shelling, swimming and exploring this pristine island paradise! For more info on how you can join us for a ride to shell key aboard the shell key ferry by Tampa bay ferry and Hubbard's Marina check out this page – https://www.hubbardsmarina.com/shell-key-ferry/
Ready for a great way to see the area and relax on the water? You would LOVE the Tampa bay ferry by Hubbard's Marina we have the Madeira beach water taxi service, a shell key island ferry, Egmont key island ferry and MORE to come as well! You don't want to miss a great day of fun in the sun shelling, snorkeling, or cruising the bay bays in style with us at Tampa Bay ferry.
The Madeira beach water taxi by Tampa bay ferry & Hubbard's marina is currently running 7 days a week and we have tons of pick up and drop off locations around Madeira beach, Treasure Island and western St Pete. If you want a way to avoid the beach traffic and parking Fees Park FREE at ABC marina and catch the ferry or Jungle Prada and hop on the ferry, there. Check out this like for our Madeira beach water taxi schedule by Tampa bay ferry – http://tampabayferry.com/madeira-beach-water-taxi/route-and-schedule/
Don't forget to check out the BRAND NEW shell key ferry from Fort De Soto County Park out to the beautiful shell key preserve! This is a great way to see the island, go shelling and enjoy a day on the water with a flexible schedule. For more info on this new ferry route check out this link to the Tampa bay ferry shell key page – http://tampabayferry.com/shell-key-ferry/route-and-schedule/
The Egmont key ferry is running daily as well with multiple rides out to the island from Fort De Soto's bay pier. Tuesday, Thursday and Saturday there's an afternoon ferry option too instead of just mid-morning. Check out the website for ferry prices and times. Plus, while on the island they offer a snorkeling trip too!
https://www.hubbardsmarina.com/egmont-key-ferry-cruise/
Upcoming up at Hubbard's Marina
Want to win some FREE fishing trips with us at Hubbard's Marina? Join Capt Dylan Hubbard at Bass Pro Shops Tampa at 2pm TOMORROW, Saturday July 28th for a chance to win a free 5-hour half day for two guests or a FREE 10 hour all day fishing trip for two guests. All you must do is attend this free seminar and get a free raffle ticket just before the seminar begins and at the end, Capt Dylan Hubbard will draw the two lucky winners plus during the hour-long seminar he will give away whatever tips, tricks and techniques you want to learn about. Plus, this is held at the wonder Tampa bass pro shops location where there's so much to do, see and learn about. Also, next door is a new Dave and busters arcade and top golf is across the street as well so it's a great place to spend a Saturday. After the seminar you can join Capt Dylan Hubbard for a drink and gator bites at the Islamorada fish company right inside the bass pro shops, it's one of his favorite restaurants and a great way to spend more time with him before he runs back to Hubbard's Marina. For more info on the event, check out the event page on Facebook, and PLEASE LIKE AND SHARE the event to all your friends – https://www.facebook.com/events/217049122254622/
Plus, we always have the Weekly fishing conversation or seminar by Capt Dylan Hubbard LIVE on the Hubbard's Marina Facebook page if you don't want to leave your house to catch a seminar! We also then upload this video to the Hubbard's Marina YouTube page shortly after the live video is over. This is weekly on Sunday nights from 8:30pm until 9:30pm, check out the event page and PLEASE LIKE AND SHARE the event if you have a Facebook page, and invite your friends as well! https://www.facebook.com/events/249881722421418/
Amberjack season is closed now but will be re-opening August first until the end of October so if you are ready to tango with a monster reef donkey start booking your trips today. The best trips for big jacks would be our twelve-hour extreme trip aboard the Flying HUB 2 or the 39-hour long range overnight fishing trip or our 44-hour full moon overnight fishing trip. Plus, don't forget you can catch jacks on our 10-12 hour Flying HUB 1 or Flying HUB 2 private charters as well, or you can do a long range extended private charter on the Mrs. HUB like a 39 hour or more for big jacks as well.
Red snapper season is over as of the end of the day today, but don't worry there's tons more great fish to be caught at Hubbard's Marina! If your ready for some fishing, check out the 10 hour all day for a chance for some nice hogfish or near shore grouper and plenty of great eating grey snapper. The 12-hour extreme trips are a great way to go deep and be home for dinner. We also have tons of 39,44 and 63-hour trips coming this fall. Plus, you can always customize a private fishing charter experience with us at Hubbard's marina aboard one of our many custom built USCG inspected private fishing charter vessels.
ACTION ALERT: We need YOU and all your friends to check out the following TWO links to easily get informed on two very important issues that face our fishery. Your action on both these links would tremendously help improve our fishery and it only takes a few moments.
First issue, is the Okeechobee outflow problems where tons of infected fresh water is being discharged out either side of South Florida creating a green algae disaster. This could spread north into our area, and down south where it's located it's causing lots of fish to die and really hurting the fishery and the future of the fishery down there could severely be affected. Take 30 seconds to fill out this form letter at this link, ESPECIALLY if you don't live in Florida your help is severely needed to get our senate and congress to take action on this issue: https://captainsforcleanwater.org/take-action/eaa-reservoir/
Second Issue, is the Modern fisheries act that is being pushed into the senate now after passing the House of Representatives. This will severely help improve recreational fishery access and will 'modernize' the approaches fishery managers can use to govern our recreational fishery nationwide. Again, this will only take a few moments to fill out a form letter to show your support for this bill. The link also includes all the information you will need to get educated on the subject if you would like to read up before filling out the letter: https://www.votervoice.net/NMMA/campaigns/60049/respond
Regular's club
Our regular's club loyalty program is now closed for 2018, if you would like info on joining for 2019 you can email Capt Dylan Hubbard anytime and he can send you the info and get you on the list for a 2019 membership!
Captains Mark and Dylan Hubbard
Vice president and Regular's club manager Hubbard's Marina
(727)393-1947 ext. 306
CaptHubbard@HubbardsMarina.com