Fishing report
Inshore- Mackerel are showing up early this year and we have TONS of white bait around the pass. The snook are in the passes and on the beaches too. This past week some big snook were caught from the north Jetty of Johns Pass by Mahlon Washington and his buddies using swim baits and flair hawks on the outgoing tide just before sunset. The birds, bait, dolphin and fishing action around the pass and just off the beaches right now is very active. This past Tuesday night I was on the beach watching the sunset with my wife and I witnessed multiple guys catching snook and a few nice jack crevalle while the bait flushed out of the pass being chased by fish, dolphins and birds. Our bait guy Brian Harris from Pinellas Park has been filling coolers with nice sized mackerel just past the surf working the bait schools past the swim buoys. The big speckeled trout right now are pretty active inside the pass around the flats hitting the plentiful shrimp and white bait that are moving through the passes on this recent new moon tide. The sheepshead are still around the passes too with plenty being seen caught on fiddler crabs and pieces of shrimp around the structures of Johns Pass and the jetties. It's a great time to get out and enjoy the beautiful weather, clearer waters and great fishing going on right now at most any pass including our very own Johns Pass.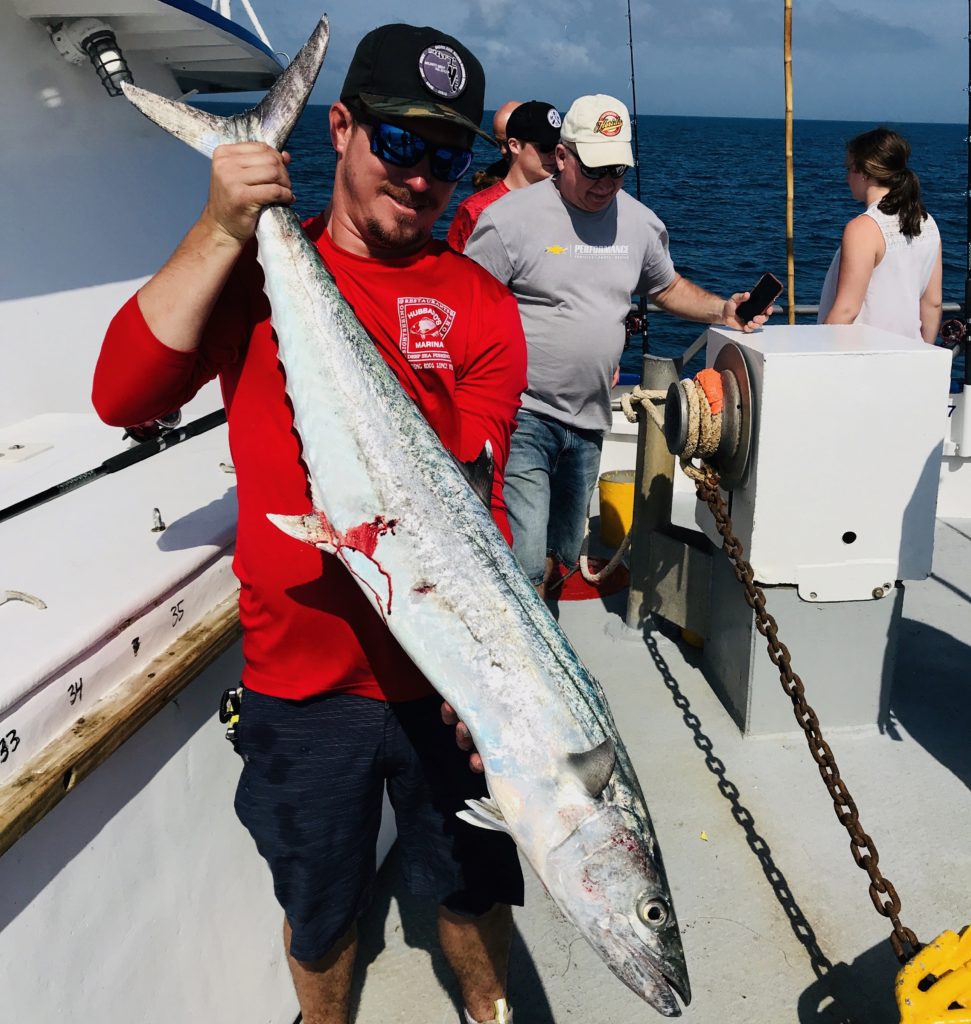 Near shore- Kingfish are back in town for spring break and it's making our half day and all day party boat fishing even more exciting for passengers and crew alike. We are seeing nice 10-30lb kingfish smoking the flat lines and smashing our trolling plugs and spoons on the way out and back offshore. Plus, the hogfish bite has been great this week this past week on the live shrimp and fiddler crabs. We caught one of the largest hogfish I have seen on a half day trip this past Wednesday with Capt Dave Singletary using a live shrimp with a 4ot hook and 30lb fluorocarbon. The grey snapper or white grunt action has been a little hit and miss, we are having to travel further to 12-14 miles on our half day trips lately since that red tide at the end of 2018 the fishing near shore from 6-10 miles really hasn't recovered well and were still having to go further than normal to get into the quality action we were used to pre-red tide. However, once you get deeper past 40ft of water beyond 12 miles the fishing has been great recently on lane snapper, hogfish, mangrove snapper, and MORE!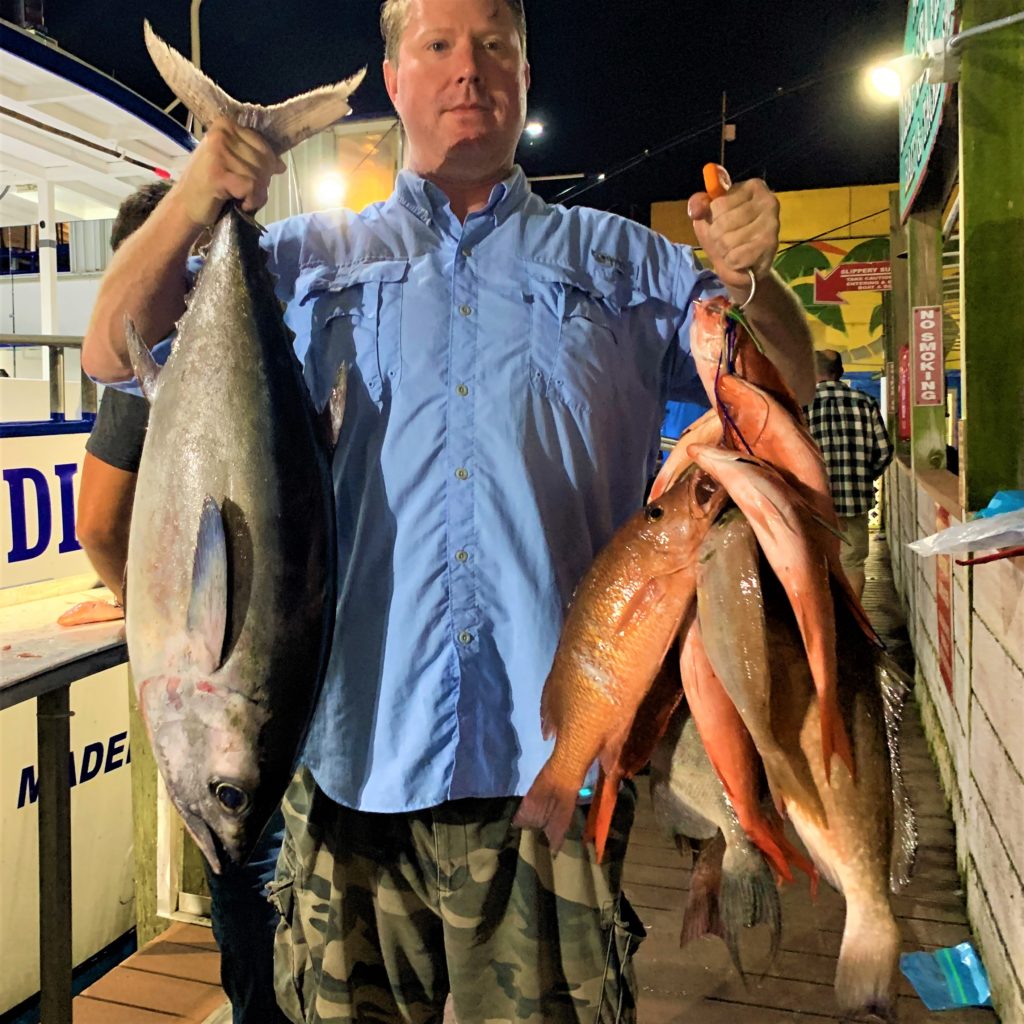 Offshore – The 39 hour fishing really improved this week for us at Hubbard's Marina, we had quite the epic trip this past Tuesday with Capt Joe Drew! They only had 21 fisherman on the boat and they all nearly limited out on mangrove snapper, vermillion snapper and they had plenty of porgies and yellowtail snapper too. Plus, they had a good amount of fat red grouper as well. The HUGE kingfish were very plentiful on the rapala Xrap trollers too but one nearly 50lbs got eaten at the back of the boat by a monster mako shark that had to be over 10ft reported Capt Joe. The other kingfish barely escaped the big shark with one having some battle wounds to prove it's hard fought tug of war with the monster fast swimming shark. We didn't see the blackfin tuna this recent trip or any scamp since we were fishing shallower water up in the grounds. However, it was great to see the red grouper and mangrove snapper bite was improving so well inside the grounds in the shallower waters since the waters are warming up and fish have started to move! To hear a full report from Capt Joe and First Mate Will McClure and see the bountiful catch from this Tuesday 39 hour check out this YouTube video here – https://www.youtube.com/watch?v=XZQvA2h44fk&t=1s
Want to watch Capt Dylan Hubbard's Daily video reports? Check out the Hubbard's Marina YouTube channel and don't forget to SUBSCRIBE! – Hubbard's Marina daily fishing & boating report
Upcoming up at Hubbard's Marina
BAD NEWS: We have some seriously shortened seasons on the horizon for 2019, Amberjack's May season will NOT BE OPENED! Jacks will only be open August-October 2019 and not include the spring May season. Triggerfish will also be closing sometime in May and NOT RE-OPENING anytime in 2019! This comes as a huge surprise and is super frustrating, the whole idea of the new amberjack season was to have at least some spring component. However, since the fishing year opens August first and ends May the following calendar year our August, September and October 2018 fishing year landed the full quota so may 2019 will not be re-opening. However, August first 2019 we will for sure open because it's the start of a NEW fishing year for amberjack thus we start with a brand new full quota and HOPEFULLY that will allow for a spring MAY 2020 season!
DON'T SHOOT THE MESSENGER, we just wanted our anglers to know ASAP before the final announcement is made in a few days! I will be attending the April gulf council meeting in Biloxi, MS to voice our disdain for this 3 month fishing season for jacks and lack of a spring component!
We have another great Bass Pro Shops seminar coming up THIS Saturday March 16th at 2pm if you want to join Capt Dylan for a chance to win FREE FISHING TRIPS! The fishing seminar or fishing conversation will be about an hour long of fishing conversation, tips, tricks and more! Plus, at the end of each seminar Capt Dylan gives away a FREE 10 hour all day for two guests and a FREE 5 hour half day for two guests to two lucky winners of the FREE raffle. To be entered in the raffle you just have to show up around 2:30 pm and stay for the hour seminar. Check out the Facebook event for this upcoming seminar here – https://www.hubbardsmarina.com/bass-pro-fishing-seminars/ You can also view all the past bass pro shops seminars at this page too!
We have entered our busy spring break season here at Hubbard's Marina. Due to that, we want to encourage all our guests to make sure you book your trips ahead of time and arrive a little earlier for your trips. Especially if you have a trip leaving between 11am-7pm since the traffic and parking all takes a little longer this time of year. When your leaving after your morning trips you will have to deal with this type of traffic congestion on you way home too. Please be advised our beaches are filling up due to the gorgeous weather and all the fun in the sun options we have around Johns Pass, Madeira Beach here at Hubbard's Marina.
Lots of new trips have been added back into our schedule for our upcoming spring and summer season. Starting March first we have added back in our 3 hour shelling trips, daily Egmont key ferry trips, daily sunset cruises, 12 hour night snapper trips starting, 5 hour trophy shark trips start at the end of this month and lots more expanded hours and offerings at Hubbard's Marina! Plus, we have gorgeous weather this weekend and into early next week, great time to come out and join us for some fishing, cruising, shelling, or sunset touring at Hubbard's Marina! Keep in mind we are coming into our spring break time of year so trips are filling very fast and we highly recommend advanced reservations and always give yourself some extra time when you plan to arrive if you're coming for an afternoon trip! Book your trip today at our website – https://HubbardsMarina.com or call us at (727)393-1947
Our 12 hour night snapper trips started up, and the next one is March 15th if you want a chance to join us for some night time snapper fishing action for mangrove snapper, vermillion snapper, lane snapper, porgies and more! These are great trips with plenty of night fishing time 25-35 miles from Johns Pass for around 7-8 hours fishing time and only for $129 but book now because these trips do fill fast especially around the full moon. We only offer them on the quarter and full moon phases Friday nights from 7p to 7a Saturday! Here's all the information on these special night time snapper fishing trips – https://www.hubbardsmarina.com/12hr-night-fishing-trip/
Want to learn more about fishing locally and WIN FREE FISHING TRIPS without leaving your house? Don't forget we have the Weekly fishing conversation or seminar by Capt Dylan Hubbard LIVE on the Hubbard's Marina Facebook & YouTube page if you don't want to leave your house to catch a seminar! This is weekly on Sunday nights from 8:30pm until 9:30pm, check out the event page and PLEASE LIKE AND SHARE the event if you have a Facebook page, and invite your friends as well! Here's the page to find the Facebook event link, and view all the past LIVE Q&A fishing shows –  https://www.hubbardsmarina.com/past-qanda-live-streams/
2019 TRIPS FILLING FAST Book your 2019 10,12, 39 or 44 hour trip TODAY while there's still tons of open room, these trips will fill quickly so book NOW. Last year red snapper trips were filled up by end of January, so don't miss your chance at securing your favorite trip TODAY. Here's the link for all your 2019 12,39 and 44 hour trips – https://www.hubbardsmarina.com/specialty-fishing-trip/
Captain Jack's dolphin corner
Water is super clear right now in our back bay waters thanks to the super nice and calm weather we have been having and light winds. The water is not stirred up in the slightest and the cooler temps keeps the algae down which allows for some of the clearest water conditions of the year in our 'spring time' when water temps are in the mid 60's to mid 70's and the weather is nice this time of year it gets crystal clear in the bays and along the passes and on the beaches making it a great time to do a dolphin watching nature cruise and eco tour with us or our famous sunset cruise that offers FREE beer and wine!
The dolphins are in very large pods right now hunting the plentiful sheepshead, black drum and mullet so it's a great time to catch a relaxing cruise and enjoy the playful groups of dolphins and super clear back bay waters around Johns Pass at Hubbard's Marina. Here's all the information on our dolphin watching nature cruise and eco tour – https://www.hubbardsmarina.com/dolphin-watching-cruises/
Along with the playful large groups of dolphins, we have our local bird nesting island called dog leg key which we cruise past during our dolphin watching nature cruise and eco tour is a beautiful sight this time of year as our local seabird population starts to dawn their mating plumage. As the local seabirds prepare for mating season they get very colorful and decorative plumage or feathers and it makes for a super special viewing experience this time of year aboard our dolphin watching nature cruise and eco tour!
Our sunset cruise is starting to ramp up in its availability! We normally run our sunset cruise on weekends only in our 'winter' season but now as we approach the spring the weather is so nice, the sunsets are so colorful and the people are starting to show up so we are starting to offer the sunset cruise more regularly so call us today to book a relaxing hour and a half sunset cruise with Hubbard's Marina! It's a bit more of a party atmosphere compared to our dolphin watching nature cruise and eco tour, and it doesn't offer the full narration like the dolphin tour but there's great music and some great jokes. Plus, the sunset cruise takes you down the beautiful gulf beaches at the golden hour with the sunset to your left and the beautiful beaches to your right. Plus, we often spot pods of the dolphins cruising the beaches too while enjoying the free beer and wine offered aboard our sunset cruise at Hubbard's Marina inside Johns Pass Madeira Beach. To learn more about the fun filled sunset cruise with free beer and wine check out this link – https://www.hubbardsmarina.com/sunset-cruise/
Hubbard's Marina Sea Adventures and Tampa Bay ferry are both proudly power by Honda Marine! If you come visit us for a dolphin tour, sunset cruise, Egmont key island trip, snorkeling, shelling, water taxi ride or any type of ferry or pleasure cruise trip then you will be riding a boat powered by Honda Marine! These new motors look great, are super quiet and are great on fuel economy! It was tough to get four boats re-powered with new engines but it was well worth the change and were very happy! Hope you get a chance to see these brand new super cool engines at work on board one of our pleasure cruise and ferry boats! To learn more about Honda Marine engines for your boat, check out their website: https://marine.honda.com/ they have the best warranty in the industry right now, you get a full 5 years and you just can't beat that!
Tampa bay ferry News
Spring is coming! Snorkeling is about to start back up after a long winter break, and the waters are gorgeous around Egmont key right now! The Tampa bay ferry by Hubbard's Marina offers 10am and 11am ferry rides to the island daily this time of year. You get three hours on the island after around a 20-30 minute ride out and back to the island. Plus, we often see dolphins, seabirds and sometimes even sea turtles on the ride out and back thus the ride time can fluctuate a bit depending on what we spot during the cruise out to your island oasis! For more info on the Egmont key ferry, visit this page of the Hubbard's Marina website – https://www.hubbardsmarina.com/egmont-key-ferry-cruise/
Our Shell key ferry trips are starting back up today! We offer these trips DAILY from the boat ramp at Fort De Soto County Park and they run at 10am, noon and 2pm and the final return time is 4pm! You have much more flexibility during the shell key trips compared to our Egmont key ferry because you get to choose the time you return to fort de Soto from Shell key! If you're looking for plenty of time on the island and great shelling opportunities then the shell key ferry trip is your best bet! Check out all the information on this special ferry ride at this link – https://www.hubbardsmarina.com/shell-key-ferry/
Regular's club
We have finished 2019 regular's club renewals and we are starting on signing up NEW MEMBERS, if you are interested in becoming a 2019 regular's club loyalty program member please reach out to Capt. Dylan Hubbard by sending him your name and cell number via email to CaptHubbard@HubbardsMarina.com. He will be in touch in the coming few weeks about the loyalty program that offers discounted trips if you fish more than 10,15 or 20 times a year with us at Hubbard's Marina. It also comes with some free gifts and other benefits too besides discounted trips, but it's NOT simply a discount program. It's a loyalty program and it requires fishing often and being a model Hubbard's Marina guest and showing the passion shared by all of us at Hubbard's Marina for fishing and our fellow anglers.
PAST AND PRESENT MEMBERS: be sure to renew your membership before 2018 ends!
Captain Dylan Hubbard
Vice president and Co-Owner
(727)393-1947 ext. 306
CaptHubbard@HubbardsMarina.com
UPDATED Coupon information
2019 Hubbard's Marina fishing calendar's FREE while supplies last!
Policies –
Expires 3/29/19
One per party reservation
While supplies last
Preferred partner spotlight
The Friendly Fisherman has updated their menu for spring! You have to try some of their NEW menu items listed below:
P.E.I. Mussels     $10.79
Steamed in butter, white wine, lemon and garlic. Served with grilled Tandori bread.
Salmon Rockefeller   $17.99
A fresh Salmon fillet broiled and topped with our own spinach mixture and hollandaise sauce.