Fishing report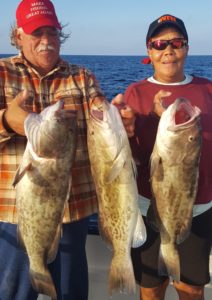 Inshore– This past week we have had quite the number of young anglers around the docks and beach next to Hubbard's Marina. We saw jack crevalle, snook, sheepshead, whiting and silver trout caught the most but there were some nice gags caught under the JP bridge on the south side of the pass that area is deeper and very rocky which is a great area for sheeps, mangroves, and gags. The beaches have the whiting and silver trout loaded up its very easy to target them with shrimp weighted to the bottom in the surf. Cobia still around as well one lucky angler caught a 30lb monster from the north jetty of Johns Pass on a live pinfish.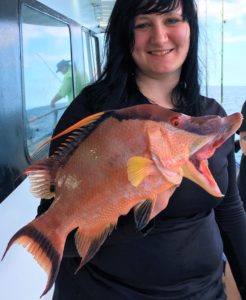 Near shore– Lane snapper are thick right now near shore. We're seeing huge biomass areas of lanes and most are fairly large. Besides lanes the hogfish are doing well too, not super crazy but consistent and on the charters it's easy to dial in on them. Capt Joe on the HUB caught a pile of hogfish and big lanes on his 8hr HUB private charter this past week. The hog fishing should only get better as spring approaches. Kingfish bite slowed again after the cold front that rolled through early on Christmas day, but we have been picking a few and the commercial kingfish guys say that the kingfish is insane around the 80-90 foot area catching 1,000+ lbs of kingfish daily for 5 days in a row now.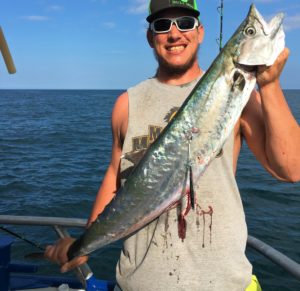 Offshore– The extreme trips are still getting some great grouper on those go fast expeditions! Gag grouper closes at the end of December, but Amberjack open January 1st for 26 days since National Marine Fisheries didn't enact the rule in time that the gulf council voted on. This means Amberjack season could be affected for the year but we will keep you informed through the Hubbard's marina social media and this newsletter! Amberjack fishing is HOT in the cooler months so while the weather is good in January you definitely want to get on our 12 hour extreme, 39 hour, or 44 hour full moon trips as spots will fill quickly after this last minute announcement of AJs opening in the beginning of January.
Want to read the past reports? Check out this link: https://www.hubbardsmarina.com/hubbards-marina-fishing-reports/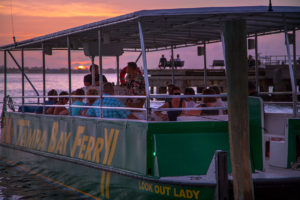 Tampa Bay Ferry and Taxi news
We have a brand new route for the Tampa bay Ferry! Check out the new route here: https://www.hubbardsmarina.com/madeira-beach-water-taxi/
We also have a special schedule for Christmas week, were going to run December 26th until December 31st DAILY to accommodate the special week of increased traffic around Johns pass!
Besides Christmas week, Madeira beach Water taxi is running Friday-Sunday 10am-10pm right now and now that the weather has cooled down it's a great time to enjoy a relaxing boat ride around the bay!
There's tons of stuff to do while catching a ride with the Madeira beach water taxi, check out all the things to do: http://www.tampabayferry.com/things-to-do/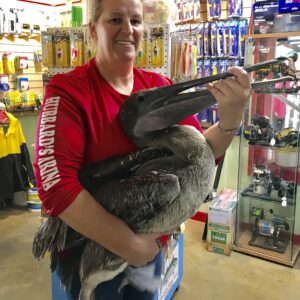 Captain Jack's dolphin corner
Lately our local dolphin population has been very active and playful with plenty acrobatic displays completely out of the water. It's a great time to get out and enjoy a dolphin watching nature cruise and eco tour or a ride on the Madeira Beach water taxi!
Special time of year for sunset cruise because were able to visit bird nesting island before sunset when the seabirds are showing back up to the island. It's great to get a chance to see all the seabirds in a large group on the island.
The four local Baby dolphins are doing well and growing up fast. Even baby tig born June 3rd and bitten by a shark June 4th is all healed and happy growing up fast!
Right now were finding large groups of dolphins grouped up chasing big schools of mullet up to the local seawalls. The smart dolphins use the seawall to keep the mullet the tightly grouped up so they can pick off fat mullet easily. This is an awesome opportunity to see groups of dolphins actively feeding.
This time of year the mating plumage is starting to show up on the local seabirds. This makes the views around the bird nesting islands even more unique and enjoyable.
Want to learn more about dolphins this winter? Check out the new great Johns Pass dolphin facts series on our Hubbard's Marina YouTube channel to check out to see them all watch our dolphin playlist here: https://goo.gl/2mYjX2
Upcoming up at Hubbard's Marina
Ready for a story of frustration and heartache? This is the story of why Amberjack are opening suddenly without much warning… Back in June at the gulf council meeting in Naples the council wanted to stop the idea of Amberjack opening in January and move towards a fall season with a short spring component but nothing was voted on or decided. In August at the Texas council meeting, they decided to make the 2018 AJ season July first until Dec 31st with the intention of changing it at the October meeting. They only did this to make sure that there was no way amberjack would open January 1st 2018. At the October meeting, after much debate and deliberation and very heartfelt passionate public comments the decision was made at full council to make the fishing year for Jacks August 1st-July 31st and the season May, August, September and October. However, once the council decided this their rule has to be passed to the National Marine fisheries service to be made a law or regulation and entered into the federal register. This was not done in time, now their 2018 season decision is all messed up and were left with the Amberjack opening January first which the council has said they do not want at the last three meetings in a row. I suspect they will announce this shortly and put in the July 1st until December 31st season, and then change it eventually to the May, August, September and October season. Very frustrating, very annoying but were going to make the best of the unplanned and unexpected opening and lets go catch em' up together! We have 12 hour extremes Wed and Sunday through the short January season and we have a 44 hour first weekend of the near year and a 39 hour every Friday following to ensure you get a chance to get some jacks before they close on the 26th. We may add a 39 hour on Tues January 26th if the others fill quickly and we may add some Friday 12 hour extremes if the others fill up… Plenty of private charter options too, for jacks I would suggest doing a Flying HUB 1 or 2 eight to twelve hour charter! Keep in mind, on the 39 or 44 hours you get TWO jacks instead of just one like you would on a day trip.
UPDATE: After talking with the council and the south east fisheries office sounds like the current season announced today for AJ's in 2018 will be CHANGED come February/march maybe as late as April back to what they originally decided at the October council meeting. So, in summary currently the 2018 AJ season is Jan 1-26th and then July first till the end of the year, but come February/march they will change it to Jan 1-26th then May, August through end of October.
Want to win a FREE 10 hour all day or FREE 5 hour half day at Hubbard's Marina? Join Captain Dylan Hubbard (https://www.facebook.com/CaptainDylanHubbard/) for a great seminar at Bass Pro Shops Tampa on Saturday January 20th at 2pm! For more information, check out the Facebook event: https://www.facebook.com/events/2033606443521616/
2018 specialty trip schedule is now LIVE on the Hubbard's Marina website! To see all the 12, 39, 44 and 63 hour trips for the next year check it out here: https://www.hubbardsmarina.com/specialty-fishing-trip-schedule/
We have changed around a lot of stuff on our website, you should check out the added material on our FAQs page to further explain bait options, best spots on the boat, rod rental options and lots more helpful information to hopefully help first time anglers with us have a more quality experience. To see the changes, check out the FAQs: https://www.hubbardsmarina.com/faqs/
Gag grouper also open up June first and remain open until the end of 2017 so get ready for some big grouper fishing action with us at Hubbard's Marina.
Regular's club
2018 club signups are in full swing, by the time you are reading this Capt. Dylan Hubbard has emailed every 2017 club member for a chance to sign up for 2018 clubs early! Starting next week we will move onto signing up the new members for our 2018 clubs. Then finally starting Monday December 2018 the specialty schedule will go live on our site for bookings at 9am!
Captains Mark and Dylan Hubbard
Vice president and Regular's club manager Hubbard's Marina
(727)393-1947 ext 306
CaptHubbard@HubbardsMarina.com
Check out our specials here: View Coupon