Fishing report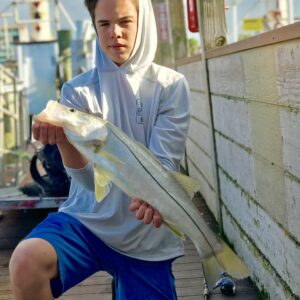 Inshore– Bryce artze from Seminole and his buddy Carson kalapp were catching some nice snook around the docks of Hubbard's Marina this past Monday and Tuesday using live shrimp for bait. There were some other young anglers later in the week catching black drum and sheepshead on shrimp as well. The sheepshead fishing should only get better and better, the love when it's cold and murky along the docks, bridges and jetties. The trout bite was going well in the back bays especially on the shallower grass beds where you can find pockets of trout hiding in the sandy holes along the edges of the grass flats. Whiting and silver trout still consistent along the beaches, but the cooler weather and murky waters slowed them down a little. We did have some out of town guests report they were catching plenty of whiting from the beach using cut smelly squid. That smelly bait helped them lure in the whiting they claim despite the murky waters caused by the rough waters behind this super strong cold front we got early in the week.
Near shore– Unfortunately we haven't been offshore since this past Sunday due the recent high wind and waves and cold temperatures. We are hoping to resume normal operations this weekend as the waters calm, winds relax and temps start to climb once again. However, this past weekend was the end of gag grouper season and the approaching front had them fired up and chewing well. The last day of gag season our near shore charters were loading up on nice gag grouper with ease. Now, since gags are closed our focus will shift to the red grouper, hogfish, mangroves, lane snapper and heads and tails like the grey snapper, porgies, and seabass.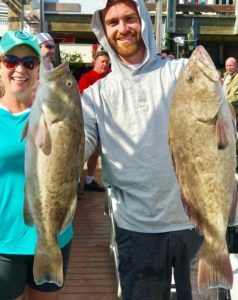 Offshore– Same song and dance in the offshore report this week, unfortunately due to weather we haven't been offshore since our last report really. However, we did get out this past weekend for the end of gag grouper and boy did it pay off. We are looking forward this weekend to the start of a short amberjack and triggerfish season and we have plenty of 12 hour extreme trips and 39 hours before the close and today we even have a 44 hour full moon trip heading out to load up on big red grouper, monster jacks, and plenty of mangrove snapper, vermilions, yellowtail, tuna and more!
Want to read the past reports? Check out this link: https://www.hubbardsmarina.com/hubbards-marina-fishing-reports/
Tampa Bay Ferry and Taxi news
We have a brand new route for the Tampa bay Ferry! Check out the new route here: https://www.hubbardsmarina.com/madeira-beach-water-taxi/
Madeira beach Water taxi is running Friday-Sunday 10am-10pm right now and now that the weather has cooled down it's a great time to enjoy a relaxing boat ride around the bay!
There's tons of stuff to do while catching a ride with the Madeira beach water taxi, check out all the things to do: http://www.tampabayferry.com/things-to-do/
Captain Jack's dolphin corner
Right now were finding large groups of dolphins grouped up chasing big schools of mullet up to the local seawalls. The smart dolphins use the seawall to keep the mullet the tightly grouped up so they can pick off fat mullet easily. This is an awesome opportunity to see groups of dolphins actively feeding.
The four local Baby dolphins are doing well and growing up fast. Even baby tig born June 3rd and bitten by a shark June 4th is all healed and happy growing up fast!
Lately our local dolphin population has been very active and playful with plenty acrobatic displays completely out of the water. It's a great time to get out and enjoy a dolphin watching nature cruise and eco tour or a ride on the Madeira Beach water taxi!
Special time of year for sunset cruise because were able to visit bird nesting island before sunset when the seabirds are showing back up to the island. It's great to get a chance to see all the seabirds in a large group on the island.
This time of year the mating plumage is starting to show up on the local seabirds. This makes the views around the bird nesting islands even more unique and enjoyable.
Want to learn more about dolphins this winter? Check out the new great Johns Pass dolphin facts series on our Hubbard's Marina YouTube channel to check out to see them all watch our dolphin playlist here: https://goo.gl/2mYjX2
Upcoming up at Hubbard's Marina
Want to win a FREE 10 hour all day or FREE 5 hour half day at Hubbard's Marina? Join Captain Dylan Hubbard (https://www.facebook.com/CaptainDylanHubbard/) for a great seminar at Bass Pro Shops Tampa on Saturday January 20th at 2pm! For more information, check out the Facebook event: https://www.facebook.com/events/2033606443521616/
Triggerfish and Amberjack are BOTH open for harvest right now for a brief season. Amberjack are open January 1-January 27th at 12:01am meaning January 26th is the last day to get them. Triggerfish are open January 1-January 16th at 12:01am meaning January 15th is the last day to get some triggers before they close. Triggerfish should re-open March, April and May and Amberjack should re-open May, August, September and October. If you want to get these guys while they are open, we have TONS of light loads ready to harvest these species. For amberjack, we would recommend a 12 hour extreme, 39 hour long range overnight, or 44 hour full moon trip. For trigger fish we catch them on nearly every trip but 10 hour all days, 12 hour Extremes, 39 hours or 44 hours are best.
January 12th and January 19th we have a 39 hour long range overnight trips both with light loads as well! These trips are a great shot at big jacks and on the January 12th trip you will be able to get those Triggerfish too! Keep in mind you get a two day bag limit on these trips allow you to keep twice what you normally could on a day trip!
We also have 12 hour extreme trips running every Wednesday and Sunday that are all running light for the month of January!
2018 specialty trip schedule is now LIVE on the Hubbard's Marina website! To see all the 12, 39, 44 and 63 hour trips for the next year check it out here: https://www.hubbardsmarina.com/specialty-fishing-trip-schedule/
We have changed around a lot of stuff on our website, you should check out the added material on our FAQs page to further explain bait options, best spots on the boat, rod rental options and lots more helpful information to hopefully help first time anglers with us have a more quality experience. To see the changes, check out the FAQs: https://www.hubbardsmarina.com/faqs/
Gag grouper also open up June first and remain open until the end of 2017 so get ready for some big grouper fishing action with us at Hubbard's Marina.

Regular's club
2018 club signups are nearly finished, if you haven't renewed yet your membership will be changed in the coming days and your club benefits will be coming to an end. If you would like to renew for the coming year please call and do so asap so you don't have to run into issues with benefits lapsing!
Captains Mark and Dylan Hubbard
Vice president and Regular's club manager Hubbard's Marina
(727)393-1947 ext 306
CaptHubbard@HubbardsMarina.com
Hubbard's Marina Preferred Partner Showcase:

The Bilmar beach resort on Treasure Island has a brand new look for 2018! If you haven't seen their new look they have done huge renovations to the outside and inside of their beautiful beachfront hotel. Their new rooms are gorgeous and very modern looking. Plus, they have a whole new look and feel for the brand new year. If you haven't already, you have to look into staying at the beautiful Bilmar beach resort just down the street from Hubbard's Marina and Johns Pass and only around the corner from the Madeira Beach Water Taxi's Treasure Island stop behind the Middle grounds grill! If you stay at the Bilmar it's only a short walk to the water taxi and a relaxing boat ride throughout Madeira beach and into Johns Pass!