Fishing report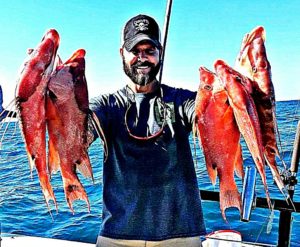 Inshore- The triple tail are thick along the beaches right now with stone crab season in full swing. The crab trap buoys make a great collection zone for the triple tail to hide out and ambush passing bait. We like to use live shrimp or small greenback under a popping cork that give it plenty of weight to cast the bait past the buoy and retrieve it to the strike zone. DOA shrimp work well too If you don't have live bait readily available on board. The sheepshead are thick around Johns Pass bridge, the docks in the pass and along the jetties eating pieces of shrimp, oysters, fiddler crabs and barnacles. The amount of sheepshead and their aggressiveness will only get better and better as the water continues to cool, especially behind the cold fronts the sheepshead action is really good. Today and tomorrow should be a great time to go out and target those good eating sheepshead around the pass due to the front stirring up the waters and cooling them down. Besides the sheepshead, we are also seeing plenty of snook around the pass too and even some redfish. Many guys are catching these fish around the jetty and under the bridge free lining live shrimp into the pass on the tail end of the outgoing tide or the beginning of the incoming tide. The red tide is around but we have tons of bait and fishing action in the pass most all the time, it's really only the backside of the incoming tide where you may see dead fish and most if not all of them are long since dead and rotting pulled in from offshore.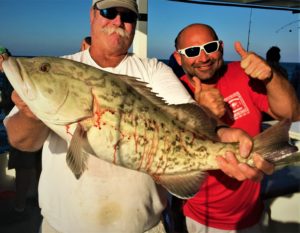 Near shore- The nearshore bite was very good to us this week around Johns Pass. The recent 10 hour all day had nearly two dozen nice mangrove snapper some even in the 5-6lb range. We saw kingfish action and had a real smoker hooked up before it broke the line. We had plenty of mackerel around the boat following the plentiful bait in the 70-90 foot range. Plus, we had a big gag grouper hauled up, a handful of keeper red grouper, over 50 lane snapper and one was a monster 16-17 inch fish. Finally, we had plenty of the heads and tails too like the grey snapper, porgies and seabass too to round off the box. Interestingly enough we had around 40 red hinds or strawberry grouper as well during the recent all day! Besides the recent ten hour all day deep sea fishing trip, our private fishing charters have been doing well too. The Hub half day private fishing charter this past week did very well on the hogfish and mangrove snapper. We caught around a half dozen nice hogs and a few big lane snapper and some nice mangroves too. All of this was around 60-90 foot of water this past week, and they had a few trips with similar catches Monday-Wednesday.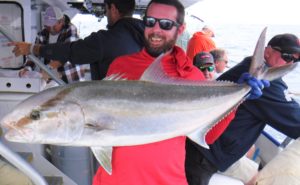 Offshore – Our 44 hour full moon trip this past weekend did very well on the fish with big amberjack, nice grouper, mangrove snapper, vermillion snapper, some yellowtails, porgies, kingfish, mackerel and tuna as well! The amberjack season is now closed, but we still have plenty of gag grouper, red grouper, scamp grouper, mangrove snapper, porgies, tuna, kings and more to catch while the jacks are closed until May 2019. Gags bite best in months ending in ER and November is our favorite month to get them, especially around thanksgiving the gag grouper bite seems to be at its best. Plus, we have added a brand new 39 hour long range deep sea fishing trip November 27th with tons of great spots and bunks still open for bookings. The gags seem to be moving in quite a bit but the offshore bite of gag grouper in the 120-140ft range went very well this past weekend. Red grouper are steady but not super prolific and we are seeing them from 110-140 foot of water too. Scamp grouper seem to bite best in deeper waters around 140 foot of water or deeper!
Want to watch Capt Dylan Hubbard's Daily video reports? Check out the Hubbard's Marina YouTube channel and don't forget to SUBSCRIBE! – Hubbard's Marina daily fishing & boating report
Captain Jack's dolphin corner
Red tide continues to be present in the area but it's a moving target each day sometimes we see it at the tail end of the incoming tide, some days it's not even noticeable ever. The water in the pass seems to be clearing up nicely and it looked really good Wednesday and Thursday morning around Johns pass and Madeira beach. The city and county continues to do a very good job at proactive cleanup and there's still tons of boats around collecting any dead fish out of the water before they wash ashore or get trapped in the back bays. Most of the cleanup is happening to our south and to our north and we seem to be very blessed with little if any dead fish present in our area. But, it can change with a disruption in the weather pattern or changing winds, any sort of a west wind pushes more dead fish into the area from where they are hanging offshore. However, for the most part our dolphin trips and sunset cruises are fairly red tide free this past week without much of anything to report negatively.
Our sunset cruise has been spotting lots of dolphins lately as we cruise down Treasure island beach watching the sunset to our left and beautiful gulf beaches to the right, we have been seeing huge pods of dolphins too! We don't guarantee dolphins sightings aboard the sunset cruise like we do aboard our dolphin watching nature cruise and eco tours daily, but we do have free beer and wine on the sunset cruise. However, lately our sunset cruise has been spotting lots of playful dolphins along with the free beer and wine and beautiful front row view of the gorgeous sunsets!
The dolphin watching nature cruise and eco tour lately has been seeing plenty of seabirds around the area including ospreys and bald eagles. Plus, the dolphins are moving in larger groups and when we finally find them they seem to be extra playful as they show the juveniles how to hunt and maneuver around in the water. However, because they are in larger groups it makes it tough to find them easily but once we do it's always very exciting.
Right now, is an awesome time to experience some great times on the water at Hubbard's Marina while cruising the back-bay waters of upper Boca Ceiga bay aboard the big blue dolphin boat out of Johns Pass Madeira beach. Our hour and a half dolphin watching nature cruise and eco tour with guaranteed dolphin sightings has been spotting large pods of dolphin and it's been super nice weather for us too. Plus, our entire cruise is narrated so the captain will tell you all about the local area and local wildlife as well. If you want to learn more about the relaxing, fun and family friendly Johns Pass dolphin watching tour with us at Hubbard's Marina check out this page – https://www.hubbardsmarina.com/dolphin-watching-cruises/
Hubbard's Marina Sea Adventures and Tampa Bay ferry are both proudly power by Honda Marine! If you come visit us for a dolphin tour, sunset cruise, Egmont key island trip, snorkeling, shelling, water taxi ride or any type of ferry or pleasure cruise trip then you will be riding a boat powered by Honda Marine! These new motors look great, are super quiet and are great on fuel economy! It was tough to get four boats re-powered with new engines but it was well worth the change and were very happy! Hope you get a chance to see these brand new super cool engines at work on board one of our pleasure cruise and ferry boats! To learn more about Honda Marine engines for your boat, check out their website: https://marine.honda.com/ they have the best warranty in the industry right now, you get a full 5 years and you just can't beat that!
Tampa bay ferry News
Discover the Island is this weekend at Egmont key, this is a great time to visit the island and learn more about it and its wildlife! The even this weekend will be held on November 3rd and 4th, 2018 and all the important info is below:
This event is the best way to learn about the island and all it has to offer visitors! On this weekend the island will have experts on the islands rich history from the 1800's to the present time. If you are a lighthouse enthusiast we have one that was built in 1858 and will be open for visitors to view the spiral staircase and to ask questions of our Lighthouse Keeper re-enactor.
If nature is your interest, we will have experts on migratory and shorebirds, gopher tortoises and sea turtles. We will also have experts on the native plants found on Egmont Key.
We will have Civil War re-enactors, both Union and Confederate with uniforms and equipment from that time. Also, there will be people knowledgeable on the part that the island played in the Spanish American War in 1898.
Other activities include a Silent Auction, kids games, local artists, music, souvenirs, self-guided walking tours and the best hotdogs on the island!
If you want to learn about Egmont Key and what it means to the history, nature and recreation in the Tampa Bay Area then mark November 3rd and 4th on your calendar and make plans to spend the day with us!
Exhibitors for this year:
Bay Area Reef Runner Dive Club with exhibits on the  U.S.S.Narcissus Visit the BARR Website, Live birds of prey from Boyd Hill Nature Preserve both days! Union and Confederate Civil War Re-enactors, Presentation on Egmont Key Birds by Tom and Lindsay Bell, Presentation on sea grasses and importance of preserving them, Lighthouse Keeper re-enactor, Florida Lighthouse Association, Friends of Tampa Bay National Wildlife Refuges, Florida flag history, Events and Activities, Folk music by members of the Egmont Key Shanty Singers, Self-guided walking tours of the island, Guided group walking tours hourly on military history, nature/wildlife, Fort Dade and beach dynamics, Lighthouse open (no climbing) with Lighthouse Keeper Re-enactor, Silent Auction Saturday only! Souvenir sales, Presentations on and birds in the Guardhouse, Kids fossil pit at the Guardhouse, Presentations on gopher tortoises at Battery Howard
Live birds of prey from Boyd Hill Preserve both days!
Ferry Ticket Prices and Sales
Ferry boarding will be a the Bay Pier this year! When you arrive at Fort DeSoto simply follow the brown park signs to the usual place that the ferry departs from. Look for the green trailer near the parking lot. Sales and boarding info will be at that location. Overflow parking is available across the road from the paved parking lot. We accept cash, major credit cards and check as payment. Ticket prices are listed below.
Saturday, Nov 3, 2018 Tickets go on sale at 8:30 AM EST, boarding starts @ 09:00 AM
Sunday, November 4, 2018: Will be the same as Saturday.
Ferry Service Departure Times (two ferries will be on site if needed)
Saturday: the first ferry leaves Ft. DeSoto at 9:00AM and will continue shuttle service as they fill with passengers. The last boats will depart Ft. DeSoto at 2:00PM. The last ferries will leave Egmont Key at 4:00PM. This allows at least two hours to enjoy the event for later arrivals.
Ticket price includes ferry service to/from island.
$25.00 for Adults, ages 19 and up
$15.00 for young adults 12-18
$10.00 for Children, ages 6 to 11 years
Children under 6 are free
Silent Auction Items
Kucherov Signed Hockey Stick (from Tampa Lightning), Gift Basket (from Fort DeSoto Gift shop), Flamingo apron, umbrella, notecards, journal, Super Seafood Cookbook, Wok and Publix Gift Card ($50), Wild Dolphin Eco Tour (4), Dolphin Watch Tour (2) – Dolphin Landings, Magnuson Hotel Marina Cove (2 nights), Origanal Photograph, Original Oil Painting – Sleep Well My Lady, Mask, Flippers, Snorkel (Gulfport Dive Center), Shock Fishing Rod and Reel, Glass Manatee Sculpture, Lighthouse Welcome Sign
Glass Dolphin Cube, Fishing Net, Watercolor – Oneil's Skyway, Ship and Dolphin on Driftwood, Acrylic Oil Painting – Egmont Key, Great Egret Painting, Half Day fishing trips (Hubbard's Marina), Dolphin Watch Trips (Hubbard's Marina), Sunset Cruises (Hubbard's Marina)
Upcoming up at Hubbard's Marina
NEW 39 hour fishing trips being added to our schedule TODAY! If you wanted to try our 39 hour long range overnight fishing trip now is the great time to book a spot and enjoy a light load and a great opportunity for big gag grouper, mangrove snapper, tuna and more. Plus, these are NEW TRIPS so there's tons of open spots and bunks you can choose your favorite spot and bunk now before they fill up. The TWO NEW DATES are Tuesday November 27th and Tuesday December 4th 2018 book your trip now at this link: https://www.hubbardsmarina.com/fishing-trip-reservations/
Here's the 39 hour long range overnight fishing trip information, only $369 for 20hrs fishing time 70-100 miles offshore with a two day bag limit: https://www.hubbardsmarina.com/39hr-overnight-fishing-trip/
Our 2019 fishing schedule is coming out very soon, we will be making it available for bookings starting December first 2018. If you would like to book a 10 hour all day, 12 hour extreme, 12 hour night snapper trip, 39 hour long range overnight fishing trip, 44 hour full moon long range overnight trip or the 63 hour deep drop pelagic trip in the upcoming 2019 fishing year you'd better be ready to book early and often for the upcoming year starting December first.
Don't forget about your Hubbard's Marina gift certificates for Christmas, if your looking for a great present for the fisherman, dolphin cruiser, island lover of sunset enthusiast in your family the Hubbard's Marina gift certificate makes a killer gift for your friends, family and loved ones! Check out our gift certificate purchase link right here, you can send them to yourself and print them out for a gift at Christmas or you can email it to them directly it's up to you! Here's the link to buy your certificate today: https://www.hubbardsmarina.com/gift-certificates/
Want some FREE fishing trips with us at Hubbard's Marina? Want to learn more about near shore and offshore fishing? Check out the TWO upcoming Bass pro shops seminars with Capt Dylan Hubbard at the Tampa bass pro location. The first is Saturday Nov 17th at 2pm and the second is Saturday December 8th at 2pm. Both seminars will be about an hour long of fishing conversation, tips, tricks and more! Plus, at the end of each seminar Capt Dylan gives away a FREE 10 hour all day for two guests and a FREE 5 hour half day for two guests to two lucky winners of the FREE raffle. To be entered in the raffle you just have to show up around 2pm and stay for the hour seminar.
Red tide is NOT affecting our fishing near shore! We are still catching plenty of great eating non-affected fish around Hubbard's marina and Johns Pass. The fish are healthy and safe to eat and we have been catching plenty. Plus, we have had light loads and it's a great time to get on the water enjoy the beautiful weather and good fishing.
Want to learn more about fishing locally? Don't forget we have the Weekly fishing conversation or seminar by Capt Dylan Hubbard LIVE on the Hubbard's Marina Facebook page if you don't want to leave your house to catch a seminar! We also then upload this video to the Hubbard's Marina YouTube page shortly after the live video is over. This is weekly on Sunday nights from 8:30pm until 9:30pm, check out the event page and PLEASE LIKE AND SHARE the event if you have a Facebook page, and invite your friends as well! https://www.facebook.com/events/249881722421418/
Regular's club
We are going to start up our 2019 regular's club in the next weeks, if you are interested in becoming a 2019 regular's club loyalty program member please reach out to Capt. Dylan Hubbard by sending him your name and cell number via email to CaptHubbard@HubbardsMarina.com. He will be in touch in the coming few weeks about the loyalty program that offers discounted trips if you fish more than 10,15 or 20 times a year with us at Hubbard's Marina. It also comes with some free gifts and other benefits too besides discounted trips, but it's NOT simply a discount program. It's a loyalty program and it requires fishing often and being a model Hubbard's Marina guest and showing the passion shared by all of us at Hubbard's Marina for fishing and our fellow anglers.
Captain Dylan Hubbard
Vice president and Co-Owner
(727)393-1947 ext. 306
CaptHubbard@HubbardsMarina.com