Fishing report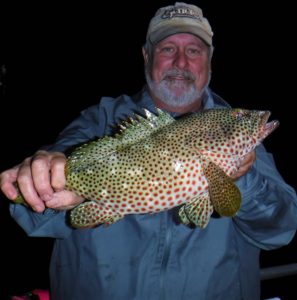 Inshore- Big pompano caught this week from the Jetty at Johns Pass, sheepshead showing up, black drum are starting to be more prolific and overall lots of bait in the area. The big pompano we are referring too was so large it broke the anglers rod lifting him over the rocks measuring over eighteen inches to the fork! He caught him on a live shrimp weighted to the bottom on the first half of the incoming tide. Big sheepshead are starting to become more and more common place around Johns Pass around the pilings of the bridge and docks in the area, I love to fish the seawalls and docks on the North east side of Johns Pass when fishing by boat or fish the south seawall of Johns Pass when fishing from shore for the sheeps or the Hubbard's marina dock is a great place to fish as long as our office is open and were not loading and unloading boats you are more than welcome to fish on the dock, and we have all the bait, beer and ice you need in the shop!  Triple tail are still around the area and should hang out through the stone crab season thanks to all the trap buoys. We are seeing some cobia along the bridges, jetties and grass flats in the pass. We had a local kayak angler catch a thirty eight inch cobia on a buck tail jig between the islands of Johns Pass this past week!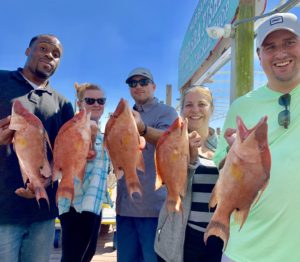 Near shore- The near shore bite this week has been good and weather has been great. It was a little slower than the first past of last week, but were hoping it improves on the 2nd half of this week before the weekend fronts and it should. We have a weak front coming Saturday and a super strong front Tuesday so were hoping for some great fishing Thursday and Friday and even Saturday morning ahead of this barrage of fronts. Then it will take 3-4 days behind Tuesday for the winds and seas to calm and water to clear up before the fishing gets hot again. This time of year weather timing becomes paramount to planning successful near shore and offshore fishing trips. Inshore, when the fronts come and stirs up the water the sheepshead and the black drum bite gets super hot so as long as your shifting your effort inshore you can have decent fishing all the time. However, near shore the hogfish bite is picking up as the waters cool, gags are moving in, kingfish are finally starting to show up, and the lanes are steady. Plus, we always have a good bite of the grey snapper (grunts), porgies and seabass as long as the weather is nice and the waters are not stirred up behind a front. The kings seem to be 70-100 foot of water near shore and there's occasional blackfin tuna mixed in as well. Also, the gags seem to be starting to get more aggressive and prolific from 50-100 foot of water and even sometimes inshore too. However, the cooler the water gets the more the gags will turn on and get more prolific as more and more move in shallower. Keep in mind, the hogfish also get more aggressive and bite better as the water continues to cool as well.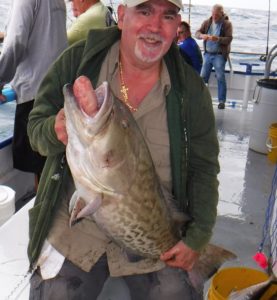 Offshore – Right now is coming into the BEST time of year for gag grouper offshore. We have not had a long range trip this past week due to the front last weekend canceling our 63 hour deep drop pelagic trip and our Flying HUB 2 extreme trips not running due to dry dock and the Flying HUB 1 private charter this past weekend was cancelled due to a front as well. However, we are expecting some great fishing this weekend for our 39 hour long range overnight trip leaving for some deep sea fishing fun this weekend TODAY at 3pm! Plus, were seeing lots of the blackfin tuna on the rapala xrap magnum 30 trollers and the fathom offshore trolling skirts with the occasional kingfish or huge mackerel too! Trolling on the ride out has produced plenty of mackerel and bonita for cut bait with the occasional kingfish or blackfin. Gags are pretty thick out there right now and the last few trips did pretty good on the gags and we think it's only going to get better the later in November we go!
Want to watch Capt Dylan Hubbard's Daily video reports? Check out the Hubbard's Marina YouTube channel and don't forget to SUBSCRIBE! – Hubbard's Marina daily fishing & boating report
Captain Jack's dolphin corner
Red tide readings for the pass have been low this week, were hoping it goes down to very low with the weather coming mid week next week, but time will tell. Red tide is a very dynamic event some days its hardly noticeable other days its mild effects can be felt but for the most part this week healthy individuals never really noticed any effects or symptoms of the red tide brevatoxin which causes the breathing irritation and the red eyes. However, the water is a little dirty in the pass this week compared to last week were hoping this trend is reversed in the coming days. However, it hasn't hindered our ability to enjoy the dolphin cruises and sunset tours.
The sunset cruise with FREE BEER AND WINE has been a great time this past week with gorgeous weather, stellar sunset views and the occasional big pod of dolphins playing around the boat along the sunset cruise route. We are hoping this continues in the coming week, but we did want you to know that our sunset cruise time has changed to 5pm instead of 5:30pm due to the ending of day light savings time.
The dolphin watching nature cruise and eco tour lately has been seeing plenty of seabirds around the area including ospreys and bald eagles. Plus, the dolphins are moving in larger groups and when we finally find them they seem to be extra playful as they show the juveniles how to hunt and maneuver around in the water. However, because they are in larger groups it makes it tough to find them easily but once we do it's always very exciting.
Right now, is an awesome time to experience some great times on the water at Hubbard's Marina while cruising the back-bay waters of upper Boca Ceiga bay aboard the big blue dolphin boat out of Johns Pass Madeira beach. Our hour and a half dolphin watching nature cruise and eco tour with guaranteed dolphin sightings has been spotting large pods of dolphin and it's been super nice weather for us too. Plus, our entire cruise is narrated so the captain will tell you all about the local area and local wildlife as well. If you want to learn more about the relaxing, fun and family friendly Johns Pass dolphin watching tour with us at Hubbard's Marina check out this page – https://www.hubbardsmarina.com/dolphin-watching-cruises/
Hubbard's Marina Sea Adventures and Tampa Bay ferry are both proudly power by Honda Marine! If you come visit us for a dolphin tour, sunset cruise, Egmont key island trip, snorkeling, shelling, water taxi ride or any type of ferry or pleasure cruise trip then you will be riding a boat powered by Honda Marine! These new motors look great, are super quiet and are great on fuel economy! It was tough to get four boats re-powered with new engines but it was well worth the change and were very happy! Hope you get a chance to see these brand new super cool engines at work on board one of our pleasure cruise and ferry boats! To learn more about Honda Marine engines for your boat, check out their website: https://marine.honda.com/ they have the best warranty in the industry right now, you get a full 5 years and you just can't beat that!
Tampa Bay Ferry News
Early this week the waters around Shell key and Egmont key had some dirty conditions and some noticeable red tide effects, but that has since completely changed and yesterday around the island the waters were cleared up and no evidence of red tide was present which was great news for our excited guests the past few days at Egmont key aboard the Egmont key ferry from Fort de soto county park and at Shell key aboard the Shell key ferry from the Fort de soto boat ramp.
We have had some great shelling lately out at Shell key and Egmont key and next week behind the strong front Tuesday the shelling and sharks teeth hunting should be STELLAR, if you want a chance to take advantage of all the great shelling to be had behind the front I would shoot to join the Egmont key ferry or Shell key ferry tours Thursday or Friday of next week behind the mid-week weather. That front will push tons of fresh shells and such onto our local beaches making it a great time to get out to the island and it will be nice and cool and mostly bug free thanks to the cooler temps.
The shell key ferry has been spotting lots of manatees around shell key and bunces pass lately while cruising to and from the island. This island ferry ride is a great way to experience shell key and offers tons of flexibility on how long or how short you want to spend time on the island shelling, swimming and exploring this pristine island paradise! For more info on how you can join us for a ride to shell key aboard the shell key ferry by Tampa bay ferry and Hubbard's Marina check out this page – https://www.hubbardsmarina.com/shell-key-ferry/
Don't forget to check out the BRAND NEW shell key ferry from Fort De Soto County Park out to the beautiful shell key preserve! This is a great way to see the island, go shelling and enjoy a day on the water with a flexible schedule. For more info on this new ferry route check out this link to the Tampa bay ferry shell key page – http://tampabayferry.com/shell-key-ferry/route-and-schedule/
The Egmont key ferry is running daily as well with multiple rides out to the island from Fort De Soto's bay pier. Tuesday, Thursday and Saturday there's an afternoon ferry option too instead of just mid-morning. Check out the website for ferry prices and times. Plus, while on the island they offer a snorkeling trip too!
https://www.hubbardsmarina.com/egmont-key-ferry-cruise/
Upcoming up at Hubbard's Marina
This Saturday morning November 10th Capt Dylan Hubbard will be the Co-Host on the Reel Animals fishing show on WFLA 970 with Capt Michael Anderson! Give him a call live on air at (727)461-9352 to talk fishing near shore or offshore or ask about trips at Hubbard's Marina! If you don't want to call into the show, just listen in or watch it live on Facebook at the Reel animals Facebook page – https://www.facebook.com/ReelAnimals/
NEW 39 hour fishing trips have been added to our schedule! If you wanted to try our 39 hour long range overnight fishing trip now is the great time to book a spot and enjoy a light load and a great opportunity for big gag grouper, mangrove snapper, tuna and more. Plus, these are NEW TRIPS so there's tons of open spots and bunks you can choose your favorite spot and bunk now before they fill up. The TWO NEW DATES are Tuesday November 27th and Tuesday December 4th 2018 book your trip now at this link: https://www.hubbardsmarina.com/fishing-trip-reservations/
Here's the 39 hour long range overnight fishing trip information, only $369 for 20hrs fishing time 70-100 miles offshore with a two day bag limit: https://www.hubbardsmarina.com/39hr-overnight-fishing-trip/
Our 2019 fishing schedule is coming out very soon, we will be making it available for bookings starting December first 2018. If you would like to book a 10 hour all day, 12 hour extreme, 12 hour night snapper trip, 39 hour long range overnight fishing trip, 44 hour full moon long range overnight trip or the 63 hour deep drop pelagic trip in the upcoming 2019 fishing year you'd better be ready to book early and often for the upcoming year starting December first.
Don't forget about your Hubbard's Marina gift certificates for Christmas, if your looking for a great present for the fisherman, dolphin cruiser, island lover of sunset enthusiast in your family the Hubbard's Marina gift certificate makes a killer gift for your friends, family and loved ones! Check out our gift certificate purchase link right here, you can send them to yourself and print them out for a gift at Christmas or you can email it to them directly it's up to you! Here's the link to buy your certificate today: https://www.hubbardsmarina.com/gift-certificates/
Want some FREE fishing trips with us at Hubbard's Marina? Want to learn more about near shore and offshore fishing? Check out the TWO upcoming Bass pro shops seminars with Capt Dylan Hubbard at the Tampa bass pro location. The first is Saturday Nov 17th at 2pm and the second is Saturday December 8th at 2pm. Both seminars will be about an hour long of fishing conversation, tips, tricks and more! Plus, at the end of each seminar Capt Dylan gives away a FREE 10 hour all day for two guests and a FREE 5 hour half day for two guests to two lucky winners of the FREE raffle. To be entered in the raffle you just have to show up around 2pm and stay for the hour seminar.
Red tide is NOT affecting our fishing near shore! We are still catching plenty of great eating non-affected fish around Hubbard's marina and Johns Pass. The fish are healthy and safe to eat and we have been catching plenty. Plus, we have had light loads and it's a great time to get on the water enjoy the beautiful weather and good fishing.
Want to learn more about fishing locally? Don't forget we have the Weekly fishing conversation or seminar by Capt Dylan Hubbard LIVE on the Hubbard's Marina Facebook page if you don't want to leave your house to catch a seminar! We also then upload this video to the Hubbard's Marina YouTube page shortly after the live video is over. This is weekly on Sunday nights from 8:30pm until 9:30pm, check out the event page and PLEASE LIKE AND SHARE the event if you have a Facebook page, and invite your friends as well! https://www.facebook.com/events/249881722421418/
Regular's club
We are going to start up our 2019 regular's club in the next weeks, if you are interested in becoming a 2019 regular's club loyalty program member please reach out to Capt. Dylan Hubbard by sending him your name and cell number via email to CaptHubbard@HubbardsMarina.com. He will be in touch in the coming few weeks about the loyalty program that offers discounted trips if you fish more than 10,15 or 20 times a year with us at Hubbard's Marina. It also comes with some free gifts and other benefits too besides discounted trips, but it's NOT simply a discount program. It's a loyalty program and it requires fishing often and being a model Hubbard's Marina guest and showing the passion shared by all of us at Hubbard's Marina for fishing and our fellow anglers.
Captain Dylan Hubbard
Vice president and Co-Owner
(727)393-1947 ext. 306