Fishing report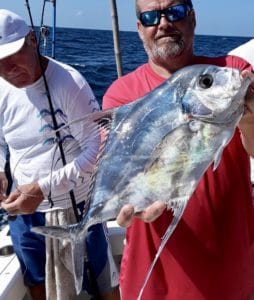 Inshore- We have been seeing lots of bait return to the pass, the mornings have been full of huge bait schools moving through the pass and around the bridge attracting HUGE flocks of various seabirds. This morning we had hundreds of skimmers, pelicans, seagulls, osprey, cormorants, anhingas, egrets and more hanging in the pass actively feeding on a huge amount of live white bait in the 3-4 inch range that were being driven to the surface by ladyfish, jack crevalle and mackerel alike. This huge feeding frenzy has moved areas over the past few mornings but has been constant like clockwork somewhere locally the past 3-4 days. Also, we had a guest visit the shop with multiple photos showing off the redfish he was catching in the surf behind his beach condo in Madeira beach using a simple fish finder rig with live shrimp. Also, a local this guest was fishing by was also catching a good amount of the redfish using a silver casting spoon. These weren't monster bull redfish but they were just under slot range and they were having a great time catching and releasing the fish in the surf. Also, we are seeing the mangrove snapper action picking up inside the pass and have spotted some large schools of mangrove snapper cruising the docks when the waters clear up on the incoming tide. The predominate easterly winds have kept the pass free from dead fish and any foul smells associated with red tide but we are seeing lots of dark brown, nearly black waters flushing out during the outgoing tide while the incoming tide really clears up the pass and our upper Boca Ceiga bay area that we cruise multiple times daily.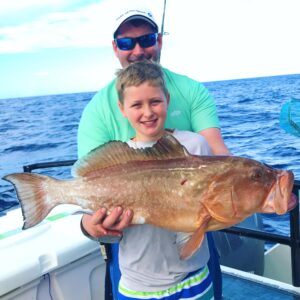 Near shore- Our half day trip is catching plenty of fish right now and continues to be successful near shore despite the conditions closer to the beach. We are seeing some bad areas of dirty water on our way out around 1-3 miles from shore out to about 12-14 miles in patchy areas, but once past 14-16 miles it nearly disappears and the fish have been cooperating very well. We are seeing a HUGE push of scamp grouper right now in our deeper near shore waters around the 18-20 mile mark it's been great scamp grouper fishing lately. Plus, the lane snapper and even vermillion snapper have been biting well in that deeper near shore waters along with the scamp grouper too. The red grouper bite has improved significantly compared to the summer months which has been a welcomed change, but still not the 'on fire' grouper bite that we have seen in the past years but the improved push of fish on our 10 hour trips aboard the private charter boats is a welcomed sign. Plus, plenty of big grey snapper, porgies and seabass are coming up too. Finally, the hogfish bite continues to improve as well we saw a total of four keeper hogfish on Wednesday's half day fishing trip and were hoping those numbers continue to improve as the waters continue to cool near shore pushing the red tide into a distant memory.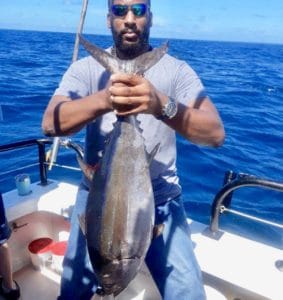 Offshore – The offshore bite has continued to be steady, hasn't been as on fire as the near shore bite but we are doing well out deep on the big snapper right now. The mangrove snapper bite is consistent and the fish have been big and fat too! Plus, were seeing plenty of yellowtail snapper along with the mangrove snapper. The scamp grouper bite out deep has been very good as well as it is in the near shore waters. The red grouper were seeing a few but they are a little tougher than the scamp to find cooperative. The gags are a little hit and miss but seem to be chewing best at night still. We're looking forward to the return of the 39, 44 and 63 hour trips once we hit mid-October the Florida fisherman will be back in service running those long range adventures once again. For now, we have the Flying HUB 2 doing our twelve hour extreme trips and the Flying HUB 1 is running the long range deep water private charter trips. However, this strong east wind has been great to keep the dead fish and the foul smell out of the pass and off the beaches but has made the longer range offshore waters tough to reach due to the more bumpier conditions.
Want to watch Capt Dylan Hubbard's Daily video reports? Check out the Hubbard's Marina YouTube channel and don't forget to SUBSCRIBE! – Hubbard's Marina daily fishing & boating report
Captain Jack's dolphin corner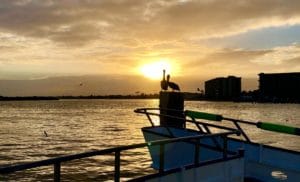 The red tide is definitely still around the area, but the east winds are pushing any dying fish and foul smell offshore allowing the pass and beaches to be very enjoyable. Plus, the incoming tides have been bringing in much cleaner waters too. Thanks to the east winds we are not experiencing any type of breathing irritation due to the red tide, it's very enjoyable along the pass and our beautiful beaches.
Also, the weather has been so nice as of late with the less humid high pressure sitting on us causing these easterly winds we have beautiful clear blue skies and very mild temperatures as well. This all lends itself for a great time to be on the water.
The seabirds are VERY active around the pass and inside upper Boca Ceiga bay once again. It's a great time to come see all the local wildlife in the area and on our bird nesting islands.
The dolphins are a little bit more grouped up so it makes it difficult to find them, but once we do they are very playful and there's tons of them in one area too!
Right now, is an awesome time to experience some great times on the water at Hubbard's Marina while cruising the back-bay waters of upper Boca Ceiga bay aboard the big blue dolphin boat out of Johns Pass Madeira beach. Our hour and a half dolphin watching nature cruise and eco tour with guaranteed dolphin sightings has been spotting large pods of dolphin and it's been super nice weather for us too. Plus, our entire cruise is narrated so the captain will tell you all about the local area and local wildlife as well. If you want to learn more about the relaxing, fun and family friendly Johns Pass dolphin watching tour with us at Hubbard's Marina check out this page – https://www.hubbardsmarina.com/dolphin-watching-cruises/
The shelling lately has been phenomenal around shell key and our three-hour shelling trip Monday, Wednesday and Friday from 9am until noon is a great way to spend an hour on the island hunting for tons of great local shells. Plus, you have an hour ride down to the island through the beautiful intercoastal waterways and then you have a relaxing hour ride back from the island along our gorgeous gulf beaches. What a great way to spend the morning with your family, friends or whoever you want to show off our gorgeous local islands too and share some awesome shelling opportunities with. For more information on the fun filled three-hour shelling adventure with us at Hubbard's Marina check out this page – https://www.hubbardsmarina.com/florida-shelling-cruise/
Hubbard's Marina Sea Adventures, Tampa bay ferry and taxi, and the Madeira beach water taxi are all now proudly power by Honda Marine! If you come visit us for a dolphin tour, sunset cruise, Egmont key island trip, snorkeling, shelling, water taxi ride or any type of ferry or pleasure cruise trip then you will be riding a boat powered by Honda Marine! These new motors look great, are super quiet and are great on fuel economy! It was tough to get four boats re-powered with new engines but it was well worth the change and were very happy! Hope you get a chance to see these brand new super cool engines at work on board one of our pleasure cruise and ferry boats! To learn more about Honda Marine engines for your boat, check out their website: https://marine.honda.com/ they have the best warranty in the industry right now, you get a full 5 years and you just can't beat that!
Tampa bay ferry News
Egmont key and shell key have cleared up significantly the waters around these beautiful islands are much improved especially the west side of Egmont key. There's a large area of super improved water conditions located at the snorkeling area on the South West side of the island and we are actually able to offer the snorkeling excursion once again while we have ferry guests out at Egmont key. Plus, the west side of shell key is much improved as well and our island ferry guests aboard the shell key ferry are finding tons of the shells and local treasures while on the beach. We even found a very large megladon tooth while navigating shell Key Island this past week.
The Madeira beach water taxi service has officially closed as of September 30th, 2018 we will be removing the signage and website shortly. We are very disappointed this happened, but ultimately it was the city of Madeira beach's city council decision that caused this service to end. We hope in the near future more city government participation will help us to resurrect water borne transportation to Johns Pass and surrounding municipalities soon enough!
Don't forget to check out the BRAND NEW shell key ferry from Fort De Soto County Park out to the beautiful shell key preserve! This is a great way to see the island, go shelling and enjoy a day on the water with a flexible schedule. For more info on this new ferry route check out this link to the Tampa bay ferry shell key page – http://tampabayferry.com/shell-key-ferry/route-and-schedule/
The Egmont key ferry is running daily as well with multiple rides out to the island from Fort De Soto's bay pier. Tuesday, Thursday and Saturday there's an afternoon ferry option too instead of just mid-morning. Check out the website for ferry prices and times. Plus, while on the island they offer a snorkeling trip too!
https://www.hubbardsmarina.com/egmont-key-ferry-cruise/
Upcoming up at Hubbard's Marina
Dry dock is coming to a close for the Florida fisherman two, we have the boat back at our main dock once again and it just passed its US coast guard inspection with flying colors! The boat has a brand new fresh paint job on its outside and now were paint the outside of the cabin and the decks. We're looking forward to bringing it back into service Friday October 19th for its first long range overnight trip! We have plenty of 39, 44 and even a 63 hour trip before the end of 2018, if you want to see the upcoming trips schedule check out this specialty trip schedule link to the Hubbard's Marina website – https://www.hubbardsmarina.com/specialty-fishing-trip/
We have a very special 10 hour all day trip this Sunday at Hubbard's Marina we are taking the Flying HUB 2 for a very special ten hour all day trip to around 25-30 miles out for around 7 hours fishing time in around 100 foot of water. Capt Anthony Belmonte is running this trip and he's ready to hunt down some nice scamp grouper, mangrove snapper, red grouper, maybe a gag or two, and plenty of the other fish like the yellowtail, lanes, maybe some hogs, and then the flat line species like the tuna and kingfish.
We also have the special HUB 10 hour all day trips every tues, thurs and sun through October 16th, 2018! If you want a chance to join us for some great fishing time on a private charter experience for the price of a party boat trip. It's fishing an area a little deeper than we would on the party boat ten hour and it's getting out there much faster. The HUB ten hour all days have really been killing the fish with nice scamp, lane snapper, yellowtail, porgies, vermillion snapper and even some fat red grouper!
Want to learn more about fishing locally? Don't forget we have the Weekly fishing conversation or seminar by Capt Dylan Hubbard LIVE on the Hubbard's Marina Facebook page if you don't want to leave your house to catch a seminar! We also then upload this video to the Hubbard's Marina YouTube page shortly after the live video is over. This is weekly on Sunday nights from 8:30pm until 9:30pm, check out the event page and PLEASE LIKE AND SHARE the event if you have a Facebook page, and invite your friends as well! https://www.facebook.com/events/249881722421418/
We also have the Bass Pro Shops seminar coming up October 20th, 2018 at 2pm and we will be giving away a ten hour all day for TWO guests and a five hour half day for two guests to two lucky winners that attend this special Bass Pro Shops Tampa seminar from 2pm-3pm. Here's the event info for this special seminar, PLEASE CLICK THIS LINK and click the GOING button and SHARE this with your friends: https://www.facebook.com/events/2065620166838795/
PLUS, we have the special October 13th, 2018 Tampa Bay Fishing club meet and greet where you could win a 39 hour fishing trip, three 12 hour extreme trips, 10 hour all day for two guests and a half day fishing trip for two guests if you join us at this special meet and greet event that is free to enter and the raffle where you could win all these trips is benefitting local charities! Here's all the event info – https://www.facebook.com/events/1756619161089365/
Regular's club
Our regular's club loyalty program is now closed for 2018, if you would like info on joining for 2019 you can email Capt Dylan Hubbard anytime and he can send you the info and get you on the list for a 2019 membership!
Captains Mark and Dylan Hubbard
Vice president and Regular's club manager Hubbard's Marina
(727)393-1947 ext. 306
CaptHubbard@HubbardsMarina.com