Fishing report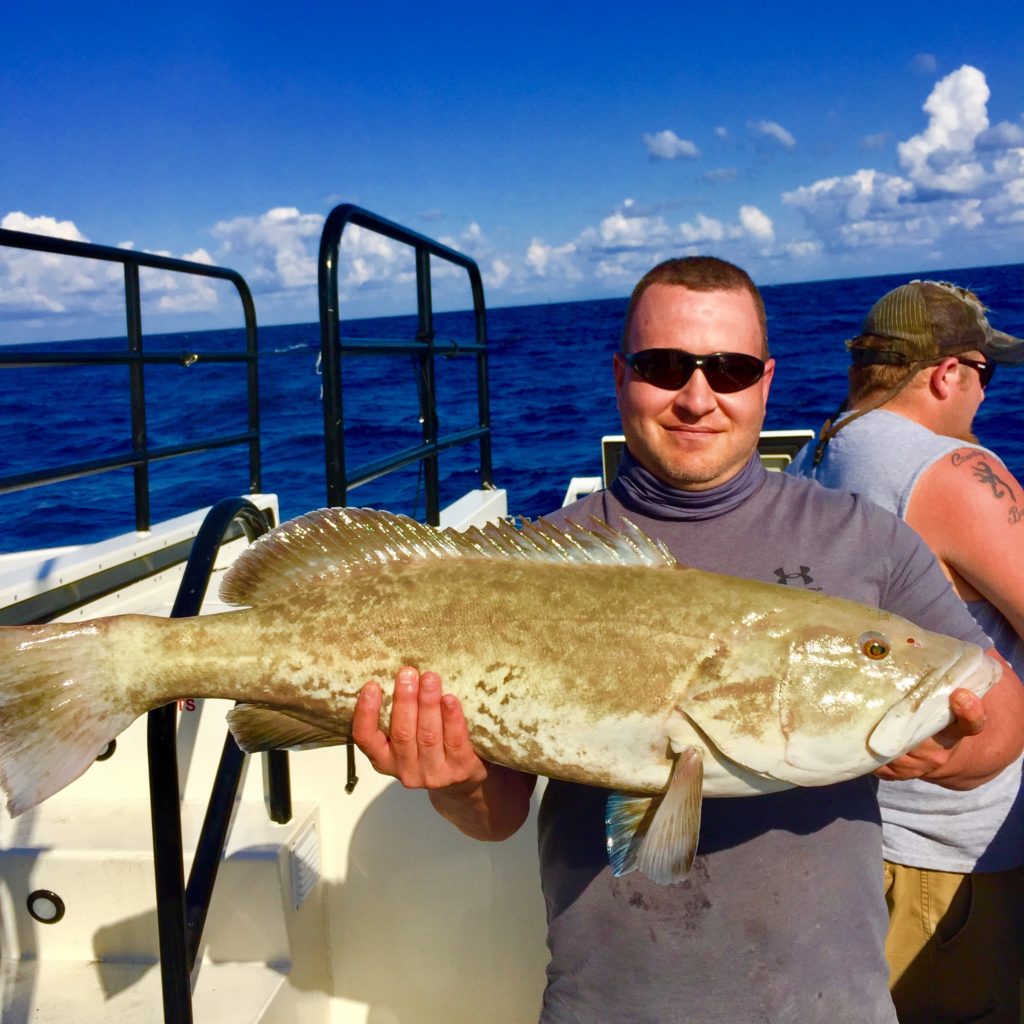 Inshore- The Snook bite is steady despite the high pressure, and they are loving the white bait. Great to see them in such high concentrations again inside the pass. Trout bite is also steady seeing them often caught along the north jetty of Johns Pass on live shrimp, DOA lures, or smaller live whitebait. Mackerel and kingfish are thick along the beaches and inside the passes. Redfish bite is going well in the back bays along the oyster bars and deeper flats, our inshore private charter this past week with Mr. Dimitroff and his son did very well on snook, redfish and trout inshore. The white bait is very active inside the passes and along the beaches being followed by the trout, snook and mackerel. In the back bays the mullet are starting to run and the biggest snook, and grouper that are moving inshore are following the mullet around doing their best to pick off the stragglers. As the water continues to cool remember to start working your lures more slowly as the fish become more and more lethargic due to the cooler temps.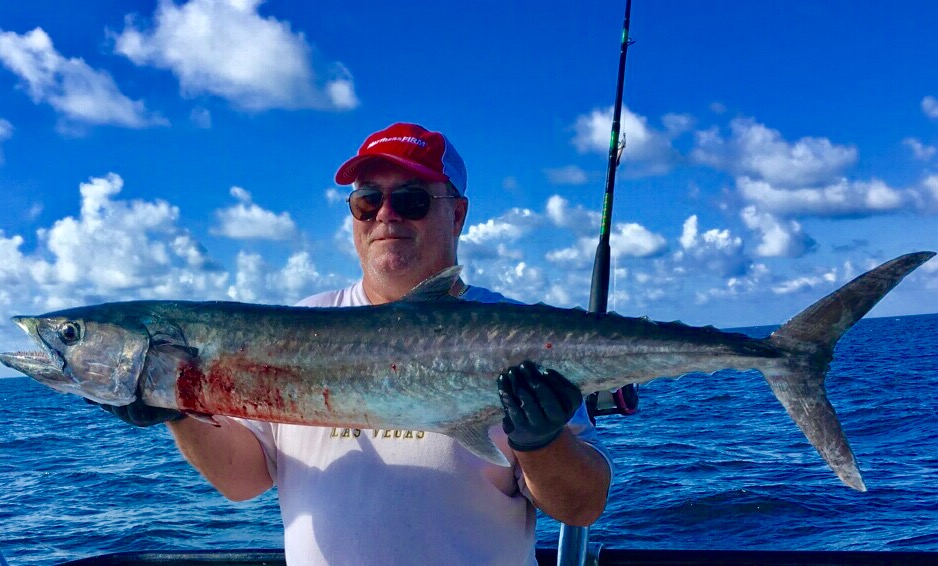 Near shore- Last week we stated that the mackerel and kingfish would dominate the near shore news for a while and boy did that hold true this past week. On the Mrs. HUB, Captain Mark had a 5 hour half day and they wanted to troll. Just outside the bridge we put out the spread and within around 3 hours they had a full mackerel limit for 5 guests plus some beautiful kingfish as well caught on bigger rapala x-rap magnum 30's. Plus, the hogfish bite is going very well again in 30-70 foot along hard bottom rock piles or ledges. Again, long floro top shots, lightest weights possible and around a 4ot hook is what we recommend for those pick non aggressive hogs. Red grouper bite has picked up as well as they are starting to prepare for their offshore push. In the cooler months the gags come inshore as the red grouper go a bit deeper that's why months ending in ER are best for gags and summer time near shore fishery is dominated by red grouper.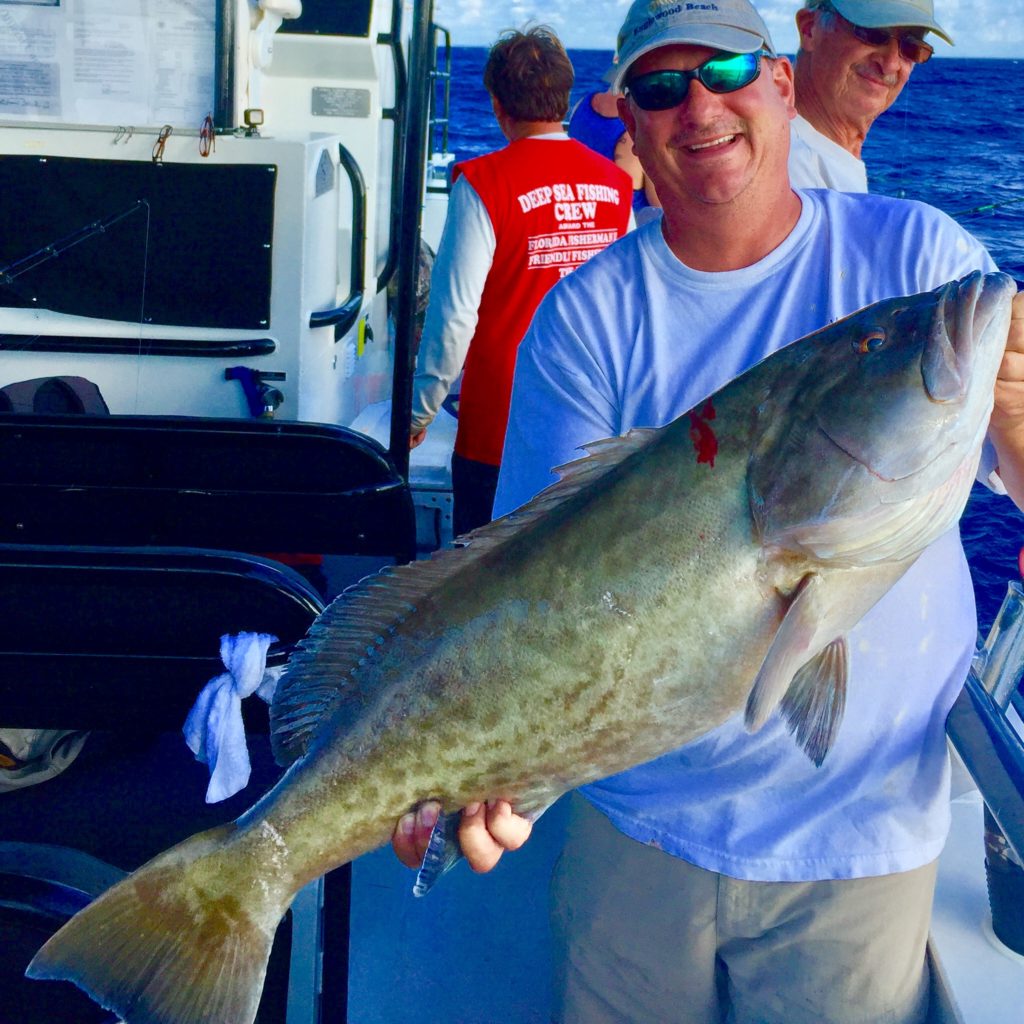 Offshore- The weather this past week has been really holding us inshore. This super high pressure has solid 20-25 knot east breeze is making it tough to break out of the near shore waters with our fishing friends on board. Due to this, we have not been able to fish more than around 100 foot this past week so we don't have much to report on offshore other than the gags, kings, tuna, and wahoo are out there ready to chew if you can get past the weather and make it out to where the big dogs play. Check out our latest videos on Facebook as we have been doing video updates after each long range trip returns: https://www.facebook.com/hubbardsmarina/videos
Want to read the past reports? Check out this link: https://www.hubbardsmarina.com/hubbards-marina-fishing-reports/
Tampa Bay Ferry and Taxi news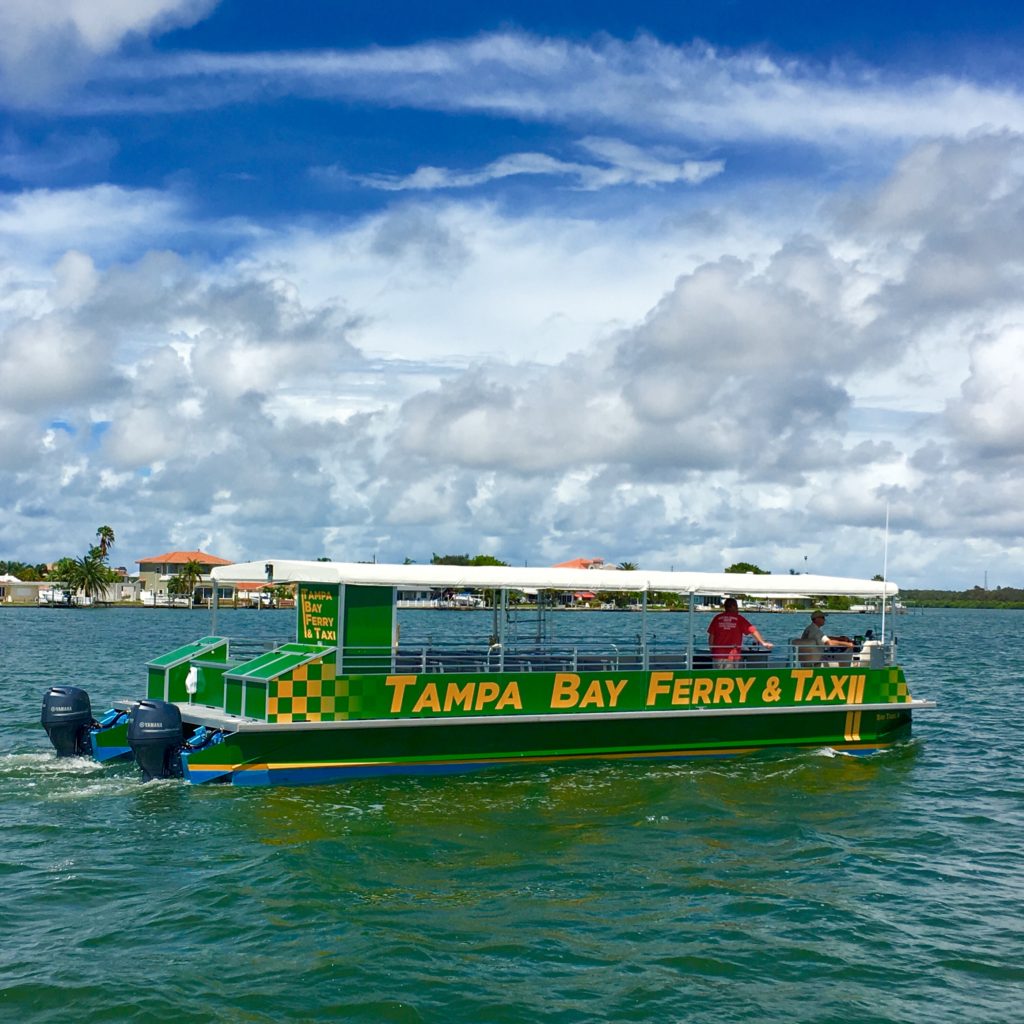 The Tampa Bay Ferry and Taxi by Hubbard's Marina has its grand opening today at 3pm! We're looking forward to cutting the ribbon on this long awaited waterborne transportation system. For a full route map, schedule, fares, and to buy tickets check out our new site: http://www.tampabayferry.com/madeira-beach-taxi-route/
The Johns Pass Seafood and Music festival is this weekend, catch the Tampa bay ferry and taxi for a short enjoyable ride to the festivities while skipping the nasty traffic and super high event parking rates. This event has some of the best music, seafood, night life, and family fun events around it's definitely worth checking out and let's get you there in style aboard the Tampa Bay ferry and taxi by Hubbard's Marina!
Caspers Company, who owns the McDonalds on the water, is offering all our ferry boat riders a free coupon over this weekend! If you take a ride with the Tampa Bay Ferry and Taxi you will receive a Buy one get one free coupon for a small frappe or small smoothie coupon good for the Madeira beach McDonalds!
Great news as well, starting tomorrow as well we have increased the days that the ferry runs its service to Friday, Saturday and Sundays instead of just Friday and Saturday. Friday's service will only be in the afternoon though starting at 4pm and running again at 7pm. This means starting the weekend of seafood festival we will have ferry service Friday afternoon until Sunday night!
You can catch the ferry to many local restaurants, city centers, shopping areas, local beaches, and much more! It's a great way to see the area and get to where you're going without worrying about beach traffic or parking.
If you like the night life, you can use the ferry for your very own pub crawl with your friends!
We also offer a private taxi service, if you're having a dinner party and want our boat to come pick you and your guests off to take you to your favorite waterfront bar or restaurant simply contact us and we can set you up this private taxi service!
Captain Jack's dolphin corner
Baby face our local infamous dolphin that was hit by a boater has made a full recovery and were seeing lots of her recently around Upper Boca Ceiga bay from the new Tampa bay ferry and Taxi and our dolphin watching nature cruise and eco tour at Hubbard's Marina.
We have noticed that some of our local Boca Ceiga bay dolphins have headed down to the mouth of Tampa bay and were spotting them as a part of large pods spotted hunting mullet leaving Tampa bay while riding out to Egmont key from Fort De Soto bay pier.
Manatees are making their pilgrimage out of the area to northern springs and power plants to stay warm for the winter. They will be missed while they are out of town, but should return sometime late February or early March depending on the weather and water temps.
Egmont Key Island has recovered quickly from the recent brush fire that occurred on the island thanks to a lightning bolt. This fire burned away much of the brush and the trunks of the trees on the island. However, the trees now have lush green tops now and the cleared out brush areas have allowed visitors to more easily spot the islands wildlife.
The Bald Eagles are back in the area and we have a nesting pair on top of a local cell tower. You can spot these beautiful birds of prey from our dolphin watching nature cruise and eco tour at Hubbard's Marina.
Local pelicans are starting to show off their mating plumage again inside upper Boca Ceiga bay. These yellow heads are great to see again and marks the start of their fall nesting season.
Great blue herons are also starting to nest in the area again which makes the dolphin watching nature cruise and eco tour even more special for our dolphin cruising friends.
Want to learn more about dolphins? Hubbard's Marina now has a great dolphin facts series on our YouTube channel to check out to see them all watch our dolphin playlist here: https://goo.gl/2mYjX2
Did you know that Hubbard's Marina now offers a Paddleboard fitness class? We are working with Sea Strength to put together these unique classes. They are Saturday and Sunday mornings for now at the Johns Pass sandbar. You can meet your trainer at the Hubbard's Marina beach behind our shop before paddling to the sandbar for a unique fitness class with your knowledgeable instructor, plus it's only $20 to join! Check out Sea Strength on Instagram or Facebook to learn more about these unique classes! Here's the link to their page: https://www.facebook.com/SeaStrength
Also, new to Hubbard's Marina we are now renting Schiller water bikes. These are unique bicycles that are much like a racing bike's frame set on top of pontoons that allow a very stable, safe, and fun way to enjoy the water and have some fun in the sun. Plus, it's a great aerobic exercise as well! The new water bikes are only $20 for a half hour and $35 for a full hour rental. If you want to see Captain Mark Hubbard trying one out check out this link: https://goo.gl/TZbcXE
Upcoming up at Hubbard's Marina
Johns Pass Seafood and music festival is coming up October 27th until October 30th for more info on this super special event inside Johns Pass around Hubbard's Marina check out their site: http://johnspassseafoodfestival.com/
November 20th we have the second annual Fish Nekid tournament with Todd Krohn from Nekid ball Jigz. This will be a special 12 hour trip aboard the party boat. Todd Krohn the owner and founder of Nekid ball jigz will be on board with serious cash prizes plus FREE beer! The price of this trip will be $150 instead of $129 but you get the free beer, free one dozen pinfish, and free entry into the $1,500 in prizes that will be awarded during the trip! Also we will give away a free ten hour trip along with cash for the biggest fish of the day. Dylan Hubbard will be on board as well showing you how to fish the Nekid ball jigz and having fun with anyone who wants to join us for this special day on the water, book now as spots will fill quickly. Make sure to tell em' you want to Fish Nekid when you call in to book this special 12 hour party boat trip!
The 12 hour extreme Flying HUB 2 trips are now a new addition to the Hubbard's Marina specialty trip schedule. It offers 7-8 hours fishing time in the 39 hour areas and only takes about 2 hours to get out to the great deep water fishing. You can try this new trip anytime you want now, check out the new trip on our website page: https://www.hubbardsmarina.com/flying-hub-2/
Tampa bay ferry and taxi service by Hubbard's Marina is operating Friday and Saturday this weekend. There's plenty to do and see at each ferry stop location along our route in Northern Boca Ceiga bay. The boat will take guests from St. Pete, Treasure Island and Madeira beach and it's a great way to get around without worrying about traffic or parking on the beach. This ferry system runs Friday and Saturday for now but offers 4 trips per day. For more info, maps, schedule and pricing check out our brand new site: http://www.tampabayferry.com/madeira-beach-taxi-route/
The HUB our other private charter vessel will be offering 10 hour all day trips Tuesday, Thursday and Sundays while the Florida is in Dry dock as well. This means you get a shot to fish the HUB for only $90 per angler, what a deal! These HUB all days will be set up the same as the party boat all days but you will be able to get out there faster on a more quite boat plus you will only be fishing with up to 12 guys. The special HUB trips start September 6th until November 3rd.
To book trips on our site, check out this link: https://www.hubbardsmarina.com/reservations/
Want to stay up to date with the latest catches, reports and more from Hubbard's Marina? Follow the new live video segments that Hubbard's Marina is posting daily to Facebook! Also, more Instagram photos and videos are popping up too! Plus, were on the FishBrain app now too and they were nice enough to add Hubbard's Marina as a fishing location so now on your future trips you can upload your catch to our location. If you have questions or want more info about all this message Dylan Hubbard on the Hubbard's Marina Facebook page or shoot him an email: info@HubbardsMarina.com
Regular's club
If you are interested in learning more about our loyalty program called the regular's club, please email Dylan Hubbard. He can tell you more about this great program to make fishing more affordable if you plan to fish more than 5, 10 or 15 times a year with us at Hubbard's Marina. Plus, you get other great benefits to all to thank you for being a valued guest. However, at Hubbard's Marina everyone who walks in our doors are valuable to us, but the regular's club is a great way to become more familiar with us and be able to come even more often than before.
2017 regular's club signups will start sometime early November and we will be doing new signups for the club towards the end of November if you want to get on the list as a new signup contact Dylan.
Dylan Hubbard
Vice president and Regular's club manager Hubbard's Marina
(727)393-1947 ext 306