Fishing Report
Inshore Fishing Report- The black drum have been plentiful around the docks inside Johns Pass. Young angler Todd Jones and his buddies were tearing up the drum and sheepshead from the dock at Hubbard's Marina using the live shrimp and tackle they picked up in the shop while their parents shopped the pass. Flounder are still being caught often as well mostly on live shrimp or small white baits weighted to the bottom. Snook are still biting in the cooler waters, but the night bite seems to be the only option lately since during the day they are getting more picky and lethargic in the cooler waters. At night they are more active around those dock lights where the water is moving and staying a bit warmer.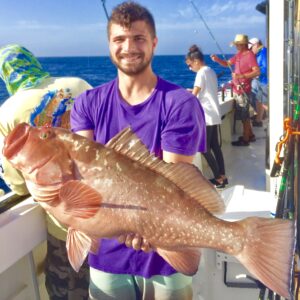 Near shore Fishing Report- The big hogfish are biting very well on our 5 and 10 hour trips at Hubbard's Marina. They love the light tackle and live shrimp the trick is using a very long fluorocarbon leader ensuring the hogs don't see the line and use the lightest lead and least amount of terminal tackle possible so they leader shy hogs don't get spooked. The red grouper bite is still going well in the deeper near shore waters were seeing the most action in the 90-110 foot range. The gag grouper are starting to move but are slow to get thick near shore due to the warmer winter weather normally it would be much cooler in the gulf by now. The kings are still hanging around by a thread, but are very few and far between.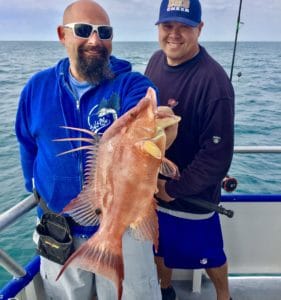 Offshore Fishing Report- The deep water still has the kingfish frothing after the trollers and flat lines. Also, the tuna have been moving in as the water cools along with the occasional monster wahoo. The gag grouper bite is stellar in the 120+ range and were hooking monster sized gags the trick is getting them off the ledge before they break you off on the rocks. Remember, to catch big fish you need a big bait, big tackle, and big patience because they are smart and you have to present that large bait as naturally as possible allowing you a shot at a trophy sized gag. Big tackle for gags is a 9ot reel, 100-125lb leader, a 10-12ot hook and a 1-3lb bait. The mangrove snapper, yellowtail snapper, vermillion snapper and porgies are still in force as well just seem to be larger than the hotter months produce as well.
Check out our latest videos on Facebook as we have been doing video updates after each long range trip returns: https://www.facebook.com/hubbardsmarina/videos
Want to read the past reports? Check out this link: https://www.hubbardsmarina.com/hubbards-marina-fishing-reports/
Tampa Bay Ferry and Taxi News
Have some last minute Christmas shopping to do? Why not travel to Johns Pass or the Treasure Island city center for some local beach gifts? Don't fight traffic and parking, catch the Tampa Bay ferry and taxi for a fun filled ride to the local restaurants, shopping centers and bars! The water taxi is the best way to get to the beaches while avoiding the hassle of driving.
Want to have a party with your friends but don't want to drive on the beaches? Join the water taxi Friday afternoon, Saturday or Sunday for a ride on the water to the pubs of Johns Pass, bars of Treasure Island city center, and Madeira beach 'downtown'! You've never been bar hoping with a better ride, guaranteed.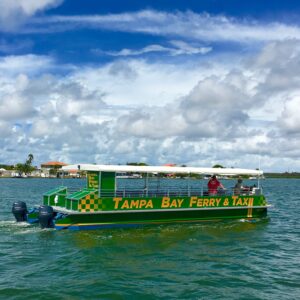 Did you know that Tampa Bay Ferry and Taxi offers a private taxi service, if you're having a dinner party and want our boat to come pick you and your guests off to take you to your favorite waterfront bar or restaurant simply contact us and we can set you up this private taxi service!
The Tampa Bay Ferry and Taxi by Hubbard's Marina is doing well and we have the ferry running Friday afternoons starting at 4pm until 10pm then also on Saturday and Sunday from 10am until 10pm. For a full route map, schedule, fares, and to buy tickets check out our new site: http://www.tampabayferry.com/madeira-beach-taxi-route/
You can catch the ferry to many local restaurants, city centers, shopping areas, local beaches, and much more! It's a great way to see the area and get to where you're going without worrying about beach traffic or parking. To see all the special stops and the things to do at each stop visit this page on our new Tampa Bay Ferry and taxi website: http://www.tampabayferry.com/things-to-do/
We will be CLOSED Sunday December 25th for Christmas, but will be open doing our regular schedule Friday afternoon from 4pm till 10pm and then all day Saturday 10am-10pm!
Captain Jack's Dolphin Corner
The white pelicans are back in the area! The cold weather up north has brought down our winter time residents and we always enjoy spotting the large flocks of these beautiful white pelicans.
Manatees have made their moves north for the winter to the natural springs and power plants, we do have a few local Johns Pass Manatees that hang out here through the winter but the bulk of the local population have moved up north for the time being and will return sometime this spring around March or April when the water warms up in the mid to high 70's again.
Want to learn more about dolphins? Hubbard's Marina now has a great dolphin facts series on our YouTube channel to check out to see them all watch our dolphin playlist here: https://goo.gl/2mYjX2
Great time of year to explore Egmont Key Island, the temps are low and the bugs and heat are gone. Awesome time to go hunting through the island and spotting wildlife. Plus, the island has tons of great exploration trails to the fort and lighthouse and this time of year it's relaxing and cool to take a stroll through the island's interior.
The Bald Eagles are back in the area and we have a nesting pair on top of a local cell tower. You can spot these beautiful birds of prey from our dolphin watching nature cruise and eco tour at Hubbard's Marina.
Did you know that Hubbard's Marina now offers a Paddleboard fitness class? We are working with Sea Strength to put together these unique classes. They are Saturday and Sunday mornings for now at the Johns Pass sandbar. You can meet your trainer at the Hubbard's Marina beach behind our shop before paddling to the sandbar for a unique fitness class with your knowledgeable instructor, plus it's only $20 to join! Check out Sea Strength on Instagram or Facebook to learn more about these unique classes! Here's the link to their page: https://www.facebook.com/SeaStrength
Upcoming up at Hubbard's Marina
Merry Christmas from all of us at Hubbard's Marina! Hope you and your family and friends have a very Merry Christmas and a Happy New Year! During the week in between Christmas and New year's we will be running a more robust schedule including daily sunset trips, am and pm half days, more all day trips, and much more at Hubbard's Marina bring the family down to Johns Pass to show them some fun in the sun!
Ready for a specialty long range trip in 2017? Book your trip today as the schedule is filling fast! Check out the schedule at this link: https://www.hubbardsmarina.com/specialty-fishing-trip-schedule/ this has all our 12, 39, 44, and 63 hour public trips from January first until December 31st of 2017 and check out the descriptions to see what we hope the seasons will be. As the seasons are announced and finalized we will make schedule adjustments accordingly.
To book trips on our site, check out this link: https://www.hubbardsmarina.com/reservations/
Want to stay up to date with the latest catches, reports and more from Hubbard's Marina? Follow the new live video segments that Hubbard's Marina is posting daily to Facebook! Also, more Instagram photos and videos are popping up too! Plus, were on the FishBrain app now too and they were nice enough to add Hubbard's Marina as a fishing location so now on your future trips you can upload your catch to our location. If you have questions or want more info about all this message Dylan Hubbard on the Hubbard's Marina Facebook page or shoot him an email: info@HubbardsMarina.com
Regular's Club
Thank you all for renewing for 2017, we appreciate your continued interest and patronage of Hubbard's Marina. It was great seeing you all for the Regular's club Christmas party, and we hope to see you plenty during the coming year.
If you have not renewed yet for 2017, please do so before booking your 2017 trips and you definitely want to get it done before January first. If you do not, we will be changing you to the FREE Johns Pass club which does not give you benefits you're used to. Once in this club, you can always upgrade again to a paid club but if you book using your number while it's a FREE Johns Pass membership you will not have your discount tied properly to your trips so get renewed before you book!
Captains Mark and Dylan Hubbard
Vice president and Regular's club manager Hubbard's Marina
(727)393-1947 ext 306