Fishing Report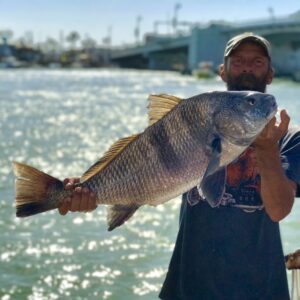 Inshore– This past week we have seen the snook bite in the pass really pick up during the day. Just in one day during a brief period of outgoing tide there were two dozen snook being hooked up from the beach behind Hubbard's Marina while casting behind our dolphin watching nature cruise and eco tour boat. The group of anglers were using large live shrimp and working in unison so everyone was able to fish the same small area by one guy casting and hooking up then moving over so the next could cast and hook up. It was a great sight to see and the snook were frothing for a solid two hour period nothing really large but great action for the visitors and locals alike. The sheepshead and drum are still around hugging the local pilings and bridges. Flounder action is still very heavy on the sandy bottoms.
Near Shore– The All day is still nailing the hogfish were not seeing the forties that we did last week but still over the two dozen mark on the ten hours using live shrimp and light tackle. The private charters are another story, nearly hitting the hogfish limit on an 8 hour private charter here at Hubbard's Marina. Kingfish have all but disappeared but randomly in that 40-50 foot area were finding pockets of late season kings and this past week we hit the jackpot with a big fat smoker that railed a 5 hour half day's flat line. Whenever were drifting or anchored up it's always mandatory to have that flat line out and ready whether it's the kings, mackerel, wahoo, tuna or sailfish you just never know what will hit just in this past year some of the best near shore flat line catches were the 88lb wahoo we caught in less than 100 foot and the big sailfish we caught only 8 miles from shore!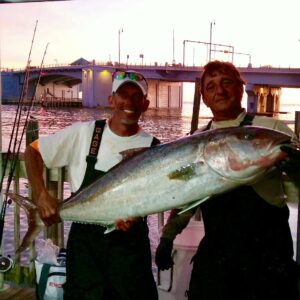 Offshore– The first 12 hour extreme aboard the one of a kind Flying HUB 2 of 2017 just went out this past week. They caught nice amberjack and some nice grouper but unfortunately some unforeseen tides and small tackle caused us to lose some of the bigger fish we hooked. However, we have picked up some larger tackle at the Tampa Bass Pro Shops so that on the next trip if anglers come unprepared we can offer the proper tackle as a replacement. For amberjack you need at least a 6ot reel, but the 9ots are best. You want at least 80lb mainline but 100lb is best. You want at least a 100lb leader but I would use 125lb. Then for the hook you want that 10ot hook unless you're going big and get the 12ot. For bait for the jacks the old rule of thumb applies, bigger is better. We use the largest ones we can find or catch a small bait fish while out there but even up to 3lbs is a good bait for the jacks. To catch a trophy jack you need to go with the maximum sizes listed above and have plenty of water in you and the determination of a mule! Check out our latest videos on Facebook as we have been doing video updates after each long range trip returns: https://www.facebook.com/hubbardsmarina/videos
Want to read the past reports? Check out this link: https://www.hubbardsmarina.com/hubbards-marina-fishing-reports/
Tampa Bay Ferry and Taxi News
Unfortunately we will be closed Today Friday January 6th due to weather and remain closed until Sunday night January 8th. We will resume normally ferry and water taxi operations on Friday afternoon January 13th starting at 4pm. Disappointed this weather has forced our hand, but we want to provide a quality transportation option and with rain, wind and high winds in the forecast it doesn't seem like an option this weekend. If you would like to check out the map and schedule for the weekend of the 13th it can be found here: http://www.tampabayferry.com/madeira-beach-taxi-route/
Did you know that Tampa Bay Ferry and Taxi offers a private taxi service, if you're having a dinner party and want our boat to come pick you and your guests off to take you to your favorite waterfront bar or restaurant simply contact us and we can set you up this private taxi service!
You can catch the ferry to many local restaurants, city centers, shopping areas, local beaches, and much more! It's a great way to see the area and get to where you're going without worrying about beach traffic or parking. To see all the special stops and the things to do at each stop visit this page on our new Tampa Bay Ferry and taxi website: http://www.tampabayferry.com/things-to-do/
Captain Jack's Dolphin Corner
The white pelicans are back in the area! The cold weather up north has brought down our winter time residents and we always enjoy spotting the large flocks of these beautiful white pelicans.
Dog leg key our local bird nesting island and rookery is home to many nesting seabirds. Right now, the local brown pelicans have already started showing off their mating plumage which could be a sign of an early mating season. Also, the local great blue herons are hanging on their nests looking like they are roosting which could be a sign of an early clutch coming soon! This is a great time to get out on the dolphin watching nature cruise and eco tour for an up close look at this wonderful island.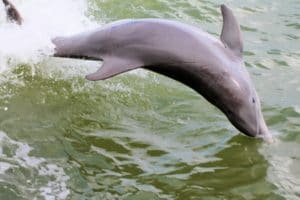 Also, another bonus to the dolphin watching nature cruise and eco tour is that we have American bald eagles often being spotted on local oyster bars eating fish they have caught over the local grass flats and sand bars. This time of year brings lower and cooler waters and that brings the fish into the shallows to warm up making them easier prey for the local and visiting Bald eagles to make them an easy meal.
Besides the eagles and nesting birds Boca Ceiga bay is seeing plenty of Reddish Egrets, this is a very rare bird on the endangered species list and is a great sign to see so many of them in our local waters!
This weekend's weather is a great way to enjoy some stellar shelling, whenever strong winds and rough seas come into the area it drives fresh shells, sand dollars, and more onto the beaches for our cruising friends to collect.
The cooler weather has the dolphins feeding often and herding up the large schools of mullet that are currently flushing out of the back bays to head into the gulf for spawning. This makes the dolphins a little harder to find since they are actively hunting but when we do find them they are in large numbers and are very playful often playing catch or keep away with the bewildered mullet. Also, they can be seen schooling up the fish by slapping the top of the water, jumping out of the water and belly flopping and much more Ariel displays intended to spook the mullet into tighter groups.
Our local famous dolphin named Baby Face that was hit by a boat's propeller last year has made a full recovery and is often spotted right now playing, hunting and socializing with many herds and pods of dolphins inside the bay and on the beaches. It's a great sign that she is fully social again, showing she has returned to full health and recovery.
Want to learn more about dolphins? Hubbard's Marina now has a great dolphin facts series on our YouTube channel to check out to see them all watch our dolphin playlist here: https://goo.gl/2mYjX2
Did you know that Hubbard's Marina now offers a Paddleboard fitness class? We are working with Sea Strength to put together these unique classes. They are Saturday and Sunday mornings for now at the Johns Pass sandbar. You can meet your trainer at the Hubbard's Marina beach behind our shop before paddling to the sandbar for a unique fitness class with your knowledgeable instructor, plus it's only $20 to join! Check out Sea Strength on Instagram or Facebook to learn more about these unique classes! Here's the link to their page: https://www.facebook.com/SeaStrength
Upcoming up at Hubbard's Marina
Want to join us for a light full moon 44 hour fishing trip here at Hubbard's Marina? We have a 44 hour leaving January 13th with only about 30% capacity as of yet. This is a perfect trip for big jacks, plenty of snapper, and tons of the blackfin tuna that fill the gulf when our local waters cool! Book your spot today, as they will fill quickly!
Amberjack season is here, time to get the big tackle out again! We have 12 hour extreme trips aboard the NEW Flying HUB 2, 39 hour overnight trips, and 44 hour full moon trips in January to go get your big amberjack! Remember, if you want the monster jack that big bait, big tackle and big reel is the perfect formula for a big fish.
Ready for a specialty long range trip in 2017? Book your trip today as the schedule is filling fast! Check out the schedule at this link: https://www.hubbardsmarina.com/specialty-fishing-trip-schedule/ this has all our 12, 39, 44, and 63 hour public trips from January first until December 31st of 2017 and check out the descriptions to see what we hope the seasons will be. As the seasons are announced and finalized we will make schedule adjustments accordingly.
To book trips on our site, check out this link: https://www.hubbardsmarina.com/reservations/
Want to stay up to date with the latest catches, reports and more from Hubbard's Marina? Follow the new live video segments that Hubbard's Marina is posting daily to Facebook! Also, more Instagram photos and videos are popping up too! Plus, were on the FishBrain app now too and they were nice enough to add Hubbard's Marina as a fishing location so now on your future trips you can upload your catch to our location. If you have questions or want more info about all this message Dylan Hubbard on the Hubbard's Marina Facebook page or shoot him an email: info@HubbardsMarina.com
Regular's Club
Thank you all for renewing for 2017, we appreciate your continued interest and patronage of Hubbard's Marina. It was great seeing you all for the Regular's club Christmas party, and we hope to see you plenty during the coming year.
If you have not renewed yet for 2017, please do so before booking your 2017 trips and you definitely want to get it done before January first. If you do not, we will be changing you to the FREE Johns Pass club which does not give you benefits you're used to. Once in this club, you can always upgrade again to a paid club but if you book using your number while it's a FREE Johns Pass membership you will not have your discount tied properly to your trips so get renewed before you book!
Captains Mark and Dylan Hubbard
Vice president and Regular's club manager Hubbard's Marina
(727)393-1947 ext 306
UPDATED Coupon Information
40% off a Hubbard's Marina calendar! That means a 2017 fishing calendar for only $6
while supplies last
cannot combine discounts
Expires 1/13/17