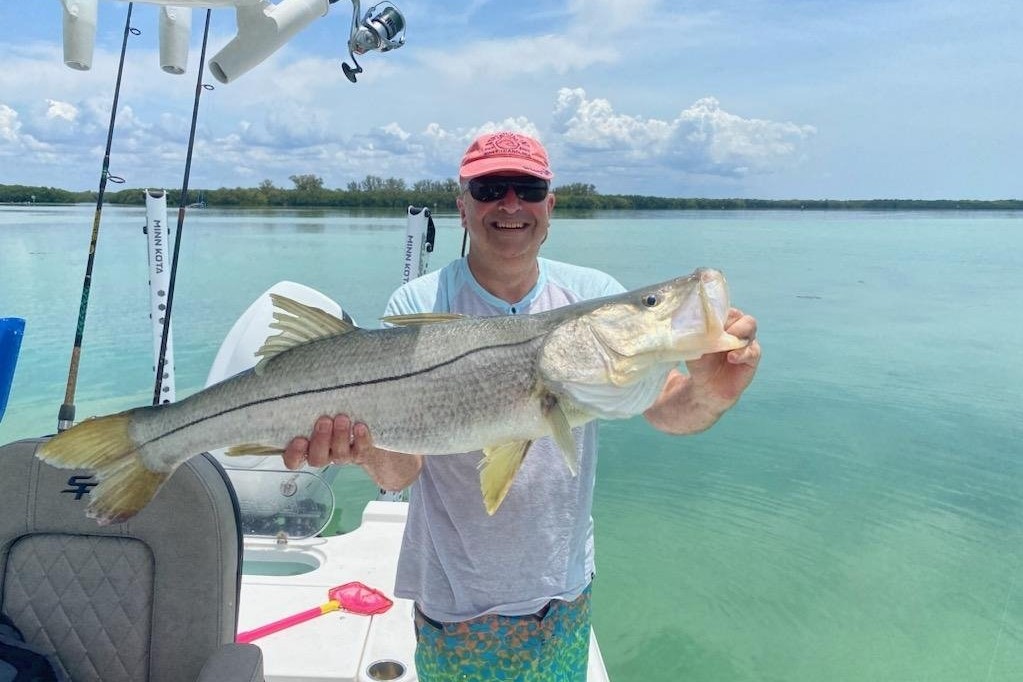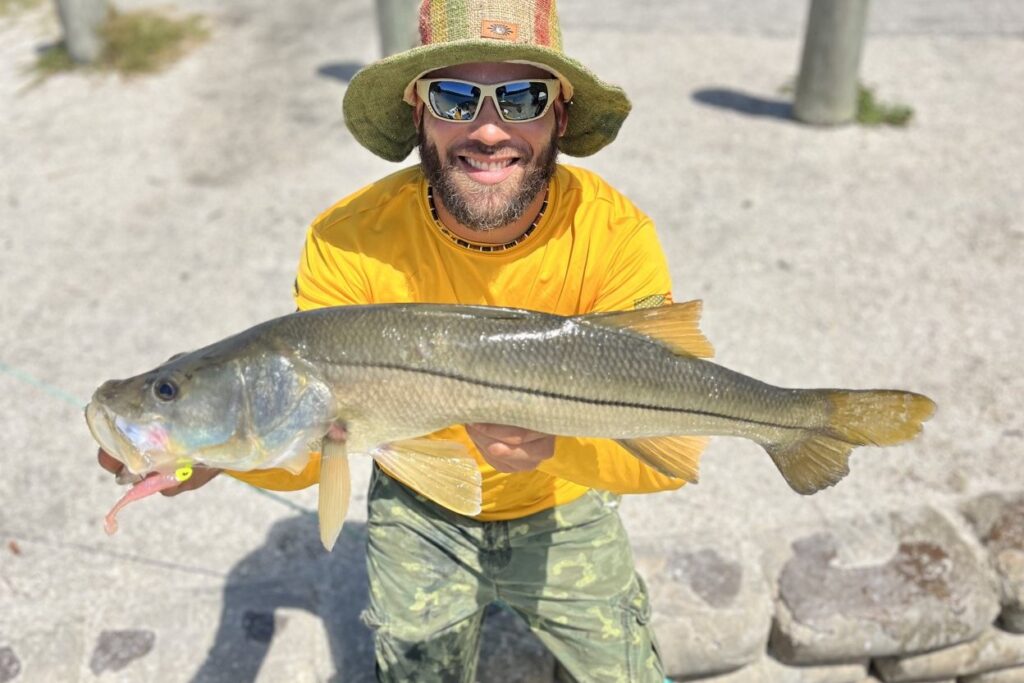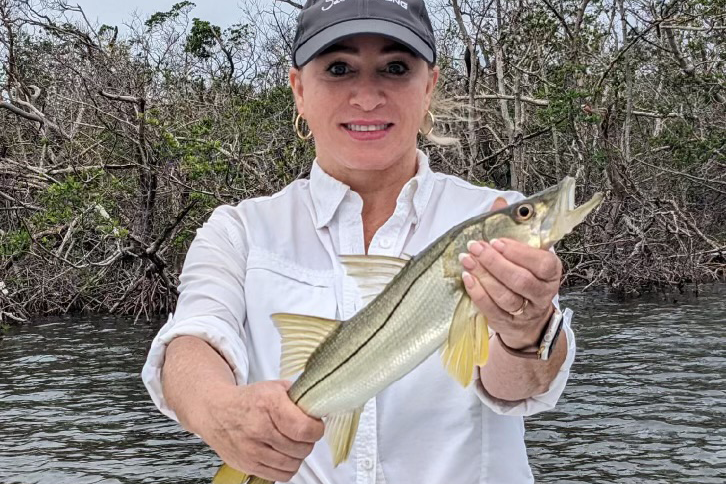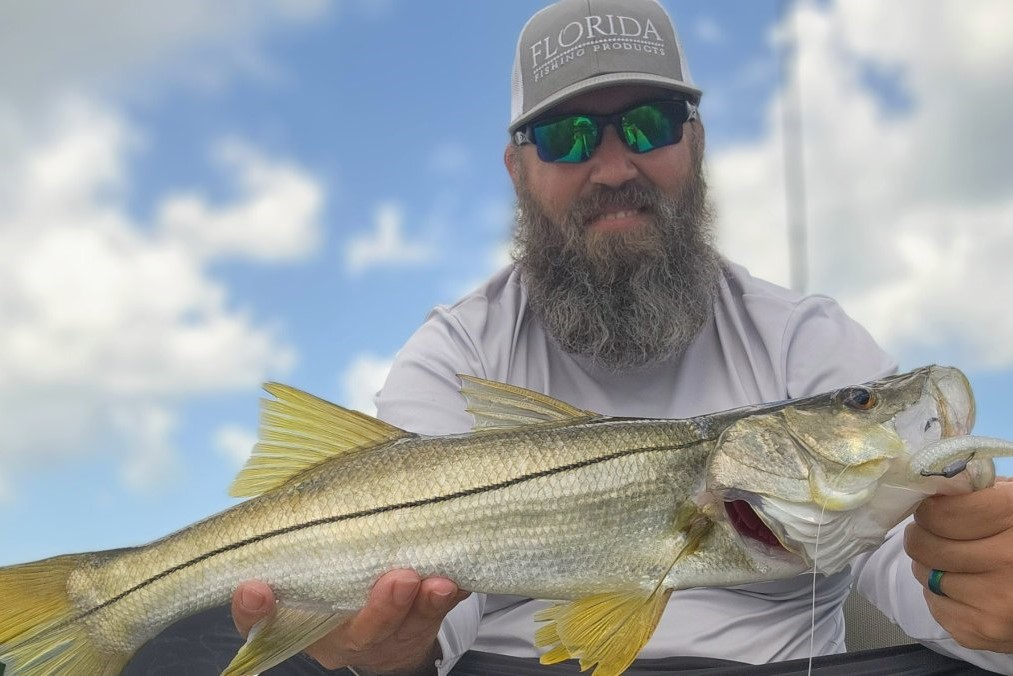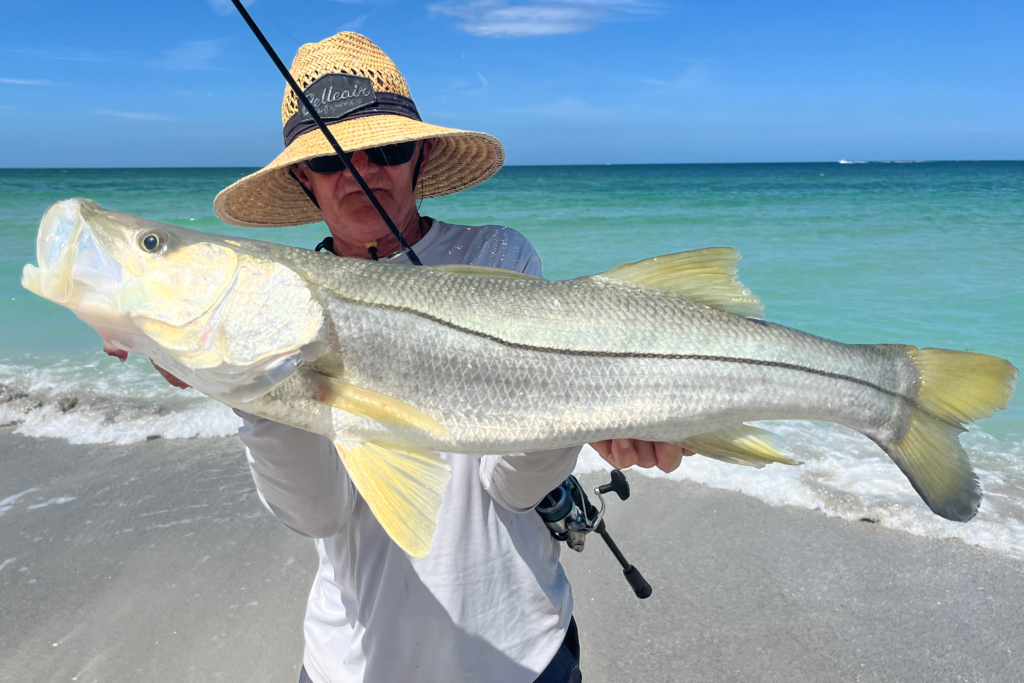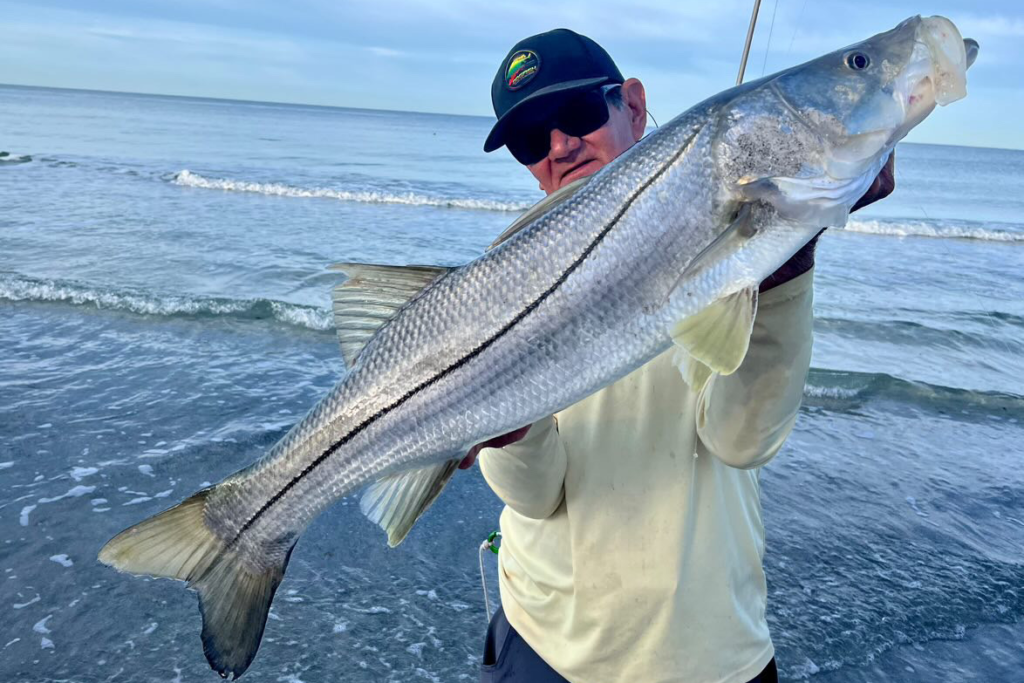 Snook action is going well Inshore right now throughout our area. We're seeing a lot of those snook moving out of the back bays and into the passes and even onto the beaches. At night we're seeing the snook around bridge lights and dock lights. During the day we're seeing them around the beaches, jetties, docks, and even the grass flats and mangrove shorelines. Snook are really active throughout the entire area feeding on a variety of different baits and lures. Snook fishing is going really well and we're seemingly seeing more and more fish head towards the passes as water continues to warm and the summertime pattern begins to set in. We've been having some decent luck on live shrimp around the pass to get a few of those snook feeding but a lot of the snook fishermen are having the best luck with pin fish. When using artificial lures, we're seeing some have luck on those flare hawks, doa Jigs, but many using the soft plastic paddle tails.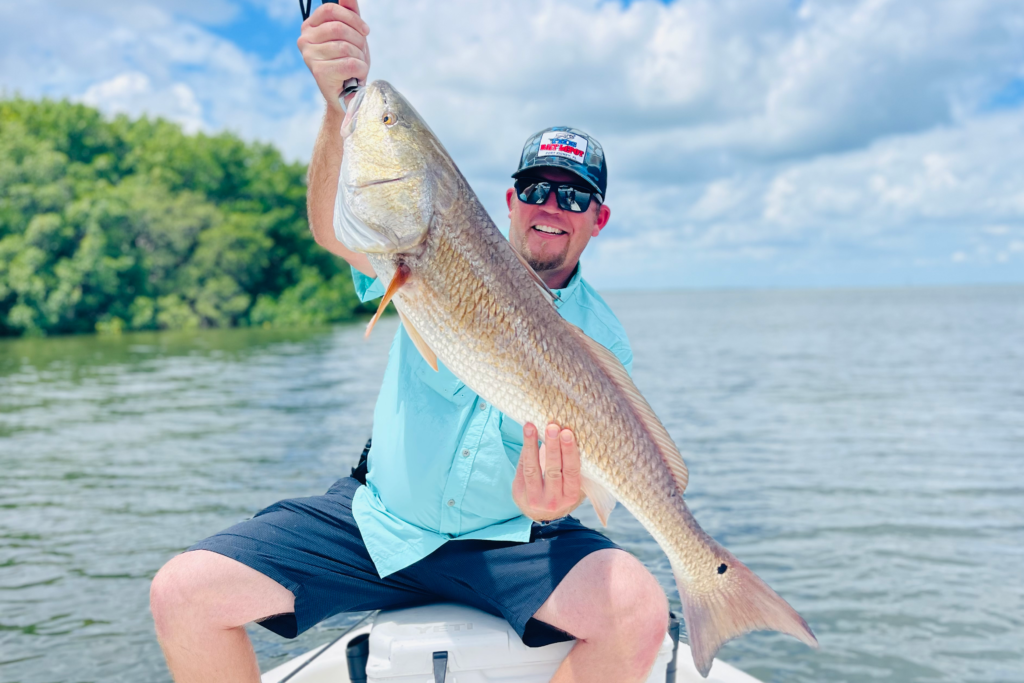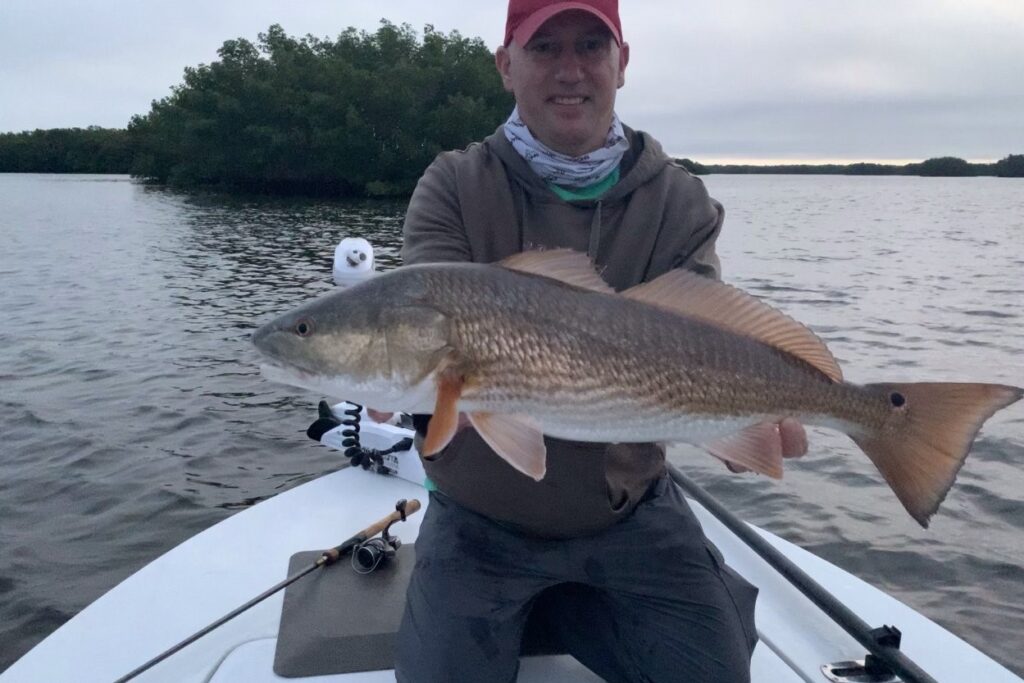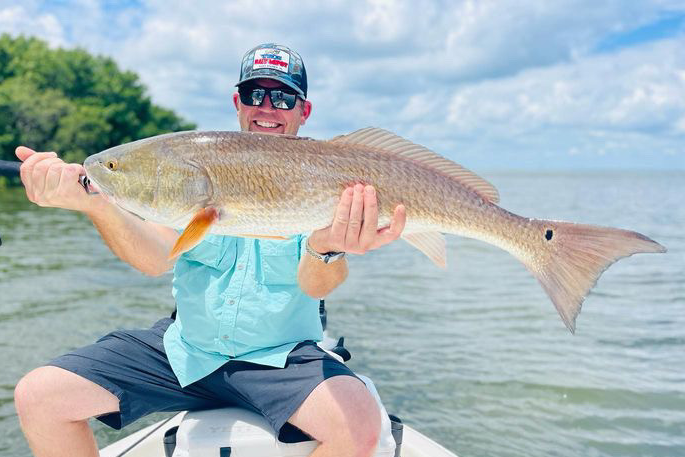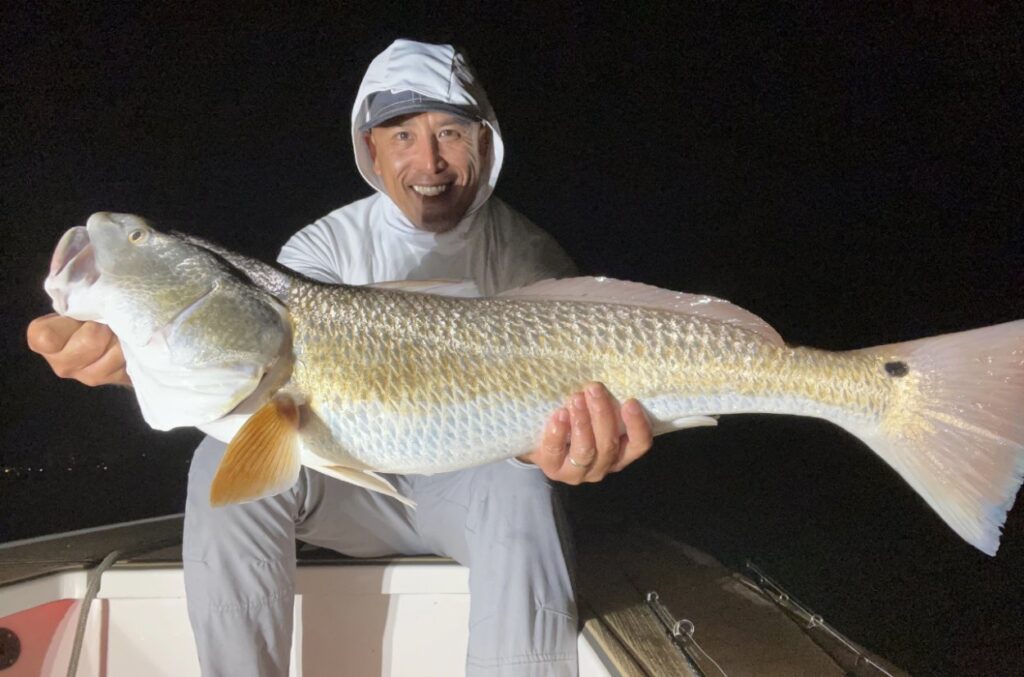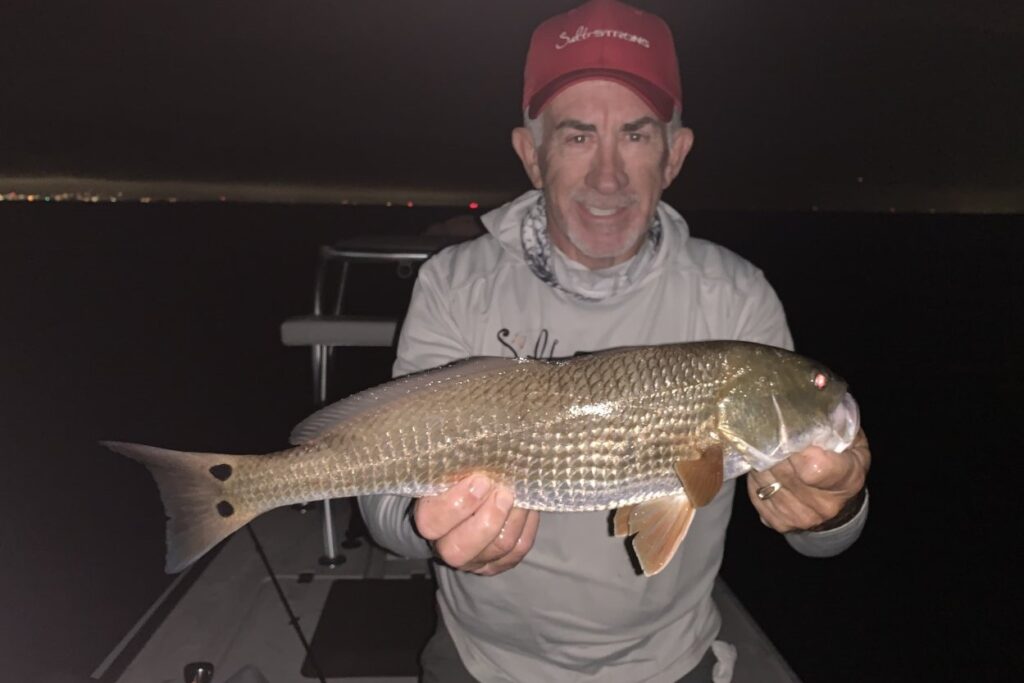 Redfish action is also picked up around the area. We're seeing a lot of redfish around the back bay area, especially mangrove, shorelines, and grass flats. Red fish are mostly active during the day but we have been seeing a few around the dock lights and bridge lights. Mostly on the bottom, targeting the slow moving soft plastics or live shrimp waited to the bottom. During the day, they're much more active feeding on a variety of different baits in a variety of different areas. We've seen redfish from the jetties to the Back Bay around johns pass. The mangrove shore lines and grass flats and oyster bars are holding decent numbers of redfish, or even a seeing a few out on the beaches as well.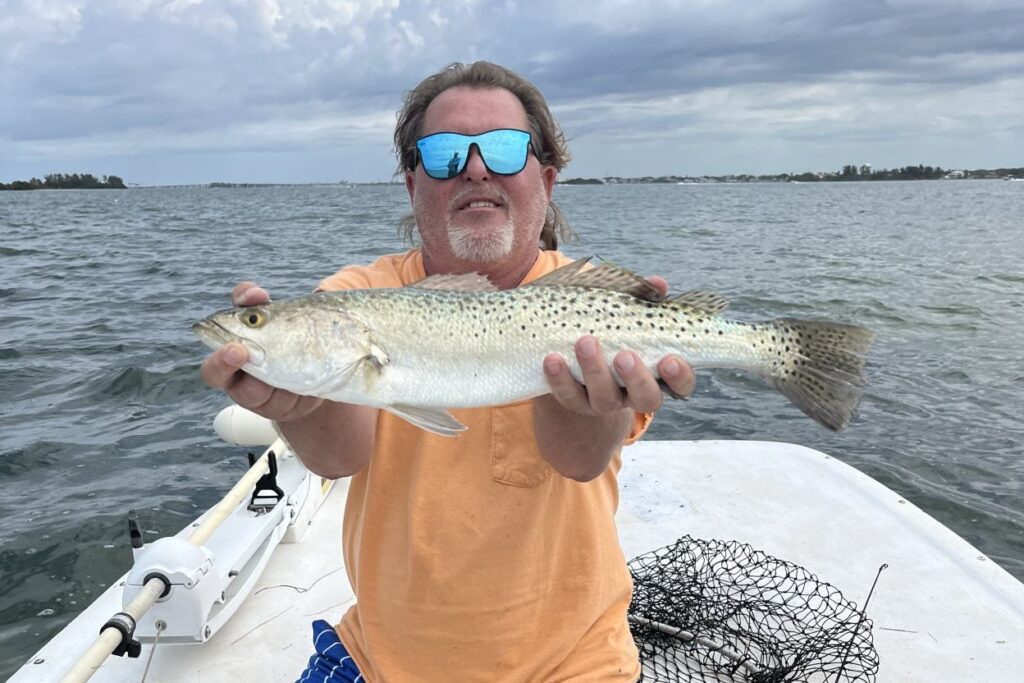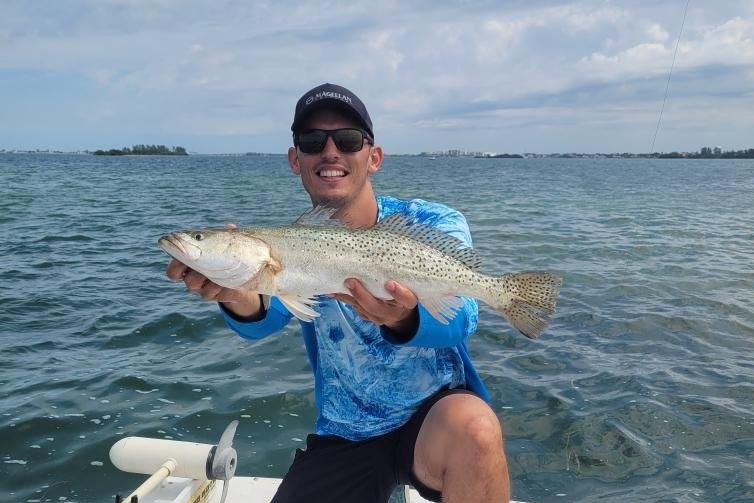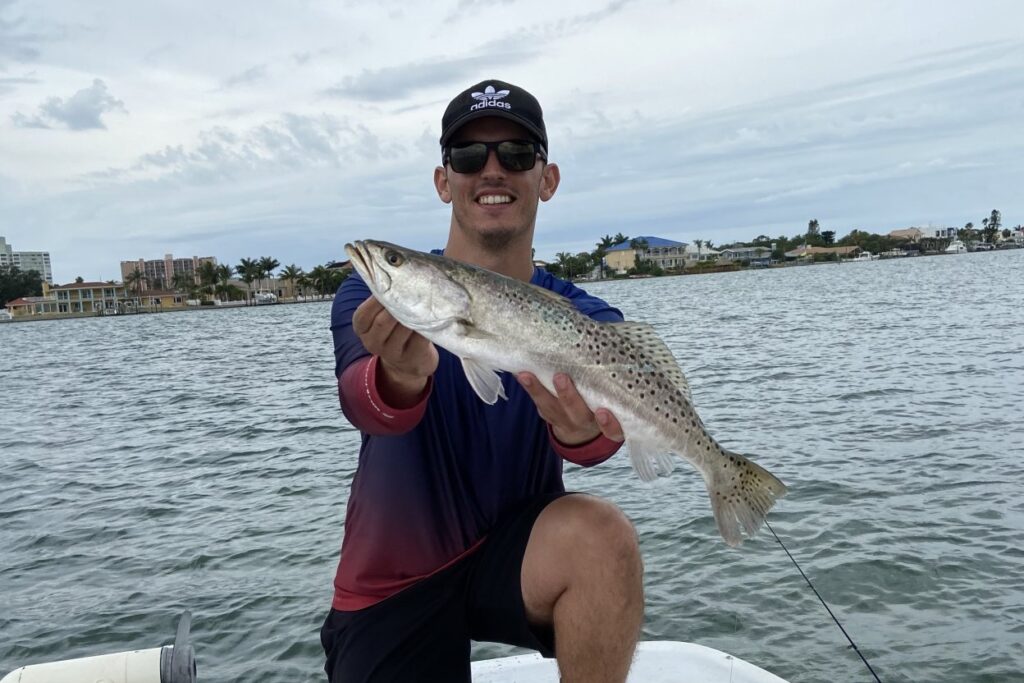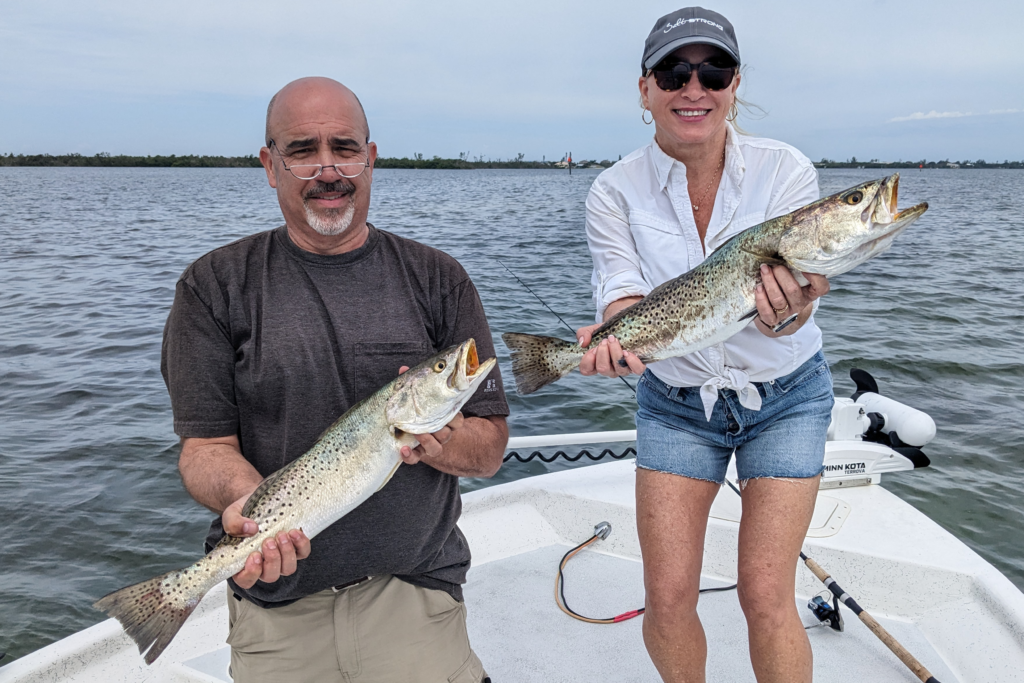 Trout auction is going well at night around Johns Pass dock, lights and bridge. Lights are holding good numbers. During the day, we're seeing a few trout out on the beaches, and a good number of trout have been caught lately from the jetty. Anglers With minimal weight, light tackle, and live shrimp are crushing good numbers of speckled trout from the jetty and around the pass. Out on the beach light tackle, site fishing with shrimp is a good way to find good numbers of even some pretty large trout right now as well. In the back bay were seeing trout around the flats and edges and the mangroves islands.
Pompano are out on the beaches and around the jetties too. We're seeing pompano on the Pompano style jigs and also the live shrimp. Anglers are reporting more of the large pompano on live shrimp. Where as the Pompano Jigs are catching plenty of pompano, but they're generally running a little smaller and average size. We're finding decent numbers of pompano on the beach and jetty, but this stirred up water condition might make that a little bit more tricky now behind this bad weather. Hopefully the full moon settling in with some nice weather will calm down and clear up the water quickly and allow that pompano bite to heat back up faster than normal with a lot of the stirred up water getting flushed out and cleaned up more quickly.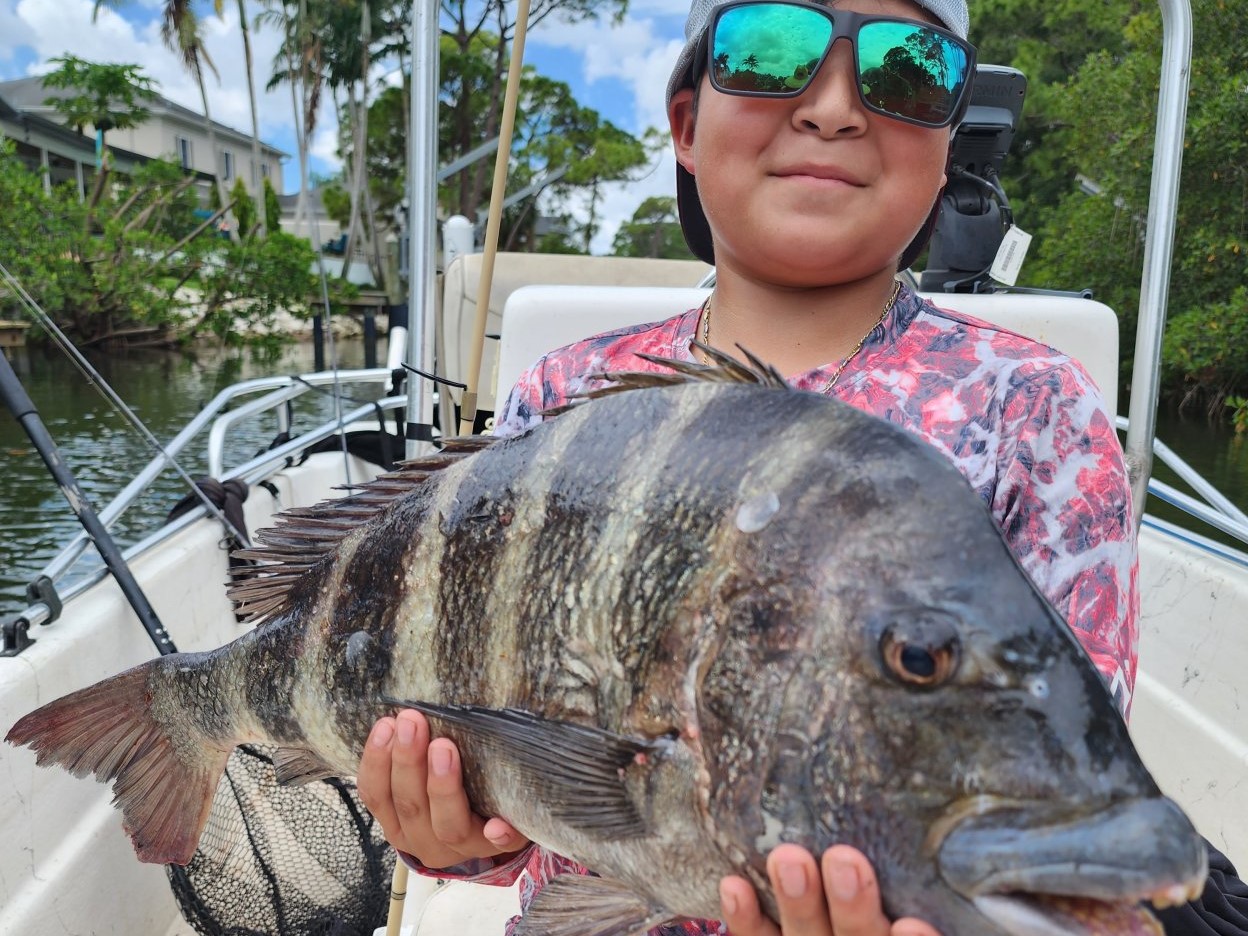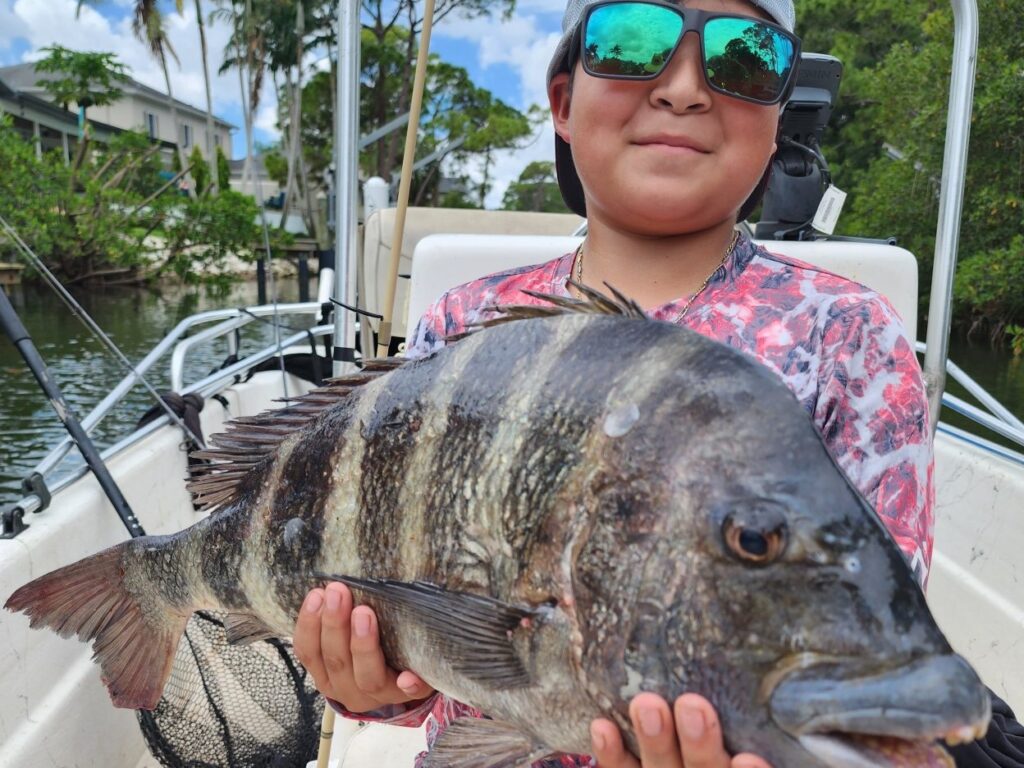 Sheepshead are still around Inshore right now we're seeing sheepshead around docks, piers, bridges, rock piles, and any hard structure which is holding a few nice sheepshead. However, the sheepshead numbers have definitely dwindled giving way to large populations of the mangrove snapper. Mangrove snapper numbers have exploded in and around our Inshore structures lately. We're seeing mangrove snapper return to the docks especially with the clean, clear water that we've had lately it's been easy to spot numerous mangrove snapper, returning to johns pass structures. It's also making it tricky to float alive shrimp down to the snook when hordes of mangrove snapper descend on your live shrimp.
Shark numbers are starting to increase around the area too. We're seeing more of the bonnet heads and black tips as the water warms. This should remain consistent and only get more prolific as we move into the summertime. Both bonnet heads and black tips are fun to target, smaller shark species when fishing from the bridge jetty or Pass area. We even see these often while surf fishing out on the beautiful beaches.
Tarpon action is picking up around the area we're seeing more and more tarpon as we move into that time of year. Tarpon will often stack up around the johns pass bridge at night eating mouthfuls of Live Bait from the bridge lights. Once the sun starts coming up they'll often disappear into the gulf and cruise the beaches looking for pass crabs, blue crabs, or schools or silver, mullet or ladyfish. Tarpon are very large, tricky fish that are often pretty leader shy and take a little bit of luck on the right set up to even have a chance at hooking one long enough for it to jump once or twice. Often you have to be in a boat with some pretty knowledgeable or experience anglers in order to have a real shot at hooking and landing a tarpon.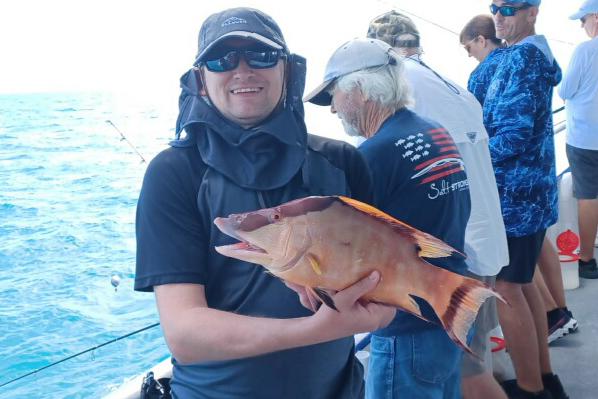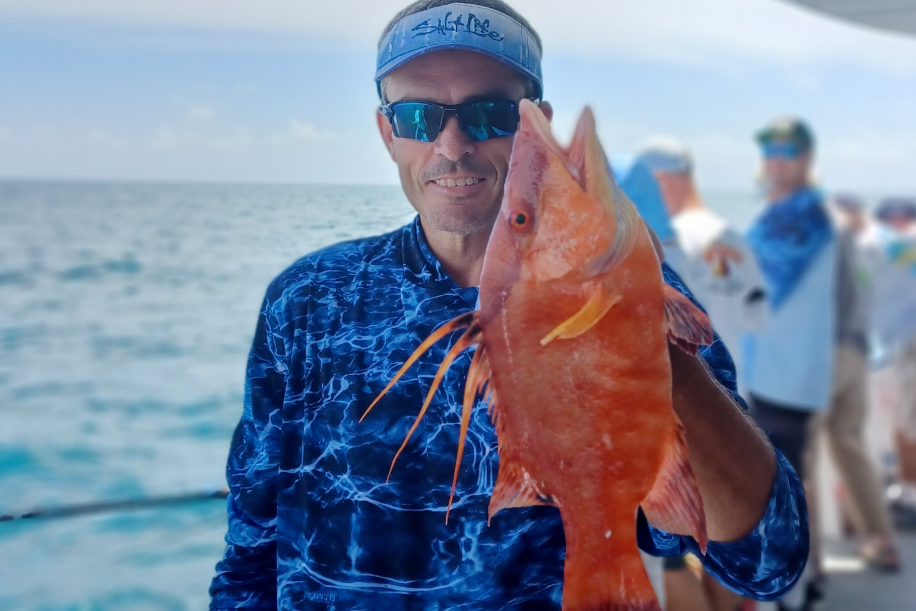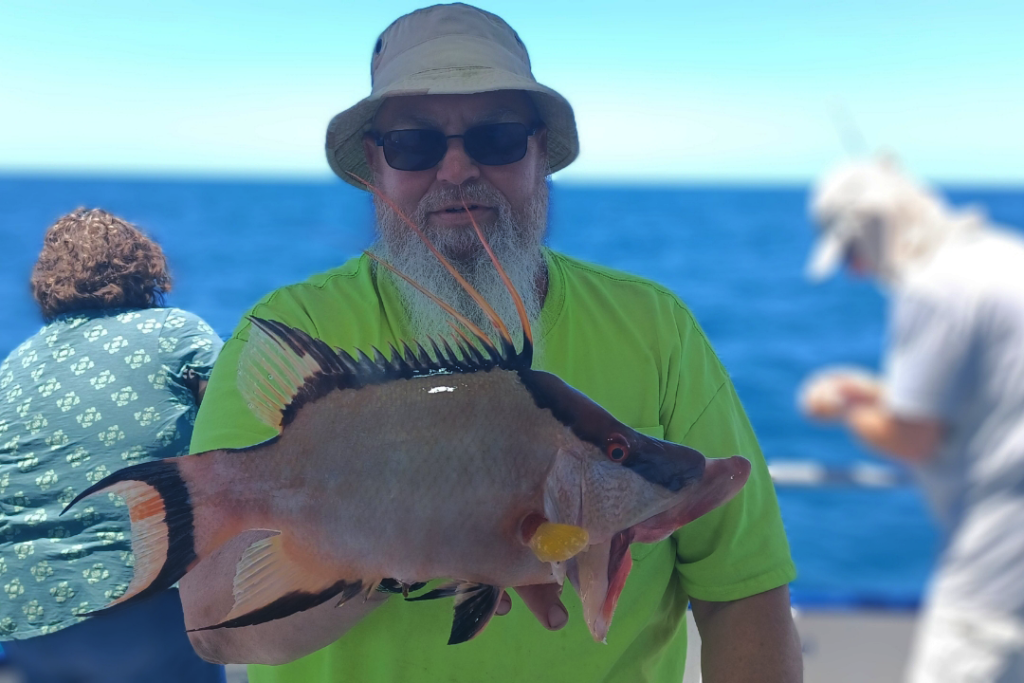 We're still seeing a few of those hog fish around the area but the numbers have definitely dwindled down as water continues to warm. Hogfish are still being seen around 30 to 70 foot of water but we're seeing less and less of them as we move out of the cooler weather. We typically see the best hog fish action around October through about April-ish. Now as water warms, we still see hog fish but we just see less numbers and less concentrations. You still have a chance to get them on our 10 hour all day and you have a shot for them on the five hour half day but the private Charters give you really the best option for him. However, instead of seeing solid numbers on our near short trips, we just see a handful here, and there.
Lane snapper action is going pretty well near shore. We're seeing good numbers of lane snapper on our 10 hour all day trip. We see a handful on our five hour half day too. Most of the time about 50 foot or more through the deepest near shore waters it's where we find the lanes. Mostly on live shrimp, but you can also get them on cut squid and even cut thread fins. Lane snapper are pretty voracious and we see them in pretty decent concentrations around the area. Lane snapper are a really good eating fish and we generally see pretty good numbers.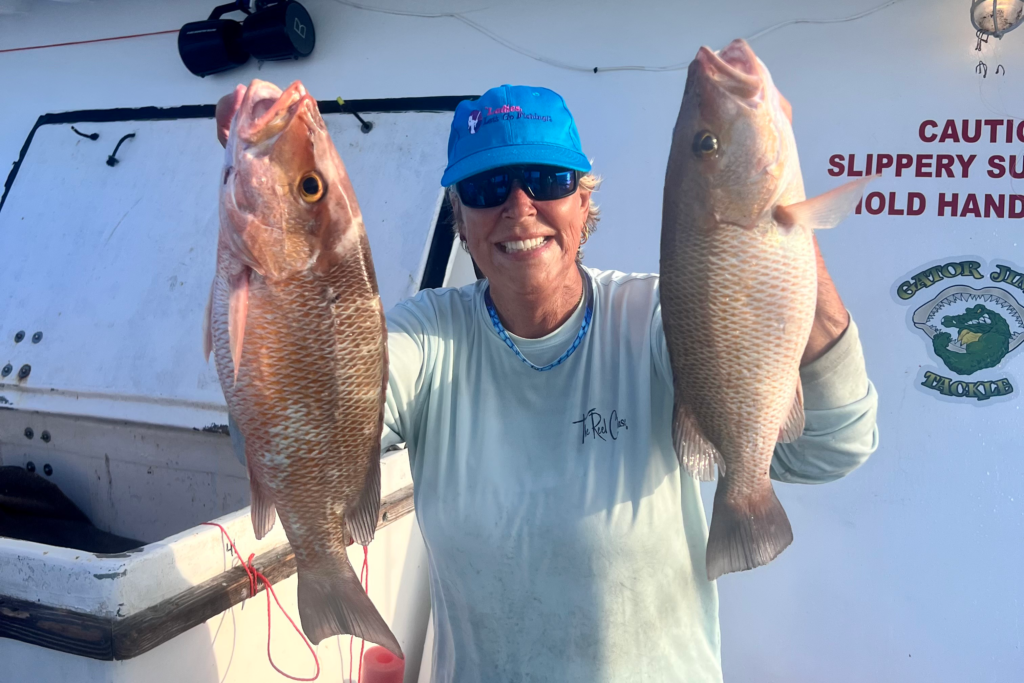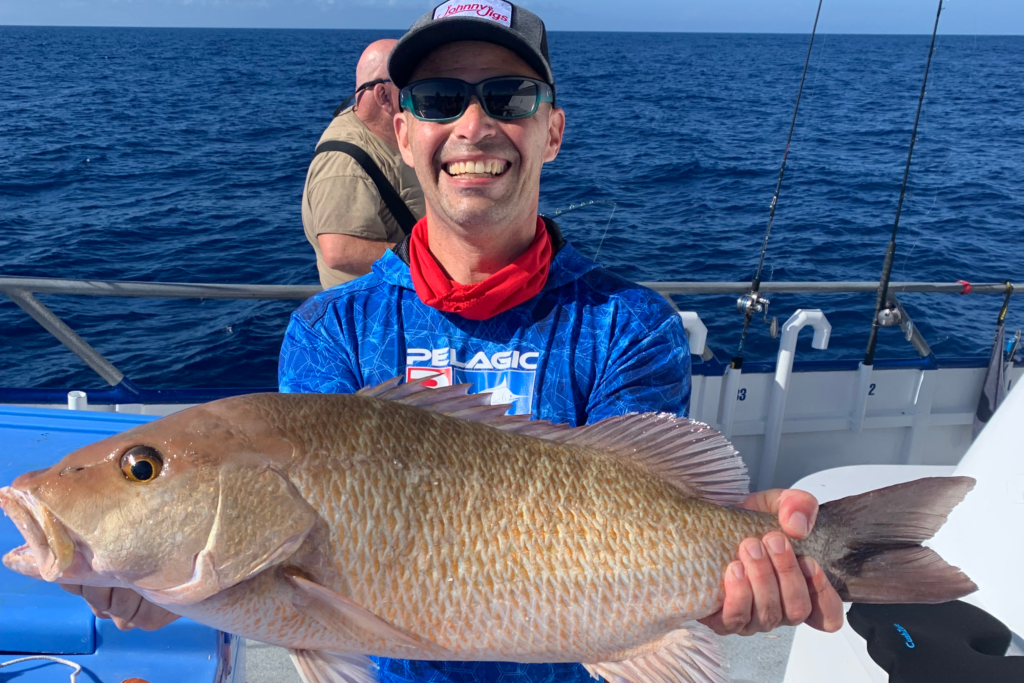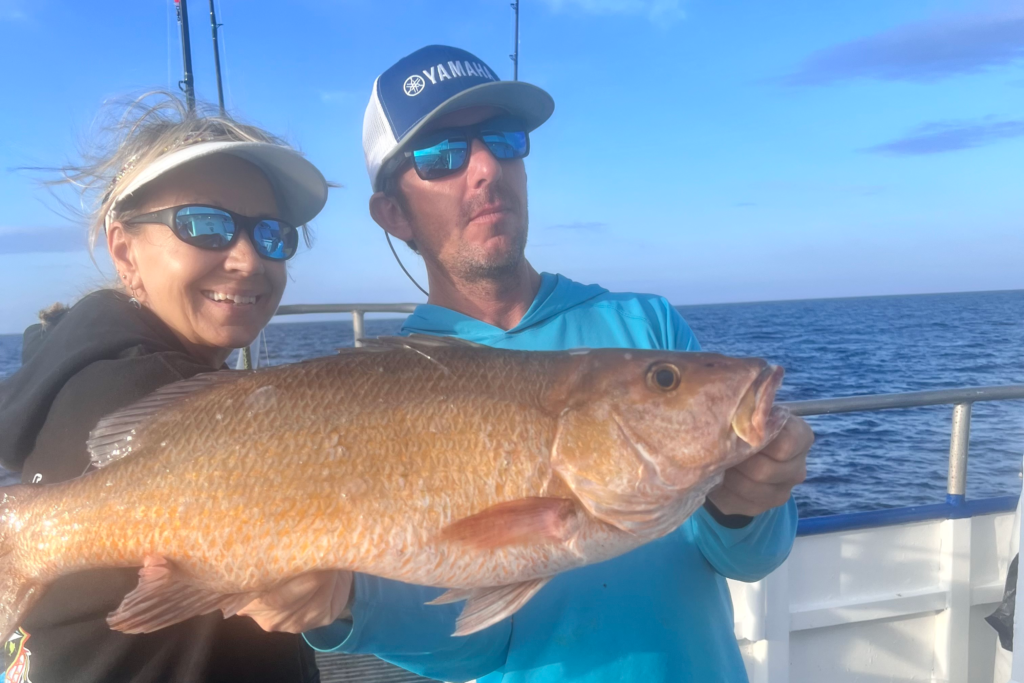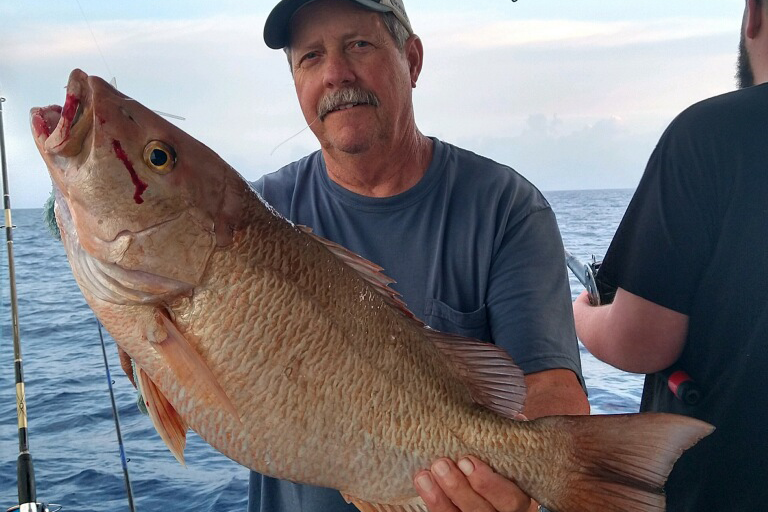 Mangrove, snapper action it is still going decently near shore, but definitely less than lane snapper. Mangrove snapper are generally a little bit more leader shy, a little less aggressive, and a little lower  concentrated compared to the lane snapper. Mangrove snapper are so much more picky generally, and we are only finding them on shrimp or cut threadfin's. Where the Lane snapper will take squid mangrove snapper generally won't look at it.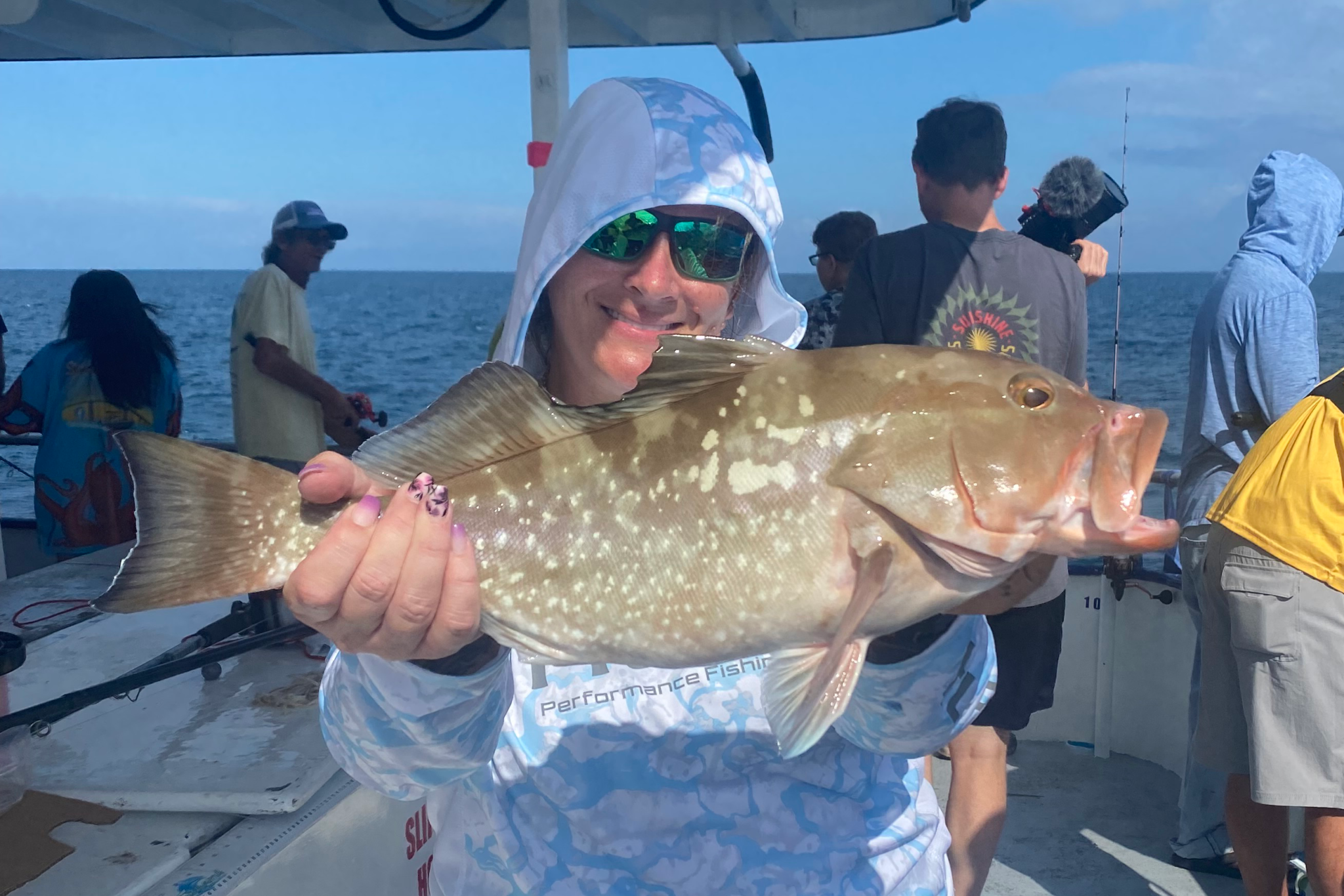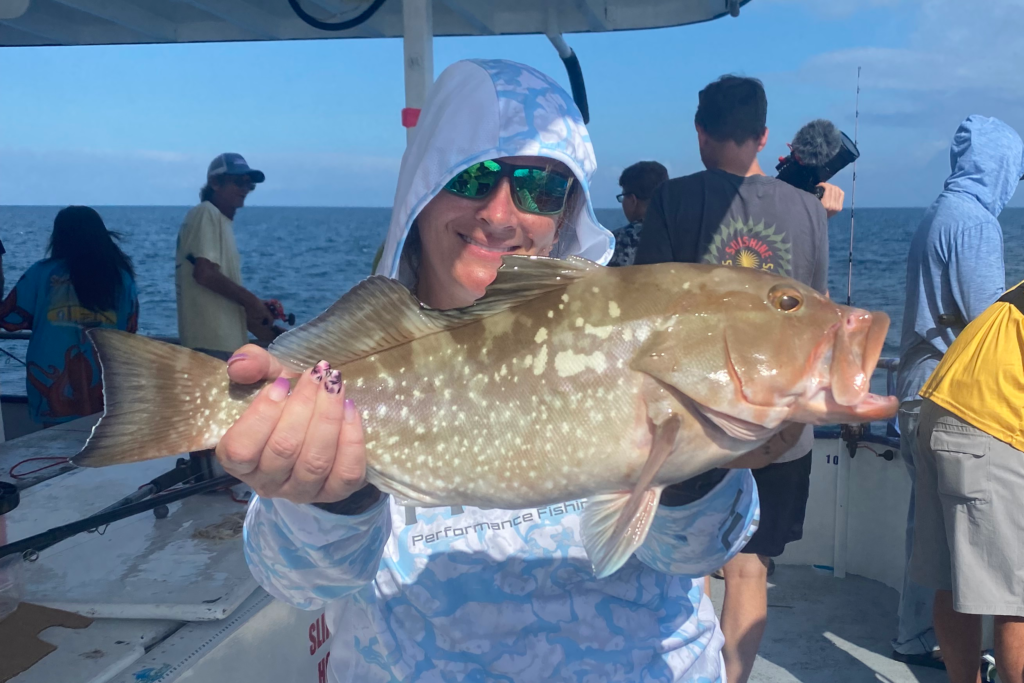 Red grouper action is possible near shore, but you got to be deeper and you got to really sort through a large amount of under size or just barely legal red grouper to have a chance at those keeper red grouper. Generally; were seeing them bite on live bait or large strips of squid. You can also get them on whole threads with the tail cut.
Mackerel and Kingfish action is still happening near shore, but it is starting to dwindle significantly. Chances for king fish have nearly dissipated while we're still seeing a few mackerel. The numbers of mackerel have also dissipated greatly too, unfortunately this year it warmed up really fast and a lot of those mackerel and king fish got out of here earlier than expected.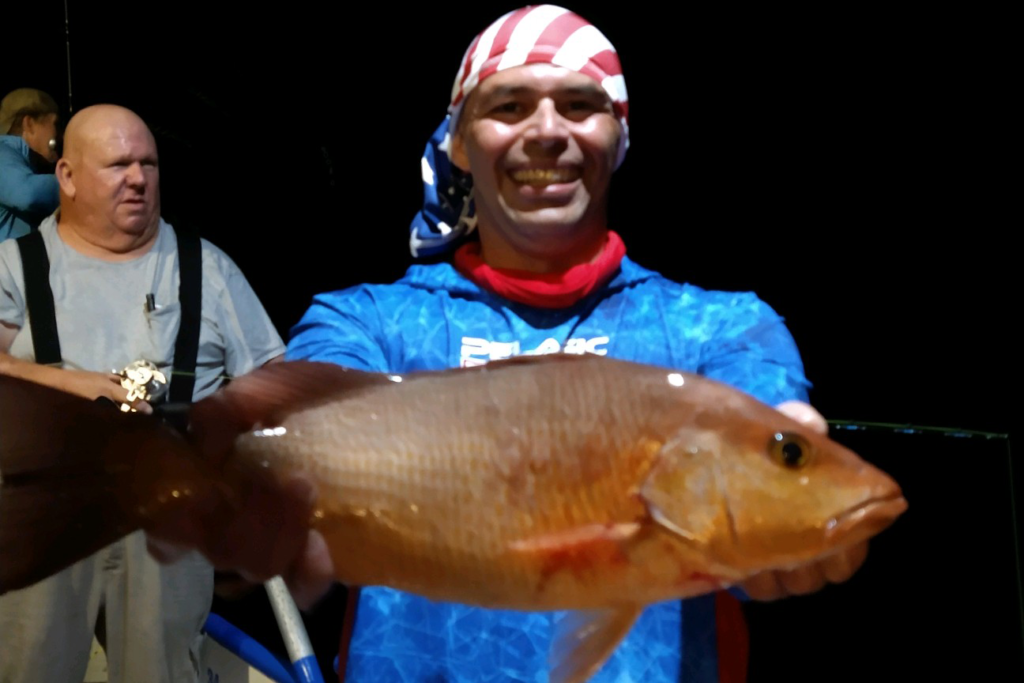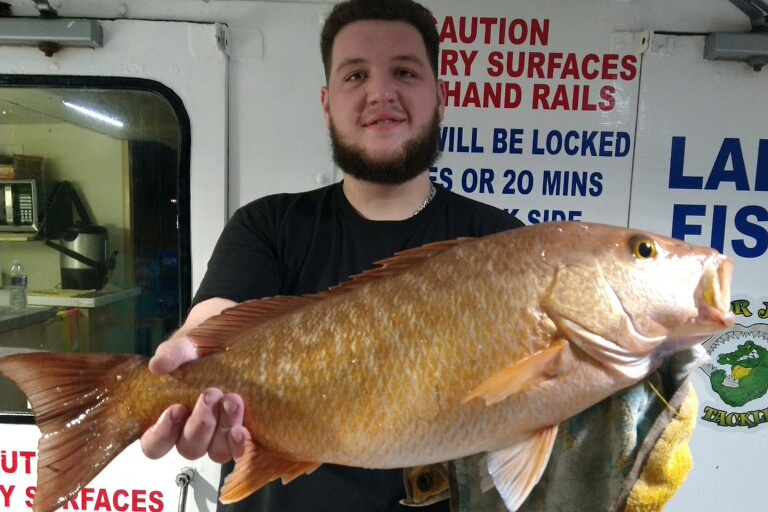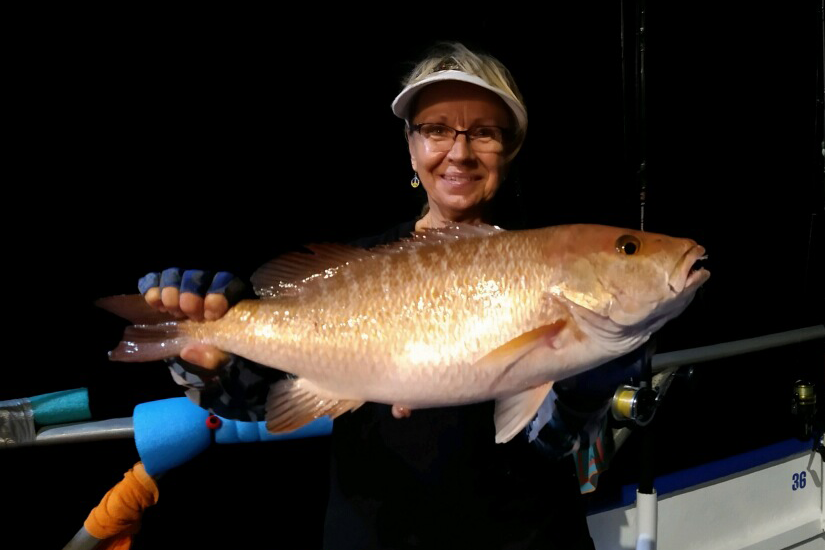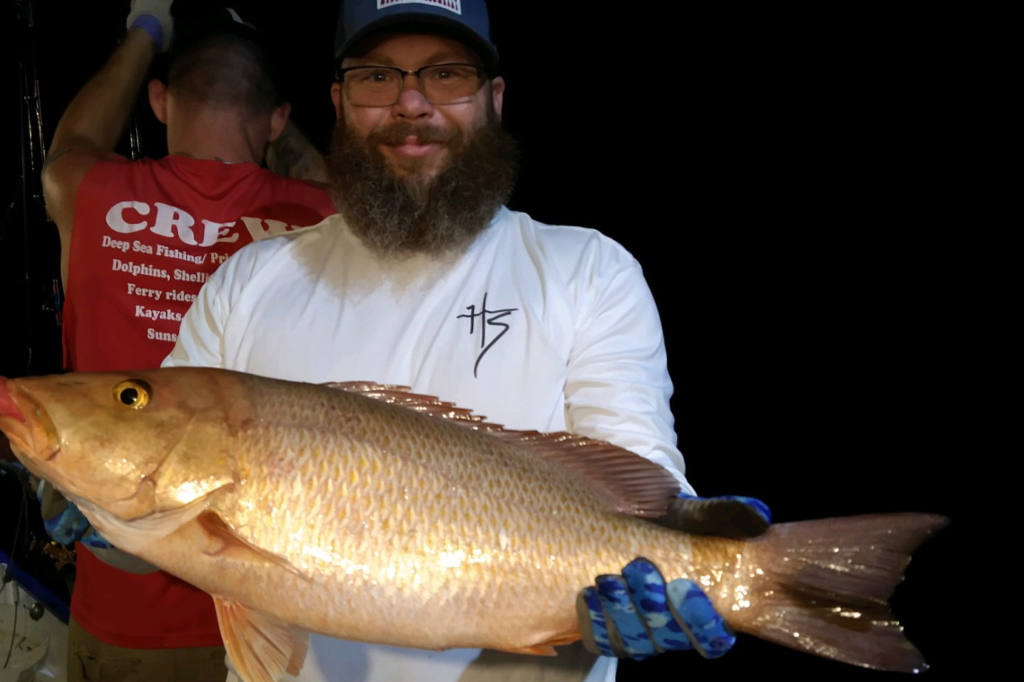 Right now it's been a great time to get offshore; we've been seeing some big red grouper lately and some solid scamp grouper too. While fishing out deep we've been seeing some large mangrove snapper and some good concentrations of big Vermilions and porgies, almacos, and you even have a shot at some nice yellow tail snapper and maybe even a mutton snapper. We were seeing quite a few numbers of African Pompano but that seems to have slowly dissipated. While we still have a shot for them, we haven't been seeing the concentrations we were. The big mangrove snapper are being caught as we get deeper past that 140 to 160 foot mark using threadfins cut as a threadfin plug on the double Snell rig. If you cut the head, cut the tail and trim the belly we've been having some good luck targeting mangrove snapper with that set up.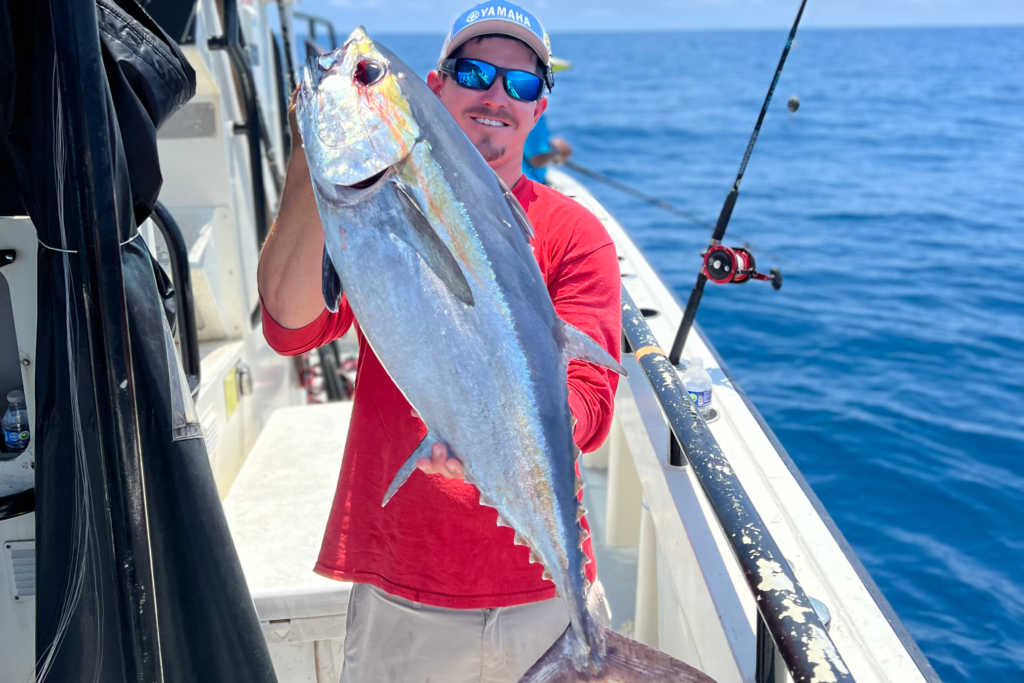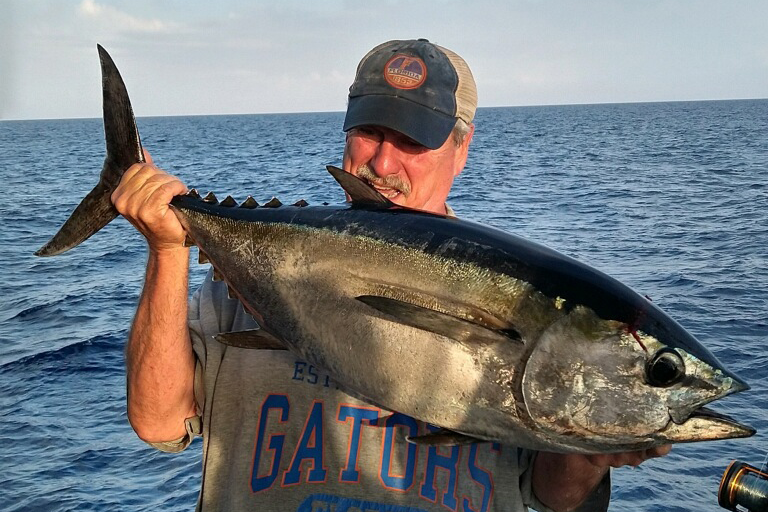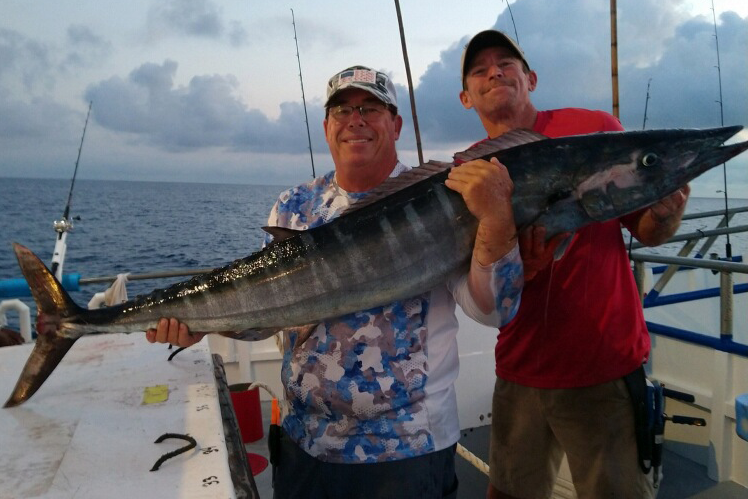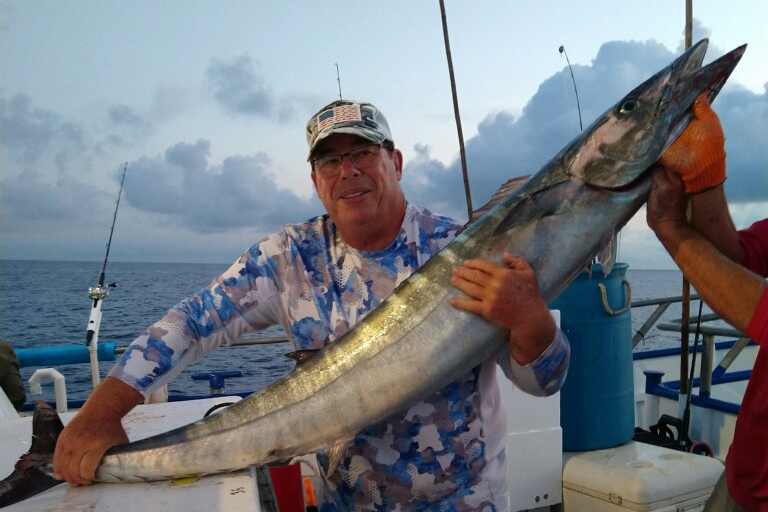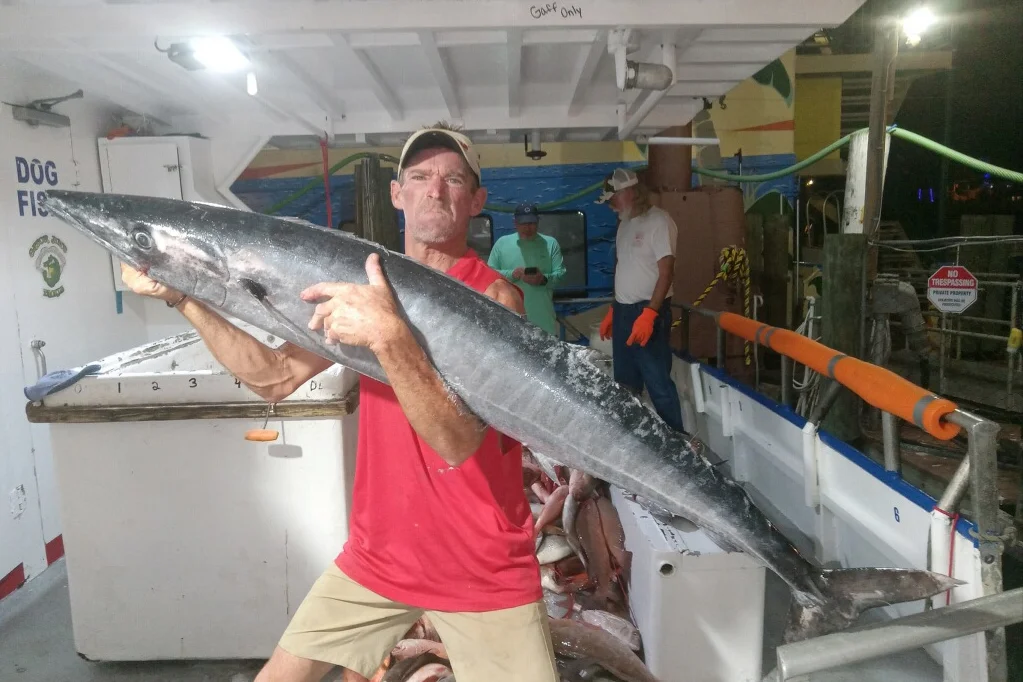 Our 39 hour trips have been doing extremely well. We got back off a long range trip this past weekend with a massive pile of fish. The pelagic action wasn't stellar, but we had an incredible bite on the bottom. We caught some big scamps which made up for slower red grouper bite. We saw incredible mangrove snapper fishing, probably one of our best mangrove snapper fishing trips in more than 12 months. We did get some monster vermilion snapper, some big Porgy's, and plenty more heads and tails as well. The midweek 39 hour trip came in Thursday morning with a similar catch. However, fishing was a little bit different and not quite as stellar, but they ended up seeing the big mangroves big, vermillions some solid scamp, and they did get some better pelagic action on the midweek trip. I saw blackfin tuna, and even a monster wahoo. It's a great time to get off shore if weather will allow. Mid-week, we should get a nice little weather window, which should allow for some great opportunities near Shore and offshore.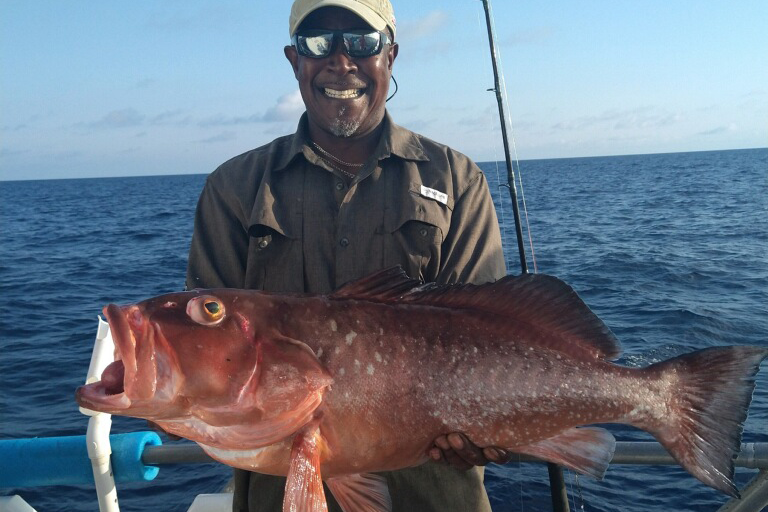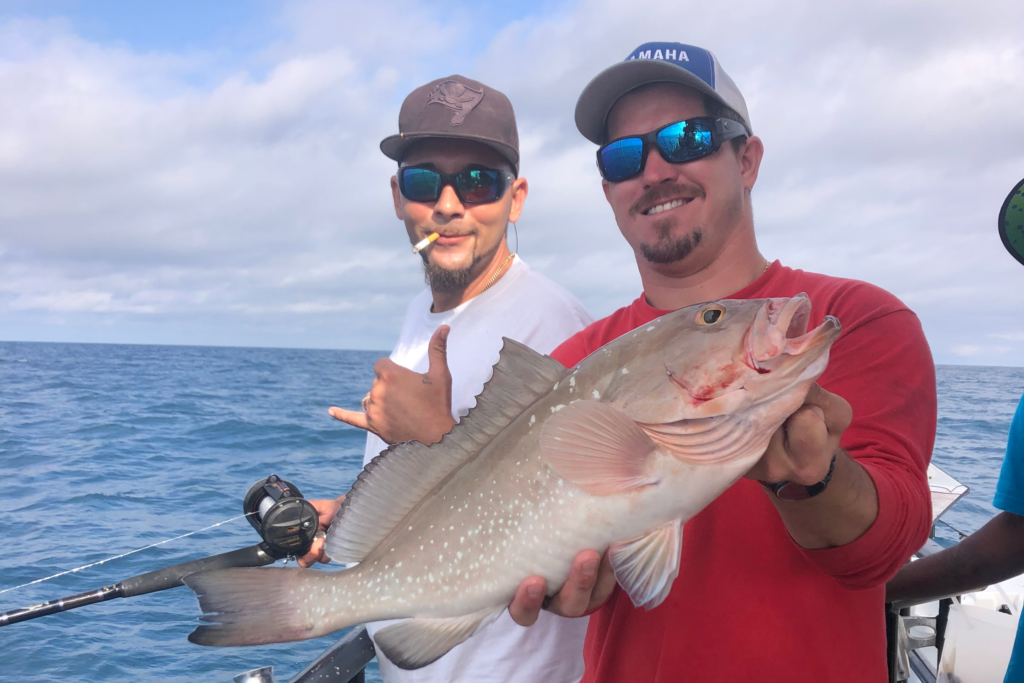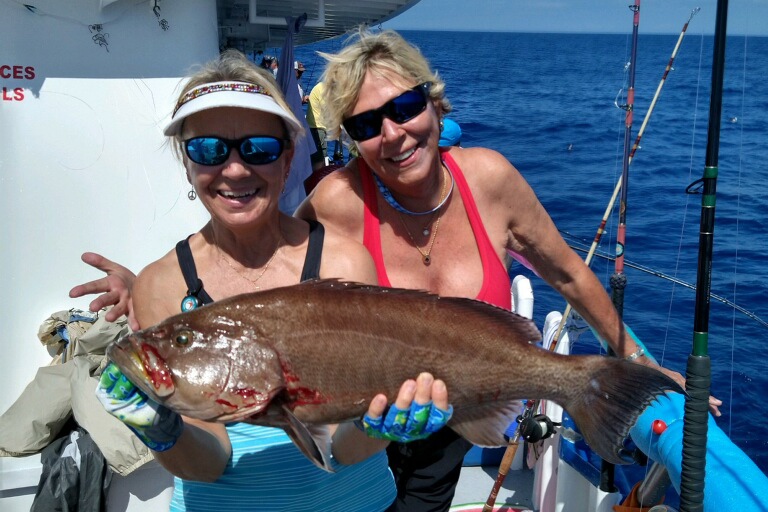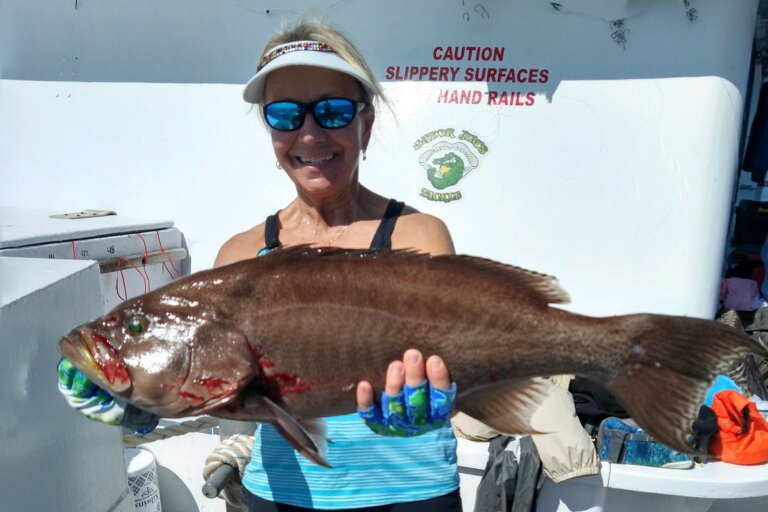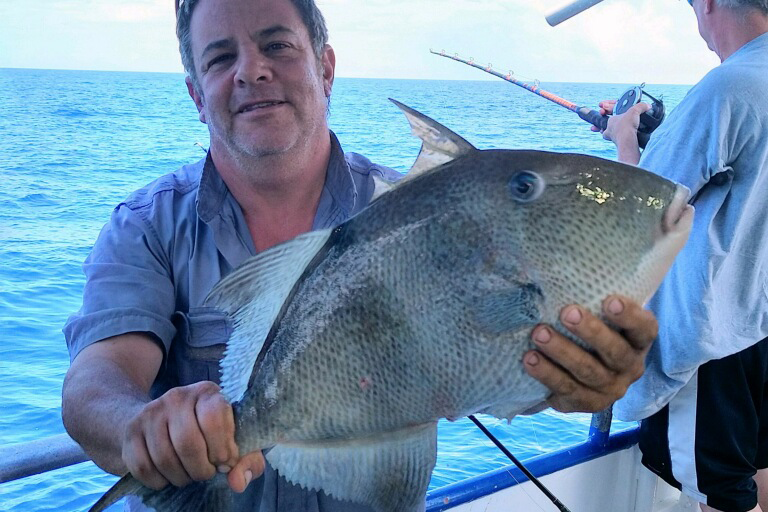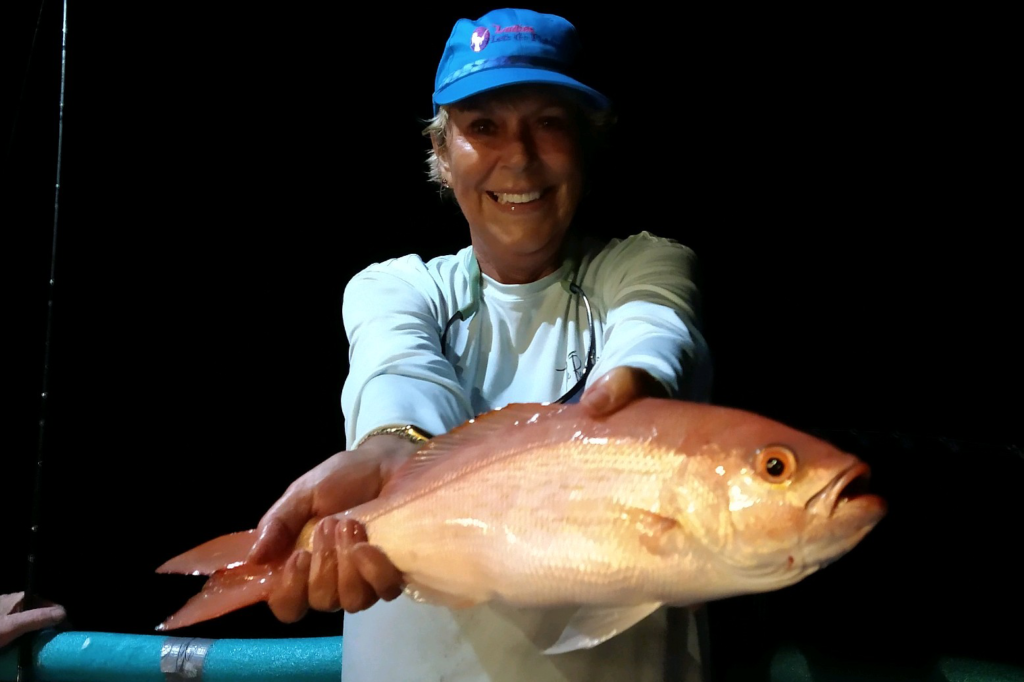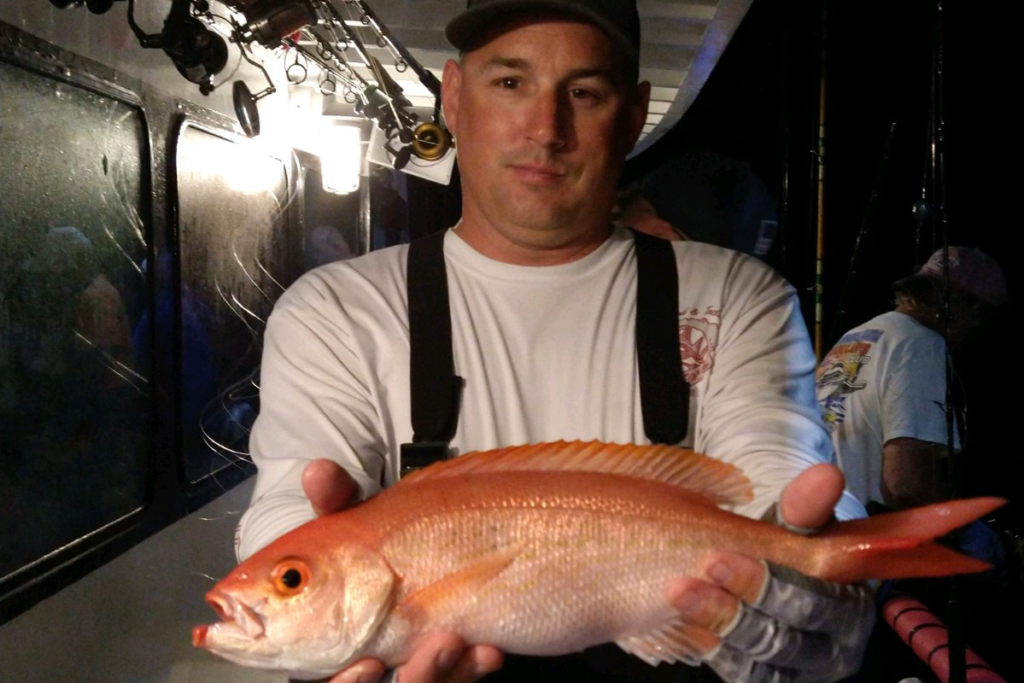 Offshore fishing this time of year we're focused heavily on those red grouper Scamp grouper and big mangroves. But we're looking forward to the summertime season of red snapper fishing. However, we do have that chance of red grouper closing early so we're trying to maximize an array of Grouper Fishing, and take advantage of them while they're still open.
We have a new baby dolphin in the area Tt's name is Arcadia and it's definitely an added bonus for folks who are cruising around the back protected bay waters with us at Hubbards Marina. This is the time of year we often see newborn and juvenile dolphins, cruising with their familial groups. Often with these newborns and juveniles we will see the adult dolphins displaying behaviors that are meant to help train and teach the youth. One thing that will often spot this time of year that's very unique is when the adults catch a fish; they'll throw it up in the air or stun it and throw it back-and-forth to help the juveniles learn how to hunt.  Also we'll see often the bigger adult dolphins school the fish up and slap the water with their tail to imitate the same effect stunning the bait fish to allow juveniles or teenage dolphins to hone their echolocation skills and hunt the bait more effectively.
Another cool site that we have this time of year are the manatees in the area. During this time of year, a lot of our local manatees that are native to Boca Ciega bay will be coming back home from the springs where they stay in the winter time. The springs are in area allow the manatees to regulate their body temperatures and keep themselves warm through the cooler winter time. However, as water starts to warm the springs don't hold the manatees any longer, and the manatees will pour out of the springs to head back to boca ciega bay. So this time of year; we will see big spools of manatees moving together returning to Tampa Bay. Our snorkeling group out at Egmont Key the other day ran across about 15 to 20 manatees that cruised right up on our snorkelers out at the grass flats at Egmont Key. We've also seen large concentrations of manatees moving in and out of johns pass through the day. Some will see them on our dolphin cruise in the morning at sunrise, and at all times throughout the day, you have a chance of spotting concentrations of manatees this time of year.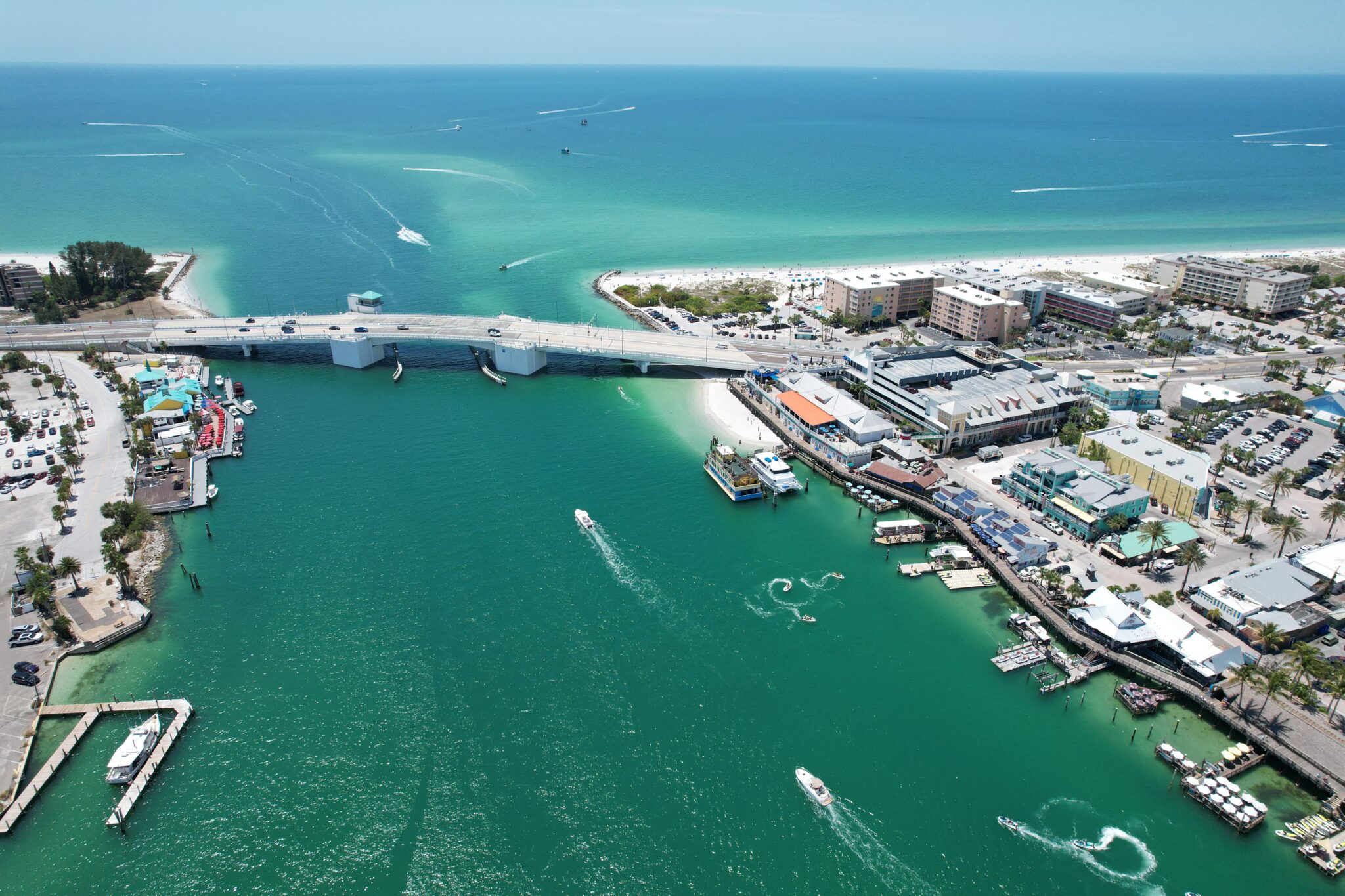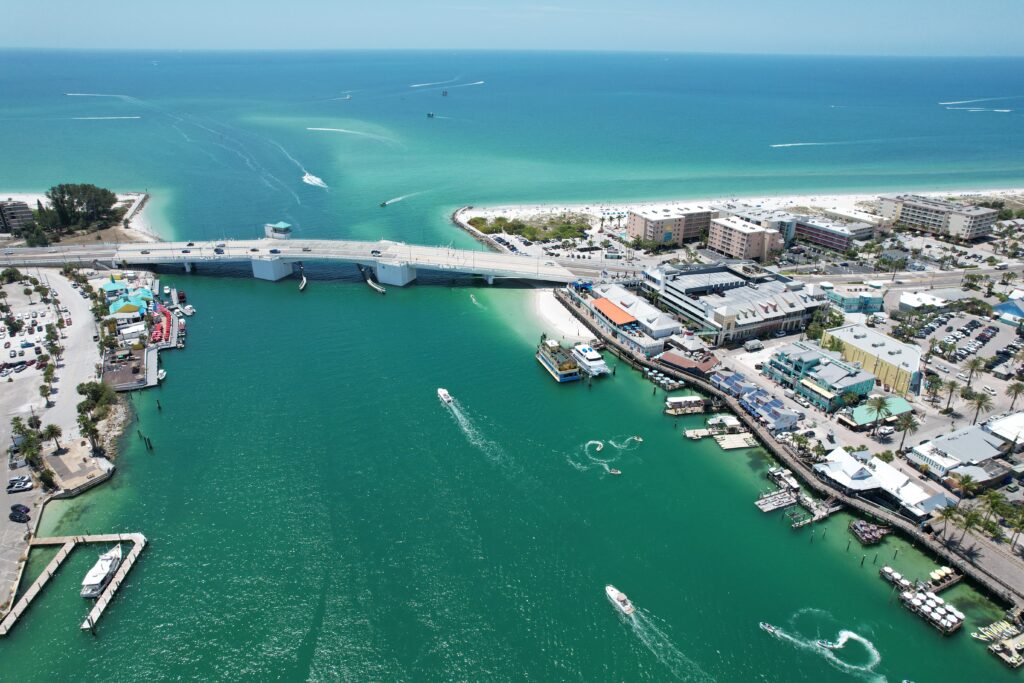 Besides the juvenile Dolphins and the manatees, if you need another reason to visit; we've been seen some insanely clear water lately. The water has been super clear with the drought we've had. We have been seeing some water clarity that is nearly historic levels. This is typical this time of year when we get into this drought behind the cold fronts before the rainy season of the summer. Over the course of the next week or two, we should see more of this crystal clear water condition around our area. we're hoping that the full moon will clean up and clear up this water behind this weekend's bad weather faster than if the water was moving more slowly.