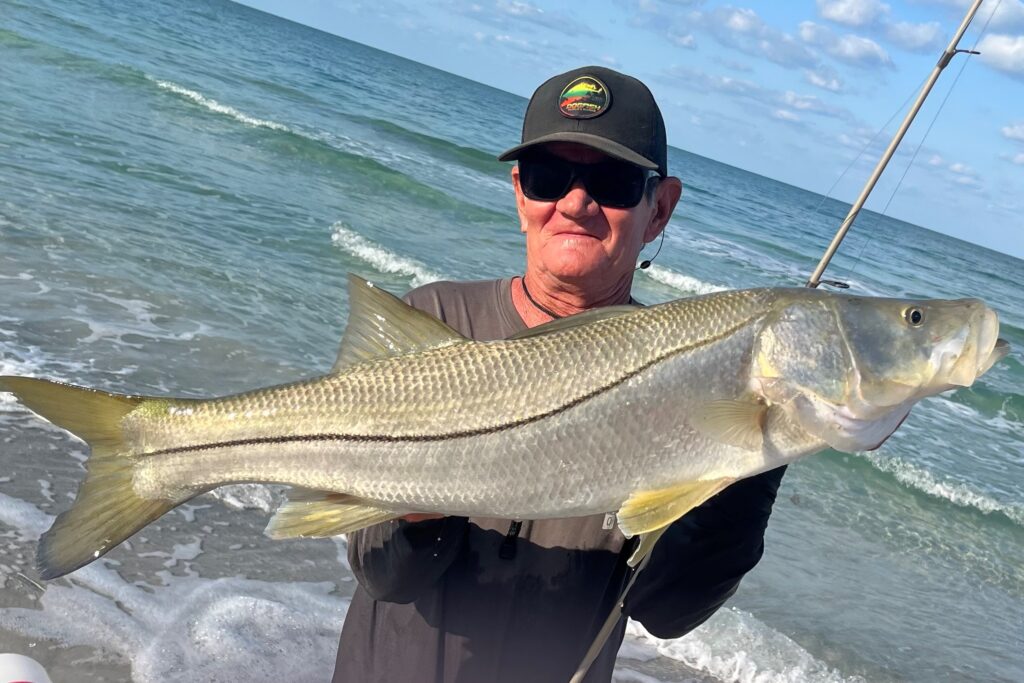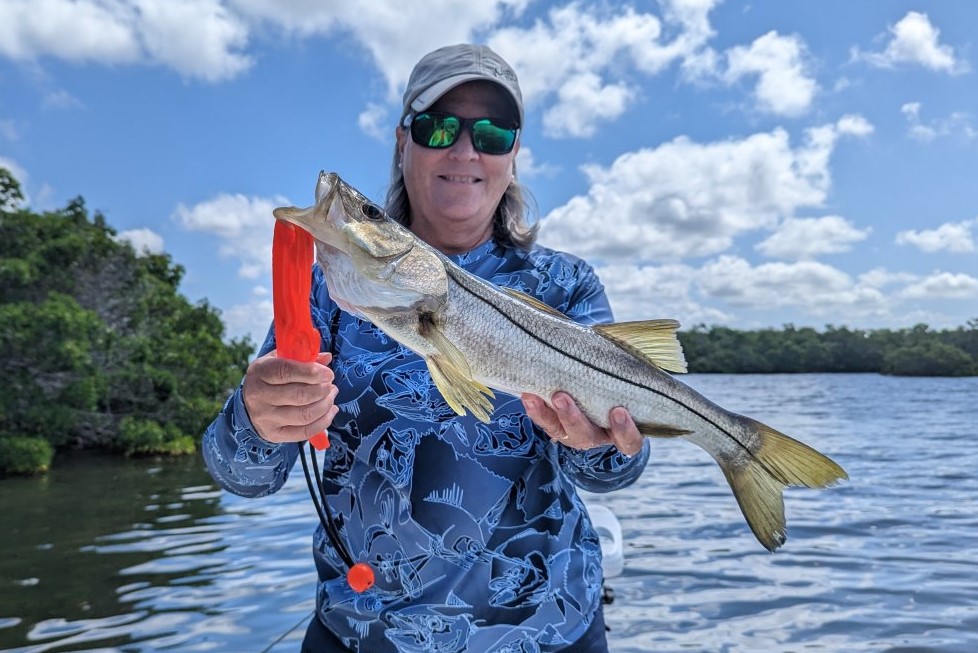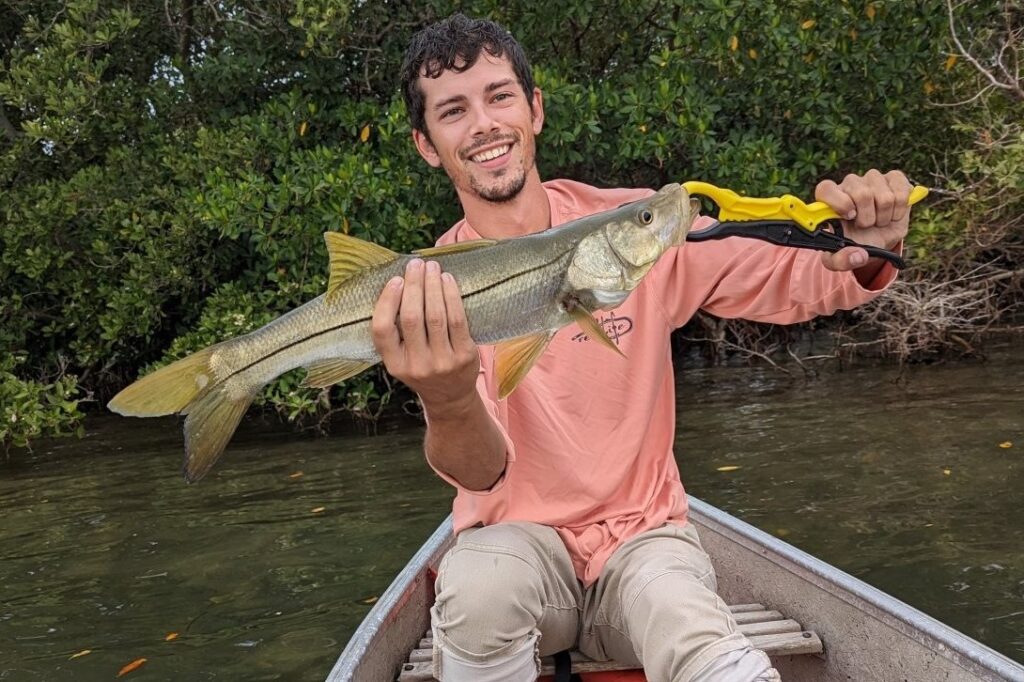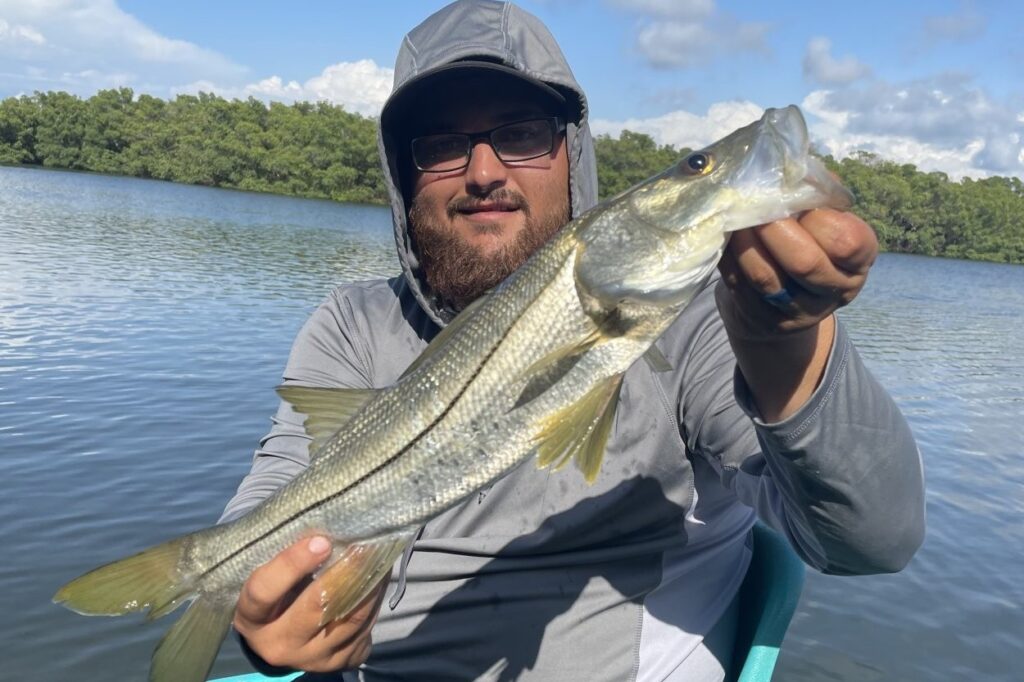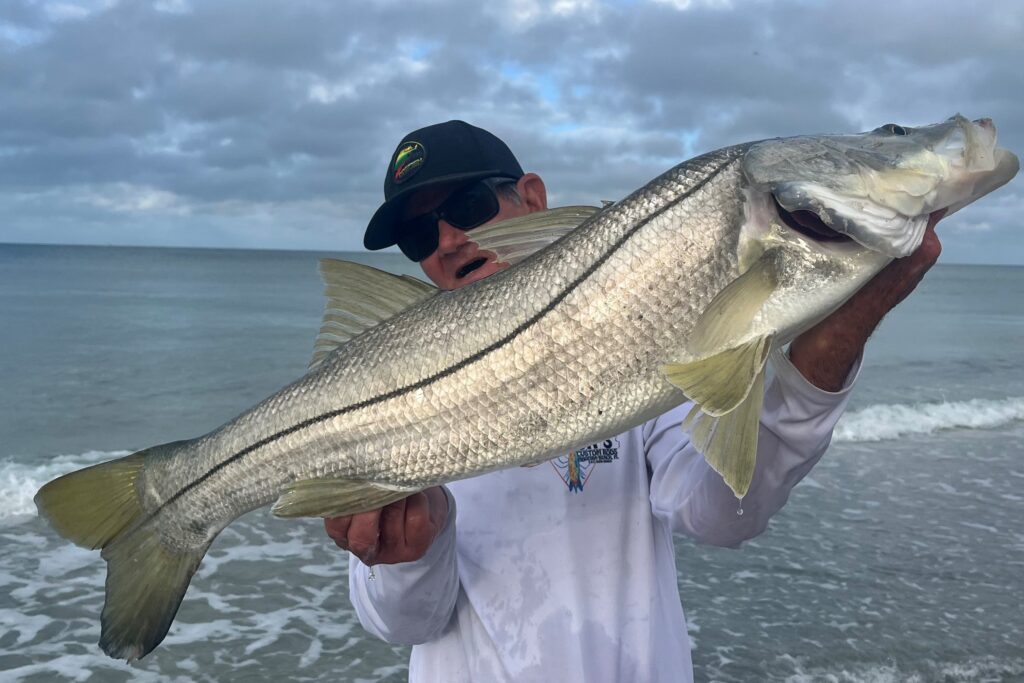 Snook fishing is going well around the area. We're seeing a lot of snook returning heavily to the passes and beaches. Now that the weather has calmed down and water has started to clear back up. Snook fishing is going well at night around the docks piers bridges and jetties. During the day we find them often on the beach if you can find an area of clean, clearwater, you can site fish snook, especially in the early morning. Generally live shrimp and pinfish or soft plastic officials are great ways to target those snuck on the beaches.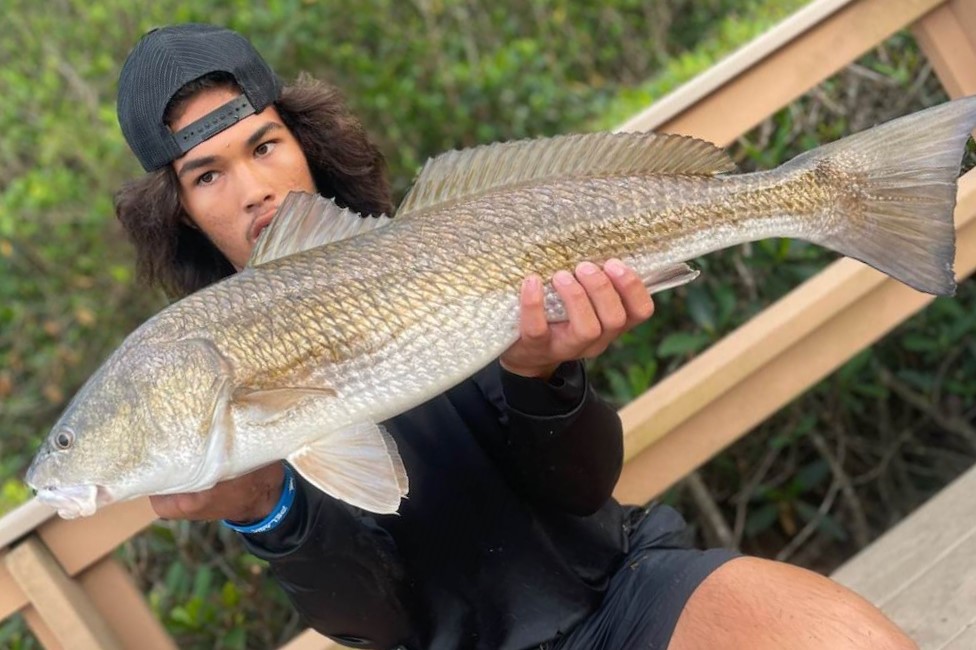 Redfish action is going well in the back, protected bay waters. We're seeing a lot of those redfish around mangrove shorelines grass flats and even a few around the docks adjacent to the mangroves. Red fish are tackling those soft plastics and crab. Smaller crabs on the bottom around the mangrove shorelines are a great way to target some bigger, red drum.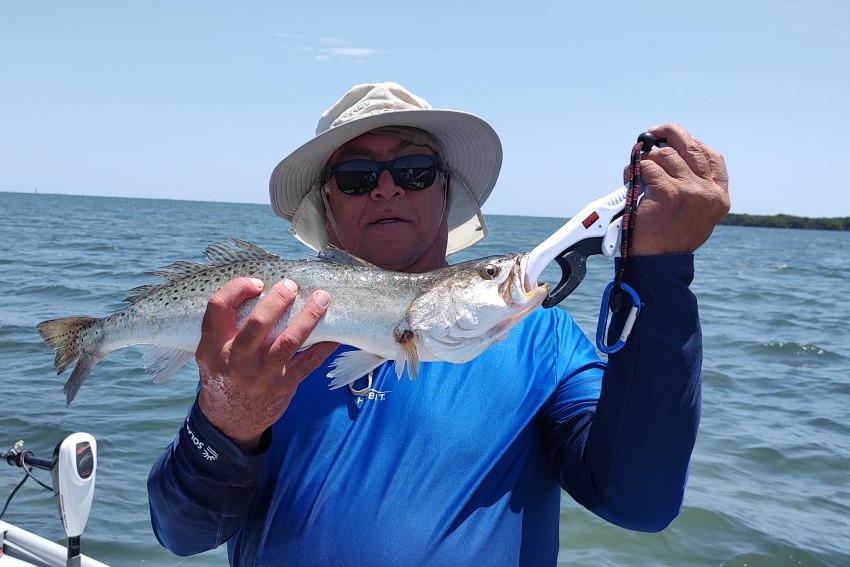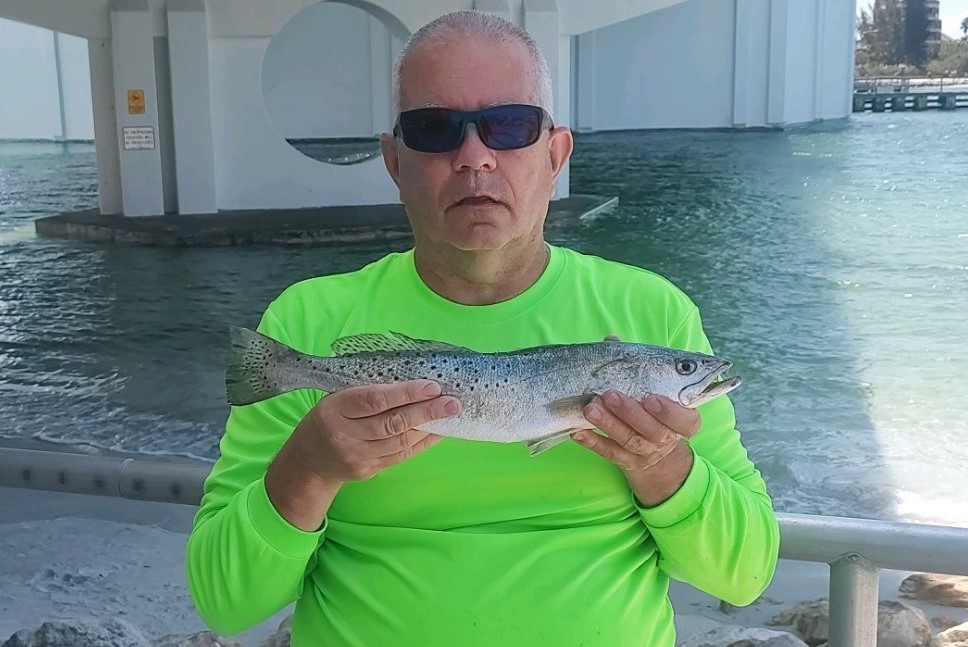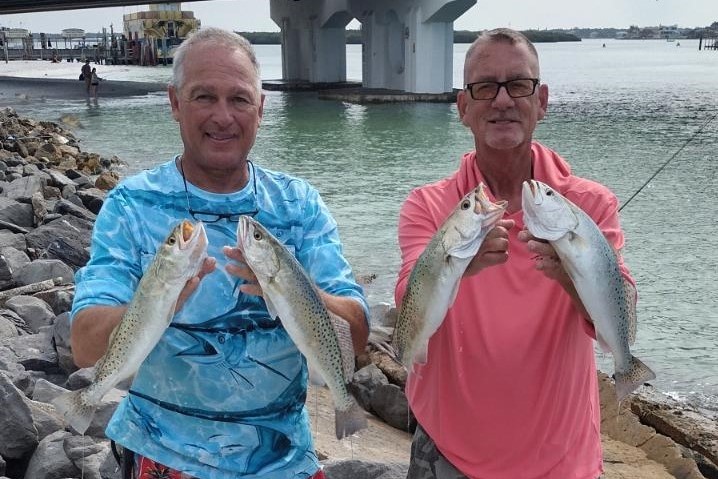 Trout action has been going really well for us at night around dock lights and bridge lights. During the day around those potholes cuts and edges of the flats trout are generally moving a little deeper, especially as water continues to warm. We're seeing those trout move deeper closer to 5 to 7 foot right now.
Tarpon have moved back into the area pretty heavily. We're seeing a lot of tarpon around our local passes and area bridges. During the day you can find them on the beach, and then the deeper passes, waiting to ambush passing and flushing bait.
This is the time of year where we see more and more of those small juvenile sharks returning to the area like the bonnet heads and black tips. They got super active around our passes and beaches in the past couple days. Great time to target those smaller sharks and medium sized sharks.
Sheepshead are still around the area, and we're finding a few. Sheepshead are here and there around docks Piers bridges and jetties. However, sheepshead numbers continue to dwindle. We expect this trend to continue as water continues to warm. Mangrove snapper are starting to fill in the gaps and holes left by the retreating sheepshead as water warm and we move into the summertime pattern.
Mangrove snapper fishing generally is really good around Docks, Piers Bridges, jetties, and hard structure. which we've been catching the sheepshead around during the cooler months now become mangrove snapper hotspots.
Mackerel and king fish have receded from our nearshore waters. We are still getting a handful of mackeral on the beaches, and around some of the very close to shore, artificial reefs and wrecks, but for the most part numbers have extremely dwindled. Kingfish action is pretty much nonexistent now in the near shore waters. However, there's still a handful left just much reduced from what it was or what it should be.
We are finding a few lane snapper and mangrove snapper, but mostly in the deeper near shore waters, 50 to 70 foot up to the deepest near shore waters of 100 foot. Lane snapper are definitely more active and typically more common compared to mangrove snapper. But we are seeing a handful of the mangroves if you're using the lighter tackle and the double snell rig. Lane snapper will bite on virtually any bait from squid to Shrimp and pretty much anything in between dead bait wise. The mangrove snapper are much more picky and really want a small chunk of cut threadfin on a double Snell rig.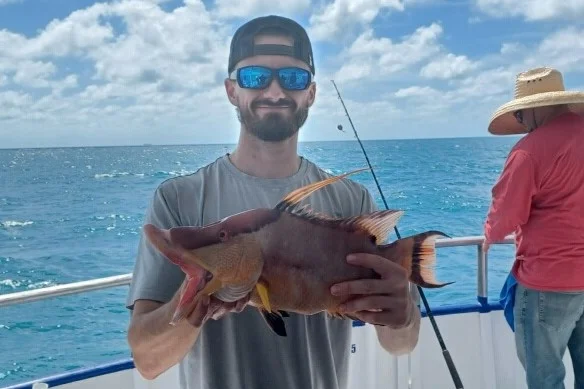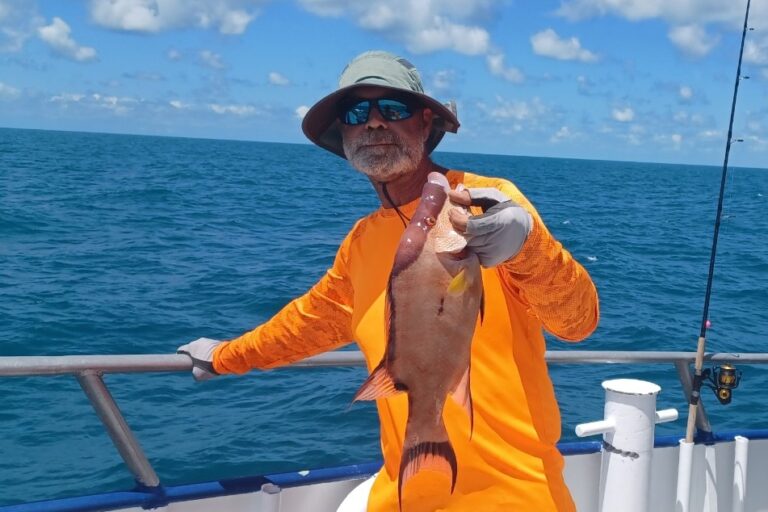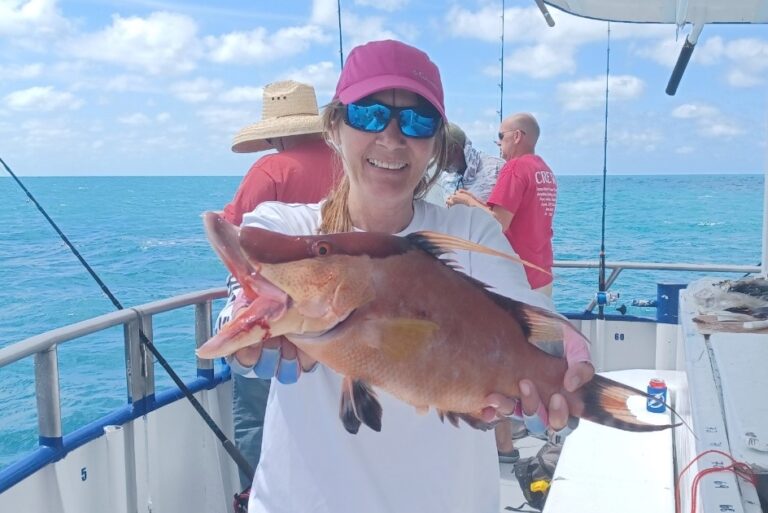 Hog fish action is still possible near shore but much less extensive and prolific due to warming waters spreading out the hog fish more and more. However, we are still catching hog fish on our five hour half days and 10 hour all days and even the nearshore private fishing charters. If you want a chance for those hog fish fishing around 40 to 80 foot of water with a light tackle with 30 pound Flora-carbon and live shrimp works really well to give you a shot at catching a keeper Hogfish.
Red grouper action near shore is pretty tough to find keeper red grouper unless you're in the deepest near shore waters. Near shore waters around 80 to 100 foot give you an opportunity to find some keeper red grouper, but they are few and far between there's a lot of under size fish mixed in. Please make sure you're prepared with proper fish handling techniques and tools to prevent discard mortality while fishing for red grouper nearshore.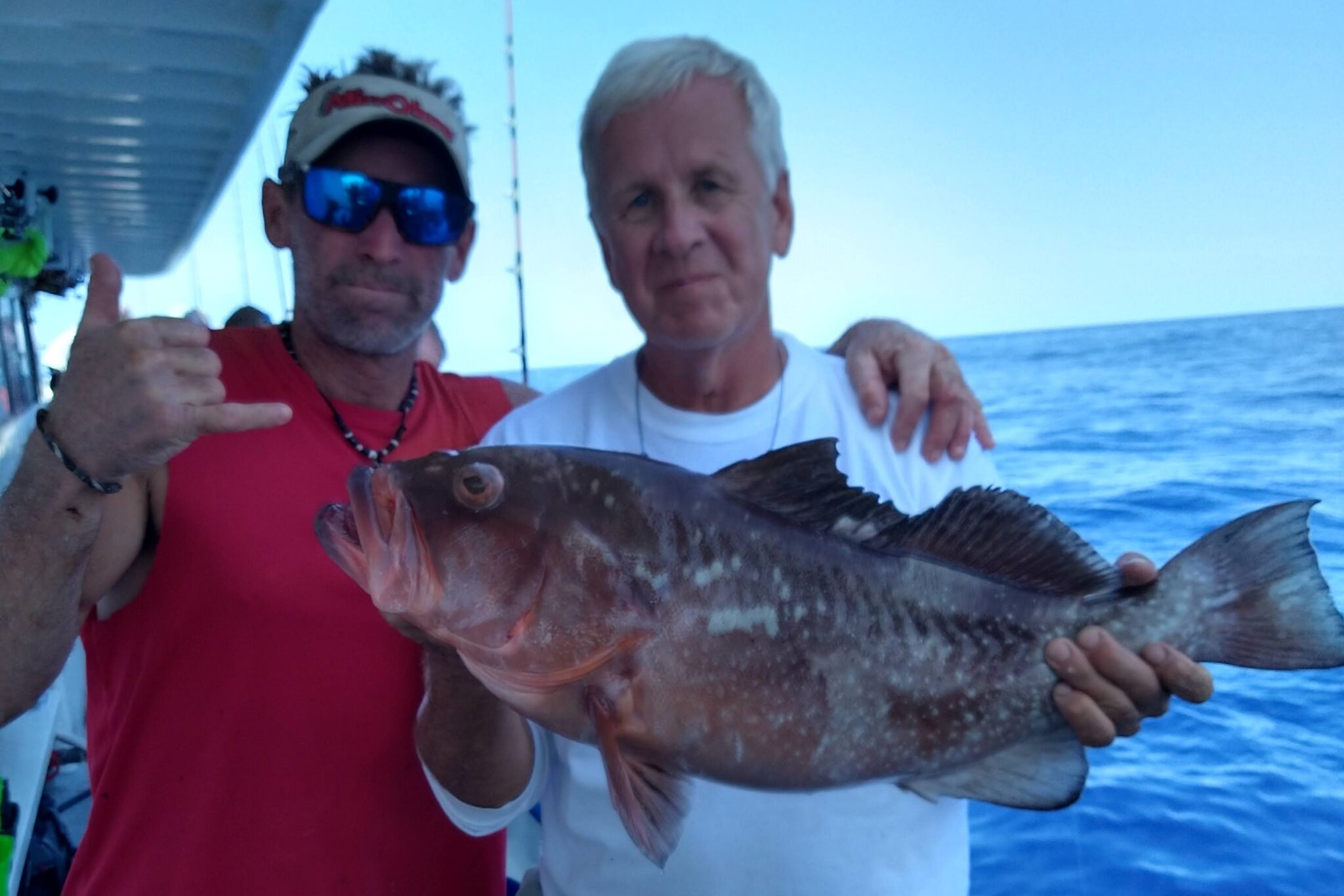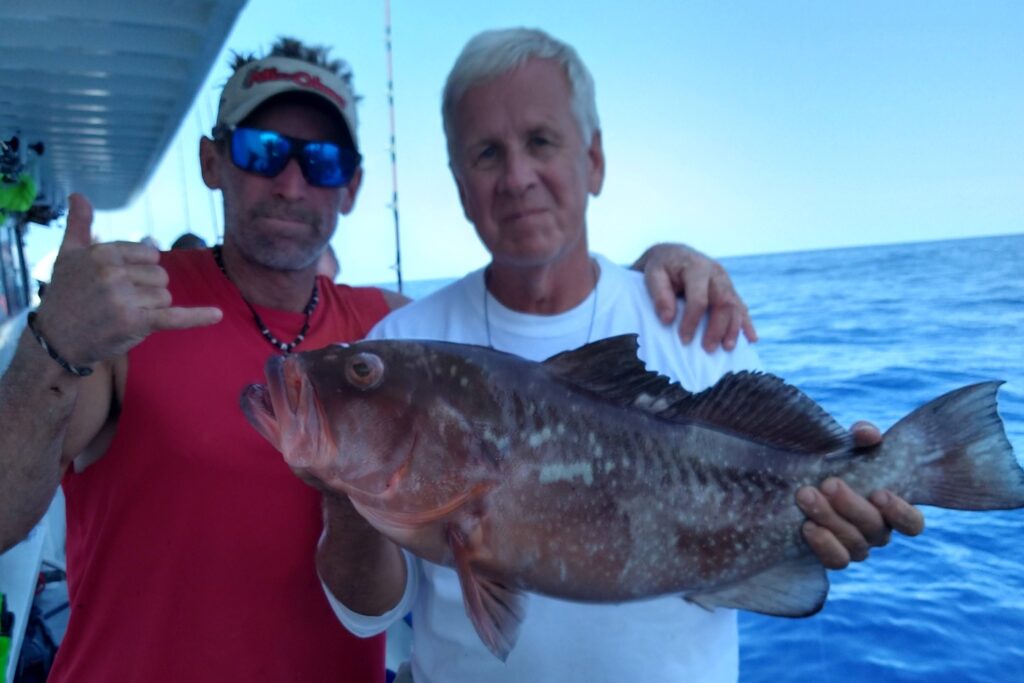 Red grouper action offshore is going much better. We're seeing a lot of big fat red grouper in our Offshore Fishery. We're generally fishing closer to 200 foot of water lately, but anywhere from 140 to 200 foot is a good area to look for those big fat keeper, red grouper. They like a big strip of squid or a big threadfin with the tail cut. Bigger deadbeats and some solid live baits are a great way to target and catch those red grouper. Generally were using about 80 pound leaders and a 7 to 10 ot hook when targeting the red grouper. You don't need as heavy tackle for red grouper as you do for gag grouper as generally red grouper aren't going to try to rock you up or break you off like a gag grouper would.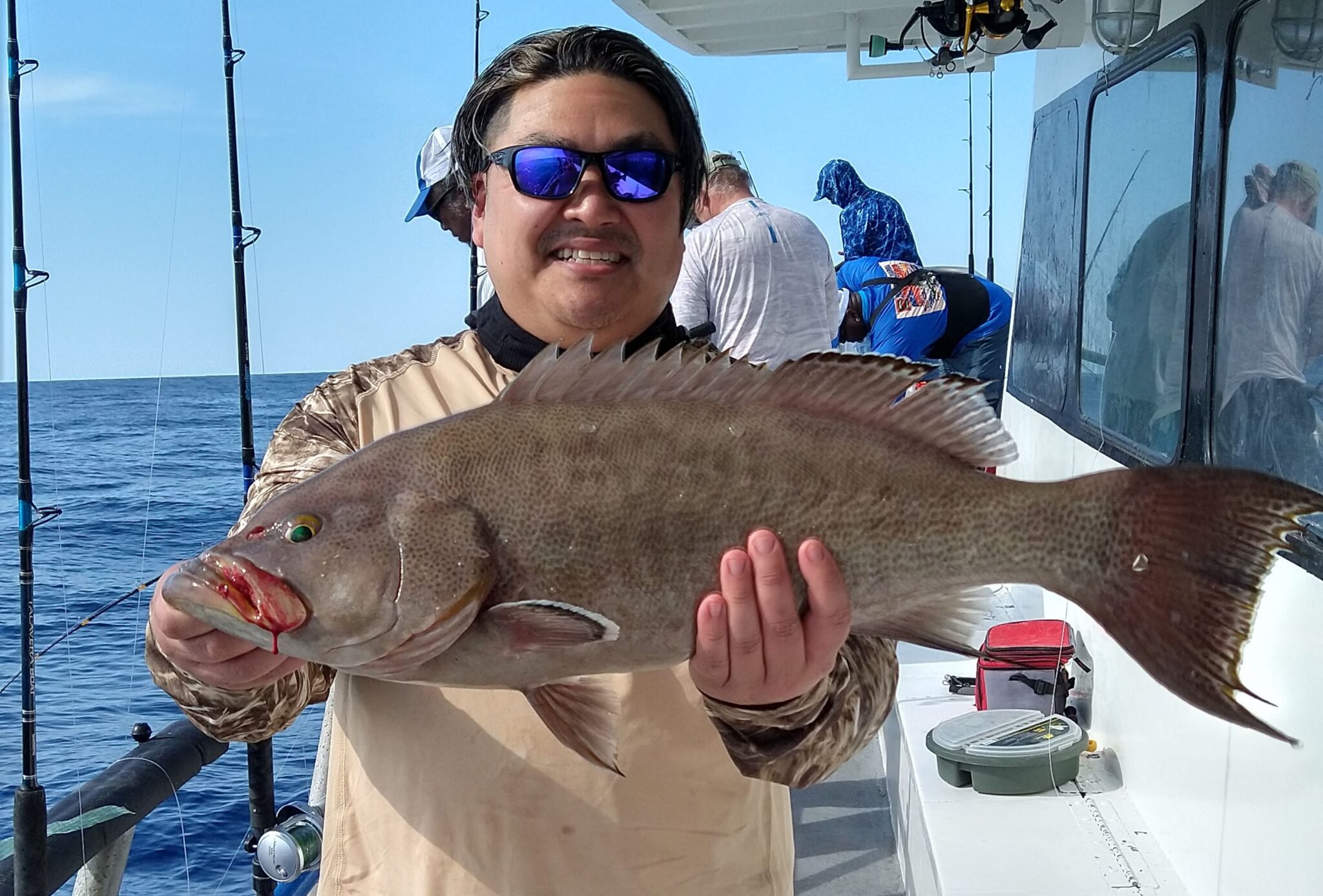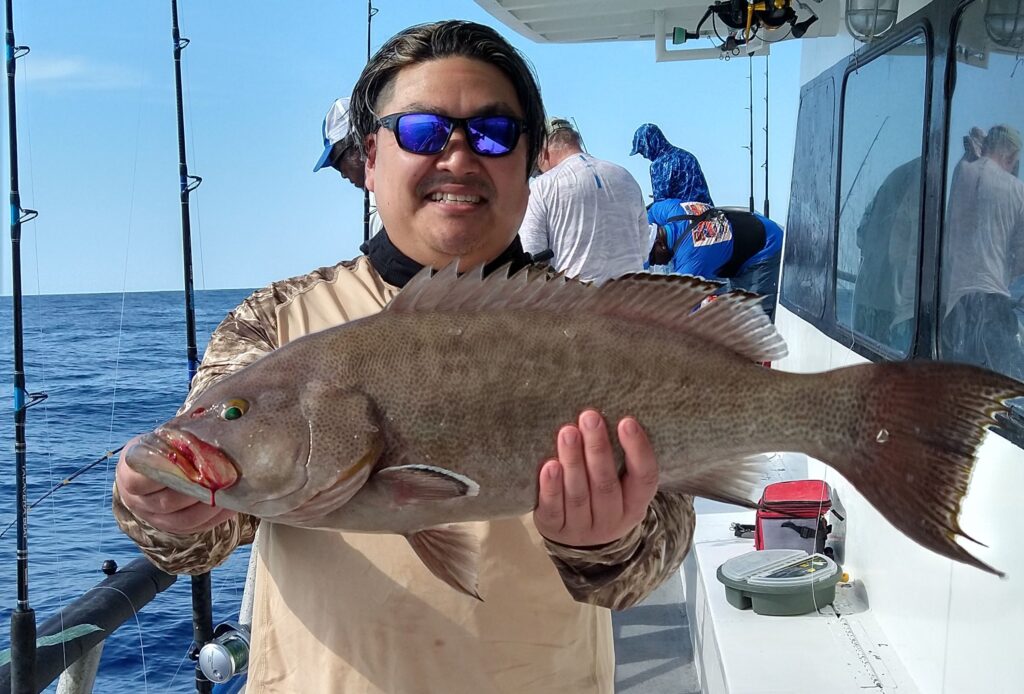 Scamp Grouper action is going well Offshore if you're able to get out deep enough to find a scamp grouper, especially around those potholes and ledges. We generally catch Grouper using small to medium Pinfish or cut deadbeat like thread fins. You can even catch scamp grouper with a vertical jig or Slow Pitch Jig on or near the bottom. Scamp are one of those things that we generally catch as by-catch and you can't really concentrate on them and target them with any real success as concentrations generally are somewhat low and spread out.
Mangrove snapper fishing offshore has been going really well for us. We're seeing nice mangrove snapper throughout the area especially while fishing deeper we're seeing a larger average size of mangrove snapper. Generally cut threadfins and the double snell rig is a go-to option offshore like it is nearshore as well. We're generally utilizing around 40 or 50 pound leader and about a 5 to 6 ot hook while targeting those mangrove snapper offshore. Mangrove snapper are very quick, biting, smart fish, so they provide a great target species. If you're looking for something fun to catch good to eat and somewhat challenging. Especially if you want to catch them consistently and catch them often mangrove snapper are a great target.
Vermilion snapper fishing and has been going extremely well too. We're seeing a lot of big vermilions lately the vermilion snapper Fishery has been very strong and like the mangroves as we fish deeper closer to 200 foot we're seeing larger and larger vermilion snapper.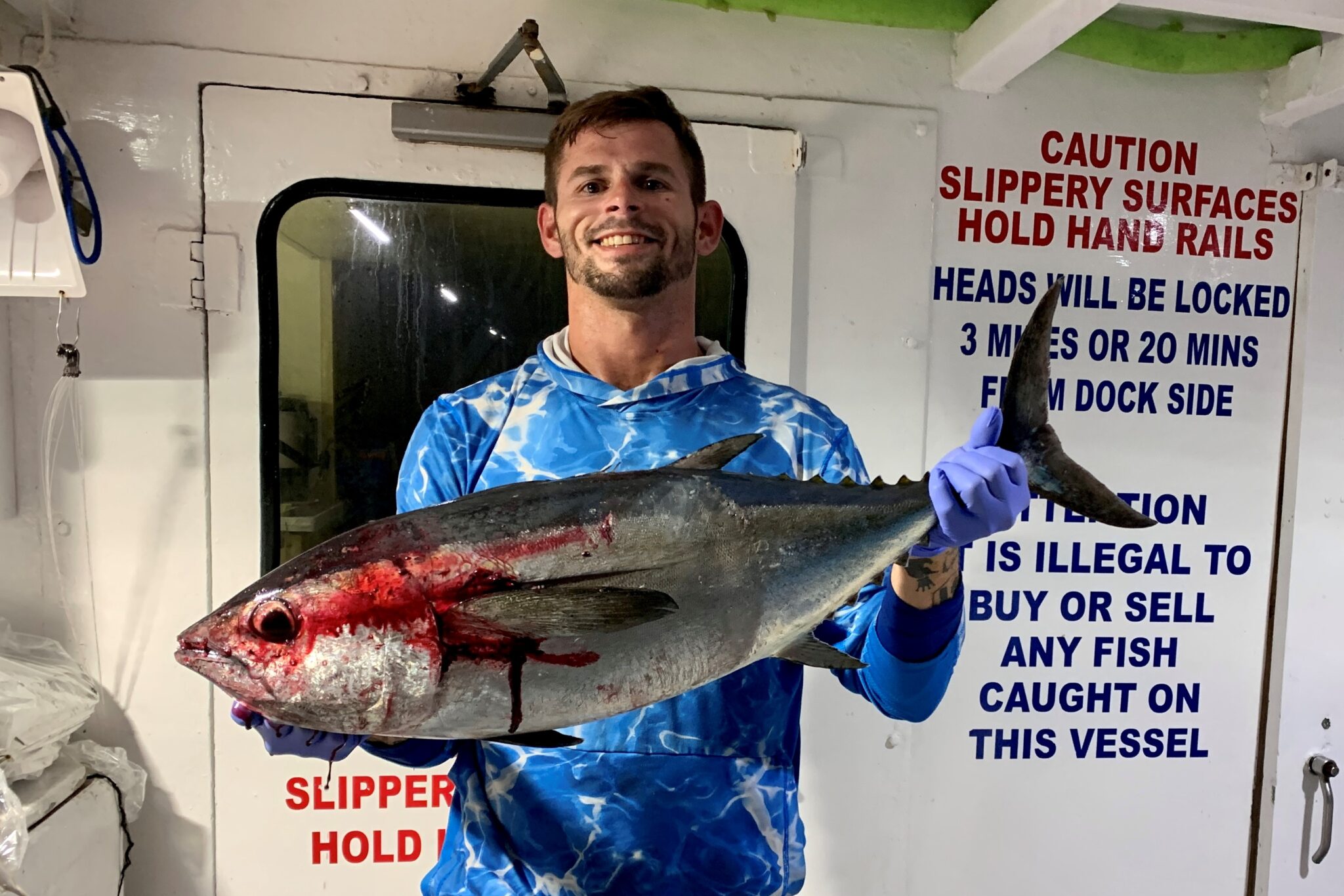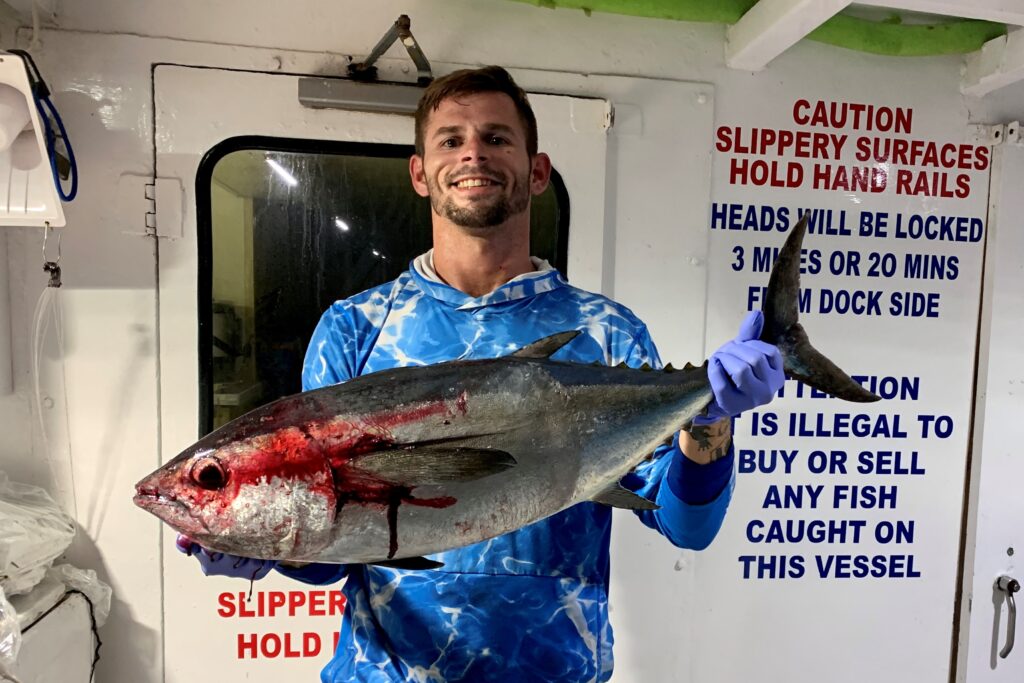 The blackfin tuna and wahoo have also been pretty active offshore. The pelagic bite offshore has been going well for us; we're seeing blackfin tuna and wahoo while trolling the nomad DTX minnows or the rapala X-rap magnums. Trolling is definitely been the most productive option to catch those pelagic species as of late definitely better options when trying to cover ground in between our bottom fishing spots on these long range 39 and 44 hour trips.
Dolphin activity in john's pass has been very steady as of recently. We're seeing a lot of dolphins moving around the area behind the cold front. They got really active inside and around Johns Pass . We had a few mornings with hundreds of dolphins feeding super actively around the pass behind those cold fronts they generally get very concentrated in the past, as water gets murky and stirred up and bait flushes. It makes it easy for the dolphins to congregate and work together to feed on unsuspecting schools of mullet. However, water has calm down and cleared up considerably spreading the Dolphins throughout the area. We still have that juvenile Dolphin Arcadia, who is a newborn a few weeks ago is now growing quickly and learning how to hunt on her own.
Sea turtle nesting season has kicked off and there's already quite a few labeled and marked Sea turtle nests throughout the area. We will see more and more of these on Egmont Key and Shell key islands during our shell key and Egmont Key ferry trips. Please be cautious while out shelling on the islands with us from Johns Pass, or fort De Soto, as we have to be careful and courteous to those Sea turtle nesting sites around our area. Give them a wide berth, and make sure to avoid them while on the sand.
Also, it becomes imperative to make sure we fill in any holes dug while visiting the islands or beaches, and knock down any Sandcastles prior to leaving. You want to make sure you leave no trace behind and leave the beach, more pristine then you found it. We encourage you to keep an eye out for trash or litter and do your best to improve the area, those small juvenile Sea turtles can be sidetracked by the smallest debris.
Manatees are still active around the area. We're still occasionally spotting a couple congregations of manatees. However, now that water has really warmed up manatees have returned. We're not seeing as many congregations.
Water clarity is improving significantly as water clarity continues to improve. It really improves the experience on our dolphin, tours island, trips, sunset, cruises, and other Pleasure Cruise options.