join Us Every Final Friday from 6pm-9pm est.
Experience John's Pass Final Friday Event in Madeira Beach, FL. Held on the last Friday of every month, this exciting gathering brings together locals and visitors to celebrate the vibrant spirit of this beachside community.
Stroll along the picturesque boardwalk of John's Pass Village as it comes alive with the sounds of live music and the tantalizing aromas of local cuisine. Indulge in mouthwatering seafood delicacies caught fresh from the nearby Gulf waters or savor a variety of delectable international flavors offered by the village's diverse eateries.
Immerse yourself in a vibrant marketplace, where talented artisans showcase their unique creations, from handcrafted jewelry to stunning artwork. Discover hidden gems and one-of-a-kind souvenirs that capture the essence of this coastal paradise.
Entertainment abounds as talented musicians take the stage, filling the air with melodies that create an irresistible atmosphere of celebration. Marvel at captivating street performances and breathtaking fire shows that add an extra spark to the night.
Whether you're looking to connect with the local community, enjoy live music, indulge in delicious food, or find that perfect memento to take home, John's Pass Final Friday Event offers an unforgettable experience. Join us for a night of fun, flavor, and festivities, and let the magic of this beachfront destination sweep you away.
Join us for the Final Friday Pirate Pub Crawl in John's Pass Village! Participation will include drink and business specials at participating locations throughout John's Pass Village! There will be live music and drink specials throughout the pass plus live music on the stage at the Bell Tower from 6-9pm to cap off the night!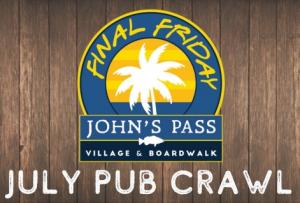 Hubbard's Marina – 10% off in gift shop during Final Friday & FREE Crawfish Boil
Sculley's – BOGO drinks with the purchase of any food item.
Caddy's – BOGO Tito's cocktails at Caddy's John's Pass.
Big Dicks Salty Seaman –  15% Off during Final Friday
House of Sweets –  10% Off ALL Bulk Candy during Final Friday
eWatersportz – 10% off retail purchases or rental booked during Final Friday.
Sunshine Scenic Tours- 10% off gift cards purchased during Final Friday.
Delosa's Pizza – $5 Mezcal Mules
Tipsy Tiki and Florida Tiki Tours – $4 – Island Lager, $4 Michelob Ultra Drafts, $3 Fire Shots, $5 Frozen Margaritas, Pina Coladas, Daiquiris

Bamboo Beach Bar & Grill – 10% off Domestic draft beer, domestic bottle beer, house wine, and well liquor
The fundraising goal for Final Friday and other events hosted in John's Pass by the Friends of Madeira Beach Parks and Recreation, is the renovation of the John's Pass Bell Tower. Whether it be a Fishing Tournament, Christmas Tree Lighting, Easter Church Service, or just a rainy day, the Bell Tower has long been a gathering place within John's Pass. With that in mind, the Friends of Parks and Recreation are aiming to raise the funds to enlarge the foot print of the Bell Tower and create more opportunities for it to be utilized.