Snook fishing is going well inshore right now we're seeing a lot of snook back in the passes and around the beaches. The snook are also very active in the Back Bay too, we're seeing a lot of them around mangrove shorelines grass flats and multiple different areas. Snook are feeding well on a variety of different baits from shrimp to white bait to artificial lures anything and everything in between. We're finding snook on the beaches during the day and the passes heavily at night. During the day they go to deeper water in the pass or hang out on the beach. In the back bays we see them around the dock lights and bridge lights and at night and during the day around the grass flats shorelines mangrove islands and even the oyster bars. 
Redfish action is going well too. We're seeing red fish caught pretty frequently now along the Johns pass jetty using large live shrimp or pin fish. We're also seeing some red fish out on the beaches and plenty around the mangrove shorelines of John's pass and those islands. I love to fish the back side or down tide side of the mangrove islands inside John's pass especially the edges or corners for redfish this time of year. We're finding the red fish on artificial lures like soft plastics with a lighter jig head are always a good option for the red fish.
Trout are super active around the area. We're seeing trout pretty heavily at night around the dock lights and bridge lights and then during the day around the flats and mangrove islands. Trout love to find little areas to ambush passing baits. Look for them around the dock lights or bridge lights trying to ambush baits on the edges of the light. We also see them hiding in the potholes of grass flats or around the edges to ambush passing bait as it gets pulled over the flat from the current. Trout typically move a little deeper as water warms; we're seeing a lot of the trout in about 3 to 4 foot of water recently.
Pompano action still going pretty good along our beaches and jetties but it has slowed a bit in the recent week. We're seeing most of those Pompano caught on the Pompano jigs but you can also get them using minimal weight alive shrimp or even the sand fleas. The issue with Pompano is they can be a little tricky as they move quickly from area to area and they generally don't stay in an area too long.
Mackerel action still going pretty well in the inshore waters too mostly along our beaches around our passes in the mouth of Tampa Bay. Around the Johns pass jetty you're able to pull a few macro especially those mornings when the bait gets a little closer to the mouth of the past. Using fast moving flashy lures like a casting spoon with weight or a gotcha plug is a great way to target the mackerel.
Tarpon are starting to show up. Tarpon are generally concentrating around the bridge pass and immediate beaches adjacent to John's pass. It's still pretty early but we've already seen decent numbers of these Tarpon moving through the pass and hanging around the bridge in early morning. Most folks target them with medium to small lady fish or the larger flare hawk style lures or the larger soft plastics or swim baits. Most of the time it's one of those things where you hook and let him run get a few jumps and generally get broke off unless you have a boat to chase them or set up outside of the pass and target them once they move away from structures in the past.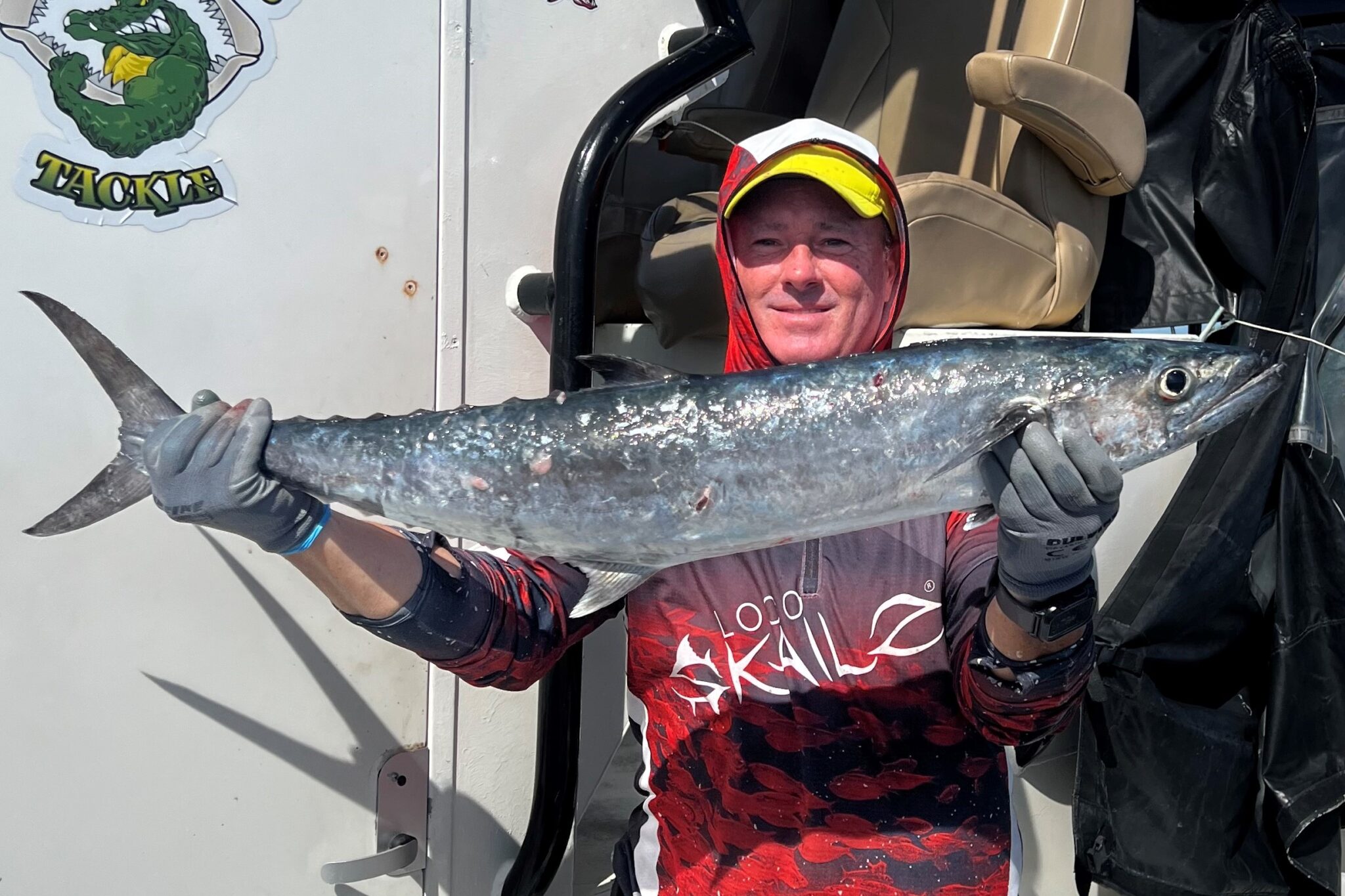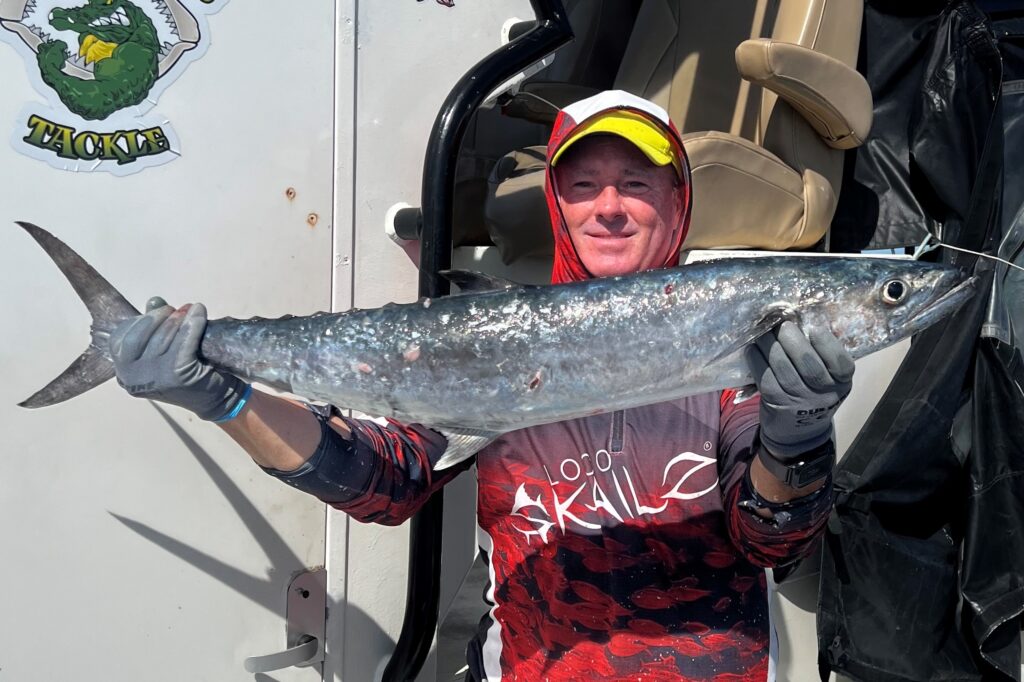 Kingfish action is still going on near shore. We're still seeing mackerel and a few kingfish in our near shore waters from the beaches out all the way through the near shore waters. Mackerel are mostly from the beach to about 80 to 100 foot and kingfish can vary from the beach all the way through the near shore waters. However; numbers are definitely dwindled we never really saw a super concentrated mackerel or kingfish bite during this spring run. And it seems with water temperatures approaching the upper 70s that we might already be on the backside of the window where we would see a more concentrated run of mackerel and kingfish. So get out on the water and take advantage why they are still here to catch your mackerel and potentially a kingfish before they disappear until fall. We generally have some mackerel that hang around all year through the summer but kingfish dissipate and disappear especially in near shore waters offshore you might still catch a kingfish in the summer time depending on water temperatures and water currents but for the most part they become impossible near shore in the summer.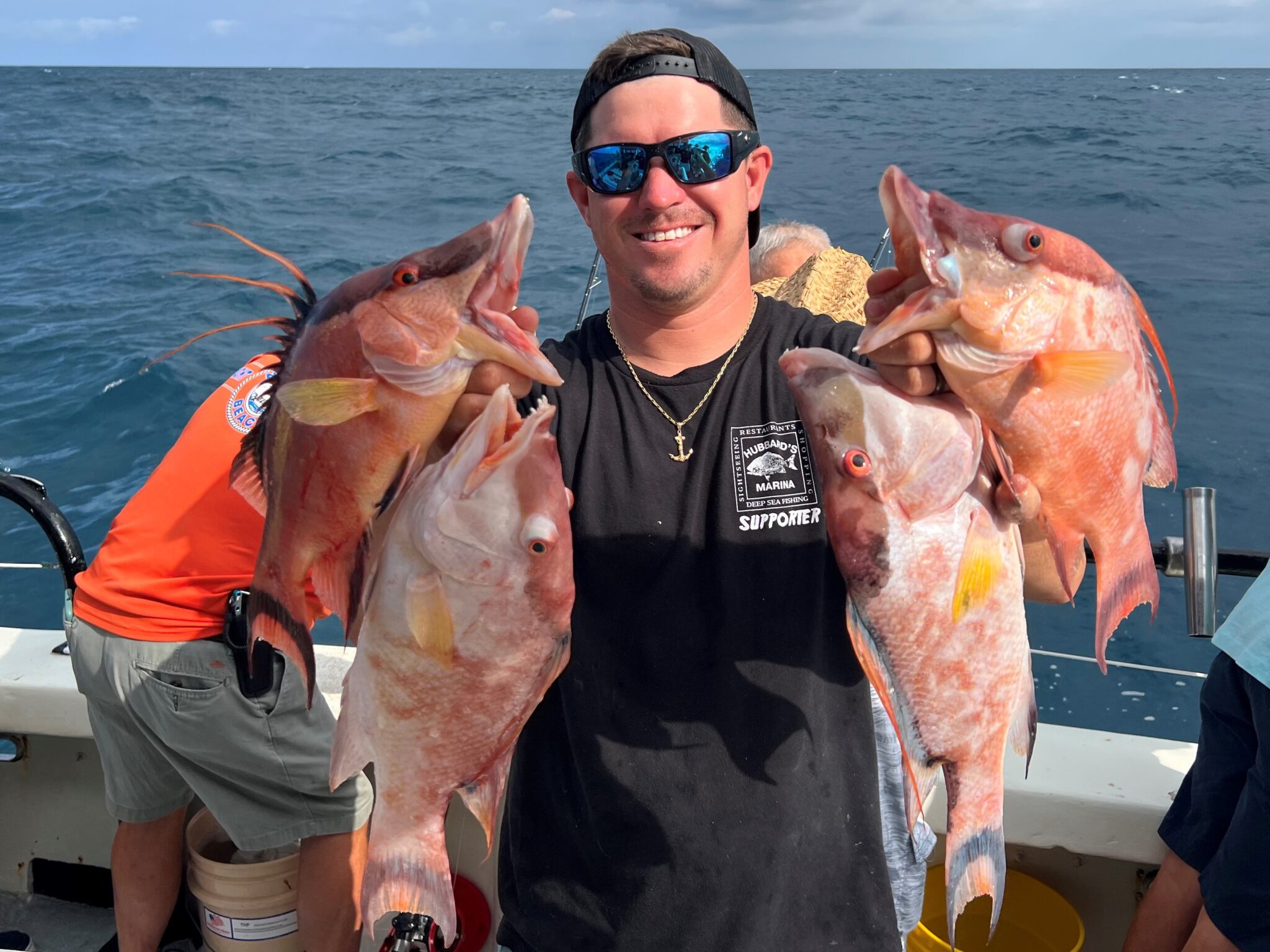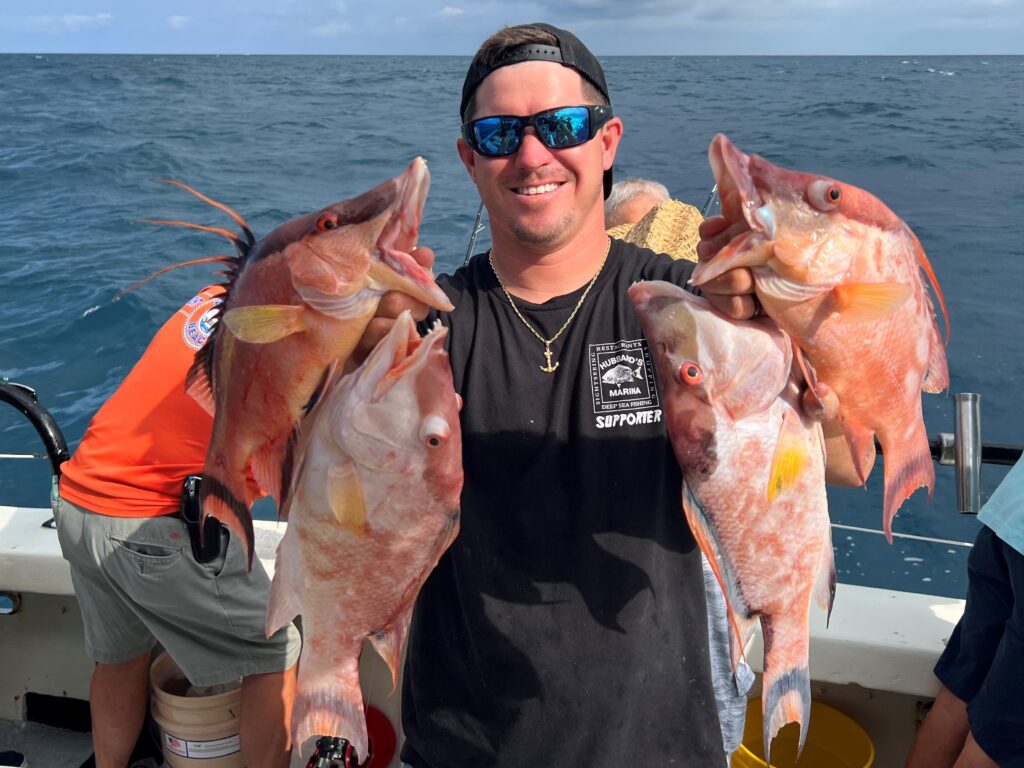 Hogfish action is still going decently near shore but has definitely slowed down from the cooler months but we're still seeing a handful of hog fish here and there especially on those near shore private fishing charters and the 10 hour all day. Hogfish love lighter tackle and live shrimp. We generally find the hogfish using 30 pound fluorocarbon maybe 40 pound fluorocarbon and anywhere from a three ought to four OTT hook. Around minimal weight typically one to two ounce egg sinkers rig knocker rig style with four to five red beads between the weight and the hook is a good method to utilize while targeting hogfish.
Lane snapper action has been going extremely well near shore lately where we're seeing plentiful lane snapper anywhere from about 40 to 60 foot and beyond. Lane snapper will bite a variety of different baits from shrimp to cut threadfin even squid. Lane snapper are generally pretty aggressive and in decent concentrations too. Their spatial expansion has been exponential throughout our near shore waters seeing them as shallow as 30 to 40 foot catching them well into the offshore waters too. And we also see them more frequently almost year round. I was talking to an Alabama representative at a golf council meeting yesterday and he stated they're now seeing lane snapper almost every day out of Alabama which historically they would see one or two a month if that. So not only have they expanded spatially here into shallower and also deeper waters they've also expanded their geographic range north and further South.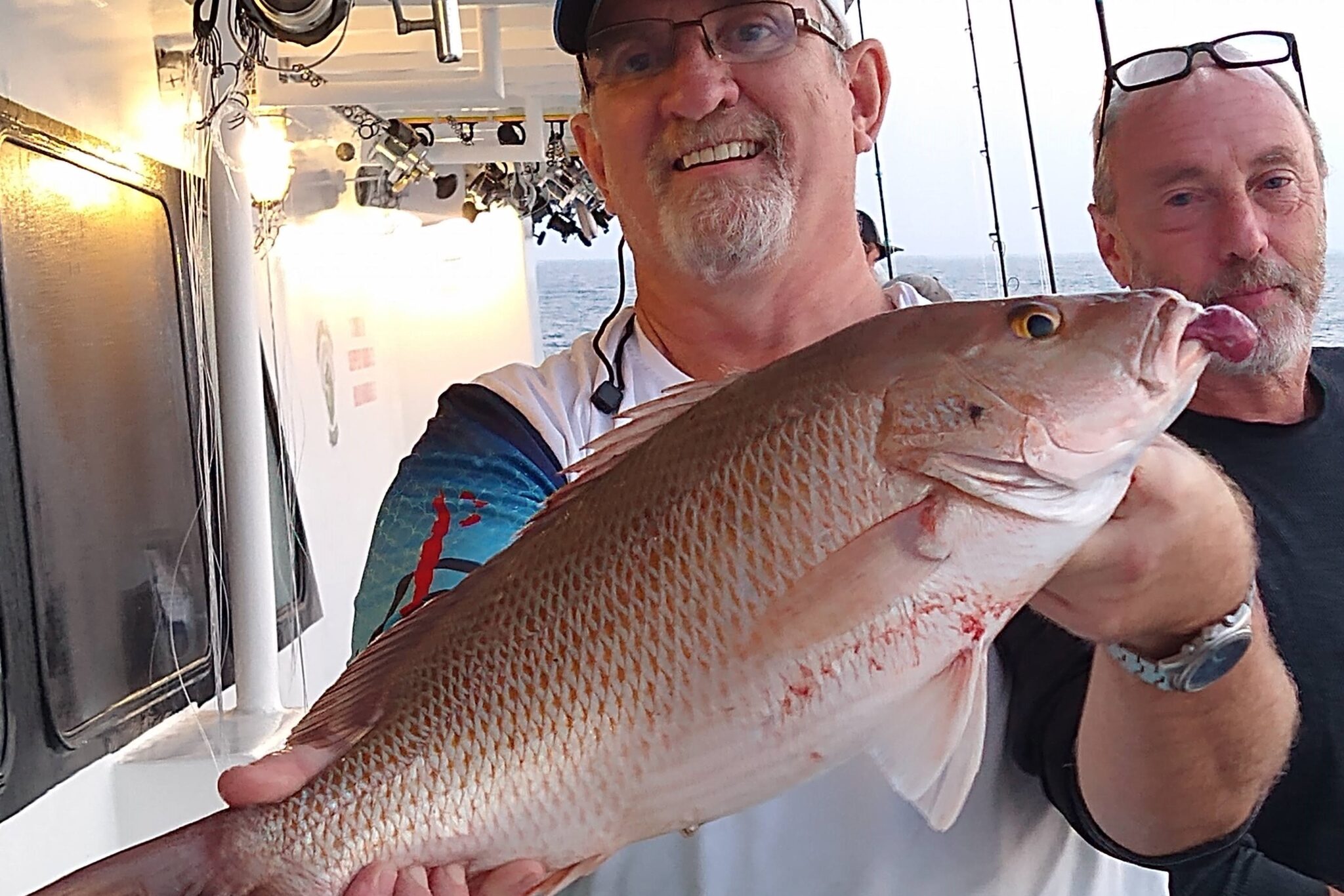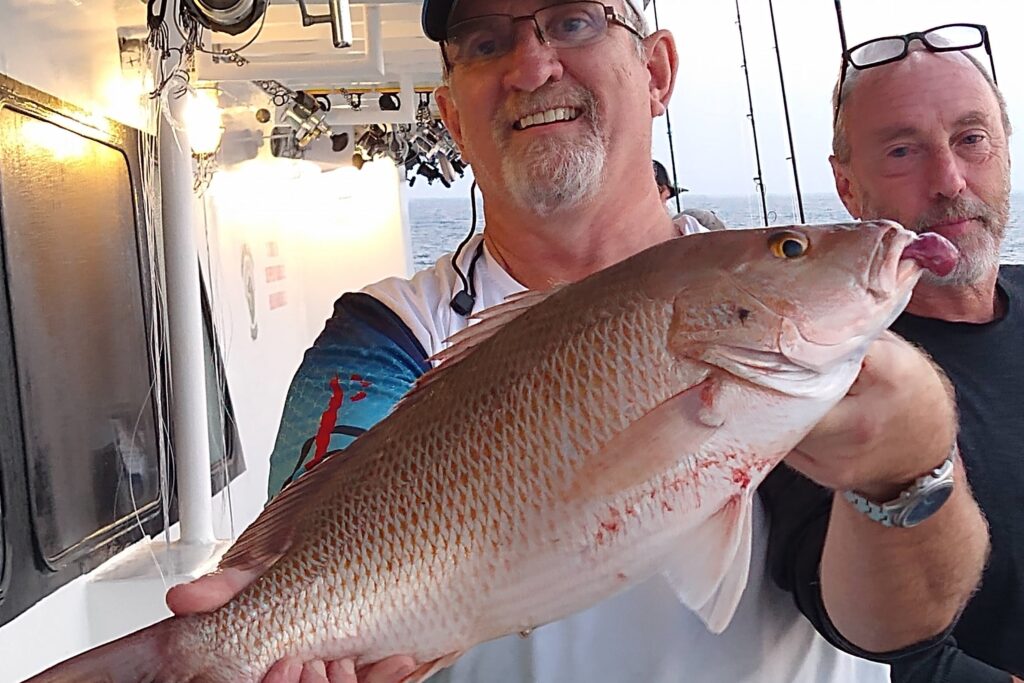 Mangrove snapper action is going pretty well near shore we're seeing a handful of mangrove snapper especially as we move into deeper offshore waters. Mangrove snapper typically start about 60 to 80 foot and then extend into offshore waters. We do catch mangrove snapper inshore but generally they swim offshore as they get bigger. Typically about age 0 through about a 12 inch mangrove snapper will stay in shore and then around 12 inches they swim to near shore waters and as they get bigger they swim deeper and deeper. Generally we start to see concentrations of mangrove snapper in the deeper near shore waters. We typically target them near shore with either live shrimp or small pieces of cut threadfin on small double snell rigs.As we get deeper the double snow rig gets bigger and the cut piece of threadfin that we use on that double snow rig also gets bigger.
Red grouper action is going decently as well near shore. Mostly in the deepest near shore waters we're able to find some pretty nice red grouper especially on those private charters that give us the flexibility to target smaller potholes and ledges. We aren't seeing a ton of red grouper on the 10 hour trip generally missing areas where we can find them or finding a lot of the smaller throwback red grouper. The private charters are the areas where we're seeing more keeper red grouper. Live pin fish whole threadfin with the tail cut and large strips of squid are good options for red grouper.
Red grouper action is going very well offshore as we are seeing some big red grouper as we get deeper offshore closer to 150 to 200 foot. Fatter red grouper are more common and more prolific in deeper depths. We're also seeing some solid scamp grouper mixed in with the red grouper as we approach that 200 foot mark. A lot of our long range offshore trips that have been fishing around 200 ft of water have been having great success with fat red grouper and a handful of really nice scamp grouper too. Big baits are working well specifically big dead baits as water continues to warm dead baits continue to be a great option. Cut pieces of Bonita whole thread fins with the tail cuts and even double thread fins dropped extra slowly are great options for grouper and deep water. You can use live bait like pinfish grunts and other options too. However generally, especially for red grouper deadbeat is a great option.
Big triggerfish are also something we're seeing more and more commonly in our long range trips because once we fish deeper we see bigger trigger fish and they're generally keeper size (which has to be 15 inches to the fork) and that's a massive 18inch fish. Triggerfish are one of those unique fish that it's kind of hard to target but we generally see them most commonly on a smaller strip of squid. But you can catch them using threadfin while targeting mangrove snapper and other smaller baits. Trigger fish have smaller mouths so we generally see them caught on smaller pieces of bait and small to medium hooks.
Mangrove snapper action is going extremely well in deep water, we're seeing big mangrove snapper as we get out there past 150 foot and as we approach 200 they get even bigger. Using exclusively double snell rigs and cut threadfin and deep water from mangrove snapper unless you're one of those slow pitch jig fishermen who knows what they're doing.
Yellow tail snapper have actually been pretty prolific lately too and we should see that continue to increase as water warms and we get into the summer time. We're seeing a few nice mutton snapper as well especially out there in deeper water. African Pompano have been around too so you just never know what you might catch when fishing offshore in deeper water this time of year.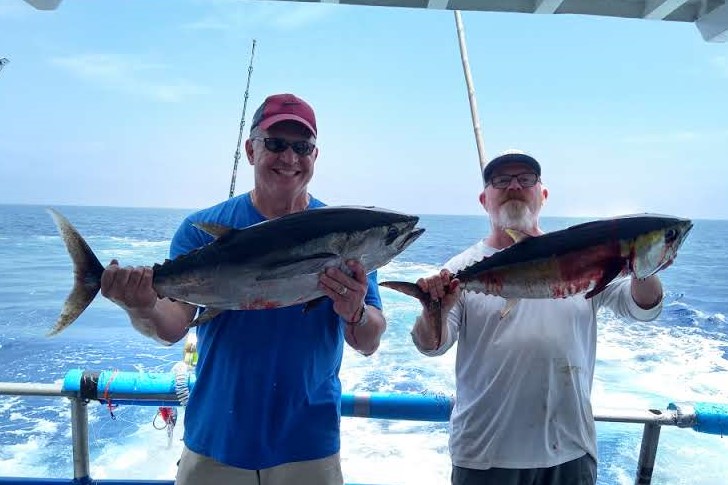 Pelagic wise we're seeing a few nice big blackfin tuna lately and we're hoping to see that continue for a few more weeks once water really warms up generally the blackfin tuna subside and our chance of mahi-mahi increases. However for now we've seen almost exclusively blackfin tuna and a few kingfish lately.