Inshore- Snook season is officially open on the gulf coast! This means it's time to ensure you have your snook stamp on your fishing license, brush up on your snook handling skills and get after some slot sized line siders. This area requires a minimum length of 28 inches and a maximum size of no more than 33 inches. If you catch a snook under or above those lengths be sure to handle him as less as possible, remove the hook quickly with as little injury to the fish as possible, and make sure if you have to grab him you get your hands wet first. You never want to hold a large snook by its jaw or vertically as holding him by its jaw could potentially break his jaw and holding him vertically has the potential to mess up his internal organs not allowing him to survive to breed. Mishandling any fish you don't plan to eat is not cool, so know before you go and tight lines!
Near shore- This nice tropical depression turned tropical storm and potentially turning hurricane in the gulf will really help our near shore and offshore fisheries. These large storms not only dump a bunch of cool rainwater onto the gulf helping to lower the gulf temps, it also stirs up the eco system breaking up areas of potential red tide, gets the water moving, and stirs the bottom releasing more nutrients. This also encourages the fish to move. Following the period of heavy rain and wind a few weeks ago the red grouper moved closer to shore with more moderate temps. We're hoping this nice tropical system will bring them into the 80-110 foot range where they should have been all summer. Also, this should help congregate the smaller species like mangroves, grey snapper, porgies, and many others to the larger near shore structures. Even the artificial marked reefs and wrecks that people hit all the time will be holding large numbers of quality fish behind this type of system rolling through.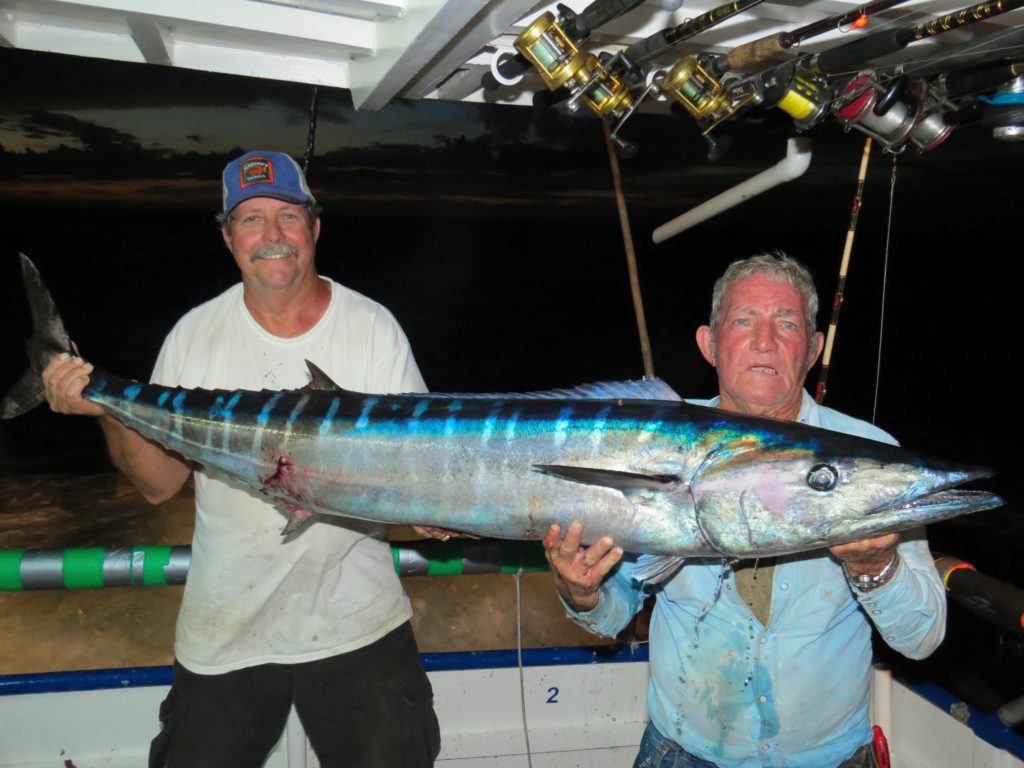 Offshore- We cannot wait until we get offshore again at Hubbard's Marina. As mentioned in the near shore fishing report, this weather will help get the fish moving and congregating on the larger structure. This holds so true offshore, after hurricane Elena in 1986, we had a long range fishing trip leave right after and my father and uncle still to this day talk about this trip as the best grouper fishing they have ever witnessed in the Gulf of Mexico, this is why we wanted to try and make today's 39 hour happen. However, the storm slowed down and the weather would not allow it. This area offshore area should be ripe with monster fish like big plentiful and hungry gag grouper, big snapper, and many other fish that will be hungry after not feeding for a few days during the peak of this storm. Besides the middle grounds any of the big ledges, nice springs, or rock piles will be holding plentiful aggressive fish. The fishing for pelagics offshore before this front was stellar we hope it continues after the storm as well. The big wahoo, sailfish, kingfish, and the cobia were around fairly thick. Many of our charters and even party boats were running across these species of pelagics. Check out our latest videos on Facebook as we have been doing video updates after each long range trip returns: https://www.facebook.com/hubbardsmarina/videos
Want to read the past reports? Check out this link: https://www.hubbardsmarina.com/hubbards-marina-fishing-reports/
Captain Jack's dolphin corner
Manatee activity heavy at Egmont key lately this allows us to spot these beautiful marine mammals on the way too and from the beautiful Egmont Key island. If you would like to try a ride out to this pristine island paradise, check out this link: https://www.hubbardsmarina.com/egmont-key-ferry-cruise/
Besides the manatees being spotted frequently on the way to and from Egmont Key, were also often spotting loggerhead sea turtles as well since its sea turtle nesting season currently.
Another bonus to our Egmont key ferry trips lately has been the new born baby dolphin that has been hanging around the island. This means on the way to the island to do great shelling, exploring, swimming and even snorkeling you have a great opportunity to spot baby dolphins, manatees and even sea turtles! Come join us for a day of fun in the sun at Egmont Key Island.
On our dolphin watching nature cruise and eco tour through the beautiful back bay waters of Boca Ceiga bay we always spot dolphins, it's actually guaranteed. However, lately we've been spotting a newly born baby dolphin. It's late in the season for new born dolphins but this is a great bonus to this already enjoyable cruise for you and the family. To learn more about the cruise check out this link: https://www.hubbardsmarina.com/dolphin-watching-cruises/
The seabirds on Dog leg key, our local rookery, is a great part of our dolphin watching nature cruise and eco tour from Hubbard's Marina. The seabirds recently gave birth to a large brood of baby birds. These birds are now juvenile seabirds and are starting to leave the nest for local hunting practice. It's a great sight for our guests to see as a part of the dolphin cruise, hope you get to join us soon to see these young birds in action.
Local dolphins have started hunting along the seawalls more and more as the mullet run slowly starts up and the sheepshead return to our local seawalls. This is a beautiful sight especially when the dolphins catch a fish to play with their young. They play catch with these fish teaching their young how to hunt by throwing them the fish to practice their sonar location techniques.
Want to learn more about dolphins? Hubbard's Marina now has a great dolphin facts series on our YouTube channel to check out to see them all watch our dolphin playlist here: https://goo.gl/2mYjX2
Also, new to Hubbard's Marina we are now renting Schiller water bikes. These are unique bicycles that are much like a racing bike's frame set on top of pontoons that allow a very stable, safe, and fun way to enjoy the water and have some fun in the sun. Plus, it's a great aerobic exercise as well! The new water bikes are only $20 for a half hour and $35 for a full hour rental. If you want to see Captain Mark Hubbard trying one out check out this link: https://goo.gl/TZbcXE
Did you know that Hubbard's Marina now offers a Paddleboard fitness class? We are working with Sea Strength to put together these unique classes. They are Saturday and Sunday mornings for now at the Johns Pass sandbar. You can meet your trainer at the Hubbard's Marina beach behind our shop before paddling to the sandbar for a unique fitness class with your knowledgeable instructor, plus it's only $20 to join! Check out Sea Strength on Instagram or Facebook to learn more about these unique classes! Here's the link to their page: https://www.facebook.com/SeaStrength
Nothing beats a relaxing cruise through the back protected bay waters, join Hubbard's Marina today for a relaxing and fun dolphin watching nature cruise and eco tour inside Johns Pass Madeira beach. We guarantee dolphin sightings, plus you have a great opportunity to view million dollar homes, bird nesting island, and even a commercial fishing village! These cruises are fun for the whole family and offer great way to view our local wildlife up close and in their natural habitat, to see more about the cruises check out this video: https://goo.gl/T7Fvgm
Upcoming up at Hubbard's Marina
Want to join Hubbard's Marina for some fishing seminar fun? Next Bass pro shops seminar is being held September 10th at 1pm discussing Offshore fishing basics. Plus, we will always answer questions that the fans have and tailor our seminar to what you guys want to hear. Also, we always give away a FREE 10 hour fishing trip to one lucky fan in attendance. For more information, check them out on Facebook and give them a LIKE from all of us at Hubbard's Marina: https://www.facebook.com/BassProShopsBrandonFL
The NEW schedule is HERE! Check out the schedule at this link below and let's get you all set up for some fishing fun! We have Flying HUB 2 twelve hour day trips to the 39 hour area while the 39hr fishing boat is in dry dock. Also during dry dock the HUB is running 10hr all day trips. Plus, we added the 39 and 44 hour trips in to the end of the year when the Florida returns from dry dock. These trips will fill up fast, make sure to reserve your spot asap! Keep in mind you can book online under the reservations tab instead of waiting to talk with us on the phone. Here's the schedule link: https://www.hubbardsmarina.com/specialty-fishing-trip-schedule/
The Flying HUB 2 has some special 12 hour trips during the Dry dock period for the Florida. We will offer these special 12 hours Wednesday and Saturday at $250 they will run out to the 39 hour fishing areas like the middle grounds and elbow for 6-8 hours fishing time in 120-250 foot of water. This boat will get you 60-100 miles in two hours or less even with the 12 people we plan to take out with us, for more info check out the specialty trip schedule they start September 10th and end November 2nd!
The HUB our other private charter vessel will be offering 10 hour all day trips Tuesday, Thursday and Sundays while the Florida is in Dry dock as well. This means you get a shot to fish the HUB for only $90 per angler, what a deal! These HUB all days will be set up the same as the party boat all days but you will be able to get out there faster on a more quite boat plus you will only be fishing with up to 12 guys. The special HUB trips start September 6th until November 3rd.
To book trips on our site, check out this link: https://www.hubbardsmarina.com/reservations/
Want to stay up to date with the latest catches, reports and more from Hubbard's Marina? Follow the new live video segments that Hubbard's Marina is posting daily to Facebook! Also, more Instagram photos and videos are popping up too! Plus, were on the FishBrain app now too and they were nice enough to add Hubbard's Marina as a fishing location so now on your future trips you can upload your catch to our location. If you have questions or want more info about all this message Dylan Hubbard on the Hubbard's Marina Facebook page or shoot him an email: info@HubbardsMarina.com
Regular's club
If you are interested in learning more about our loyalty program called the regular's club, please email Dylan Hubbard. He can tell you more about this great program to make fishing more affordable if you plan to fish more than 5, 10 or 15 times a year with us at Hubbard's Marina. Plus, you get other great benefits to all to thank you for being a valued guest. However, at Hubbard's Marina everyone who walks in our doors are valuable to us, but the regular's club is a great way to become more familiar with us and be able to come even more often than before.
Dylan Hubbard
Vice president and Regular's club manager Hubbard's Marina
(727)393-1947 ext 306