Fishing report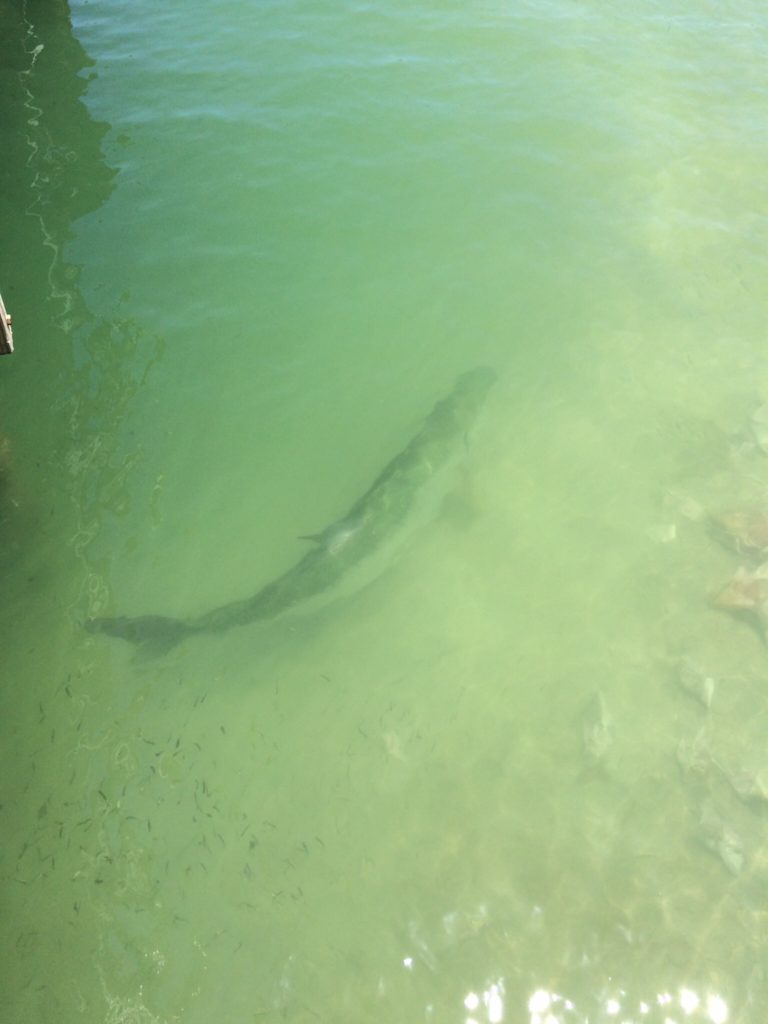 Inshore– The tarpon have been hanging out inside Johns Pass often as of late. They can be spotted hanging in the dock lights around the pass at night and rolling inside the pass during the day. Many are catching them from the jetty using live ladyfish. The snook bite has been hot inside Johns Pass lately as well, most are being caught on live pigfish around the Docks. Steven Cantrell, from St. Pete, caught a handful of monster snook under the Hubbard's Marina main dock free lining live pigfish and pinfish. The flounder have been biting well inside the pass. This past week we had a kayak guided fishing trips that hauled in nice flounder and trout along the grass flats inside Johns Pass. The live bait is still hanging around the pass as well and the water has been super clear on incoming tides.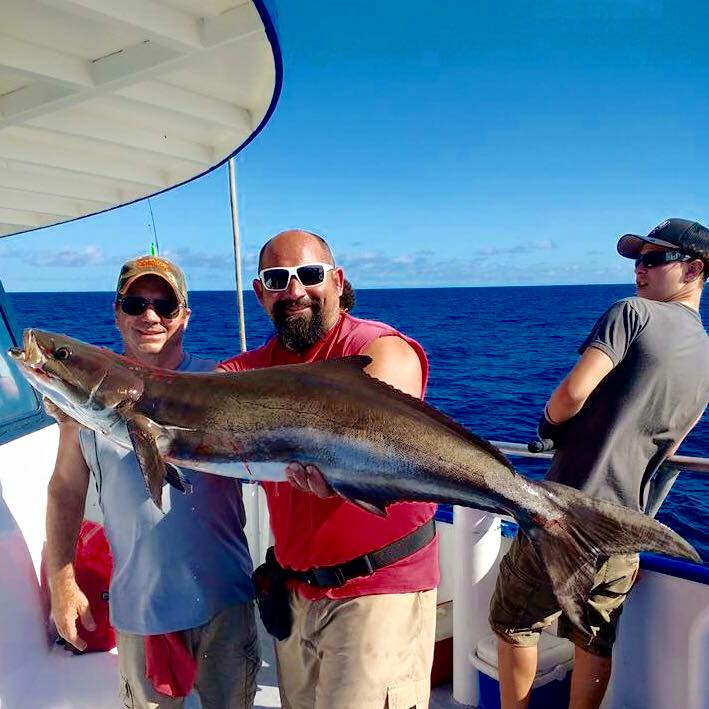 Near shore– Triple tail and cobia are out in the nearshore waters in Force! Frankie Henry caught a monster cobia flat lining a medium pinfish from our 10 hour all day at Hubbard's Marina. We also caught two other big ones but unfortunately they popped off the hook before we could gaff them successfully. They grey snapper, seabass and porgies have been steady but the red grouper and hogfish have been tough due to the super-hot waters. We're finding the deeper nearshore waters are more productive for these species because it's not quite as hot out there in deeper waters.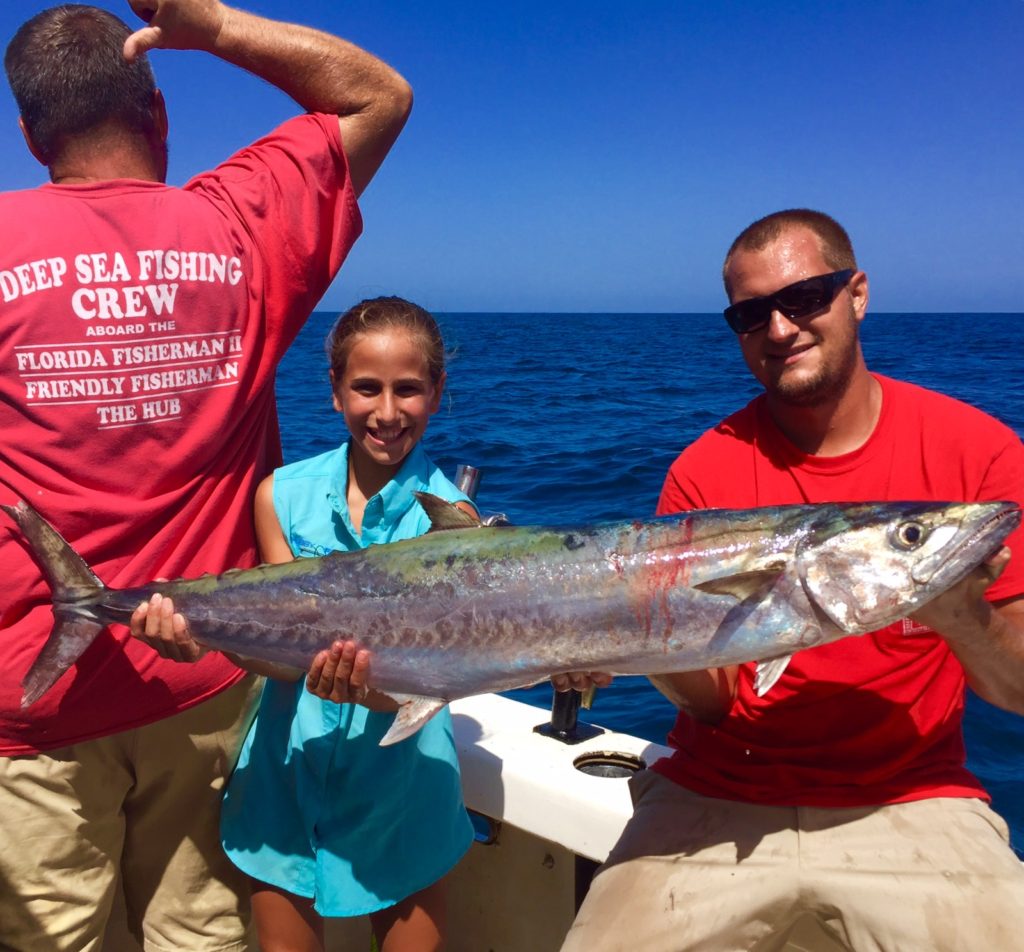 Offshore– Our most recent long range trip was a 44 hour full moon trip this past weekend. Due to it leaving earlier in the day for a longer night bite we get more trolling time during the day. This helped us catch some truly monster kingfish on the troll out. We lost some big smokers but while flat lining we were able to hook nearly a 60lb true monster kingfish. The mangrove bite was solid all night long with big mangroves coming up all night long. Most experienced anglers were limited out or nearly limited out by day break. The daytime brought a surprisingly steady mangrove snapper pick along with some thick red grouper. The gag grouper bite wasn't on fire like it's been the last few weeks but we still got some big gags. The kingfish bite sparked up again just before sunset allowing us to haul in even more of these monster smokers. Overall, it was a great trip with nice grouper, snapper, porgies, and big kingfish caught too! Check out our latest videos on Facebook as we have been doing video updates after each long range trip returns: https://www.facebook.com/hubbardsmarina/videos
Want to read the past reports? Check out this link: https://www.hubbardsmarina.com/hubbards-marina-fishing-reports/
Captain Jack's dolphin corner
This past week unfortunately Egmont key caught fire due to a lightning strike! This fire burned up a fairly large section of the northern tip of the island. However, this could be considered somewhat positive as they needed a burn on the island to clear out some of the thicker underbrush. Luckily this didn't occur during nesting season so the wildlife impact wasn't as great as it could have been. The department of environmental protection is evaluating the damage now and the island should reopen by the time you read this email. While the island was closed we ferried our guests over to shell key instead of Egmont key during this brief closure of the island while the fire burned out.
The manatees are still being spotted often around Johns Pass and Boca Ceiga bay, join Hubbard's Marina for a dolphin watching nature cruise and eco tour for a chance to spot these beautiful creatures with us on a relaxing cruise through the back protected bay waters.
If you'd rather sneak up on the local wildlife while staying close to the water and really getting to enjoy the area at your own pace, check out the Hubbard's Marina Kayaks or paddleboards. These allow you to see the sea in your own unique ways! We will point out the bird nesting islands, the mangroves, and the grass beds you can explore and view from your very own watercraft. For more information and a helpful video, check out our rentals page: https://www.hubbardsmarina.com/hubbards-marina-rental-information/
The dolphins around Boca Ceiga bay have been playful lately, the baby dolphins are now socializing in the larger groups and enjoying jumping in the wakes, and playing catch with their food! If you would like to see the dolphins up close and personal check out the Hubbard's Marina dolphin watching nature cruise and eco tour: https://www.hubbardsmarina.com/dolphin-watching-cruises/
If you love to shell, explore, and enjoy a day at the island? Join us for some shelling fun on Egmont key or Shell key! We run daily ferry rides out to Egmont key via the fort de soto ferry ride. If you don't want to drive to fort de soto, or can't make it that far come to Hubbard's Marina for our special 3 hour shelling trip to shell key island! Either trip offers great shelling, exploring, beautiful views, and tons of swimming options! Here's the cruise options we offer at Hubbard's Marina, we recommend you try them all! https://www.hubbardsmarina.com/sunset-dolphin-cruises-gulf-beaches-florida/
The weather has been perfect lately for our snorkeling excursion while on the island paradise at Egmont key! The snorkeling trip happens around mid-day and anyone who rode our ferry to the island is welcome to hop on board for only $15. Once on the trip to the snorkeling area we take you 150 or so yards from the initial drop off point to snorkel in 10-15 foot of water 50 or so yards from the beach. If you need to rent gear its only $5 or your welcome to bring your own gear. We snorkel on the ruins of Fort Dade that have been washed to sea by island erosion. This is great fun for any confident swimmers, and for more info check out this link: https://www.hubbardsmarina.com/snorkeling-tours-tampabay/
Upcoming up at Hubbard's Marina
We have some bad news to announce, unfortunately NOAA's national marine fisheries has announced with very little notice that amberjack will NOT be reopening August first as they had promised and planned for. This means Jacks will not be open for harvest until January 2017. This is very sad news, but luckily grouper and snapper are still open and there's plenty of fish to be caught out there still despite Jacks being closed down. Keep in mind that we have no control over these closures we just have to adjust to them as we are told. Due to the closure we have canceled the August 2nd 39 hour and changed the 12 hours on August 2nd and August 4th to 10 hours for grouper and snapper. Please, get involved and stand up for your rights to fish by joining the Fishing rights alliance (FRA) or the Coastal conservation association of Florida (CCA).
Saturday August 6th the City of Madeira beach is holding a special Kid's fishing event put on by Angler Armory. Hubbard's Marina will have a booth set up for this event, plus we will be doing kid's fishing seminars at the event as well. Every kid who attends will be entered into a drawing and they will be raffling off great prizes including Hubbard's Marina 5 or 10 hour fishing trips! Plus, there will be a kid's fishing tournament held that day as well from the seawall of the Madeira beach rec center. This special kid's fishing event will be from 8am until 4pm Saturday August 6th we hope to see you there!
Hubbard's Marina has more upcoming Bass Pro shops seminars on July 31st at 2pm discussing offshore fishing techniques. Also we have a second seminar August 28th at 1pm discussing Offshore fishing basics. Plus, we will always answer questions that the fans have and tailor our seminar to what you guys want to hear. Also, we always give away a FREE 10 hour fishing trip to one lucky fan in attendance. For more information, check them out on Facebook and give them a LIKE from all of us at Hubbard's Marina: https://www.facebook.com/BassProShopsBrandonFL
The newest vessel to our fleet is the Flying HUB 2 this boat is a foil assisted catamaran that is forty four feet in length built by Metal shark boats out of Louisiana. This vessel will mainly focus on long range fishing trips with larger groups just like the Flying HUB 1 takes small groups out for extreme deep water fishing trips. The Flying HUB fleet is a great choice for middle grounds, elbow, 40 fathom break or even deep drop fishing!  Check out this video to see more about this new fishing machine: https://goo.gl/jP5hly
There's not too many 39 hour trips left this year before the big boat goes into dry dock for some major upgrades and a full makeover! We have more coming up August 5th and August 9th and plenty more throughout August. To see a full list of our specialty trips, including the 12 hour day or night, 44 hour and 63 hour trips check out the specialty schedule at this link: https://www.hubbardsmarina.com/specialty-fishing-trip-schedule/
Want to stay up to date with the latest catches, reports and more from Hubbard's Marina? Follow the new live video segments that Hubbard's Marina is posting daily to Facebook! Also, more Instagram photos and videos are popping up too! Plus, were on the FishBrain app now too and they were nice enough to add Hubbard's Marina as a fishing location so now on your future trips you can upload your catch to our location. If you have questions or want more info about all this message Dylan Hubbard on the Hubbard's Marina Facebook page or shoot him an email: info@HubbardsMarina.com
Regular's club
Regular's club signups are coming to an end. If you fish more than 5, 10, 15 times a year or know someone who does let's talk about getting you or your friends into the club before we close the ranks until 2017 club signups. Typically we do this around May each year so if you want to get someone signed up for discounts on the trips and other great benefits for fishing multiples times throughout the year then call Dylan Hubbard or email him today!
Dylan Hubbard
Vice president and Regular's club manager Hubbard's Marina
(727)393-1947 ext 306
To View Coupon Click Here: COUPON