Fishing report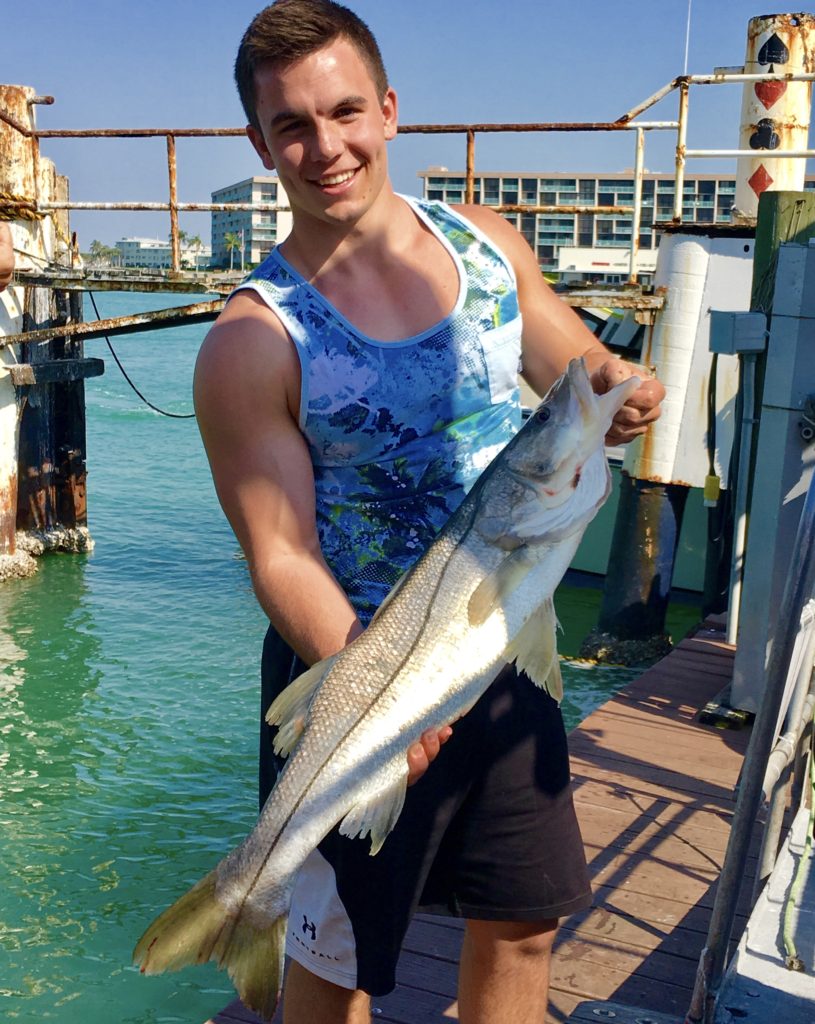 Inshore– Snook fishing is really turning on for us inside Johns Pass. This weather is finally pushing the snook out of the back country onto the beaches and as they move out were hooking and catching plenty inside the passes. Live bait is moving into the area as well which is further exciting the snook. Just this past week Jesse Rainamen and his son were fishing the beach behind the marina catching plenty of nice snook on live shrimp and flair hawk jigs. Sheepshead are still biting well along the structure inside the pass, I like to use pieces of live shrimp, barnacles, or pieces of oysters.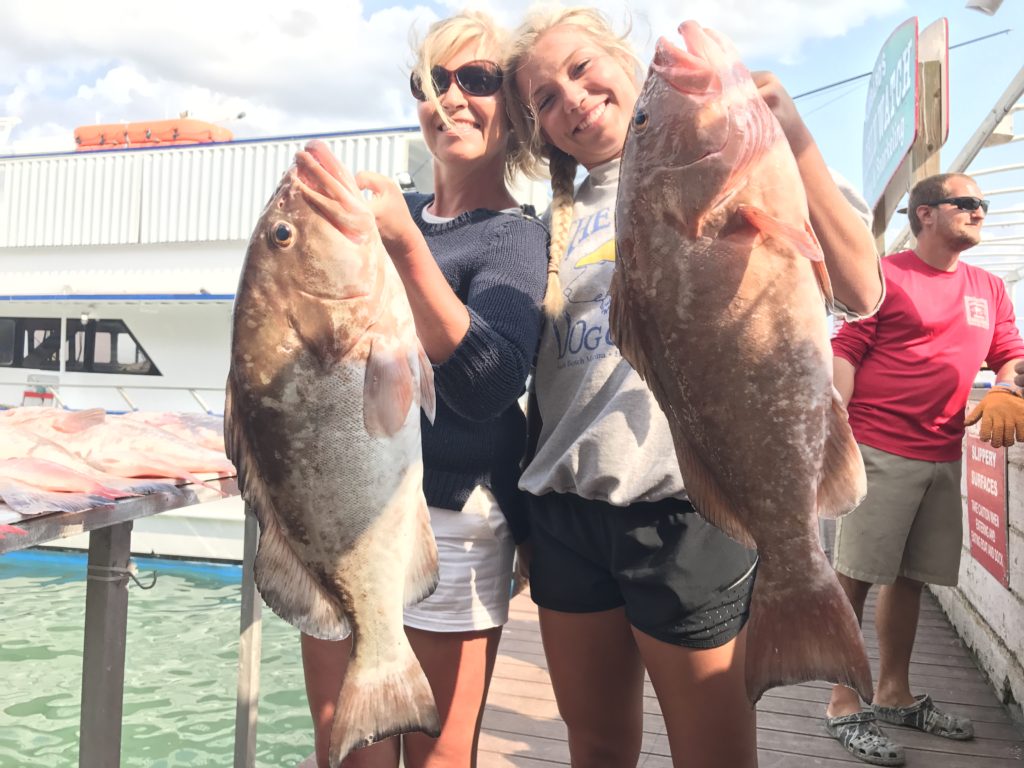 Near shore– Kingfish are getting more and more prevalent in the near shore waters, they seem to be the thickest around the entrance to Tampa bay from the skyway to the Egmont key buoy or in the 12-16 mile range. They aren't quite thick on the beaches yet as the bait is still hanging in the deeper waters for now spread out. Hogfish bite is going very well still the ten hour all day caught nearly two dozen yesterday with less than two dozen people on board. Red grouper bite is starting to move inshore a bit but they are still in the furthest nearshore waters 18-20 miles from the beaches.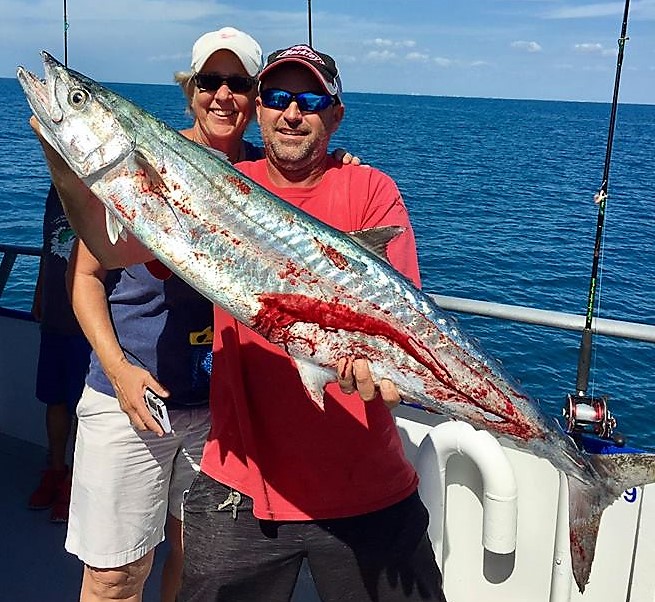 Offshore– Red grouper fishing is finally starting to pick up, and with the deep water closure ending today we now have the flexibility to keep red grouper at any depth. We're hoping to get a pile of them on the 39 hour that leaves today, check into our Facebook Sunday morning to see the results! Kingfish offshore are big and ready to fire up, chumming will get your boat surrounded! Tuna bite is trailing off a bit, but we should see the kings fill in the gap. You should really see the latest videos on Facebook as we have been doing video updates after each long range trip returns: https://www.facebook.com/hubbardsmarina/videos
Want to read the past reports? Check out this link: https://www.hubbardsmarina.com/hubbards-marina-fishing-reports/
Tampa Bay Ferry and Taxi news
Phil-Phest 2017  "A Benefit by the Beach" Ferry Stop # 5 @ Madeira Beach Rec Center/ROC Park Each spring, The Philip A. Bryant Melanoma Foundation has made the commitment to host its signature fundraising event, "Phil-Phest," in loving memory of Phil Bryant. Phil passed away September 7, 2006 from complications of melanoma, yet his memory lives on through the efforts of Foundation endeavors to educate the public on melanoma awareness. Working in conjunction with the City of Madeira Beach and local corporate vendors, the Foundation will assemble a day long family event on Saturday, April 1st, 2017 at Remember Our Children (R.O.C.) Park in Madeira Beach. Phil Phest will provide the public with free skin screening, health education, along with live entertainment, food and family fun. This past March, nearly 300 persons were screened by local physicians. Since its inaugural celebration in June of 2007, our event has continued to grow in attendance and donation revenue that provides for post-secondary scholarship funding and an annual gift to the Moffitt Cancer Institute.
Ferry Stop #9 at Gator's Café is a convenient location to board the Tampa Bay Ferry and also offers many stops though out the day. Gator's is a landmark sports bar and restaurant complex and comes fully equipped with the Gator's Saloon tasting room (FL craft beer!) and Gator's Tiki Lounge on the 2nd floor. It's a great waterside location and a great place to enjoy lunch or dinner!
Spring break has sprung, definitely a great time to utilize the water taxi and avoid the chaotic beachside traffic jams and struggle of finding and baying for beachside parking. If you park at stop number seven called Jungle Prada you can get free parking and it's easy to access from Park Street. Then you can hop on the ferry and water taxi and enjoy your ride to the beaches instead of fighting the traffic. Also, stop number four Madeira beach Municipal marina also offers free parking and that stop is well away from beach traffic on Gulf Boulevard. For more info on these stops like their address, check this link:  http://www.tampabayferry.com/madeira-beach-taxi-route/
The Water taxi now runs Wednesday until Sunday 10am until 10pm so with the newly expanded schedule it makes it much easier to utilize our ferry and water taxi by Hubbard's Marina.
Captain Jack's dolphin corner
We think there's more local baby dolphins coming to Johns Pass and surrounding areas. The main reason we think this is that were spotting our local females grouped up together with the more experience females leading the pods. This is typically a sign that one female is pregnant and the other ladies are helping her get ready to give birth. We may see newborn bottle nosed dolphins any day now around Hubbard's Marina.
Dog Leg key, our local island Rookery, has plenty of baby seabirds on the island right now. The most visible ones are the baby pelicans they are all white with brown feathers along their backs. Also, we have lots of baby egrets on the island too. The Roseate spoonbills have nested and eggs have hatched but they roost so deep in the island you won't spot their juveniles until they start leaving the nests. All this to say it's a great time to join Hubbard's Marina for a dolphin watching nature cruise and eco tour to spot all the baby birds at the nesting island.
Manatees are back in the area, were starting to see the first groups of manatees returning from the northern springs. Great to see the water has warmed enough to allow these beautiful marine mammals to return home to our Boca Ceiga bay waters. They feed in the back bays on our plentiful and healthy turtle grass beds.
Pelicans are very active right now around Johns Pass and unfortunately due to increased number of spring break anglers were spotting many pelicans wrapped up in fishing lines. Luckily our crew and captains really love our local wildlife and we are all very well trained in catching, untangling, and freeing these pelicans that are becoming wrapped in fishing line after being hooked by unsuspecting and inexperienced anglers. Whenever you hook a seabird you must reel the bird in, cut the line close to the hook then unhook the bird. You can never let the bird fly away with line then cut it, this means the bird not only has a hook in it but then has a long piece of line following behind it that will quickly tangle around the bird itself, or tangle in the branches it rests on keeping it tied down and unable to feed.
Great time of year to visit Egmont key! The weather isn't too hot quite yet, plus during spring break the Egmont key alliance has been opening the island's guard house to the public and it acts as a museum. This is a great additional value to any island visitors that want to learn more about this pristine nature preserve and historic island paradise.
The gopher tortoise population at Egmont key has been very active lately and it's great to see them all over the beautiful island. They are very populated now around Egmont key and you can spot them sunning themselves all over the island.
The local bald eagle that seems to be roosting atop a cell tower along the route of the dolphin watching nature cruise and eco tour boat here inside Johns pass is getting fat with the many mullet we have spotted him swooping up along the back bay waters.
Want to learn more about dolphins this winter? Check out the new great Johns Pass dolphin facts series on our Hubbard's Marina YouTube channel to check out to see them all watch our dolphin playlist here: https://goo.gl/2mYjX2
Upcoming up at Hubbard's Marina
Amberjack is CLOSED last Friday at midnight and won't reopen until January first 2018! This comes as a shock since they increased the limit of amberjack from 32 to 34 inches at the start of 2016 claiming this would allow us to have a 10 month season for AJ's. Well in 2016 they only ended up allowing a 5 month season, and now this year we didn't even get three months! NOAA's National Marine fisheries service has just announced that they will be closing amberjack more than seven months early with just seven days' notice. This is very disappointing, especially since they use out dated phone surveys to collect the data they use to close our gulf fisheries. Who has a home phone anymore and what offshore angler is at home to answer an automated phone survey? Not only that, but there's no oversight, checks and balances, or governing body over this government Bureaucracy that is funded by millions upon millions of dollars of fed money. Doctor Crabtree is the leader of NOAAs national marine fisheries (NMFS) and his signature is all it takes to shut down an entire fishery based on flawed data, poor science and without oversight. As anglers, if you are passionate about fishing and you want your kids to be able to enjoy offshore fishing too you must wake up and get informed, educated and involved! We recommend starting by joining the Coastal Conservation associate of Florida (CCA) or the Florida guides association (FGA) or the Fishing Rights Alliance (FRA). These groups will use your membership fees to fight for your rights to fish, plus they will keep you up to date on meetings, fishery issues, and what the NMFS next move is. Once you get informed, stay on top of things and attend meetings or at the very least submit your public comments online. Contact your congressional representatives and speak with your friends. Let's stand up, unite and fight for our rights to fish! We believe we should have an open access, public fishery for the entire Gulf of Mexico that is sustainable and managed by catch hard data and great science that can be verified and agreed upon by the majority.
Spring has sprung inside Johns Pass at Hubbard's Marina that means we are now staying open until 8pm and starting April first we will be staying open until 9pm! This also means we are running 1pm afternoon half days more frequently, plus offering our spring and summer trips again like the 3 hour shelling trip, 2pm Egmont key trips, and tons more offerings.
The Tampa bay ferry and water taxi service has expanded to 5 days a week! It's a great way to see the area and get to the beaches while avoiding traffic and beach parking chaos. For more info about the routes, stops and schedule check out this link: http://www.tampabayferry.com/madeira-beach-taxi-route/
To book trips on our site, check out this link: https://www.hubbardsmarina.com/reservations/
Want to stay up to date with the latest catches, reports and more from Hubbard's Marina? Follow the new live video segments that Hubbard's Marina is posting daily to Facebook! Also, more Instagram photos and videos are popping up too! Plus, were on the FishBrain app now too and they were nice enough to add Hubbard's Marina as a fishing location so now on your future trips you can upload your catch to our location. If you have questions or want more info about all this message Dylan Hubbard on the Hubbard's Marina Facebook page or shoot him an email: info@HubbardsMarina.com
Regular's club
Amberjack closing after just over two months of being open has us hot for fishery rights. We hope you all are ready to stand up for your rights. Stay tuned for a regular's club email calling you guys and gals to action to stand up for your rights to fish. Please read that paragraph in the beginning of the 'upcoming at Hubbard's Marina' section to get a little more briefed on the situation. We hope you all can join us in the fight for your rights to fish.
If you have not renewed yet for 2017, please do so before booking your 2017 trips and you definitely want to get it done before January first. If you do not, we will be changing you to the FREE Johns Pass club which does not give you benefits you're used to. Once in this club, you can always upgrade again to a paid club but if you book using your number while it's a FREE Johns Pass membership you will not have your discount tied properly to your trips so get renewed before you book!
Captains Mark and Dylan Hubbard
Vice president and Regular's club manager Hubbard's Marina
(727)393-1947 ext 306