Fishing report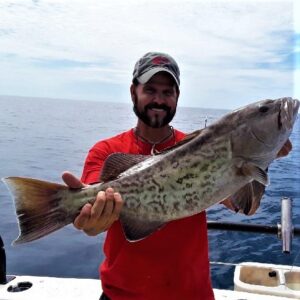 Inshore- The red tide is now around Johns Pass but hasn't scared off or killed everything. We still have large schools of bait fish from glass minnows to decent sized green backs from the sea buoy all the way through the pass. These bait schools often have mackerel, ladyfish and even Jack crevalle around them too with plenty of seabirds diving them. However, we do have some dead fish around the pass especially due to the stronger new moon tides we had this past weekend. Luckily the city and the county are very on top of the clean up and the smell isn't bad and most of the time hardly noticeable. Also, the red tide is not nearly as bad as it was for the southern west coast of Florida we are not experiencing the coughing, gagging and burning eyes that will happen when the red tide is super thick and concentrated at the moment which is quite the blessing. Also, we are still seeing snook around the docks especially in the early morning hours around sunrise hanging around the tide poles and pilings. Most of the dead fish are smaller pinfish, pigfish, eels and croakers but we are seeing some catfish, a few trout and the occasional mullet floating by too. We are hoping we get one of these tropical systems to come by and not cause any harm, damage, or flooding but enough to blow out this red tide and fish kill and break it up in the gulf. The sheepshead are still around the pass too often spotting a handful around the dock as we load and unload the boats.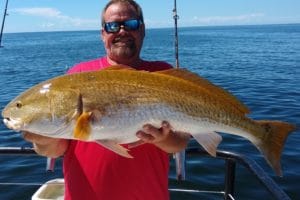 Near shore- The five-hour half day is only $27.50 right now with the half price email newsletter special we are running and were out there doing very well on the grey snapper, porgies and seabass. Plus, still tons of mackerel around the area and were catching plenty while trolling and free lining shrimp on short wire leaders with a treble hook. Also, the occasional hogfish is being caught right now near shore, but they aren't quite ready to fire up like they are as it cools off near shore. We did catch a nice keeper red grouper this past week on the half day as we are fishing a little deeper right now to avoid the dirty water and fish kill that is hugging the beach. Most of that stuff is pretty spotty along the coast and the first lump extends 2-3 miles from the beach depending on the tide then there are random blooms and dirty water patches with scattered fish kill throughout the near shore waters but there's plenty of areas where we find clean water and plentiful cooperative fish. Check out this video from this past week's half day, a guest dropped a camera and catches a nice black seabass and you can see all the hungry cooperative fish -> https://www.facebook.com/smokeyanddusty/videos/414028165790092/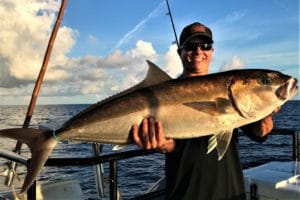 Offshore – The 12-hour extreme this past week did super well on the big scamp with over a dozen caught! We did have to battle some strong current, but we were able to catch fish through it and it slowed down through the trip allowing some nice amberjack on the vertical jigs. The red grouper cooperated for us too, and we got some nice ones on some big squid strips as well. Plus, we also got some big porgies, yellowtail and vermillion while out there fishing too. The water was super clean offshore, and we were completely past all the dirty water and fish kills that are mainly 20-25 miles from shore or less. If you are looking to go deep check out the 12 hour extreme trip aboard the Flying HUB 2 right now the boat has SUPER light loads due to a slower time of year and the misconception that red tide is out here killing all the fish while the reality is that its very mild in our area compared to past year's red tide events and its mainly right on shore.
Want to watch Capt Dylan Hubbard's Daily video reports? Check out the Hubbard's Marina YouTube channel and don't forget to SUBSCRIBE! – Hubbard's Marina daily fishing & boating report
Captain Jack's dolphin corner
The red tide is finally starting to show up around Johns Pass unfortunately but thankfully its fairly minor and seems to change from day to day. We have only a few dead fish around, some days more than others, but the city and county are really staying on top of the clean up and preventing the build up that will cause foul smells around the area. Plus, there's no serious coughing and gagging and burning eye side effects like you will get when the red tide is super bad. Were very lucky right now it's fairly minor, but definitely around. However, we are still doing our tours and still finding plenty of playful dolphins and seabirds hanging around the area.
Right now, is an awesome time to experience some great times on the water at Hubbard's Marina while cruising the back-bay waters of upper Boca Ceiga bay aboard the big blue dolphin boat out of Johns Pass Madeira beach. Our hour and a half dolphin watching nature cruise and eco tour with guaranteed dolphin sightings has been spotting large pods of dolphin and it's been super nice weather for us too. Plus, our entire cruise is narrated so the captain will tell you all about the local area and local wildlife as well. If you want to learn more about the relaxing, fun and family friendly Johns Pass dolphin watching tour with us at Hubbard's Marina check out this page – https://www.hubbardsmarina.com/dolphin-watching-cruises/
The shelling lately has been phenomenal around shell key and our three-hour shelling trip Monday, Wednesday and Friday from 9am until noon is a great way to spend an hour on the island hunting for tons of great local shells. Plus, you have an hour ride down to the island through the beautiful intercoastal waterways and then you have a relaxing hour ride back from the island along our gorgeous gulf beaches. What a great way to spend the morning with your family, friends or whoever you want to show off our gorgeous local islands too and share some awesome shelling opportunities with. For more information on the fun filled three-hour shelling adventure with us at Hubbard's Marina check out this page – https://www.hubbardsmarina.com/florida-shelling-cruise/Baby face our local famous dolphin that was hit by a boat's propeller has made a miraculous recovery and just recently had a baby of its own! This is great to see this dolphin doing so well after such a traumatic injury and her and her newborn are doing well and can be spotted easily aboard our dolphin watching nature cruise and eco tour or the Madeira beach water taxi service!
Hubbard's Marina Sea Adventures, Tampa bay ferry and taxi, and the Madeira beach water taxi are all now proudly power by Honda Marine! If you come visit us for a dolphin tour, sunset cruise, Egmont key island trip, snorkeling, shelling, water taxi ride or any type of ferry or pleasure cruise trip then you will be riding a boat powered by Honda Marine! These new motors look great, are super quiet and are great on fuel economy! It was tough to get four boats re-powered with new engines but it was well worth the change and were very happy! Hope you get a chance to see these brand new super cool engines at work on board one of our pleasure cruise and ferry boats! To learn more about Honda Marine engines for your boat, check out their website: https://marine.honda.com/ they have the best warranty in the industry right now, you get a full 5 years and you just can't beat that!
Tampa bay ferry News
Despite the spotty dead fish areas and very mild red tide around the area, we are still able to spend the day at the island or along the islands. Plus, we are still able to snorkel most days around Egmont key thanks to that area getting plenty of fresh water pushed around with no thick areas of dead fish around the island. There's some times see more than other days, so it's more of a wait and see experience when it comes to our ability to snorkel or not but the island shelling is still going very well and the island is a great time right now since the crowds are gone and the island is free of people going to take the shells before you can get out there.
Unfortunately, we do have some bad news to report however. Due to the City of Madeira beach new city government voting to defund the Madeira beach water taxi we are being forced to shut down the Madeira beach water taxi operations as of September 30th. If you would like to ride the Madeira beach water taxi before the city shuts it down, there's still plenty of time to join us! This is a great way to get to Johns Pass, sea the area, go for a pub crawl, or just hangout on a gorgeous water taxi as it takes guests, locals, and tourists alike around our beautiful local area. Check out this link for our Madeira beach water taxi schedule by Tampa bay ferry – http://tampabayferry.com/madeira-beach-water-taxi/route-and-schedule/
The shell key ferry has been spotting lots of manatees around shell key and bunces pass lately while cruising to and from the island. This island ferry ride is a great way to experience shell key and offers tons of flexibility on how long or how short you want to spend time on the island shelling, swimming and exploring this pristine island paradise! For more info on how you can join us for a ride to shell key aboard the shell key ferry by Tampa bay ferry and Hubbard's Marina check out this page – https://www.hubbardsmarina.com/shell-key-ferry/
Don't forget to check out the BRAND NEW shell key ferry from Fort De Soto County Park out to the beautiful shell key preserve! This is a great way to see the island, go shelling and enjoy a day on the water with a flexible schedule. For more info on this new ferry route check out this link to the Tampa bay ferry shell key page – http://tampabayferry.com/shell-key-ferry/route-and-schedule/
The Egmont key ferry is running daily as well with multiple rides out to the island from Fort De Soto's bay pier. Tuesday, Thursday and Saturday there's an afternoon ferry option too instead of just mid-morning. Check out the website for ferry prices and times. Plus, while on the island they offer a snorkeling trip too!
https://www.hubbardsmarina.com/egmont-key-ferry-cruise/
Upcoming up at Hubbard's Marina
Dry dock is in full swing, the Florida fisherman 2 is out of the water on the rails in Tarpon springs where our captains and crew will be hard at work making It even better for future guests. This will be around 5-6 weeks and were expecting to have it back in operation around October 16th just in time for that weekend's long-range fishing adventures!
Due to dry dock, we have SPECIAL TRIPS going on right now! SPECIAL PRIVATE CHARTER EXPERIENCES for the price of the party boat trips! This is a 10 hour all day option aboard the HUB, one of our private fishing charter boats at Hubbard's marina and it is only offered starting Sept 9th through October 16th. Basically, instead of our normal 10 hour all day on the party boat, we are running that same trip aboard the HUB. You can get a split charter experience for the price of the party boat trip. However, aboard the HUB you can go a little further a little faster. All the same species will be targeted but aboard the HUB with less lines in the water and more one on one help, you have a much greater shot at catching hogfish, grouper and more! Plus, this boat will take you out around 5-10 miles an hour faster than the party boat, so you get a little more fishing time, or you get to fish a little further from shore than at typical 10hr all day on the party boat. PLUS, on the HUB you can bring your own beer since it doesn't have an alcohol license like the party boat. The HUB does have a restroom and a covered sitting area and cabin, but it does not have the air-conditioned cabin like the party boat. This trip will only allow up to 14 anglers on board so BOOK YOUR TRIP TODAY as these will fill up very quickly as many people love the private charter experience but can't typically afford one all by themselves, so this is a great option to experience it for the same price as the 10-hour party boat trip. Here's all the 10 hour all day info, again all the tackle recommendations and catches stay the same there's just a change in the meal packages since we don't have a galley they are pre-made deli style sandwiches and you can bring your own beer on board – https://www.hubbardsmarina.com/10-hour-all-day-fishing-charters/
**Due to only allowing 14 passengers on board, and being private charter experience THERE ARE NO DISCOUNTS on this trip so no birthday discounts, no regular's club discounts, no child discounts or any type of discounted trip fare permitted on this special trip**
Want a HALF PRICE FISHING TRIP, ISLAND TRIP OR DOLPHIN CRUISE? Check the email newsletter coupon below for a SUPER SPECIAL very limited time offer from Hubbard's Marina! This is only going to be offered through the end of September and is only good on trips during September and not valid on Saturdays. Please make sure to read the coupon thoroughly and make sure you know the policies, you cannot stack discounts on top of this half price option and you must make advanced reservations. The coupon code is simply 'EC18' and you can redeem that coupon code during the online reservations check out process here – https://www.hubbardsmarina.com/reservations/ (but be sure to only pick a 5 hour half day, dolphin cruise at 1 or 3pm or the shell key ferry as it will not give you half price on any other trip and it will not be valid on Saturdays)
Red tide is NOT affecting our fishing near shore! We are still catching plenty of great eating non-affected fish around Hubbard's marina! Come join us for some 'reel' fishing fun during September and enjoy the SUPER LIGHT LOADS on most of our trips like the 12-hour extreme is often only taking 8-9 people offshore, the 12 hour night trips only have 18-24 people and the ten hour trips aboard the HUB only allow up to 14 people! The dolphin trips are super light, the island trips are nearly vacant, our beach cabanas are wide open and MORE! Come visit the beautiful gulf beaches uninterrupted by other guests or large crowds.
We will NOT have any 39-hour trips during dry dock, so the next long-range party boat trip isn't until after mid-October. However, the 12-hour extreme trip will get you to the 39 and 44-hour areas and have you back in time for dinner! Plus, the 12-hour night snapper trip is a great option to go out and target mangrove snapper Friday nights!
Want to learn more about fishing locally? Don't forget we have the Weekly fishing conversation or seminar by Capt Dylan Hubbard LIVE on the Hubbard's Marina Facebook page if you don't want to leave your house to catch a seminar! We also then upload this video to the Hubbard's Marina YouTube page shortly after the live video is over. This is weekly on Sunday nights from 8:30pm until 9:30pm, check out the event page and PLEASE LIKE AND SHARE the event if you have a Facebook page, and invite your friends as well! https://www.facebook.com/events/249881722421418/
Regular's club
Our regular's club loyalty program is now closed for 2018, if you would like info on joining for 2019 you can email Capt Dylan Hubbard anytime and he can send you the info and get you on the list for a 2019 membership!
Captains Mark and Dylan Hubbard
Vice president and Regular's club manager Hubbard's Marina
(727)393-1947 ext. 306
CaptHubbard@HubbardsMarina.com