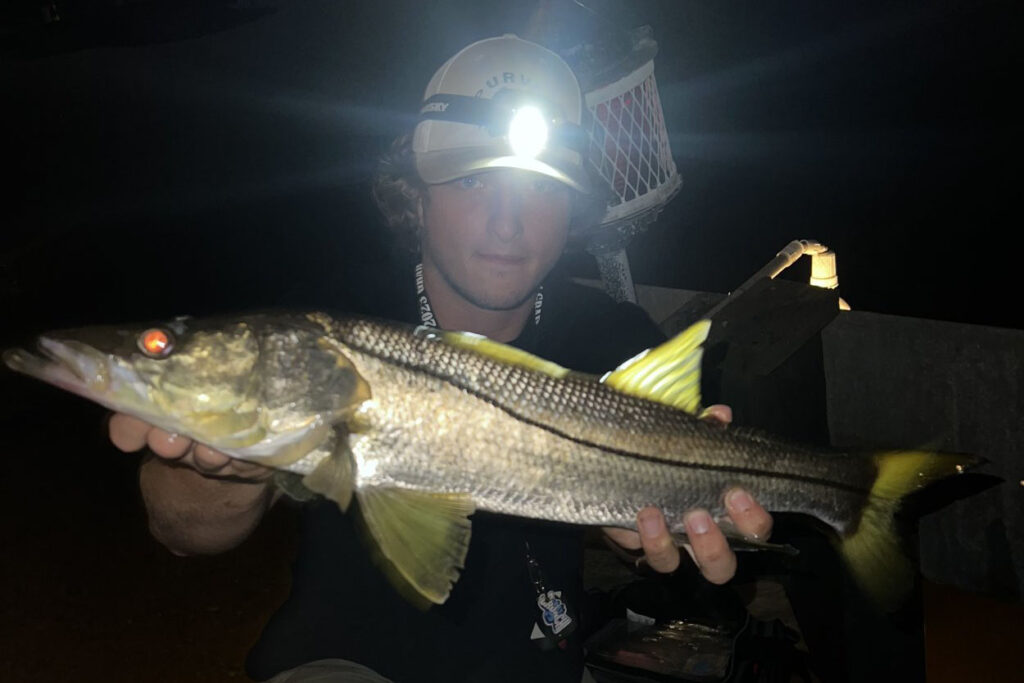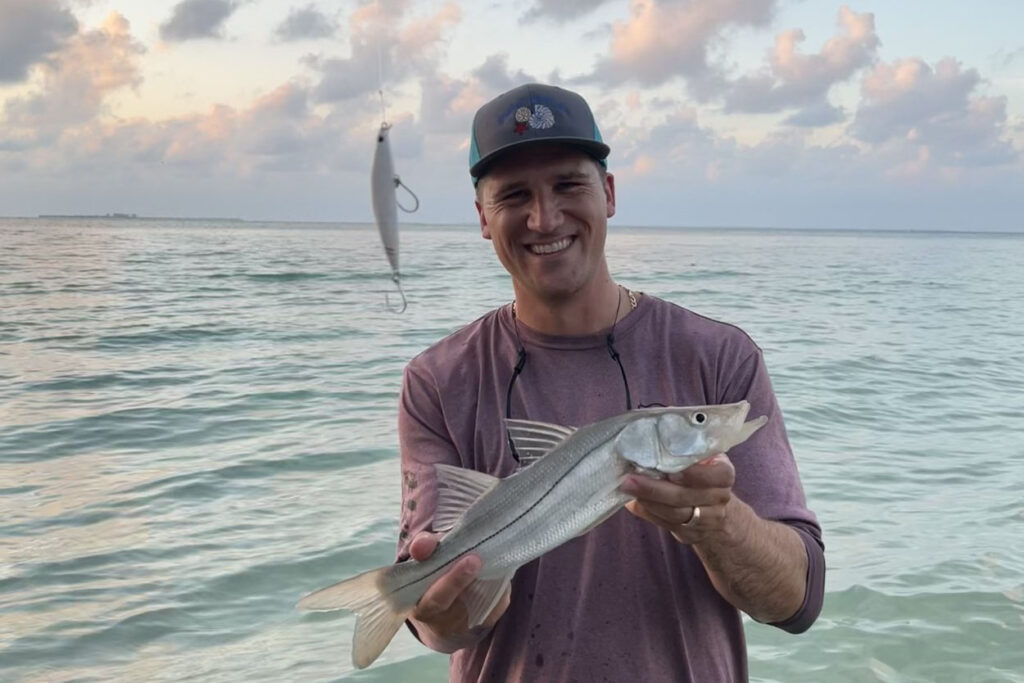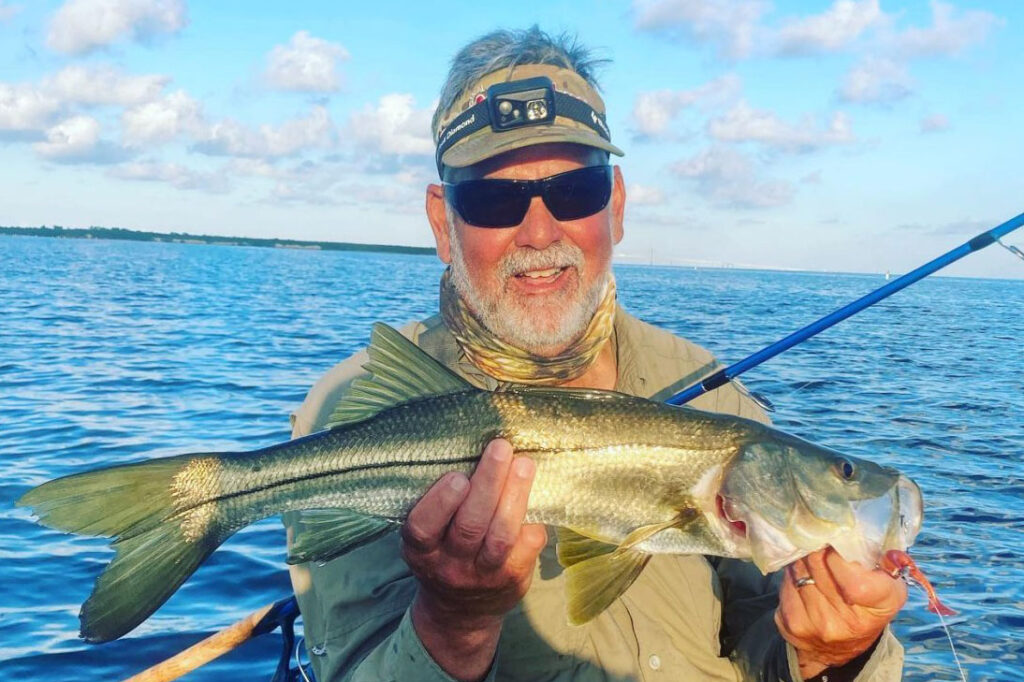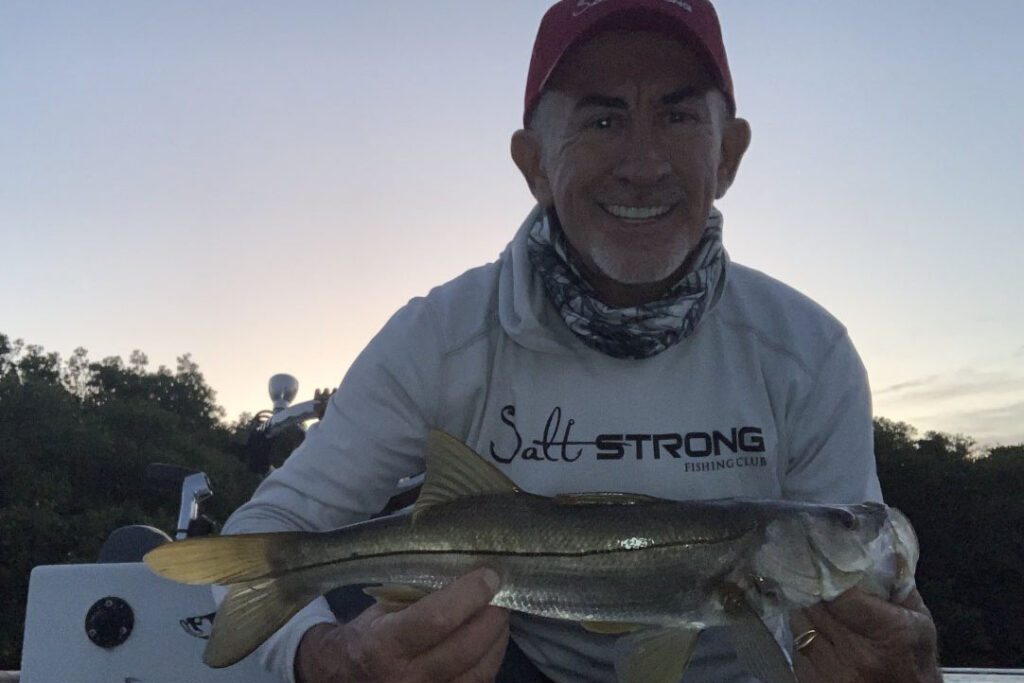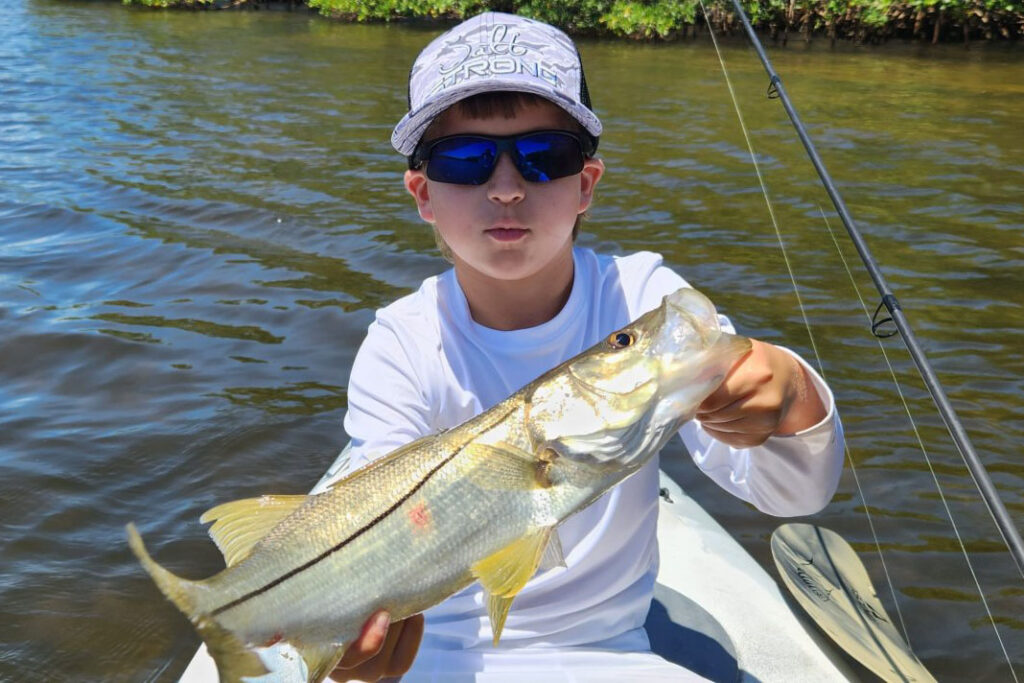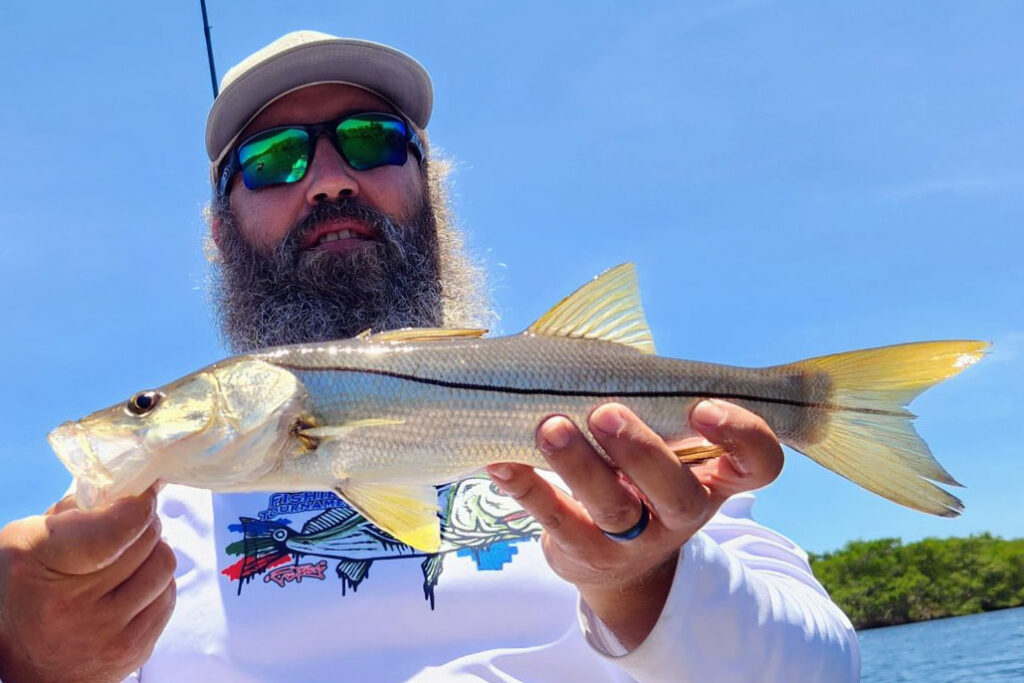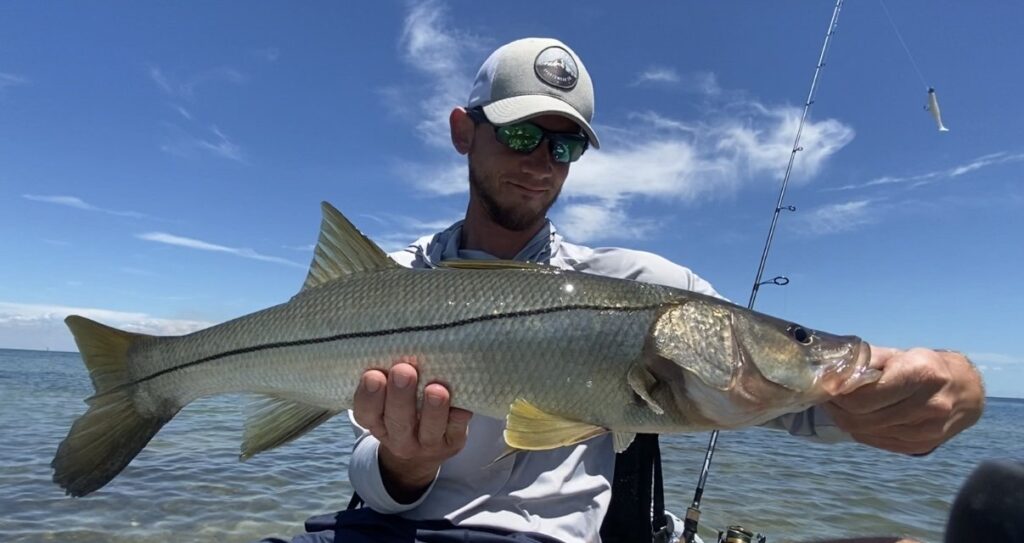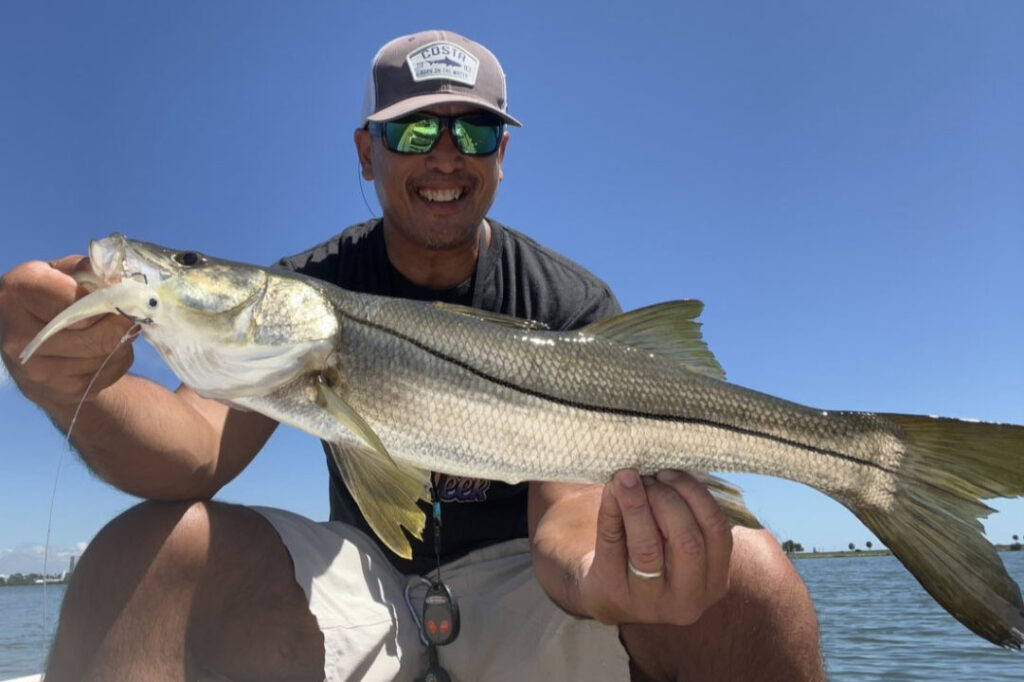 Snook fishing is going really well throughout the area but we're dealing with some pretty severe West wind patterns which means a lot of our beaches are getting covered up in grass. Anything that was floating like that gorilla grass is now being concentrated along our beautiful beaches. This makes targeting snook extremely difficult when all that grass is in the water making your fishing line extremely visible and less attractive to those super smart leader shy snook. We are seeing some good action in the passes especially at night with those bridge light and dock light sources through this new moon. The night time fishing for snook around our passes should be stellar. However the grass will continue to be an issue especially on those incoming tides. Back in the Bay we're seeing a lot of snook action around the grass flats mangrove shorelines and oyster bars. Snook are really keyed into the white bait and small pin fish. However you can catch them on the shrimp a free line shrimp with a lighter tackle seems to always entice the snook.
Mangrove snapper action is going pretty well around our dock lines bridges rock piles virtually any hardened structure. Mangrove snapper are clouded underneath our main dock at Hubbard 's Marina and we're seeing anglers of all ages and experience level catching plentiful mangrove snapper around the docks. This should persist through the summer time as is normal in these warmer months. Generally a small piece of bait like a small piece of shrimp or cut green backs is a great option for those mangrove snapper.
Pompano action has softened a bit we were seeing a lot of Pompano on the beaches and around the pass but the murky water with the added addition of that grass has made catching a lot of Pompano consistently very tricky we're not seeing as many caught recently. However they're still around you just have to get lucky finding some clear water to target them. Pompano are still really keyed into that live shrimp with minimal weight and lighter tackle. We're also getting them on the Pompano jigs the naked ball jigs and also those docs goofy jigs.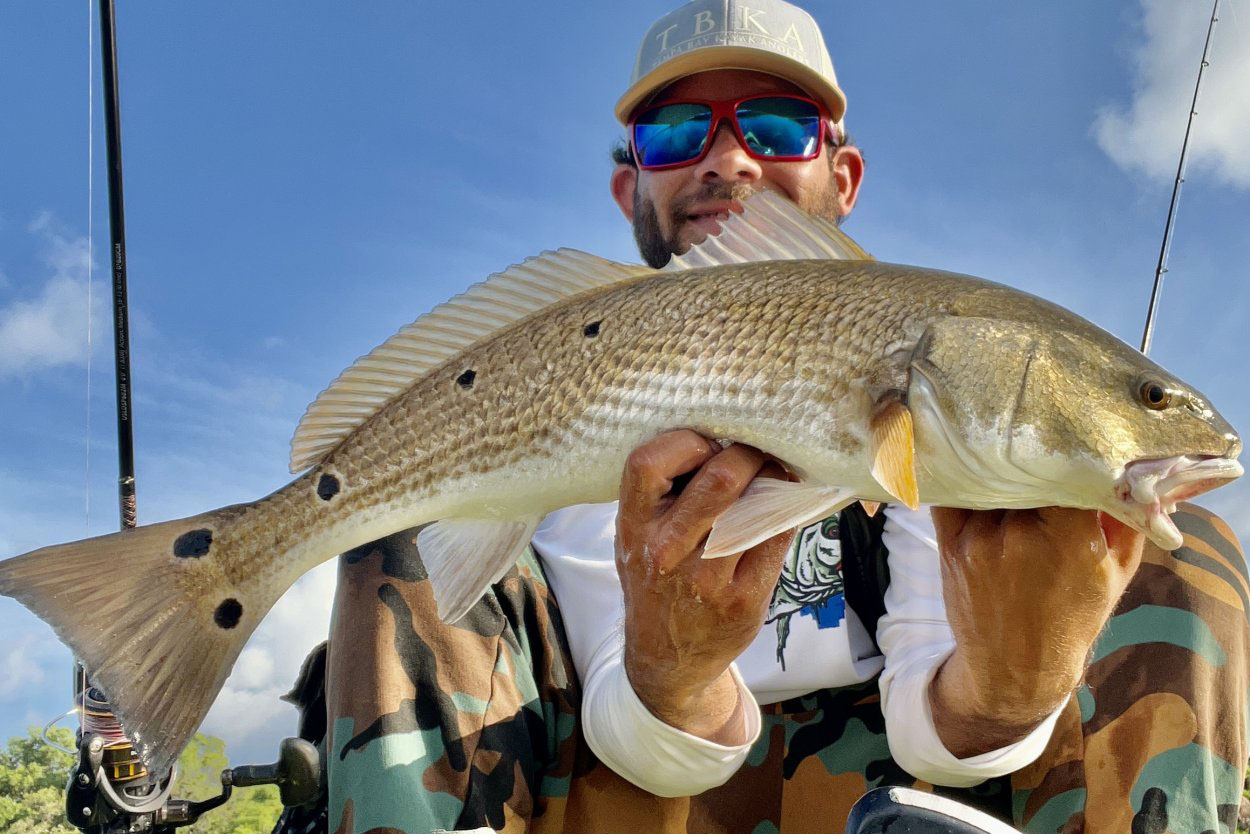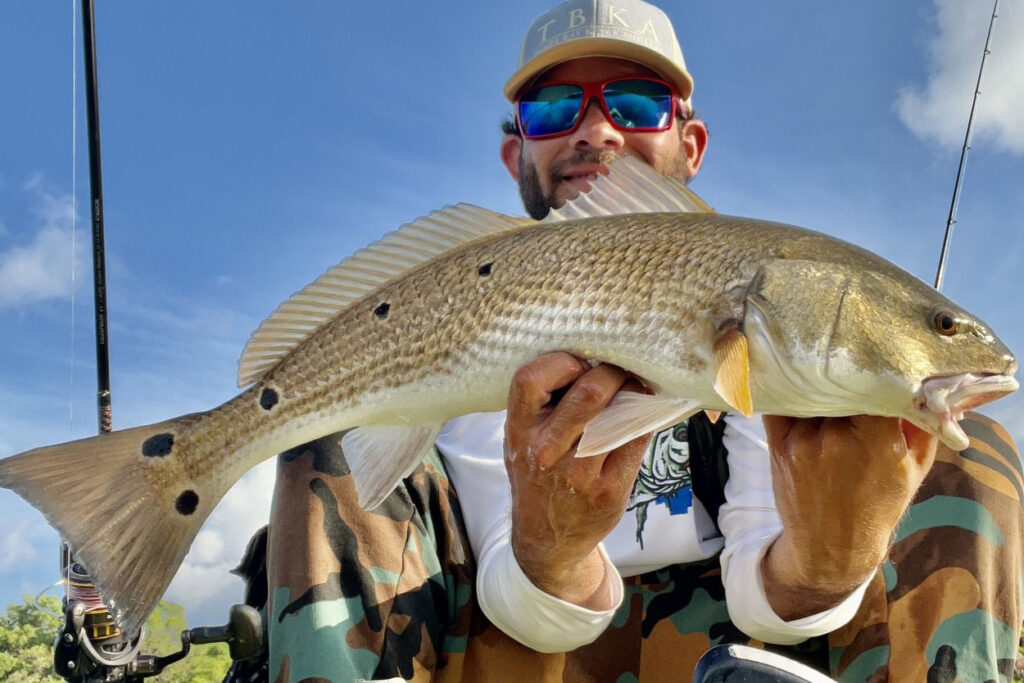 Redfish action is going well in the back protected Bay waters we're seeing a lot of those red fish around the mangrove islands grass slots and shorelines. Redfish are all over the cut dead bait smaller pin fish and white bait. Soaking bait right up underneath the trees is a good idea. However with the overcast conditions the new moon and the turbulent conditions it should give a little reprieve to the fish cooling the area down a bit and thus pulling some of those fish out of the trees spreading out onto the grass flats more. With flushing waters and stronger currents we should see more actively feeding red fish.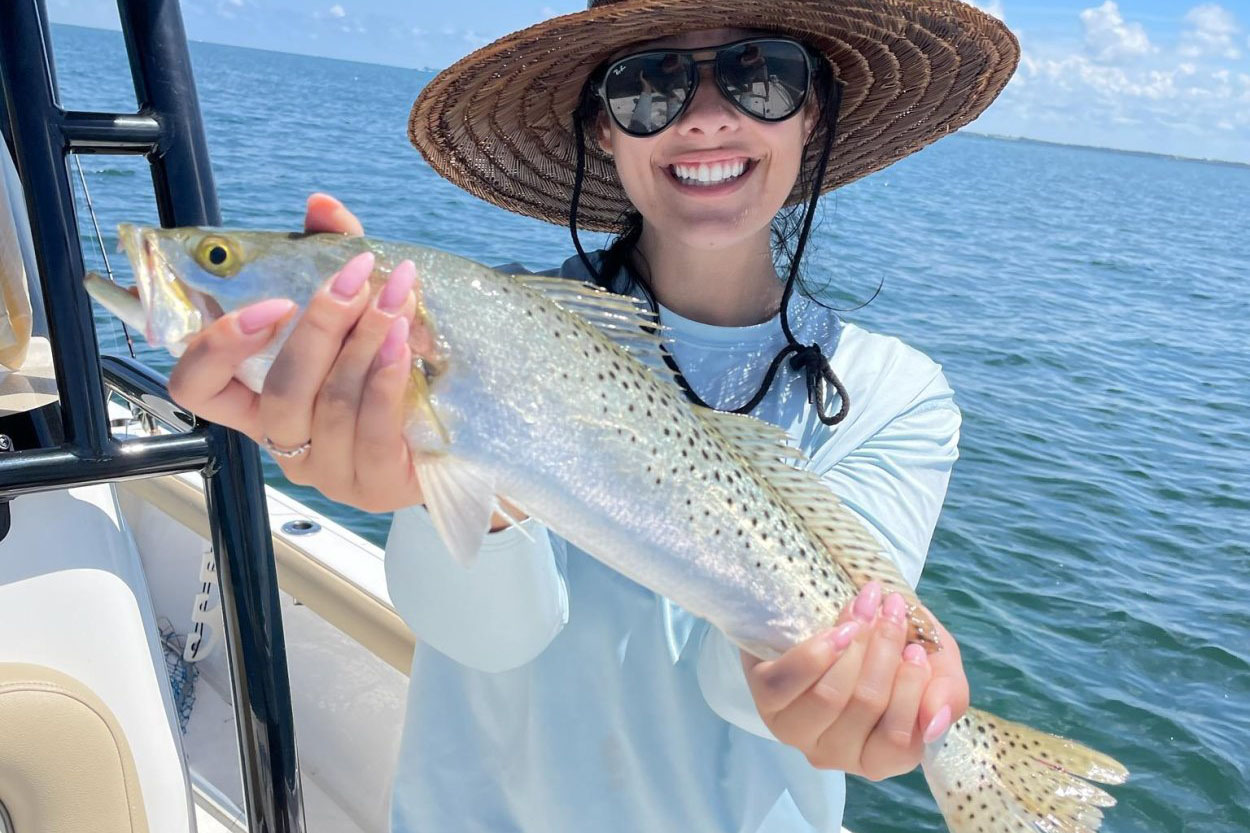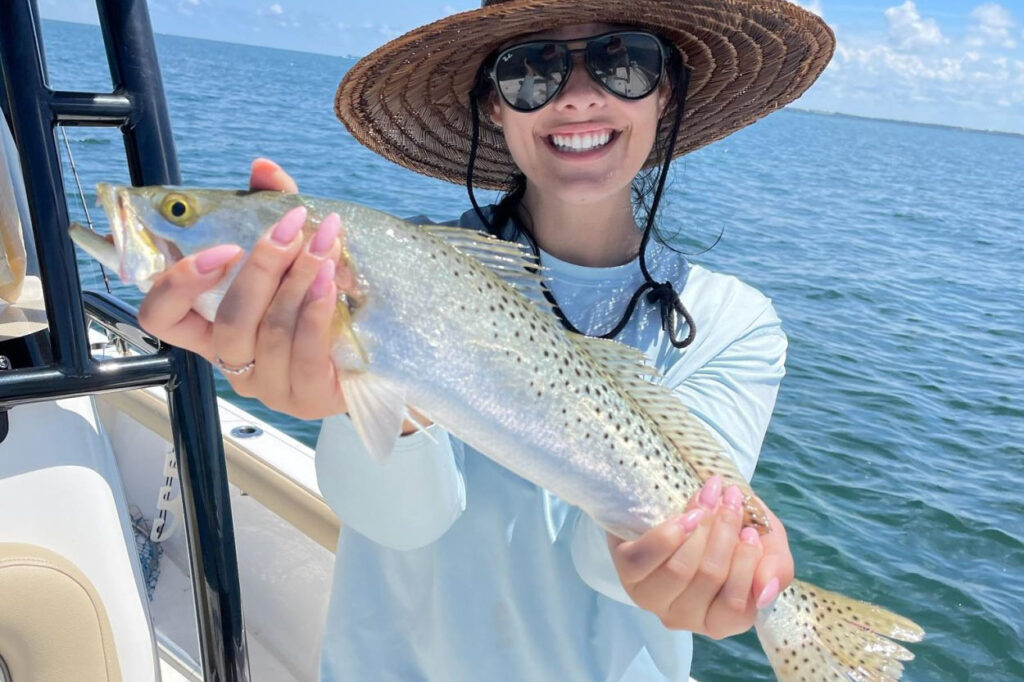 Trout action is going well around the area we're seeing a lot of trout in those deeper waters moving closer to that five up to 10 foot area. We're seeing a lot of trout around the passes especially at night around the bridge lights or dock lights. With the new moon that action at night should increase significantly.
Sharks have been prevalent around the area we're seeing a lot of sharks on our beaches around our passes and even in the back protected Bay waters and upper Bay areas. A lot of black tips and bonnet heads are prolific even in shallow water. Deeper waters closer to the beaches and passes we're seeing a lot of big species like hammer heads tigers bowls and more.
Tarpon are super prolific around the area too we're seeing a lot of Tarpon around the passes and on our beaches. Some Tarpon are venturing into the Bay hanging around local bridges. This new moon should bring some big flushing currents and big flushing tides that should hopefully entice plentiful Tarpon action around the area.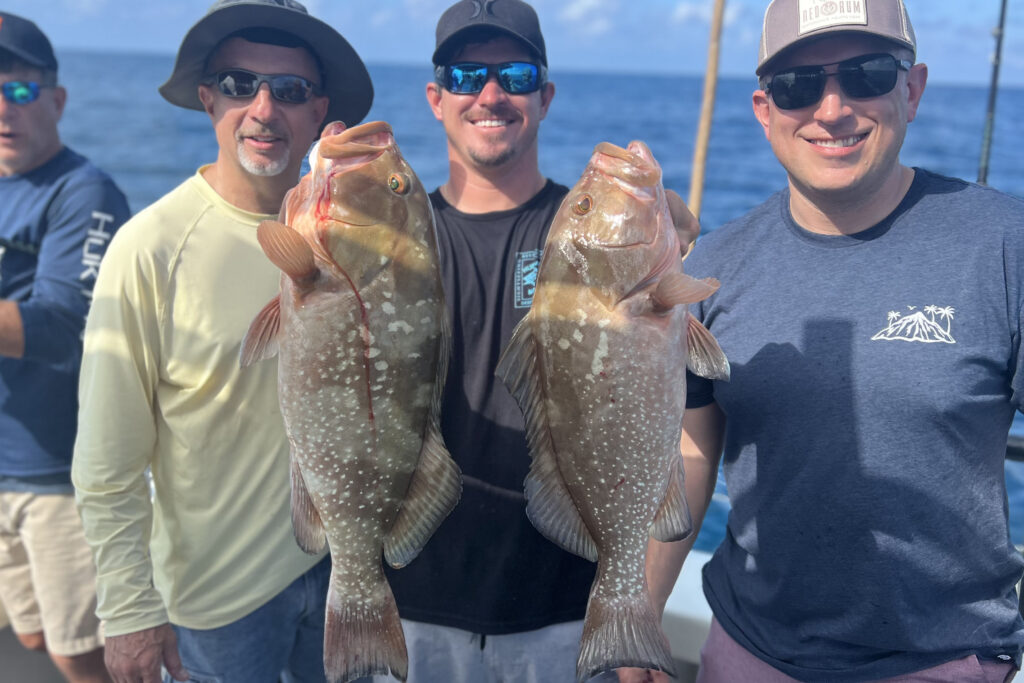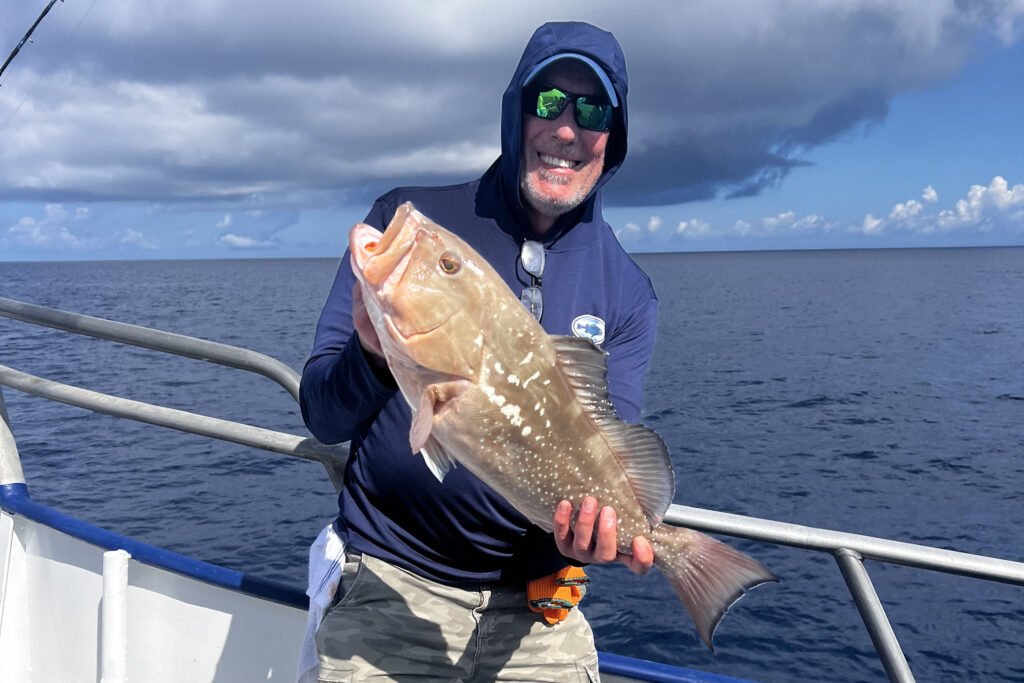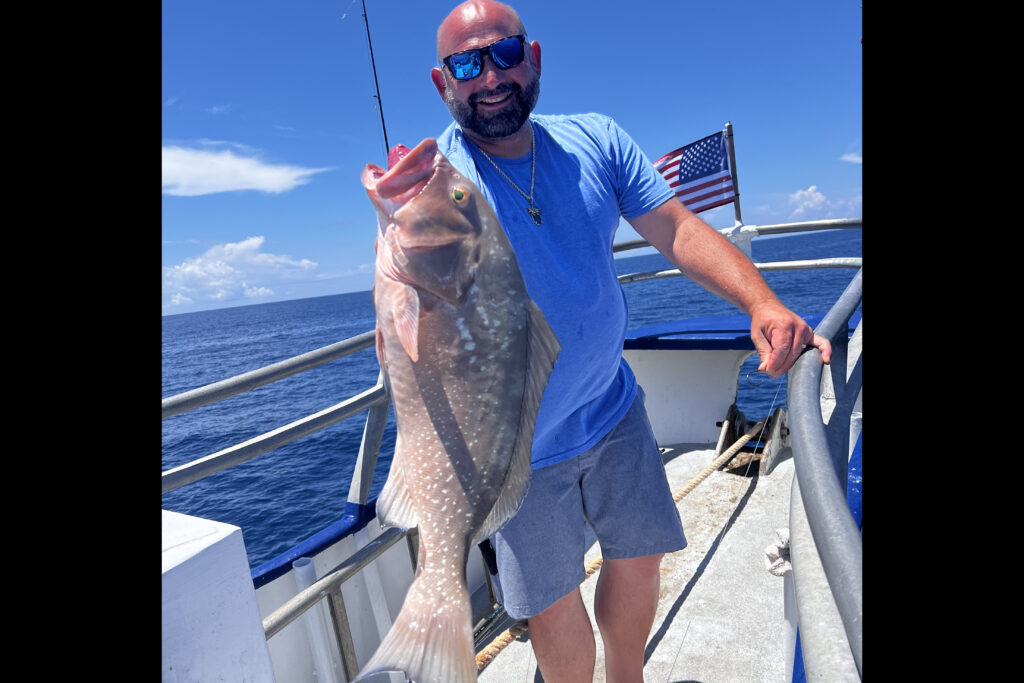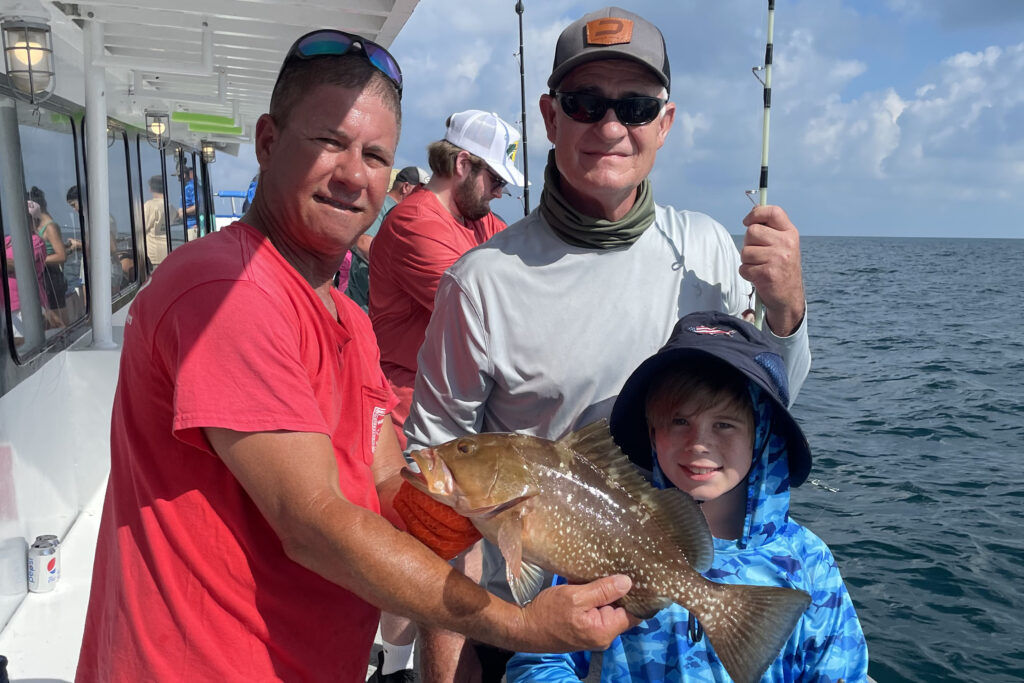 Red grouper are still happening near shore and we're seeing quite a few on our near shore private fishing charters like the hub when fishing closer to 100 foot of water. The deepest near shore waters is definitely the best chance to produce a keeper red grouper. We are seeing a few red grouper on our 10 hour all day but it is few and far between. Red grouper really like large strips of squid are bigger thread fence with the tail cut. We even use two thread fins hook through the eyeballs with their tail cut for those red group or two. Red grouper nearshore are a little bit tougher to find in decent sizes you have to sort through a lot of undersized fish to find the keepers. Live panfish does work but the dead bait bite has been producing better as of late. Best area for red grouper is definitely a little deeper near shore from around 70 to about 100 foot of water.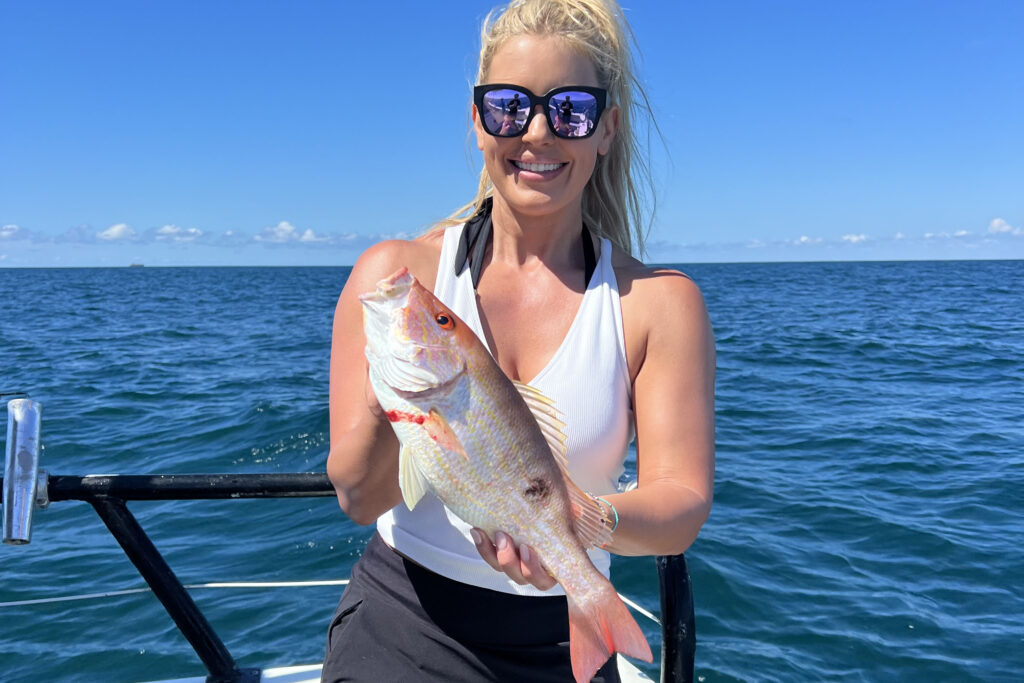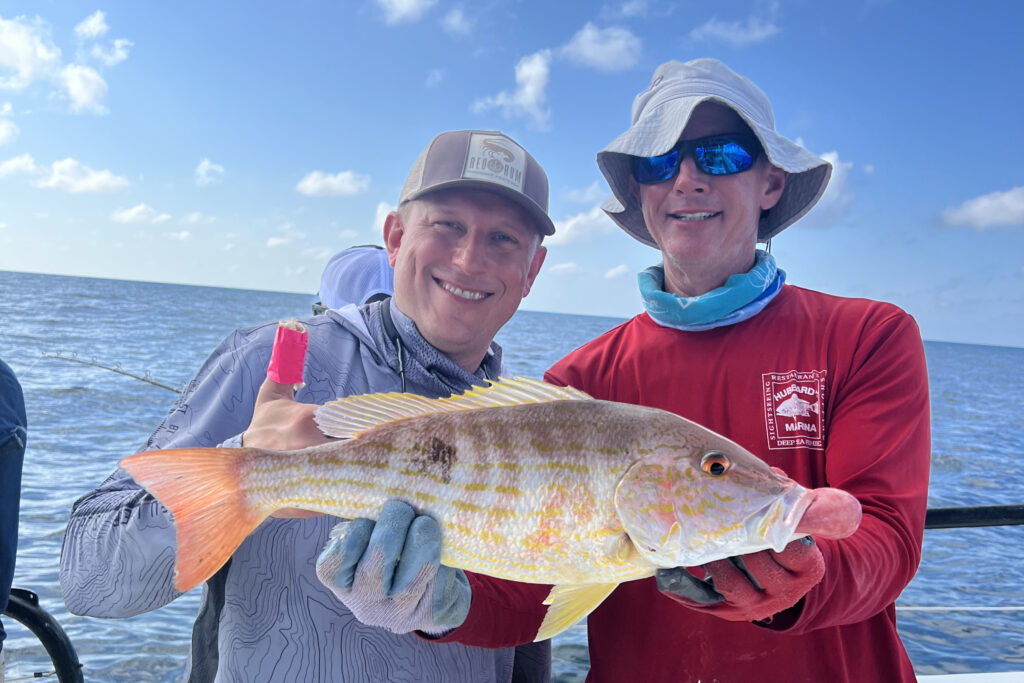 Lane snapper have been pretty prolific near shore we're seeing a lot of lane snapper anywhere from 5060 foot of water and beyond even while out very deep in offshore waters we're still seeing prolific lane snapper so lane snapper are really active throughout our region. We're seeing them on live shrimp cut thread fins and even cut squid too. However we mostly target the lanes with shrimp or squid with high success rates. Lane snapper are super aggressive and pretty darn plentiful.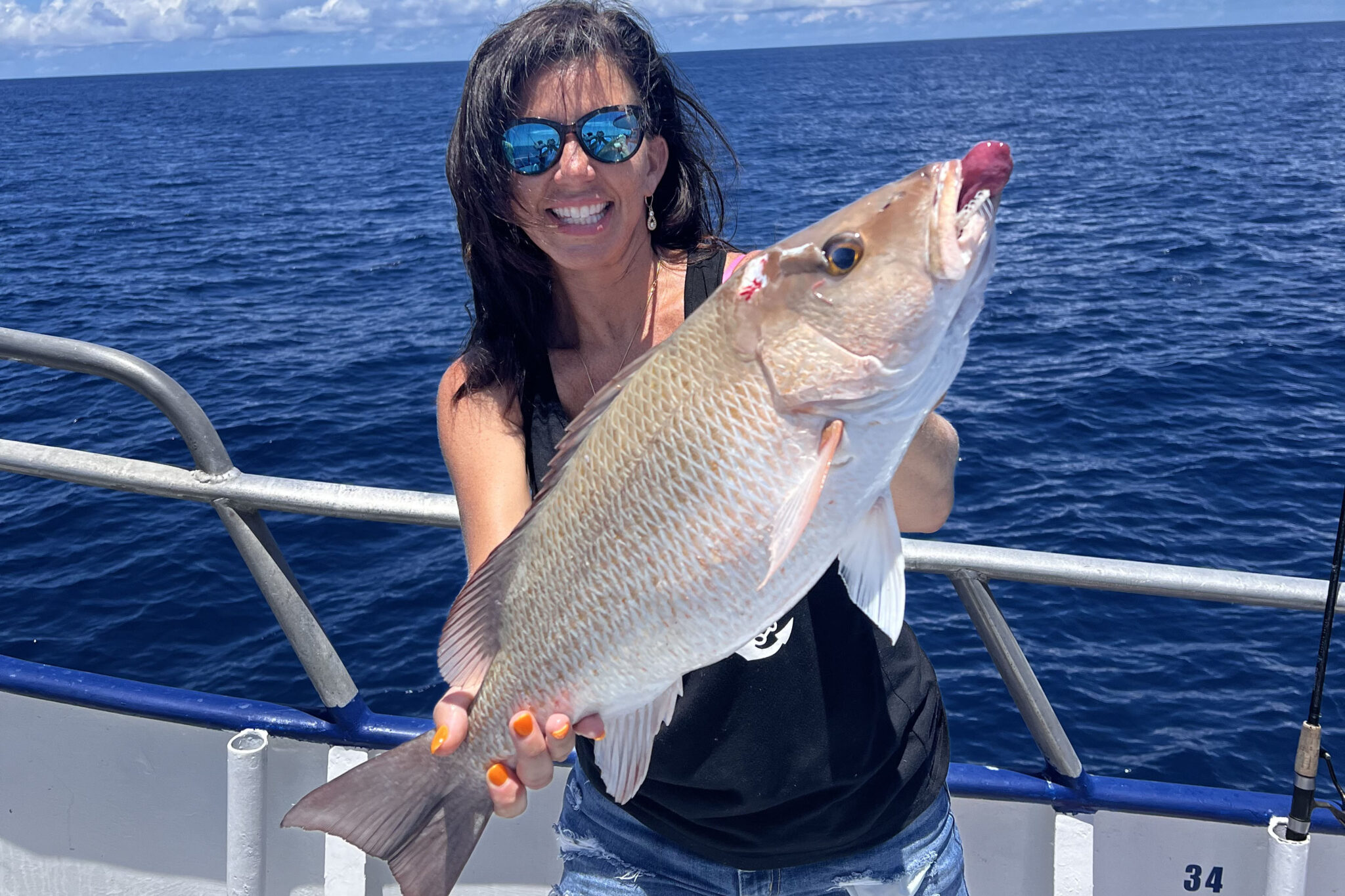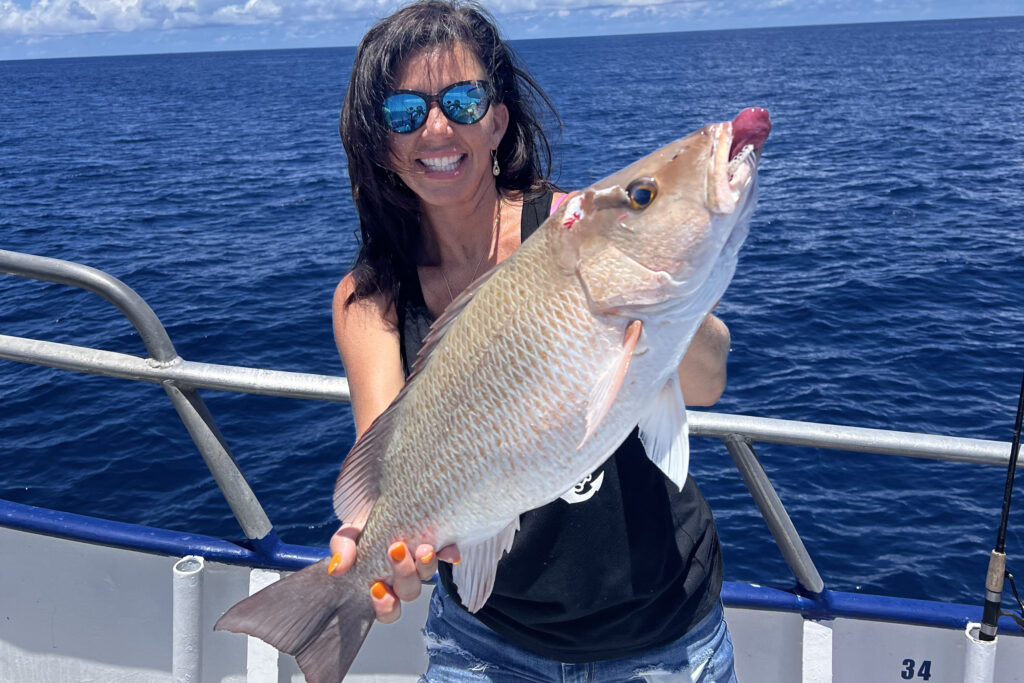 Along with the lanes we're seeing quite a few mangrove snapper too period now mangrove snapper are much more leader shy smart and picky. They're generally going after small chunks of thread fins or greenbacks or live shrimp in that deeper near shore water fishing closer to around 70 to 100 foot is a good idea for those mangrove snapper.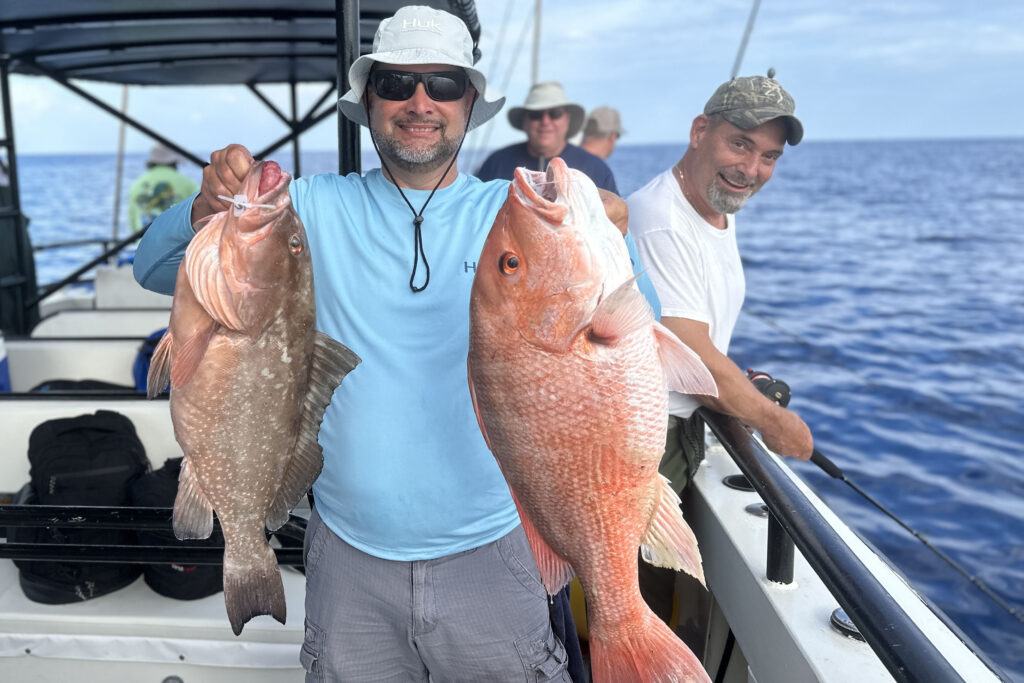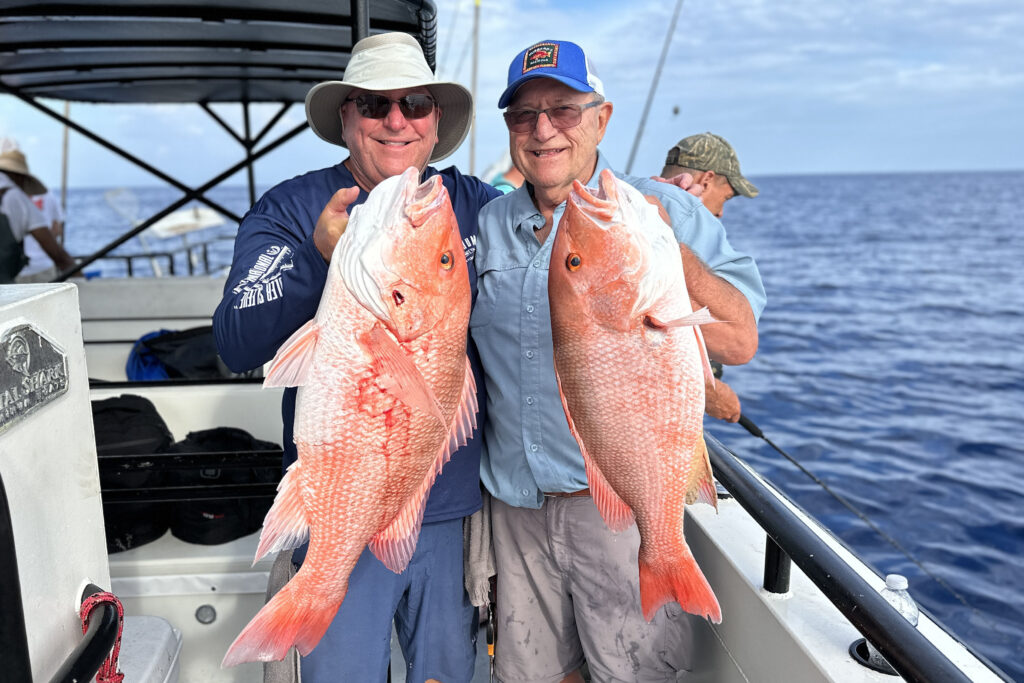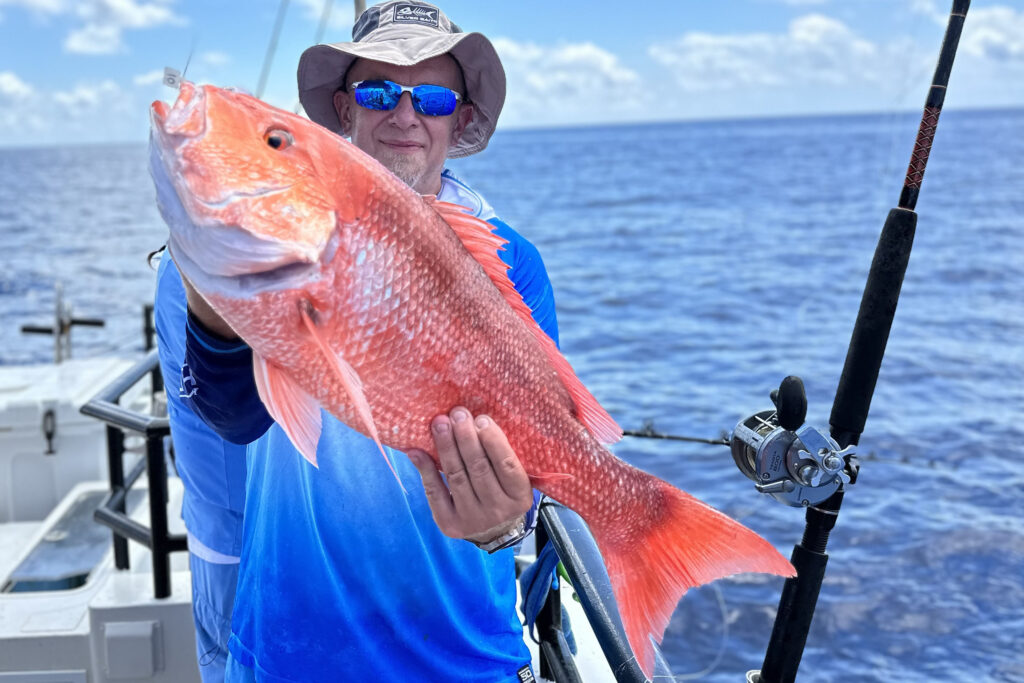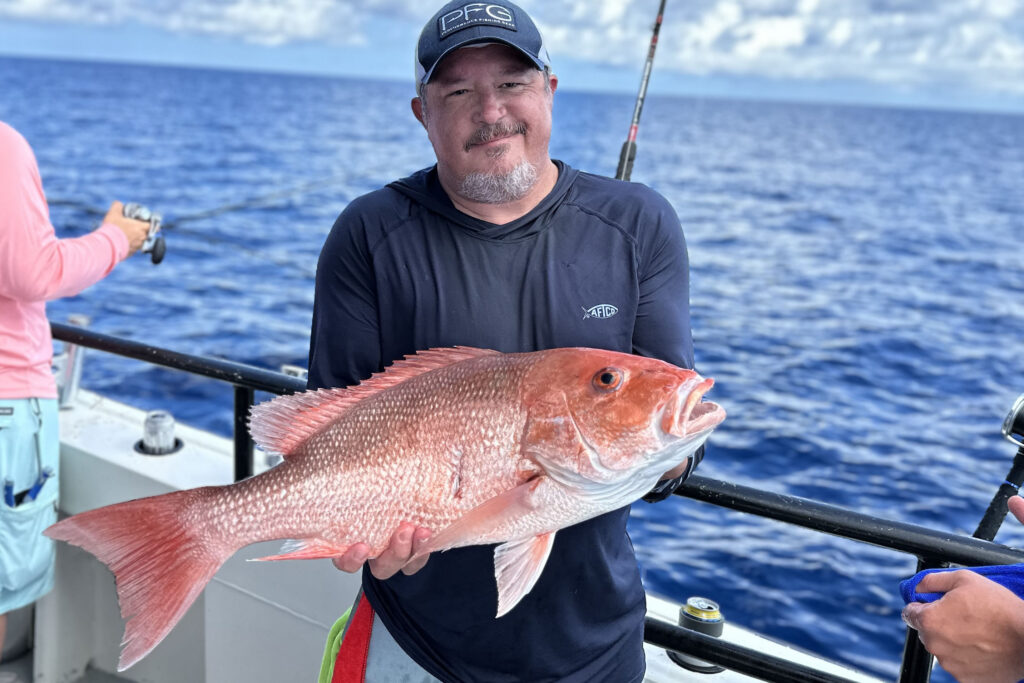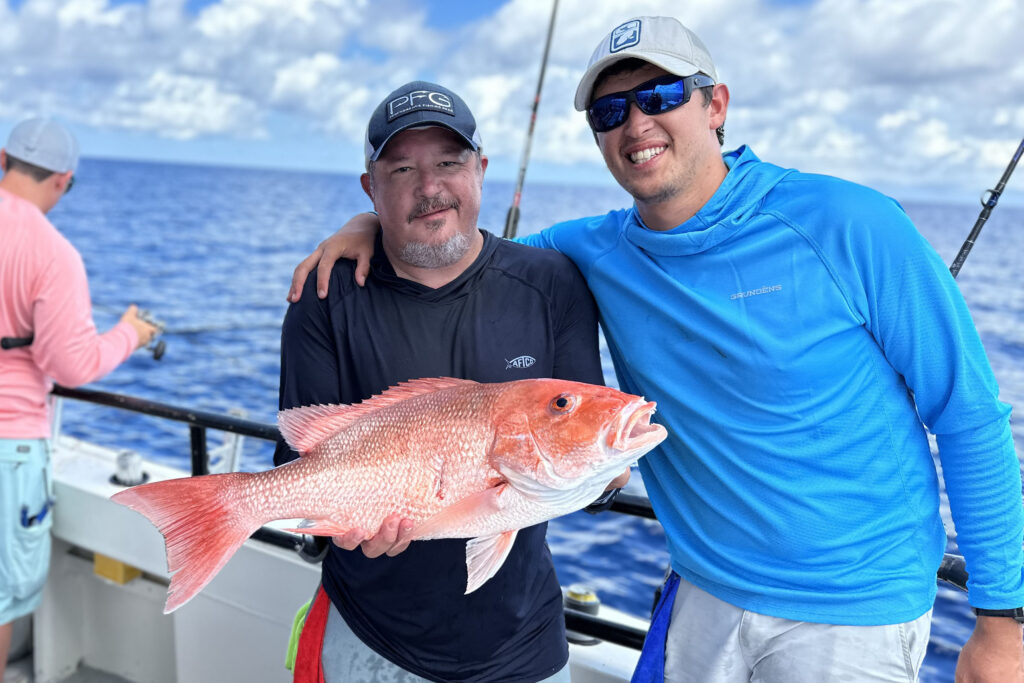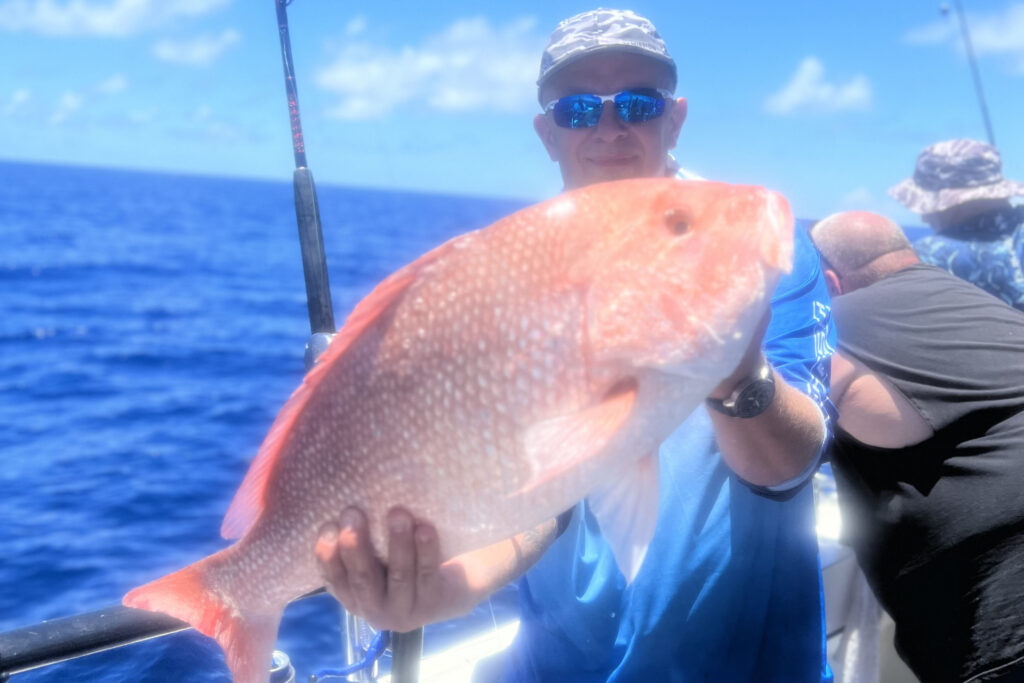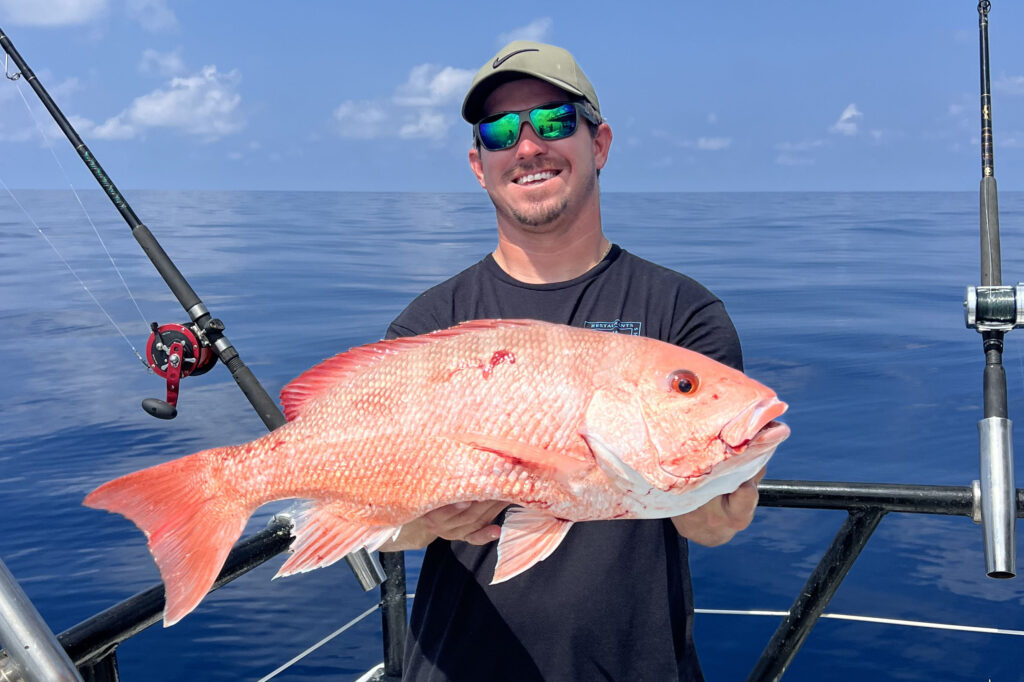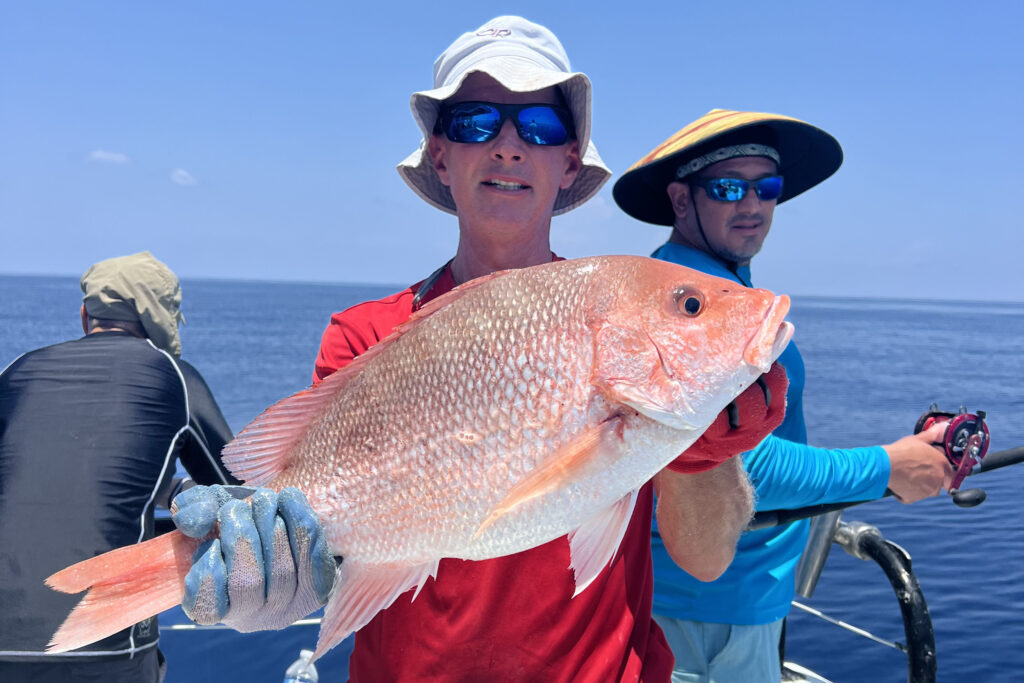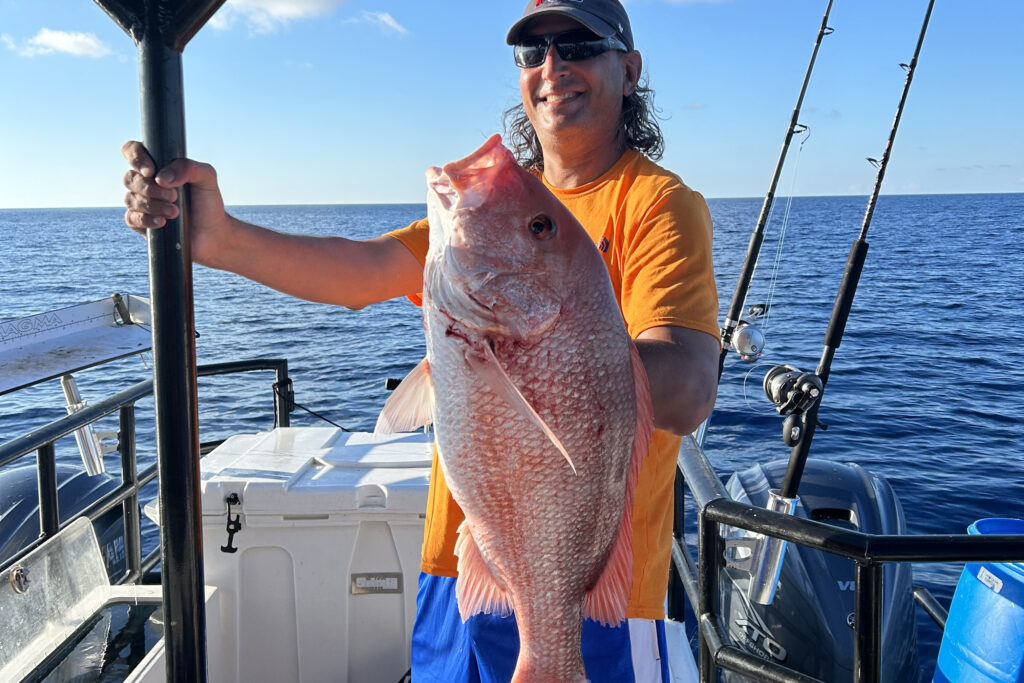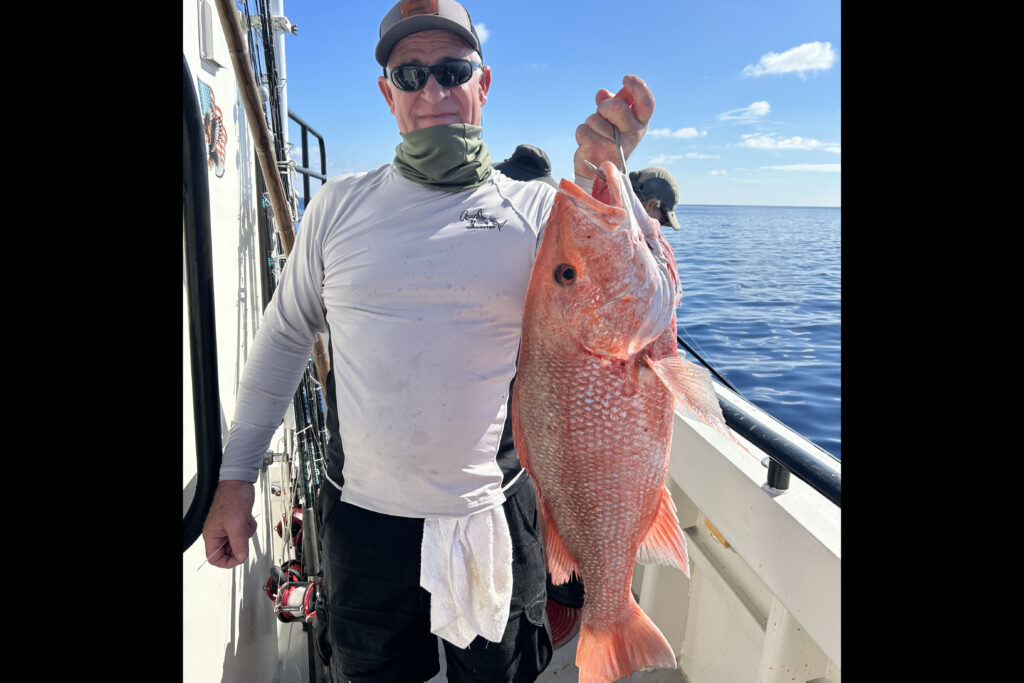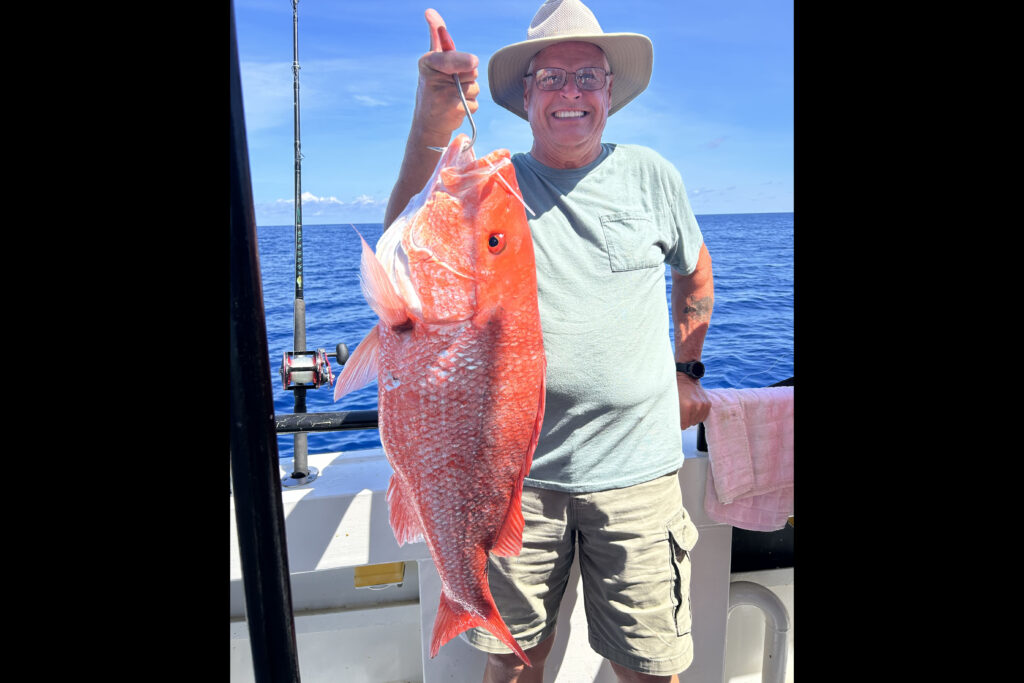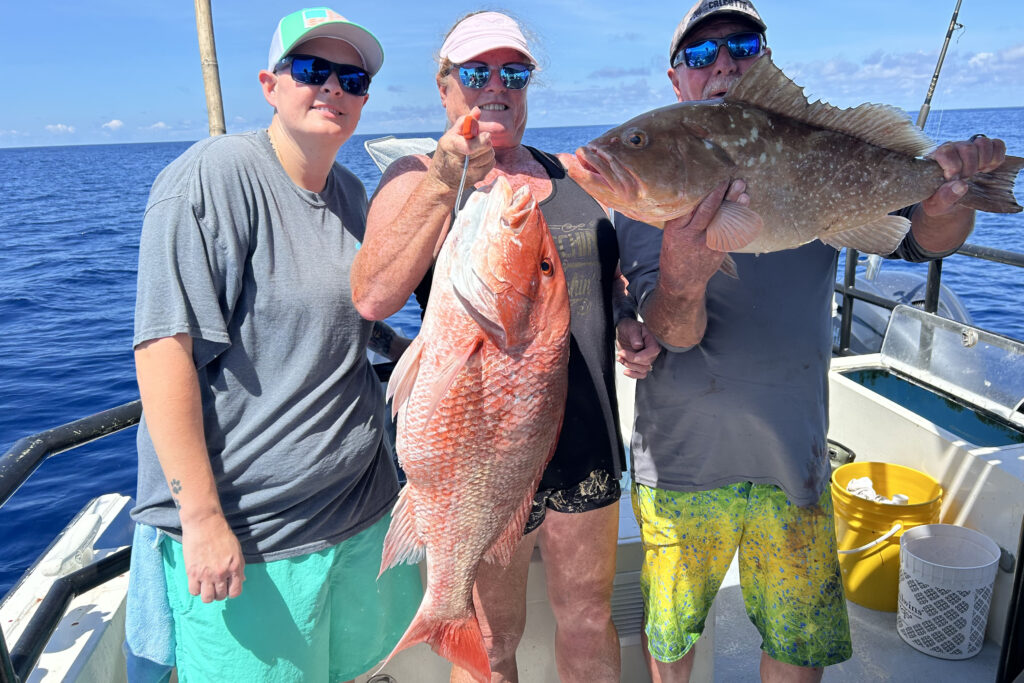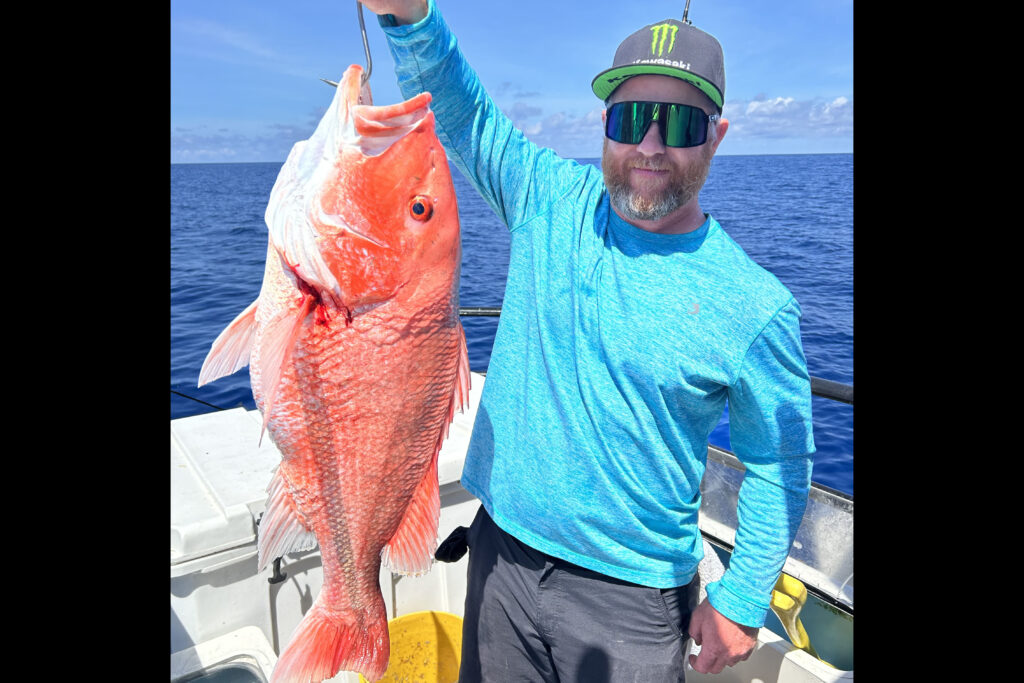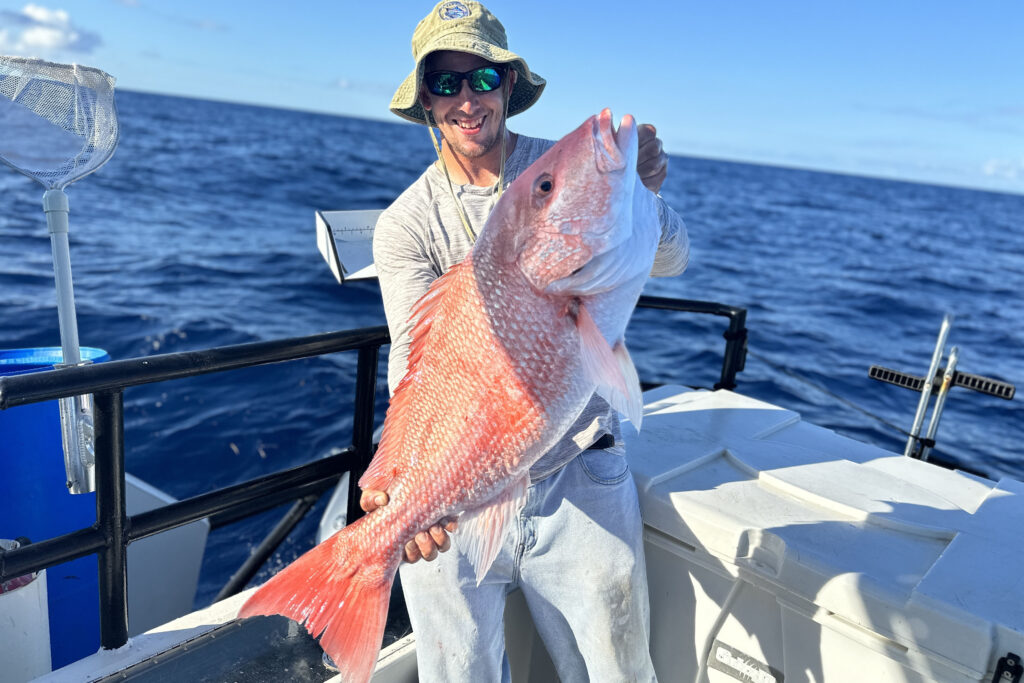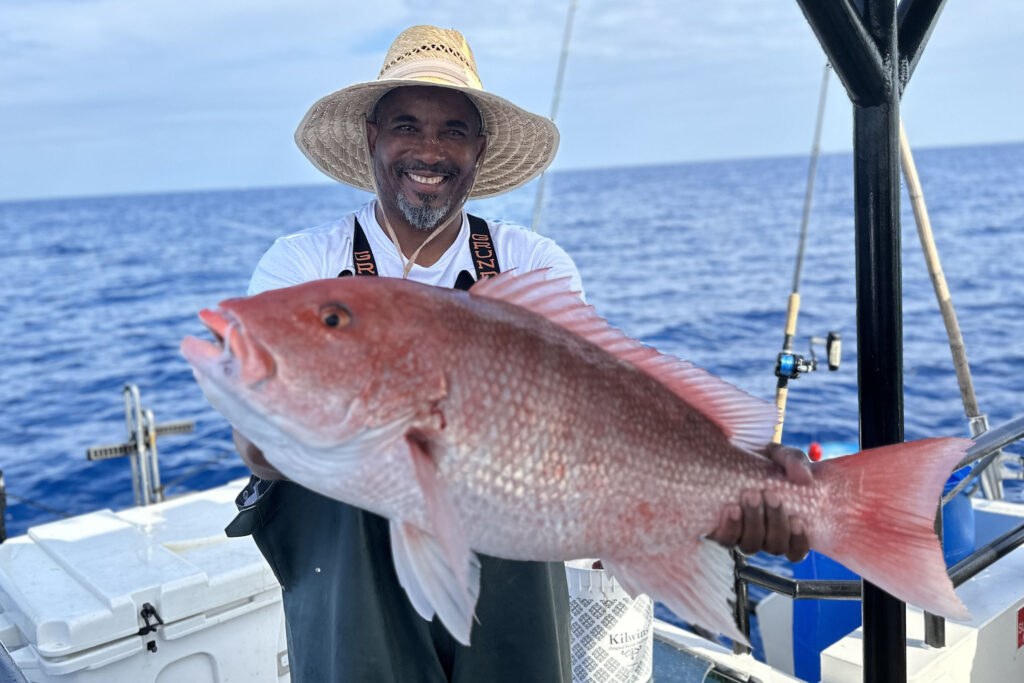 Red snapper season is in full swing we're seeing a lot of the red snapper offshore right now past about 120 to 140 foot of water. The deeper we go the better the chance we have that more consistent red snapper action. Red snapper will bite just about anything we put down but lately the dead bait has been working really well. We do catch red snapper on live pin fish on a variety of other options too even jiggs but dead bait has been producing best. Generally for the red snapper we're fishing with around 60 to 80 pound liter in anywhere from A7 to an 8 ot hook. Generally for red snapper we're using a whole thread fin with the tail cut or a strip of squid. Red snapper are super aggressive and generally can be found in big concentrations.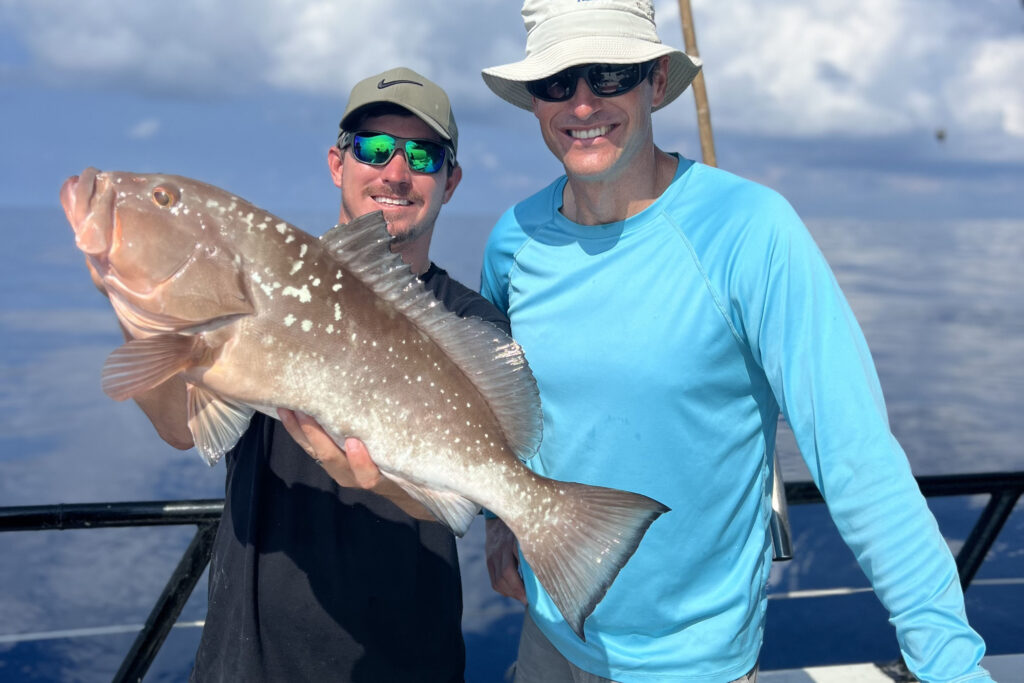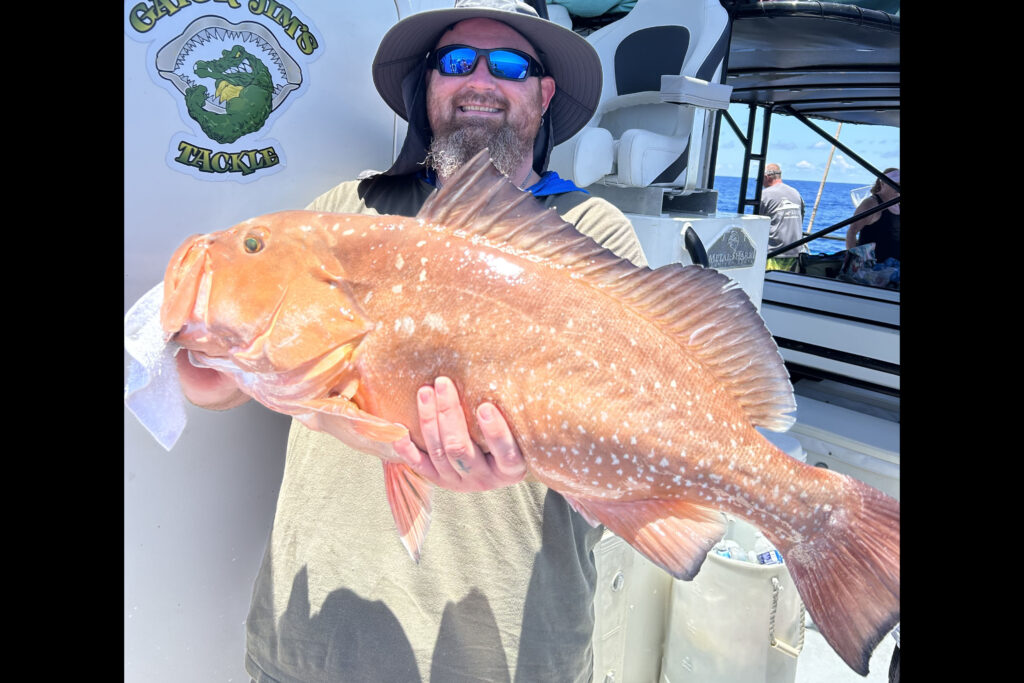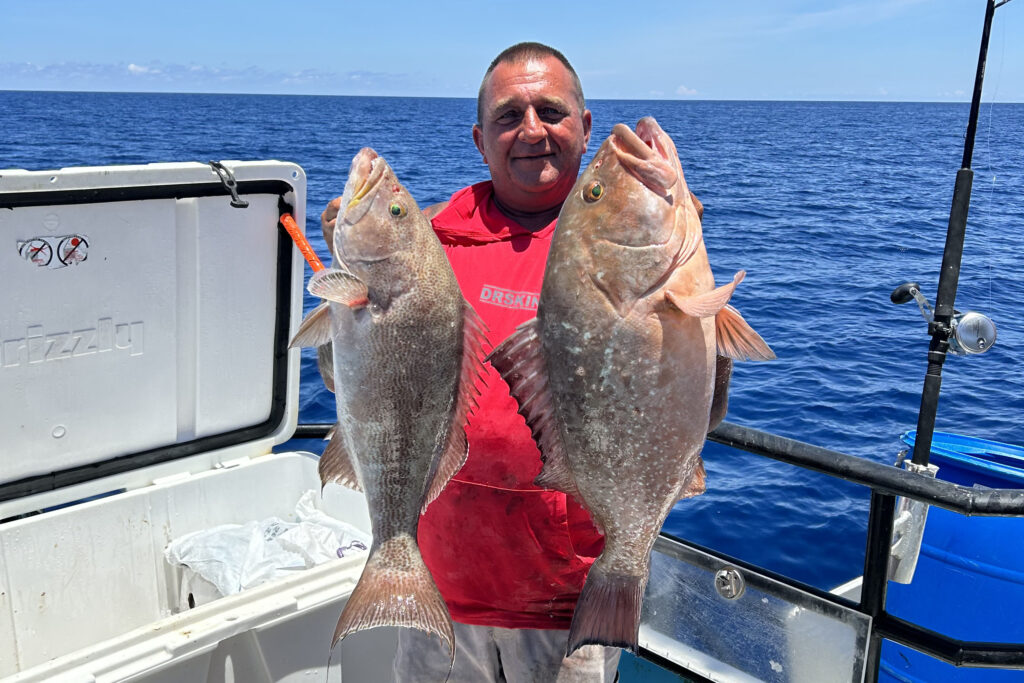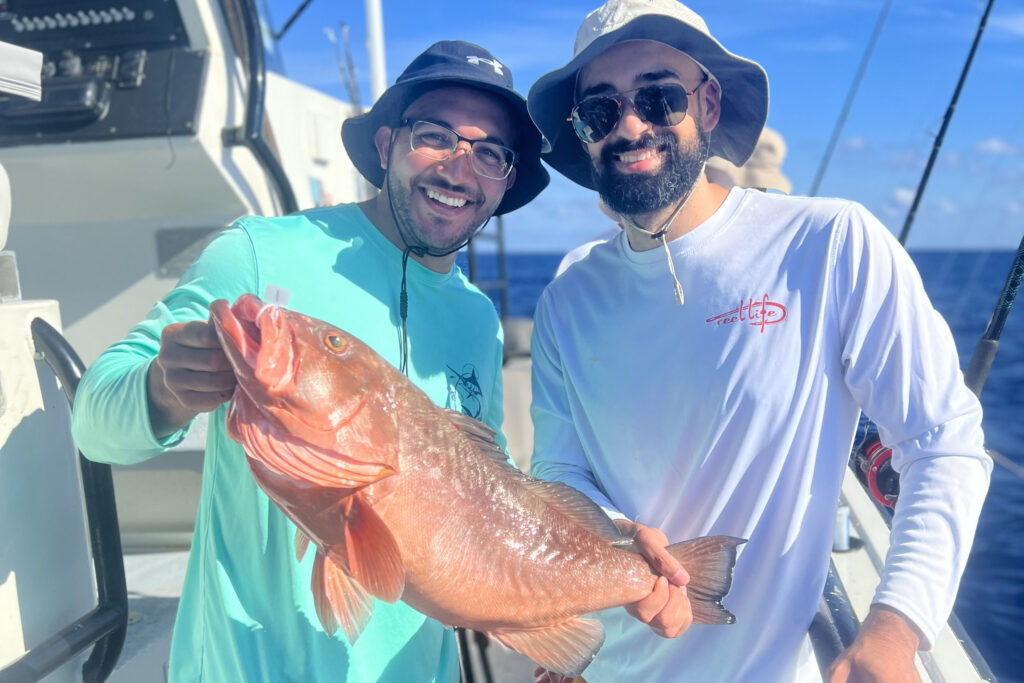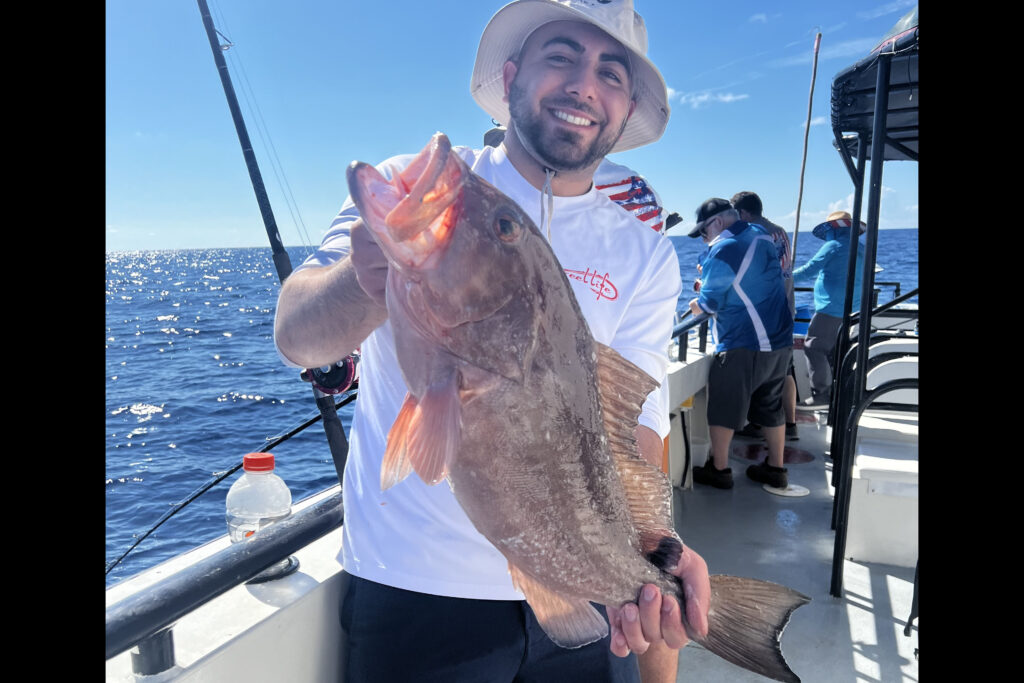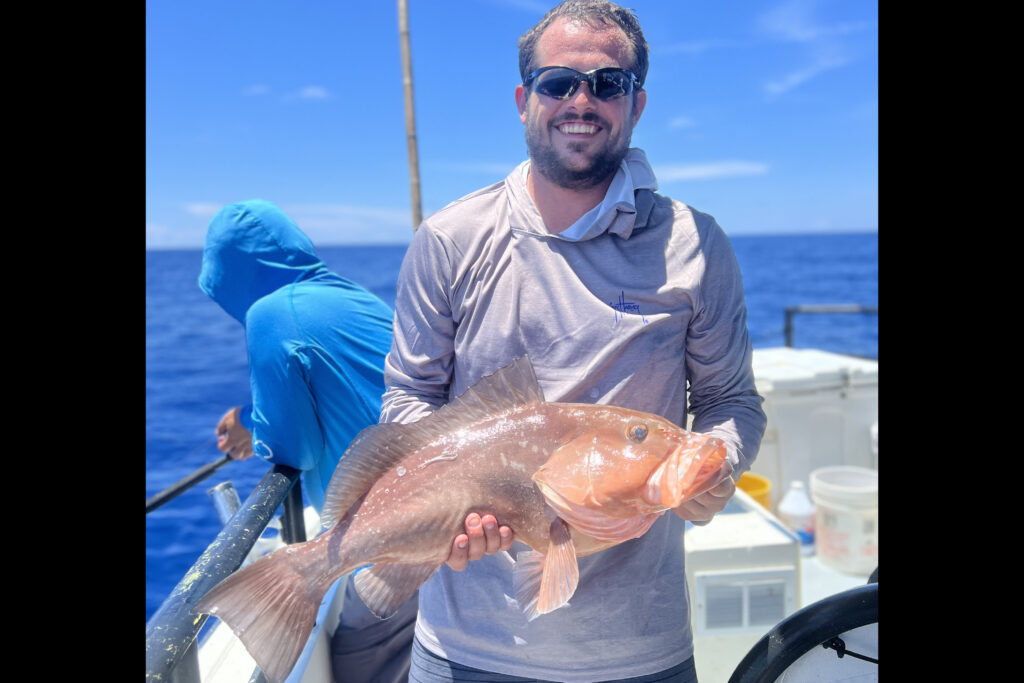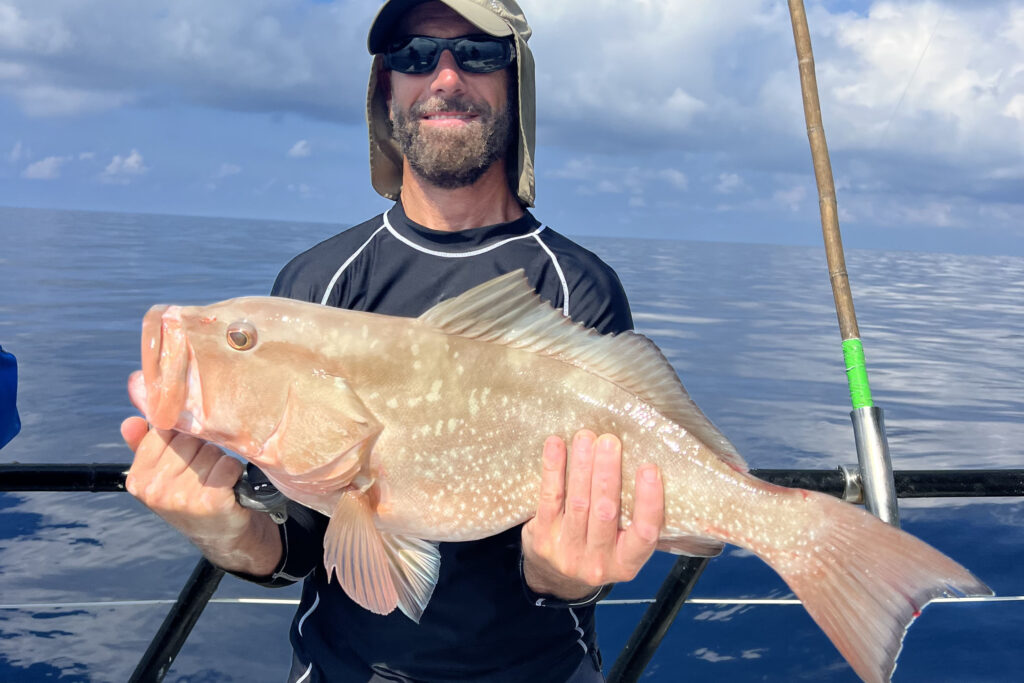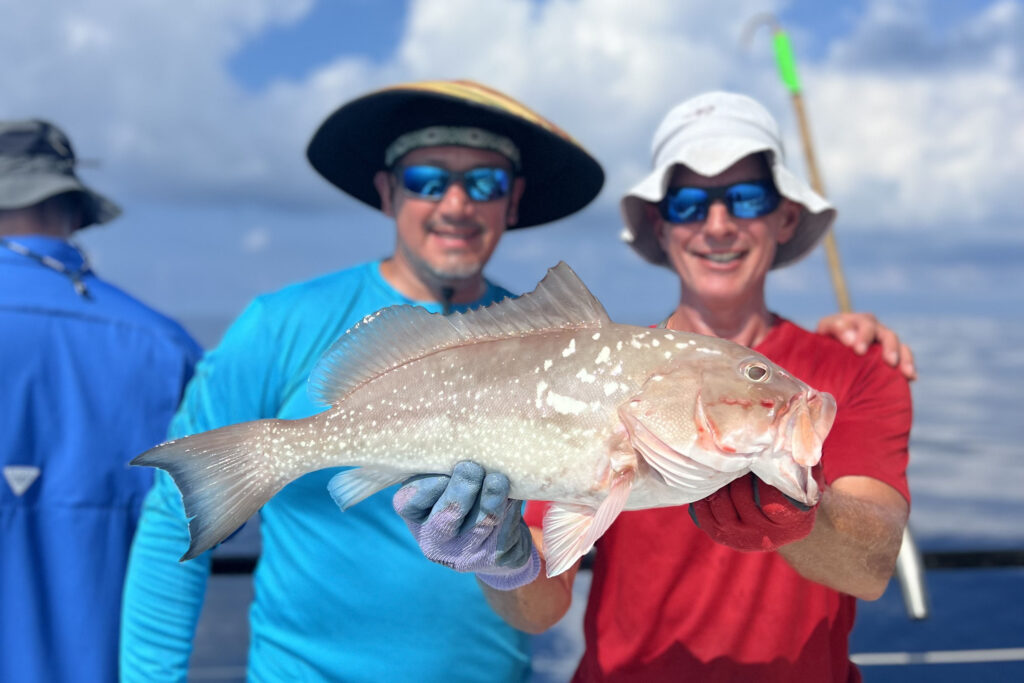 Red grouper action is also going really well offshore right now we're seeing a lot of red grouper out there in deeper water as we fish closer to those red snapper areas. Red grouper like the red snapper are very keyed in to the dead Bay especially larger dead baits. Whole thread fins squid strips Bonita strips all good options for those red grouper. We are finding some red grouper on live bait too. Red grouper is definitely more common the deeper we go and they get exponentially more large as well.
We're seeing a lot of lane snapper out offshore which is somewhat odd for fishing so deep but finding them so consistently. Along with lanes we're seeing lots of big Vermilion too while fishing deep for red snapper. Vermilion snapper are often mixed in with plentiful porgies that we see offshore in deeper water as well. Almaco jacks or another species that we're seeing in high concentrations while offshore fishing for red snapper red grouper and more.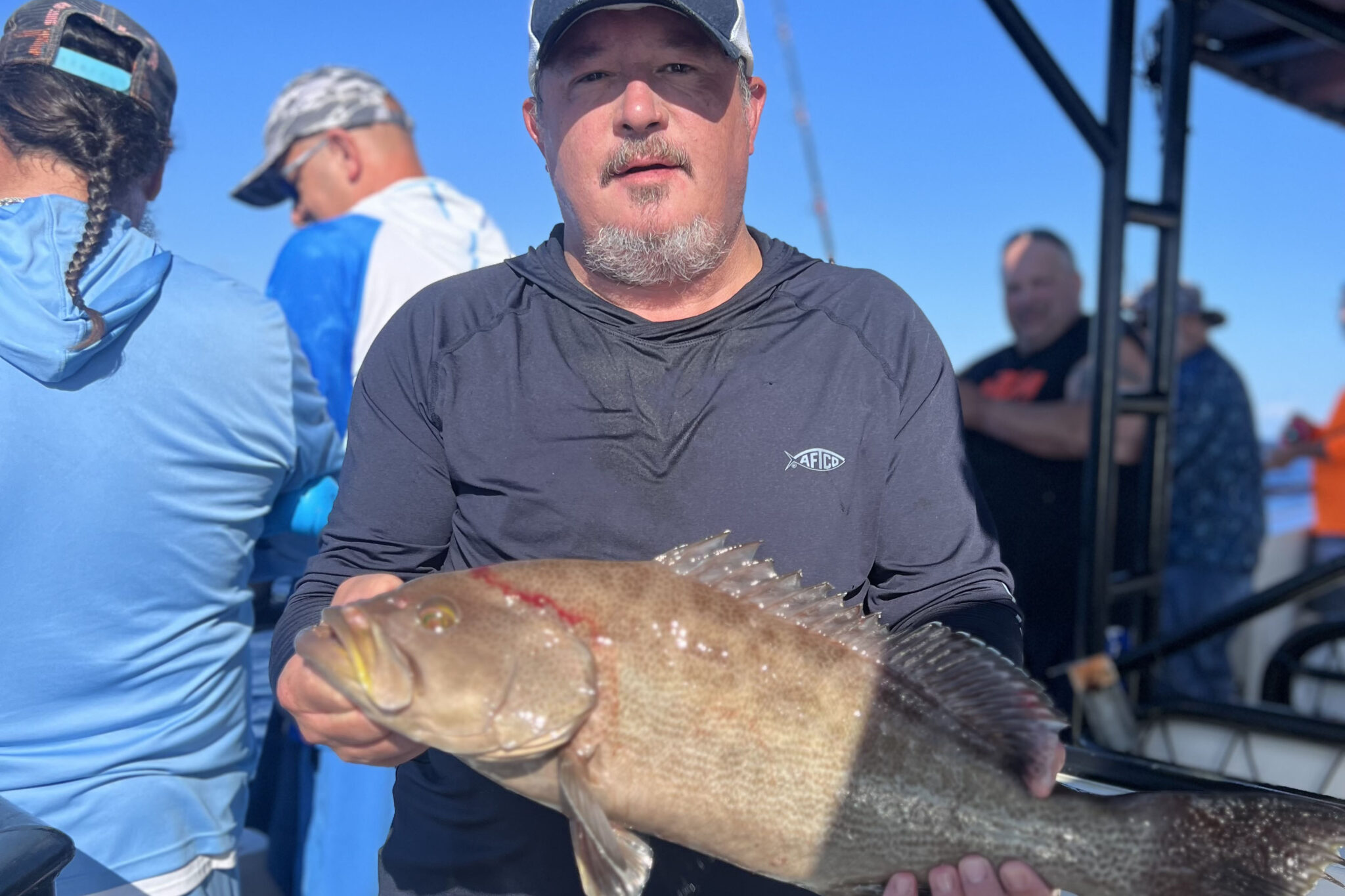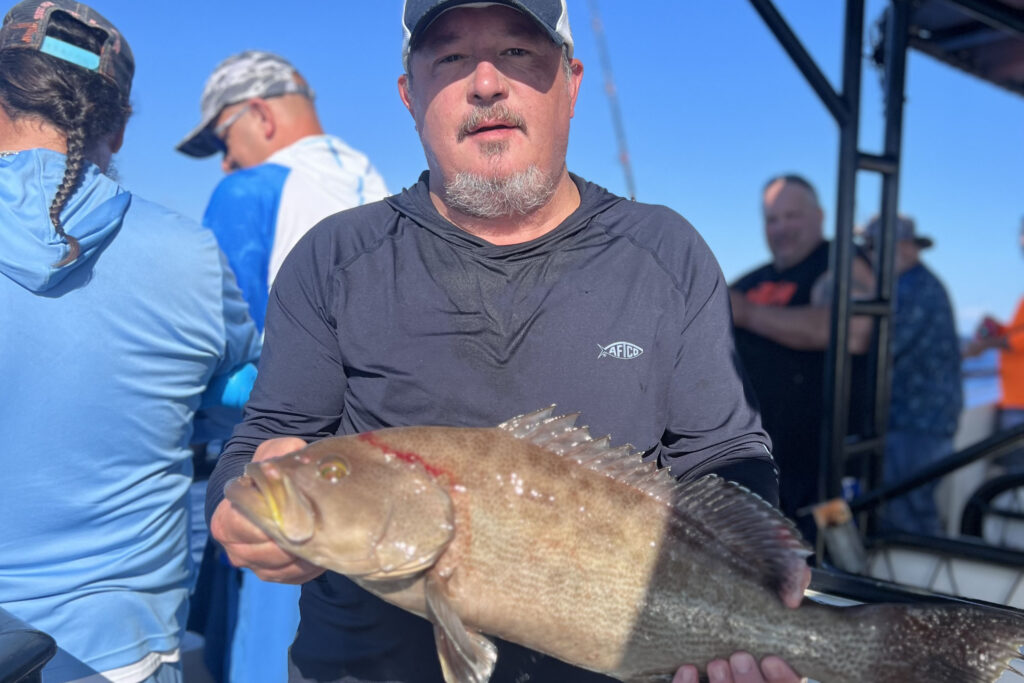 Scamp grouper action is going well offshore we're catching a lot of scamp grouper on cut thread fins and small pin fish too. Scamp grouper are generally caught using 60 pound test smaller hooks. The scamp grouper are super smart somewhat less prolific grouper species.
Pelagic wise we're seeing some kingfish around the area kingfish bite is going pretty good out there in offshore waters. We're seeing a few blackfin tuna as well offshore. Most of the action has been on the troll but we are seeing a few while bottom fishing reeling up or dropping down baits.
This week on our fort desoto ferry's to and from egmont or shell key have been very lively! The local dolphins have given birth to two newborns who are full of spunk! They have also been very active teaching them how to fish for their food and reminding them to come up for some air.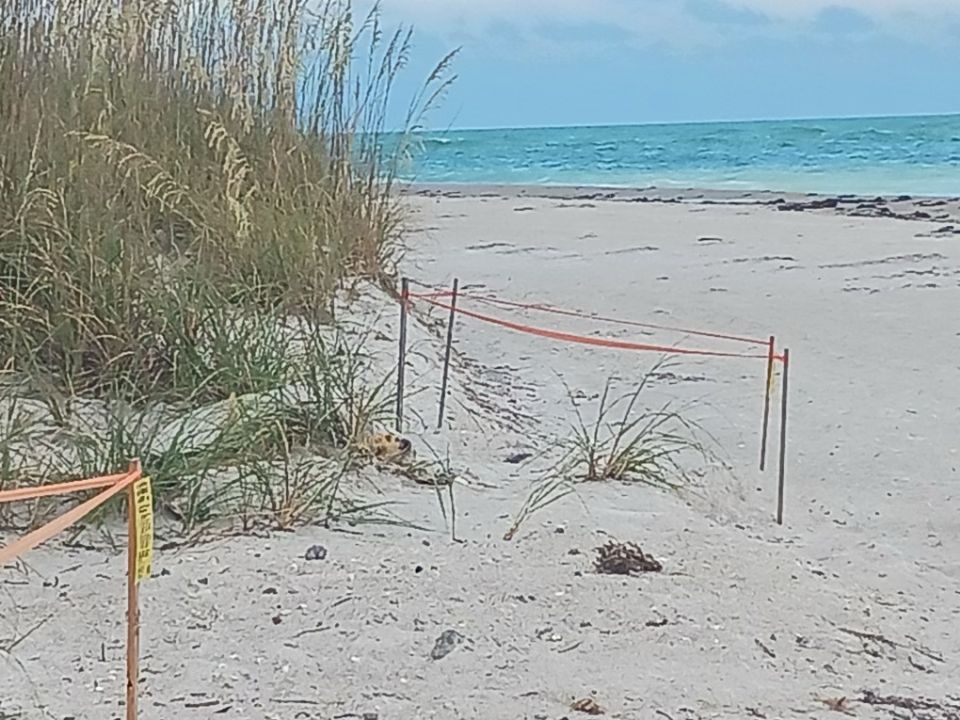 Egmont keys loggerhead sea turtle nest count is up to almost 50! They're making a great start into season and babies should be hatching here soon. Most of our babies are females because of the heat, cool dudes and hot chicks for the gender reveal. Meaning that towards the beginning of the season most eggs that hatch are male and towards the end are female.
The clarity in the waters have been amazing, but with the wind the last couple days and this upcoming weekend will be stirring some stuff up.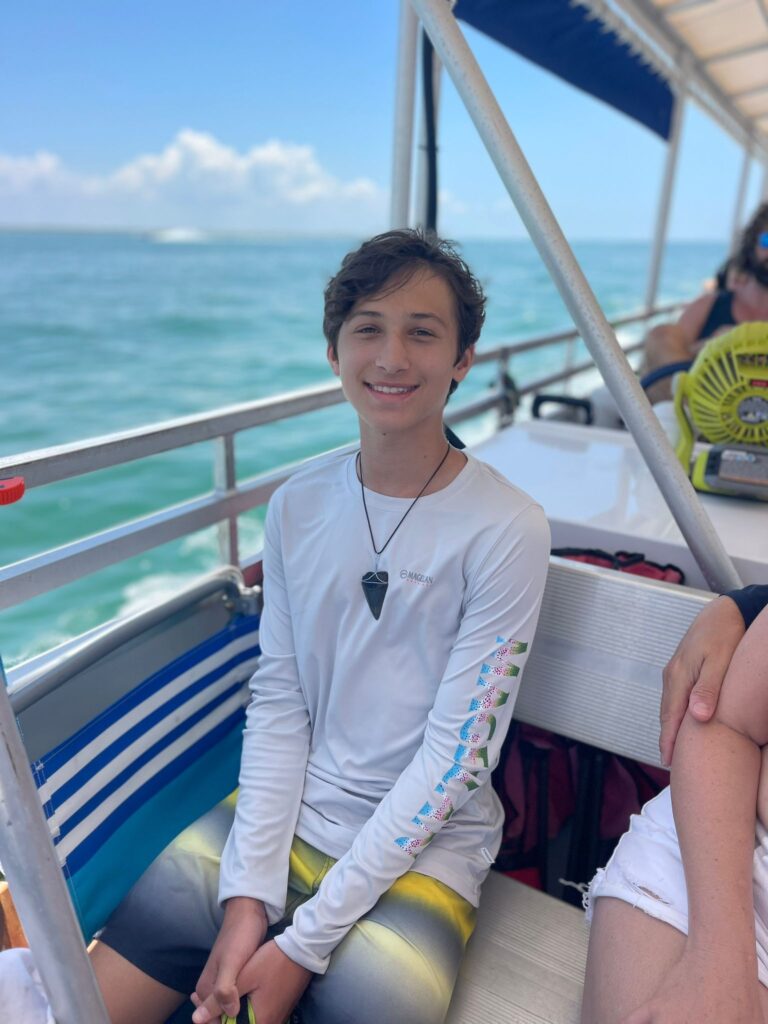 Shelling should be amazing on shell and egmont key this upcoming week from all the winds and rough seas. It will also be a great time for finding shark teeth! We had a young man find a fairly large great white shark tooth last week in decent condition and turned it into a necklace for him.
Come and join us for some island fun and adventures!