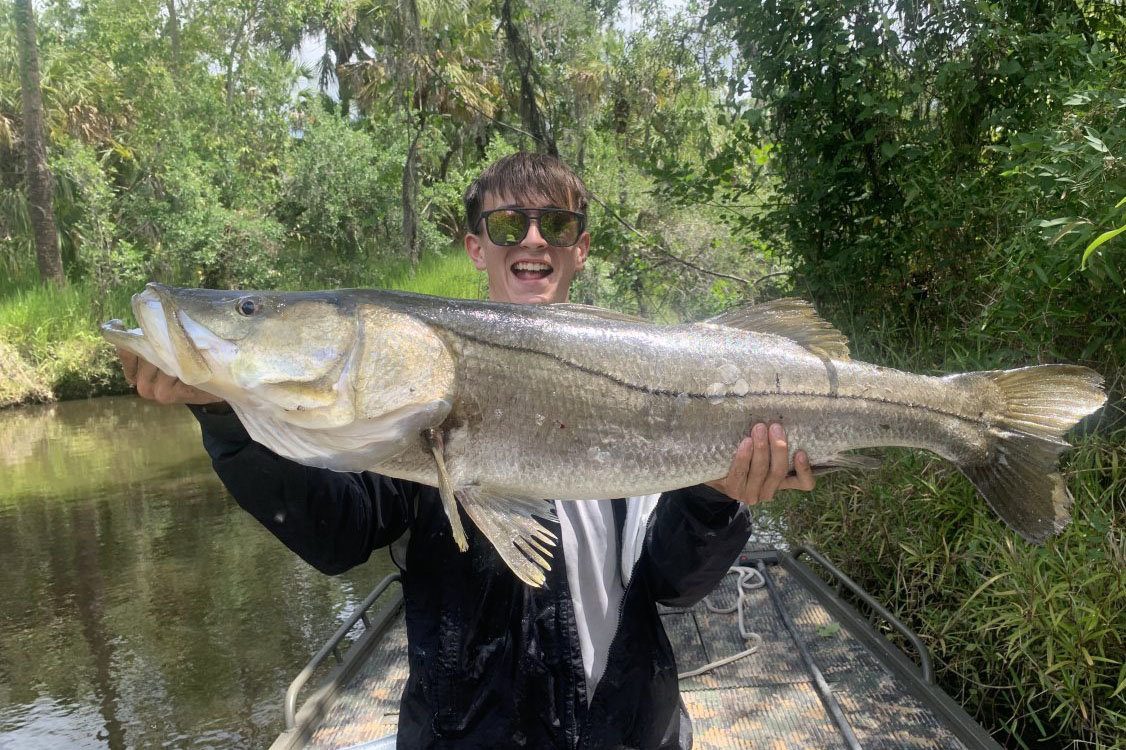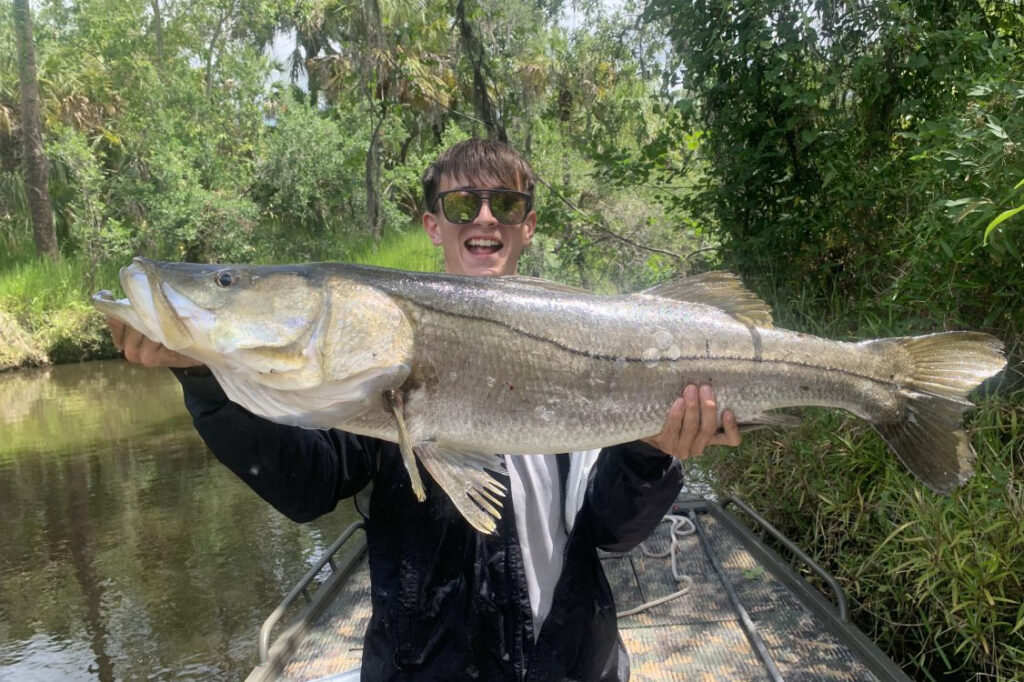 Snook fishing has been going pretty well for us as of late seeing a lot of snook out on our beaches and around the pass too. Most of the snook action in the past has been going best at night around the bridge lights and some of the dock lights. They typically are most active right before the sun comes up. We're seeing them on the free lined shrimp and or pin fish or pig fish. We're also seeing the flare Hawks work well this time of year if you're using artificial lures along with the soft plastic paddle tails and some of the jerk baits. Snook have been a little bit more tricky on the beaches with the increase in grass this past week but now that the weather has calmed down and really cleared up you should have an increased opportunity for snook on the beaches this upcoming work week.
Mangrove snapper fishing is also really active around John's pass virtually any dock pier rock pile or bridge has endless numbers of aggressive mangrove snapper. We're seeing a lot of those mangrove snapper chewing on small pieces of shrimp or small pieces of cut white bait as well. The mangrove snapper generally are going after that lighter tackle with a smaller hook. Using minimal weight generally will allow that bait to look a little bit more natural and allow your presentation to be better and thus entice those smart leader shy and smart mangrove snapper to chew more frequently.
Trout fishing is going really well around John's pass too we're seeing most of the trout at night around the bridge lights specifically the north side of John's pass bridge at night has been producing a lot of trout. Soft plastic paddle tails working really well along with free line shrimp too. During the day the trout are more active in the back of John's pass around those mangrove islands. Personally, I like fishing the east side of the northernmost mangrove island inside John's pass. It has a nice little oyster bar and generally produces some good action. Also, the little channel that runs between the northernmost island and the sandbar that sits between the middle island and that northernmost produces some good fishing action and generally has less boat traffic. During these warmer months, the trout have definitely moved a little deeper we're seeing a lot of trout action around those deeper grass flats and deeper edges.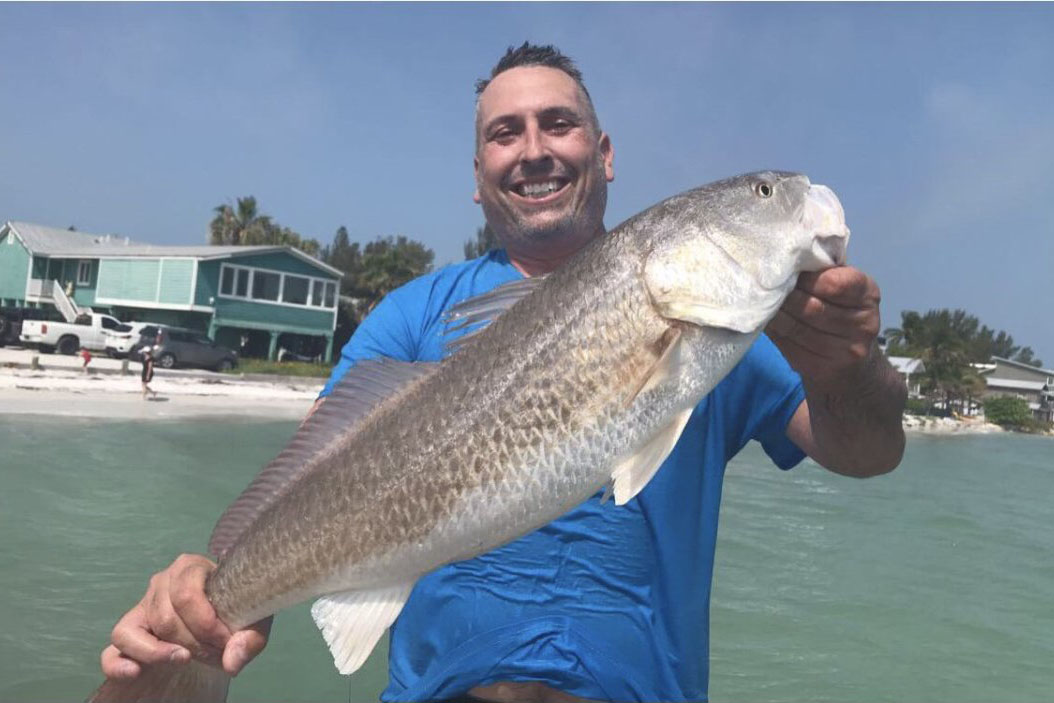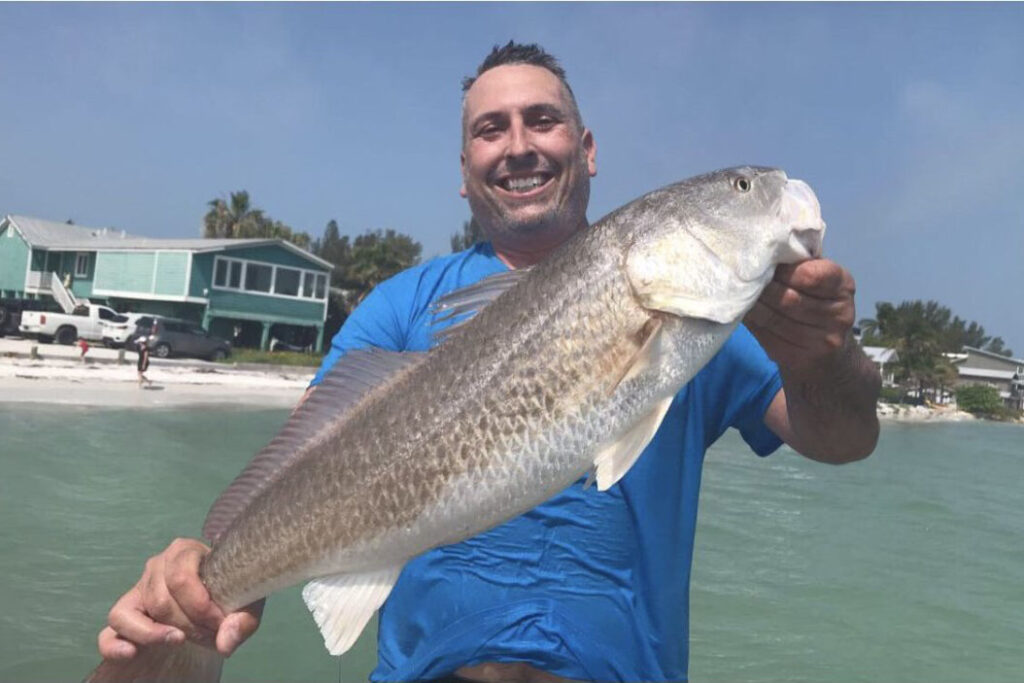 Redfish action is going well in the Back Bay, and we're seeing a lot of the red fish at night on the bottom around bridge lights and dock lights. Red fish during the day are mostly around the mangrove shorelines and oyster bars. We're seeing the redfish really go after the cut dead bait well and chase the soft plastic paddle tails too. They're moving slow and a little bit more they'll target especially as the coming week bears on we're going to see air temperatures and water temperatures increase significantly which will further exacerbate the lethargic slow moving attitude of our predatory species. When the redfish are moving slow you got to get that cut dead bait up underneath the mangroves or underneath a dock somewhere with a little bit of shade will offer that fish a little reprieve from the heat. Warmer water holds less dissolved oxygen less dissolved oxygen means less active fish. So you have to make sure the bait is in the strike zone and you have to find an area where there will be a little bit more dissolved oxygen whether that's moving water in a pass deeper water or shaded areas.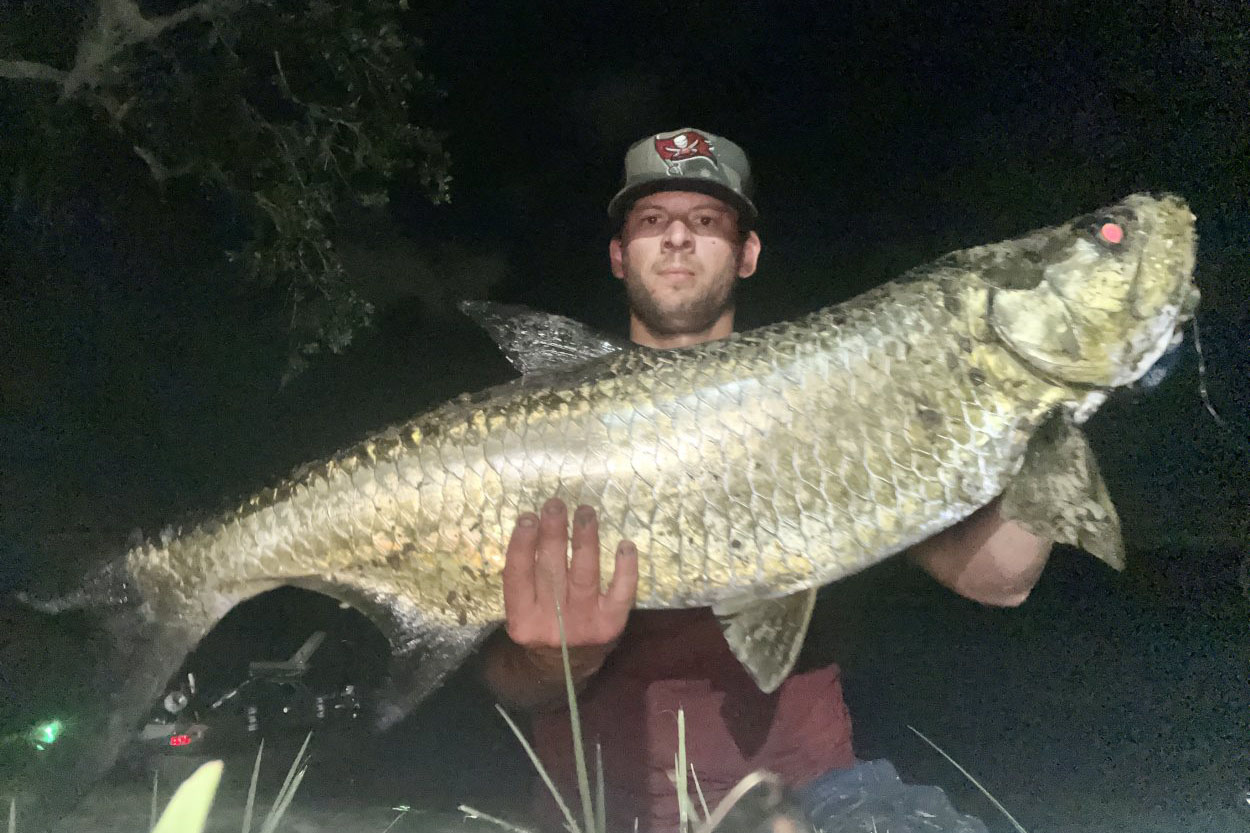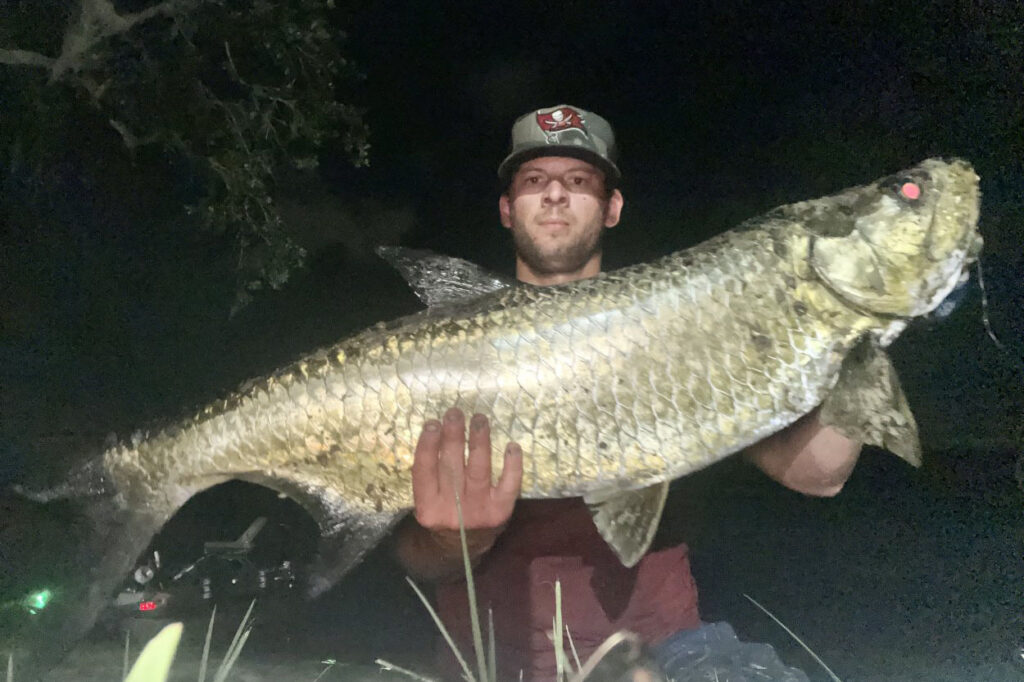 Tarpon action has been pretty active along the beaches we're seeing some tarpon in the morning the mouth of johns pass also at night rolling in between the fenders and around the bridge lights it's pretty common. However, it is very difficult to get one to bite when you do, landing one successfully from shore is nearly impossible but if you're fishing from a boat, you have a chance if you got a good run out into the gulf. We have seen some anglers, do pretty well targeting Tarpon from the jetty, casting at the bridge if they get lucky with a good run out of the pass and down the beach. Tarpon are definitely more active this time of year and we should see Tarpon around the area through the month of July before numbers start to dwindle. They will remain around the area all year, but generally get much less prolific and concentrated as we move into July and out.
Shark fishing has been really good. Inshore we're seeing a ton of sharks around the back bay waters grass flats and beaches. Great opportunity to target. Plenty of actively feeding smaller sharks like black tips and bonnet heads. If you want some bigger, sharks moving towards the passes or on the beach is a great opportunity for bigger fish for those land shark fisherman. If you're fishing from a boat, any big bridge, structure or pass is a good area to look, especially on an outgoing tide, where that scent can be carried further offshore.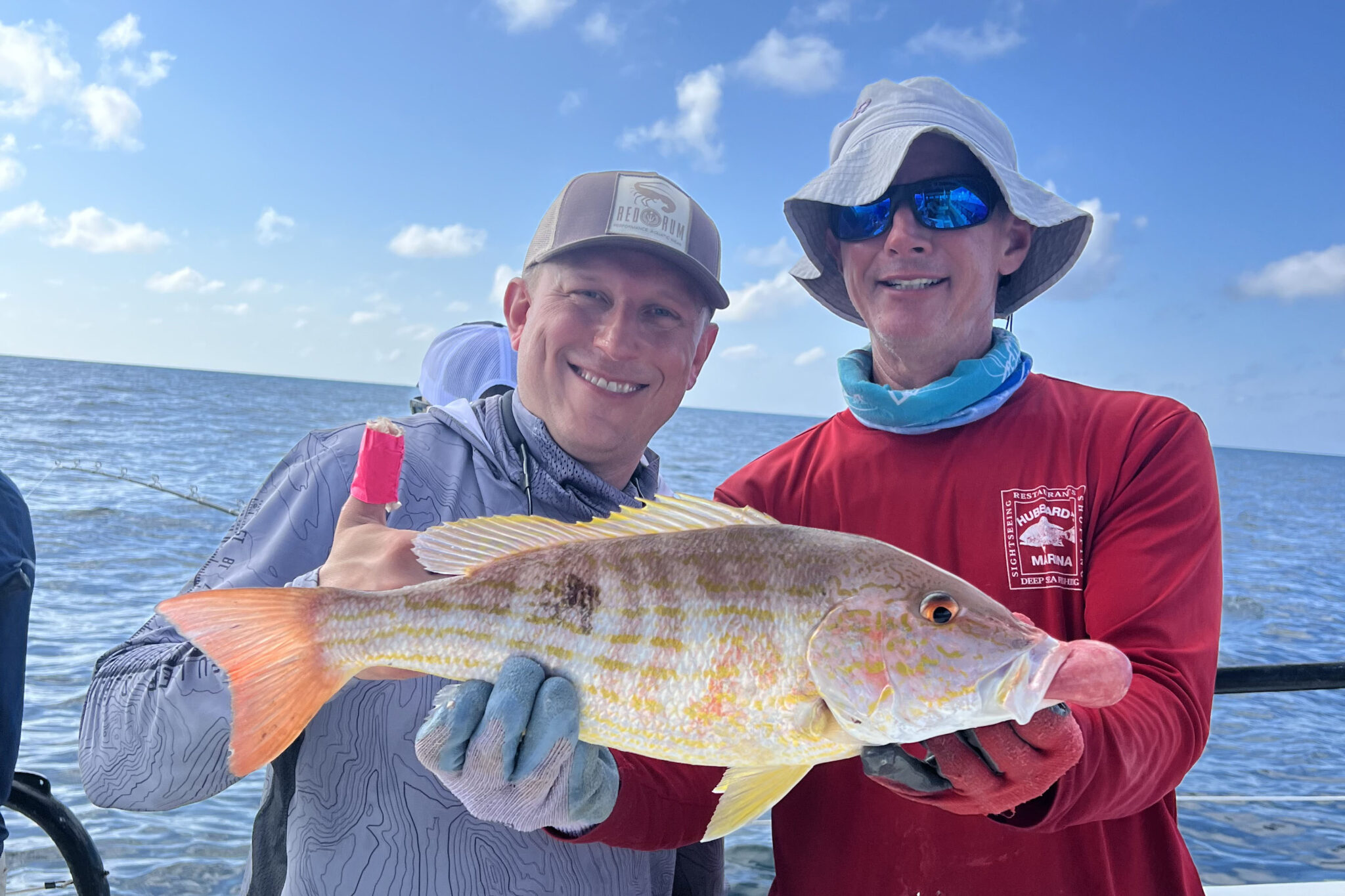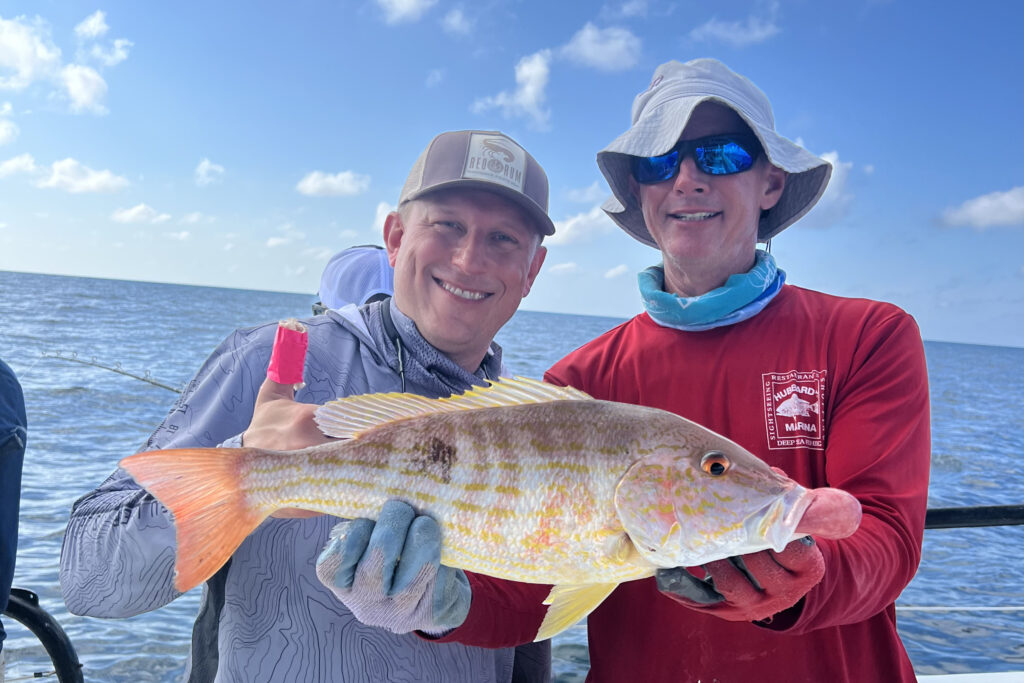 Right now, near shore we're seeing some nice lane snapper action in that 50 to 100' range. Lane snapper love cut squid, cut threadfins, or even live shrimp. We see a lot of lane snapper on our 10 hour all day and near shore private fishing charters. Lane snapper are really good eating pretty aggressive fish that we find a decent concentration when targeting ledges rock piles and areas of flat Hard bottom.
Mangrove snapper action is also going pretty decently near shore, a little deeper than the lane so we find plentiful mangrove snapper. Some very large average sizes overall too. Most of the mangrove snapper action is on live shrimp or cut threatens. Mangrove snapper are smart, quick, biting fish, so using shrimp can be a little challenging, but for experienced Anglers, they could really do well on mangrove snapper near shore this time of year.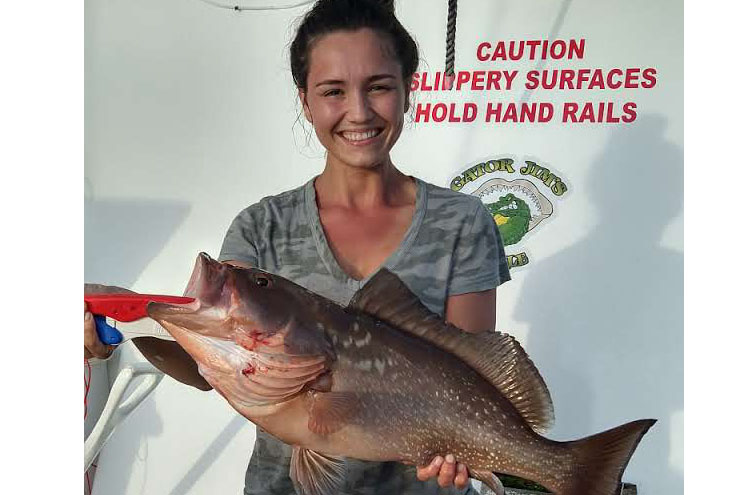 Red grouper has also been somewhat active near sure we're seeing some decent red grouper action in deeper waters when fishing on our 10 hour all day and near shore, private fishing charters. Red grouper have really liked the live Pinfish, large strips of squid and we even get them on the whole thread fin cut at the tail. Generally bigger dead baits or solid live baits are good option for red grouper. Near shore, red grouper fishing; I'd probably be using anywhere from 40 to 60 pound leader in about a six ot hook.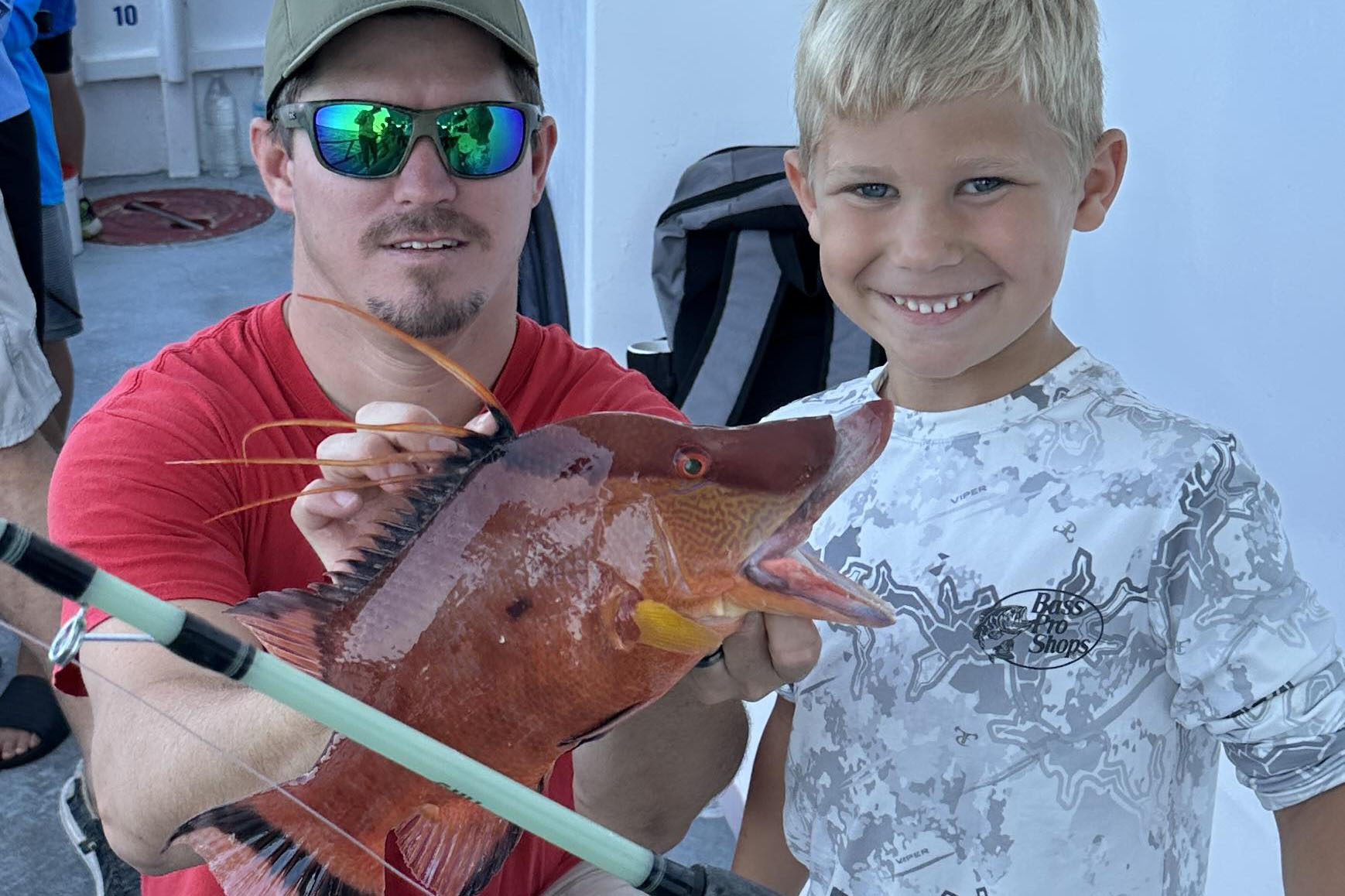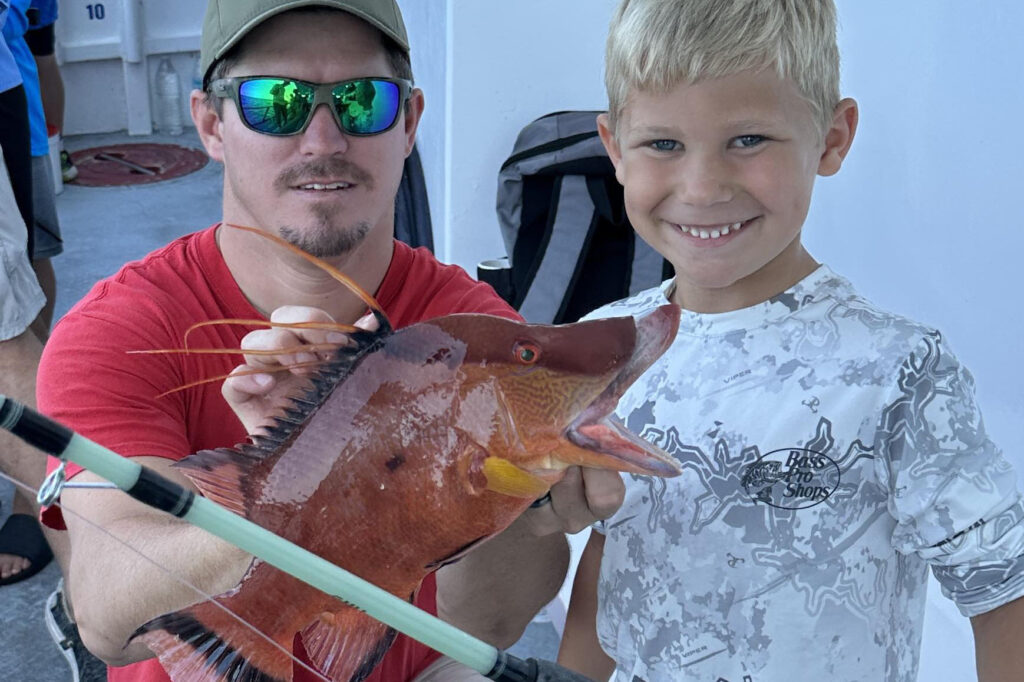 Hogfish action has been somewhat active near shore but most of the hog Fish become a little bit too lethargic and leader shy to really feed this time of year. However, we should see more hog fish in the fall once water starts to cool. In the summer, we still catch a handful here and there, but they're much fewer and further between and much more difficult to target with token line. Still the same method is used all year around with lighter leader. About 30 pound is a good idea with 3 to 4 at hooks. Generally, were using live shrimp with minimal lead sizes.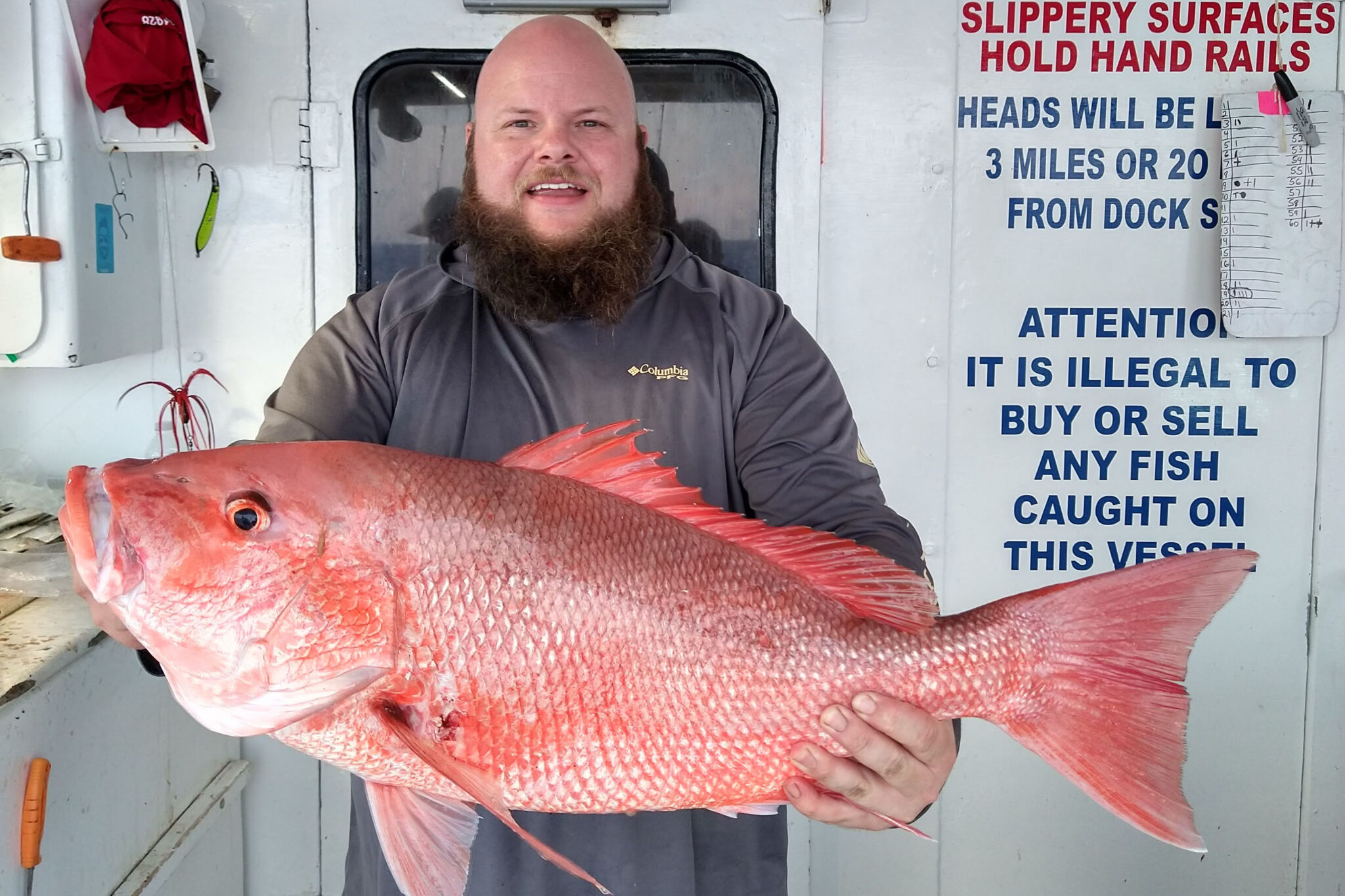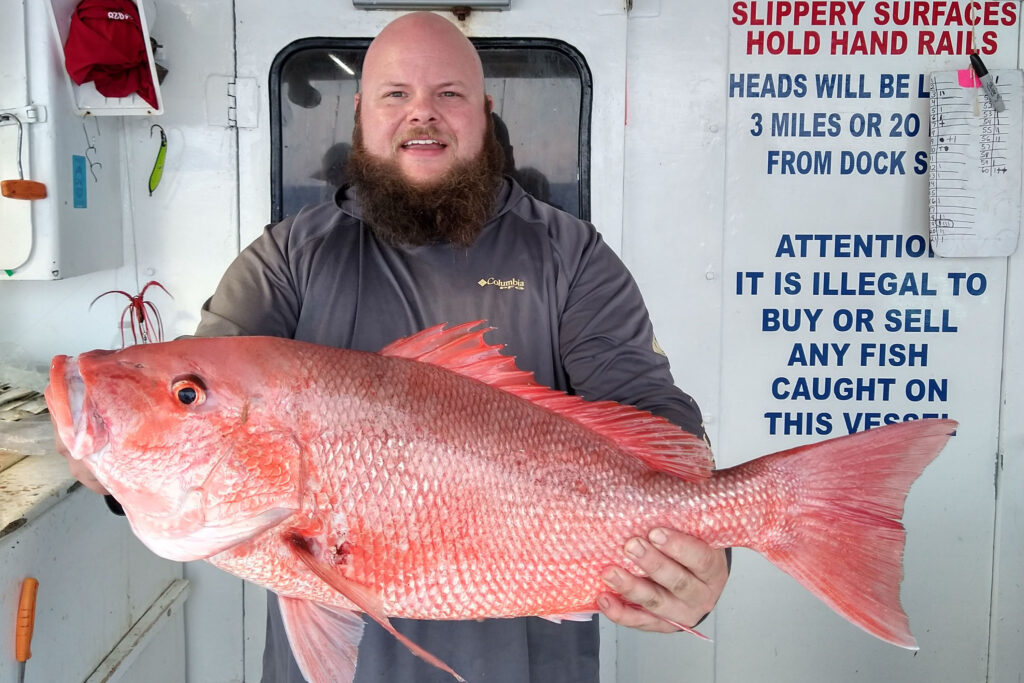 Red snapper season is really the focus offshore right now we've had a tough week of weather which has made it difficult to get out there but we're looking forward to a great weekend and week coming up. As long as were deep enough, we've been experiencing plentiful, red snapper. We have to get out there beyond 40 to 50 miles fishing anywhere from around 120 to 140' or more. you can catch red snapper inside of this area but generally much more difficult to get good concentrations of decent size fish inside 140 foot. We're generally utilizing Live Bait or a cut dead bait for those red snapper with around 60 pound leader. You can even fish up to an 80 pound leader especially when we're deep or closer to 200 foot. The dead baits have been working better for red snapper but we're still catching plenty on live bait to. Jigs also work really well for red snapper. Bonita strips have really been a hot bait for the red snapper and we carry plenty of Bonita in our shop that you can pick up prior to your trip. For red snapper fish in a private charter on the Flying HUB to a 12 hour extreme trip 39 hour long range overnight trip or a full moon 44 hour full moon. Long range overnight trip is your best bet to target and catch plentiful red snapper.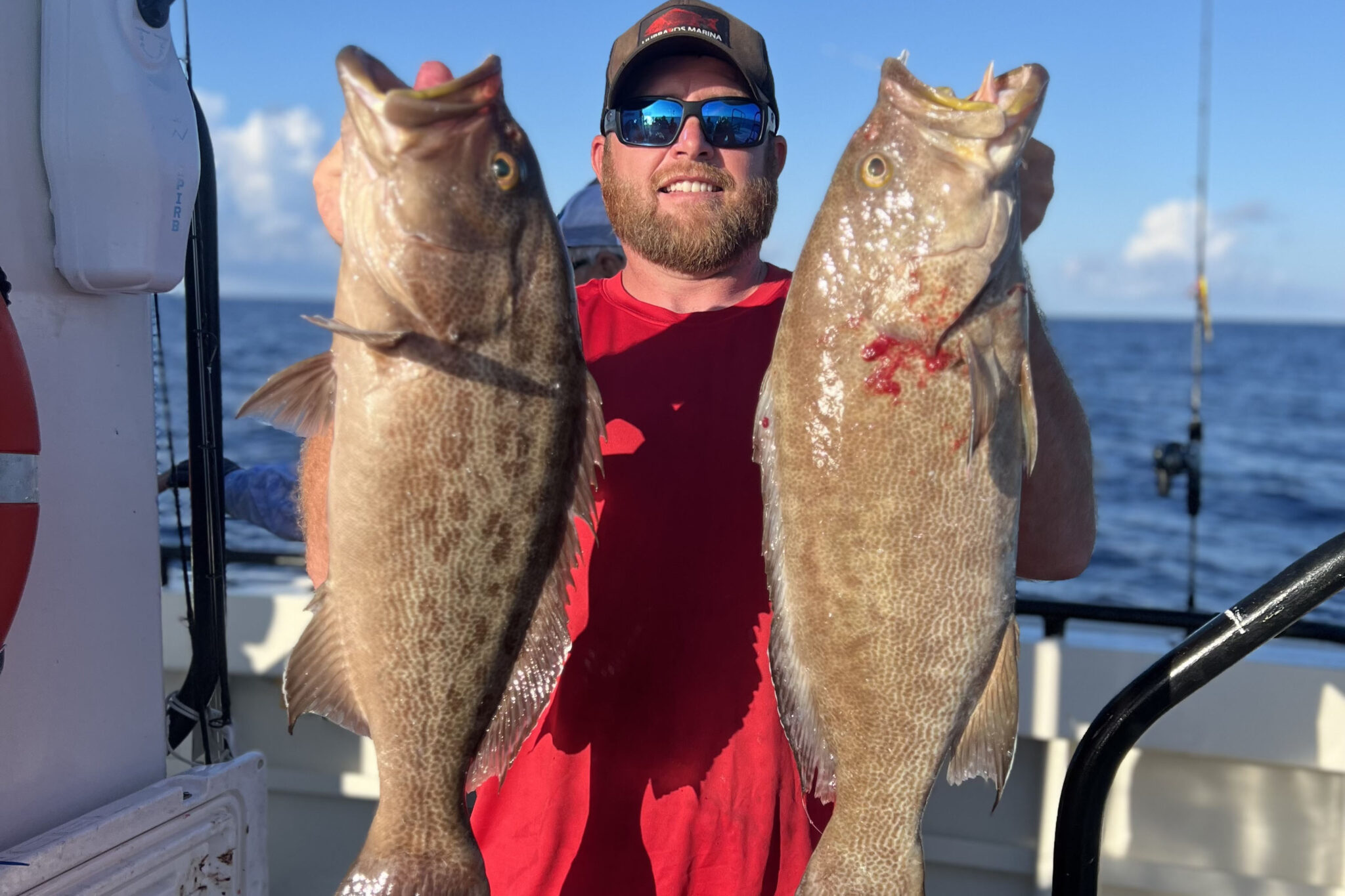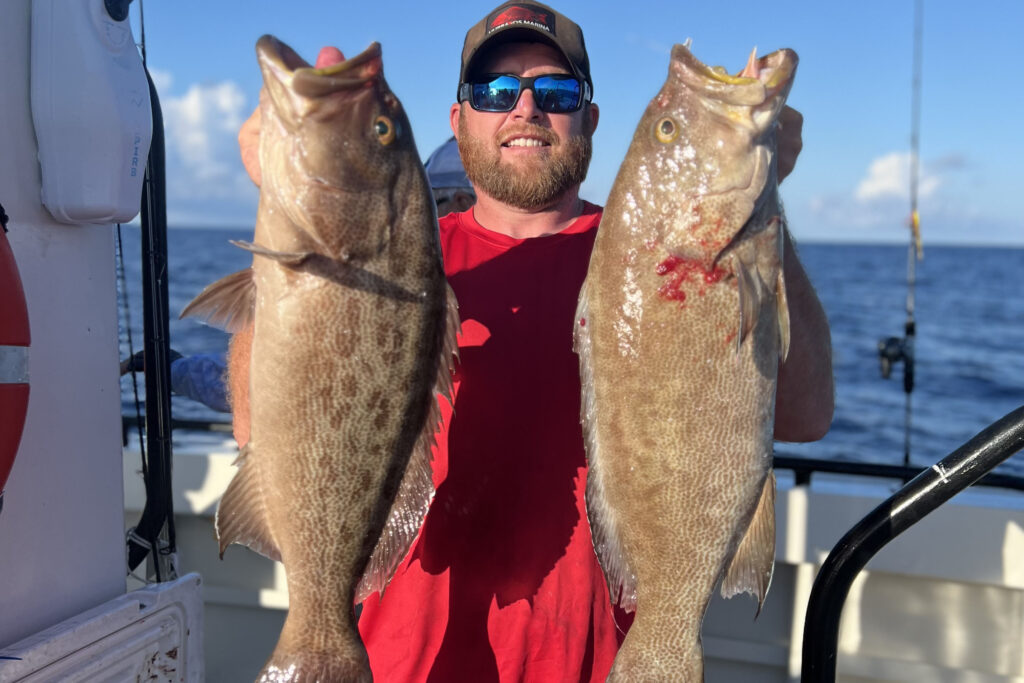 Red Grouper Fishing is also going pretty well offshore remember red grouper Fishing closes July 21 at 12:01 AM meaning July 20 is your last opportunity to catch and keep red grouper. We're seeing a lot of those red grouper while fishing for red snapper out deep right now. Red grouper are really liking the live bait unlike the red snapper, which have been more dead bait focused. The red grouper have been hitting on those bigger Pinfish, grunts and squirrel fish and a lizard fish is also a great bait for a keeper red grouper.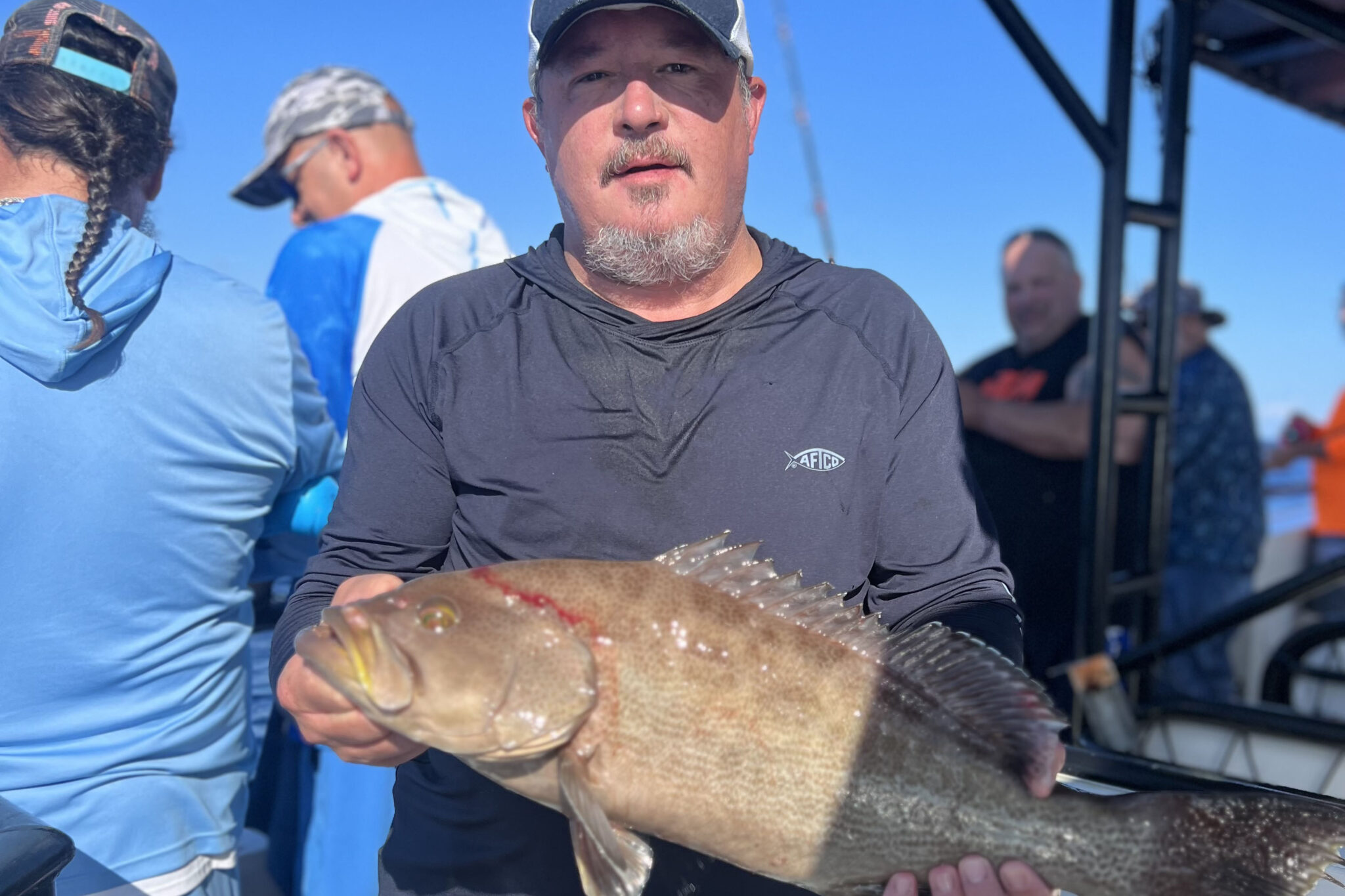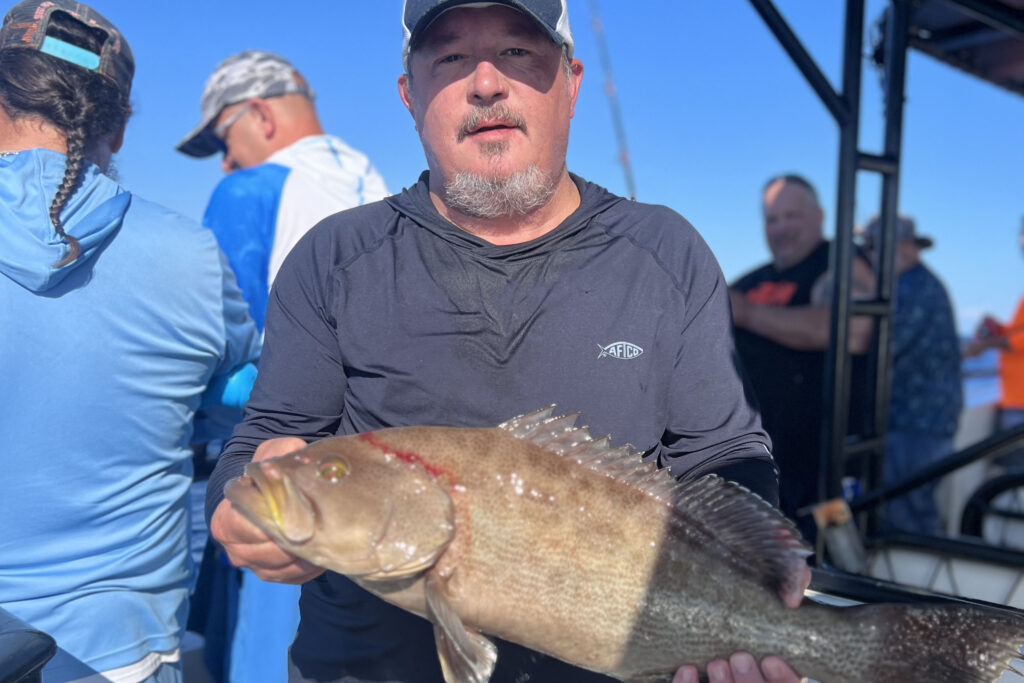 Scamp Grouper Fishing is also going well. We're seeing a lot of scamps as we move deeper to target Red Snapper closer to 160 to 200'. Scamp Grouper love a small to medium size Pinfish or cut dead bait. We also get a lot of scamp Grouper on those black and gold jigs.
We're seeing a lot of yellow tail snapper out there offshore right now. The yellow tail snapper bite has been pretty impressive as of late. Mostly caught on live shrimp or cut strips of squid around a quarter inch wide and about 2 inches long to target yellowtail.
Pelagic wise were seeing a handful of king fish lately and also the occasional blackfin tuna. Most of the time we're seeing them while trolling or while flatline fission offshore in deeper water.
REMEMBER, when fishing deeper near shore and especially offshore the Descend Act is in effect so when in federal waters you must have a descending device or venting tool 'rigged and ready' so be prepared with that venting tool if you know exactly where to vent the fish, but if you don't here's some helpful tips – https://bit.ly/3L5HTnv Plus, keep in mind using a descending device is super easy and doesn't take much practice or as much precision as venting does, and right now you can get over $100 in FREE DESCENDING DEVICE GEAR by visiting this link and taking a short course on barotrauma mitigation techniques that will help more fish survive! The course is only about 10-15 minutes, and it will really help you preserve, protect, and proliferate our offshore fishery so spread the word -> https://returnemright.org/
TERMS OF REFERENCE-
INSHORE – from the back bays out to the bridges and including right on the beaches.
NEAR SHORE – From the beaches out to twenty miles, or up to 100ft of water
OFFSHORE – from twenty miles or 100ft and beyond
For more fishing reports, photos, videos and more check out Hubbard's Marina on Facebook, Instagram, YouTube, Tik Tok, Twitter, Pinterest or Snap Chat just simply search @HubbardsMarina and do not forget our family motto, "If You're too busy to go fishing, You're just too busy!" Thanks for reading and checking out our report – Capt Dylan Hubbard, Hubbard's Marina – Call or Txt me anytime at (727)393-1947 | https://HubbardsMarina.com