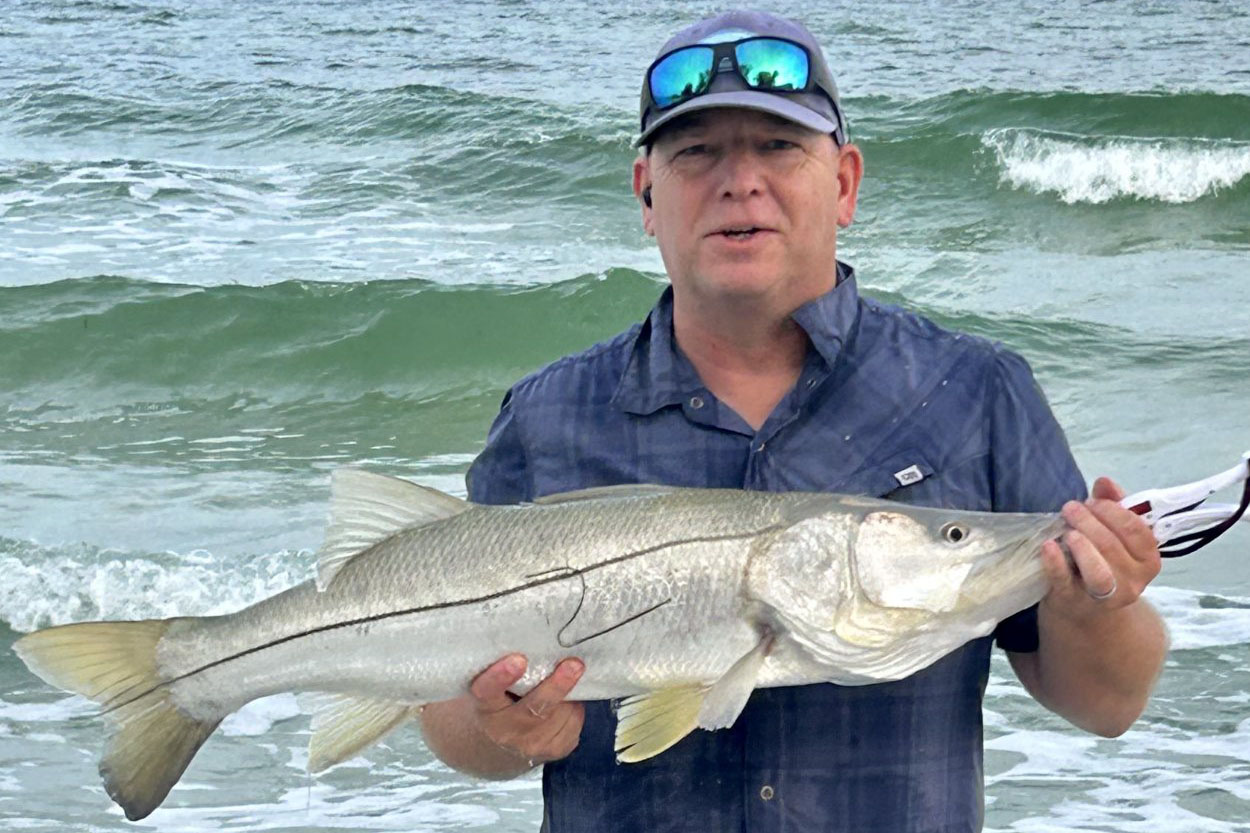 Snook fishing is hot around the area right now and going well for many anglers not only during the night but also during the day too. WE are seeing a good push of Snook into the passes and they are really starting to stack up and look a lot like our summer time Snook spawn pattern. However, we still got a bit of a ways to go before its truly choked. We see the best action on them in the wee hours of the morning prior to sunrise around the pass and mouth of the bay. However, once the sunrise we see them most around the docks, jetty and on the beaches. After sunrise hunting the troughs of the beaches is a great idea for the Snook action. Remember, when the water is clear they are extremely leader shy and really tend to get picky. Lighter tackle is a good idea when the water is clear and being more stealthy and mindful of your approach is a tactic many don't consider, but you need to for these super smart fish. 
Redfish action is happening inside the bay, but not too much around the beaches and pass lately. We are seeing these guys mostly around the grass flats, oyster bars, and on our mangrove shorelines. The water warmed up quite a bit lately and they are really receding to whatever shade they can find to get a little reprieve from the heat and lack of dissolved oxygen. They get more lethargic this time of year and due to that tend to go after the slower moving baits more frequently like the soft plastics, or the cut dead bait. Typically the cut mullet, ladyfish or threadfins become a popular option for the redfish in the summer. We see most use around a 2-3 inch chunk of cut bait.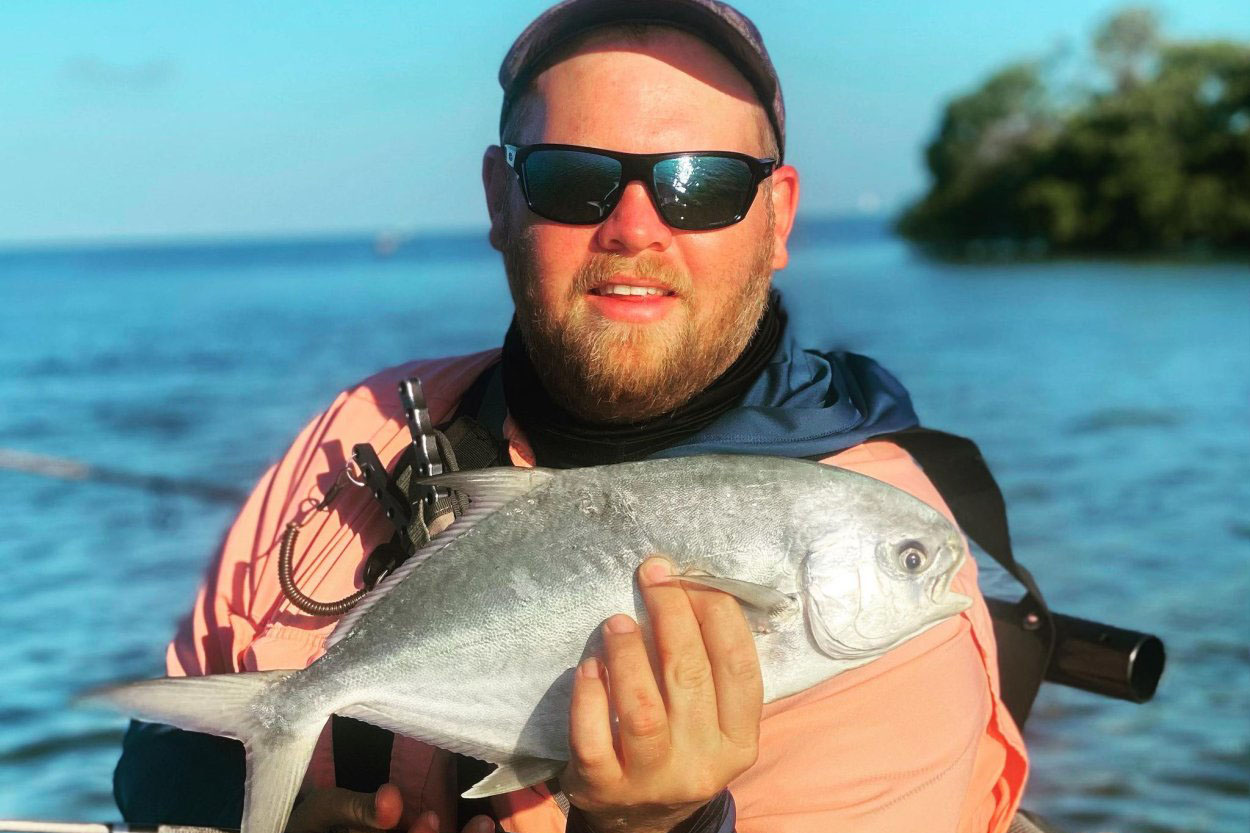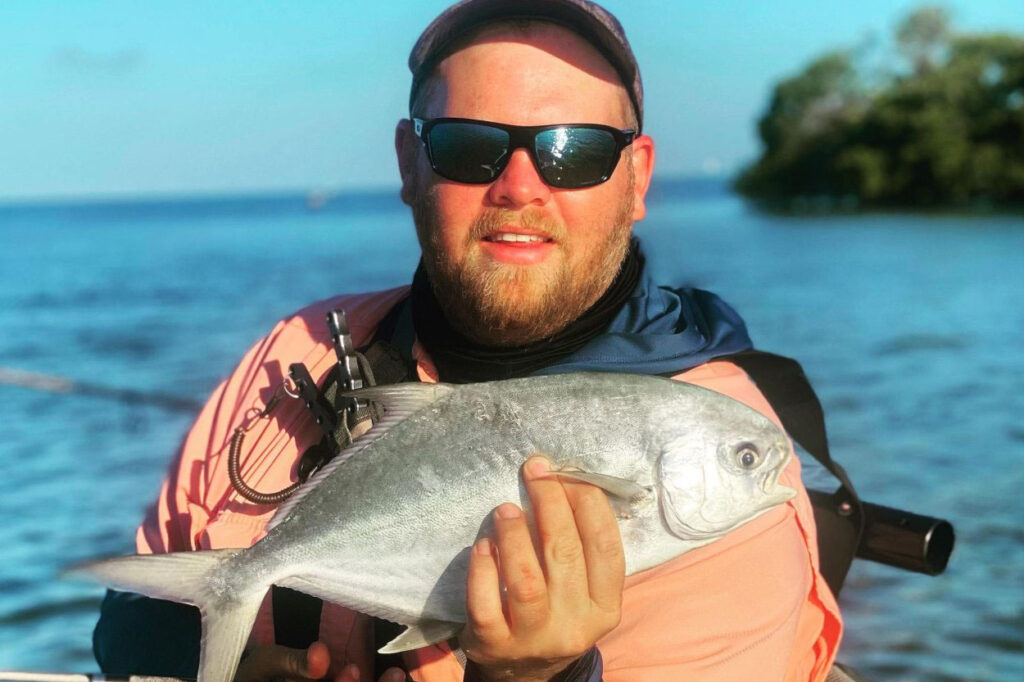 Pompano are active around the beaches, passes and some of our sandy cuts around the flats and bridges. Find them using live shrimp barely weighted to bottom with splitshots or light egg sinkers. We also see a lot of guys using sandfleas or fiddler crabs for them too with good success. However, a favorite for most pompano fisherman is a pompano jig like the nekid ball jig, smaller bucktail, or the banana jigs with a teaser. Typically, the teaser is around 4-8 inches above the banana jig, but some will leave it right on the jig with a split ring. Personally I like it higher than the jig on a good loop knot.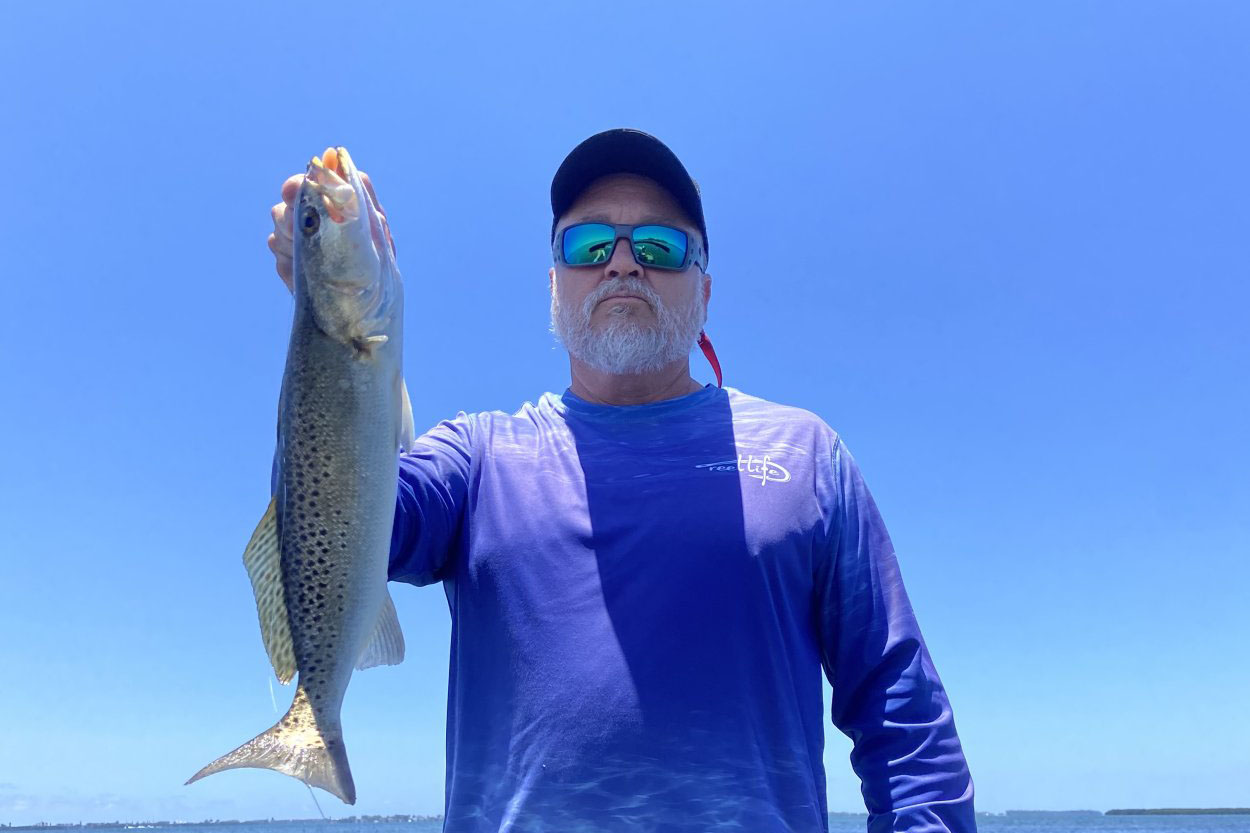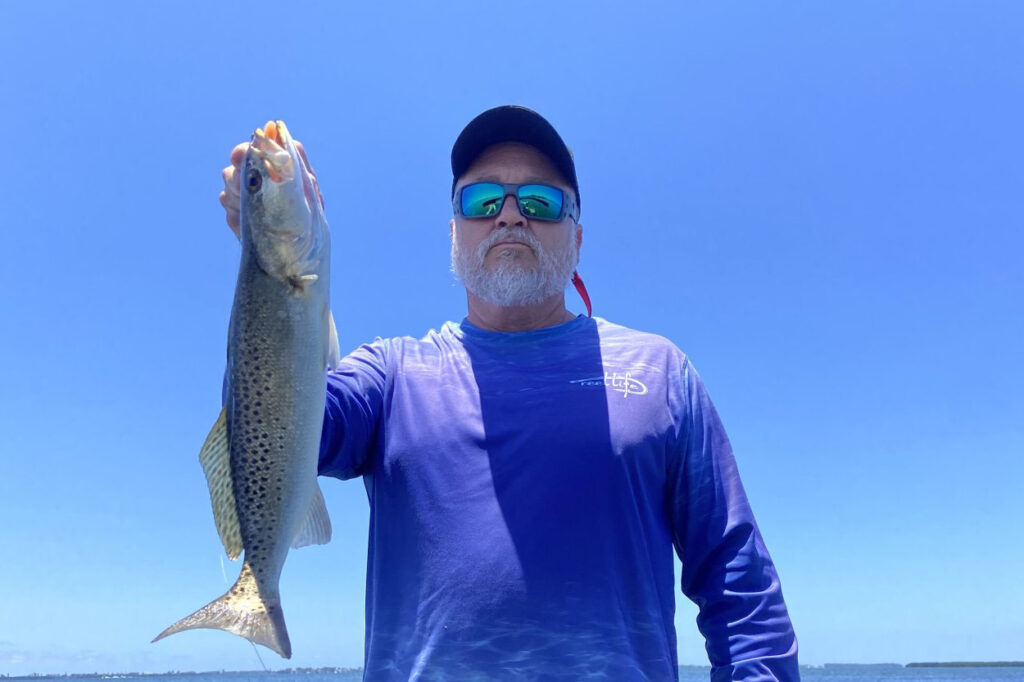 Trout action has been positive around the area too. We are seeing trout on the dock lights and bridge lights at night, on the flats during the day, and even around the jetties and on the beaches too. This time of year they seemingly are present around the entire area. Plus, we see them in a pretty large average size too. Great time to go chase some trout using some live shrimp, greenbacks or the soft plastic lures. Personally, on of my favorite trout lures is the doa shrimp. However, a lot of folks like the soft plastic paddle tails or even the swim baits for trout too. In the early morning or late afternoon or in overcast conditions the top water baits like the top dog or top pup or moonwalker are all great lures to use as well. Top water baits preform best in low light conditions and they are tons of fun to use on the flats for trout. They explosions on the surface make for an exciting fishing experience. 
Mangrove snapper are thick around the areas structures like bridges, piers, jetties and docks. We are seeing them in high concentrations biting nearly any small piece of bait that floats down to their pirhana like schools. They are really dialed in to the cut shrimp or the white bait chunks. We target them best with smaller hooks like number ones and some light leader like 10-20lb. The smaller the better and often the lighter the tackle will improve the speed and aggressiveness of the bite too. 
Tarpon are thick around the passes, beaches, mouth of Tampa bay and also around some bay area bridges. This is the time of year we will see more and more flood the area through around august. We see them rolling around the johns pass bridge in the early morning hours and then they will work back into the bay or onto the beaches for the daylight hours. On these big full moon outgoing tides at night we should see some really good chances at hooking and jumping some exciting tarpon around the pass. Typically a ladyfish, silver mullet or big threadfin is a good baitfish option. However, crabs are always a good one for tarpon too. We also see folks use the huge soft plastics in the 6-9inch range with good luck for the tarpon action, but even the big snook flair hawk style jigs will entice a tarpon occasionally. 
Shark action has really picked up in our back bay areas, and that will continue to be prolific through our summertime season with more and more sharks showing up nearly daily. We see this during this time of year as the big females will come in shore to give birth to their live young and the big males will hang out around the beach and mouth of the bay area to take advantage of the flood of juvenile sharks from the back bays. Plus, the mothers will often turn on and try and grab some of her young too! If the young sharks survive all this they eat super aggressively around the inshore waters and on the beaches until they gain some size to journey off the coast to deeper waters. 
Flounder action is going well around the inshore waters. We are seeing them around the docks, piers, bridges and jetties hanging on the sand. They will also do the same around flats, oyster bars and islands. These fish are exclusively a very ambush predator. They are going to set up where they know they are downtide of a structure or area that will congregate bait and then they wait in the sandy bottom area hidden to strike any baits that travel too close to the bottom.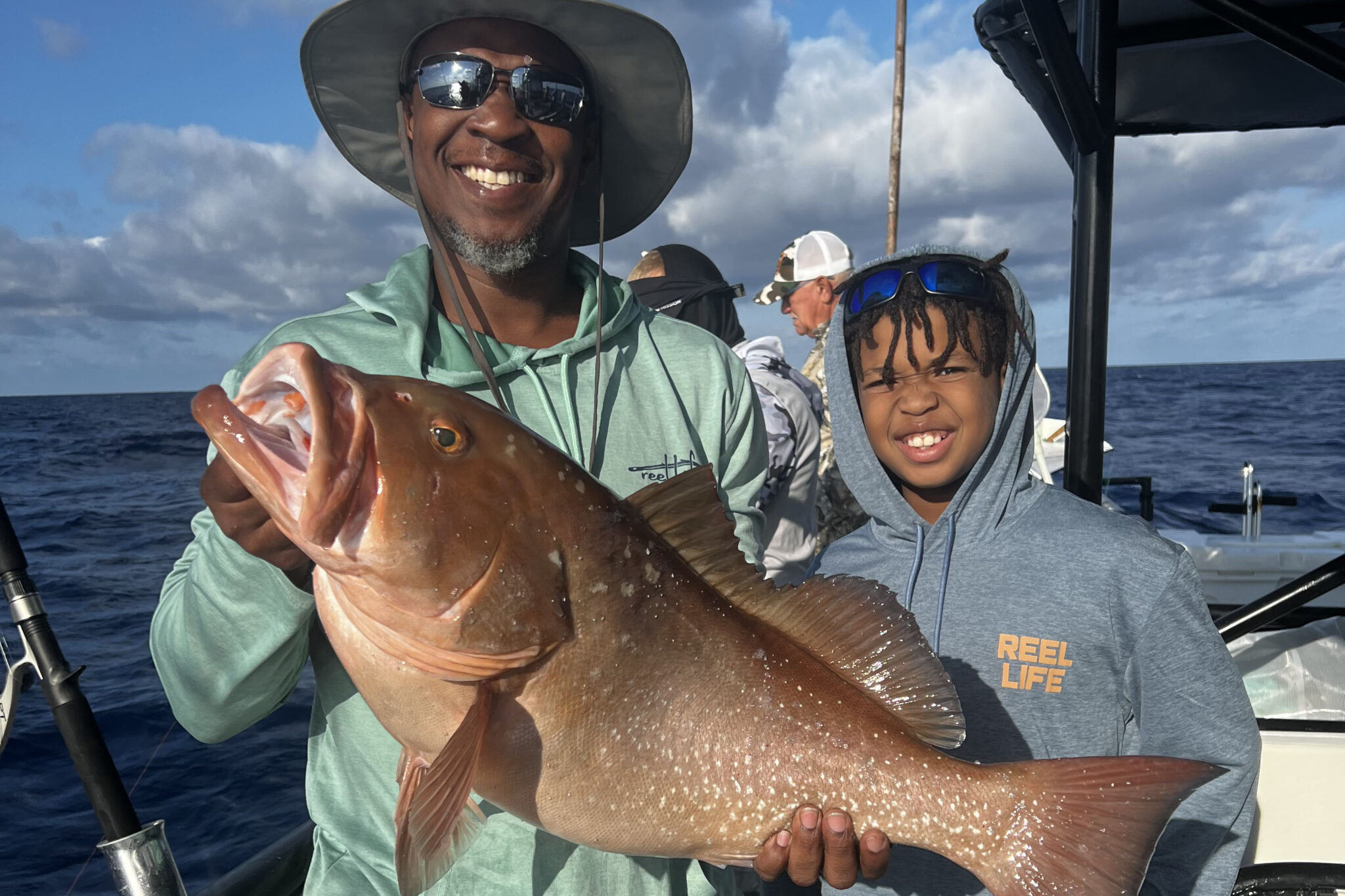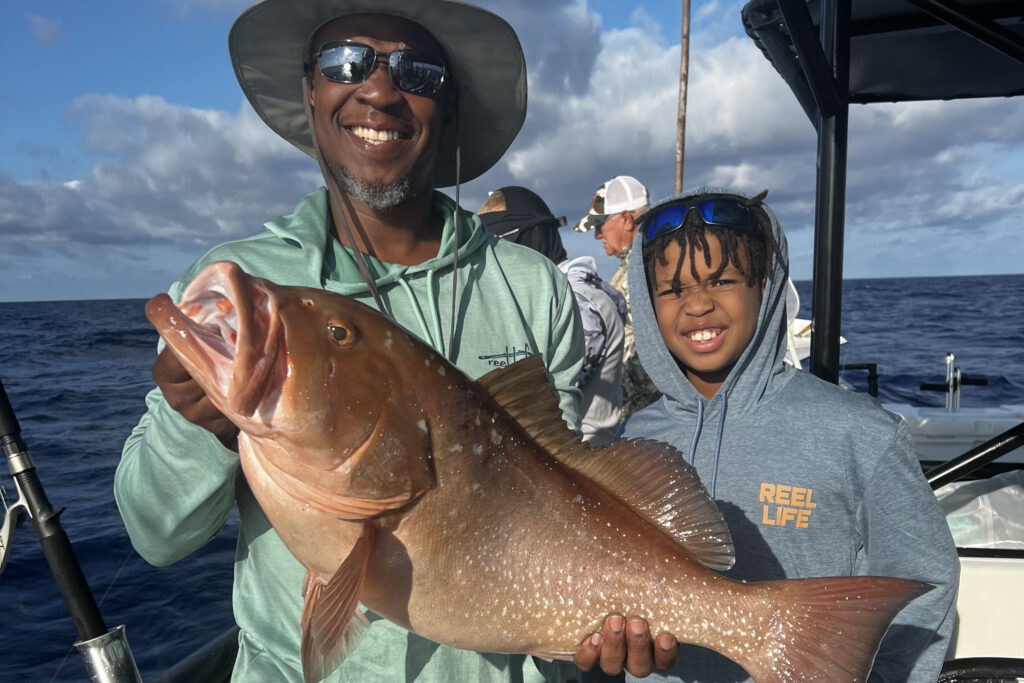 Red grouper fishing in the deepest near shore waters has been going pretty well for us on our private fishing charters. We are also seeing a few on our 10hr all day trips too. When we are fishing around 70-100ft of water in that deepest near shore waters we start to have a much better shot for these red grouper. However, inside of this area and even in this area you are sorting through some undersized red grouper to find some keepers. Make sure you are prepared with the proper handling and releasing methods and tools so your able to ensure that the fish you are not able to keep are returned quickly and safely to grow larger and be able to be kept on your next year's adventure. We are finding the big boy red grouper on the live bait and also the bigger dead baits. Trying the squirrelfish or grunts seem to be a popular live bait for the red grouper right now, but a big threadfin is always a good option. 
Mangrove snapper action is going well in the deeper near shore water too, and we do even better as we get deeper offshore much like red grouper. However, near shore we are seeing some nice mangroves in decent concentrations on our 10hr all day trip and near shore private fishing charters aboard the HUB or Flying HUB 2 private fishing charter boats. Using cut threadfin and a double snell rig is a good idea and around this near shore area typically we are using either 30 or 40lb test leader and around a 4ot double snell rig set up with around 3-4oz egg sinker and 40lb main line typically. 
Lane snapper are also biting pretty well near shore. While we see these a bit more shallower, they are biting best in the deeper near shore waters like the mangroves. Also, like the mangroves they will continue deeper too. However, we normally don't see lanes past around 150-160ft of water while the mangrove snapper continue much beyond 200ft of water or more. Lanes near shore love a variety of different baits from squid to threadfins to shrimp and everything in between. They are very concentrated and aggressive typically when we find them offshore on ledges, rock piles or those hard bottom areas.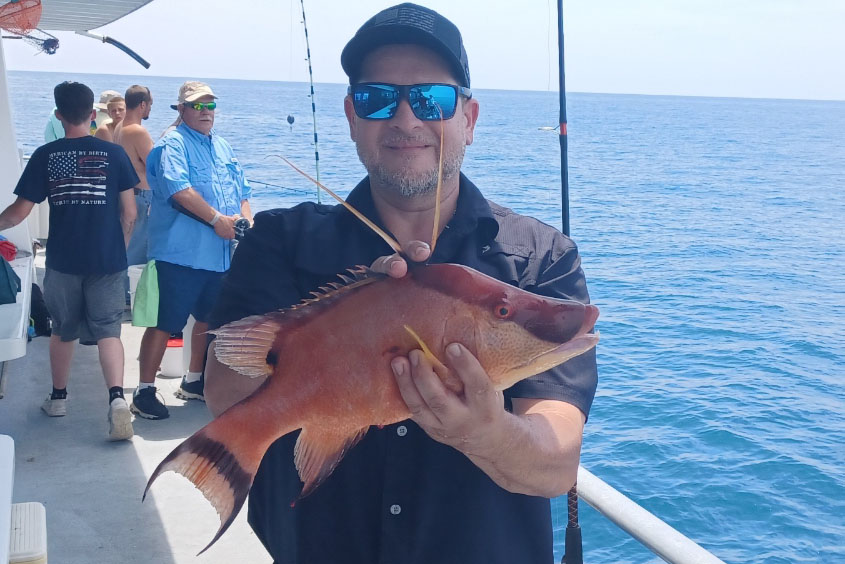 Hogfish action is still persisting near shore, but definitely not in huge numbers or big concentrations like we see in the cooler months. This time of year we are seeing fewer of them but still some good bites and action on our 5hr half day, 10 hour all day, and those shallower water near shore fishing charters aboard the HUB or Flying HUB 2. We see hogfish mainly while using shrimp on the knock rig style set ups. They love lighter tackle and minimal weight too. They are really big crustacean eaters that are very leadershy and typically less aggressive. This time of year when that water is really clear they become even more leadershy and unaggressive. Plus, we also get the divers jumping in and trying to shoot them now which makes them even more skiddish. Then finally, this is the time of year they move off the areas we normally fish and spread out over the sandy less hard areas to group up to spawn. This makes them much more tricky to target with hook and line as they are less concentrated.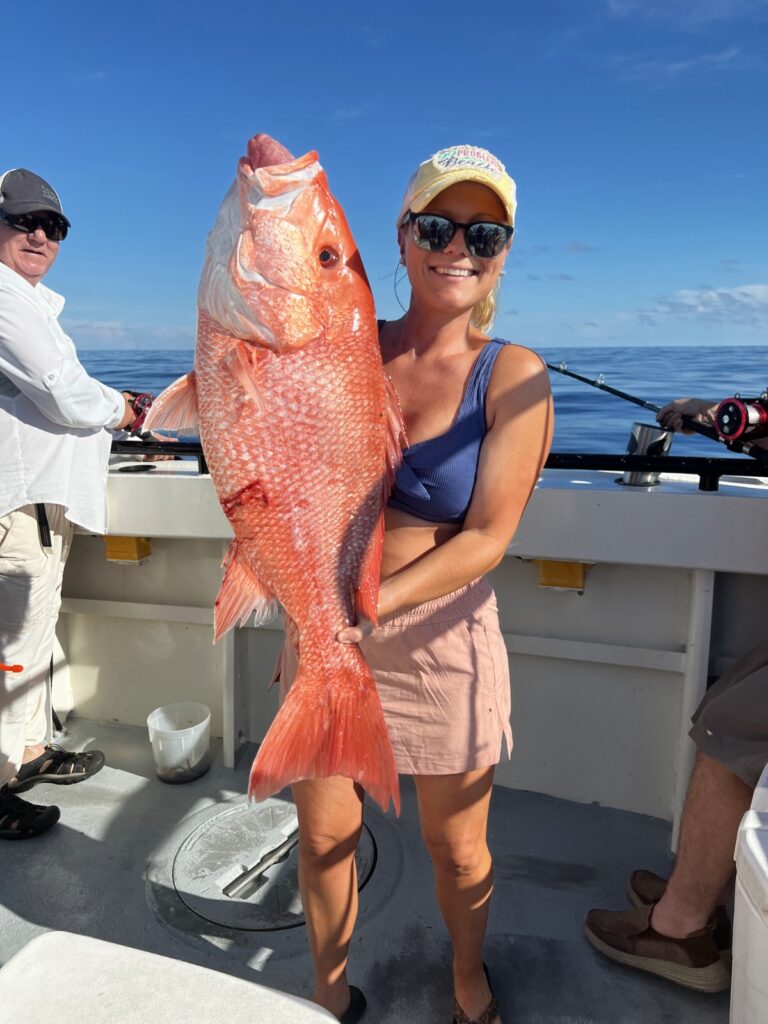 RED SNAPPER SEASON HAS BEGUN on our federally permitted for hire recreational boats here at Hubbard's Marina and across the gulf of Mexico. That means its time to go get your red snapper on our 12 hour extreme trips, 39 hour long range overnight fishing trips and that 44 hour full moon long range overnight trip! We are pumped to get out there and exact our revenge on these extremely aggressive, hard fighting, but typically pretty easy to catch good eating fish. They bite on most any bait you put in front of them and they put up a great fight too so make sure you are prepared to fight some fish and get after them! Our red snapper season will go from June first until end of day august 24th so we got 85 days to capitalize on the red snapper action and we hope you will join us for a chance at a pile of meat. They will take a live bait, dead bait, lure, jig, or literally anything… they are super silly aggressive fish in big concentrations and when we get on them you can catch them on literally any bait you put into the water. If you get deep enough beyond 120-140ft and you find that big ole Christmas tree looking fish show on the bottom or just off it you are going to find endless red snapper ready to eat. You can even chum them up to the surface and fish high up in the water making it more fun and easier to catch them too.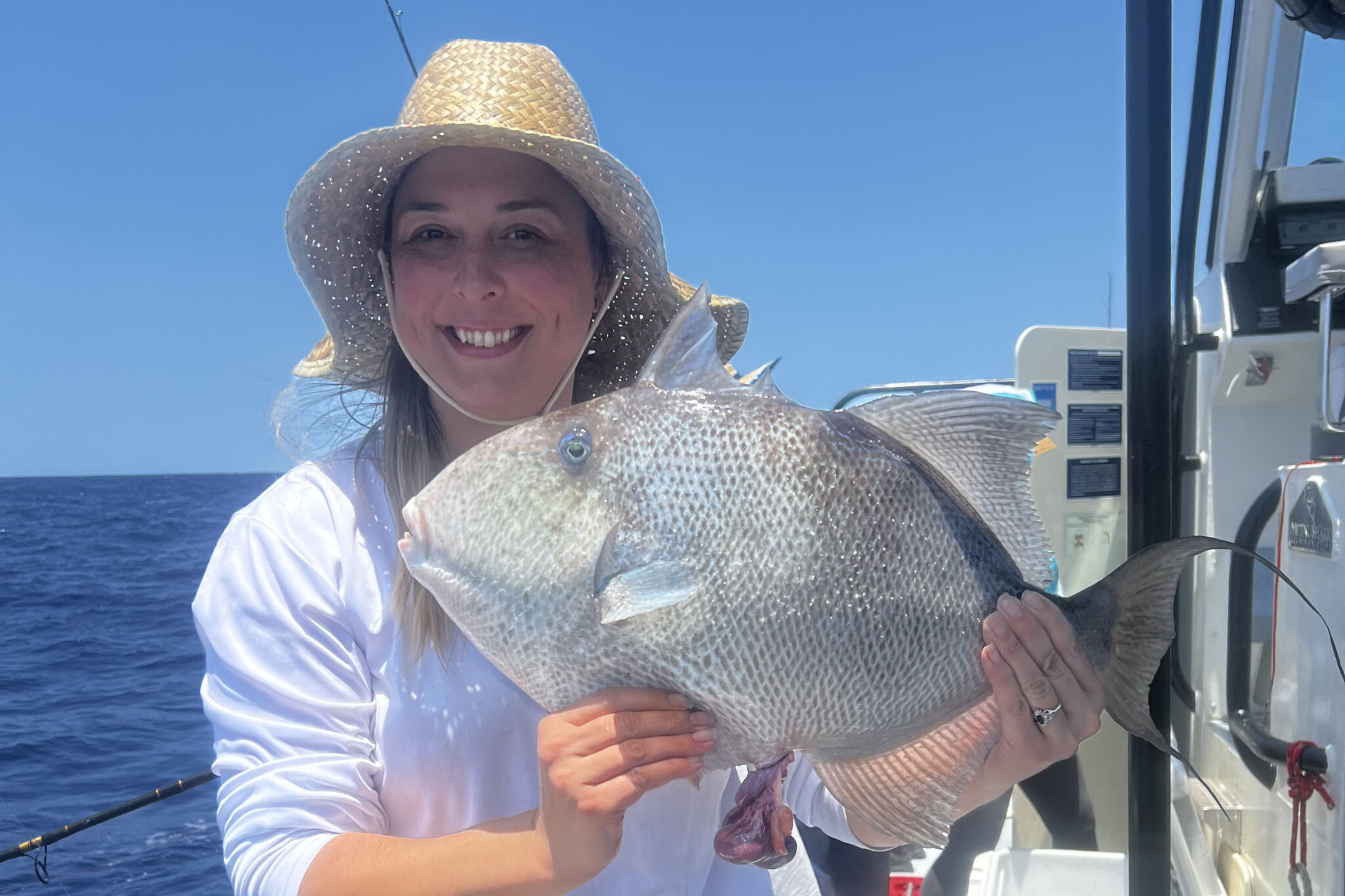 While red snapper season opens on June 1st for us at Hubbard's Marina, remember, that also means that triggerfish season is now closed. Triggerfish close for the months of June and July each year and will re open august first. So for now any triggerfish we catch will have to get caught and released.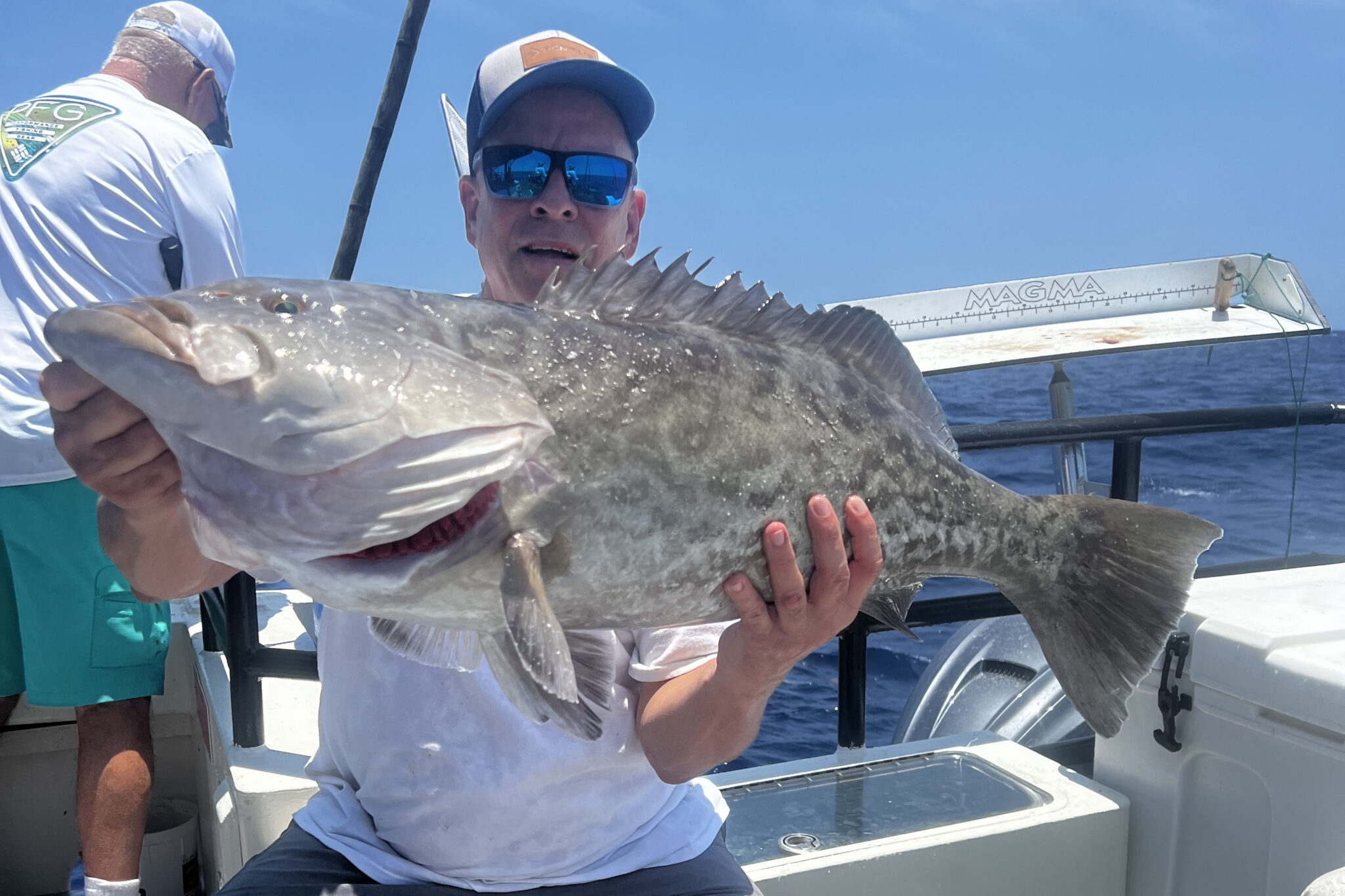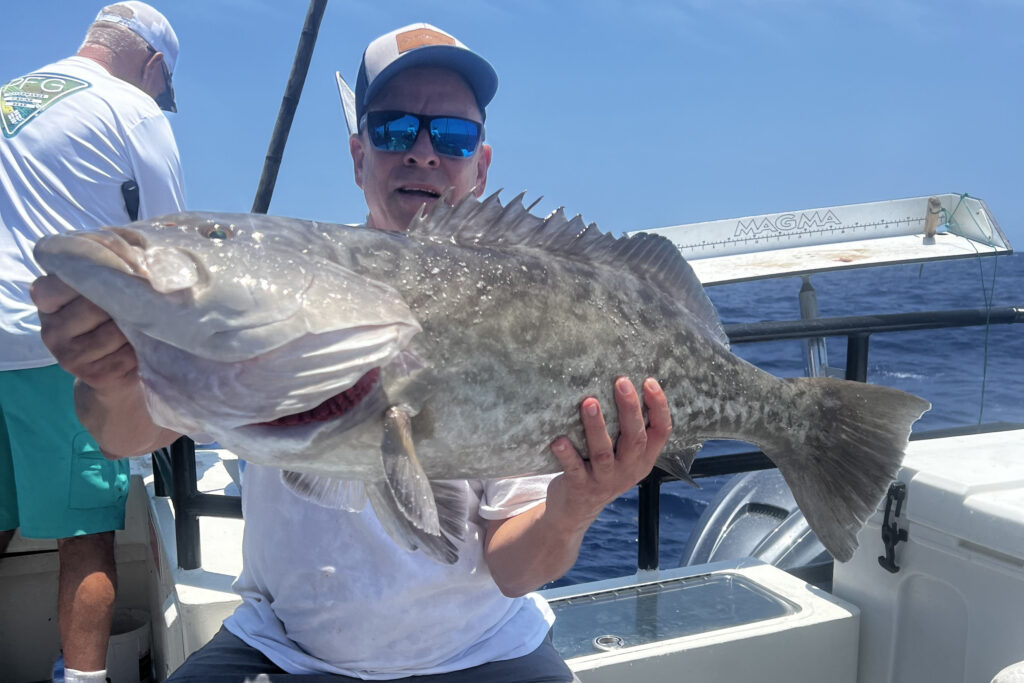 Also, the gag grouper are opening September first and are open through Nov 10th this year so unlike years past, we do not have the gags and red snapper open at the same time. However, we are looking forward to getting out there and capitalizing on the gag fishing later this year and we have added endless 39 hour options and have altered our dry dock schedule to ensure we have the fleet capability and capacity we need to really dial into catching tons of the gag grouper.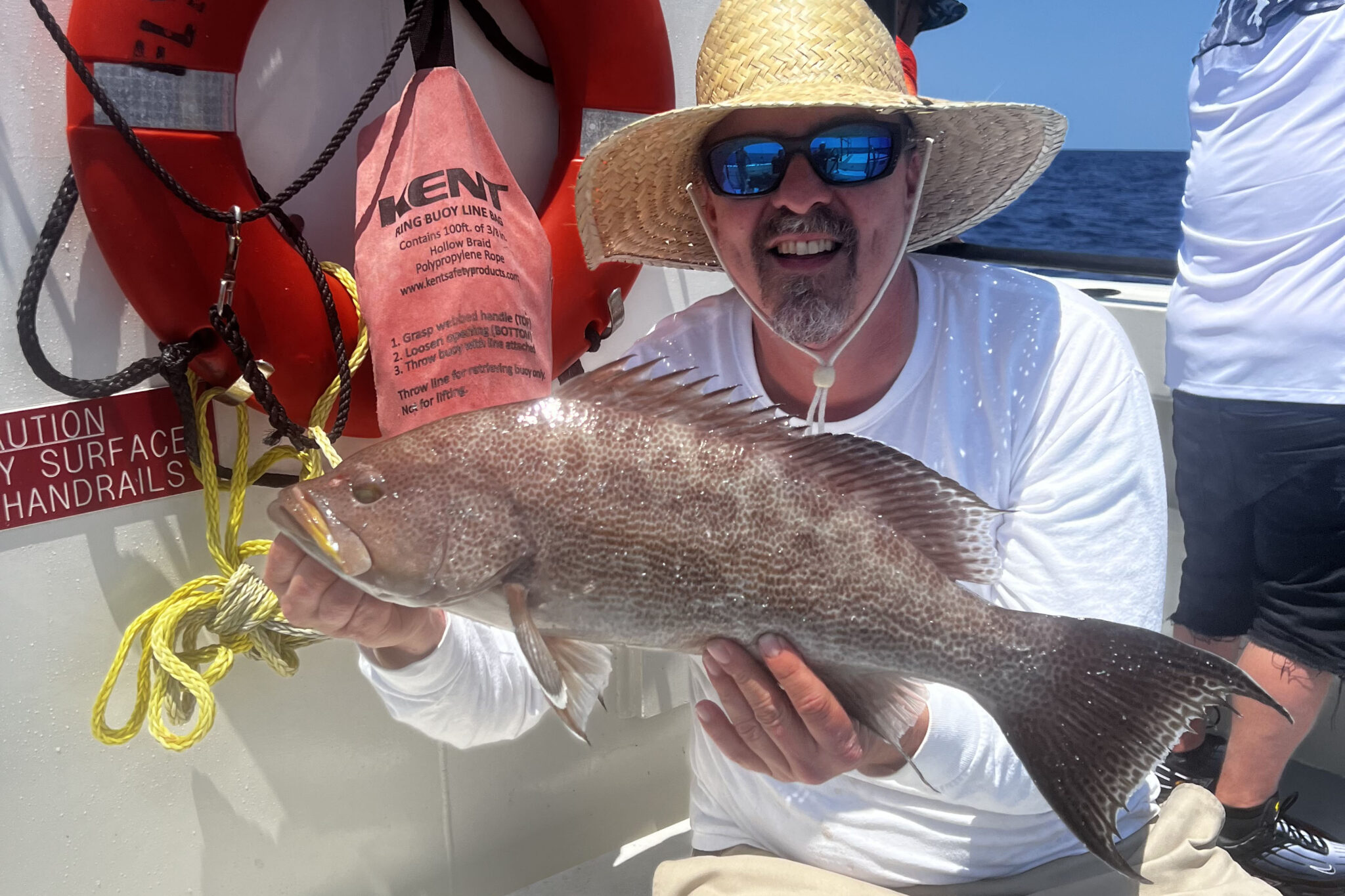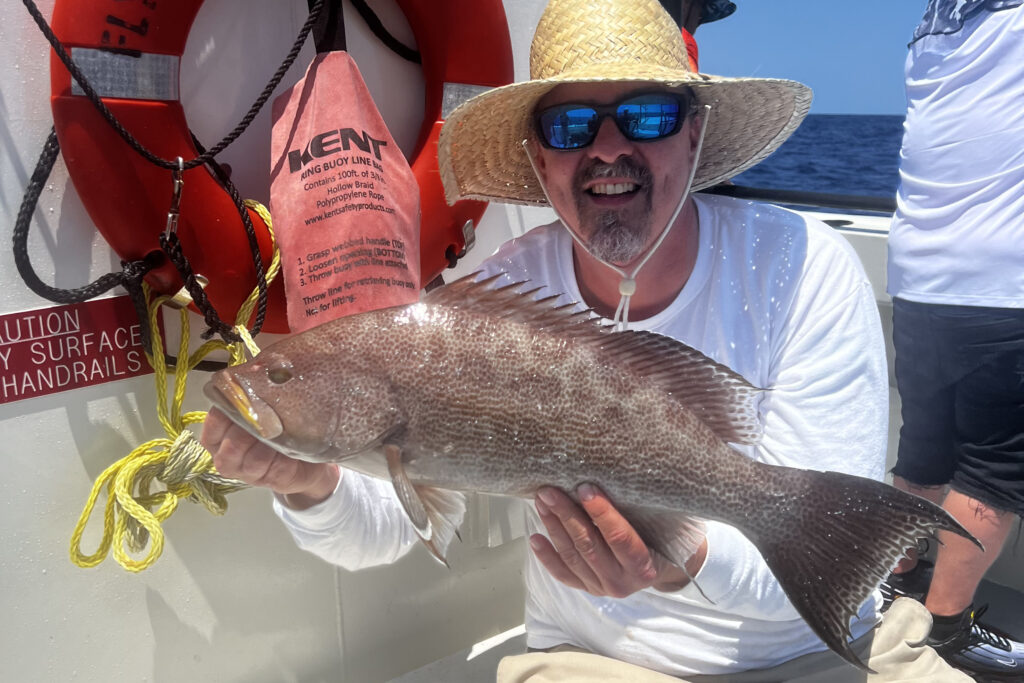 Scamp grouper fishing will be going well for us again as we fish deeper for the red snapper out in those potholes and ledges out closer to and beyond 200ft of water this ARS (American red snapper) season. We typically see them using small to medium pinfish or the cut threadfin. They are typically a bit more leader shy and really require a more finesse approach like 60lb leader or less. 
Mangrove snapper are biting well for us offshore right now and we are seeing good numbers of decent sized fish. They are mainly after those cut threadfin on the double snell rig out deep. WE typically use around 40-50lb leader and around 6ot hooks for the mangrove snapper beyond 120-140ft of water. These guys are ranging in size from 2-9lbs and average is around 4-6lbs typically at the moment. 
The yellowtail snapper bite is going really well for us offshore right now. We are seeing some good numbers of yellowtail snapper from around the shallowest offshore waters into the deeper stuff that we will fish around 250ft or so. They are normally biting best on cut squid strips like a quarter inch wide and about 2-3inches long is a good option. However, we do get some big girls on the cut threadfin and double snell rig while fishing for mangrove snapper too. Much like the yellow tail, we are seeing the occasional mutton snapper mixed in too, which is always a welcome bonus while offshore fishing for other species. These guys are typically more of a southern caught fish but we are seeing them more and more commonly up in our area. 
Fort DeSoto has experienced a calm week despite the storms, yet abundant wildlife continues to thrive. Currently, there are approximately 30 loggerhead sea turtle nests on Egmont, marking a remarkable start to the season after just one month of nesting. Even Shell Key has a few nests.
The islands are witnessing an increasing number of ray sightings, particularly the active return of eagle rays.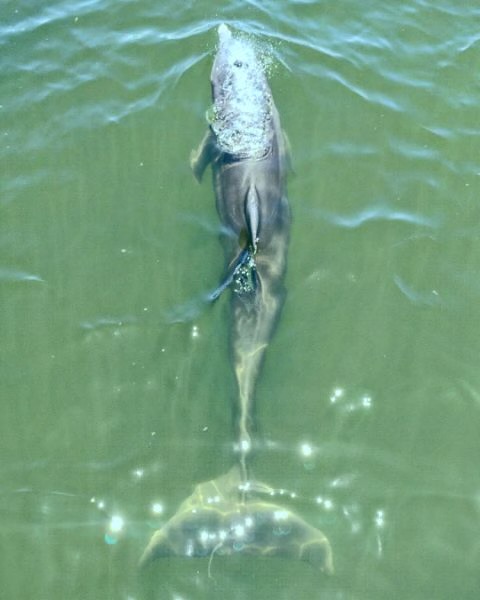 This week, the dolphins have been exceptionally playful, delighting in jumping alongside passing fishermen, playfully snatching their baits. It's a timeless spectacle that never fails to captivate.
Furthermore, Fort DeSoto is hosting a triathlon on Sunday, June 4th, from 7 am to 11 am. If you plan to visit on that day, we advise arriving early to ensure a smooth experience.
Considering the recent rainfall, we recommend bringing bug spray with you on your trip to ensure a comfortable experience.