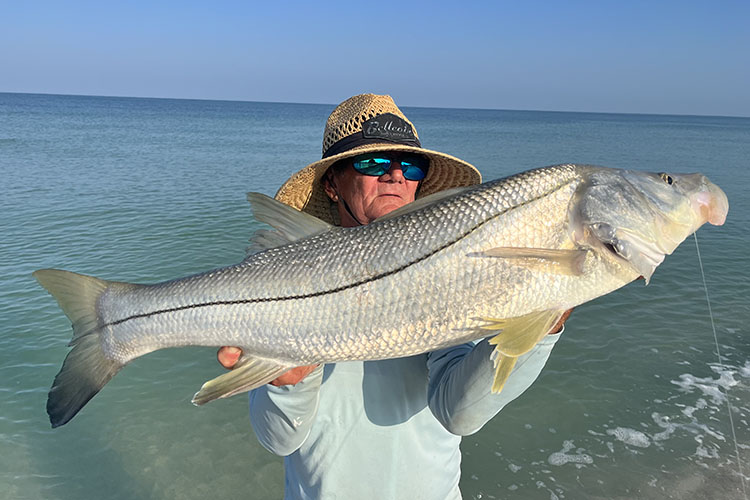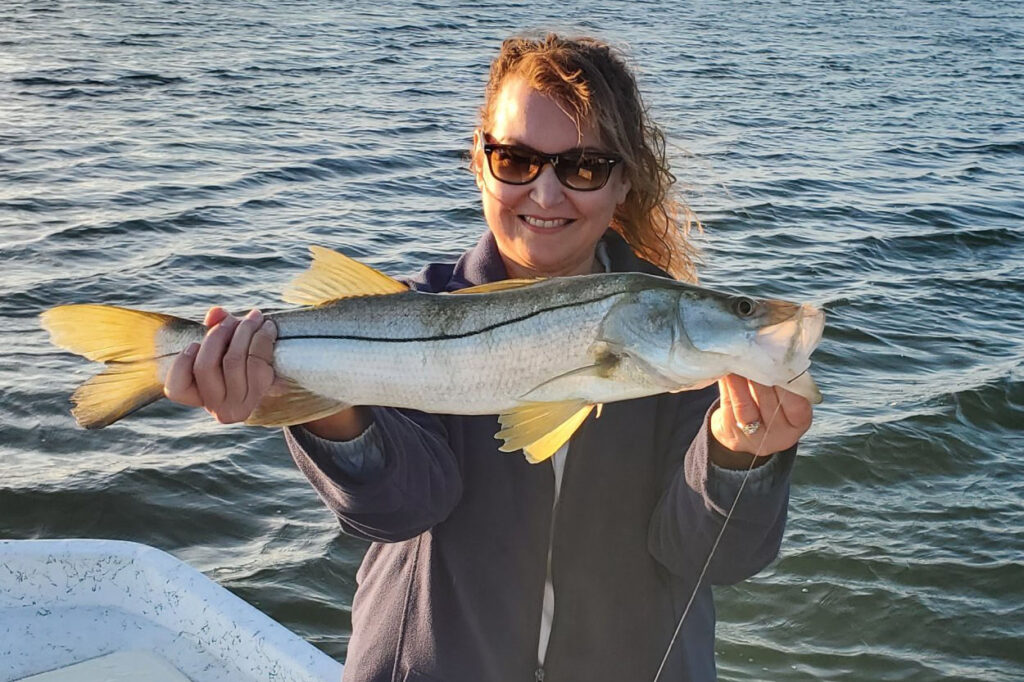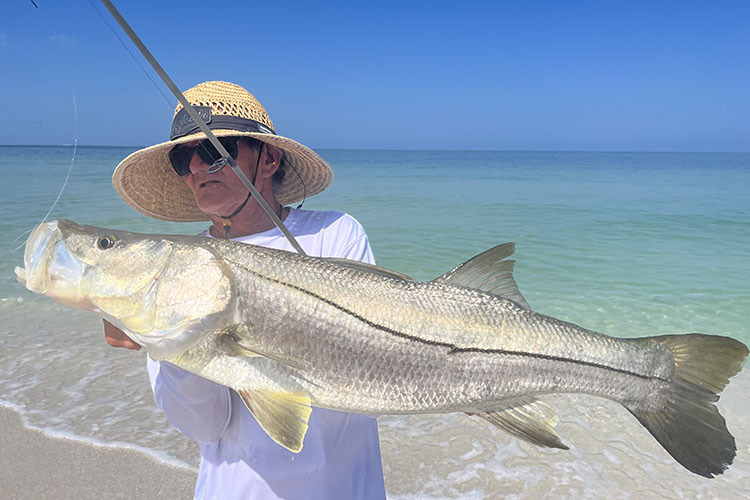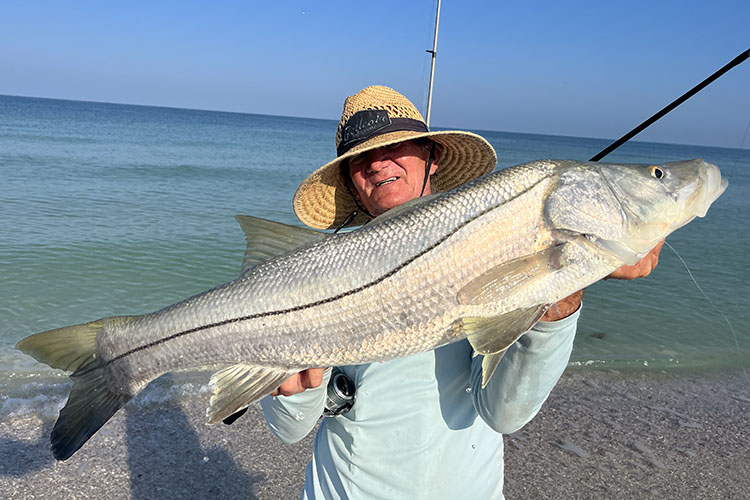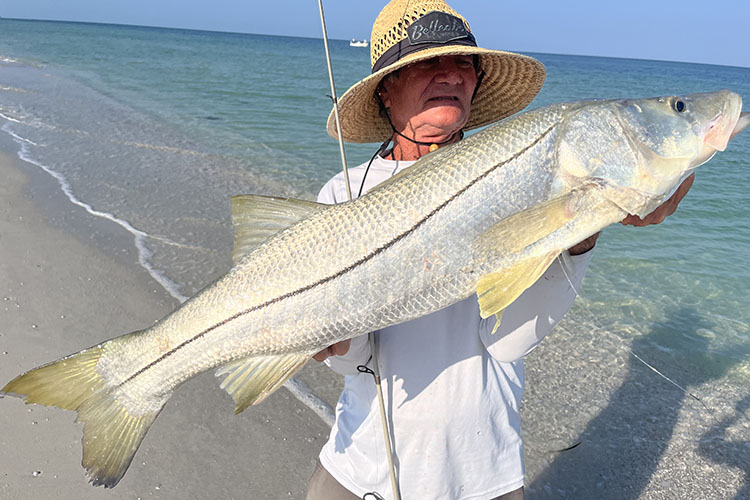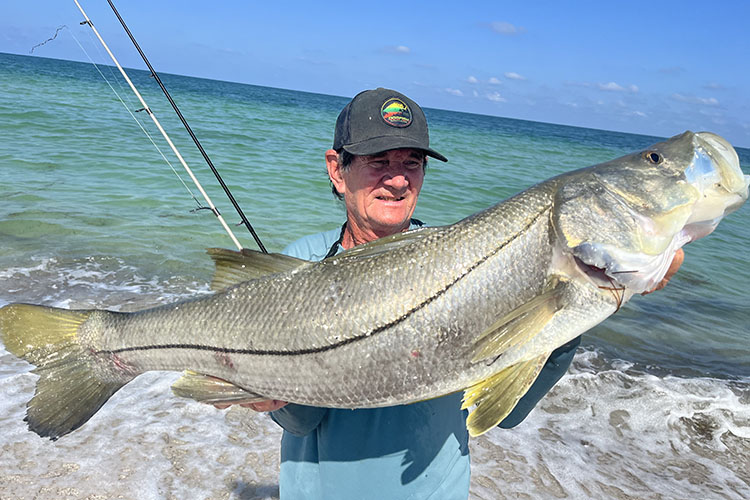 Snook fishing is going really well Inshore right now we're seeing a lot of snook throughout our area feeding well in the passes at night around dock lights, bridge lights, and any artificial light sources near chokepoints that access the Gulf of Mexico. During the day the snook action is going really well along the jetty and especially on our beautiful beaches. If you get out early morning walking on the beach, look for numbers of snook moving along the troughs that run parallel to the beach, you may get lucky and spot a few you could present baits to. However, the water is really clear in many areas right now which makes the snook very finicky and leader shy. See you need to use much lighter tackle and really work hard to present your bait, as naturally as possible to try to entice those snook to eat. Some will use as little as 10 pound test in order to get the bite on the snook. However, lighter tackle might get you a bite but it's much more difficult to win the fish successfully when using super light tackle. At night you can get away with heavier tackle and you need it, especially when fishing around structures like the Piers docks and jettys. So typically at night 30, 40, 50 even 80 pound leader is common. During the day 10, 20 maybe 30 pound is all you can get away with depending on water clarity. Hook size varies dramatically when using a shrimp you have to use a much smaller hook like to watch or even one not depending on your Shrimp size. However, some Anglers targeting bigger snook in the passes at night will use 80-pound leader and even a 7, 8 or 9 ot Hook when using those big lady fish for bait. Ladyfish in the 8 to 12 inch range is a great option when targeting big snook in the passes. We also see folks use silver mullet and even small black mullet too. But more commonly greenbacks threadfin Pinfish grunts are common live bait options if you're not using shrimp. Shrimp works well for almost all the snook but bigger fish like bigger baits on average. We're also seeing the same effects with the artificial lures using a big large flair hawk or even a large soft plastic is a good idea when targeting those big snook in the passes. They're looking for the big bait because they're big fish in there in the passage trying to get Fat for their nearshore migration to spawn.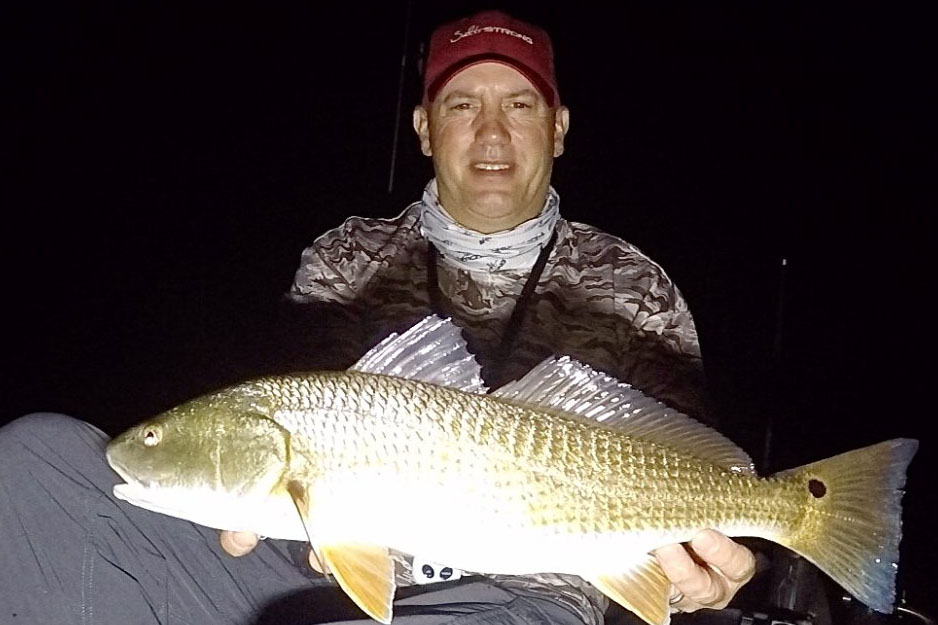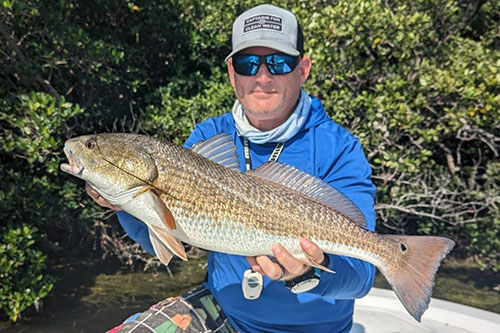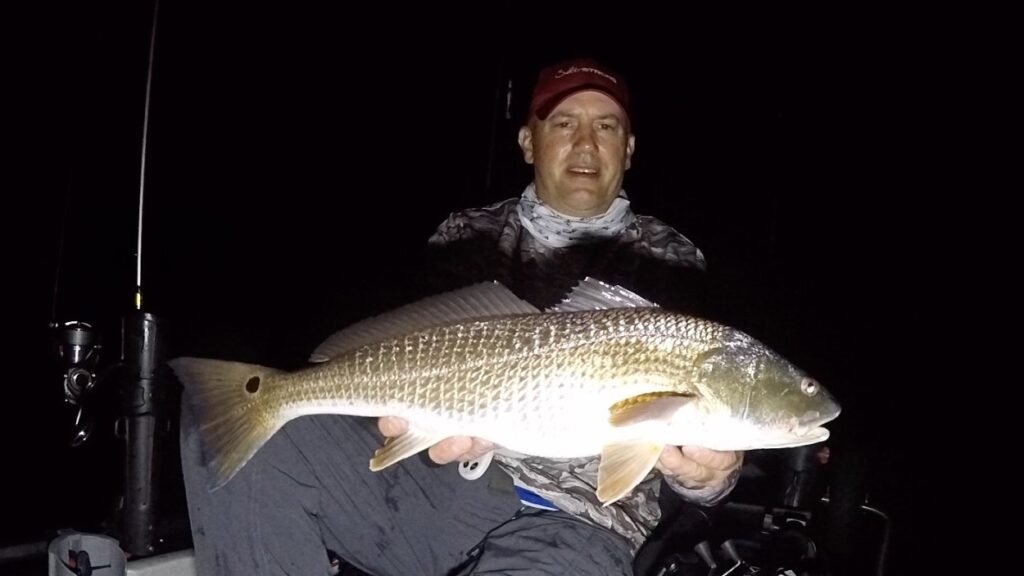 Redfish action is going pretty well around the area too. We're seeing a lot of red fish around the back bay islands grass flats, mangrove, shorelines, and oyster bars. Even some of those dock lines around the tips of canals adjacent to grass flats the redfish are starting to look more for shaded areas. As that water continues to warm less dissolved oxygen is suspended in the water and the fish can get a little bit more lethargic and a little slower moving so it takes a really opportunistic fish with a bait presented really well in the strike zone to allow for a successful hook up with a redfish. Casting your bait under the mangroves is a good idea allowing for the best chance of catching one of those red fish. Often dead cut bait becomes a good idea like cut mullet, lady fish, or even Pinfish or threadfin.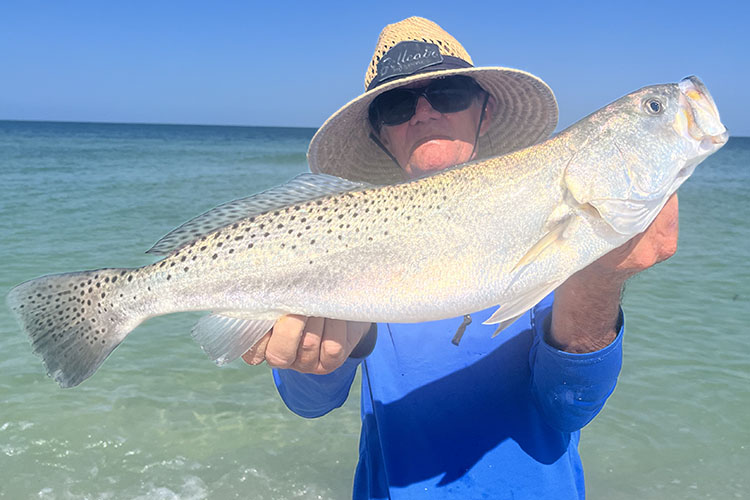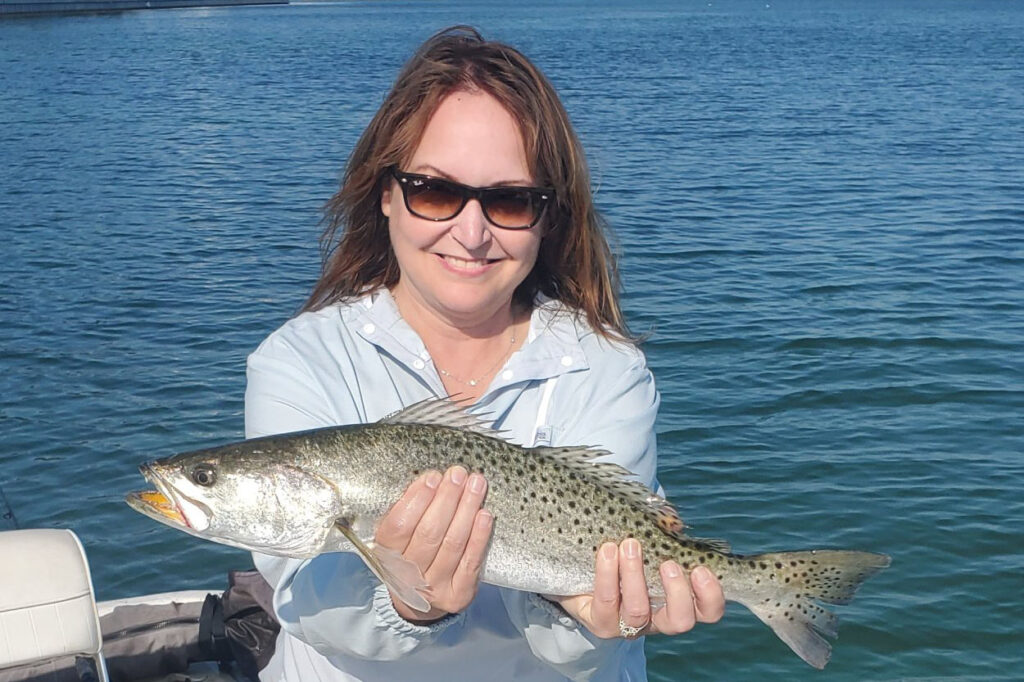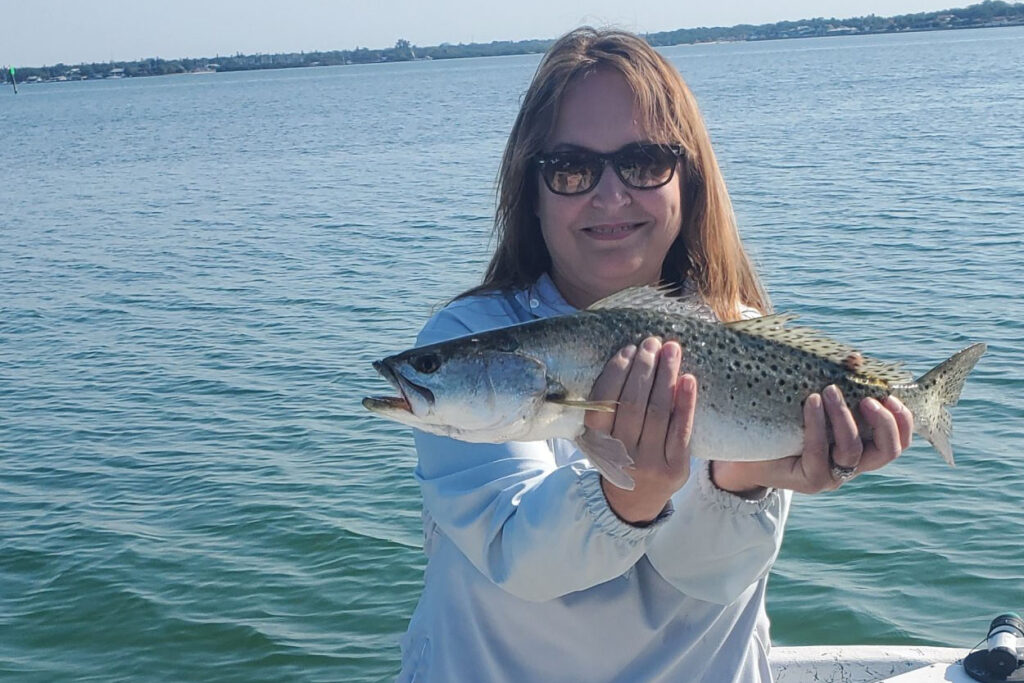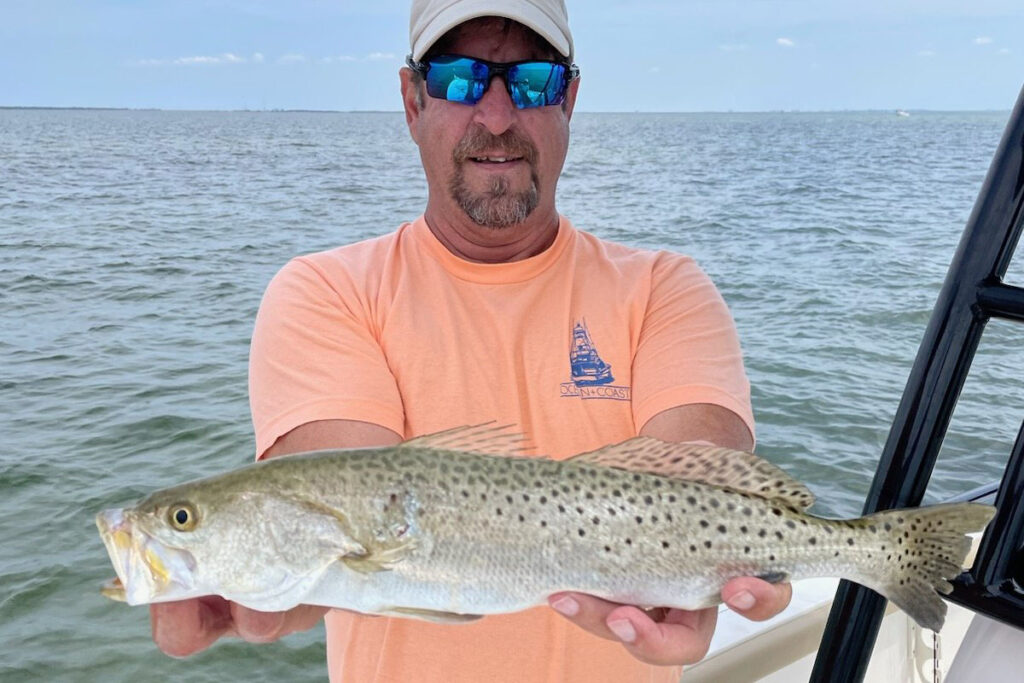 Trout have been biting really well throughout the area we're seeing a lot of trout around the jetty bridge and beaches, and also around our back bay areas like grass flats and mangrove shorelines. Trout are really cued in to soft plastics, shrimp, and white bait. We're seeing a lot of trout on the jetty using live shrimp right now. Some pretty big size trout on the jetty and on the beach happening hot lately too. At night around bridge lights were seen quite a few trout congregate especially with that new moon affect.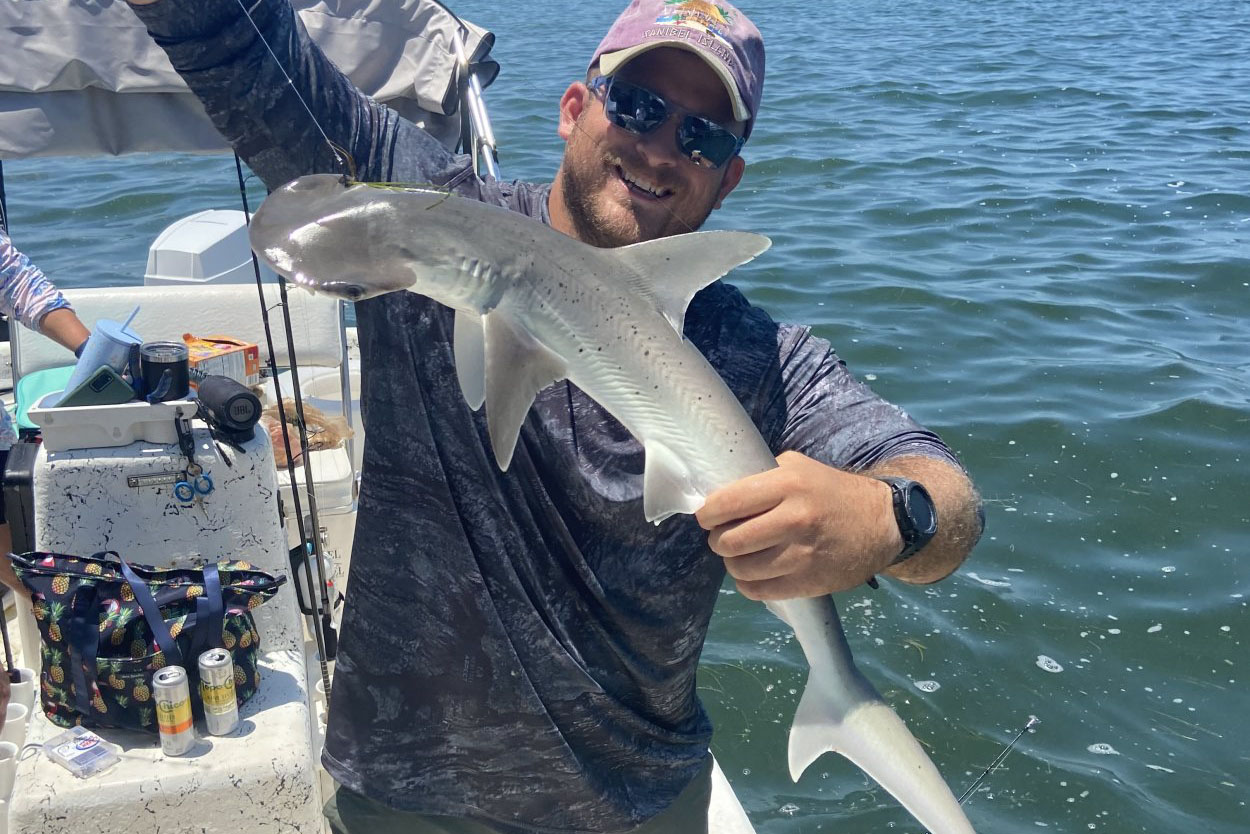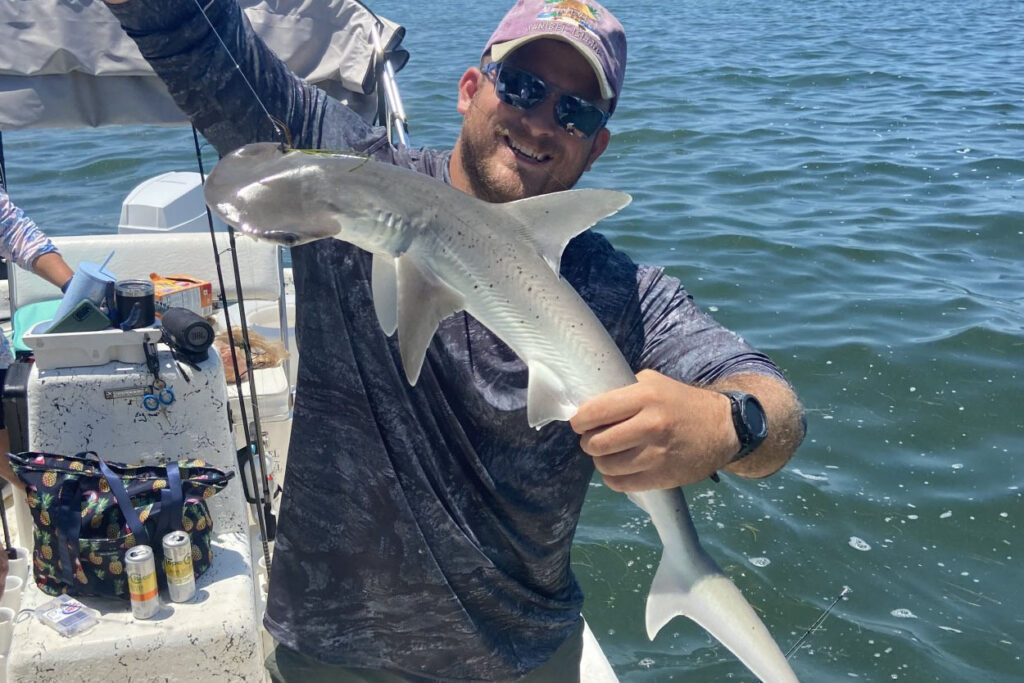 The sharks have shown back up, Inshore we're seeing a lot of the bonnet heads and black tips pretty commonly around the pass. And even on the beaches past the surf, we're seeing a lot of the bonnet, heads and black tips being caught on cut bait, and even squid.
Tarpon are returning to the area we're seeing tarpon around the dock during the day after we get done filleting fish we see them in the morning around the Johns Pass bridge hanging in the lights and we see them along the beaches during dolphin tours and on our way back in from offshore fishing. It's a great opportunity to go chase  Tarpon right now especially with that new moon and The big hill tides that are flushing plenty of crabs and other Tarpon bait in and out of local passes and channels.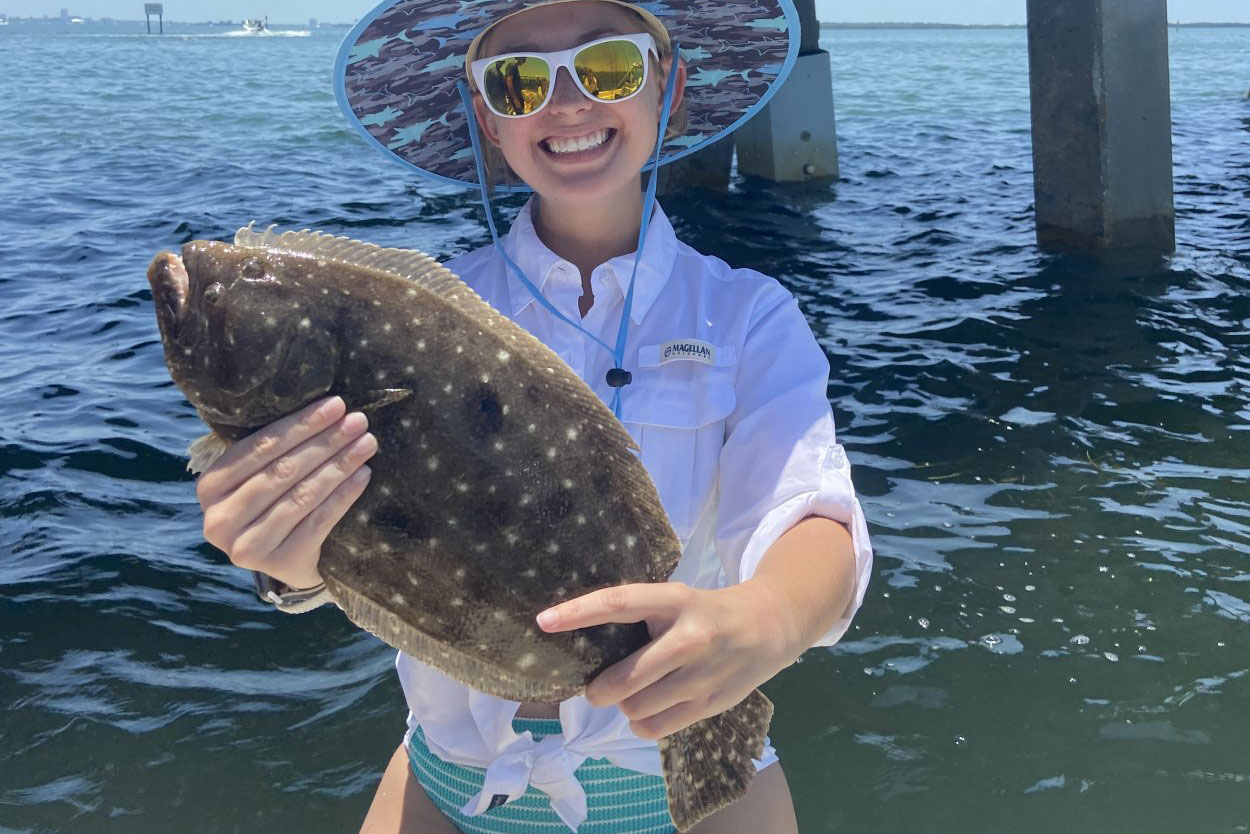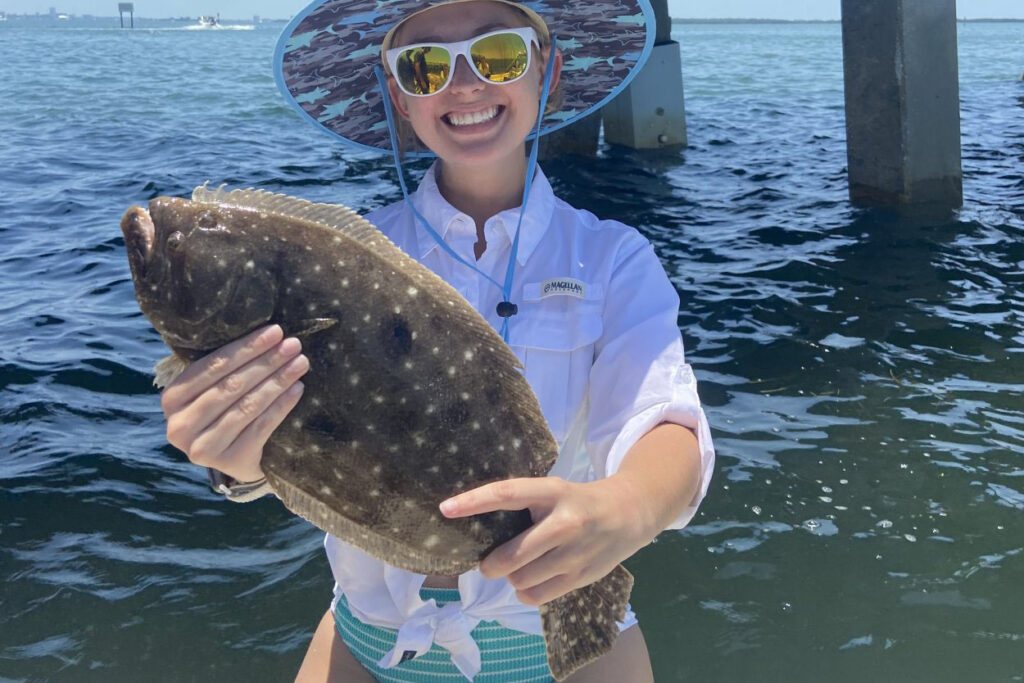 Flounder action is picked up around our Inshore waters too. We're seeing flounders hanging on the bottom adjacent to the jetty dock and local grass lots. Flounder typically are looking for shrimp or soft plastics right on or just above the bottom. Flounder are very good eating and fun to catch fish. Those flounder are typically looking for baits just on or just above the bottom you have to have your bait within 6 to 12 inches of the bottom on average in order to get that flounder to come off the bottom and eat.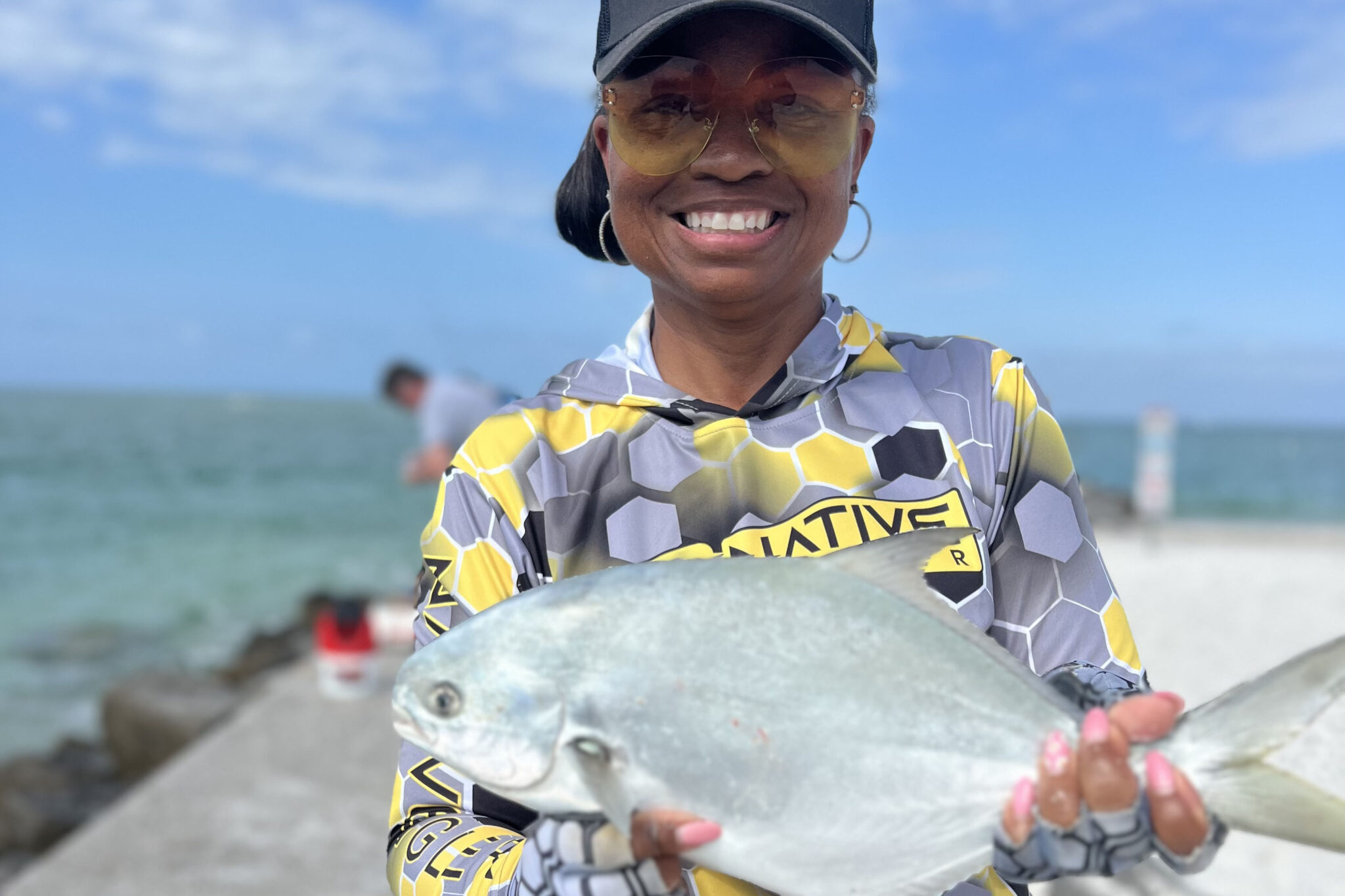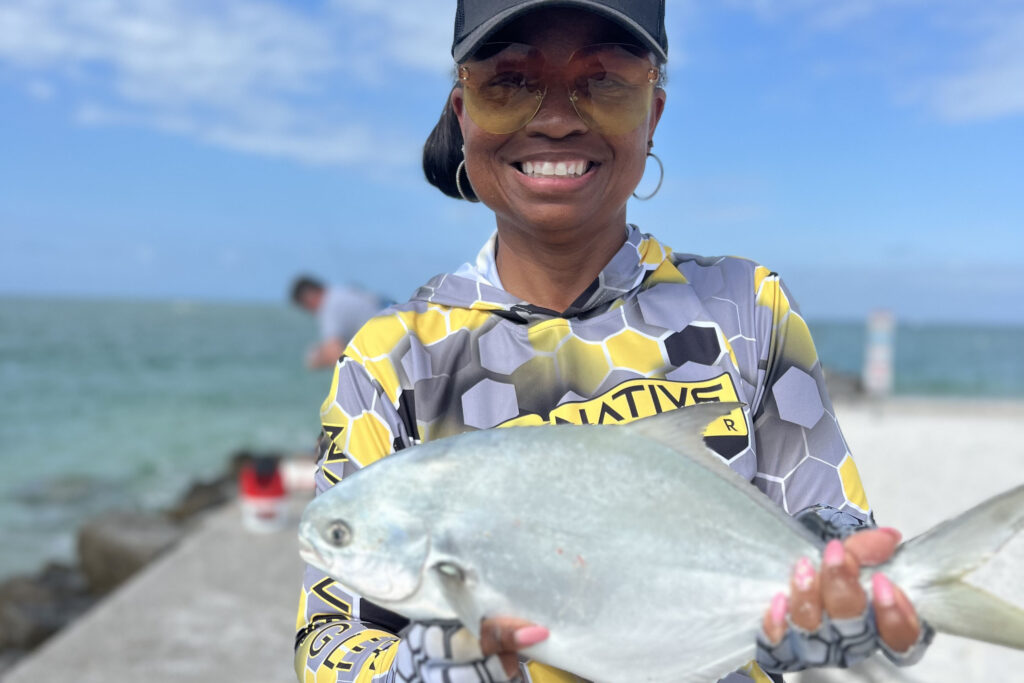 Pompano are biting well on our beaches around our jetties of Johns Pass. We're seeing Pompano chase live shrimp on or just above the bottom; we're also seeing them on the Pompano Jigs as well. A lot of folks don't realize those naked ball jigs that we use offshore for hog fish also work really well for pompano. We're also seeing pompano on the small buck tails And other varieties of pompano jigs.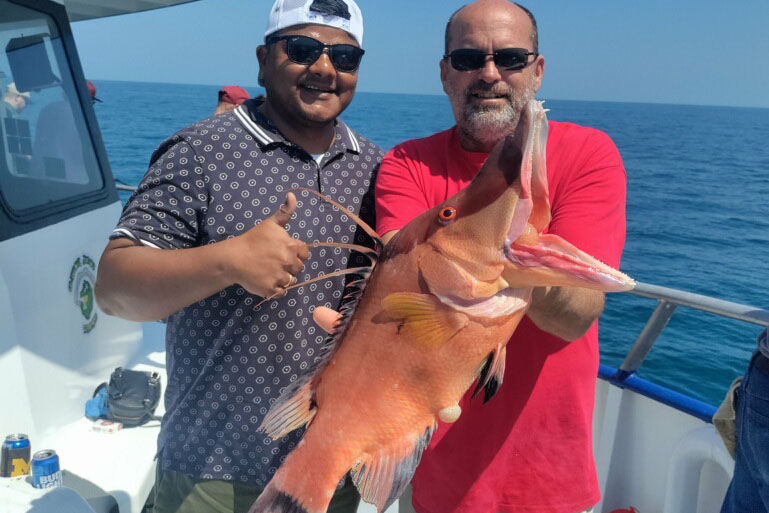 HOG FISH ACTION IS STILL GOING ON NEAR SHORE. HOWEVER, IT IS DEFINITELY DWINDLED DOWN FROM WHERE IT WAS IN THE COOLER MONTHS. WE'RE SEEING MOST OF THE HOG FISH ACTION ON OUR 10 HOUR ALL DAYS AND PRIVATE FISHING CHARTERS. HOWEVER, WERE NOT SEEING THE SAME CONCENTRATIONS WE WANT. YOU STILL HAVE A CHANCE FOR THEM BUT WE'RE ONLY CATCHING A FEW HERE AND THERE. MOSTLY ON LIGHTER TACKLE LIVE SHRIMP FISHING AROUND 40 TO ABOUT 80 FOOT OF WATER.
Lane snapper action is going well. We're seeing a lot of those lane snapper nearshore around 50 to 100 foot of water. Lane snapper love live shrimp but will bite small chunks of threadfin and even squid.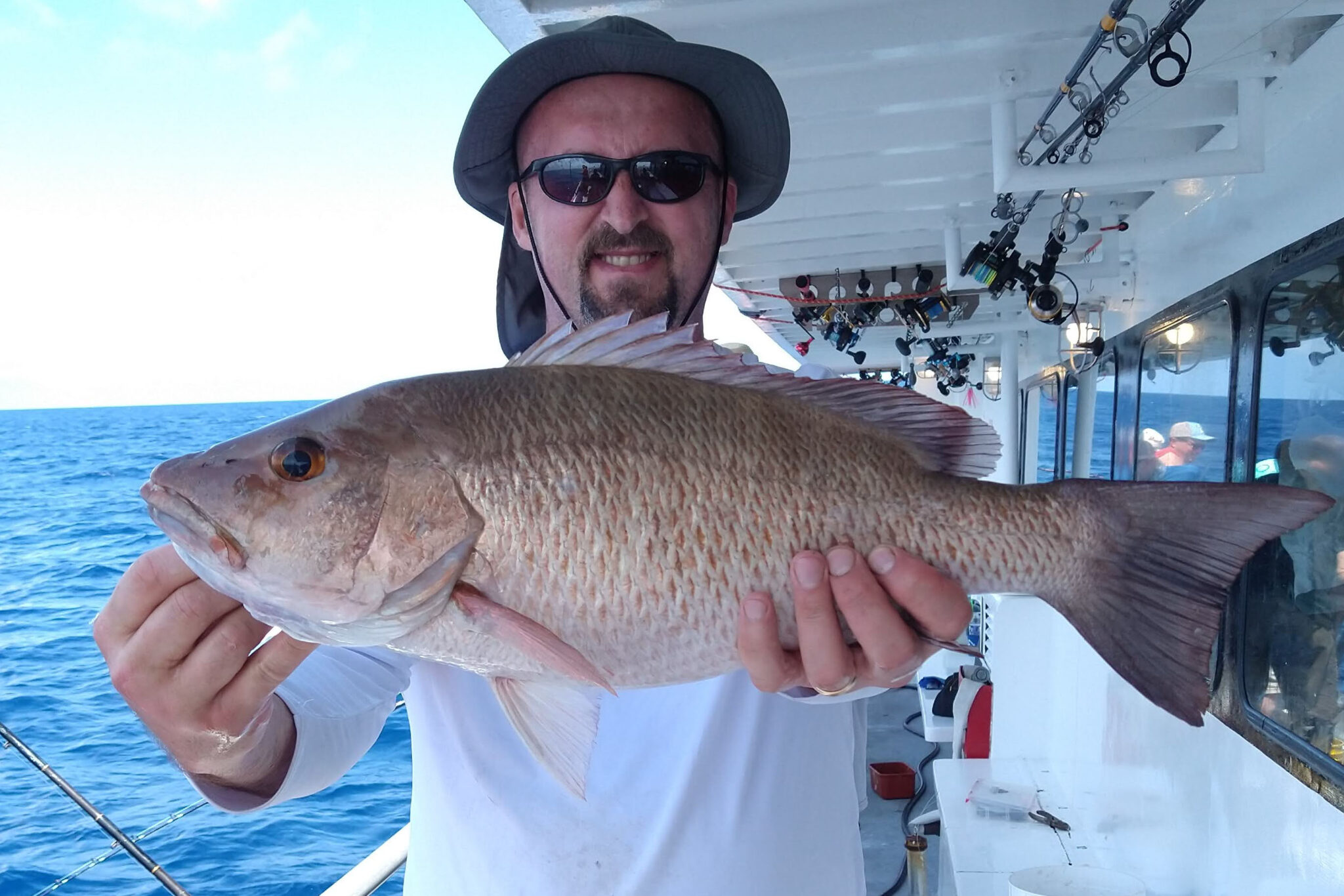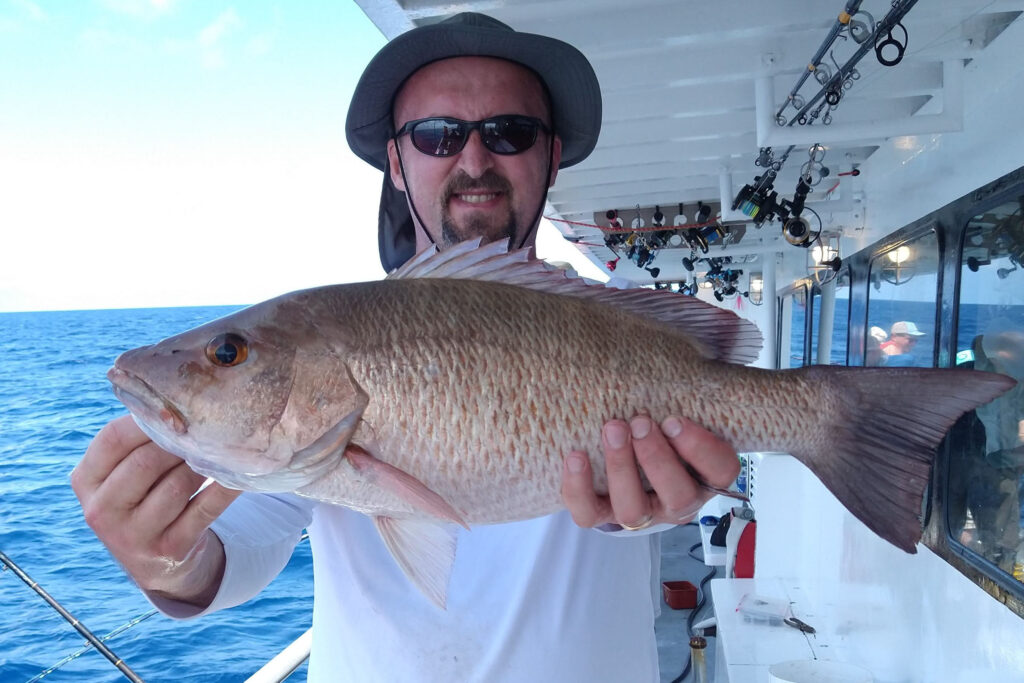 Mangrove snapper action is also going well near shore we're seeing some pretty large mangrove snapper around 70 to 100 foot of water. Most of our mangrove snapper are coming on live shrimp or chunks of threadfin. Typically around 30 pound fluro-carbon is a good idea when targeting mangrove snapper nearshore.
We're not really seeing many mackerel around right now. The mackerel bite has dwindled down quite a bit, but you still have a chance for them near shore. King fish action is pretty much gone around our near shore waters. We did start to see that summertime pattern of the random mahi-mahi showing up near shore. On a recent private fishing charter aboard the hub we had quite a few mahi-mahi show up around 50 to 70 foot of water while bottom fishing.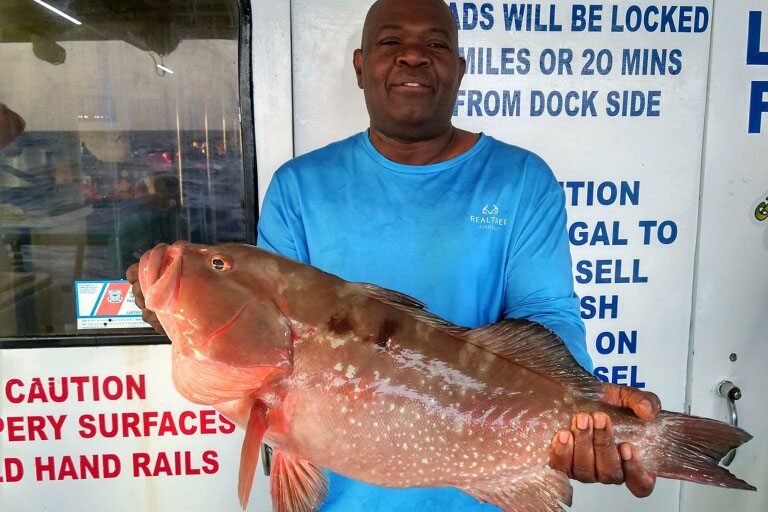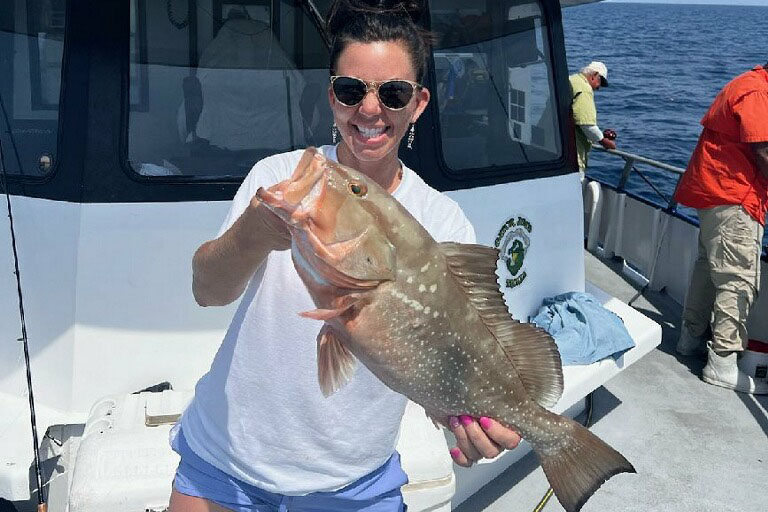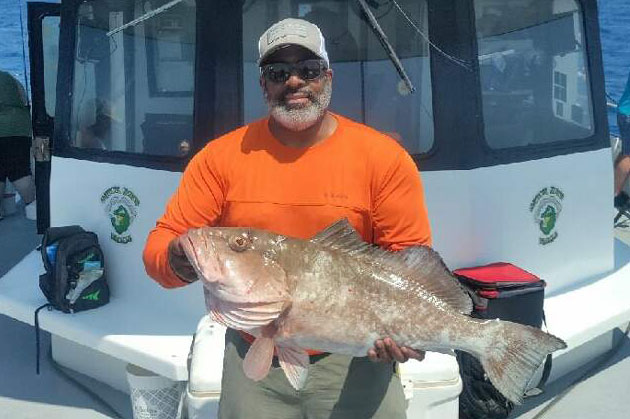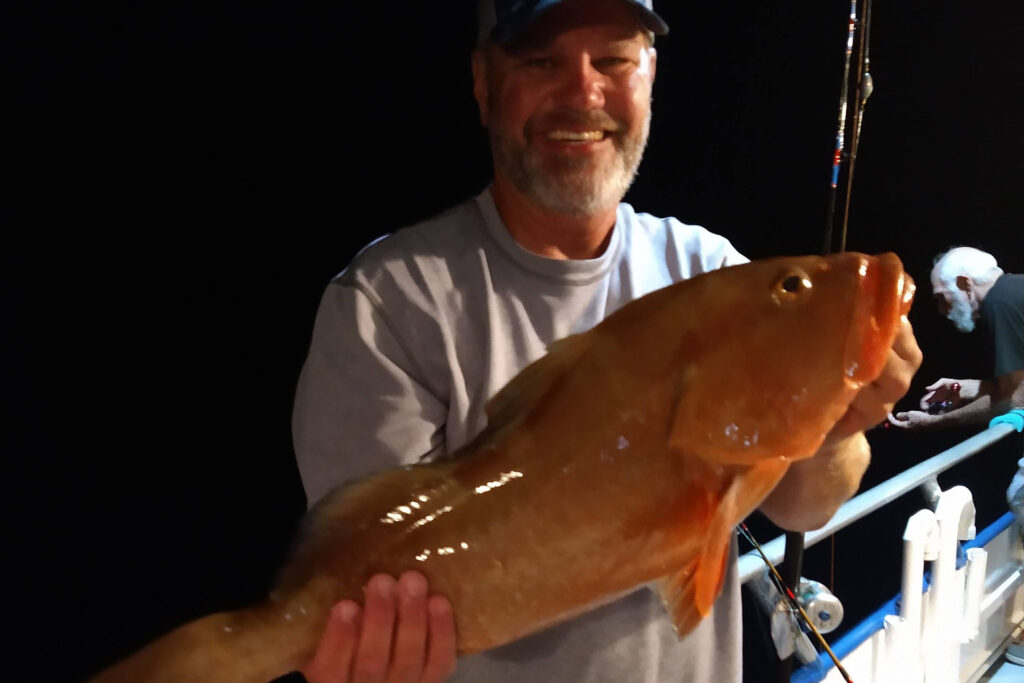 Red grouper action is going really well offshore right now we're seeing a lot of those red grouper around 120 to about 200 foot of water. As we get deeper red grouper seem to cooperate better and generally are larger. We are finding the red grouper on live bait and a lot of them caught on deadbeat like threadfin with the tail cut. We generally target red grouper with about 60 pound leaders and about a 6 to 8 ot Hook. Red grouper unlike gags won't rock you up and break you off, so they don't need heavier tackle or as large reel on average.
Scamp Grouper action is going pretty well offshore too we're seeing quite a few scamp especially as we get deeper closer to that 200 foot mark. Scamp grouper love cut threadfins, vertical jigs or small to medium Pinfish. We do catch scamp grouper on those mangrove snapper set ups while targeting mangrove snapper as well.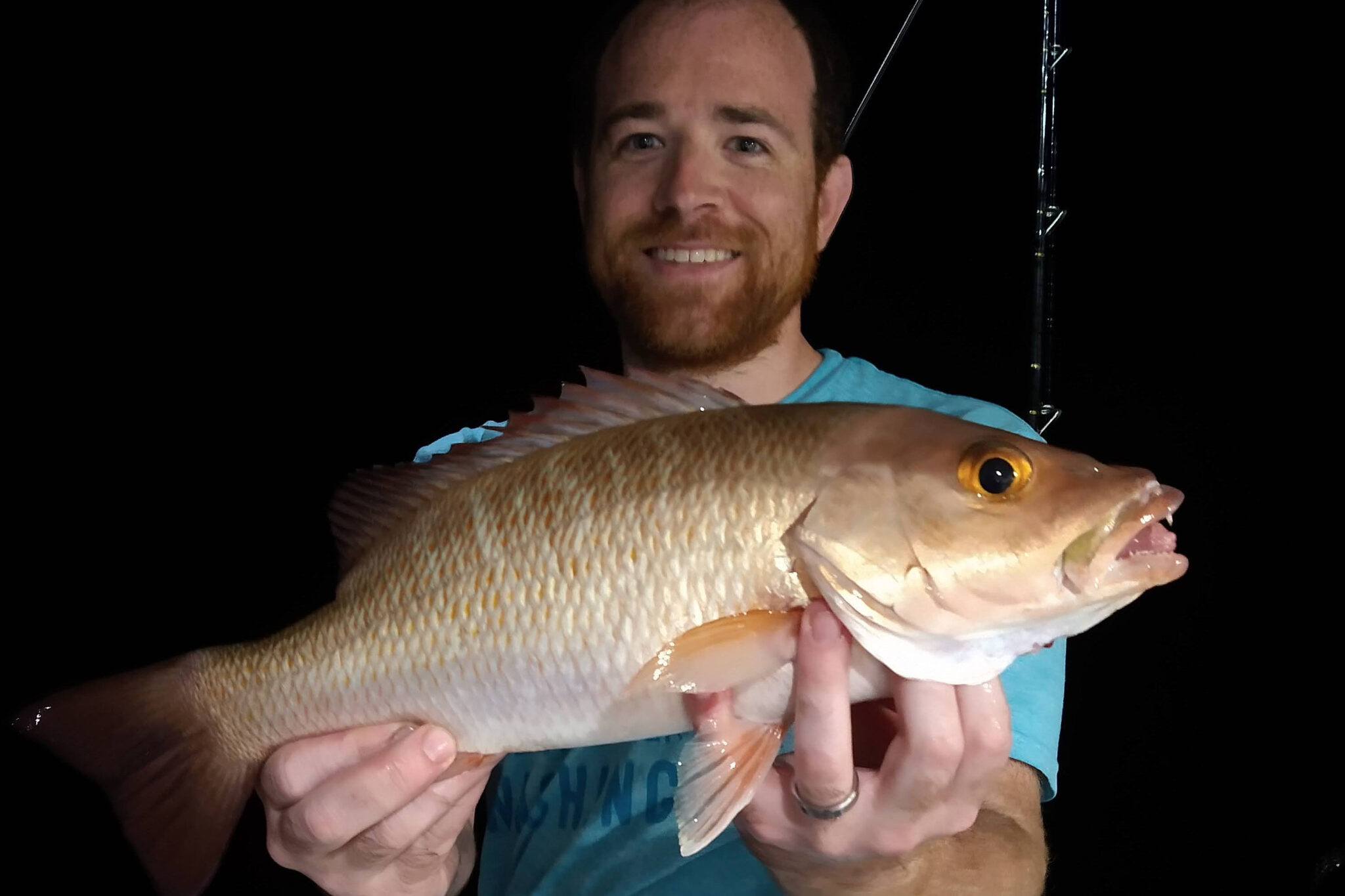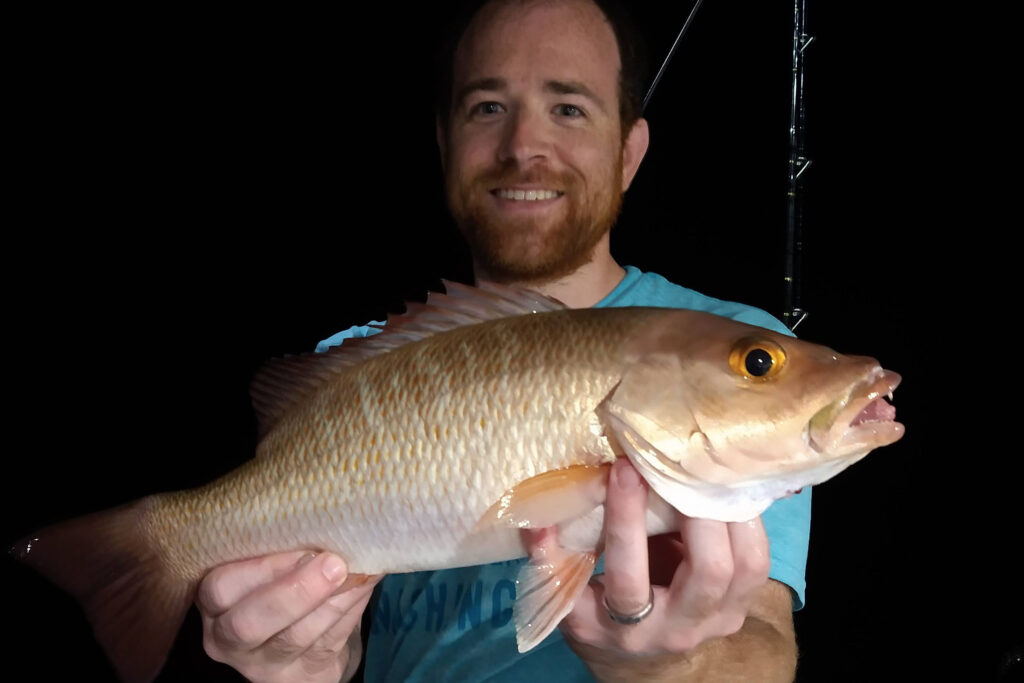 Mangrove snapper have been super prolific and pretty large lately. Our last offshore adventure aboard our 39 hour long range overnight trip had almost everyone on the boat catch a two day limit of mangrove snapper. We are really seeing good numbers of mangrove snapper around the area. They love the cut threadfins and the double snell rig. We're even seeing some big mangroves caught on smaller Pinfish. Mangrove snapper are very quick, biting smart fish, so it takes a really good presentation and some patience to really catch them effectively.
Red snapper season was officially finalized this past week and the announcement was made. We can expect red snapper season to open June 1 as expected and remain open as expected until late August. The end date is August 25 at 12:01 AM meaning we have through end of day August 24 to catch and keep red snapper offshore. Remember this season applies to us at Hubbards Marina and any charter boat or party boat in the Gulf of Mexico. This is the federally permitted for higher recreational red snapper season. The private, recreational red snapper season is a little different. It starts later in June and ends at the end of July but they will have some weekend dates open in the fall which at this time we do not expect.
Also, on that note of regulations, we got an announcement today that red grouper are going to close July 21 at 12:01 AM making July 20 the last day to catch and keep red grouper. Wow this is super frustrating news we were expecting this sort of closure. We've been talking about it quite a bit on our live shows every Sunday night. If you've been following us on social media or listening to the shows, you probably are already aware this was coming. And honestly we were expecting a red grouper closure in June so the fact that it's later July is a surprise and somewhat positive news. Wow this really stinks and it's going to be really tough for a lot of people including us. The one positive silver lining is the red grouper Fishery is healthy. The health of the fishery is rebounded quickly and there's more fish out there and everybody agrees to this. However, federal law states that they must end overfishing prior to increasing quotas. So when the fishery like red grouper, has a stock assessment showing the fisheries in trouble, and the court is being exceeded. Even though everyone agrees a Fishery is healthier they can't increase catch levels. This year's early closure of red grouper should hopefully prevent an overage. If the recreational Fishery doesn't over fish like it has the last two years pretty exponentially, then potentially 2024 we will see an increase in catch level. At the beginning of this year the interim analysis showed the Fishery was healthy and we were do a catch level increase but because of the overfishing that occurred in the private recreational fishery in 2021, and again, in 2022 we were unable to see a catch level increase. So long story short in the short term, this red grouper closure is gonna hurt. It's gonna stink. It's gonna be tough but big picture long-term Fishery is healthy and it's only gonna get better from here.
By: Captain Robyn.
Egmont/Shell Key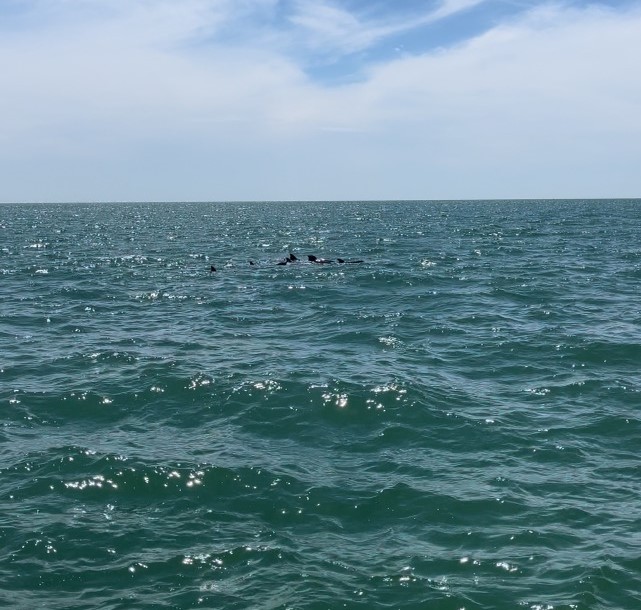 It has been a great week at Ft. De Soto recently. The wildlife has been off the charts! We have seen multiple new baby Dolphins, tons of manatees, rays, baby sharks, as well as a few Loggerhead Turtles.  We would also like to remind you that it is Sea Turtle Nesting season here in Tampa bay, so from May 1st to Oct. 1st, we ask that you please do not disturb the local wildlife, while the turtles come to shore to lay their eggs. We have spotted a total of 12 Nest so far. Please do not disturb the nests and if you see a unmarked nest, please alert us or the FWC.  Also as a reminder there are heavy fire restrictions in place during these times as well.
Fort De Soto has just refurbished the Egmont Key Lighthouse beacons and the Coastguard delivered the new lights by helicopter Wednesday May 17th, 2023.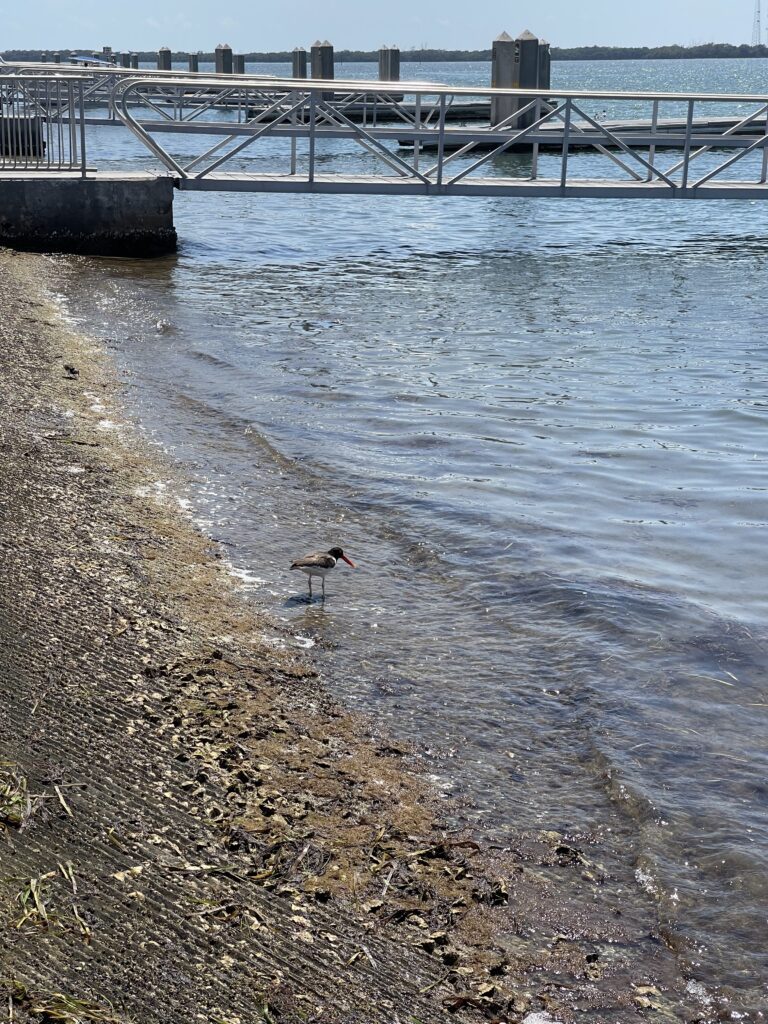 The water clarity has been phenomenal with visibility from 8-12 feet! The skimmer birds are officially back at Egmont key for all you bird lovers!