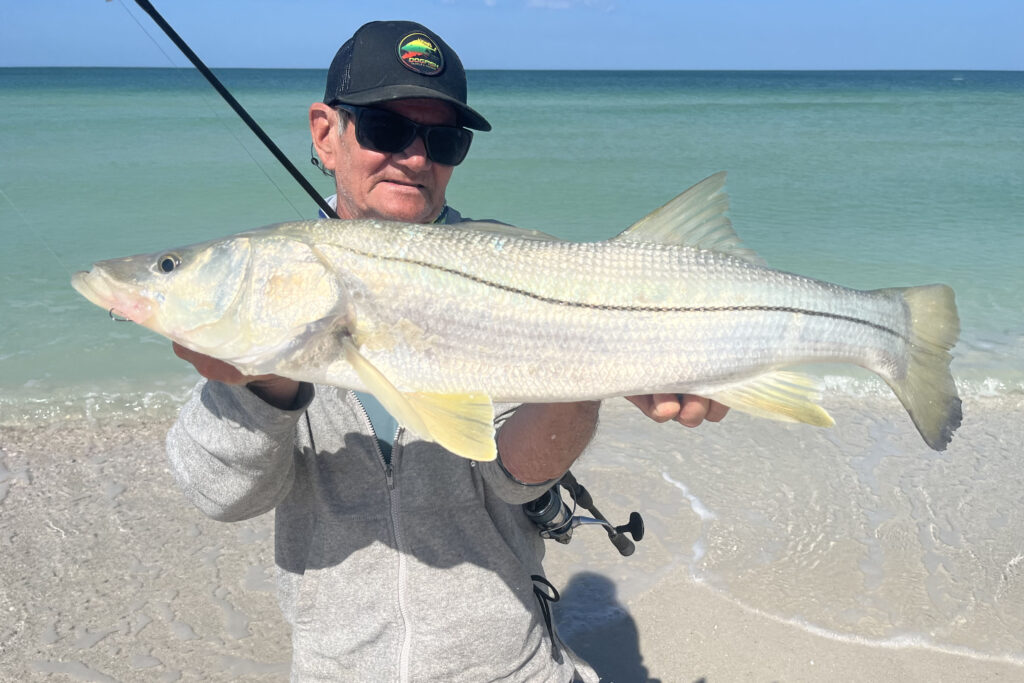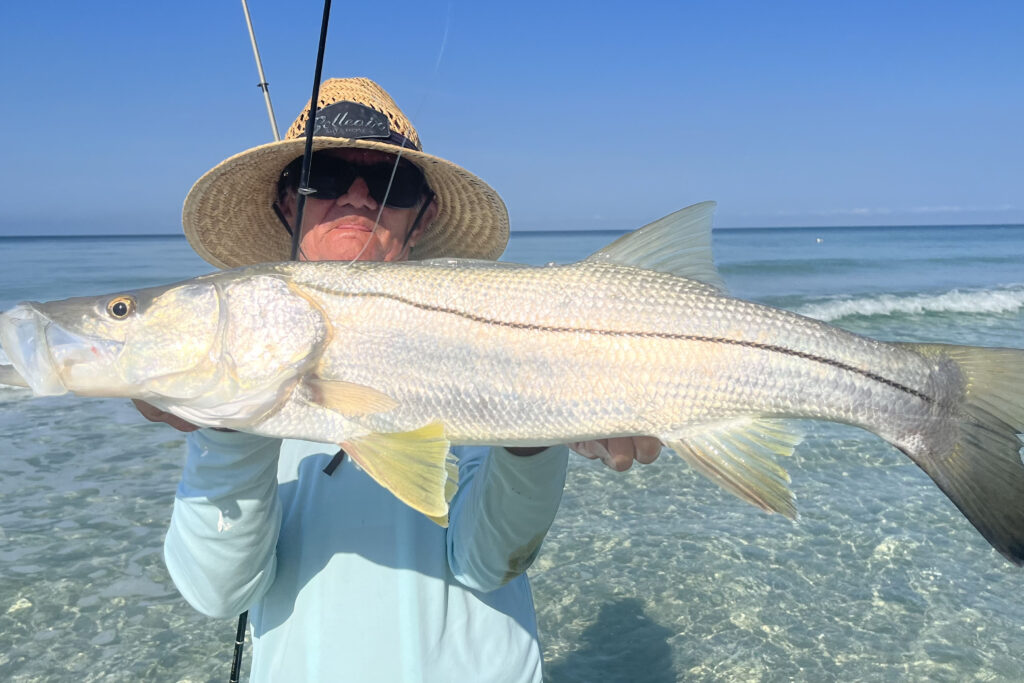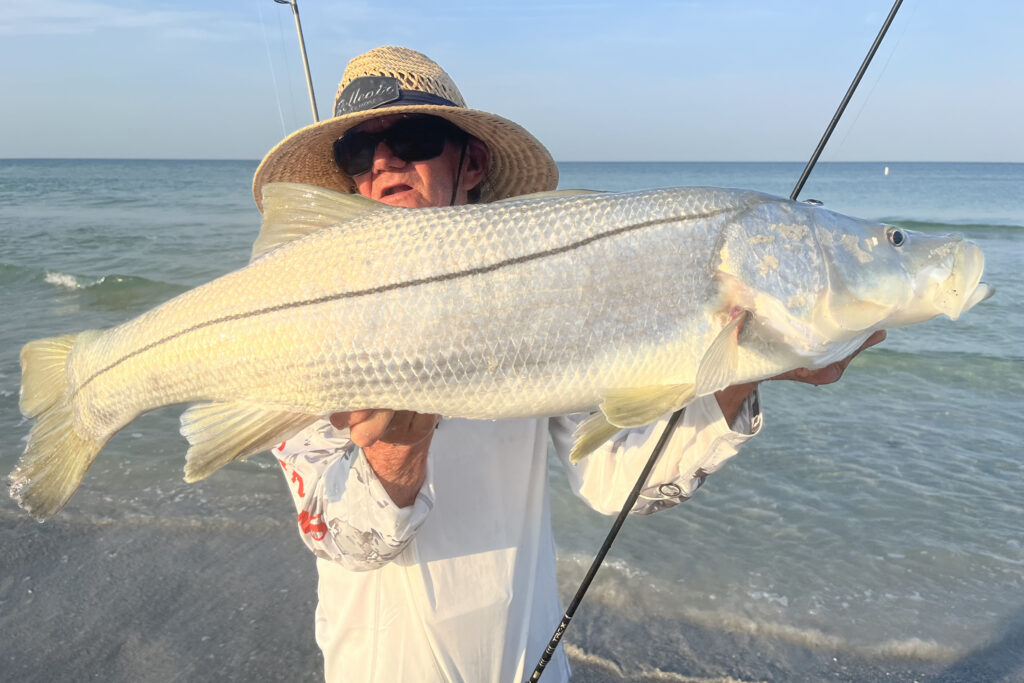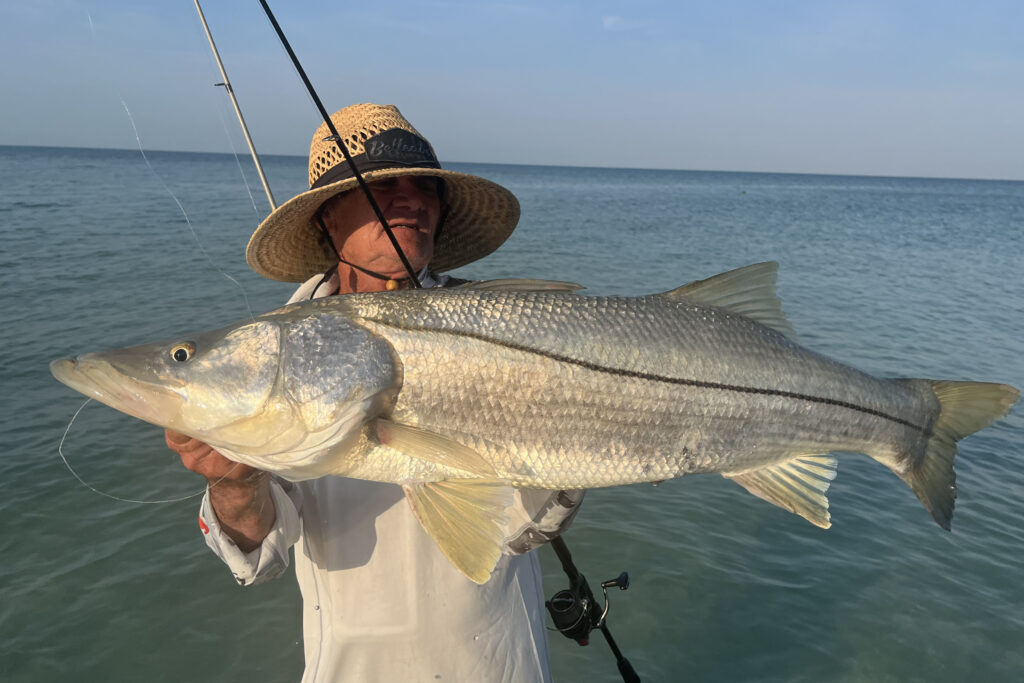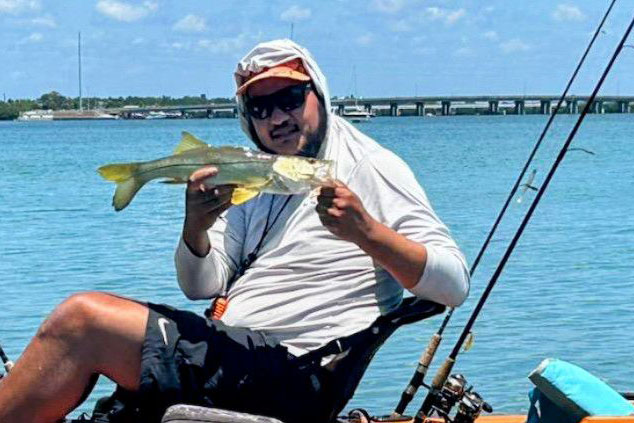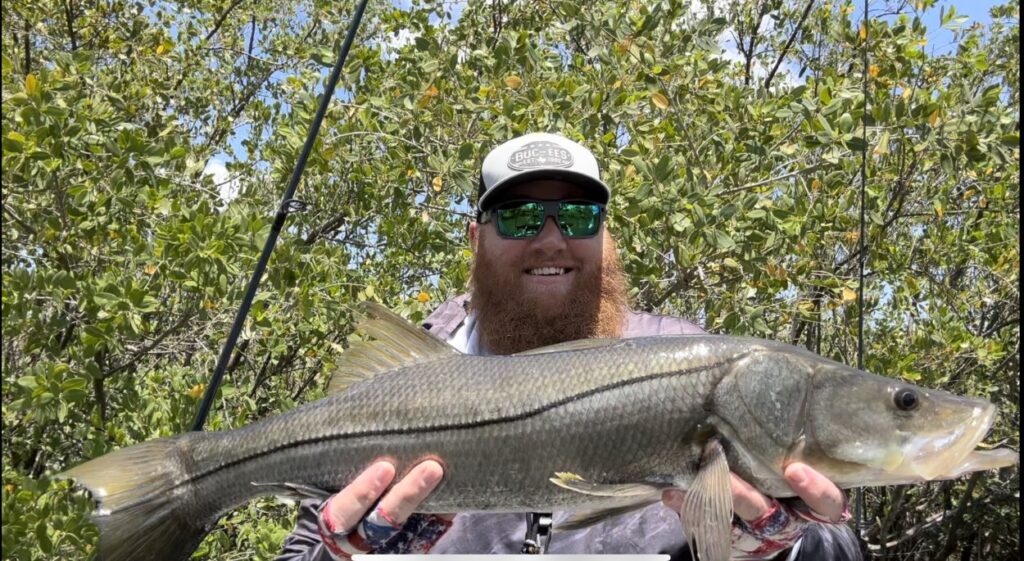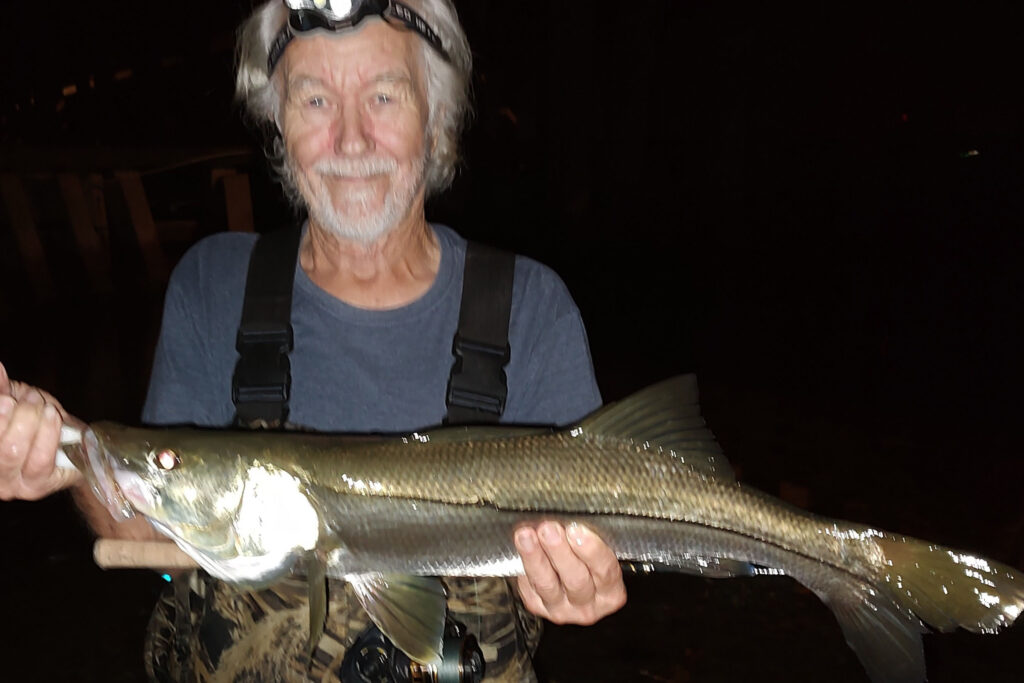 Snook fishing is going well around the area as we move into that time of year where snook stack in and around the passes at night and then move onto the beaches during the day. We are really seeing some good concentrations of snook around the pass at night. This upcoming work week as the new moon settles in, we are expecting even more numbers of concentrated snook around the bridge and dock lights of John's pass. During the day, some local anglers are getting really dialed in to the snook on the beaches. However, it's early and it's tricky to find clean clear water. Then once you do, it's really tricky to get them to eat. While experts will utilize heavy scouting and historical knowledge to find the fish that's only half the battle. Getting those large smart fish to eat in that clean clear water on the beach is tough and takes extremely light tackle and small hooks. Then landing the fish becomes another big challenge once you hook them on this lighter smaller tackle set ups. Back bay areas are still holding snook action too, especially around the mangrove shorelines and inland islands. They are much more keyed into some active live bait, but you can fool them with some soft plastics, jerk baits, or swim baits.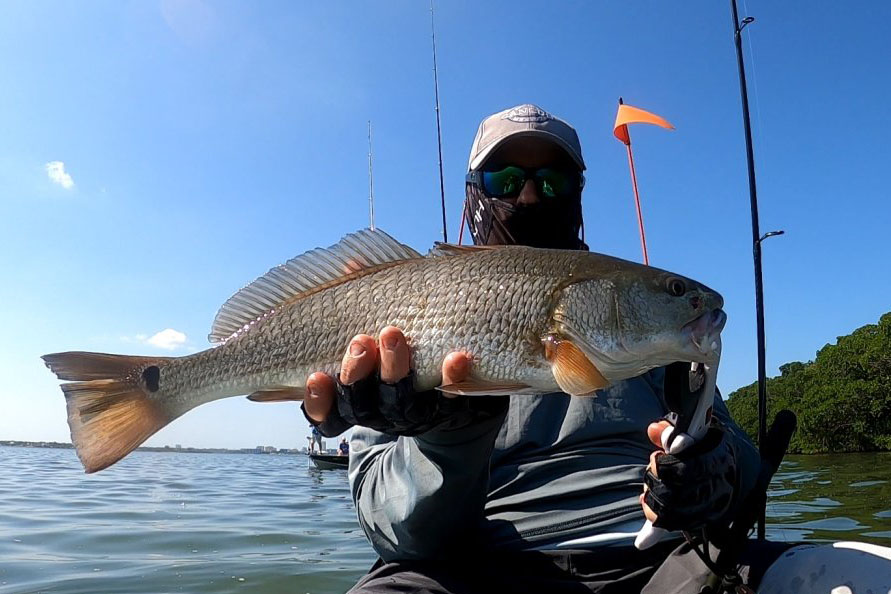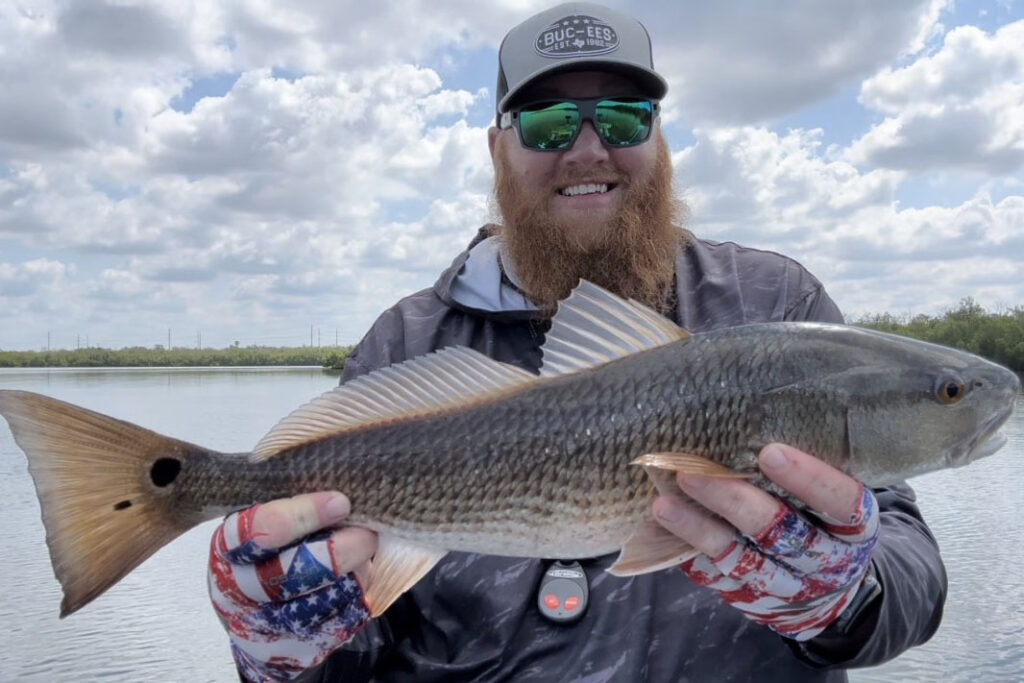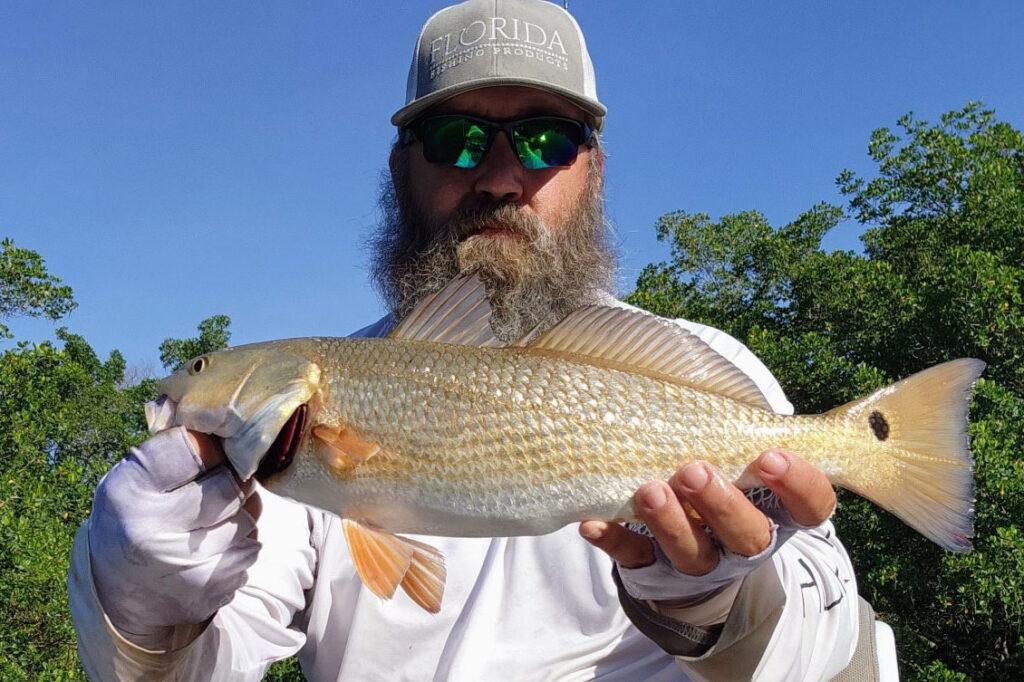 Red fish activity is prolific around the area too, especially around the flats, mangroves, and oyster bars. In the summertime we start to see them recede back into the shaded areas more looking for slower moving baits and opportunistic feeding with minimal exerted effort. Cutting dead baits up under the shade of the mangroves becomes a better and better choice around the back bay areas. Red fish love soft plastic on lighter jig heads but will also take white bait too in addition to the cut bait. I would suggest looking at areas where the redfish have opportunities to hide from the wind and sun when scouting areas to fish in the back bay areas for the redfish.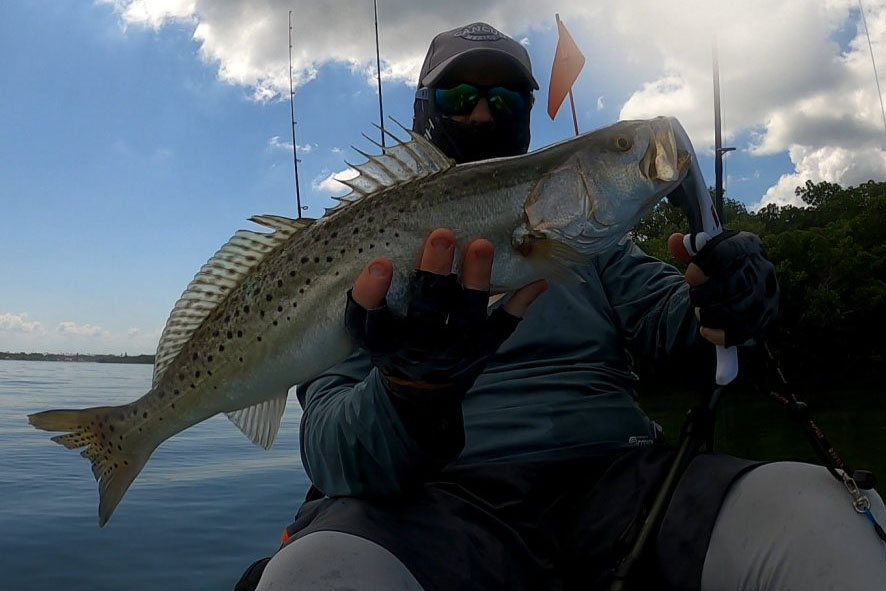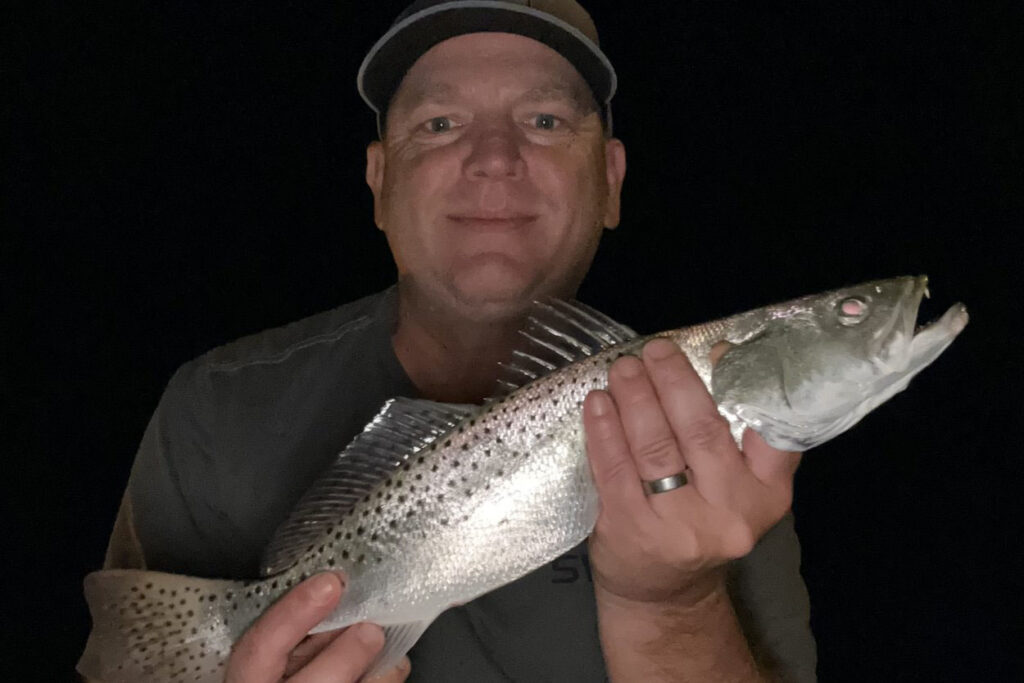 Trout action is still going well around the pass from the jetty and beaches and even around the bridge too. While at night mostly focused on the lights of the bridge or docks, during the day they will spread around the jetty, pass and beaches. We are seeing some big boys around the beaches while hunting snook on our beautiful beaches. Inland, in the back bay, we can see them around the edges, potholes and cuts of the local grass flats. Trout typically will be in small concentrations or groups looking to feed opportunistically on the white bait or shrimp.
Flounders are biting decently around the area, but many opt to gig them this time of year. They are hanging on the local sandy areas next to the flats, passes, or structures of the area. They are strictly opportunistic ambush predators looking for areas they can stage up on the bottom and hide to hit passing baits. They love small pinfish, mud minnows, shrimp, and other smaller live baits right on or just above the bottom. I love using a DOA shrimp moving extremely slowly to target the flounder personally.

Mangrove snapper are thick around the area too, we are seeing the mangrove snapper super thick around area structures. They will bite about anything that happens to be around their hard structures that they call home. They invade local docks, piers, bridges, jetties, and rock piles and really get into impressive and aggressive large schools. While they are veracious, they are a little difficult at times to get dialed in because they are so quick biting and smart. I recommend lighter tackle, smaller pieces of cut shrimp or white bait and then smaller hooks with minimal weight. They are tons of fun, and incredibly good to eat and sometimes around the bay on deeper bridges and bigger structures you can find some of rather large size too. 
Tarpon action has really heated up around the area and on this upcoming new moon we will get some big flushes of baits to get the tarpon excited. Typically, threadfin, crabs, and even smaller ladyfish are great tarpon live baits around bridges at night or in the passes or deeper cuts during the day. You can target them on the beaches too but that takes a level of strategy and practice that takes years to cultivate any level of consistency and success. I recommend thinking about a tarpon guide for a few experiences to learn the tricks, tips, and techniques you can apply later. 
Sharks are thick around our back bay and inshore areas this time of year and as the water continues to warm that only becomes increasingly apparent and consistent. We see mostly the blacktips, bonnet heads and spinners in high numbers this time of year but as summer sets in the sharp nose, bulls, and more become more prolific. In cooler months we still have sharks, but mostly they are larger and less common and more offshore. In the warmer months we see more numbers as this is the time of year, we see them pup inshore in our back bays. Then those pups will hang around and get fat inshore before making their way near shore and offshore.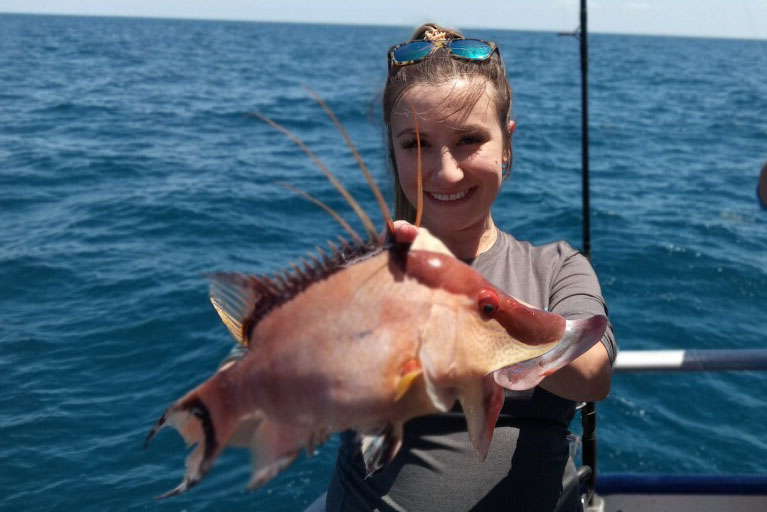 Hogfish action is still present around our near shore waters when fishing around 40-70ft of water on our 5hr half day or 10hr all day, but really the private charters give you the best chances. However, the numbers and concentrations of hogfish have severely dwindled down as we moved into hotter waters and those warmer months. Typically, the hogfish will spread out and get trickier to really dial in on this time of year. They will spread off the smaller ledges, rock piles, and get out on that sandy shelly bottom moon in less concentrations to spawn. They will still eat but it's much harder to target them well with any consistency or pattern. Plus, as it warms up more spear fisherman are out there swimming after them which can seemingly make them even more leader shy and finicky compared to the cooler months when water clarity is less optimal, and they get much more concentrated on structures to make them easier to target with greater consistency and success. Typically, around 20-40lb leader and minimal weight with about a 3-4ot hook is what we use while targeting the hogfish using live shrimp, fiddler crabs, or even sandfleas or rock shrimp for bait. 
Lane snapper action is going well for us in the deeper near shore waters around 50-70ft or more up to the deepest near shore areas closer to 100ft. We see lane snapper feeding on most any sort of baits, but the big girls go after the cut threadfin or the live shrimp. We see good numbers on squid and other options too. Lane snapper can be targeted like the hogfish with the same setups, and it makes it ton of fun on lighter tackle, and you may even get lucky and get a hogfish too. 
Mangrove snapper are like the lanes in that respect too while they are most common in the deepest near shore waters targeting them like the hogfish makes them tons of fun to catch and even a bit more challenging as that shrimp really can get taken easily if you're not on top of your game. I like using a double Snell rig and a small chunk of threadfin though to really increase my chances and effectiveness for those mangrove snappers.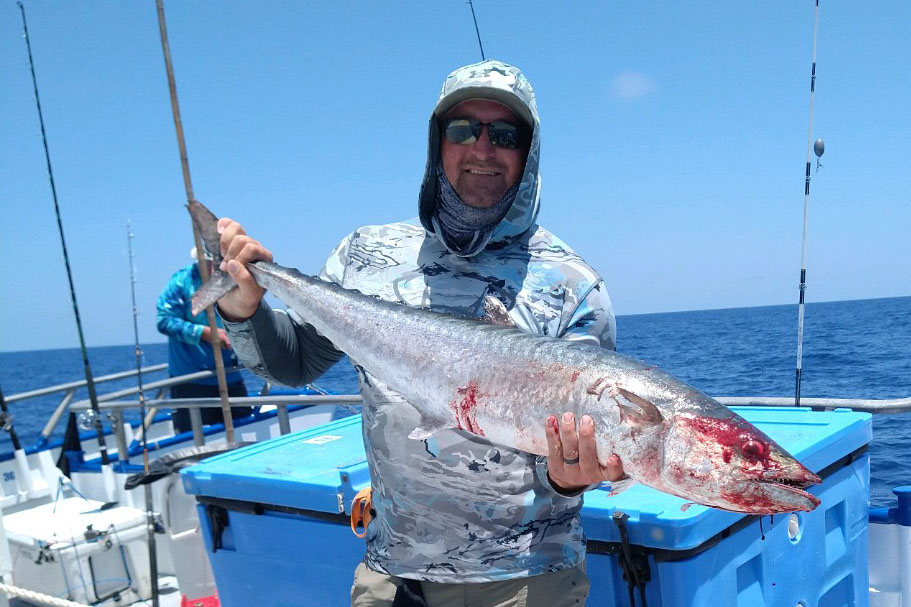 The mackerel and kingfish action is gone from our near shore waters as we have seen the near shore waters continue to warm and the bait to start sink lower and lower in the water. They really didn't get a good thick springtime run unfortunately this year, but we have hope that the fall run may bring us some better action. We still occasionally see the mackerel around near shore but mostly concentrated on the shorelines, at the passes or around the local artificial reefs or wreck areas.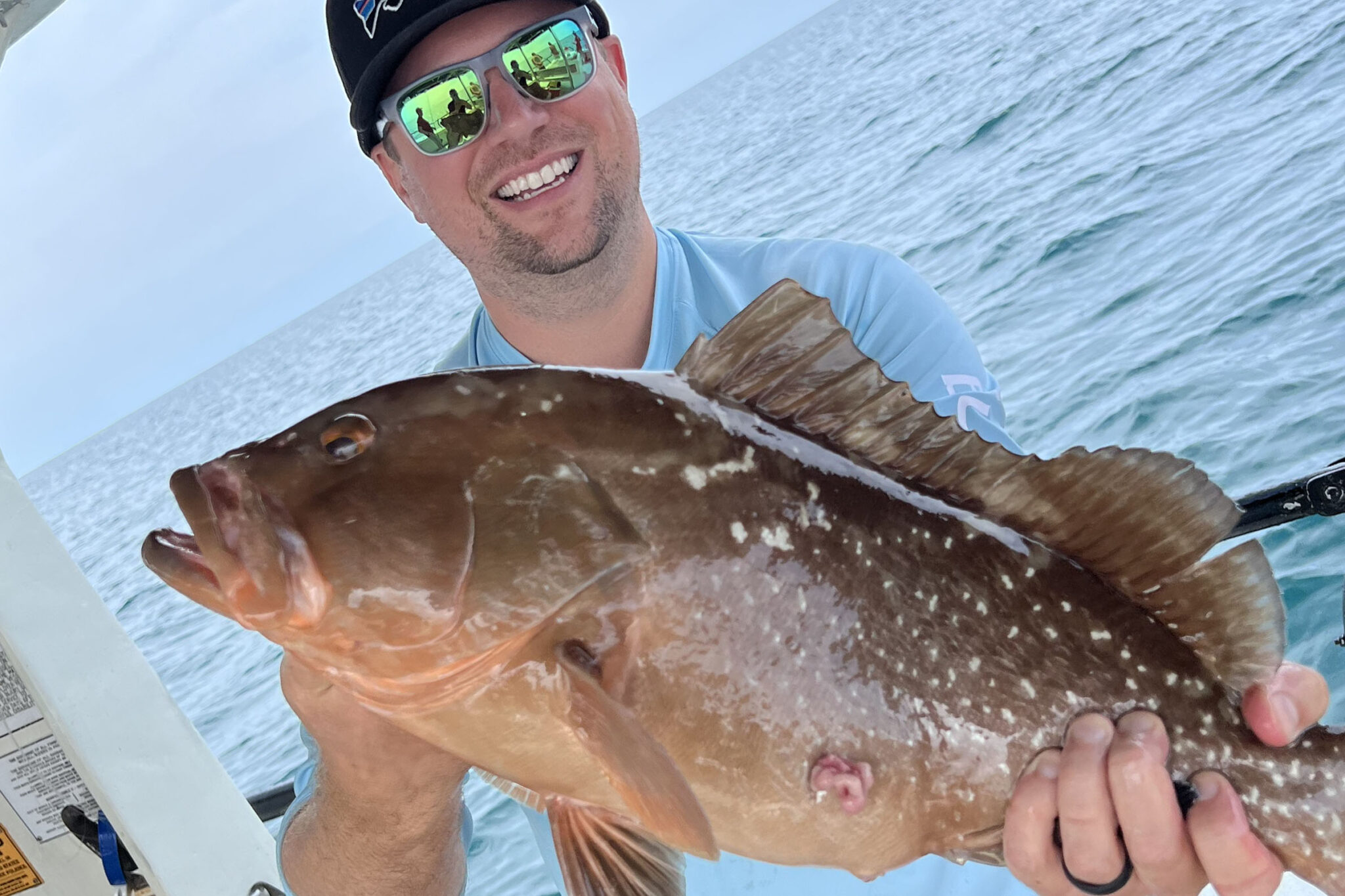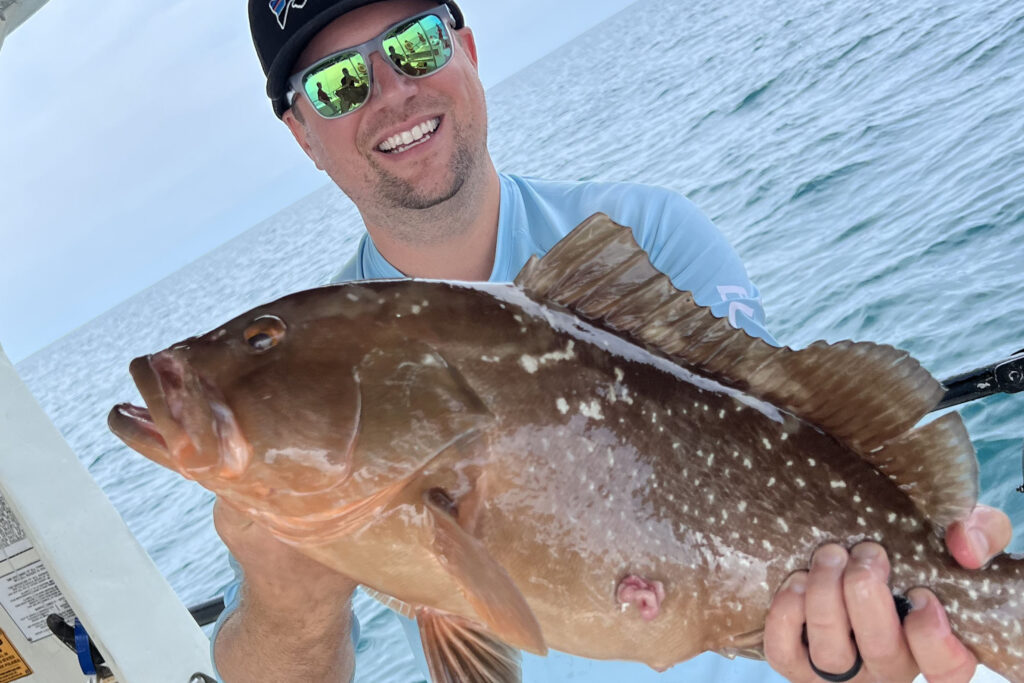 Red grouper is the big focus offshore now especially with the possibility of them being closed early this summer. We want to take advantage while we can and enjoy all our opportunities to catch as many as possible. We are seeing the best chances for red grouper as we get deeper past around 120-140ft of water or more. They love those live baits and bigger dead baits in the deeper water areas. However, you can get lucky on a whole threadfin with the tail cut too. I like a reel with at least 35lbs of drag or more to target the red grouper. Typically, around 60-80lb test and around a 7-10ot hook depending on the size of your bait is a good set up for these healthy groupers. Unlike the gag grouper, red grouper is typically a little easier to land if you can get them to bite because they are not as typical to run right at a rocky hole to break you off or rock you up. They are typically out foraging and are more commonly just going to try and run along or around the structure and not so much into it, and this is why you do not need as heavy tackle while targeting the red grouper offshore compared to the gag grouper that will open September first through November 10th this year! 
Scamp grouper fishing has been going well offshore too, we are seeing the scamp around those potholes in deeper water and smaller ledges. We do see them sometimes in the bigger relief areas, but it is more common to catch them on those smaller rocks and more tactical spots in the deeper offshore waters. The biggest scamp groupers are around 200-400ft of water, but we see them as shallow as the deepest near shore waters too. They just get bigger and more common the closer to that 200-400ft area you get. Typically, we catch them on smaller to medium pinfish or cut dead bait. I normally catch most of mine while targeting the big mangrove snapper in deeper offshore waters. 
Mangrove snapper offshore right now are biting well and that should continue into the summer. Once we hit the heat of summer like later July into September it becomes a bit more challenging to get big numbers of concentrated large mangroves, but we still see plenty. The heat of the summer they are more finicky and less aggressive, and the overall size dwindles on average. However, right now is a great chance for 6-10lb fish in decent numbers especially when fishing deeper beyond 120-160ft of water or more. We are seeing good mangrove snapper numbers even as deep as 240ft now.
Yellowtail snapper are common now too, and some occasional mutton snapper as well. These are great additional bonus snappers while we target and catch plentiful mangroves. Another great bycatch that some will target heavily on our longer-range trips is the big and plentiful vermillion snapper we see when fishing deeper offshore. They get big as we approach and pass that 200ft mark. Plus, while seeing them we get the bigger porgies in good numbers too!
Pelagic wise we are seeing some nice wahoo action on the troll. We had around 3 long range trips in a row with wahoo being caught and one 39 hours had two hooked up at once! Blackfin tuna action has been spotty but present and even some coming up while bottom fishing and just dropping live baits at night. Kingfish are possible, but we have not been seeing as many lately.