Fishing report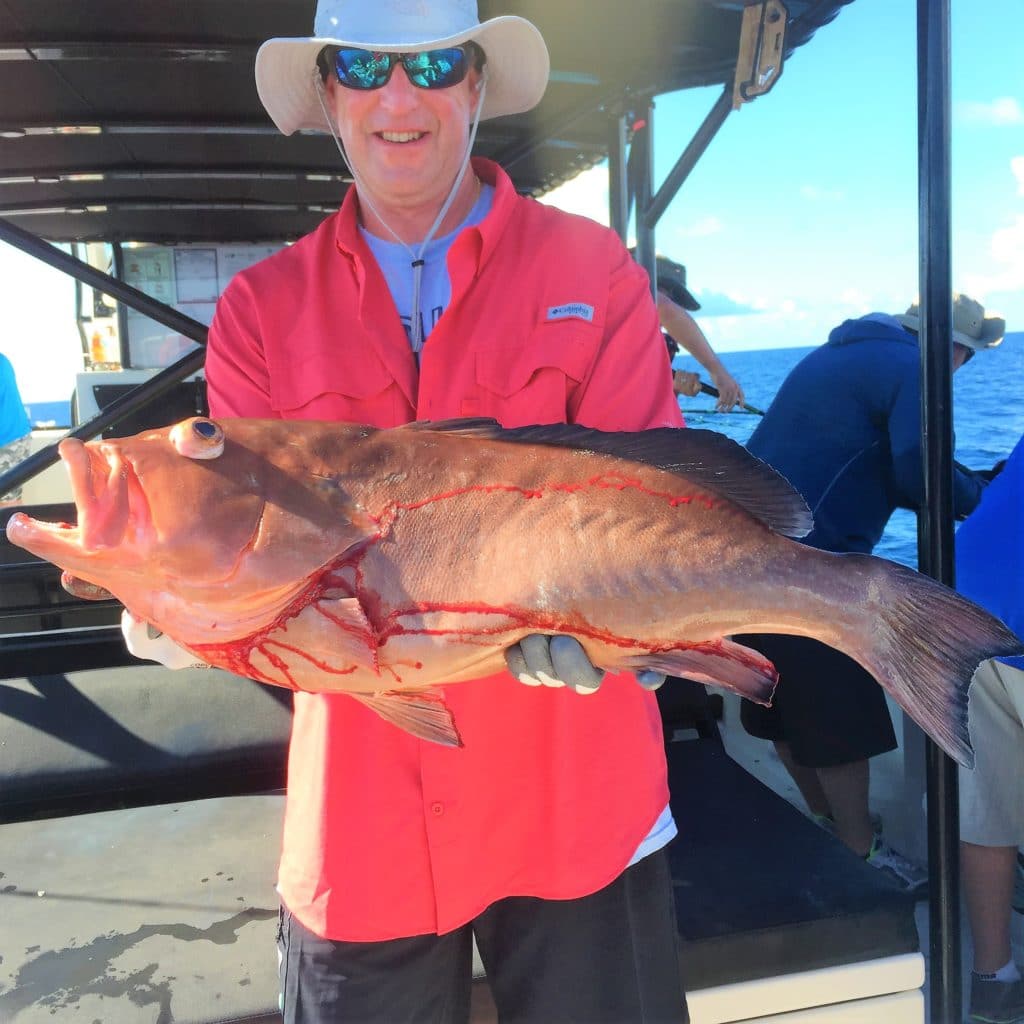 Inshore– The trout bite inside the pass is going very well on the deeper grass flats around the mangrove islands. We're seeing some nice redfish coming in as well. Jim Stuart, a local kayak angler paddled by the dock showing off a cooler full of big 20+ inch trout and two nice slot sized red fish both caught on the start of the outgoing tide inside the pass. Snook bite at night still going on as well, John's Pass at night is sometimes as busy along the shore as it is during the day! The weather that rolled into the area this past week shut down the bite for a few days, but on the backside of the weather surprisingly very shortly after we were seeing guests landing snook from the beach behind Hubbard's Marina.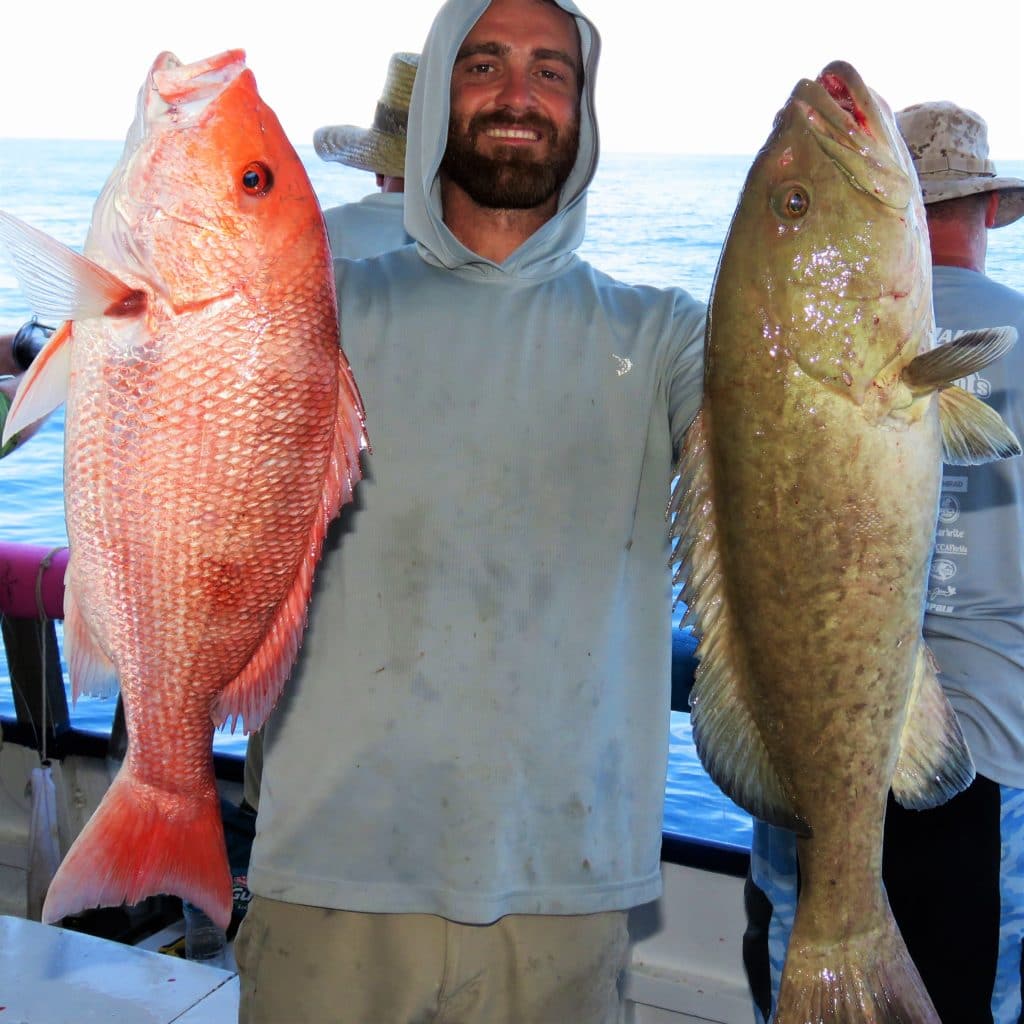 Near shore– The big tropical storm that moved through the gulf was great to stir up the water, this is actually good for the fishery but annoying it happens during the middle of the red snapper season. When these storms enter the gulf, the bait and big fish are all pushed around and they tend to be grouped up onto the bigger structures in the gulf. Also helps to promote the spawning of many species since they congregate naturally. However, this weather also will cause a few days of unfishable weather and then once it starts to lay down it takes a few days for the waters to clear up before fishing slowly returns to normal. Once the waters clear and calm down the bite is typically very good since the fish haven't been feeding well the past 3-5 days. We're expecting a great weekend bite thanks to this phenomenon.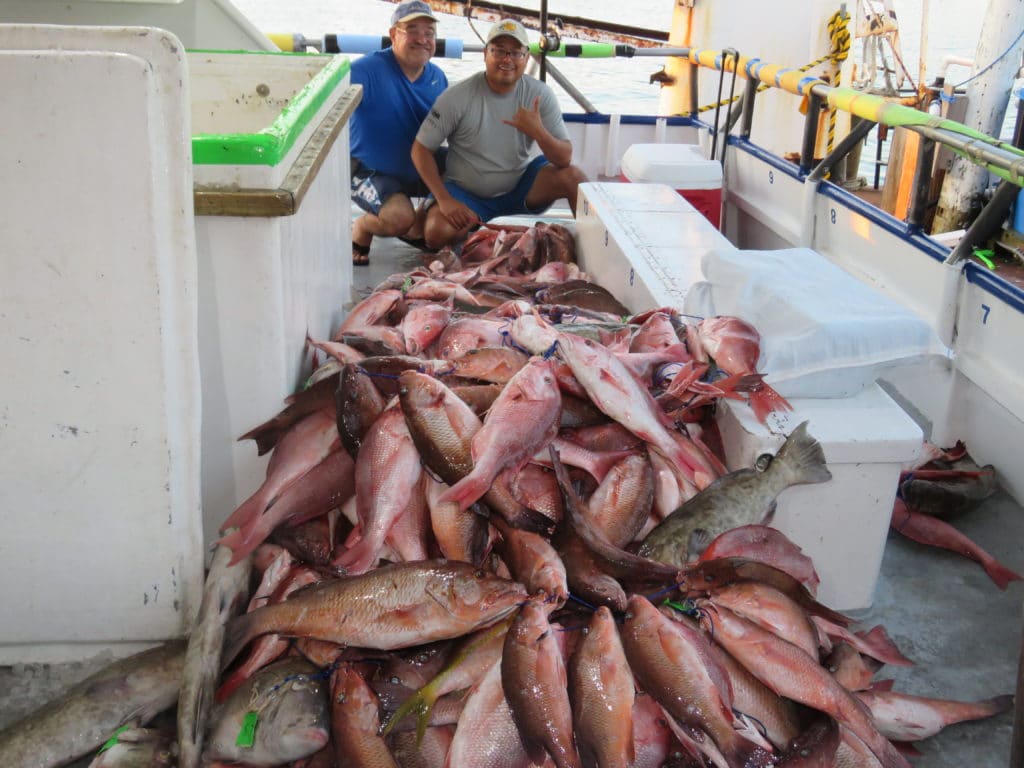 Offshore– This past week we have had two 39 hour overnight fishing trips instead of three, we had to cancel the Tuesday overnight trip due to that weather rolling in. However, the Sunday 39 hour charter was able to slide out ahead of the storm and capitalize on some great fishing ahead of the storm and make it home safely as the weather started to bring 10-12ft seas into their fishing grounds. They caught some big gag and red grouper, lots of red snapper, tons of fat mangroves, some big kingfish, a few tuna, and a bunch of heads and tails as well. Big grouper have been caught quite frequently lately just this past week alone we had a few grouper in the 30lb range one 27lb red grouper and two gags nearly 30lbs. For more red snapper tips and tricks check out our latest video with Salt Strong: https://www.youtube.com/watch?v=guVZi0H6iUg
Want to read the past reports? Check out this link: https://www.hubbardsmarina.com/hubbards-marina-fishing-reports/
Tampa Bay Ferry and Taxi news
Summer is here and to celebrate the Madeira Beach water taxi is offering a summer time special of Buy one Day get the Second day FREE on the water taxi all summer long! This means you could pay for an all-day pass Friday and then use that same pass all day Saturday too, allowing two full days of avoiding traffic and chaotic summer beach parking all for only $19.50 that less that parking at the beach for one day!
We are very pet friendly on the Madeira beach water taxi, plus you can pack your cooler with your favorite drinks too! It's always a relaxing ride, and you can enjoy it how you see fit with as few or as many of your friends as you want the boat can hold up to 49 passengers. In addition, we even offer private party taxi service for your next dinner party we can come to the house or hotel and pick up your entire group to take you to the after party or on the water for a relaxing cruise.
The Madeira beach water taxi is still running five days (weather permitting) a week Wednesday until Sunday 10am-10pm and we have updated our website, check out the new look: http://www.tampabayferry.com/madeira-beach-taxi-route/
There's tons of stuff to do while catching a ride with the Madeira beach water taxi, check out all the things to do: http://www.tampabayferry.com/things-to-do/
Captain Jack's dolphin corner
Manatees are still very prolific in the area as well being spotted in the passes as well as all over the bay. Please be careful as you move through shallower areas as to avoid hitting these big animals with your propellers.
Baby dolphins are everywhere inside Boca Ceiga bay! We have had three new dolphins born in our back bay waters these past two weeks, it's great to see our local population doing so well inside Boca Ceiga bay. We hope the spring season brings a handful more young juveniles as well!
If you have considered doing our snorkeling cruise at Hubbard's Marina now is the time. The waters are crystal clear and the water temps are optimal. This is a great time to see the area's local sea life at the sunken ruins around Egmont Key state park.
Want to learn more about dolphins this winter? Check out the new great Johns Pass dolphin facts series on our Hubbard's Marina YouTube channel to check out to see them all watch our dolphin playlist here: https://goo.gl/2mYjX2
Upcoming up at Hubbard's Marina
We have changed around a lot of stuff on our website, you should check out the added material on our FAQs page to further explain bait options, best spots on the boat, rod rental options and lots more helpful information to hopefully help first time anglers with us have a more quality experience. To see the changes, check out the FAQs: https://www.hubbardsmarina.com/faqs/
The red snapper and gag grouper season has kicked off with a serious bang and doesn't show signs of stopping! We highly recommend joining us for a 39 hour fishing adventure with 20 hours of fishing time and a two day bag limit, the Sunday trips are the lightest followed by the Tuesday 39's. If you can't go during the week we do have some Friday 39 hour spaces but they are running much more full than the mid-week adventures.
The 12 hour extreme trips aboard the Flying HUB 2 are doing very well on the big red snapper we caught a 19lb red snapper and a 32lb gag just this past week on these awesome trip and they have been seeing some nice Mahi Mahi out deep as well. There's a few spaces left on these special 12 hours that offer 6-8 hours fishing time in the similar area that the 39 hours fish.
If you don't have the time for the 39 hour or the budget for the 12 hour extreme the 12 hour party boat short trip for ARS and gag is doing well on the fish too, but you just don't get as far for as long. The 12 hour on the party boat only can get you around 4-6 hours fishing time 40-60 miles out but we have seen some trophy sized fish coming off the boats you just don't have tons of time to get them all. These trips have had tons of room however.
Also, if you're interested in the issues surrounding our federal fishery and red snapper specifically check out this recent long video and post from Salt Strong and Captain Dylan Hubbard: https://www.saltstrong.com/red-snapper-season/
Gag grouper also open up June first and remain open until the end of 2017 so get ready for some big grouper fishing action with us at Hubbard's Marina.
Regular's club
If you have not renewed yet for 2017, please do so before booking your 2017 trips and you definitely want to get it done before January first. If you do not, we will be changing you to the FREE Johns Pass club which does not give you benefits you're used to. Once in this club, you can always upgrade again to a paid club but if you book using your number while it's a FREE Johns Pass membership you will not have your discount tied properly to your trips so get renewed before you book!
Captains Mark and Dylan Hubbard
Vice president and Regular's club manager Hubbard's Marina
(727)393-1947 ext 306