Fishing Report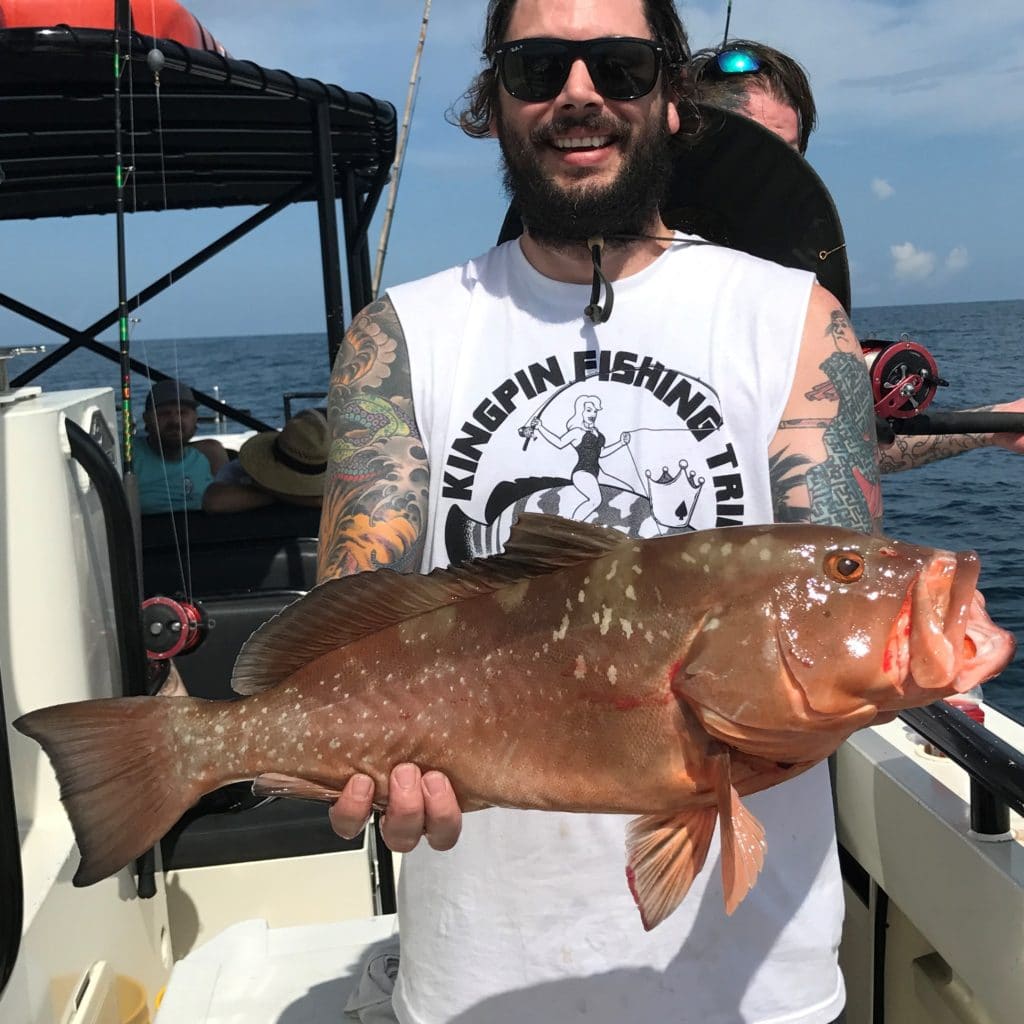 Inshore- The snook are so stacked up around Johns Pass they are breaking water like Jack Crevalle when they start to feed. This morning it was difficult to talk over the 'popping' of snook feeding inside the Pass before sunrise. The pompano bite is also going well along the beaches and in the pass. The best methods we have seen is popping a Nekid Ball jig along the bottom in the quarter ounce to half ounce size range in the neon green or white colors. Nekid ball jigz are sold in our shop and have directions on the back for how to work them along the sandy bottom where the pompano feed. Redfish action has slowed as it seems they have moved out of the pass once again. Mackerel have filled in any gaps however, they can be spotted tearing up any bait that dares to come off the bottom. Also, cobia being spotted along the beaches and even in the pass. Dave Weinman, our reel repair expert, caught a nice fat keeper cobia from his kayak inside Johns Pass.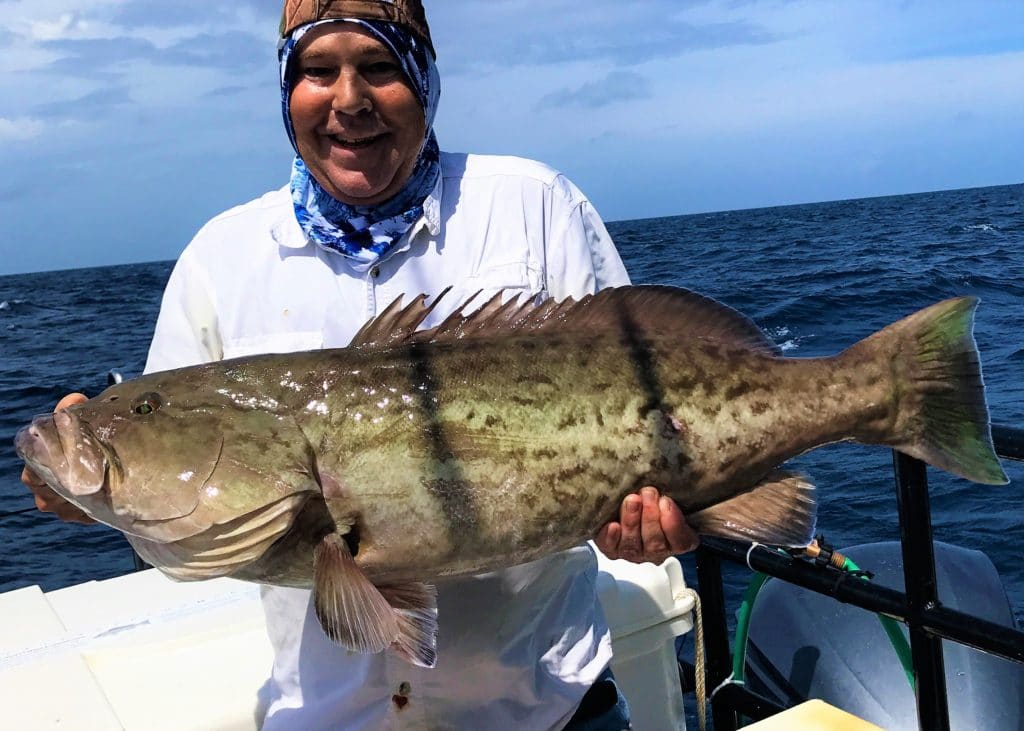 Near shore- The mackerel and kingfish are thick along the beaches right now, the hurricanes and storms haven't chased them away quite yet. The kingfish are super crazy but the macks have been voracious. Hogfish bite has improved quite a bit with the decline in water temps due to massive rain being mixed up in our near shore waters due to weather. We will have our first cold front this weekend and depending on its strength that could bring yet another declining trend in our local water temps. As the water cools, hogfish are easier and easier to find in large feeding numbers. Also, the gag grouper will come closer and closer to shore as well! Right now the red grouper bite is picky at best near shore but the snapper action makes up for that. Currently the grouper, red or gags, are out in the offshore waters for the most part but we are getting plenty of snapper, kings, hogs and the occasional grouper making it a great time for a 5 or 10 hour.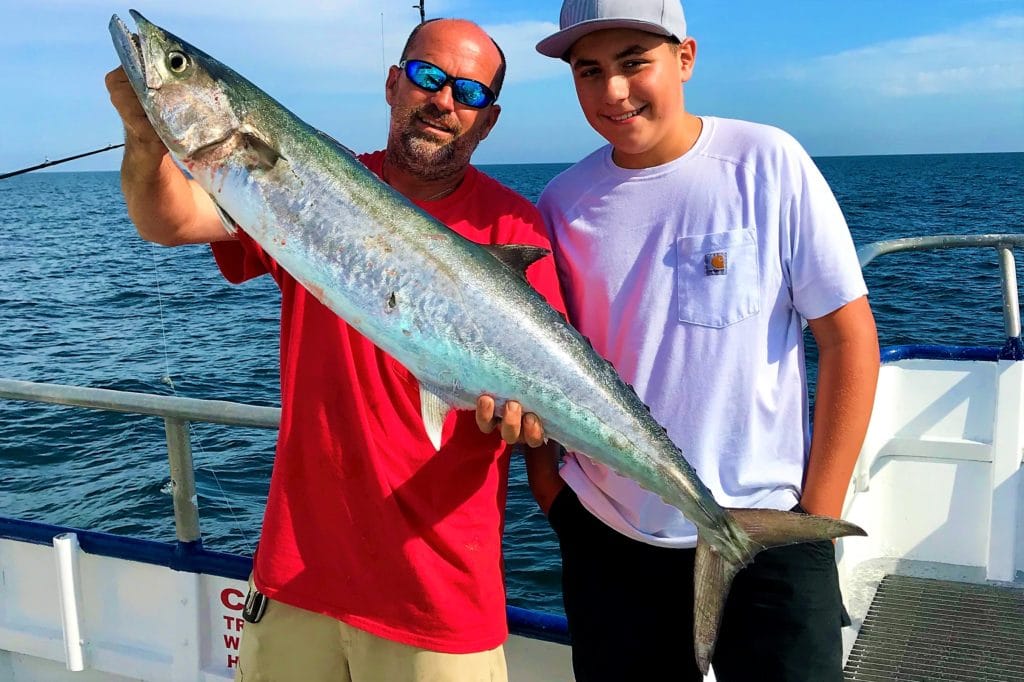 Offshore- The gag grouper and red grouper are biting much better in deeper waters. Behind the big blow we had last week they seem to be awake and ready to chew. The 12 hour extreme is nailing plenty when the weather allows a chance to make it offshore. We had an 8 hour Flying HUB 2 charter the other day that wrecked the lanes, mangroves, red grouper and a couple fat gags. They even had multiple juvenile mutton snapper which are great to see growing up this far to the north. The tuna have been fairly common out deep right now along with the kingfish. We have even spotted some sailfish free jumping in the past few days so it's a great time of year not to forget your flat line while you're out deep sea fishing offshore. We have a 63 hour deep drop pelagic trip leaving today and were hoping to nail some of those pelagics and plenty of fat grouper too in the super deep drop areas.
Want to read the past reports? Check out this link: https://www.hubbardsmarina.com/hubbards-marina-fishing-reports/
Tampa Bay Ferry and Taxi news
Ancient Indians, Sandbars, and Boat Cruises!? What do they all have in common? They are all coming together this weekend! Don't miss a tour of ancient Indian burial grounds, a post-Irma sandbar party, and cruises to both happening on our boat right in your backyard!
All weekend, our friends at Discover Florida will be giving tours of the historic Jungle Prada landing site and Indian mound at 11:30am and 2:30pm, a few minutes after our ferry arrives. Jungle Prada was home to a Tocobaga Indian village nearly 500 years ago when Spanish conquistadors led by Panfilo Narvaez and Alvar Nunez Cabeza de Vaca landed there in 1528.  The collision of these two cultures produced amazing stories of discovery and survival. Tours are only $10 per person. For more information contact David Anderson (727) 430-2677.
This Sunday, September 24th, our friends at Mad Beach Brewing and Infinite Descent Dive Shop are throwing a "Irma Detox" sandbar party at the John's Pass Sandbar.  We will be running a ferry to the sandbar at 10:45am, 12pm, 1:45pm, 3pm, and 4:45pm for only $10 round trip. For more information check Mad Beach Brewing's Facebook or call me direct at (727) 430-1602.
We are very pet friendly on the Madeira beach water taxi, plus you can pack your cooler with your favorite drinks too! It's always a relaxing ride, and you can enjoy it how you see fit with as few or as many of your friends as you want the boat can hold up to 49 passengers. In addition, we even offer private party taxi service for your next dinner party we can come to the house or hotel and pick up your entire group to take you to the after party or on the water for a relaxing cruise.
And you can't beat the price. Eat, explore, shop, or cruise, all for one low price! Don't miss the most affordable boat ride in town.
There's tons of stuff to do while catching a ride with the Madeira beach water taxi, check out all the things to do: http://www.tampabayferry.com/things-to-do/
Captain Jack's dolphin corner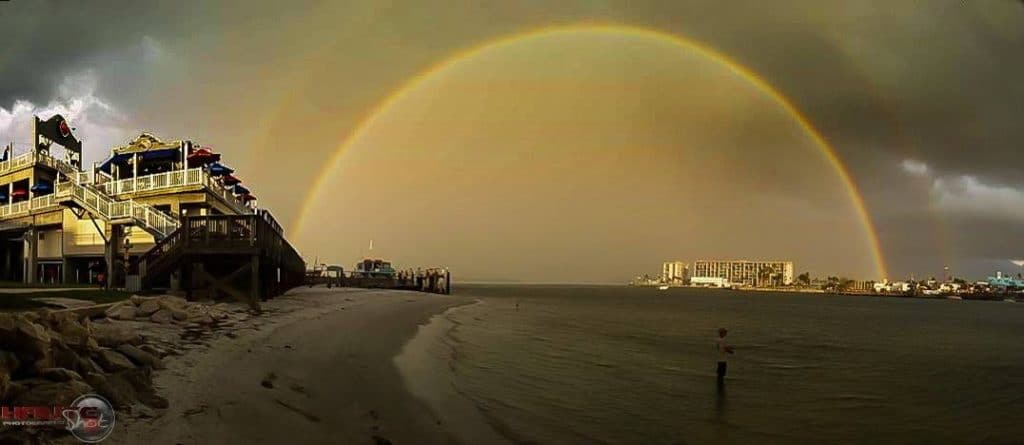 This past week's rain has made our local manatee population very active inside Johns Pass. Earlier this week we saw huge herds of manatees moving into the pass from the beaches as many as 7-10 manatees in each group playing quite close to the surface and even splashing around as they swam along the docks of Johns Pass Village and Boardwalk.
Sea turtles are still nesting along our beaches and islands so be watchful of the taped off nests and refrain from lighting up the beaches at night. Even a camera flash on the dark beaches at night can disorient baby turtles headed for the gulf waters.
Sharks teeth are being found quite often this time of year along the shore of Egmont key. This past week one lucky beach comber even found a megladon tooth fossilized into a sedimentary rock along with some smaller sharks teeth as well. The storms bring fresh shells and teeth onto the beaches each day so don't miss your chance to enjoy a day at the island.
Want to learn more about dolphins this winter? Check out the new great Johns Pass dolphin facts series on our Hubbard's Marina YouTube channel to check out to see them all watch our dolphin playlist here: https://goo.gl/2mYjX2
Upcoming up at Hubbard's Marina
We were very blessed in our area to dodge the worst of Hurricane Irma at the beginning of last week. We were back in business by Friday last week so it's been nearly a week since we've been back to 'normal' or as normal as you can be following such a major life event. We were very happy to see all our captains, crew, staff, assets, boats and homes dodging any type of major damage. We did have some minor wind damage, tons of clean up, and unfortunately some lost business but again we feel very blessed we were able to dodge the worst of it. However, we are keeping those directly impacted by the worst of the storm who lost their homes, valuables, and pets and in some cases family members to the storm at the forefront of our minds. If you would like to donate any supplies to those affected we are working with multiple charities to coordinate relief efforts. Please contact Capt. Dylan Hubbard directly at his office (727)393-1947 extension 306.
Want to join Capt. Dylan Hubbard for a FREE seminar on offshore fishing? Want a chance to win a FREE fishing trip? Join him tomorrow, satureday September 23rd at 2pm for a great seminar on offshore fishing tips and tricks and whatever else you want to know or learn about near shore or offshore fishing! Whether you plan to join him or not, please stop by the event page on Facebook and SHARE with your friends: https://www.facebook.com/events/267510577099086/
5 and 10 hour trips are catching fish and are super roomy this time of year. Keep in mind if we don't get enough for the big boats and the charter boats aren't booked we put these light trips on our private charter boats for the same price. For example, yesterday August 31st the HUB took 10 lucky anglers on a 10 hour all day aboard the HUB. This allows for a private charter style trip at the price of a party boat, plus on the HUB you can bring your own beer! If you'd be interested in this style trip book a Monday through Thursday trip this time of year and the chances are good you could get lucky and get a private charter experience for the price of a party boat trip.
Dry dock is here for the Friendly fisherman, this means that ALL the all-day fishing trips will get moved to the HUB or Flying HUB 2 during this 3-4 week period starting after this holiday weekend. Book now with only a little more than a dozen spots open these special trips will fill quickly.
The 12 hour extreme trips aboard the Flying HUB 2 are running Wednesday, Friday and Sunday through August and were currently running very light on those trips too! It's a great trip offering 7-8hrs fishing time in the 39 and 44 hour fishing areas. For more info on this special trip check out this page: https://www.hubbardsmarina.com/12-hour-extreme-aboard-flying-hub-2/
We have changed around a lot of stuff on our website, you should check out the added material on our FAQs page to further explain bait options, best spots on the boat, rod rental options and lots more helpful information to hopefully help first time anglers with us have a more quality experience. To see the changes, check out the FAQs: https://www.hubbardsmarina.com/faqs/
Gag grouper also open up June first and remain open until the end of 2017 so get ready for some big grouper fishing action with us at Hubbard's Marina.
Regular's club
2018 Club signups will begin around 1st or 2nd week of Nov this year. Keep in mind, if you are a paid member you will get a call and/or email automatically when it is your turn to renew your membership. You don't have to renew when we call, but the earlier you pay the earlier you are able to start making 2018 bookings. If you are NOT a paid member, but would like to become a Regular's club member in 2018 then please email Dylan your full name and best phone number (preferably a cell number) at the email below. Then your info will be added to the 2018 potential new member list and once were done offering renewals we will call you potential new members to see if they want to sign up or wait. There is no rush to join or sign up or renew there is no cap on how many members we have, but again the earlier you sign up the sooner you can book for 2018 but you must become a PAID member with receipt before bookings and you will be contacted when it's your turn to pay if you so choose. Please do NOT contact us until you have got the green light to sign up by receiving a personal call or email from Capt. Dylan Hubbard.
Captains Mark and Dylan Hubbard
Vice president and Regular's club manager Hubbard's Marina
(727)393-1947 ext 306
CaptHubbard@HubbardsMarina.com
For This Weeks Coupon Please Click Here