Fishing report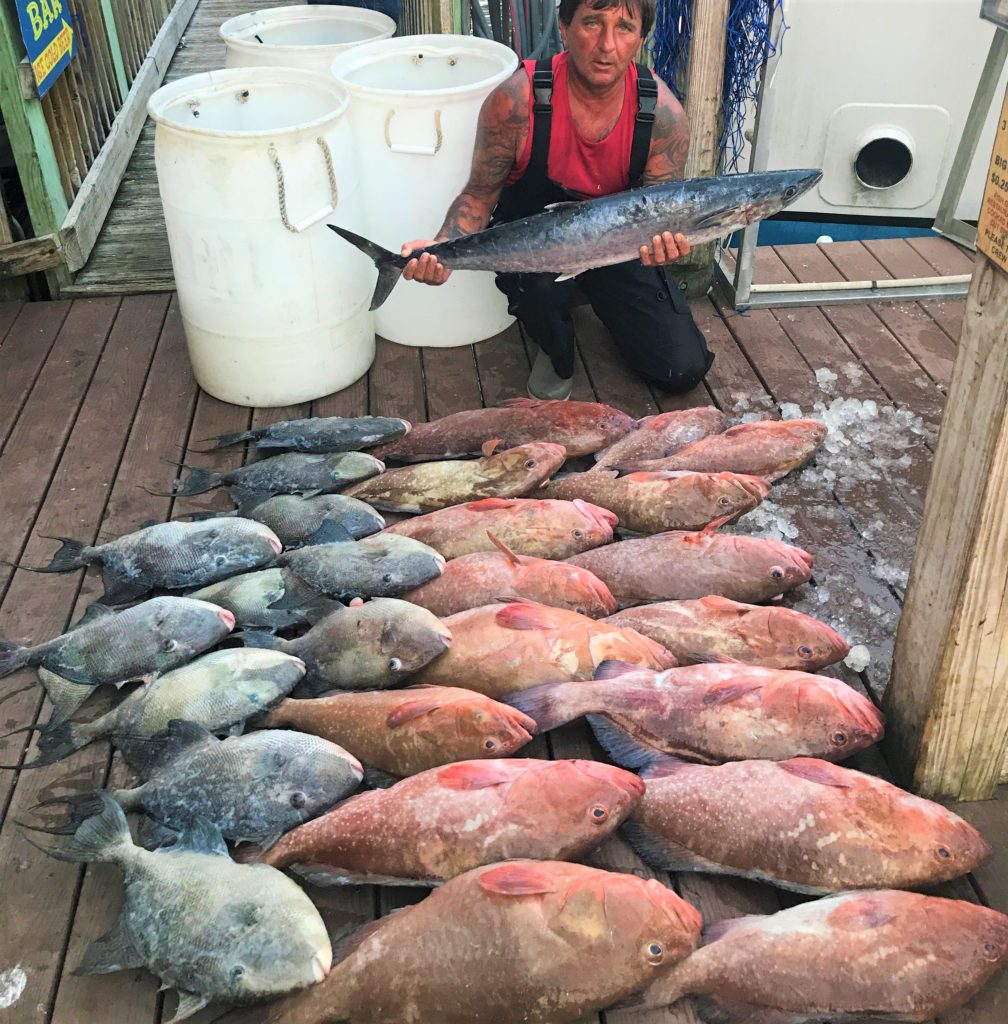 Inshore- The snook have been rolling into Johns Pass in force, while putting out the dolphin boat this week there were large populations of snook moving along the seawalls some in the forty plus range and many in the smaller models too. Great to see the snook pushing onto the beaches as the water warms up and they gear up for their spawn. Great time of year to get a snook or two before the season closes and they are shut down to protect the spawning fish. The red fish have been a little scarce as the snook move into the area but trout still biting well at night. Mackerel are still around the beaches following the bait schools, lots of small white bait schools moving around attacking the hunting mackerel. Pompano still on the beaches and jetties especially on the sand fleas, fiddler crabs and pompano jigs like Docs jigs. Sheepshead still biting on the fiddler crabs inside the pass around the structure too, they have thinned out quite a bit but were still seeing them come up when targeted.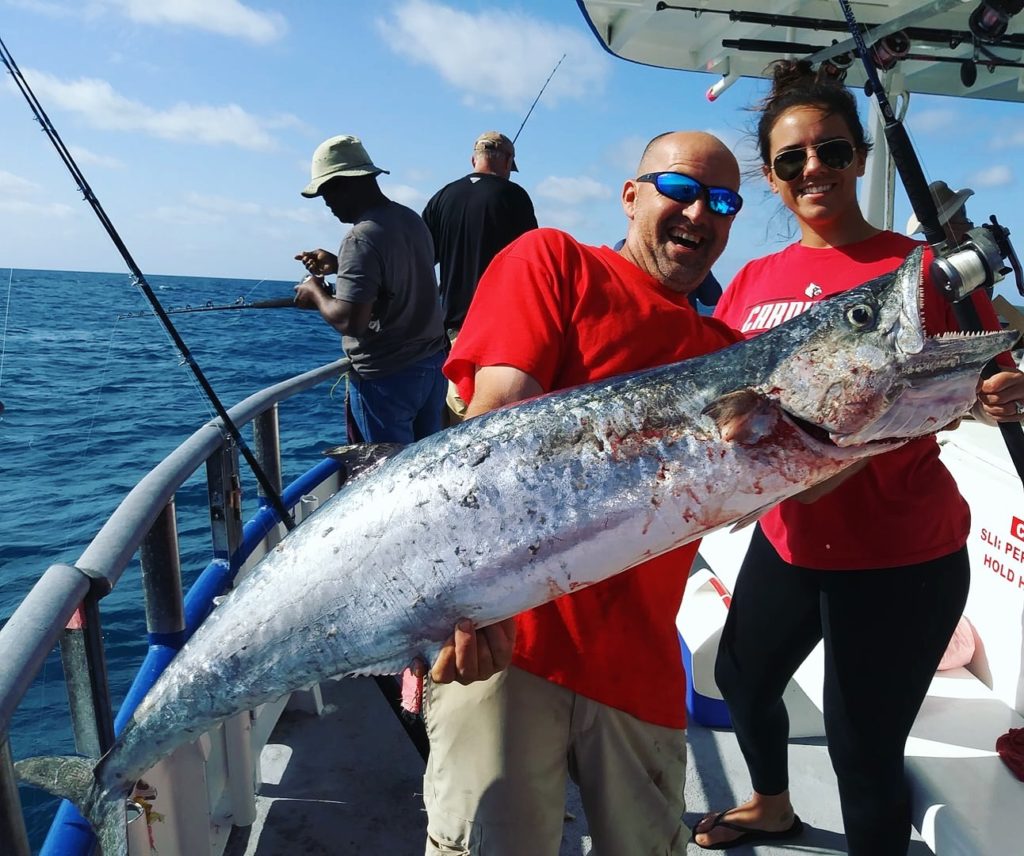 Near shore- The kingfish bite has really heated up this week as the weather got nicer, we even caught one kingfish nearly 40lbs aboard our 10 hour all day Tuesday using our bass pro shops offshore angler ocean master jigging reels on the flat line rods. Mackerel are still being caught on the near shore trolling set ups as well. The snapper bite near shore has continued to be spectacular from the lane snapper to the grey snapper and all the species in between. We have been catching a steady amount of hogfish but the bite has been picky as of late but as the water clears they seem to be more willing to chew.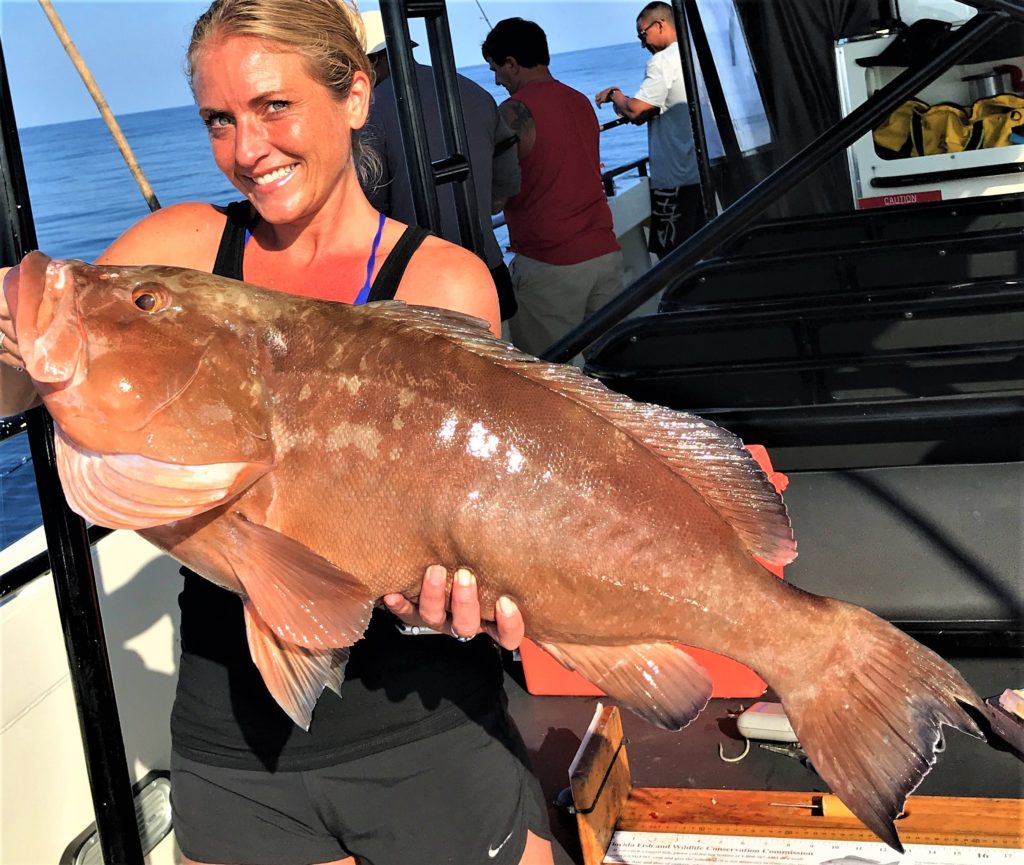 Offshore- This past weekend's 39 hour offshore fishing trip did very well on the big scamp grouper and got a handful of fat red grouper too. The largest scamp was in the 8-10lb range and we had nearly twenty landed in total during the 39 hour long range trip. The mangrove snapper bite has been very slow lately offshore but luckily the big vermillion snapper or beeliners have been thick and biting very well to make up for them. Also, the triggerfish have been plentiful as well and some are monster sized. On top of the bottom fishing this past weekend on the 39 hour we had a great pelagic bite as well to make it even more exciting. The tuna and kingfish were very active and plenty were around biting on the troll or flat line. One of the kingfish landed was nearly 38lbs during this recent 39 hour, plus over a half dozen tuna landed too and some were fatties. The 12 hour extreme trips are doing well out there too as long as the weather is nice, this past Wednesday's trip had a great bite of red grouper, triggerfish, tuna and kingfish. The mangrove bite on the extreme was a little slow too. This past Sunday's extreme struggled due to bumpy conditions but had some fat red grouper and plenty of big triggers. Amberjack are ready to go nuts for the opening of Jack season may first, they are aggressive and ready to come up to the boat offshore.
Want to watch Capt Dylan Hubbard's Daily video reports? Check out the Hubbard's Marina YouTube channel and don't forget to SUBSCRIBE! – Hubbard's Marina daily fishing & boating report
Captain Jack's dolphin corner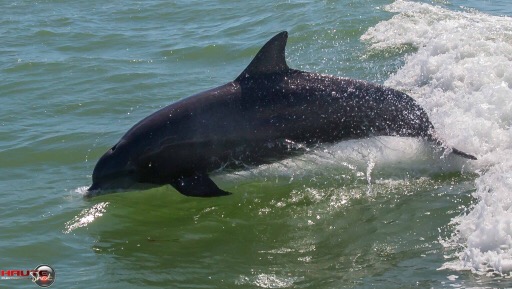 We have a brand new baby dolphin born to our local bottle nosed dolphin populations in boca Ceiga bay. It was born last Friday and its fetal folds are still very visible making it a very unique site for our recent guests aboard our dolphin watching nature cruise and eco tour at Hubbard's Marina inside Johns Pass. For more info on our guaranteed dolphin sightings tour check out this informational link with some great Madeira beach dolphin tours info – https://www.hubbardsmarina.com/dolphin-watching-cruises/
The manatees are very populous right now around our local Johns Pass area and our tampa bay ferry trips and the Hubbard's Marina Johns Pass dolphin tours have been spotting them frequently especially around Boca Ceiga bay. For more info on our special Madeira beach water taxi by Tampa Bay Ferry check out the new website: http://tampabayferry.com/
Dolphins have been super playful lately jumping in the wakes of our Johns Pass dolphin tours, Egmont key dolphin snorkeling trips, and even our private fishing charters out of Hubbard's Marina and Johns Pass! Check out the Hubbard's Marina Facebook page for lots of dolphin photos and videos, or our latest dolphin YouTube video – https://www.youtube.com/watch?v=tBpyaXixqyY
West winds have been making the shelling opportunities better and better along the shores of Egmont key and Shell key islands! Tampa Bay Ferry operates two different options to these islands from Fort De Soto's county park. Plus, Hubbard's Marina offers a 3 hour shelling trip as well from Johns Pass if you can't make it down to Fort De Soto for the Egmont key or Shell key ferry trips by Tampa Bay Ferry. For more info on our 3 hour shelling trip to shell key from Johns Pass madeira beach check out this link – https://www.hubbardsmarina.com/florida-shelling-cruise/
Sea turtle nesting season is almost here, that means it's time to be very cautious walking along our beaches and shorelines of our gorgeous gulf beaches. As these sea turtles come to shore around the full moons to dig nests for the turtle eggs and the moon phases mark the great exodus of baby turtles to the water lines trying to dodge the predators that will be lying in wait. Great time of year to spot the adult turtles along our near shore water and beaches too!
Hubbard's Marina Sea Adventures, Tampa bay ferry and taxi, and the Madeira beach water taxi are all now proudly power by Honda Marine! If you come visit us for a dolphin tour, sunset cruise, Egmont key island trip, snorkeling, shelling, water taxi ride or any type of ferry or pleasure cruise trip then you will be riding a boat powered by Honda Marine! These new motors look great, are super quiet and are great on fuel economy! It was tough to get four boats re-powered with new engines but it was well worth the change and were very happy! Hope you get a chance to see these brand new super cool engines at work on board one of our pleasure cruise and ferry boats! To learn more about Honda Marine engines for your boat, check out their website: https://marine.honda.com/ they have the best warranty in the industry right now, you get a full 5 years and you just can't beat that!
Tampa bay ferry News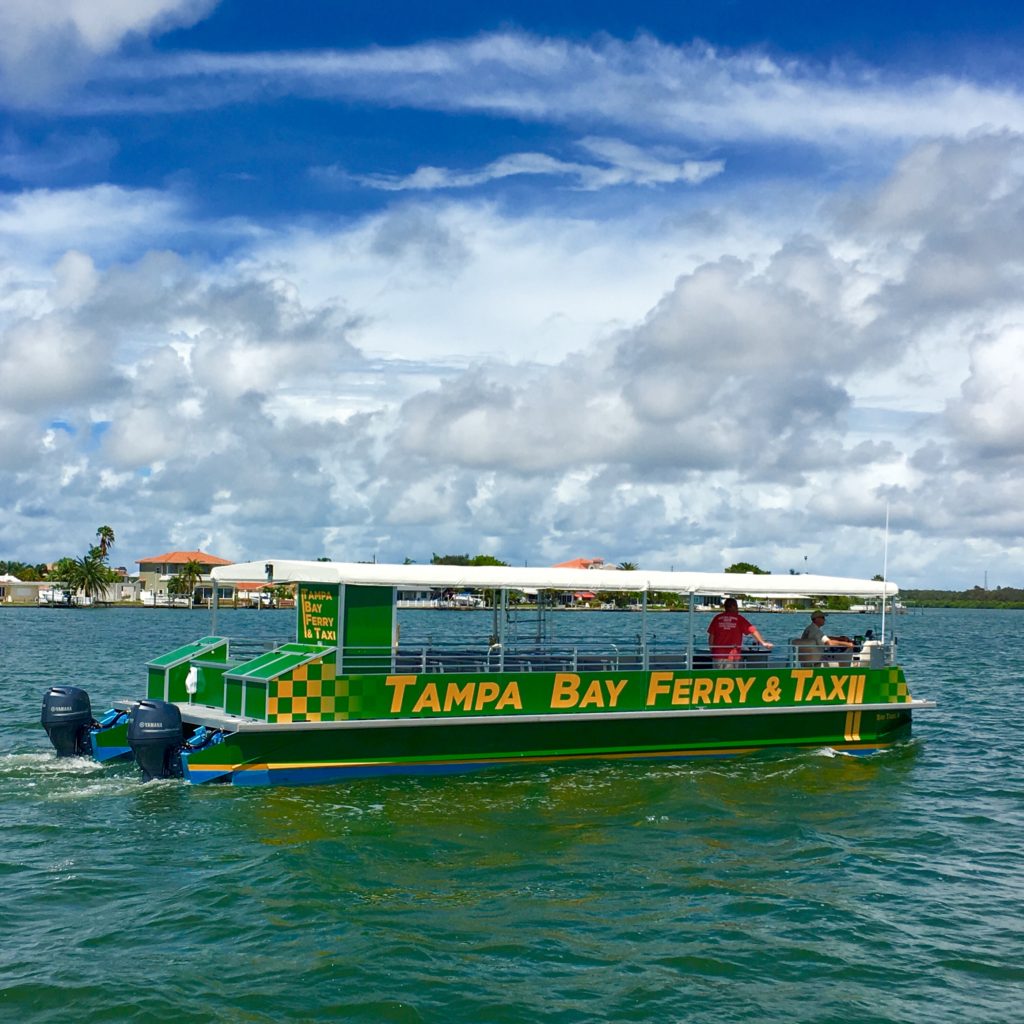 The king of the beach tournament is this weekend and Tampa Bay Ferry by Hubbard's Marina has a HUGE array of options to get you to and from the tournament while avoiding the terrible traffic and parking prices PLUS, its FREE thanks to the City of Madeira beach, Hubbard's Marina and the Old Salts Fishing club! Check out this link for the special FREE event ferry – https://oldsaltfishing.org/wp-content/uploads/2018/04/spring18-kotb-event-map-hr-1.pdf
Our normal water taxi service will be running this weekend too if you wanted to ride from Jungle prada, Treasure Island, or one of our other many stops however our regular scheduled water taxi route will not be free but parking is still free at Jungle prada or ABC marina! Check out this like for our Madeira beach water taxi schedule by Tampa bay ferry – http://tampabayferry.com/madeira-beach-water-taxi/route-and-schedule/
Don't forget to check out the BRAND NEW shell key ferry from Fort De Soto County Park out to the beautiful shell key preserve! This is a great way to see the island, go shelling and enjoy a day on the water with a flexible schedule. For more info on this new ferry route check out this link to the Tampa bay ferry shell key page – http://tampabayferry.com/shell-key-ferry/route-and-schedule/
Upcoming up at Hubbard's Marina
Want a FREE 5 hour half day or a FREE 10 hour all day fishing trip? Join Capt Dylan Hubbard tomorrow at the Tampa Bass pro shops seminar at 2pm! Check out the Facebook event for more info on this special seminar event – https://www.facebook.com/events/1616960988358750/
Amberjack season is opening up in just a few days and we have a super light May 1st 39 hour coming up this coming Tuesday! If you want a chance for monster amberjack join Capt Garett Hubbard for some big monsters aboard this opening day 39 hour long range deep sea fishing trip with us at Hubbard's marina! Remember Amberjack will be open May, August, September and October.
Red snapper season has been finalized if you haven't already seen the announcement on our Facebook page, there's a private recreational season and for hire recreational season. When fishing at Hubbard's Marina you will want to pay attention to the 51 day for hire recreational season starting June first and running through July 22nd at 12:01am making July 21st the last day to land your red snapper with us at Hubbard's Marina if you are confused or questioning the red snapper season at all check out this video Capt Dylan Hubbard made to explain the ins and outs of the season – https://www.youtube.com/watch?v=jAb9Yj3tr_A
May 12th we have a special event with The Reel animals fishing show, Tampa Bay Fishing club, Barracuda Cast Nets and more at the Lazy Days RV dealership off of I-4 in Tampa area. This will be held at their outside pool area with a seminar stage, casting demos, cast net tutorials and much more! With all the great local companies and guides involved it promises to be a can't miss event!
If you want to do a customized private fishing charter with the ORIGINAL and longest running private charter fishing fleet in Florida, Hubbard's Marina is the place to be! We do all types of unique private charter fishing options, plus were the only ones in the area that can accommodate larger groups of 7 or more on our private charter fishing trips out of Johns Pass Madeira beach. We have four custom built private charter fishing vessels at Hubbard's Marina that can be privately chartered for you and your group's fishing adventure.
Regular's club
If you haven't signed up for the 2018 regular's club yet, call today as signups will be closing soon for the remainder of the 2018 year. Also, if you were a member and haven't renewed you don't have much time before you lose seniority and have to pay the first time signup fee when you decide to finally renew.
Captains Mark and Dylan Hubbard
Vice president and Regular's club manager Hubbard's Marina
(727)393-1947 ext 306
CaptHubbard@HubbardsMarina.com
Hubbard's Marina Preferred Partner Showcase:
Liberte Management Group has beautiful vacation rentals. Spring and summer Specials happening NOW!  The beaches are now quiet, come down and relax!  The weather has been great with temps in the low 80's. PLEASE CALL 727-360-2006 or 800-542-3648 to book. Discounts are upon availability. Blackout dates may apply.