Fishing report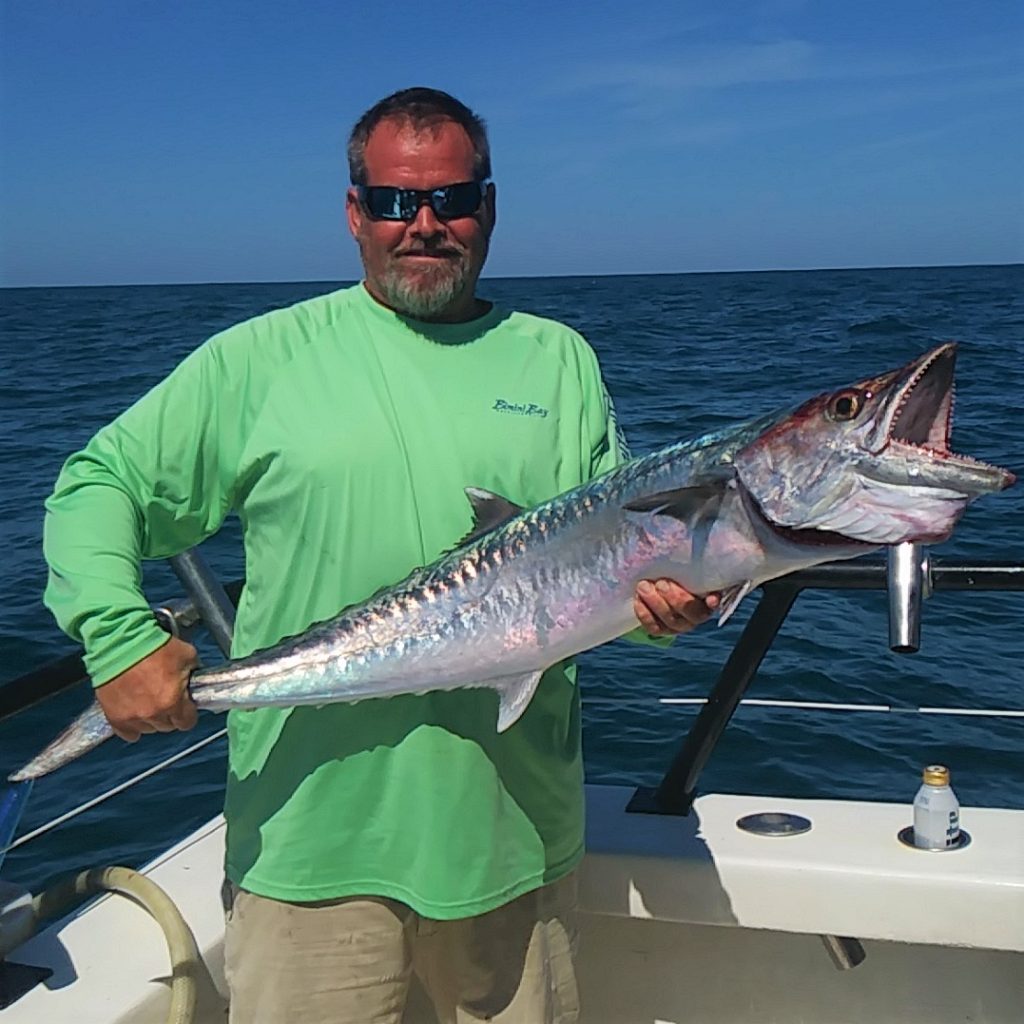 Inshore– Braeden Durbin, from Seminole, and a few of his buddies were tearing up the snook this past week around Hubbard's Marina using free lined shrimp on the tail end of the incoming tide. This was right before the Tuesday front that pushed into the area mid-morning. Behind the front the sheepshead bite picked up lots of visitors were doing well on the sheeps using the fiddlers or pieces of live shrimp around the bridge in that murky water stirred up by the passing front. We had reports of the flounder bite going very well underneath the Johns Pass bridge and along the south side of the North Jetty of Johns Pass but were never able to nail down any specifics on the flounder catches we had heard so much about. Pompano are still being caught along the beaches using the Nekid ball jigs or the Doc's goofy jigs, and also one guest caught one using fiddler crab weighted to the bottom in the surf.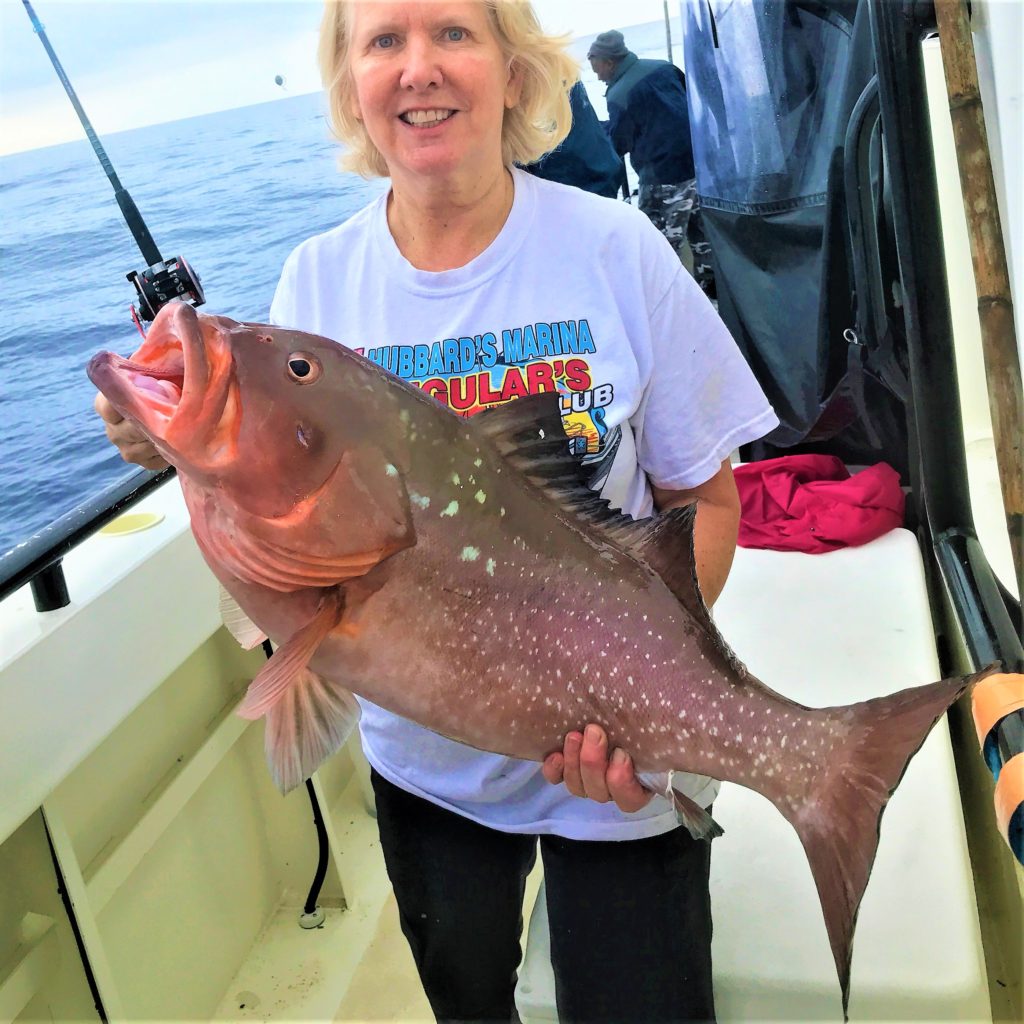 Near shore– Fishing lately around the twelve to seventeen mile mark has been really great recently around 60 foot of water is what has been producing the best. This area has had tons of kingfish around doing laps around our boats while we bottom fish easily plucked with flat lines. The gag grouper bite in this area has been stellar as well which is tough to catch and release these beautiful fish. Red snapper are also pushing into the shallow nearshore waters as well so it's a super productive area but you have to hunt around for what you are after like the hogfish. The hogfish bite is very good around this area and we've been catching a handful of mangrove snapper and lane snapper while targeting the hogs too. Cobia have been a little tough to find around the 50-70ft range lately but they are around for sure. All the heads and tails are feeding very well as well with plenty of the grey snapper, porgies and a few seabass in the mix. What is really funny is that when we're seeing the gags and red snapper being active you will only catch the biggest greys as the smaller ones are hidden in the cracks trying not to become prey for the gags and reds. The red grouper bite is very slow, we mean very slow to pick up but we are finally starting to see the signs of them pushing back into the nearshore waters.
*Near shore report info brought to you by Capt Joe Drew at Hubbard's Marina.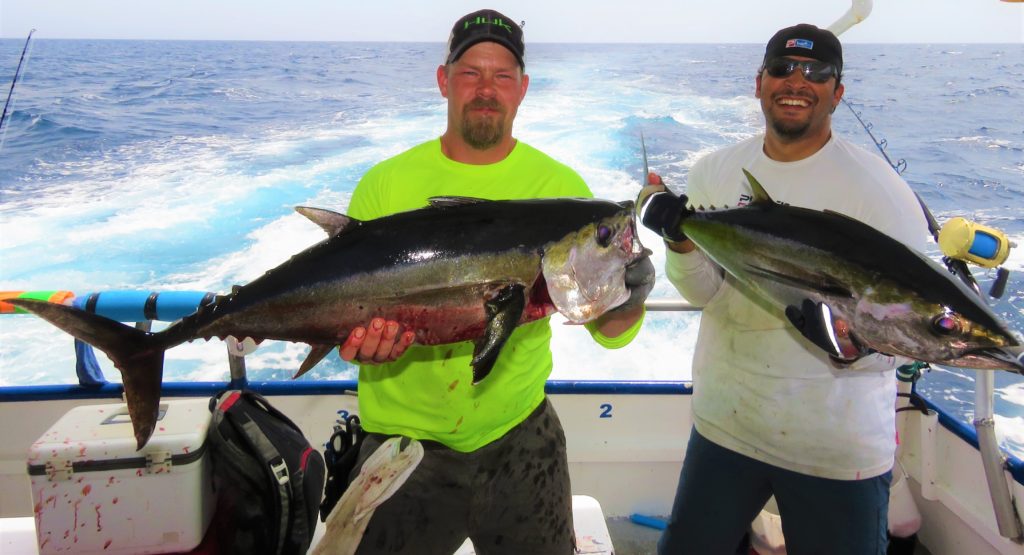 Offshore– The weather this week has been horrendous so we weren't able to get offshore much if at all after this past weekend. However, this past weekend we had a 39 hour out there and they did very well! Capt Garett Hubbard was able to really dial into the fish after a shaking night bite. The 39 hour started fishing around the middle grounds and the first night spent fishing the grounds provided a super slow and picky mangrove bite with a handful of other fish in the mix. However, after struggling to find cooperative fish they pushed out deeper and boy did that make a difference they found bigger and more cooperative mangrove snapper. Plentiful super large vermillion snapper. Big triggerfish were hungry and feeding well. Lots of fatty red grouper came up on the big pinfish and large pieces of the squid. We also caught a few kingfish and a cobia too while using flat lines. However, the big news on the pelagic side of things during the trip was the huge amount of Blackfin tuna caught while trolling Rapala Xrap lures and we got one on a green wahoo whacker too. The 12 hour extreme trip Sunday also did very well on this past Sunday with a big pile of red grouper and triggers and a few scamp grouper and fat mangroves mixed in too. This past Monday the Flying HUB 2 followed up the extreme trip with a long range 10 hour private charter where they got more fat grouper and triggerfish! Both trips on the Flying HUB 2 saw kingfish on the flat lines too. The best action offshore has been in 130-140ft or more. Offshore fishing is heating up for sure, but right now you got to go deep!
Want to watch Capt Dylan Hubbard's Daily video reports? Check out the Hubbard's Marina YouTube channel and don't forget to SUBSCRIBE! – Hubbard's Marina daily fishing & boating report
Captain Jack's dolphin corner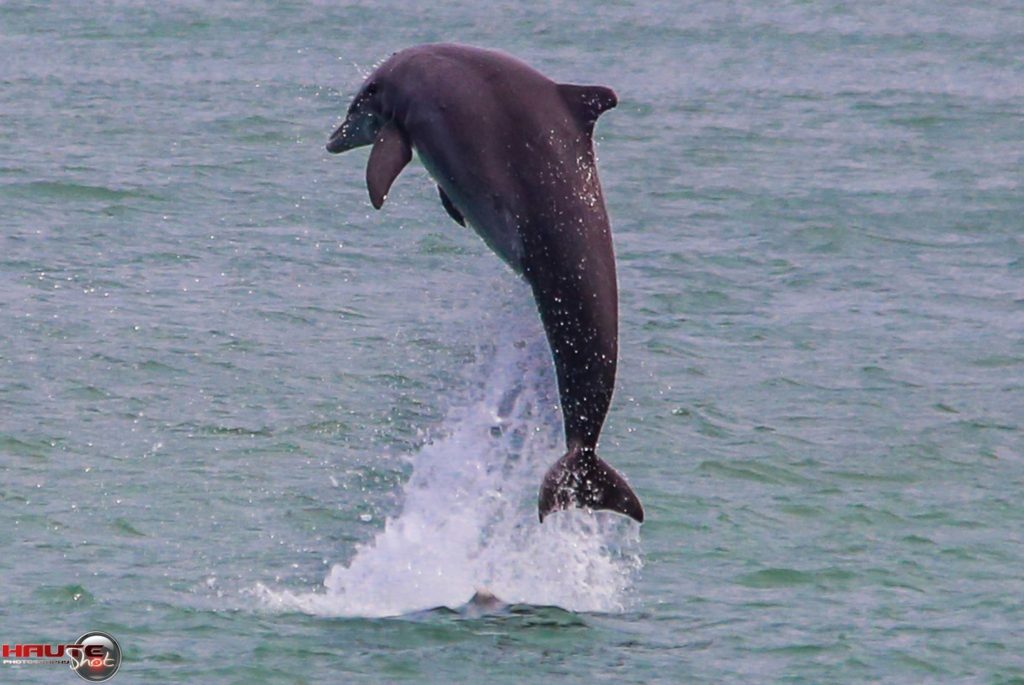 Baby roseate spoonbills are all over dog leg key as well, Great time of year to join Hubbard's Marina for our dolphin watching nature cruise and eco tour. This will give you a front row seat to the bird nesting island and rookery named Dog leg Key! Besides roseate spoonbills, Baby pelicans will be everywhere over the next month at the same bird nesting island. Hoping you and your family can join us at Hubbard's Marina inside Johns Pass Madeira beach for a relaxing cruise aboard the big blue boat.
Egmont key ferry boat has spotted a handful of sea turtles moving through the mouth of Tampa bay on their cruise to and from Egmont Key Island from the Fort De Soto bay pier! Besides the sea turtles, they have also been spotting lots of dolphins moving in large groups around Egmont key and Fort de Soto beach. To catch a ride on our Egmont key ferry boat, check out all the info and a booking link here – http://tampabayferry.com/egmont-key-ferry/route-and-schedule/
Spring is in the air and the dolphins are being very playful and are found in large pods moving together. They are playing around with their juvenile's showing them how to hunt using their sonar.
Manatees are returning to the area with the warming waters! We have seen these beautiful manatees most often around Upper boca Ceiga bay aboard our dolphin watching nature cruise and eco tour or from the Madeira beach water taxi!
We now have started our special spring and summer trips that include our 11am dolphin watching nature cruise and eco tour trip option. These 11am cruises are just like our 1 and 3pm dolphin cruises, however, they aren't offering daily like the afternoon trip. These 11am dolphin tours are offered Tues, Thurs and Saturdays! Dolphin watching nature cruise and eco tour information – https://www.hubbardsmarina.com/dolphin-watching-cruises/
Due the breezy weather and gorgeous conditions this time of year is a perfect time of year to join us for a 3 hour shelling trip to shell key from Hubbard's Marina or for a ferry to Egmont key from Fort De Soto Park because the shelling is absolutely outstanding this time of year. If you want more information on our Egmont key ferry trip, check out this link – https://www.hubbardsmarina.com/egmont-key-ferry-cruise/
We also started up our 3 hour shelling trip to shell key from Hubbard's Marina these 3 hour shelling trips run Monday, Wednesday and Fridays from 9am till noon and offer an hour of shelling time on shell key. For more info on the 3 hour shelling adventure, check out this link: https://www.hubbardsmarina.com/florida-shelling-cruise/
Hubbard's Marina Sea Adventures, Tampa bay ferry and taxi, and the Madeira beach water taxi are all now proudly power by Honda Marine! If you come visit us for a dolphin tour, sunset cruise, Egmont key island trip, snorkeling, shelling, water taxi ride or any type of ferry or pleasure cruise trip then you will be riding a boat powered by Honda Marine! These new motors look great, are super quiet and are great on fuel economy! It was tough to get four boats re-powered with new engines but it was well worth the change and were very happy! Hope you get a chance to see these brand new super cool engines at work on board one of our pleasure cruise and ferry boats! To learn more about Honda Marine engines for your boat, check out their website: https://marine.honda.com/ they have the best warranty in the industry right now, you get a full 5 years and you just can't beat that!
Tampa bay ferry News
Tampa Bay Ferry, a subsidiary of Hubbard's Marina, operates three ferry/water taxi routes currently and is hoping to further expand that in the near future! Right now we currently offer the Egmont key ferry, Madeira beach water taxi and the Shell key ferry is launching this weekend! Check out the BRAND NEW website we just re-built to show case all the routes that Tampa Bay Ferry has to offer – http://tampabayferry.com/
The shell key ferry will be operating out of Fort De Soto County Park just like our Egmont key ferry operations but unlike the Egmont key ferry you will catch the shell key ferry from the boat ramp at fort De Soto! The Egmont key ferry runs out of the bay pier at fort De Soto. They are both the same price, $20 for adults and $10 for kids 11 and under! For more info on any of our ferry or water taxi routes you can visit- http://tampabayferry.com/shell-key-ferry/route-and-schedule/
Also, big news is that the Madeira beach water taxi is now running seven days a week to accommodate the large spring break crowds! That allows more options to get around the area and avoid the beach traffic, plus you can hop on the water taxi for a relaxing cruise all day or for just a two hour loop whatever you prefer. Plus, you can bring your dog or a cooler of beer or BOTH! For more info on the Madeira beach water taxi by Tampa bay Ferry and Hubbard's Marina check out – http://tampabayferry.com/madeira-beach-water-taxi/route-and-schedule/
The Madeira beach water taxi has been carrying huge numbers the past few weeks! We have broken record numbers of passengers multiple weeks in a row with the largest number to date this past weekend of nearly three hundred passengers in three days!
To catch the madeira beach water taxi, stop by Hubbard's Marina, ABC marina, ROC Park, the McDonald's/Slyce floating dock, jungle Parada or Middle grounds grill in Treasure Island for a ride on the Madeira beach water taxi! These are the six stops we are currently servicing with the water taxi and ABC marina and Jungle Parada are the two stops offering free parking. The Hubbard's Marina stop offers $5 all day parking when you stop by the Hubbard's Marina office for a parking ticket voucher.
Upcoming up at Hubbard's Marina
Capt Mark Hubbard and Capt Bryon Holland are looking forward to the super light 63 hour deep drop pelagic trip coming up next week Thursday April 19th. They are planning to head out and take advantage of the great offshore fishing right now on his way to the deep drop areas. Also, while on the way out there trolling to pick up plenty of the tuna, kingfish and mahi we have been seeing lately out deep plus maybe even another billfish or two. Then once out deep fishing 400-600 foot of water targeting yellowedge grouper, queen snapper and tilefish with electric reels before pushing out to 600ft + to get the deep water snowy grouper, barrel fish and maybe even a warsaw! Ready for a long range adventure with Capt Mark, Capt Bryon and the long range fishing team at Hubbard's Marina? This will be a can't miss opportunity with the super light load they have! Here's more information on our 63 hour deep drop trips: https://www.hubbardsmarina.com/63hr-pelagicdeep-drop-fishing-trip/
Keep in mind we can also do private charters aboard the Flying HUB 1 or 2 or even the Mrs. HUB for a deep drop fishing charter if you and you group would like a private deep drop adventure with us at Hubbard's Marina!
Did you miss Capt Dylan Hubbard's last seminar at Bass pro shops? Don't worry he's doing another one April 28th at 2pm! As always, he will be giving away another FREE 5 hour half day and a FREE 10 hour all day at the upcoming April Bass pro shops seminar! Check out the Facebook event for more info on this special seminar day – https://www.facebook.com/events/1616960988358750/
Also, the last seminar is up on our Fishing tips page at Hubbard's Marina, check out the newly re-designed fishing tips page by Capt Dylan Hubbard – https://www.hubbardsmarina.com/fishing-tips/
May 12th we have a special event with The Reel animals fishing show, Tampa Bay Fishing club, Barracuda Cast Nets and more at the Lazy Days RV dealership off of I-4 in Tampa area. This will be held at their outside pool area with a seminar stage, casting demos, cast net tutorials and much more! With all the great local companies and guides involved it promises to be a can't miss event!
Our 12 hour night snapper fishing trips have started now and we offer these Friday nights around the new or full moons! These trips are 7pm until 7am and they offer a great shot at fishing for mangrove snapper, porgies, lane snapper, vermilions and more! We fish around 25-35 miles out for around 7-8 hours of fishing time.
We have lots of 39 hour and 44 hour fishing trips coming up with light loads, to see all our 12,39,44 and 63 hour trips and what dates they run and what fish they target you can check out the specialty trip schedule at this link: https://www.hubbardsmarina.com/specialty-fishing-trip-schedule/
If you want to do a customized private fishing charter with the ORIGINAL and longest running private charter fishing fleet in Florida, Hubbard's Marina is the place to be! We do all types of unique private charter fishing options, plus were the only ones in the area that can accommodate larger groups of 7 or more on our private charter fishing trips out of Johns Pass Madeira beach. We have four custom built private charter fishing vessels at Hubbard's Marina that can be privately chartered for you and your group's fishing adventure.
Regular's club
PLEASE sign up for the 2018 clubs or renew your 2017 membership ASAP, we are doing our end of year cleaning of the club and your membership will be changed to inactive if you don't renew soon!
Don't let your membership laps and loose seniority, call us today and get set up for the 2018 regular's club membership!
Remember, this is a loyalty program not a discount program so you got to go fishing often to make it worth it for yourself.
Captains Mark and Dylan Hubbard
Vice president and Regular's club manager Hubbard's Marina
(727)393-1947 ext 306
CaptHubbard@HubbardsMarina.com
Hubbard's Marina Preferred Partner Showcase:
The Friendly fisherman Restaurant has some great new souvenir cups and a brand new kid's menu if you want to check out the latest and greatest options from the Friendly Fisherman Restaurant!