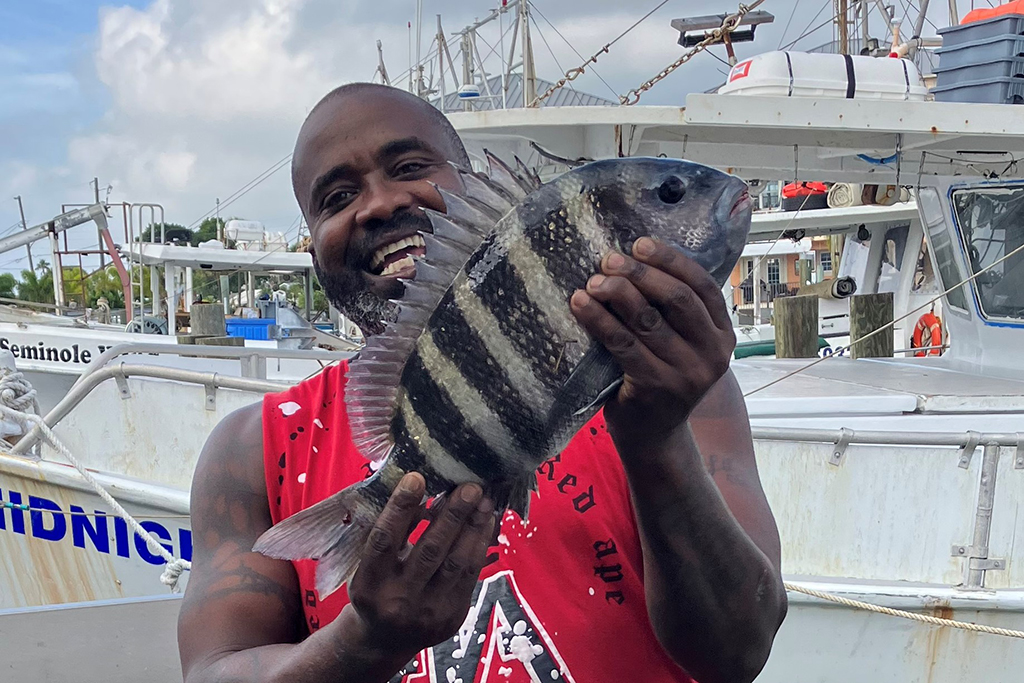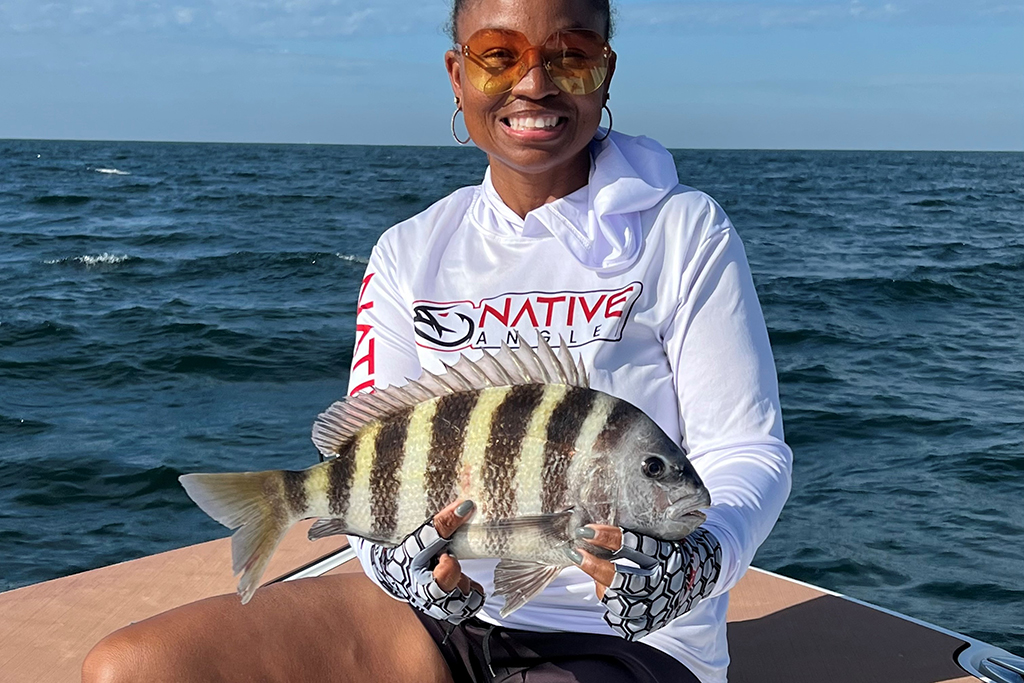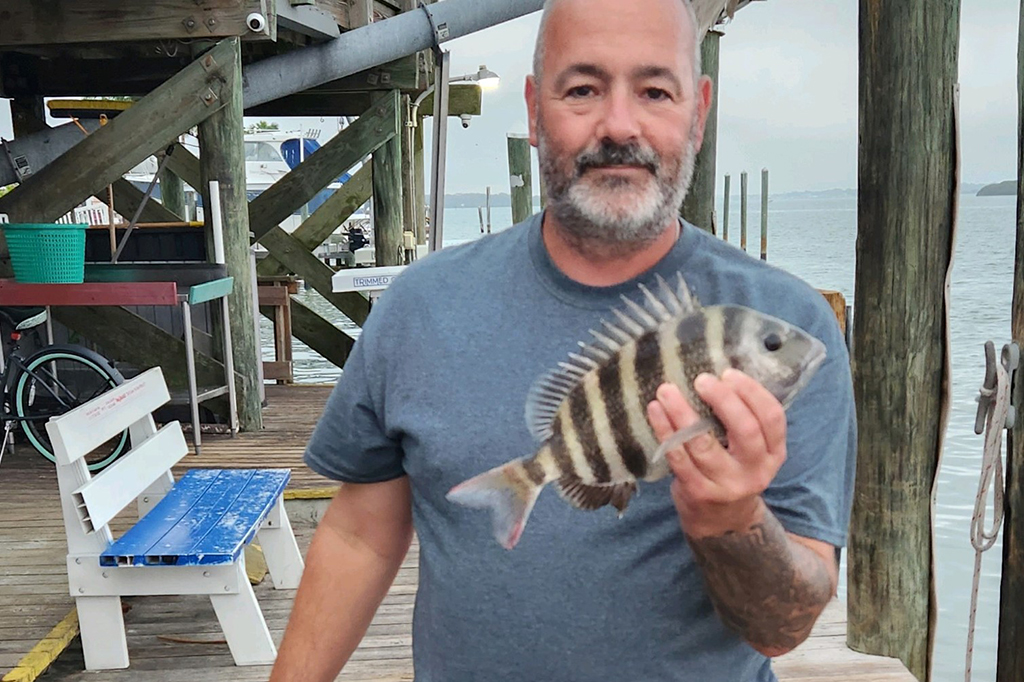 Sheepshead action is heating up as water cools. We're seeing a lot of anglers catch sheepshead around our local docks Piers bridges and jetties. Virtually anywhere that has some good structure, and some good growth of barnacles, clams, or oysters is having plentiful sheepshead congregate. The sheepshead bite is going well on light tackle and minimum weight. Typically, around 15-to-20-pound fluorocarbon is a good leader size. For weights you want to try to use as little as possible just to keep your bait near the structure. Most people will even use split shots just to get the bait to bottom and keep it close to the piling or rock that you're planning to target. For bait sheepshead love small pieces of bait like fiddler crabs, barnacles, cut oysters, or cut clams; however most people use small pieces of shrimp for sheepshead bait. We're seeing sheep's head near shore up to around 30 to 40 foot of water around the rock piles of Tampa Bay and around local bridges. Most people target sheepshead around docks seawalls and shallower water bridges. You can even find them around oyster bars on the grass flats.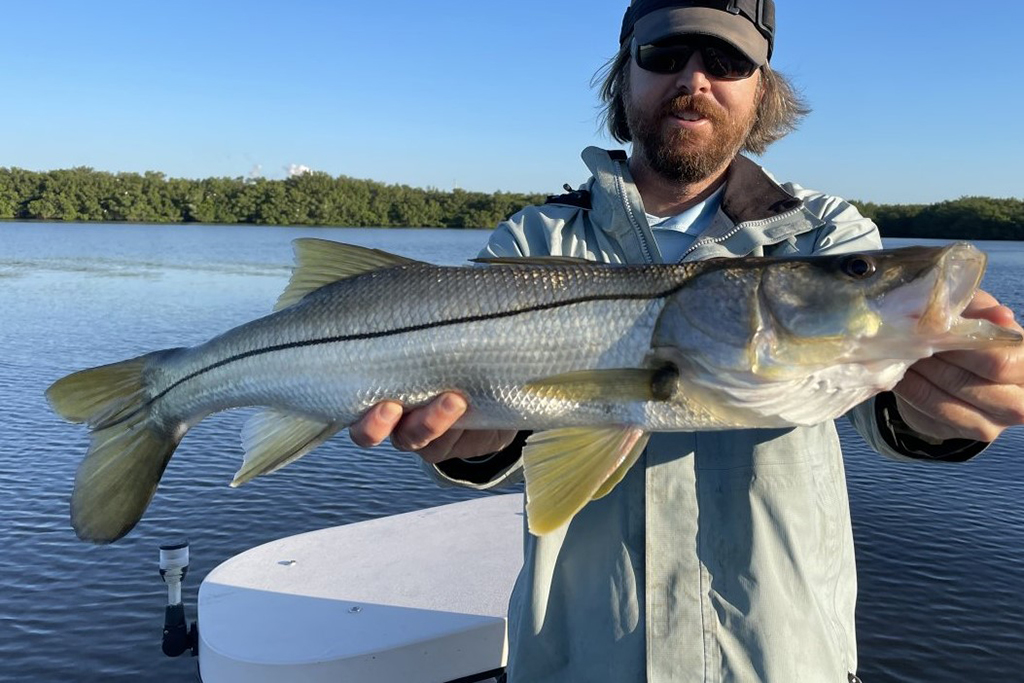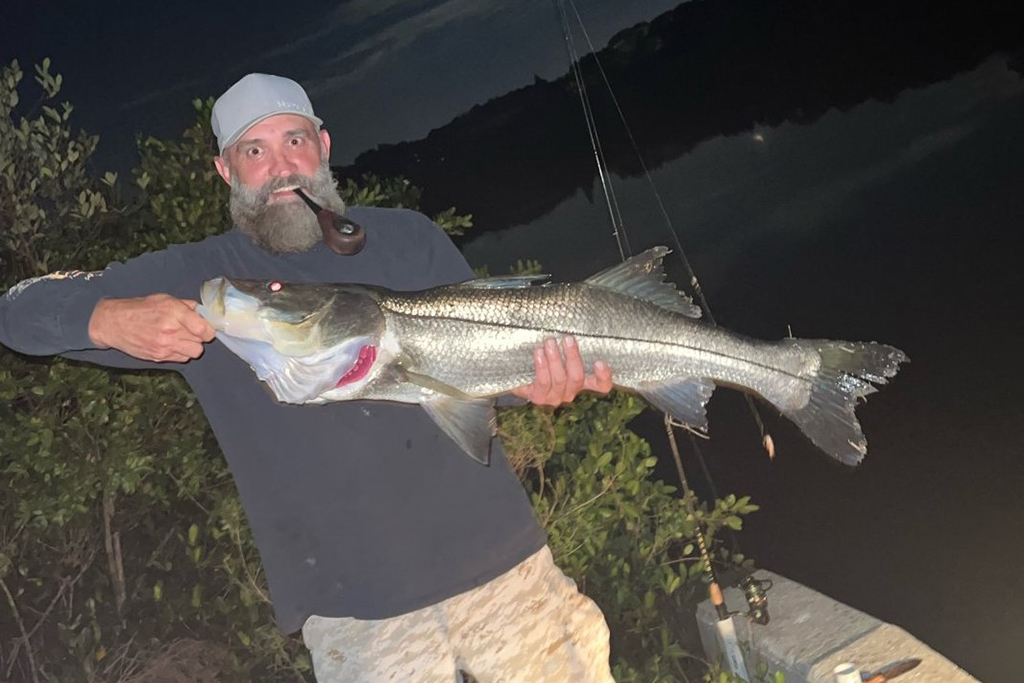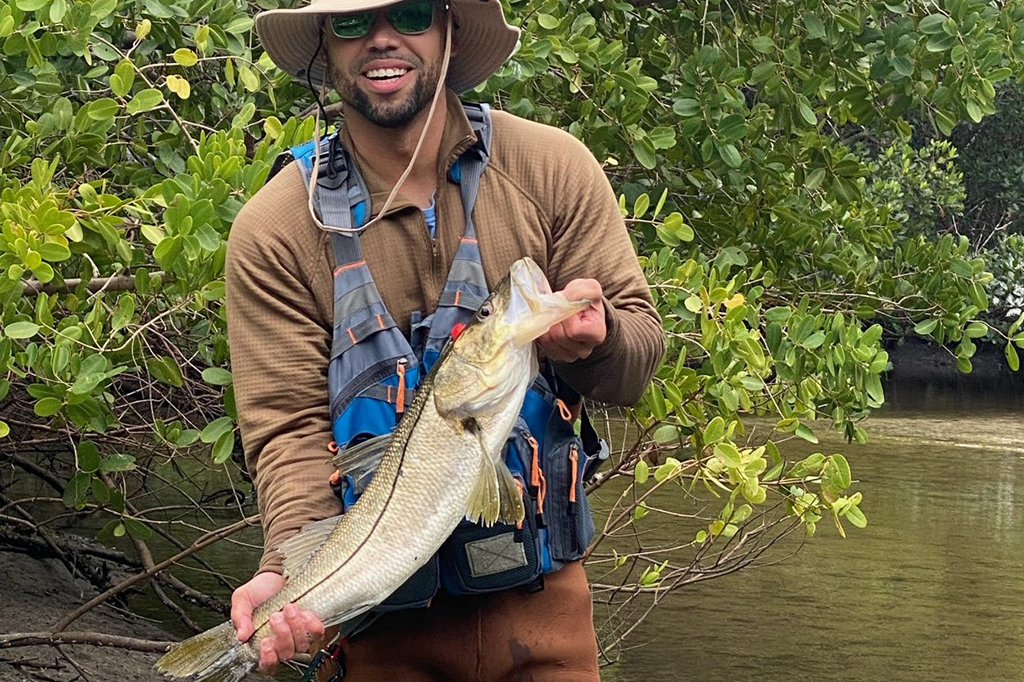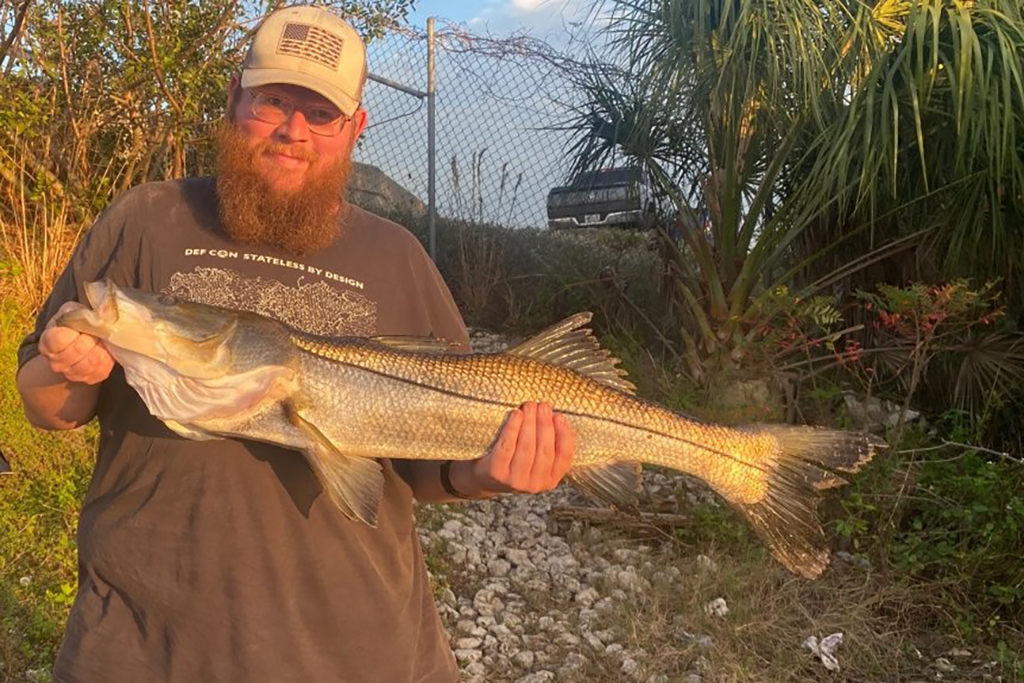 Snook action is going well in the creeks, rivers, and bayous of the area. Snook are in their wintertime patterns, and they are retreated into the upper Bay area and mouths of rivers creeks and bayous. There are still a few around local passes and even some around areas like Fort DeSoto beach, but a majority of the fish have retreated to the Back Bay and brackish water areas. Cut bait becomes a really good option for snook this time of year when the water is cold. You can also get them on slow moving soft plastics and slower moving swim baits and suspended twitch baits. Faster moving baits like flare Hawks become less productive as the water cools. Cut mullet cut ladyfish cut pin fish and cut thread fins are all great options for cut bait when targeting snook on the bottom.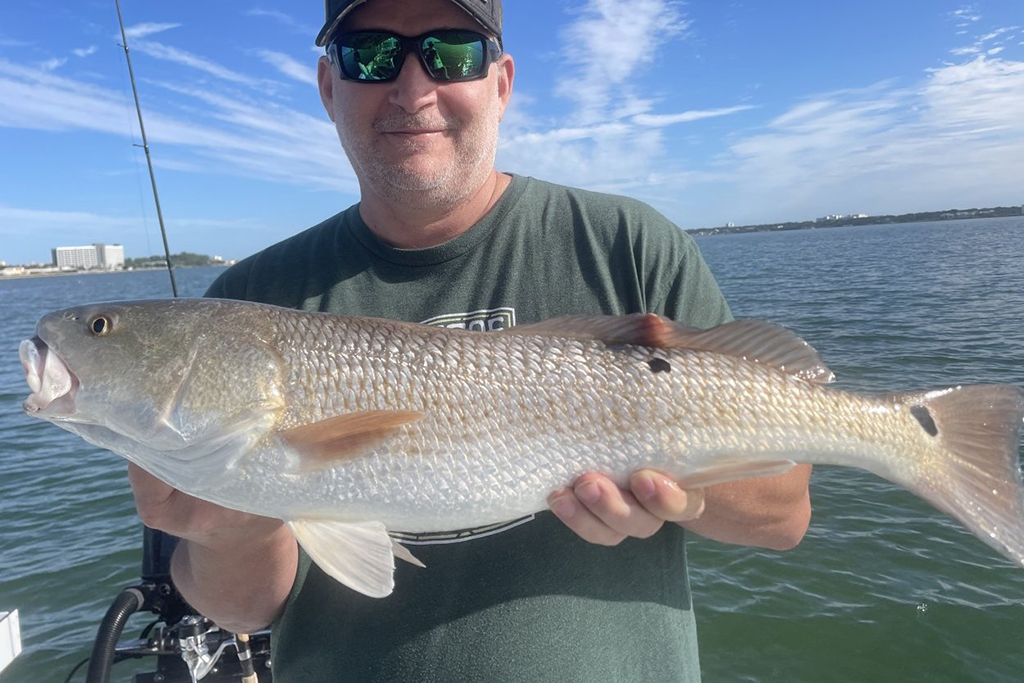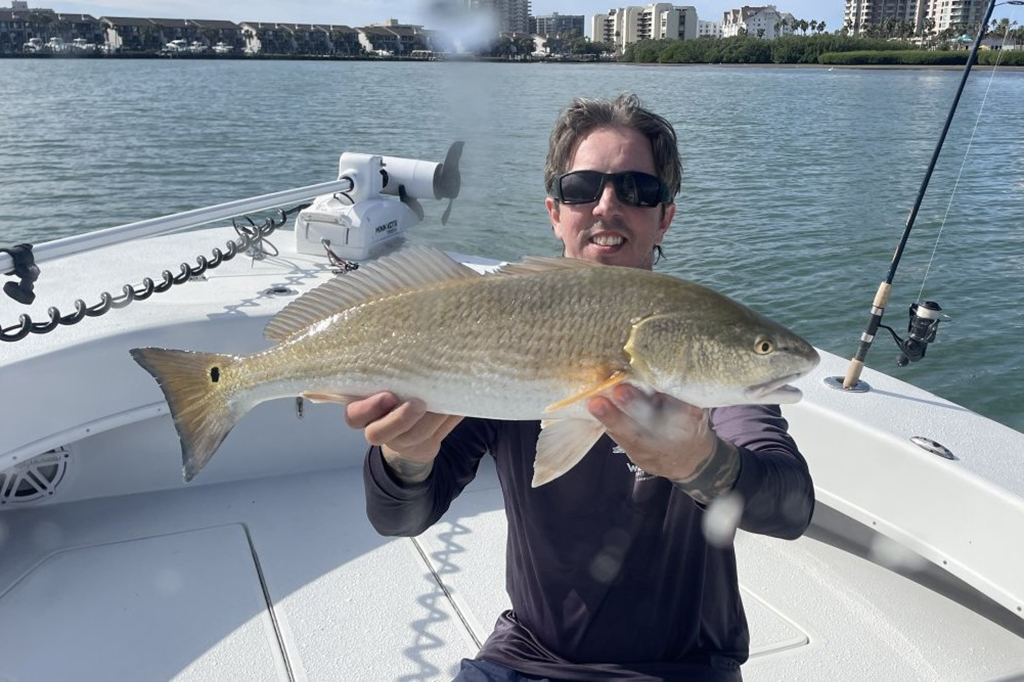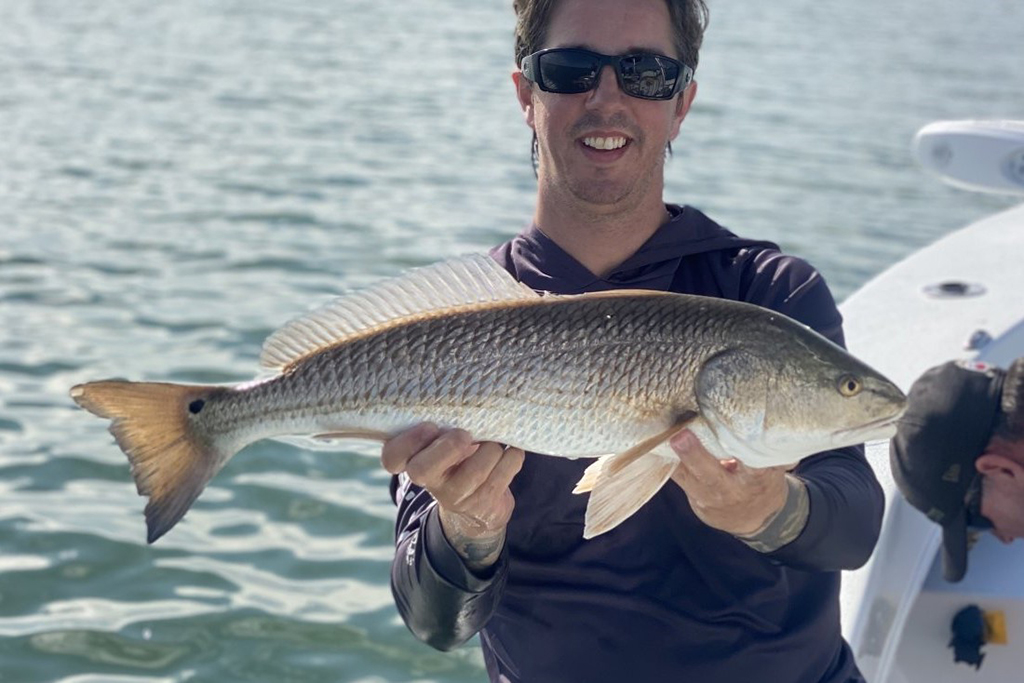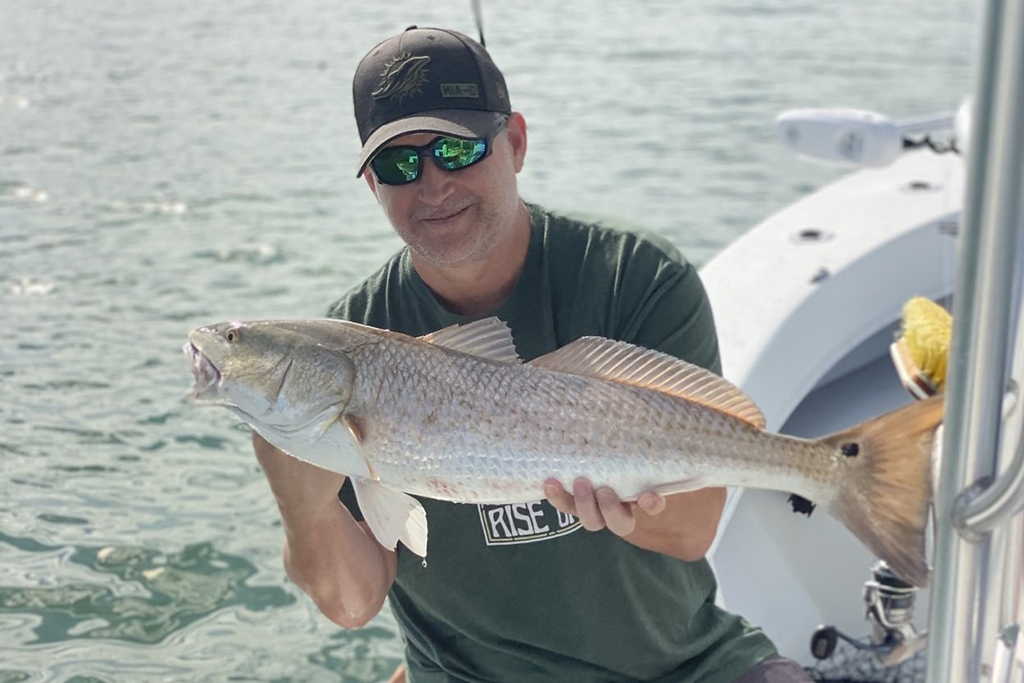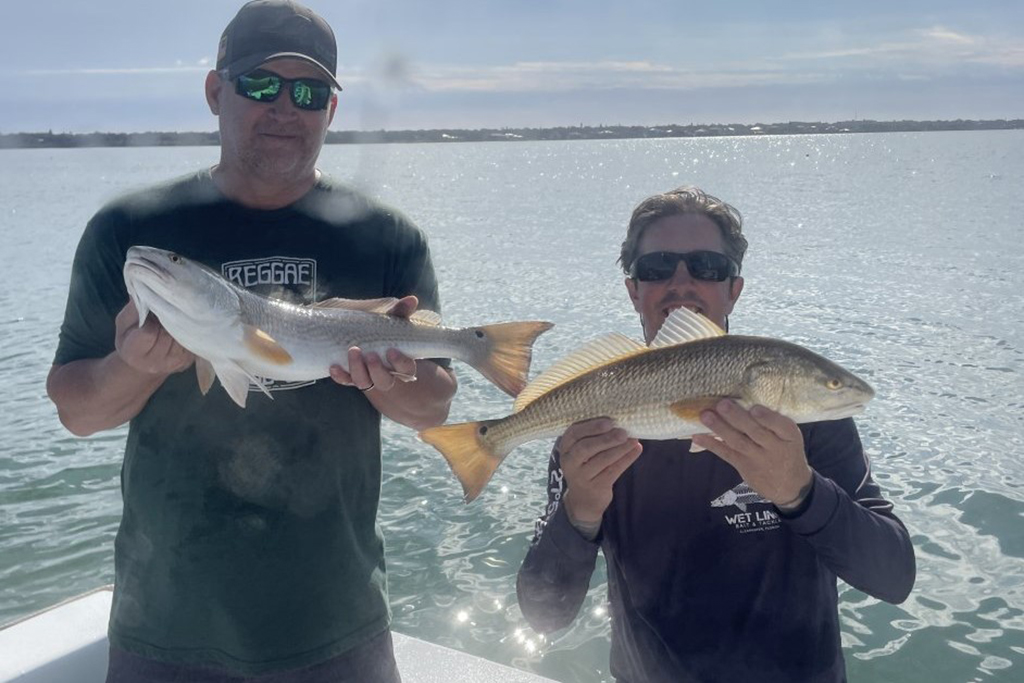 Redfish action this time of year is going well. They are very concentrated, so it takes a little bit of effort to find them but once you do; typically the action is hot. We're seeing a lot of redfish around our mangrove shorelines and grass flats. You can also find redfish following schools of mullet on the flats too. Redfish love the cut dead bait this time of year much like the snook. It is trickier to find areas of white bait with a cast net this time of year as most of the bait is already moving deeper. Slow moving soft plastics are a great option if you can't find the live bait to target the redfish. A soft plastic paddle tail in the white color seems to be a great option with a jig head that's light enough to stay above the grass but heavy enough to give you good casting distance.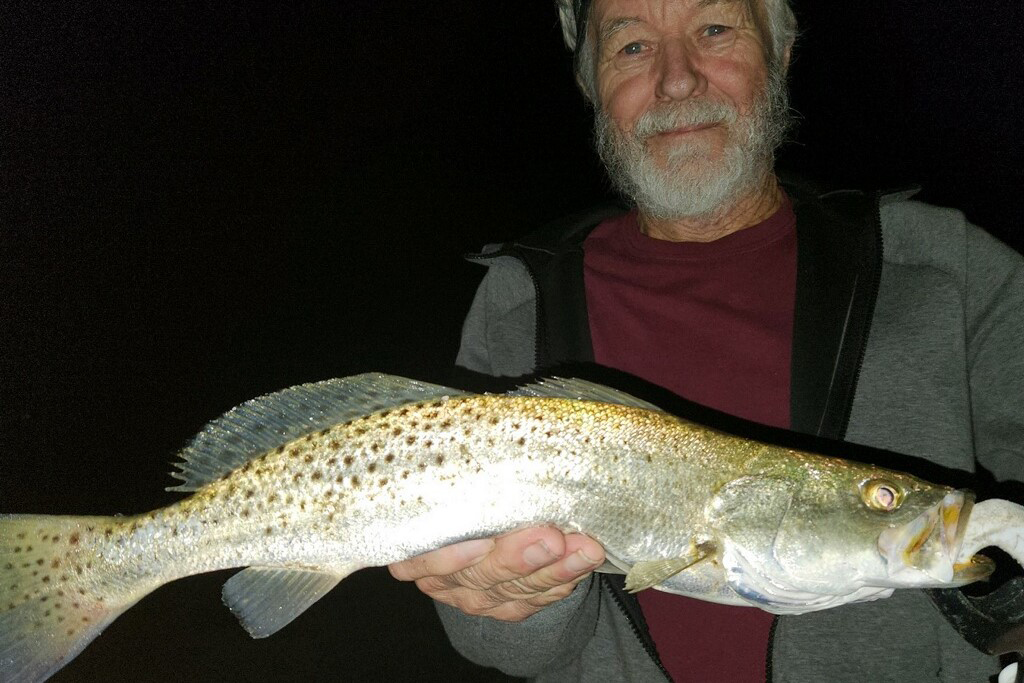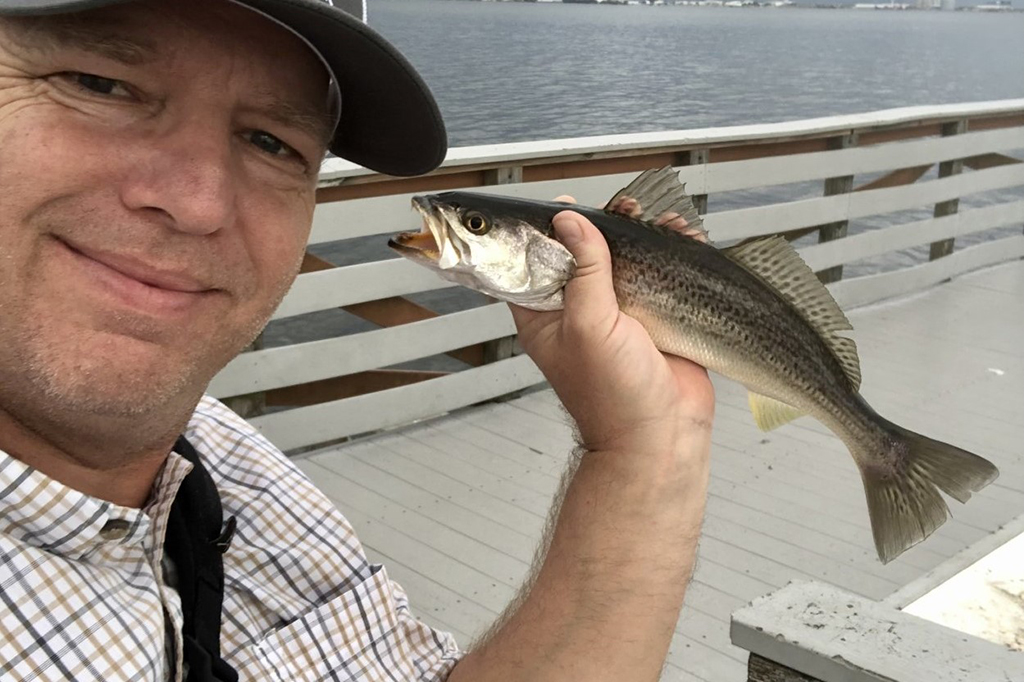 Trout action is going well in shallower waters they're moving anywhere from around 2 to 4 feet of water. You can also find them in the little cuts and pockets of shallower flats as well. Trout really seem to enjoy cooler waters and they get more active and more aggressive as water trends cooler. Early morning surface lures like the top dog or moonwalker is a great option to target trout. Remember surface lures are more of a low light condition bait so typically you must utilize them in early morning or around dusk or if it's a very overcast day you can use them more frequently. Live shrimp becomes a great option for trout as the water continues to cool as well but whitebait is a great option if you can find them.
Pompano bite is well this time of year, but you must find that cleaner clearer water where the Pompano feed actively. This upcoming week's long stretch of nicer weather should clean up the water for us and provide some great opportunities to target Pompano around local bridges jetties and beaches. Areas like blinds pass, pass a grill, sand key, and John's pass are all good areas to target Pompano. Typically, early morning when the water hasn't been stirred up from boat traffic and there's not a bunch of swimmers out on the beach is a great time to walk the beach or fish the jetties targeting Pompano. Using a Pompano jig like a small flare hawk in the quarter oz range to half oz range is a good option. Or you can use one of the many Pompano jigs that are made to knock off the doc's goofy jigs like the crazy jigs the Buccaneer jig or the big bobs jig. The trick to jigging for Pompano is keeping it right on or along the bottom often too many people are twitching the rod too much and pulling that lure too high off the bottom you only want that little Pompano jig bouncing between four to six inches off the bottom which takes practice to learn how to keep it that low with small rod tip movements. I was always told and practiced in a pool that way you could get the right amount of movement down pat to keep that lure bouncing along the bottom but not bouncing too high off the bottom. And you never retrieve line by spinning the handle of the reel you only retrieve slack after you've done bouncing that jig. Little bounces are all you need to attract the Pompano because they're looking for sand fleas and those little poofs of sand that come up as that jig bounces along the bottom is what attracts and entices the Pompano to bite.
Whiting action along the beach is going well. We're seeing Whiting in high numbers along the surf of Madeira beach, Treasure Island and virtually all surrounding beach areas. We should also be seeing the silver trout showing up too. This time of year, beach fishing is less common once the snook disappear but there's still plenty to be caught in the surf with the Whiting silver trout and occasional Pompano.
There are still quite a few sharks around along the beach and in the Bay. Normally once the water cools the numbers of sharks can tend to dwindle down however it seems that their numbers are still high and there's some big concentrations. This past week fishing around the Fort DeSoto area while camping with family I couldn't keep the sharks off my cut pin fish that I was using for bait for redfish or snook.
Mackerel are still around the area too; lower numbers but still good concentrations in fast-moving deeper water where bait are present. You can even find them on deeper grass flats around the mouth of Tampa Bay where there's bait present and good fast-moving water. Remember macro liked that very flashy fast-moving lure like a gotcha plug or a casting spoon.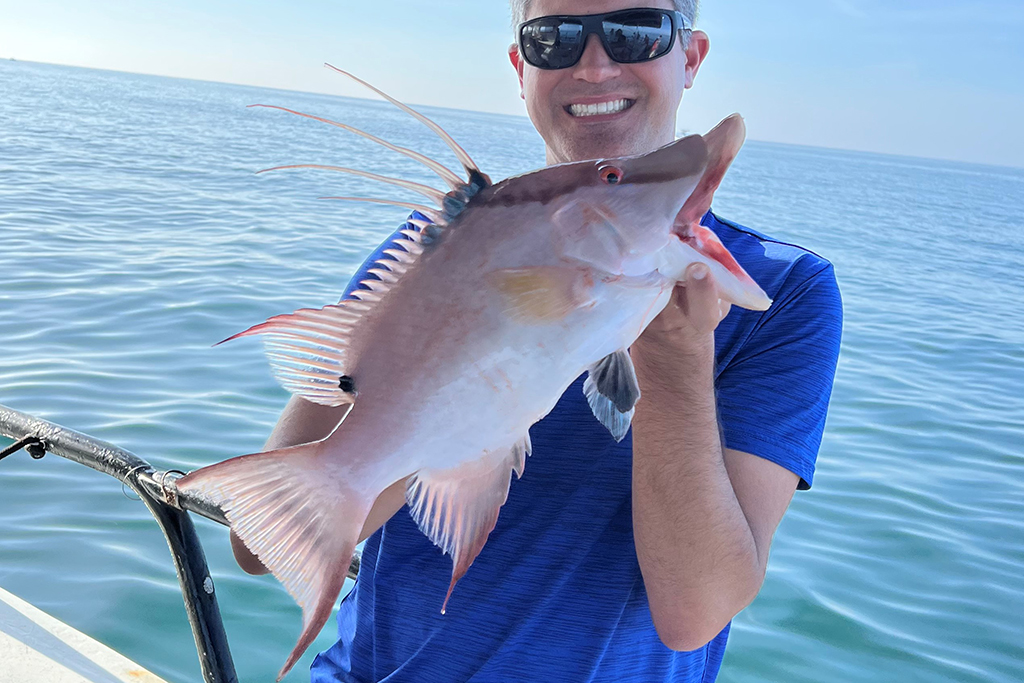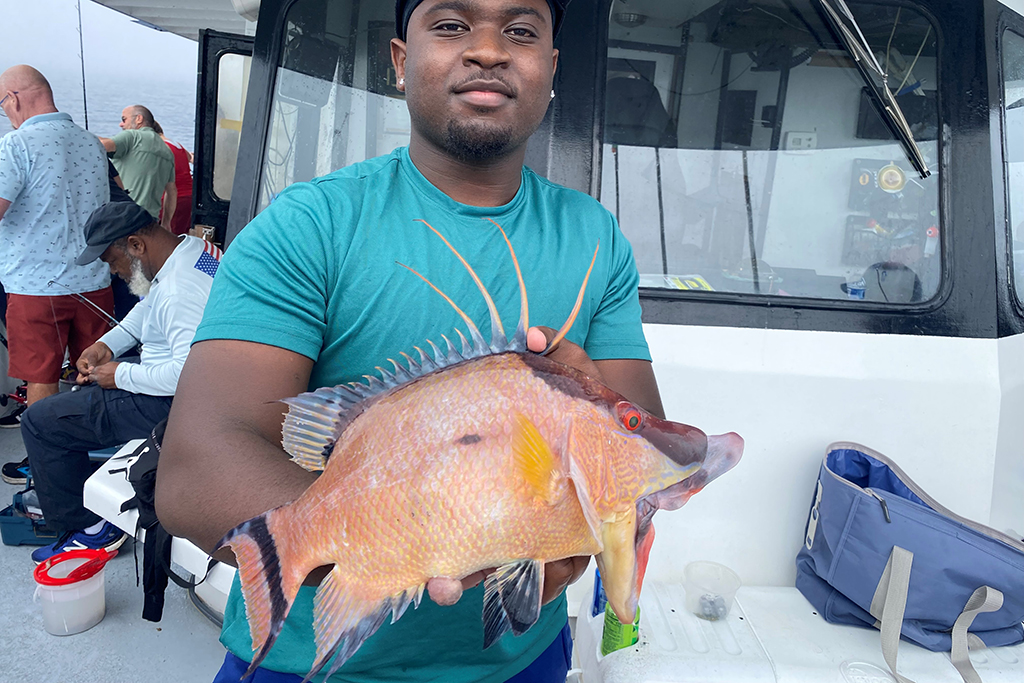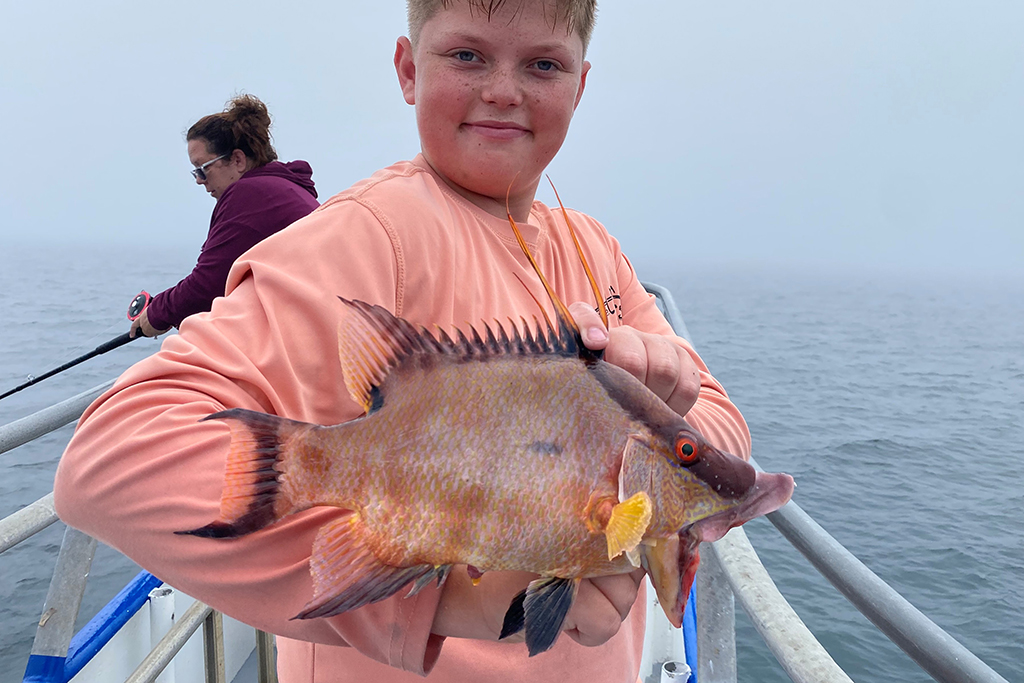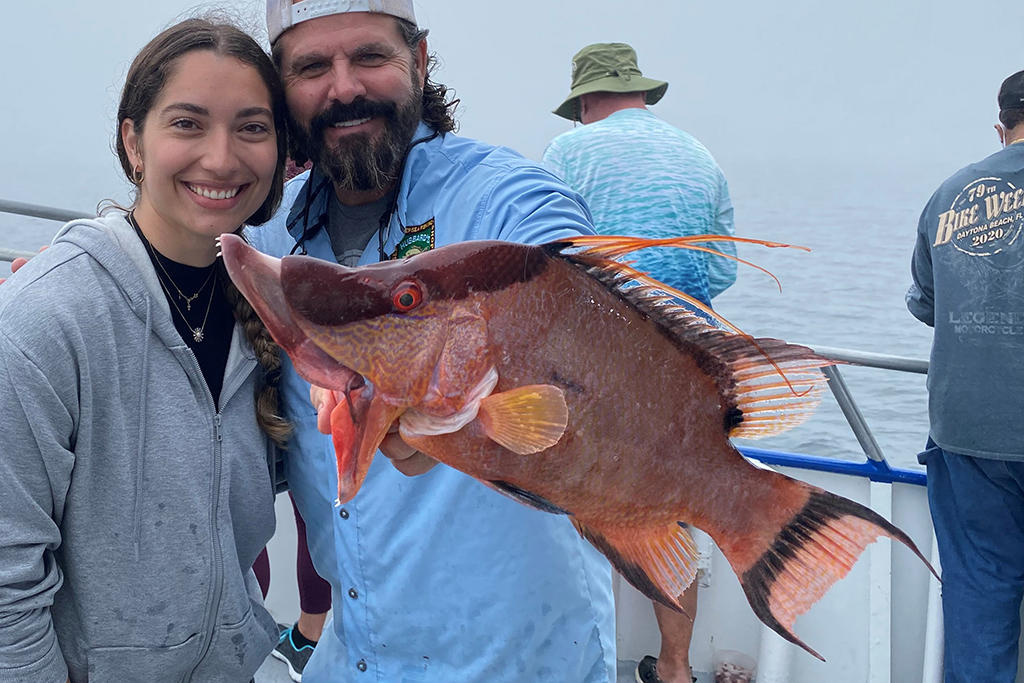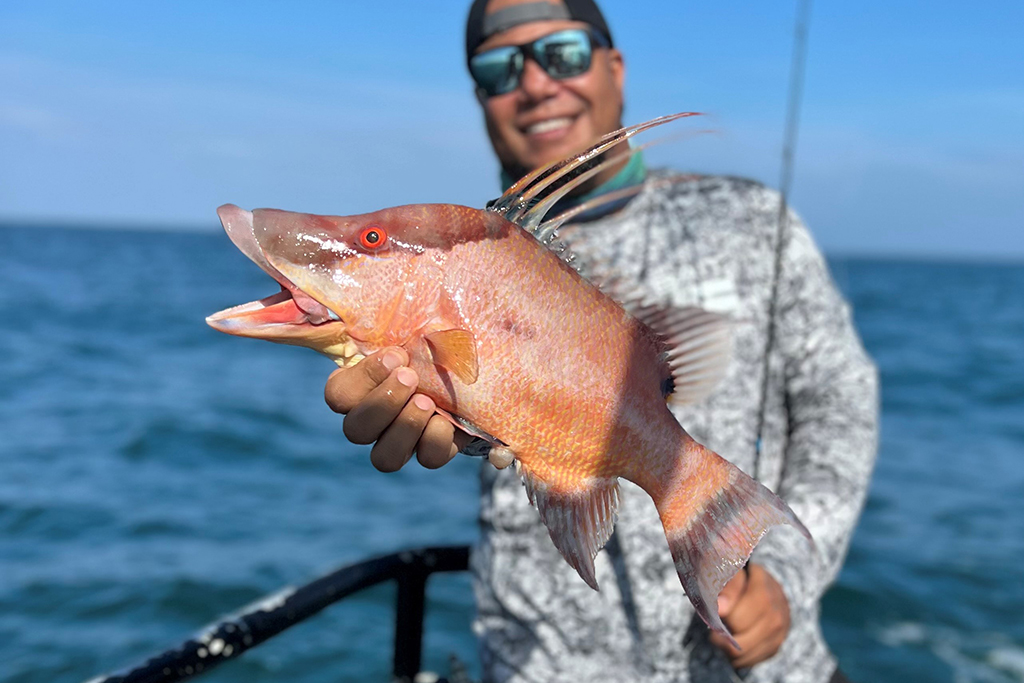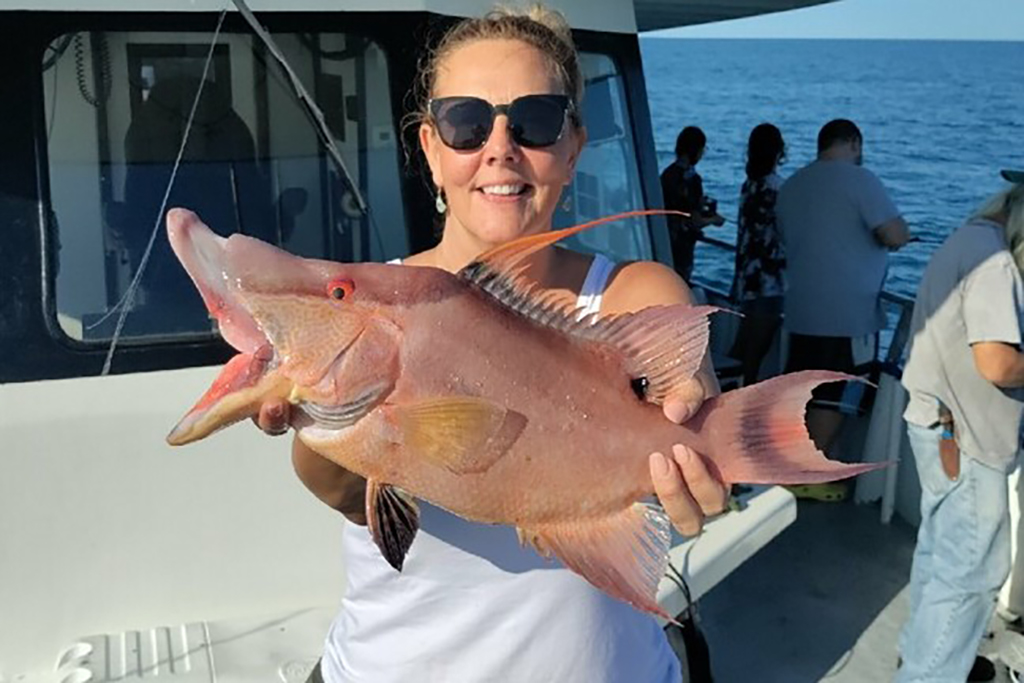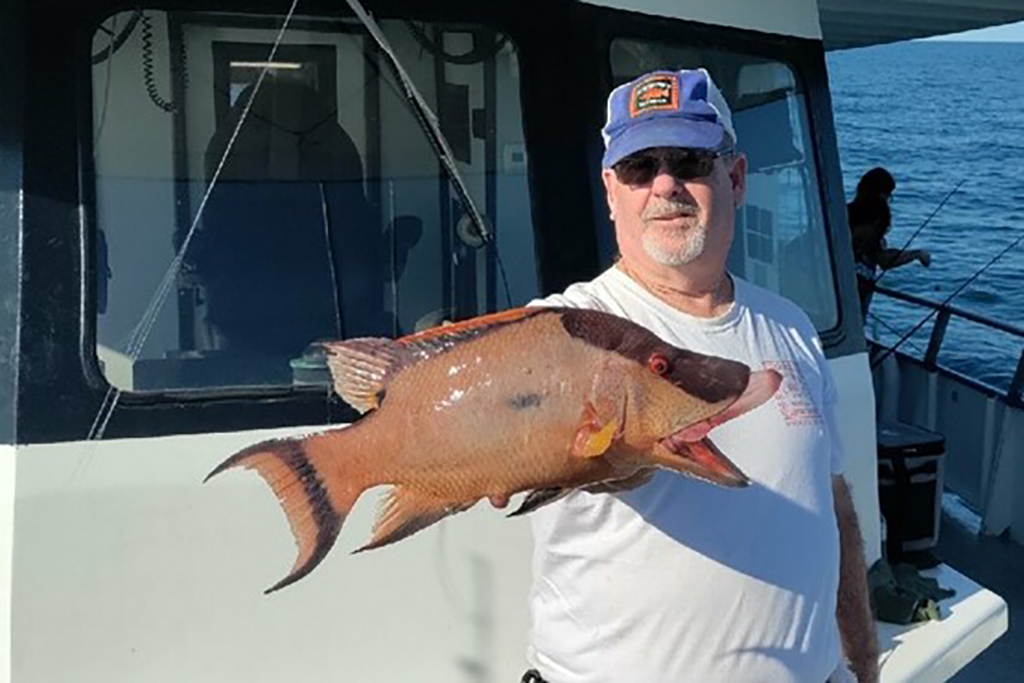 Lately the nearshore bite has been all about the hogfish. We are seeing some nice hogfish and good numbers in the near shore waters around 30 to 70 feet of water. Hogfish love that light tackle minimal weight and live shrimp approach using typically a spinning reel in the 3000 to 5000 series range. We use anywhere from 20 to 30-pound braid on those spinning reels and about a 15-to-20-foot piece of 30-pound fluorocarbon on top of the braid. Typically, we use a knocker rig style setup with one to two ounces in your egg sinker about four to five of the small red beads and about a three to four ought hook. However, the naked ball jigs or the banana jigs that we sell at our shop also work well for the hogfish. We are catching the most hogfish on our near shore private fishing charters aboard the hub however we are still seeing some nice hogfish numbers on our 10 hour all day. Hogfish can be very leader shy and a little hit and miss but we are overall seeing good numbers on a variety of trips very consistently. The hog fish bite typically remains hot through the cooler months into or around March or April depending on the weather.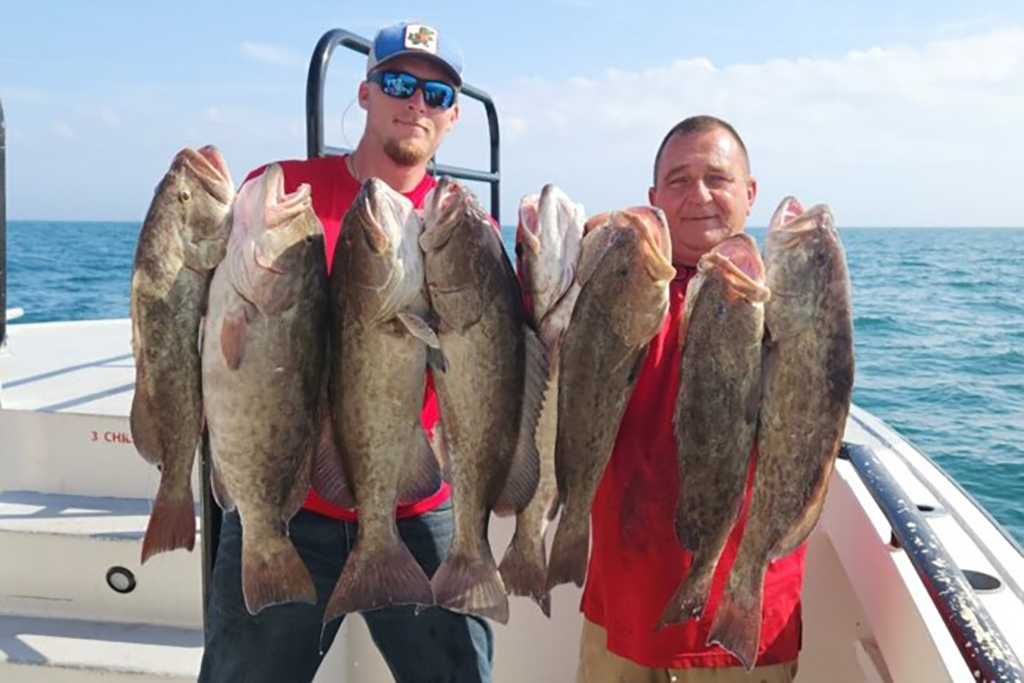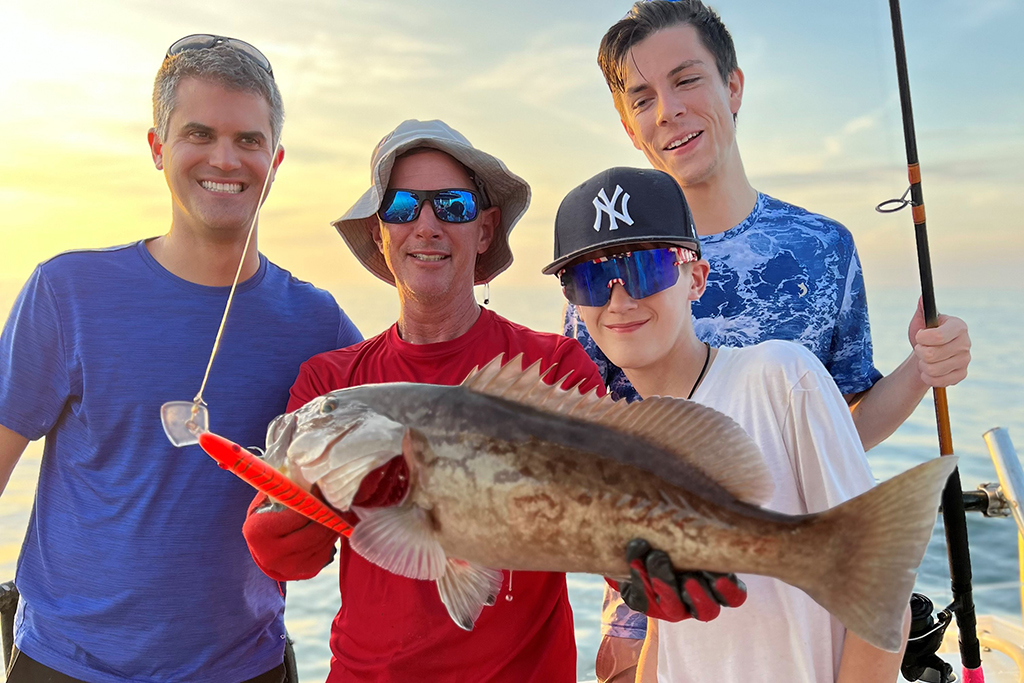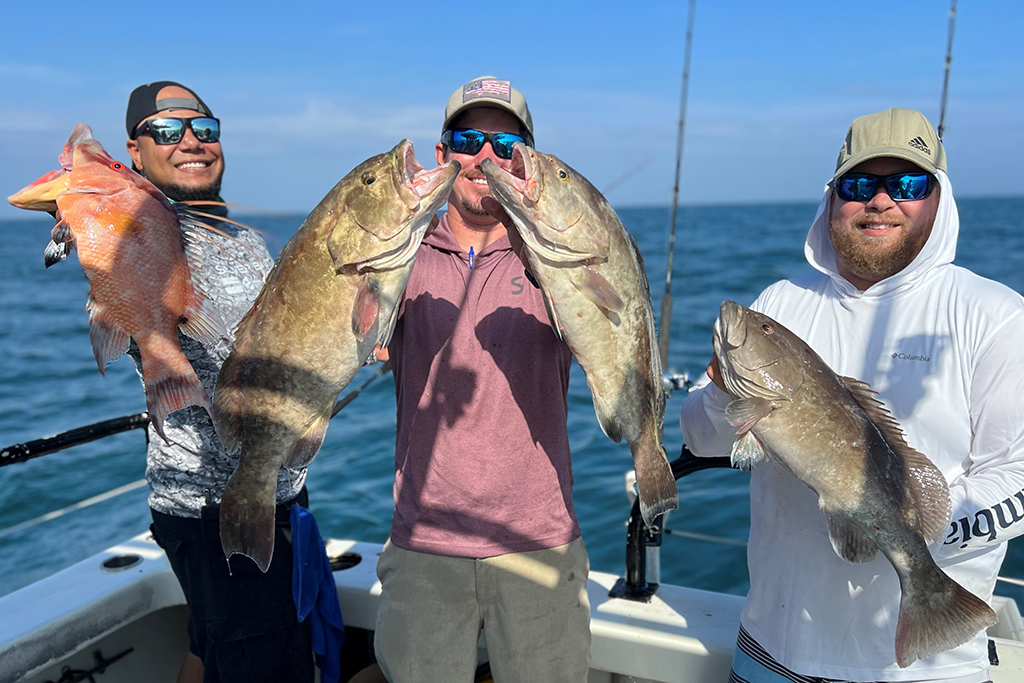 Gag grouper fishing is going extremely well in the near shore waters anywhere from around 25-30 up to around the deepest near shore waters and beyond are all very active with gag grouper. Gag grouper are really biting well for us on our near shore private fishing charters using the mirror lure 25 plus lures to troll for them. However, we are catching them while bottom fishing with live bait and large dead baits too. The nearshore gags are super aggressive and concentrated right now. However, they are very leader shy and smart and get a little gun shy when we have larger numbers of anglers targeting them in shallow water. So, it makes it difficult to catch good numbers of gag grouper on a party boat trip like a 10 hour all day. We are still catching a few keeper gags on the 10 hour all day, but it does not match up to the number and quantity that we see on our near shore private fishing charters on the smaller boat with less lines in the water. On a smaller boat you have less lines in the water less noise on the surface a smaller shadow on the surface and we have a little bit more flexibility to try more unique approaches like trolling for those gags. We're typically trolling with around A5 to 8000 series spinning reel about 60-pound braided line a small piece of 60-pound fluorocarbon and those mirror lure 25 plus lipped diving plugs.
Mangrove snapper fishing is going well in the near shore waters too we're seeing some nice numbers of decent size mangrove snapper near shore on live shrimp and cut threadfin. The lane snapper are closed through the end of the year but will reopen January 1st. We are seeing a lot of lane snapper but unfortunately right now they must be caught and released.
There's still some mackerel around in the near shore waters but the numbers have dwindled just like the inshore fishing. There is the occasional kingfish near shore two but very few and far between. We're not seeing the numbers abate schools like we did previously with water cooling the number of concentrated schools of they have dwindled down. We are occasionally still seeing bait schools and we still see mackerel while trolling just not as many as we did a few weeks ago. You can still find pretty good numbers and mackerel especially around the mouse of the local passes and the mouth of Tampa Bay especially on a hard outbound tide and early in the morning.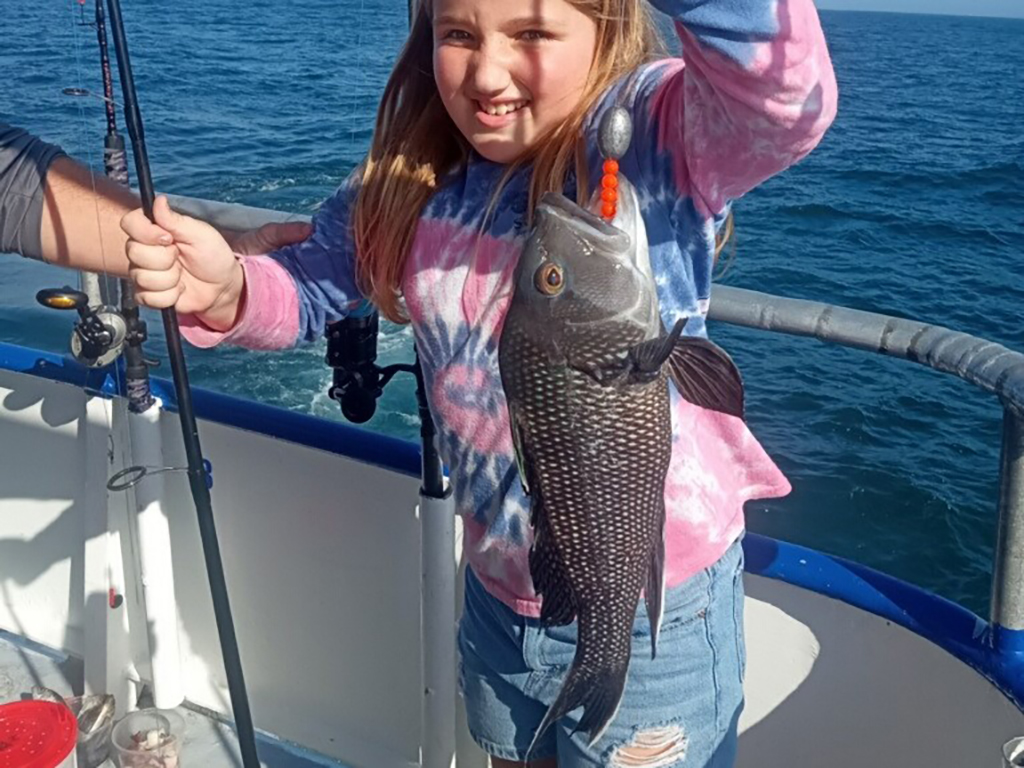 Black Sea bass are biting better and better near shore, and we get some pretty good size Black Sea bass this time of year. We typically catch the big ones on the live shrimp, but we can also get them on small cubes of squid as well. Typically, we pick up Black Sea bass as a bycatch while targeting the hogfish or are typical half day target of white grunts or grey snapper.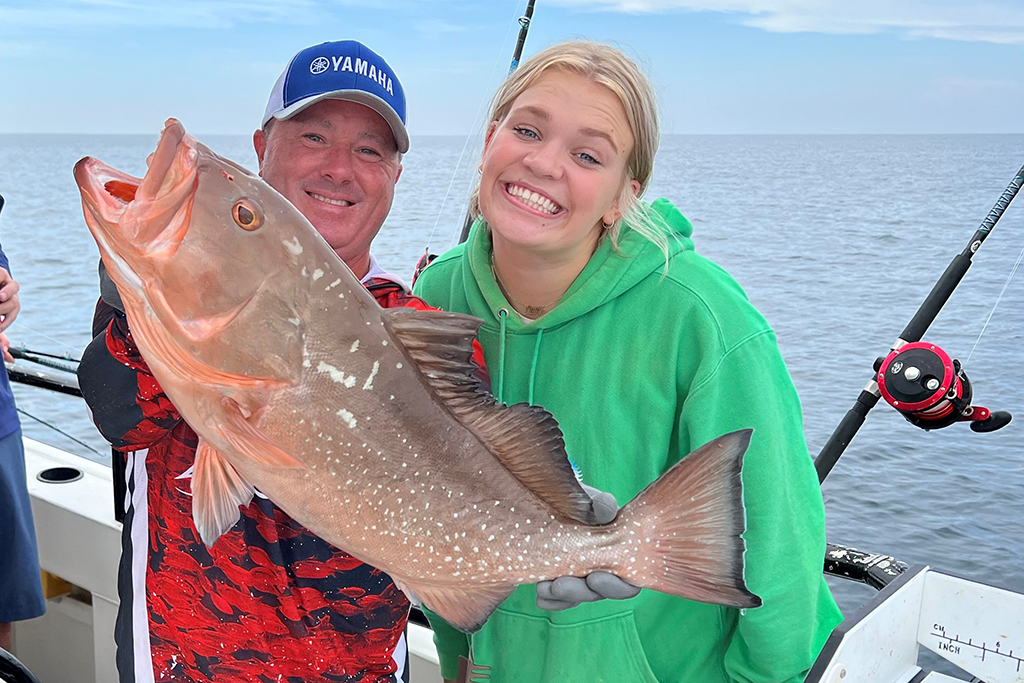 Red grouper fishery remains closed, but they are hard to avoid when fishing near shore. We are still seeing lots of super aggressive small to medium red grouper. While it's a great sign for the future of our fishery, it does create bit of an issue. You really need to be aware and make sure you get these guys up quickly, dehooked quickly, and back in the water quickly either with a venting tool or descending device if needed. If they are floating away dead then they will never get big enough for anyone to keep so make sure you are prepared with a good quality dehooking tool, like our hook extractor here: hub.shop/dehook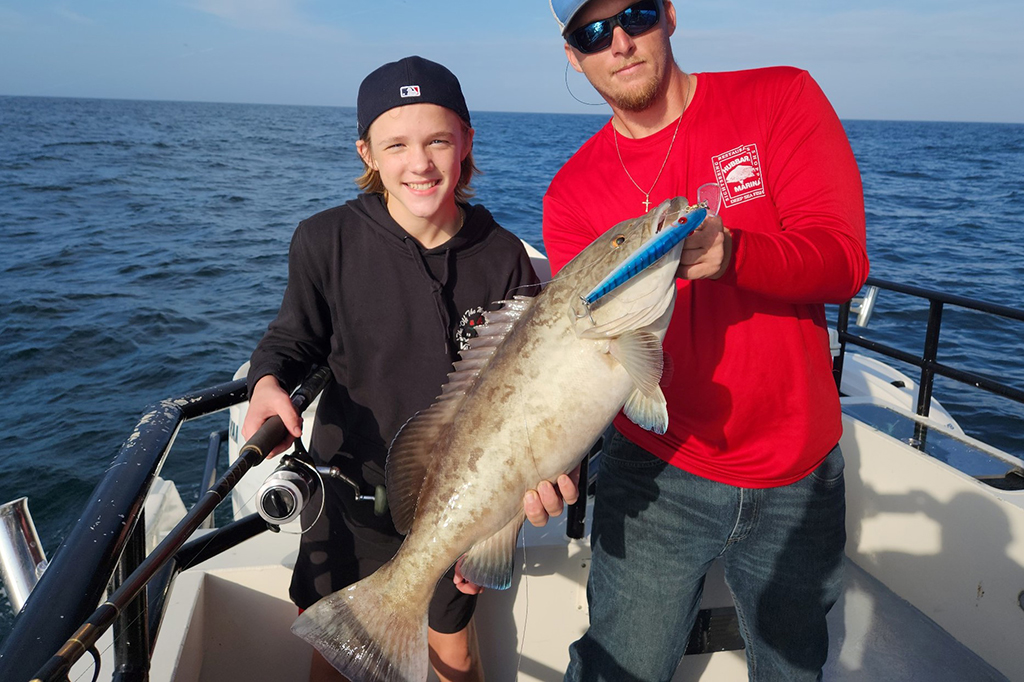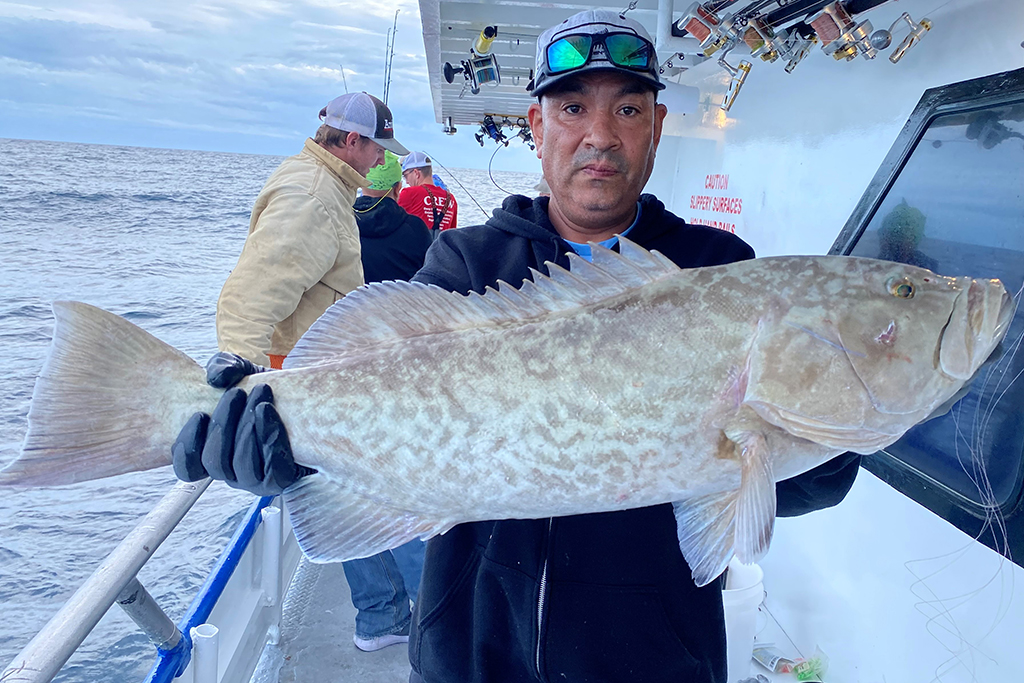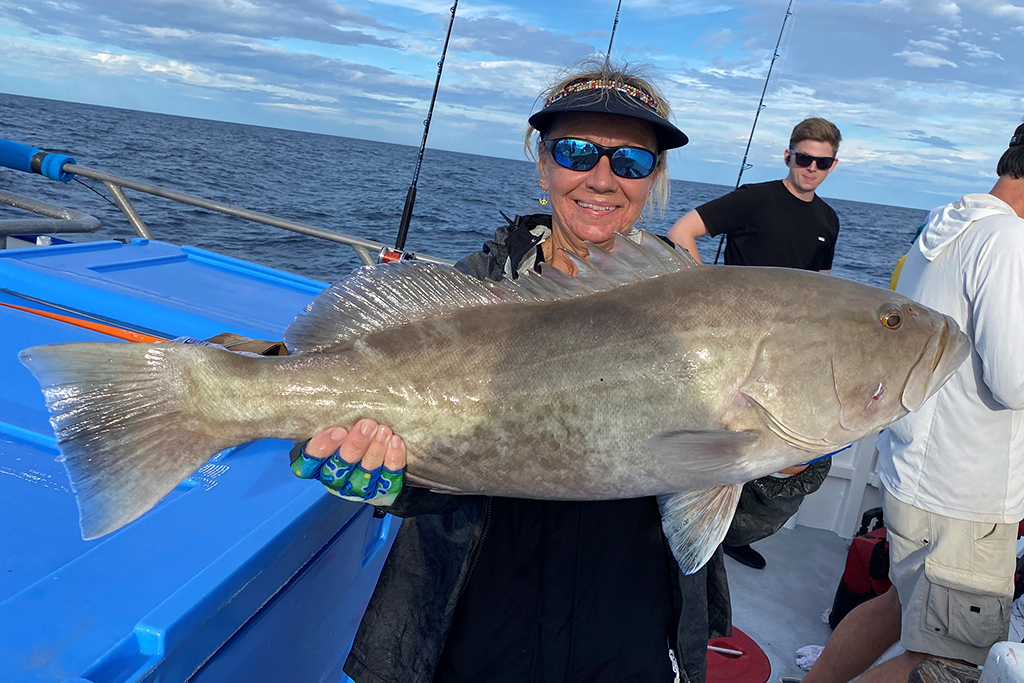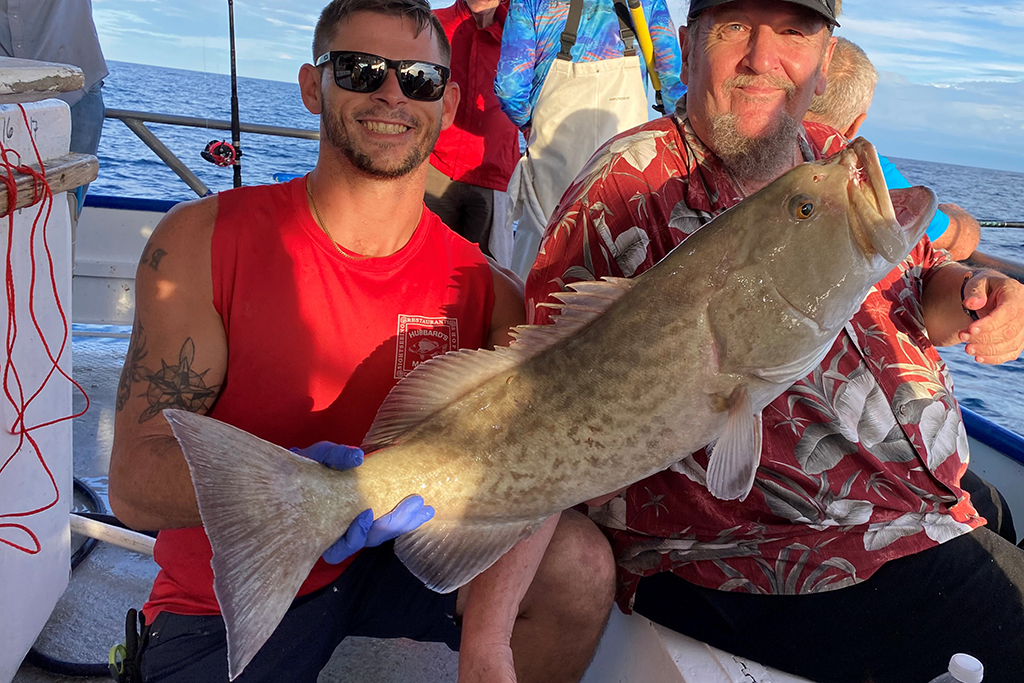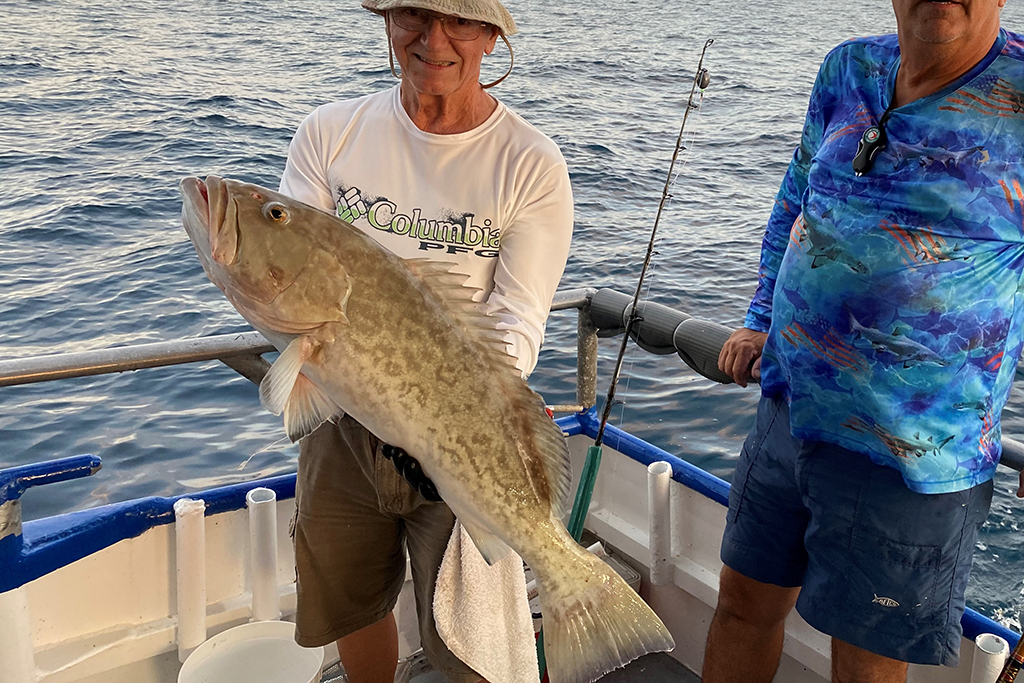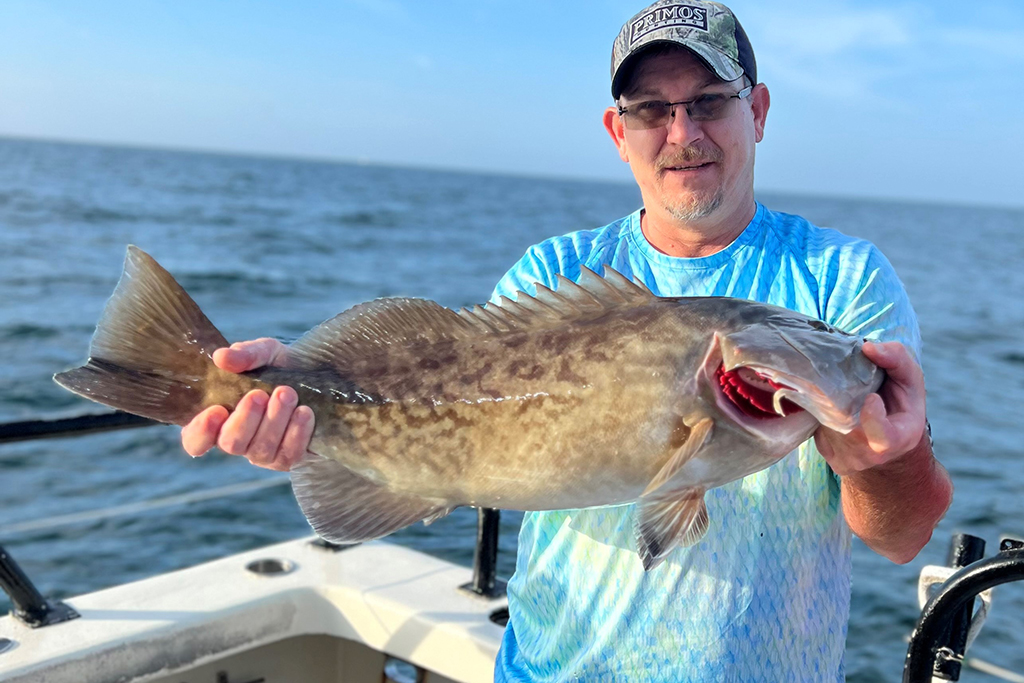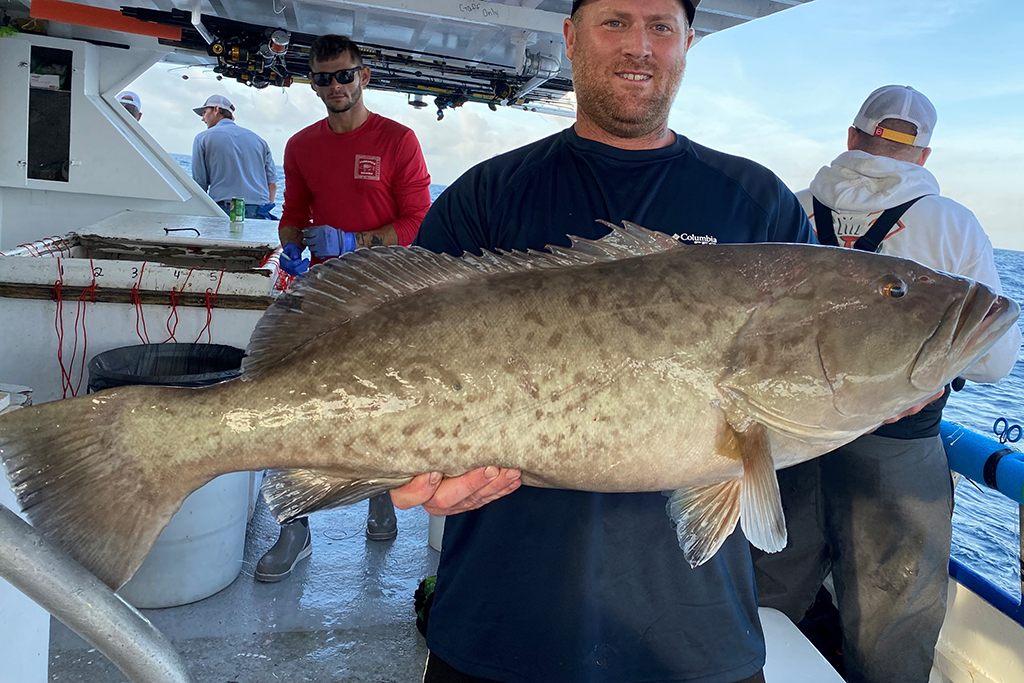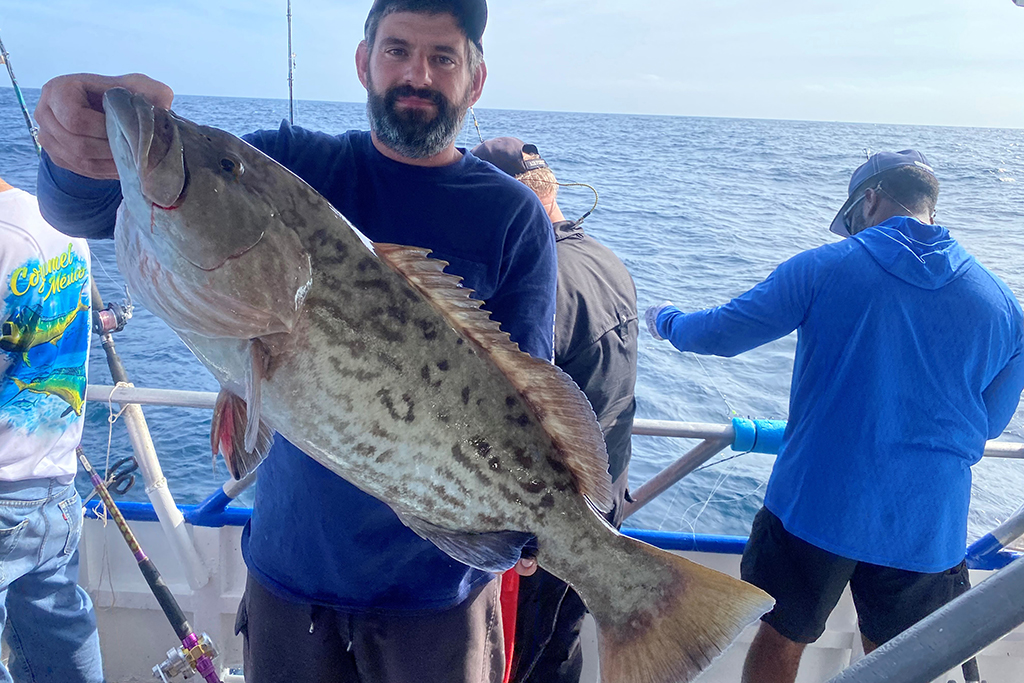 Big gag grouper are the target offshore right now we're seeing some pretty good size gag grouper while fishing out deep offshore this time of year. However, weather does make it a little trickier to get out there to the gag grouper often. We're seeing a lot of success on our 39 and 44 hour trips giving us plenty of time and flexibility to deal with the weather and to wait out the tide changes to find the cooperative and actively feeding gag grouper. We're averaging anywhere from 30 to 40 keeper gag grouper on these trips. Some are catching more than others especially those who target gag grouper consistently throughout the trip using bigger baits bigger tackle and being very patient. But in order to land some of these bigger more aggressive gag groupers you really need some big tackle heavier line and bigger hooks with bigger weights.  Now that the water is cooler the big live bait has definitely been the best option for those big gag groupers offshore.  Minimally you want to use around 80-pound liter for those gag grouper and about a 7 to 8 dot hook.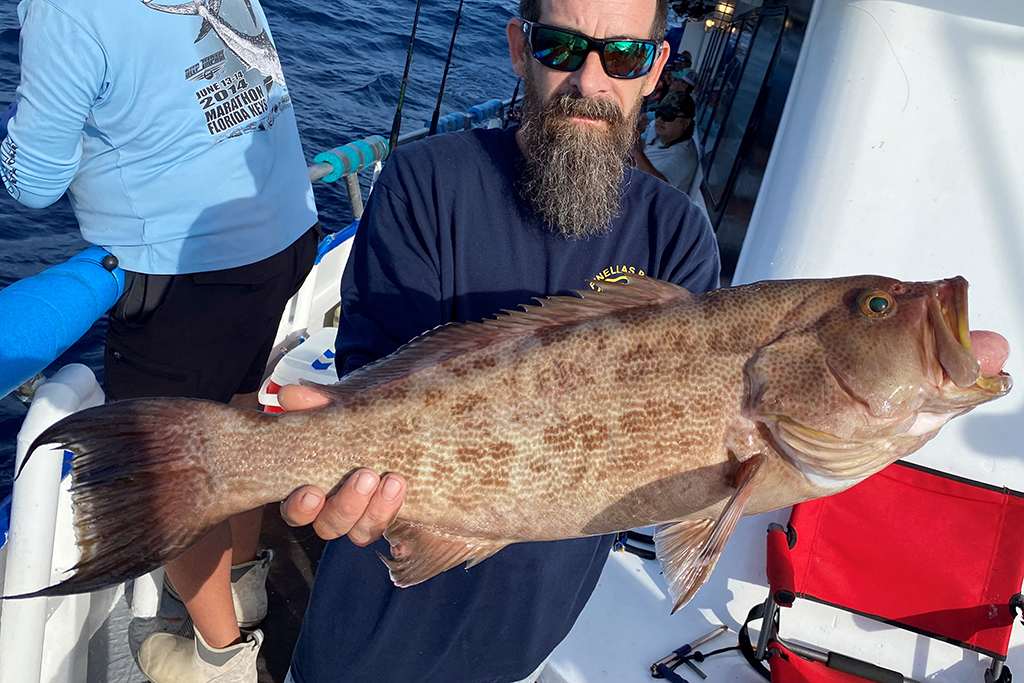 Scamp grouper are being caught offshore while targeting the gag grouper. We typically find scamp in deeper offshore waters when fishing beyond 120 feet of water. They must be 16 inches to keep but the deeper we fish the bigger we catch them. We typically see them most often on those small to medium pin fish or the dead baits while targeting mangrove snapper. Scamp grouper are one of my favorite eating fish we don't see large numbers of them like other grouper species, but they are a welcome surprise and welcome addition to trips we do have some areas where we catch them in greater numbers typically deeper water potholes are what you look for when trying to target those scamp grouper.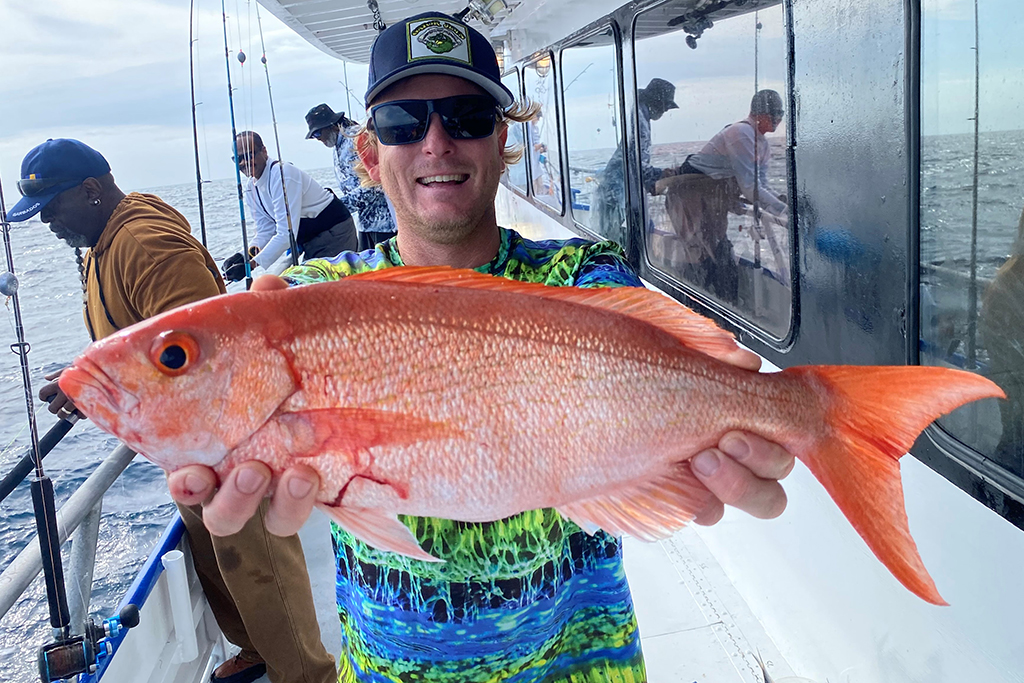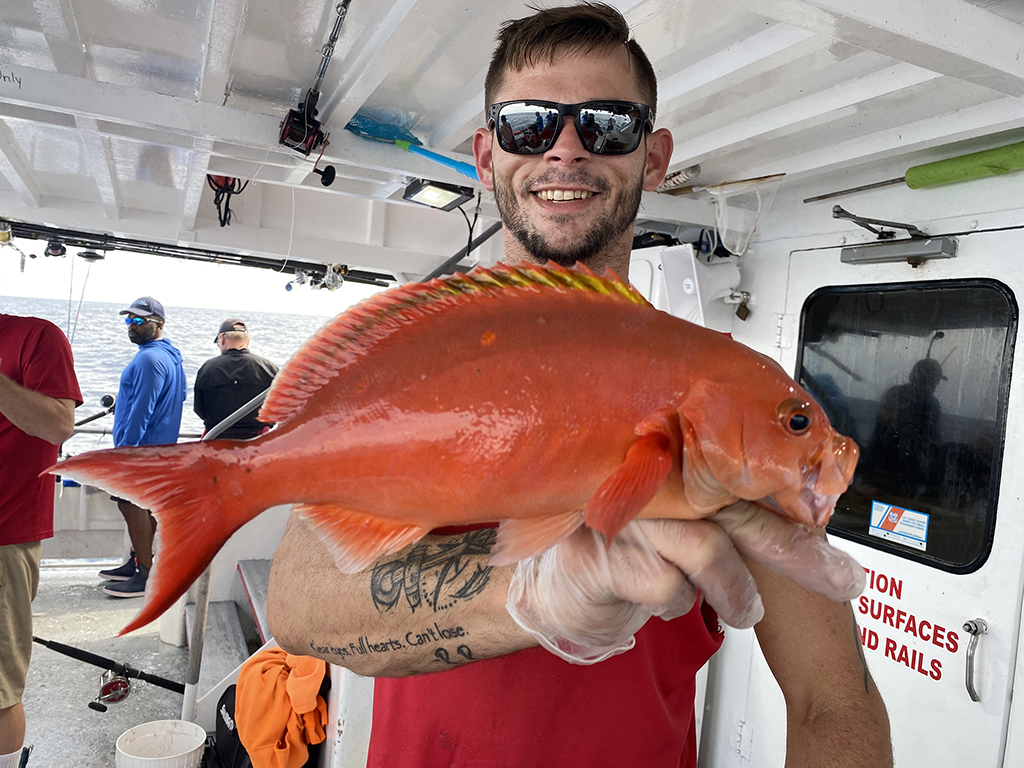 Mangrove snapper action has been going well for us offshore. We're catching the mangrove snapper on cut thread fins with that double Snell rig or a single hook with a live pin fish in the small to medium range. Mangrove snapper are very quick biting and aggressive fish and are a lot of fun to target. We are also seeing some good numbers of big yellowtail snapper lately too mixed in with those mangrove snappers. Good numbers of big vermilion's have been caught lately offshore in deeper water too making a great addition to the box. We're also seeing plentiful porgies and almaco jacks to round out our offshore catches.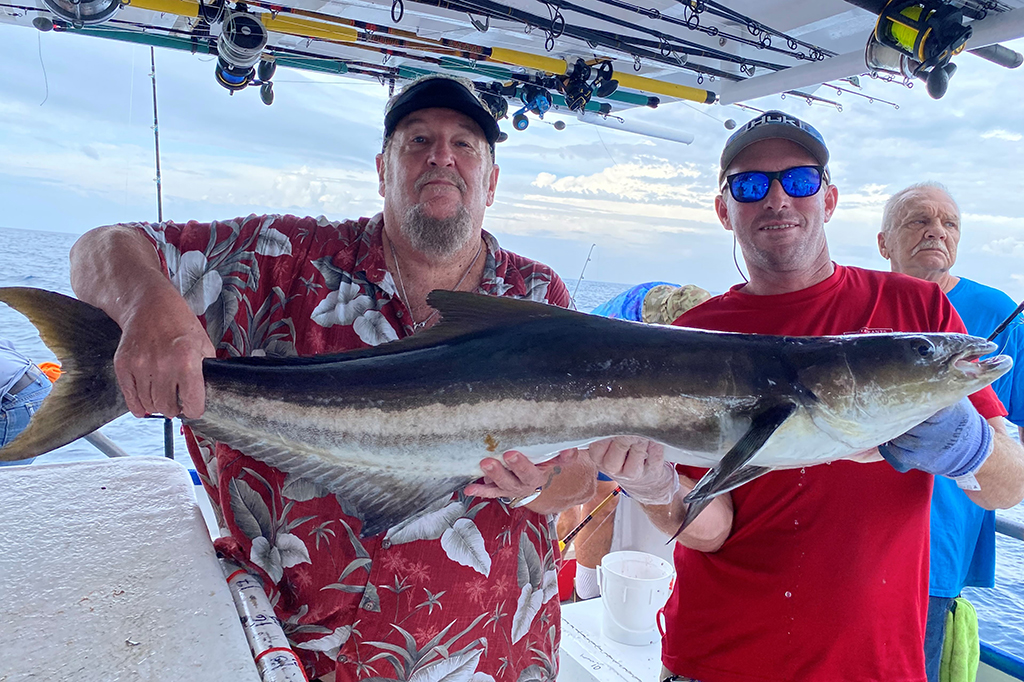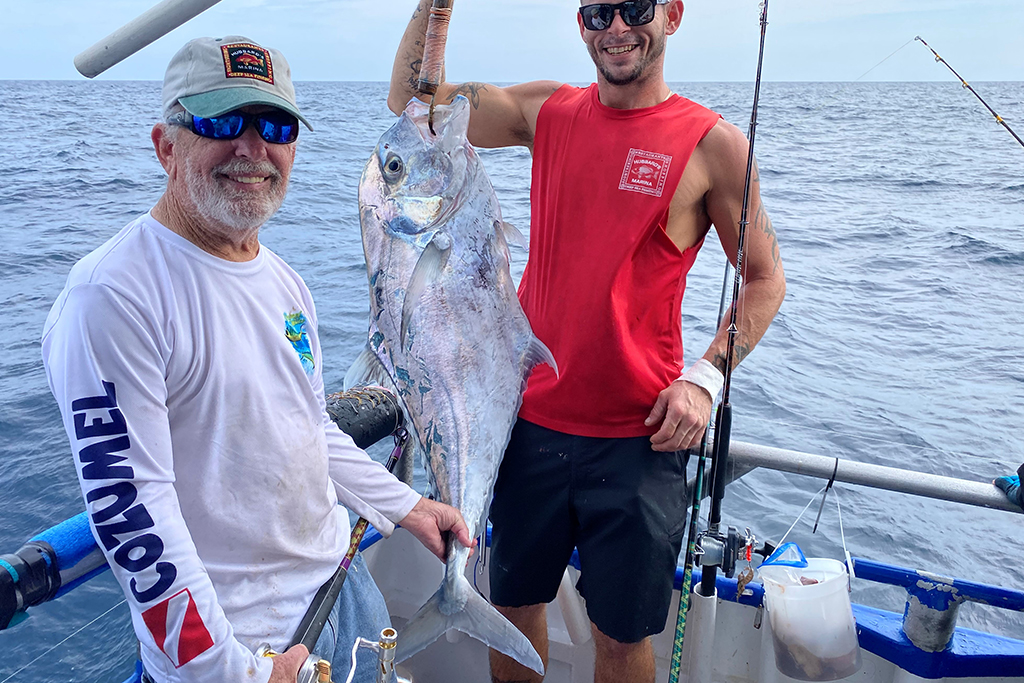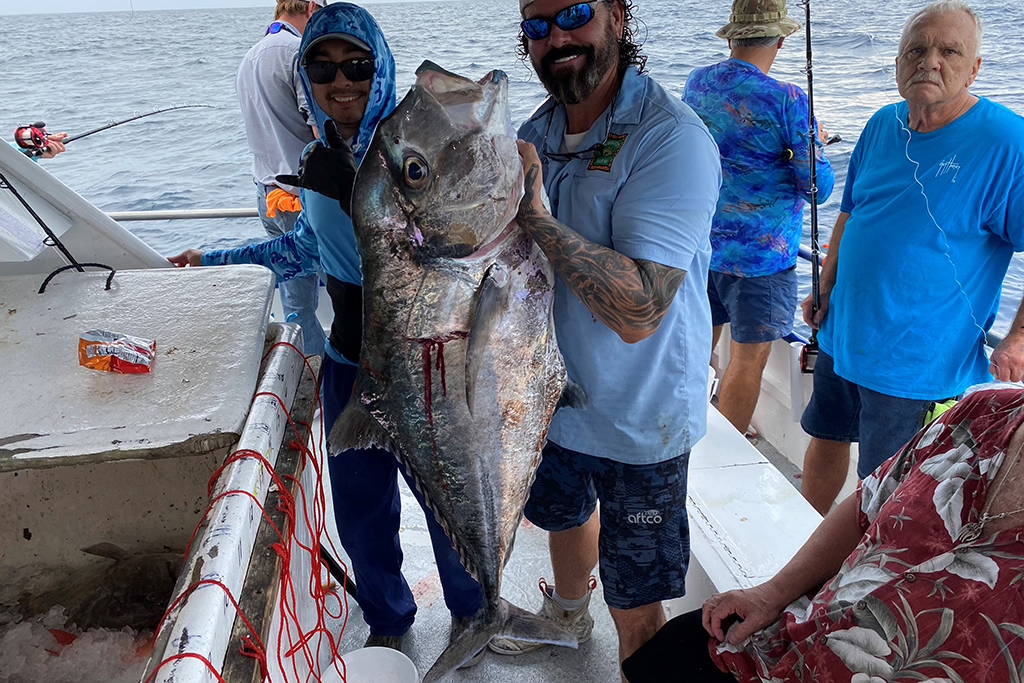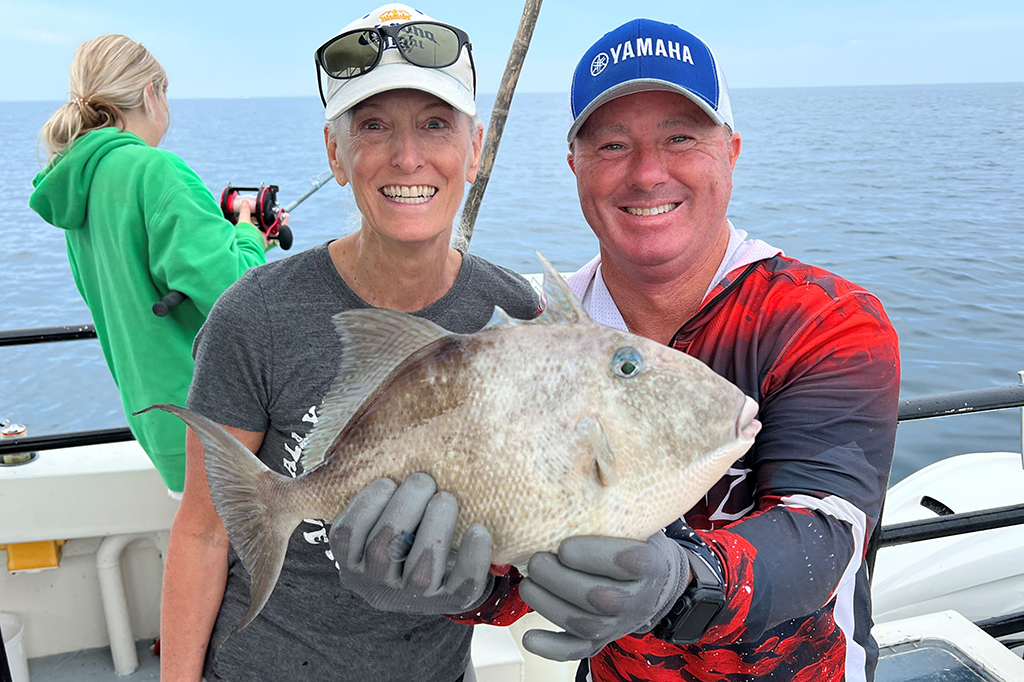 Pelagic wise offshore right now we're seeing cobias and also some blackfin tuna. We're catching the cobia while bottom fishing on flatlines or pitch baits; some lucky anglers are catching them while reeling up or dropping down live bait. We're also seeing the blackfin tuna while trolling and through the same methods that we've been seeing the occasional cobia.