Hubbard's Marina Fishing Report 7-29
Inshore Fishing Report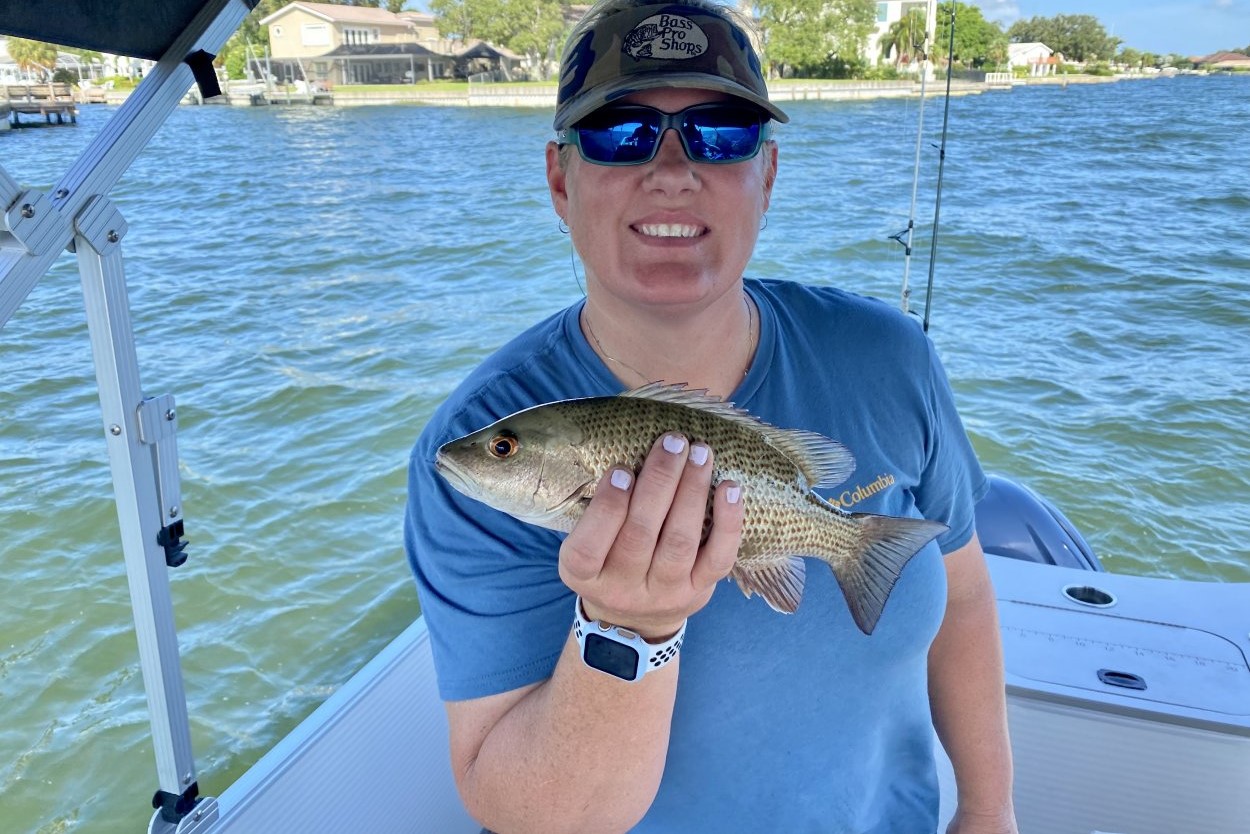 Mangrove snapper are thick around local structures like bridges, docks, jetties, and rock piles around the bay area. From the back bays to the passes and everywhere in between we are seeing thick numbers of mangrove snapper around the structures, mangroves and even grass flats. This time of year is known for clouds of mangrove snapper descending on any and all chum lines around the inshore waters and its living up to its name due to the shear numbers of the mangrove snapper. We are seeing aggressive fish and plentiful numbers. The issue is around the moving water its more difficult to target them since w use lighter gear and minimal weights. If you can catch it on slower moving currents when the tides are changing its often a much easier opportunity to target the mangrove snapper. Typically, around 15-20lb floro leader and light braided light with minimal to no weight is best with a smaller piece of shrimp or whitebait chunks. Even using a jig head is common with half a green back or whole smaller greenies. At some of the deeper water areas like fishing a bridge or a rock pile in the bay a small to medium pinfish works well to give you a shot at a bigger mangrove or perhaps one of those inshore gags.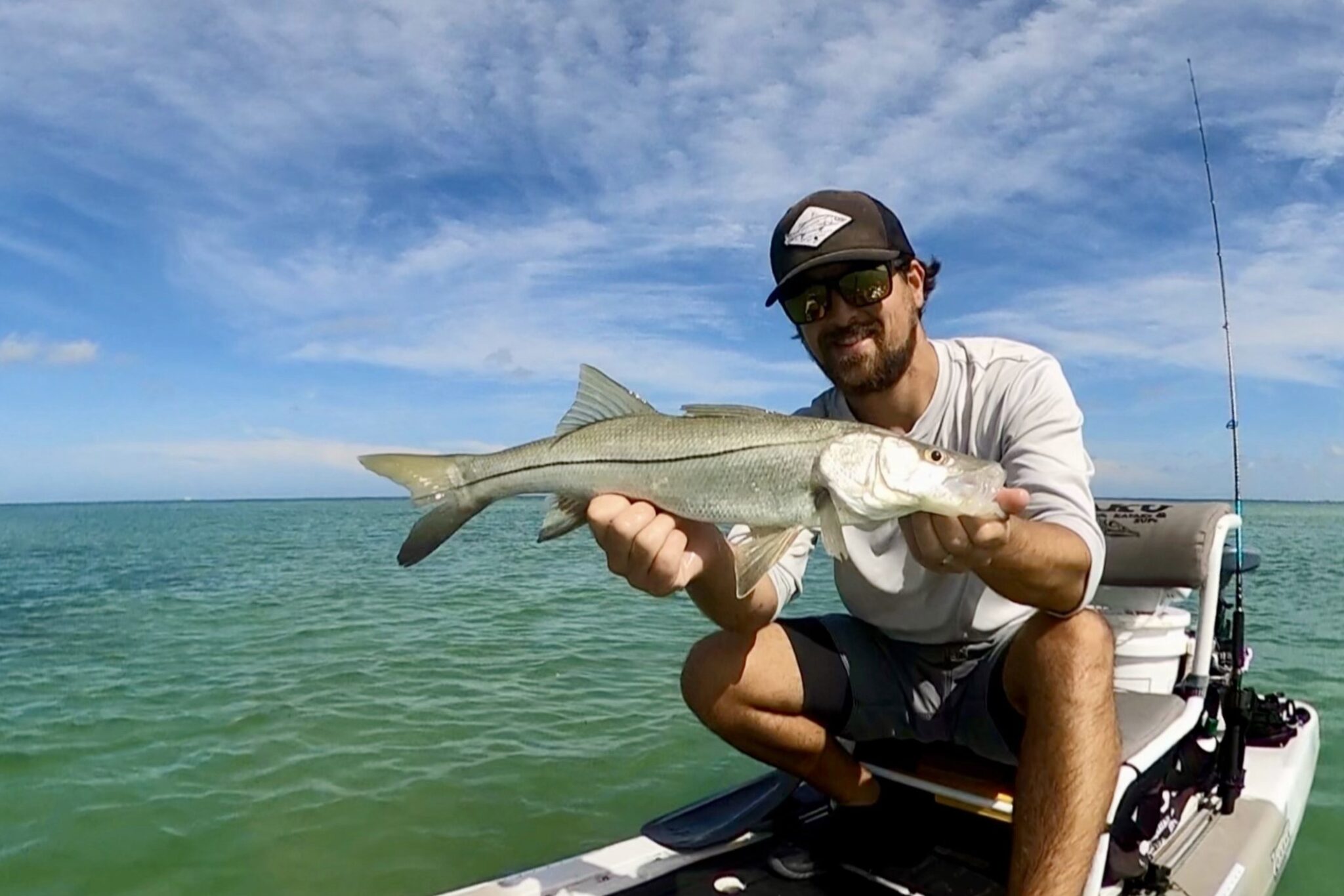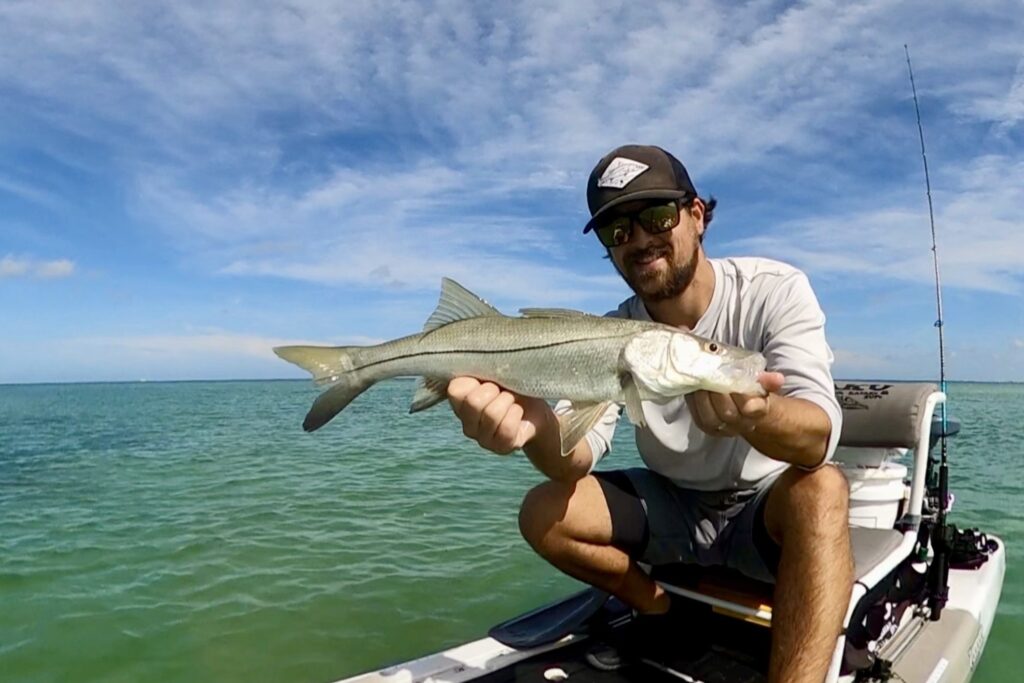 Snook action continues well throughout the area with good action on the flats, dock lines, bridges, beaches, and mangroves during the day. At night, focus more on the passes or areas of good moving water with bridge lights and dock lights concentrating the fish. These guys are super aggressive when they are feeding well in those narrow windows. Outside of that they can be more finicky, especially at night when you see them stacked up in a light. Often around structure your instincts tell you to use heavier tackle, but if your too heavy they won't chew. I like to start with that 40-60lb leader area when fishing right on structures like docks or bridges and then go lighter if the bite is tougher. You can get them biting almost instantly using lighter 20-30lb leaders but then your chances of breaking off exponentially grow. However, you can't break a fish off you never get a chance to hook was a wise moniker Capt Bobby Woodard shared on a recent radio interview with me that resonates well.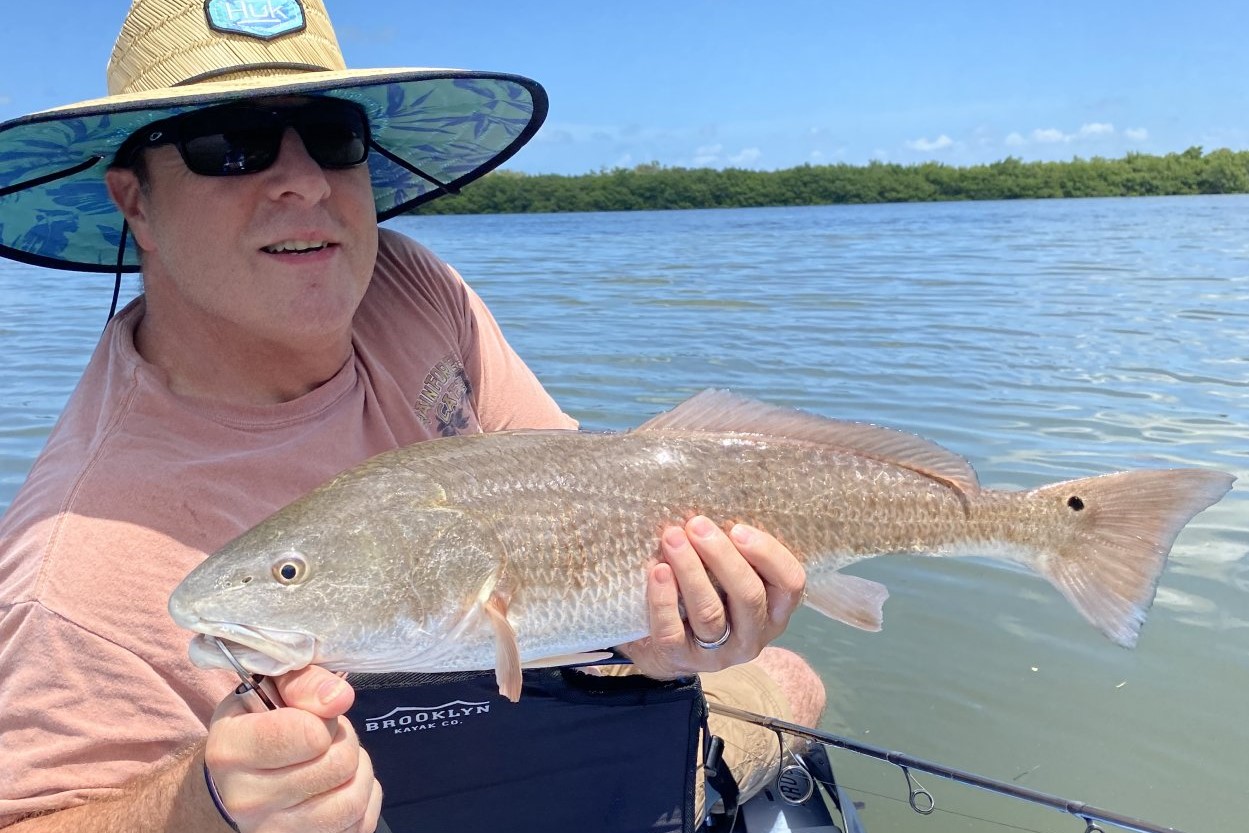 Redfish action around dock lines, mangroves, grass flats and oyster bars is going well right now. Especially using cut dead bait or slower moving soft plastics. The water is super warm right now so trying to utilize baits and options that will entice a lethargic more slow moving fish to bite is key. Also, finding places a little cooler is key to getting a fish to bite as well like the shaded shorelines, under the mangroves, or underneath a dock's shadow. Also, pockets of deeper water like little cuts or holes adjacent to the areas outlined above will sometimes hold more actively feeding redfish.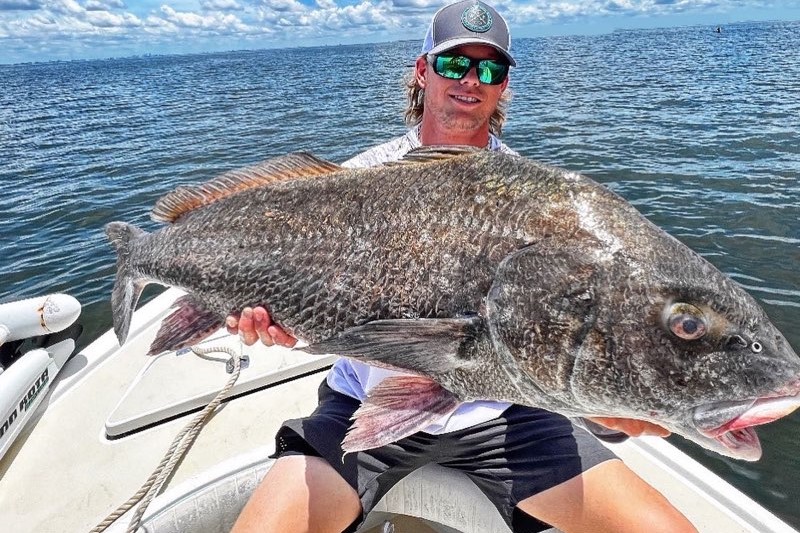 Black drum are active around local bridges and bigger structures of the area. They typically will be right on the bottom around some local area bridges hunting for shrimp or crabs or other crustaceans along the bottom. We have seen some really big black drum caught lately around the area. Especially the bigger bridges of Tampa bay, or areas where we see some good moving water.
Trout have been a little more picky overall, but if you can find that deeper grass flat or solid edge of a shallower flat that drops off a bit to deeper water you have a good chance of finding them during the day. At night, they are a bit easier to target and typically are more active around those dock lights and some bridge lights. We are also seeing some nice fish caught around our local jetties along the passes and even on the beaches too.
Sharks are again still very active around the area with plentiful sharks from the back bays to the beaches. We are seeing a large variety of species and sizes throughout the area. It simply takes some chum and a big dead bait to attract in some shark action. I recommend trying a few different size baits on the top of the column and on the bottom and focusing on choke point areas like the mouth of a bay, a bridge, a pass or anything that will allow your chum to bring the sharks to you in a more concentrated area.
Nearshore Fishing Report
Lane snapper, vermillion snapper, mangroves and the occasional red grouper is a great target when fishing the deeper near shore waters around 70-100ft of water. Especially using cut threadfin you have a good chance at all of those species. You can also use shrimp to target those snapper or squid to target lanes and vermillion. The red grouper have been a little tough due to the shear numbers of the undersized more aggressive red grouper. However, we are getting lucky with some bigger red grouper on  our deeper waters near shore fishing trips like the ten hour all day.
Mangrove snapper are pretty active even more shallow, but we see them best once out deeper near shore. Inside of this area we see them most on the live shrimp and lighter tackle when trying to target the hogfish. However, some pretty good sized mangrove snapper have been coming up throughout the near shore waters.
Lane snapper love a variety of baits and we are seeing plentiful lane snapper lately. They will bite squid, threadfin, white bait, shrimp, and virtually anything you put down there and we are seeing them from 30-40ft all the way out to the deepest near shore waters.
Vermillion tend to only be in that deeper near shore waters and they typically don't come much more shallow than around 70ft of water. However, once out deep we are seeing very active numbers of these good eating snapper on squid, threadfin or shrimp.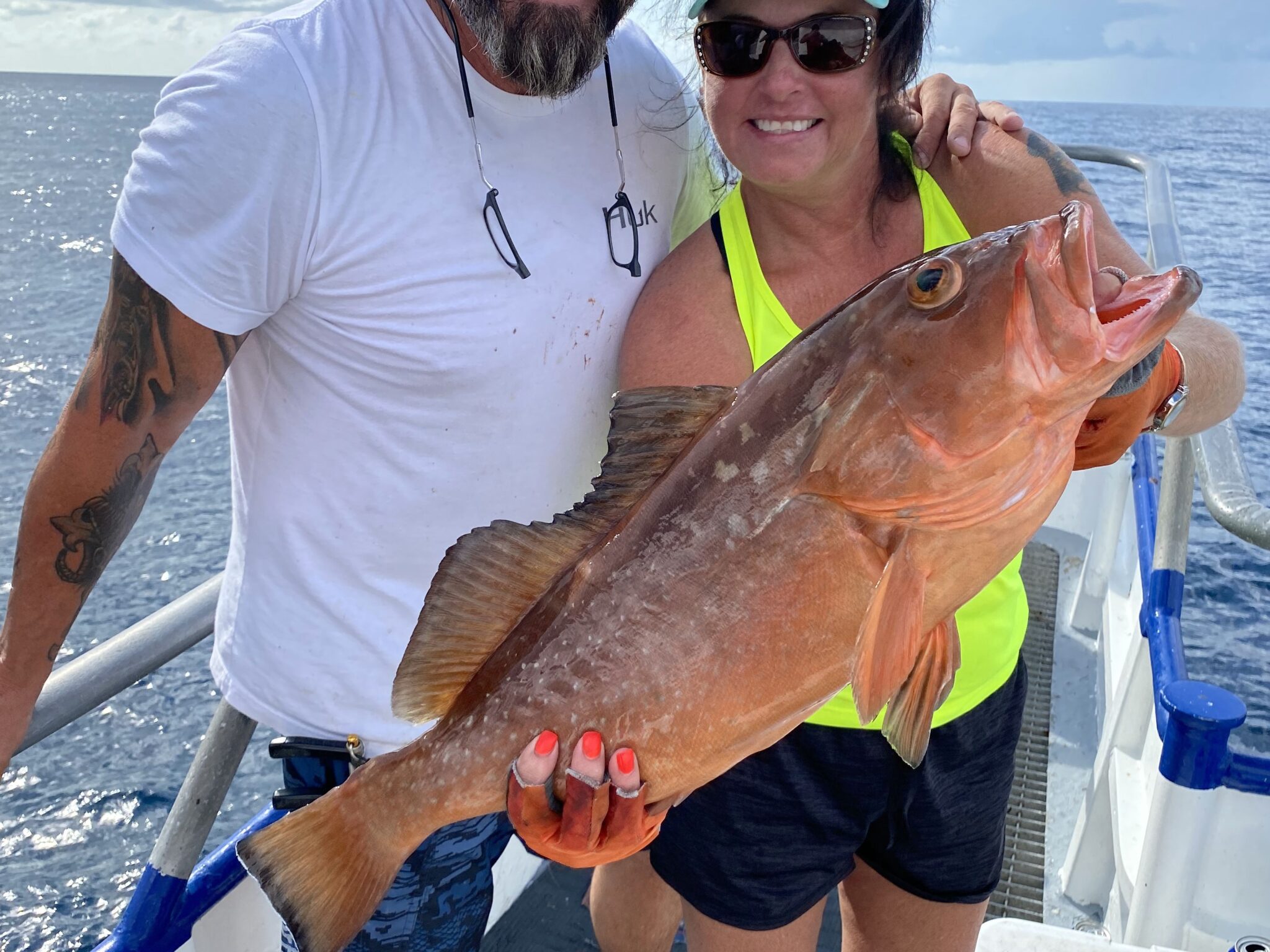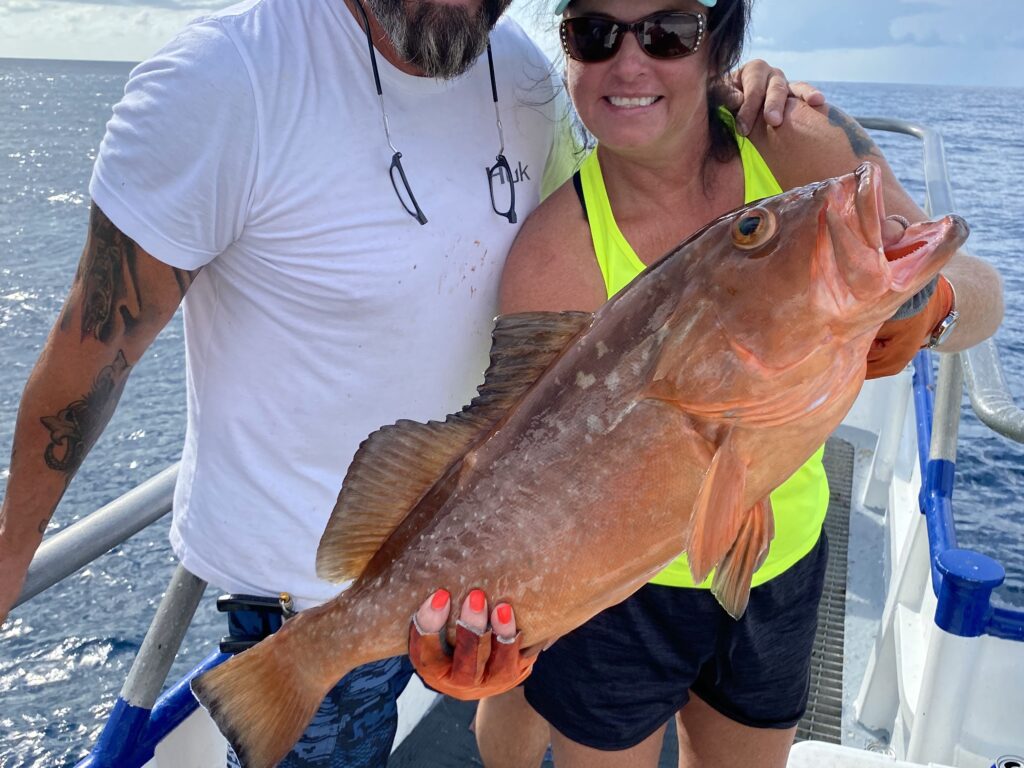 Red grouper are biting best on the bigger dead baits or live pinfish. We see them best as we get deeper since fishing shallower we see more and more of those undersized and more aggressive red grouper. Once you get closer to 100ft, we still see plentiful of undersized red grouper but the chances for some keeper sized fish get better and better.
Offshore Fishing Report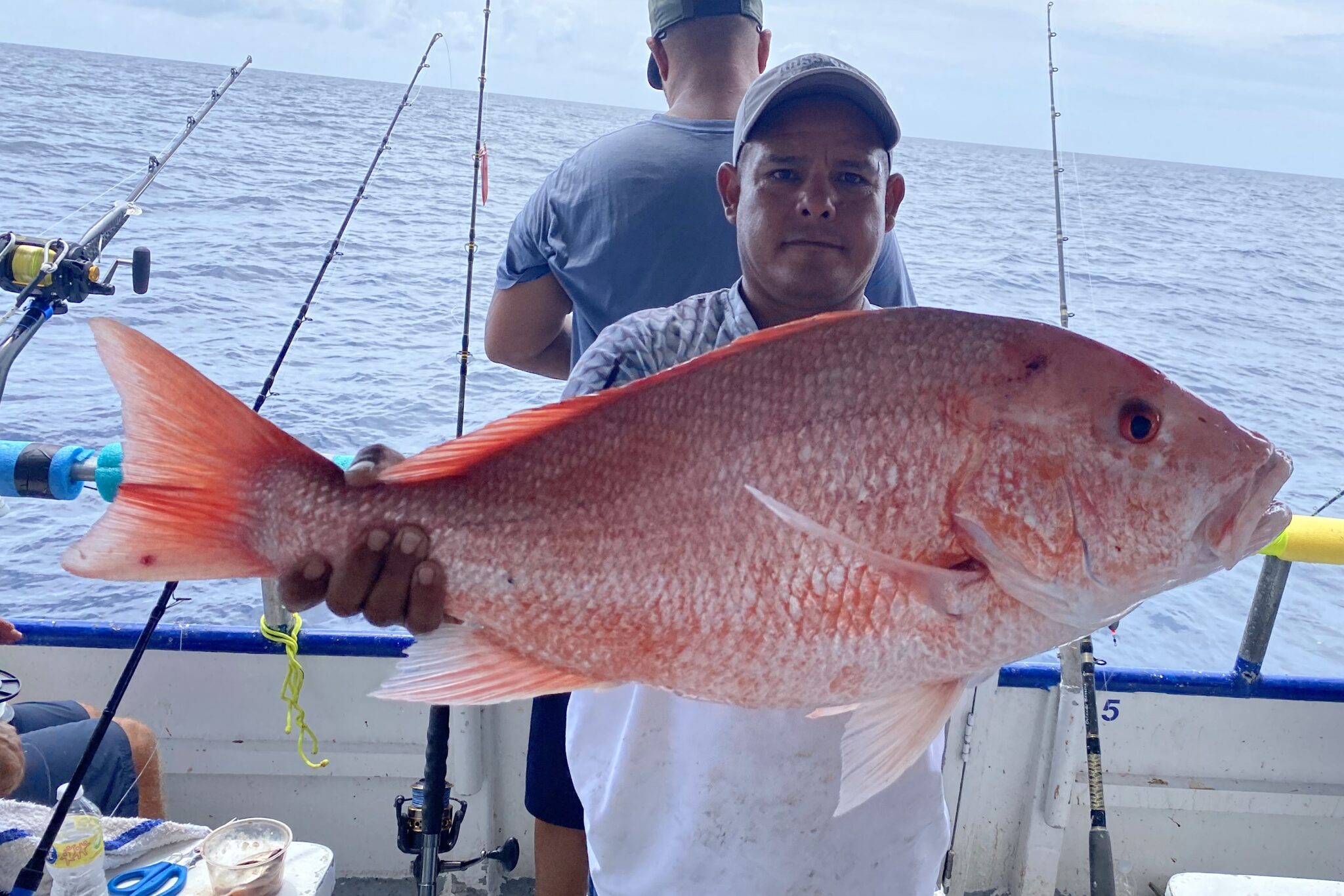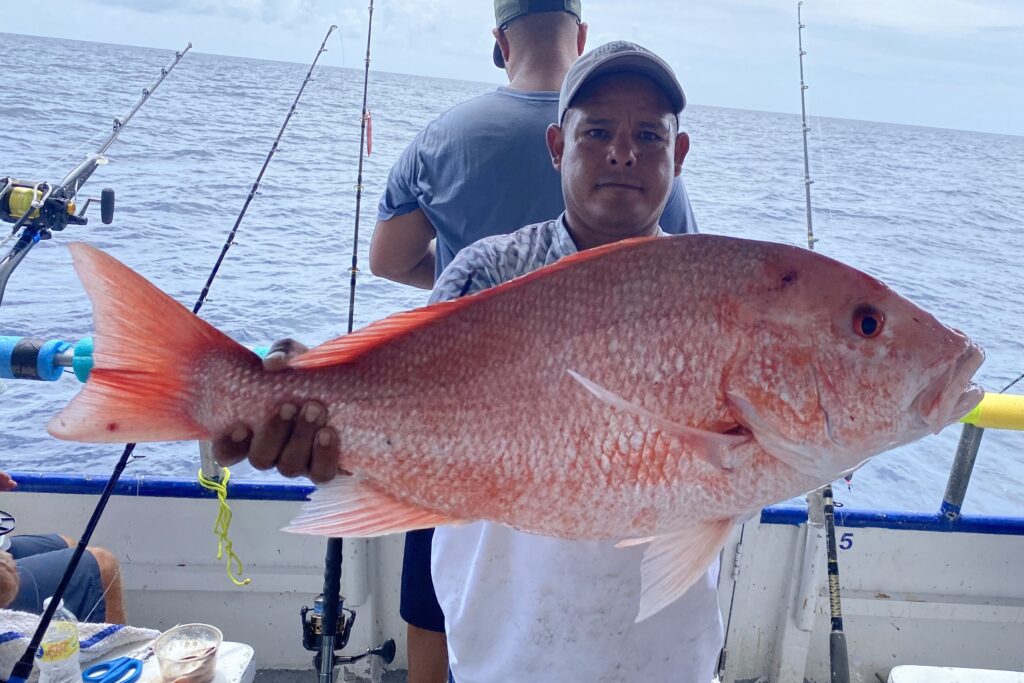 Red snapper season continues on for us here at Hubbard's Marina until end of day August 18th so you still have tons of time to get out deep with us for some offshore fishing fun for these red snapper. However, private recreational red snapper season for anglers on private boats ends at the end of the day July 31st. Keep in mind, private rec anglers on their own private boats will have some special weekends this fall with extra days that WILL NOT apply to us on our boats.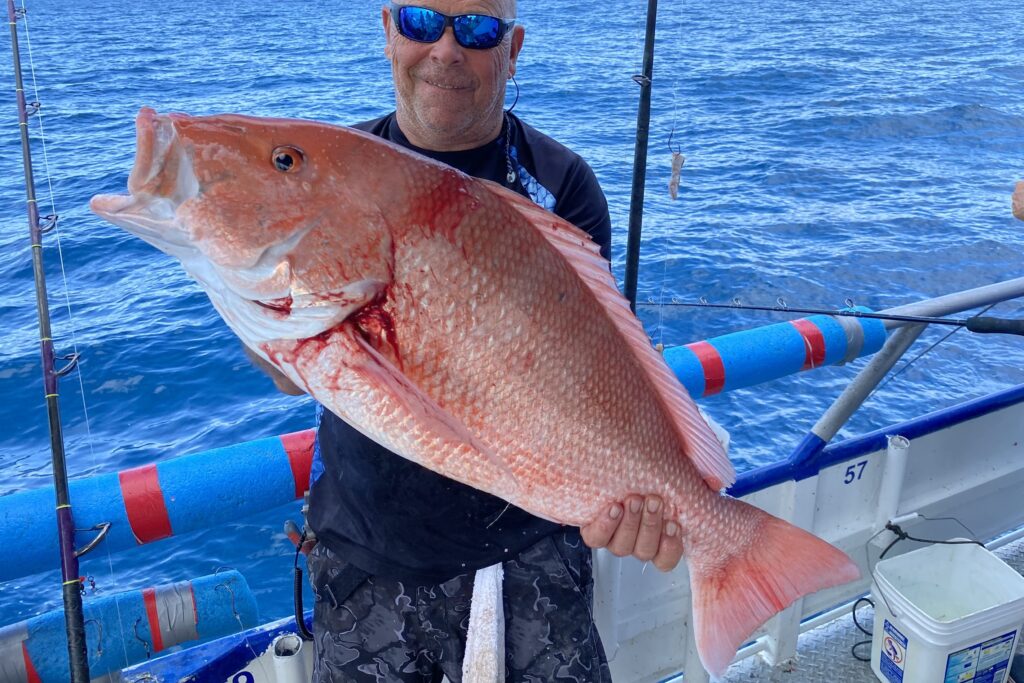 Overall red snapper are still biting well, but we have started to notice that slight drop in the numbers of fish and slight drop in overall size. However, we are still seeing regular 18-22lb fish which are large just the numbers of those really large fish has slowed a little. We are starting to fish for them a little longer during the trip and having to move around a bit more but still getting easy boat limits on a majority of trips offshore like we have since season began. These guys bite just about anything you put down for them from live bait to dead bait to artificial and all between. They are starting around 110-120 but we are seeing them most consistently in decent size beyond 140-160ft of water.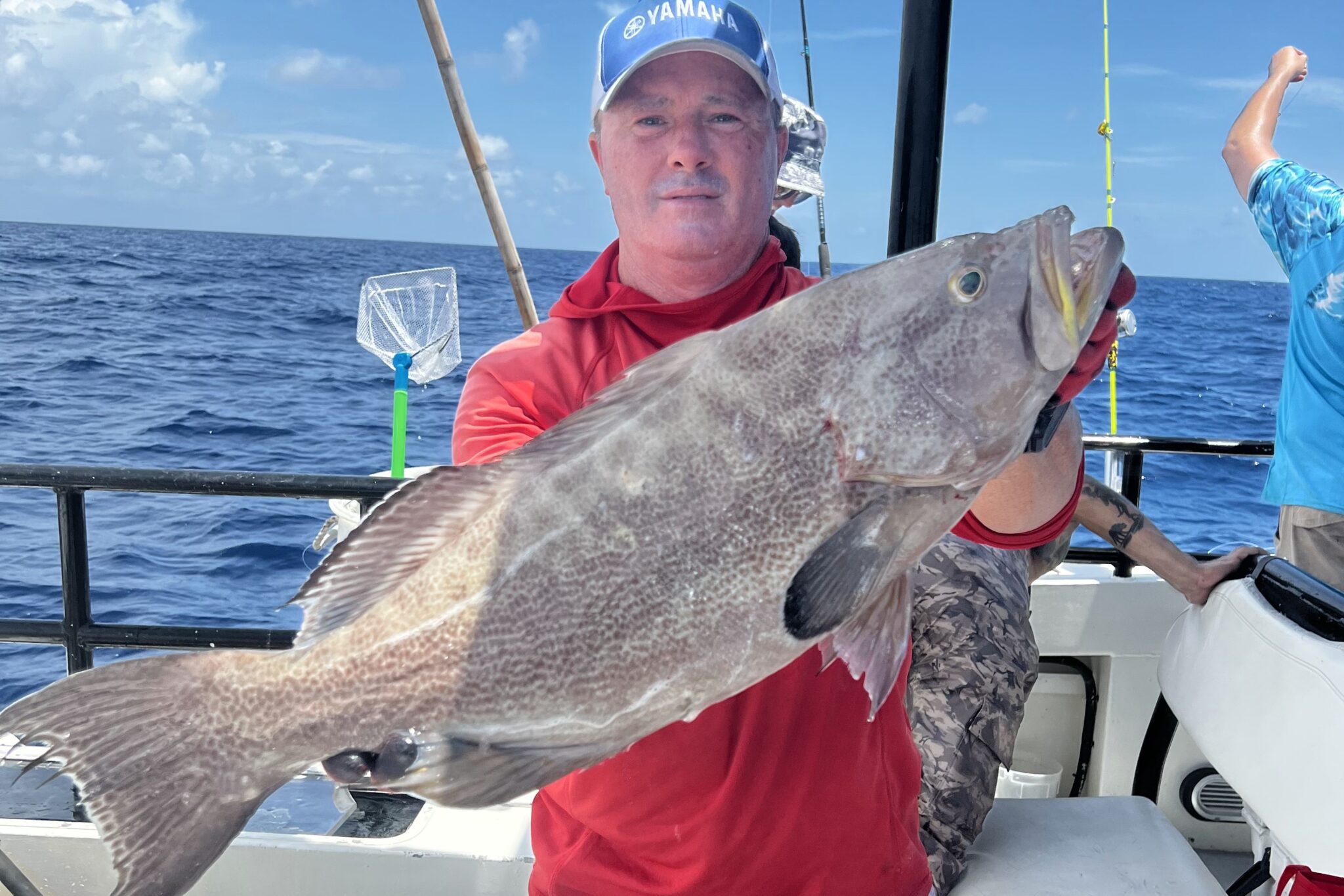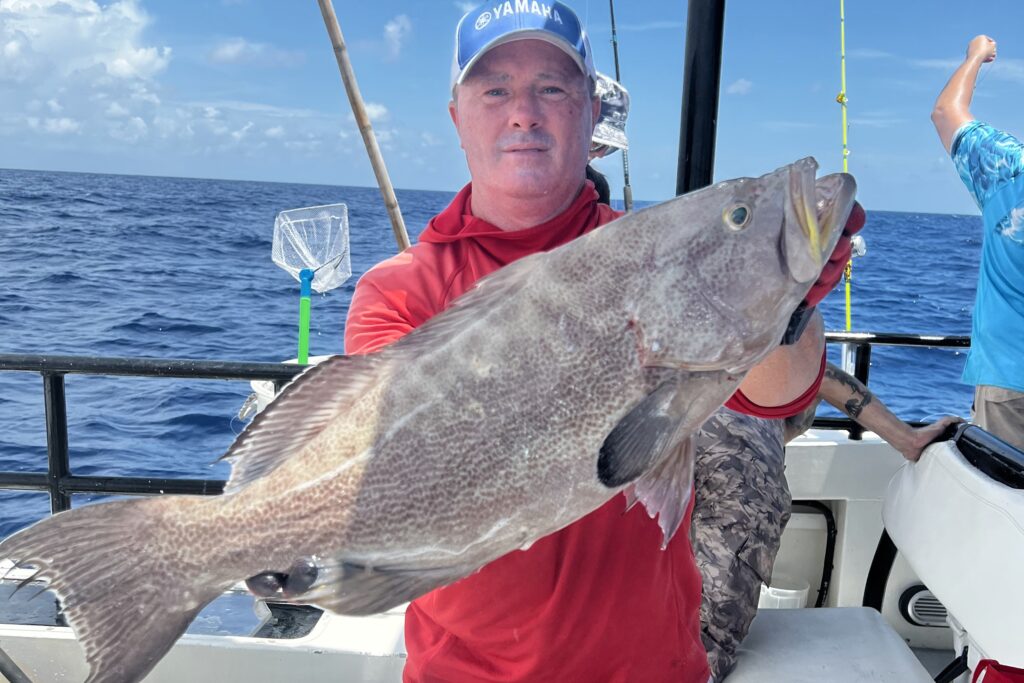 Gag grouper fishing still consistent for us, but they are out very deep right now. We are seeing more and more that the deeper trips are more consistently on the bigger gags while staying inside of around 150ft we still see gag grouper just not in the 30-40lb range as often as we have while deeper. Big live baits, Big dead baits and occasionally those slow pitch jigs have been best to target the gags.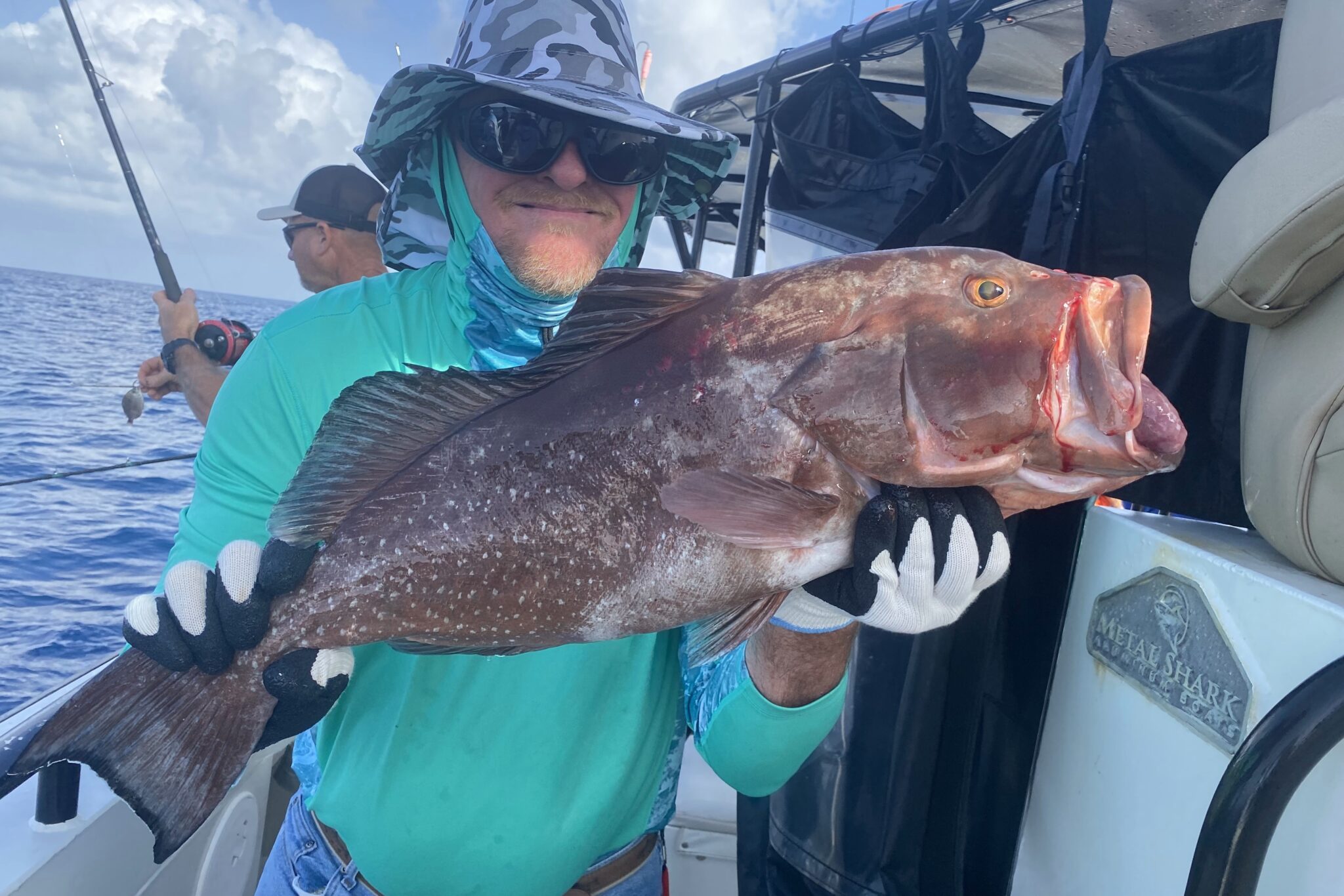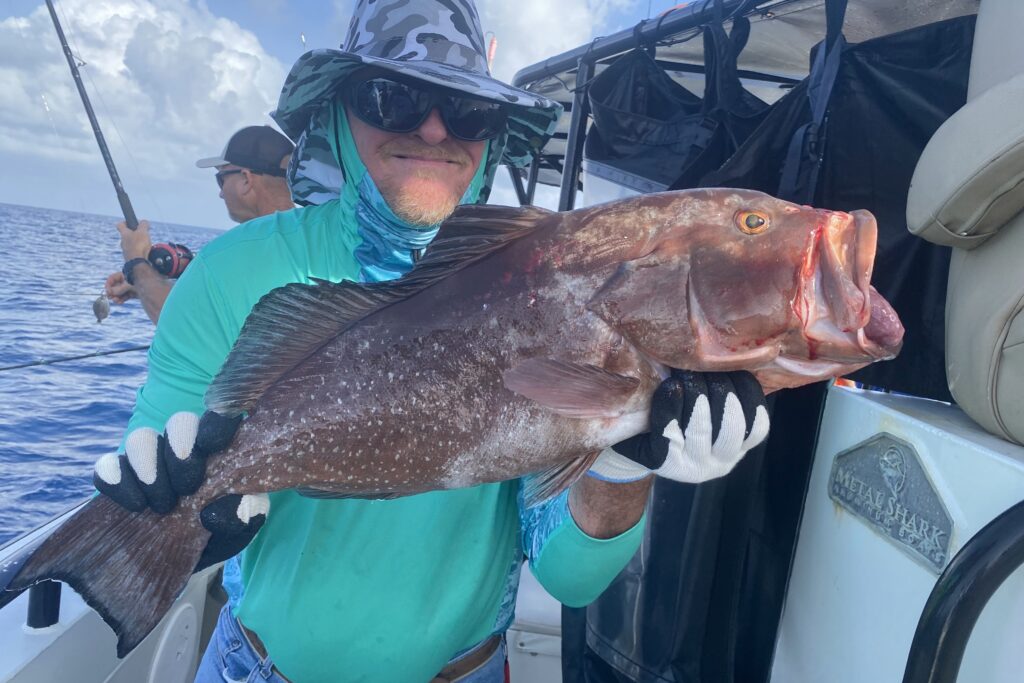 Red grouper fishing has been consistent with some of the deep-water potholes and bait shows we have targeted hunting those red snapper. They love big dead baits like the bonita strips, cut mullet, or the octopus or squid. They will take some bigger live baits too but they big dead baits are best while targeting the red grouper.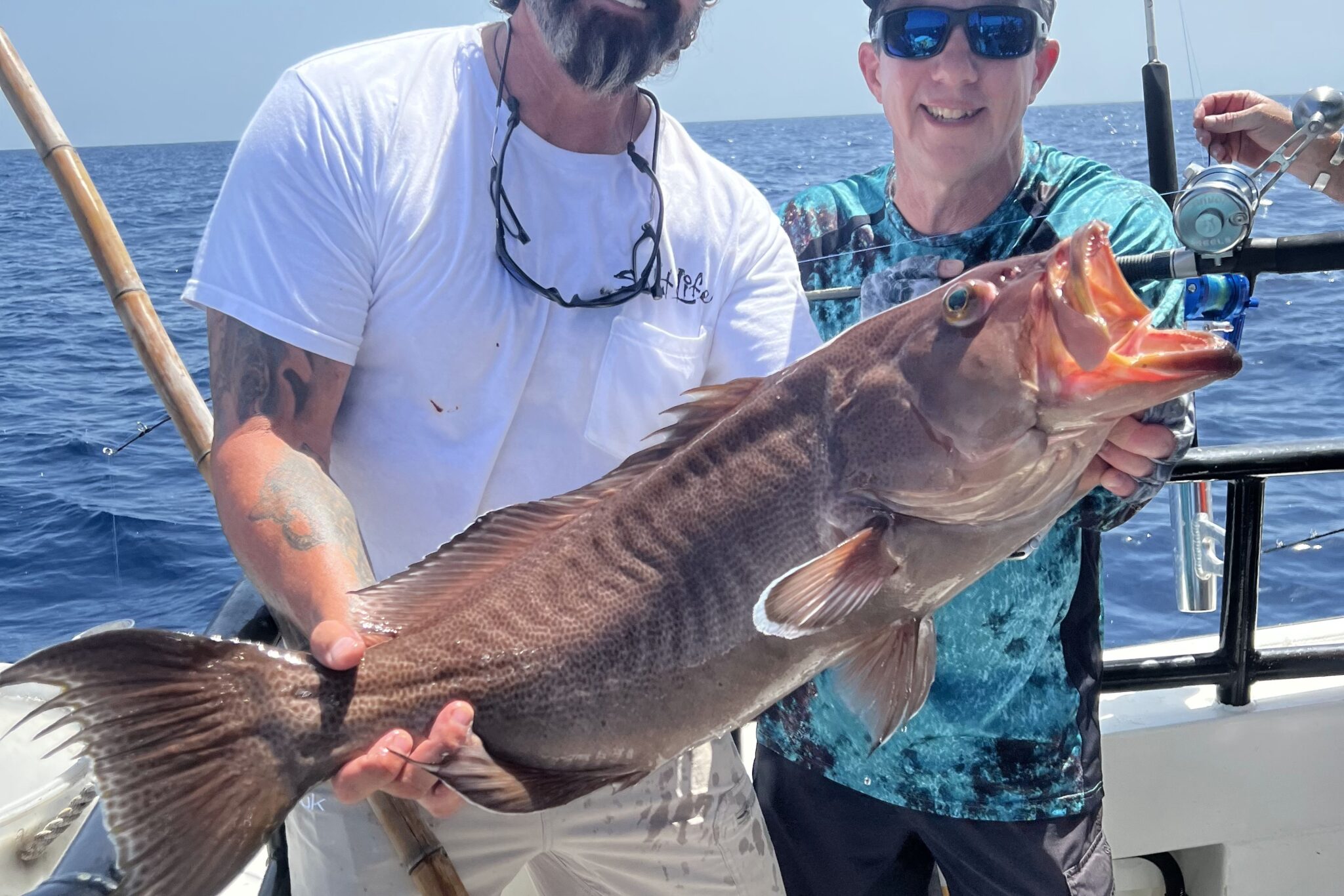 Scamp grouper fishing goes well for us when fishing closer to that 200ft mark as well especially on smaller live baits and the small cut threadfin chunks while targeting mangrove snapper. Also, the slow pitch or vertical jigs work really well for scamp grouper too.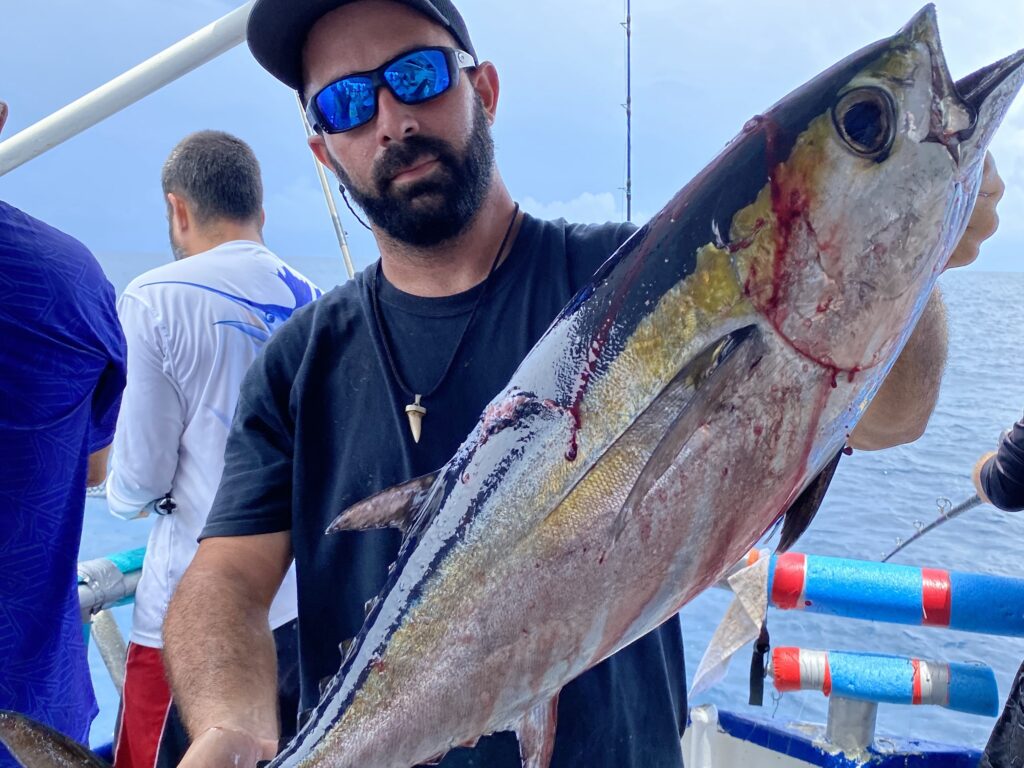 Pelagic wise lately we have seen an increase in the number of kingfish we have come across offshore. Plus, we are still seeing the occasional blackfin tuna on the trollers, flat lines and last trip a few were caught just dropping dead bait to bottom.