Fishing report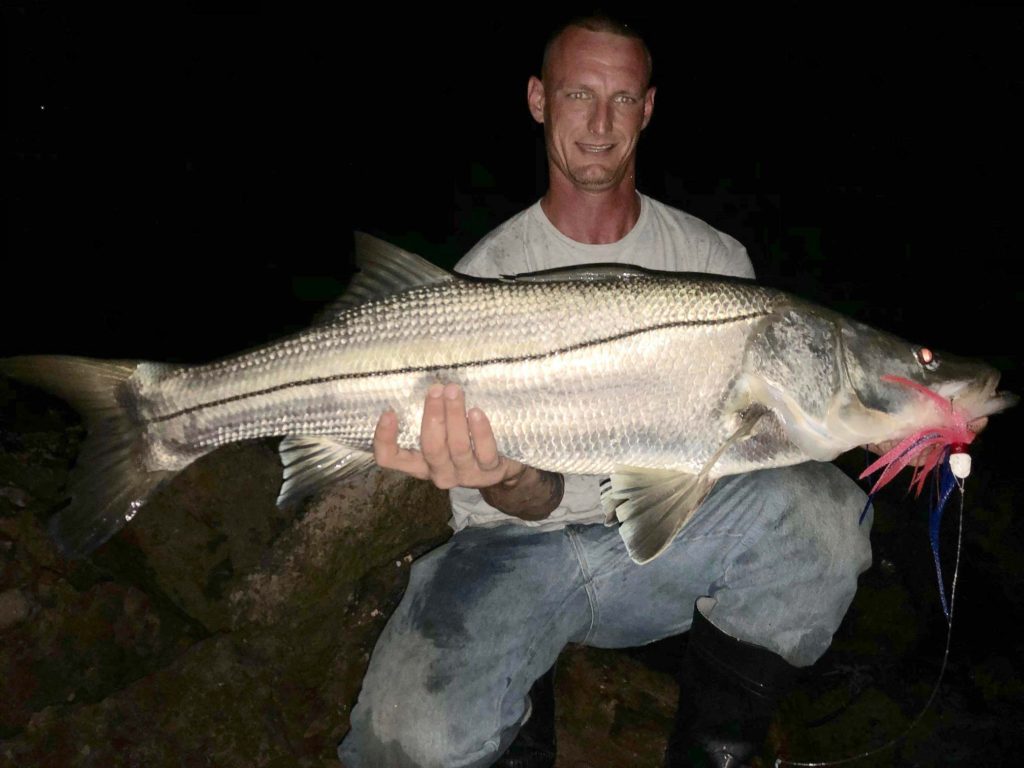 Inshore- Snook are still the headline of the inshore report right now, they are loaded up in the passes and starting to make their way more and more onto the beaches before heading off near shore to spawn on the big structures. The super clear waters in the passes and on the beaches right now makes it tough to get these smart fish to feed during the day unless your using super light tackle or fishing the deeper water passes. We are seeing and hearing lots of guys hooking up with good snook on the beaches but mostly right around sunrise fishing the trough that runs parallel to the beach. That is the little fish highway the snook use to travel from pass to pass and a free lined live shrimp sitting in that gulley will get you some nice fish if you hit it early! However, the night–time action on the big snook around the passes especially around the structure of the passes has been super-hot. At night you can use heavier tackle like 60-80lb leaders with 1-1.5oz flair hawk lures or big rapala or Bomber large 5-8inch crank baits and even the big rattle traps work well too, however, the flair hawks seem to be the new most popular bait among the night time snook enthusiasts. Live bait for the snook work well too, especially during the day when they are pickier but at night they work as well. Mostly they love the grass grunts or pigfish, smaller ladyfish, live shrimp or big white bait like cigar minnows or threadfins but my favorite snook live bait has always been a live pigfish around 4-6 inches in size free lined out there or if the current is screaming weighted to the bottom. The snook in the bay are still biting well, but mostly around the mouth of the bay or near the passes as most all the snook are heading out to the passes and the beaches. Around fort de Soto and the very western south shore of Tampa bay many anglers are catching snook using soft plastic lures like the Zman on a super light jig head around the mangrove shorelines or deeper grass flats. Besides the snook, we are still seeing some good action on the speckled trout they are mostly on the deeper water grass flats or hanging off the sandy drop offs around the passes biting live shrimp, small pinfish or the DOA shrimp or soft plastic lures on a light jig head. Redfish are feeding well too, but mostly around the mangroves inside the bay we are seeing a few caught at night around the dock lights when working your artificial slow enough to be crawling the bottom. Triple tail in the bay are still very prolific and they should only get better. Geoff Groves has been catching plenty using a popping cork with a live shrimp under it casting around the markers, buoys, and any floating debris from the Howard franklin to the mouth of Tampa bay. Flounder bite is starting the pick up haven't seen many this week bite as the summer progresses the bite should get better and better for these guys as they sit in sandy bottom areas waiting to ambush passing baits like small crabs, shrimp and even smaller pinfish. Sandy potholes on the grass flats are a favorite spot of mine to target flounder if you're out sight casting the flats, but you have to let the bait reach the bottom where they will strike. DOA shrimp are my favorite artificial lure to utilize when fishing for flounder on the flats.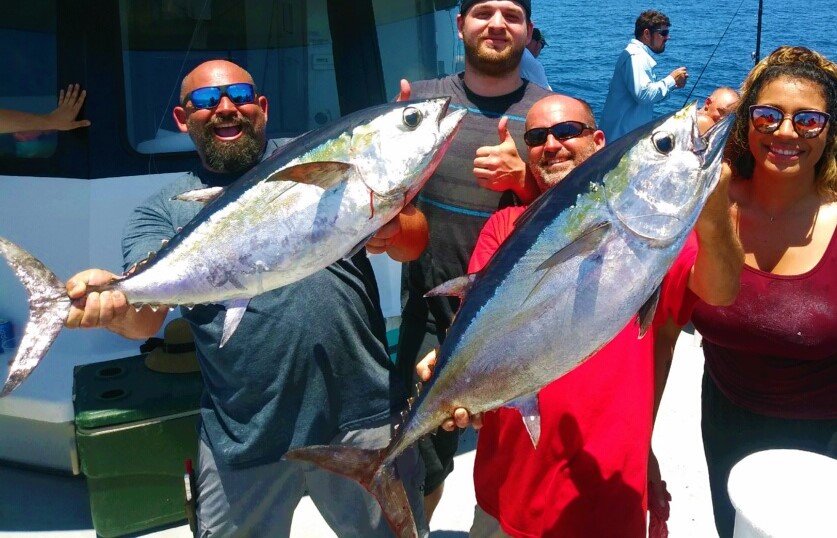 Near shore– The near shore action this week was good, especially before this recent high pressure around Monday and Tuesday. Our Tuesday 10 hour all day was out fishing the deepest near shore waters 70ft-100ft and they were doing very well on a large variety of snapper and some red grouper and even hooked up with some beautiful blackfin tuna on the flat lines! The big lane snapper seem to be very prolific around this depth right now and they love live shrimp or small squid chunks and also the cut pieces of dead threadfins on the bottom using around 30-40lb test line for leader and a 4ot hook with a high gear ratio reel. We have been seeing the mangrove snapper bite improving in the deeper near shore waters as well and my favorite technique for those guys is using a cut thread fin plug on a double snell rig with 4-5ot hooks and 30-40lb test. To cut the thread fin in a plug you simply cut the head, cut the tail and trim the belly cavity to make a really nice chunk of meat that those aggressive mangrove snapper can't pass up. However, mangrove snapper are super smart so you have to hold the bottom very naturally and really focus on hooking your bait so it doesn't spin and making sure your presenting that bait very naturally. Then when you get a bite or even a little action you must crank like a mad man super-fast and if he's not there, STOP and drop it right back down to bottom. Often you have 2-3 chances at the fish before you lose the bait and this method helps you save more time on the bottom and catch tons more snapper species. If you master hooking the bait so it doesn't spin, holding bottom, presenting the bait naturally, and learning to crank hard and fast asap then you will become a MUCH better near shore and offshore bottom fishing angler. You can get to a point where you can 'feel' your set up on the bottom and know even in 150-200 foot of water whether you still have bait on the hook. The trick is keeping your line tight enough to feel your bait but not so tight as to disturb it on the bottom. This means you have to 'dance with the boat' meaning you are constantly moving your rod tip up and down with the wave action to avoid your lead disturbing the sand on the bottom and spooking any fish that may have been eyeing your bait! This takes lots of practice to master but it will help you catch 100% more snapper and grouper offshore and you will stop losing your bait and missing the bites. To present the bait naturally, I like to drop down to the bottom and once there wait for 60 seconds or so and if you don't get hit right away, lift up your rod tip slowly to the sky and then slowly drop it back down until you feel your lead hit bottom. This technique will straighten your leader and ensure your bait is as far from your lead as possible and over time it will give you the feel for the bottom and as you lift up your rod tip to the sky you will feel the faint second weight of the hydro dynamic drag of your bait lifting off the bottom that will allow you to tell if you still have bait on the hook or not. Besides lanes and mangrove snapper lots of the vermillion snapper and porgies have been caught this week too. Also, Christina Fernandez from Orlando was using a Nekid ball 1oz jig with live shrimp and caught three keeper hogfish on the recent 10 hour all day too. Great to see the hogfish still around and ready to cooperate. The blackfin tuna seem to be few and far between but when we find em they love to eat a tail hooked pinfish flipped out to them on a 5ot circle with 40-50lb floro leader. I like using a rod and reel I can cast efficiently with that also has plenty of line capacity as those nice blackfins can really put up some big runs! Mid-week this week that high pressure settled in and that stagnant high barometer made fishing tough, but we were able to put some nice catches together they just took some work. ON the backside of this weekend that high pressure should subside and as the barometer falls Sunday and Monday the fishing should be HOT!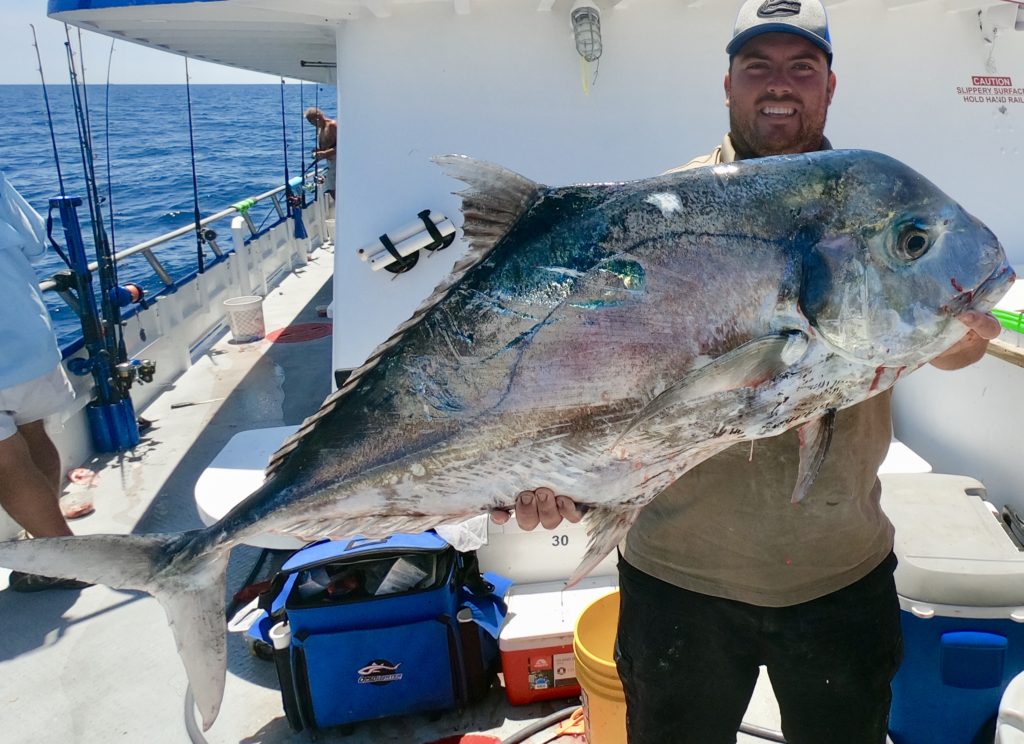 Offshore – The bite offshore has been great this past weekend and into this week but like the near shore waters the bite Wednesday was slow due to that high static barometer. However, we did manage some monster yellowtail snapper, good numbers of mangroves, big porgies, nice alamaco jacks and some fat red grouper on the mid week 39 hour that fished through all day Wednesday but it took a lot of sticking and moving and soaking some spots to make that happen. Along the way we did pick up some decent kingfish on the troll and flat line. This past weekend's 44 hour full moon trip was a different story however, the bite was hot for that trip especially on the pelagics we caught nearly a dozen kingfish and some of those were 40lb class models. Plus, they got some really nice blackfin tuna on the troll and flat line too over the weekend. The red grouper bite was much better over the weekend before the high pressure shut things down a bit but over all from 100-150 foot of water we are seeing some nice red grouper action but there's lots of  juveniles around so venting tools or descending devices are a must on your boat to ensure those undersized or unwanted or out of season fish can return to the bottom without floating away on the surface and dying. Especially as the water warms venting and descending to mitigate dead discard numbers from barotrauma becomes MORE and MORE important! If you don't know how to properly vent a fish, check out the 'how to vent a fish' article by Salt Strong that they did with me during our recent grouper mastery course. You can find it on our website or by googling 'How to vent a fish Salt Strong'. The mangrove snapper action is best offshore around 130-160 foot of water but they have been a little hit and miss last week and into this past weekend was great but the mid week 39 hour this week struggled a bit but were hoping that was due to the high pressure and not those fish moving around again on us.  
Want to watch Capt Dylan Hubbard's Daily video reports? Check out the Hubbard's Marina YouTube channel and don't forget to SUBSCRIBE! – Hubbard's Marina daily fishing & boating report
Upcoming up at Hubbard's Marina 
We have another great Bass Pro Shops seminar coming up THIS SATURDAY May 18th at 2pm if you want to join Capt Dylan for a chance to win FREE FISHING TRIPS! The fishing seminar or fishing conversation will be about an hour long of fishing conversation, tips, tricks and more! Plus, at the end of each seminar Capt Dylan gives away a FREE 10 hour all day for two guests and a FREE 5 hour half day for two guests to two lucky winners of the FREE raffle. To be entered in the raffle you just have to show up just before 2 pm and stay for the hour seminar. Here's the link to learn more and help us spread the word by clicking this link and click 'going' -> https://www.facebook.com/events/355624161963149/  
Fox 13's Good Day Tampa Bay show has picked up a fishing segment with Capt Dylan Hubbard Scheduled for every Friday morning starting around 8:30am to 8:40am! These segments will have tons of fishing tips, tricks, updates and more. Please tune into Fox 13 on Friday mornings to watch the show and if you are not local, you can watch it LIVE on their website -> http://www.fox13news.com/live  
LIGHT 39 HOUR TRIPS COMING UP first one is May 21st this coming Tuesday then the following trip Friday May 24th also has a super stupid light load if you want to join us for some red grouper, scamp grouper, mangrove snapper, yellowtail snapper, porgies, vermillion, tuna, kingfish and much more! The fishing on these long range 39 hour trips have been very good and this coming week the load is light so it's a great opportunity to join us for plenty of room on board and great fishing! FOR MORE INFO, or to book your 39 hour NOW click this link: https://www.hubbardsmarina.com/39hr-overnight-fishing-trip/  
All our trips seem SUPER LIGHT right now around Hubbard's Marina due to that little 'lul' time of year where the weather isn't too hot yet and the crowds have relaxed a bit. It makes for a GREAT time to join us for a 5, 10, 12 or 39 hour trip before the chaos and sold out trips of the June and July months begin. We have lots of light loads on our 12 hour extreme trips, 39 hour long range overnight trips and 10 hour all day party boat trips plus lots of private fishing charter spaces opened up for bookings! 
2019 RED SNAPPER TRIPS FILLING FAST Book your 2019 RED SNAPPER 12 hr extreme, 39 or 44 hour trip TODAY while there's still some open spots! These trips will fill quickly so book NOW. Last year red snapper trips were filled up early and we had to turn lots of last minute bookings away, so don't miss your chance at securing your favorite trip TODAY. Here's the link for all your 2019 specialty trips – https://www.hubbardsmarina.com/specialty-fishing-trip/ 
This coming Sunday May 19th is next LIVE SHOW join us if you want to learn more about fishing locally and WIN FREE FISHING TRIPS without leaving your house! Don't forget we have the Weekly fishing conversation or seminar by Capt Dylan Hubbard LIVE on the Hubbard's Marina Facebook & YouTube page if you don't want to leave your house to catch a seminar! This is weekly on Sunday nights from 8:30pm until 9:30pm, check out the event page and PLEASE LIKE AND SHARE the event if you have a Facebook page, and invite your friends as well! Here's the page to find the Facebook event link, and view all the past LIVE Q&A fishing shows –  https://www.hubbardsmarina.com/past-qanda-live-streams/ 
Our 12 hour night snapper trips started up, and the next one is TONIGHT May 17th and it's a full moon night snapper adventure with GREAT chances for plentiful mangrove snapper! If you want a chance to join us for some night time snapper fishing action for mangrove snapper, vermillion snapper, lane snapper, porgies and more! These are great trips with plenty of night fishing time 25-35 miles from Johns Pass for around 7-8 hours fishing time and only for $129 but book now because these trips do fill fast especially around the full moon. We only offer them on the quarter and full moon phases Friday nights from 7p to 7a Saturday! Here's all the information on these special night time snapper fishing trips – https://www.hubbardsmarina.com/12hr-night-fishing-trip/  
Captain Jack's dolphin corner 
We just had our very first newborn dolphin of 2019 appear in our local waters and we dubbed him Dan after a regular guest who attends our trips annually and happened to be on the boat that special day this week! More newborn dolphins should appear soon as the mother's start to give birth in this special time of year. This makes for a great time to come join us for a cruise for a chance at spotting one of our newest resident dolphins!  
The sunset cruise right now is a great time due to the GORGEOUS spring sunsets we have been having as of late, this past week we even saw the elusive 'green flash' at the end of the sunset! Great time of year to join us for a sunset cruise that offers FREE BEER AND WINE, learn more here -> https://www.hubbardsmarina.com/sunset-cruise/ 
The dolphin watching nature cruise and eco tour has been spotting lots of manatees as of late recently too. It's a little early in the year for manatees, but the clear waters help us to spot them easily and they have been in big groups which make it easier to find them too. This past week during one cruise we spotted a group of nine manatees cruising the back bay waters. However, these guys can hold their breathe nearly 10 minutes and they only come out of the water with their snouts and sometimes their tails too so it makes is very difficult to spot them and when you do its difficult to follow them around. This makes it a very unique treat to spot them during our cruises and this time of year is a great time for them as they return to the area from their winter vacation. Here's all the information on our dolphin watching nature cruise and eco tour – https://www.hubbardsmarina.com/dolphin-watching-cruises/ 
On top of all this great news and unique sights we are also spotting a few sea turtles cruising the back bays. It's a little early for sea turtle nesting season but they are definitely starting to show back up in the area.  
Page Break 
Tampa bay ferry News 
Water clarity right now is INSANE around shell key and Egmont key! Join us for a ferry ride to paradise today to enjoy the crystal clear waters between the storms fronts, when a front blows by the waters get a little murky for a day or two then it clears up to gorgeous once again shortly after the waters calm down.  
Great time to visit us for a ferry ride to Egmont key or shell key before the summer time crowds start showing up in droves to pick through the best shells before you can arrive! Come join us for a relaxing day at the island and enjoy the beaches nearly to yourself during the week this time of year.   
The Egmont key ferry from Fort de soto offers 10am and 11am ferry rides to the island daily this time of year, plus on Tuesday, Thursday and Saturday we offer a 2pm ferry ride from Fort De soto out to Egmont key island! You get three hours on the island after around a 20-30 minute ride out and back to the island. Plus, we often see dolphins, seabirds and sometimes even sea turtles on the ride out and back thus the ride time can fluctuate a bit depending on what we spot during the cruise out to your island oasis! For more info on the Egmont key ferry, visit this page of the Hubbard's Marina website – https://www.hubbardsmarina.com/egmont-key-ferry-cruise/  
Our Shell key ferry trips are a great way to spend the day and offer more flexible schedules compared to the rigid Egmont key schedule! We offer these trips DAILY from the boat ramp at Fort De Soto County Park and they run at 10am, noon and 2pm and the final return time is 4pm! You have much more flexibility during the shell key trips compared to our Egmont key ferry because you get to choose the time you return to fort de Soto from Shell key! If you're looking for plenty of time on the island and great shelling opportunities then the shell key ferry trip is your best bet! Check out all the information on this special ferry ride at this link – https://www.hubbardsmarina.com/shell-key-ferry/  
Page Break 
Regular's club 
We have finished 2019 regular's club renewals and we are starting on signing up NEW MEMBERS, if you are interested in becoming a 2019 regular's club loyalty program member please reach out to Capt. Dylan Hubbard by sending him your name and cell number via email to CaptHubbard@HubbardsMarina.com. He will be in touch in the coming few weeks about the loyalty program that offers discounted trips if you fish more than 10,15 or 20 times a year with us at Hubbard's Marina. It also comes with some free gifts and other benefits too besides discounted trips, but it's NOT simply a discount program. It's a loyalty program and it requires fishing often and being a model Hubbard's Marina guest and showing the passion shared by all of us at Hubbard's Marina for fishing and our fellow anglers.  
PAST AND PRESENT MEMBERS: be sure to renew your membership before 2018 ends! 
Captain Dylan Hubbard 
Vice president and Co-Owner 
(727)393-1947 ext. 306  
CaptHubbard@HubbardsMarina.com  
Page Break 
UPDATED Coupon information 
Hubbard's Marina sweatshirts only $20 while supplies last!  
We have a variety of sizes and colors and styles, get em' while they last!  
Expiration – when they are gone! 
Page Break 
Preferred partner spotlight 
Try one of our new menu items at the Friendly Fisherman! 
Fried Oyster appetizer $11.79 
Fresh Oyster fried crisp and served with a spicy Cocktail sauce. 
In Shore Platter           $18.49 
Flounder fillet, hand breaded clam strips and crispy bay shrimp. 
Served with fresh made cole slaw, corn fritter and fries. (fried only)