Fishing report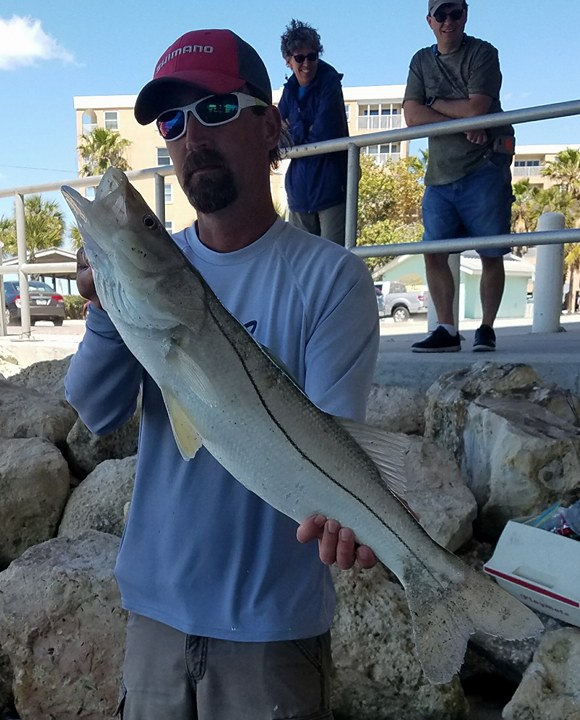 Inshore– Snook bite is heating up along the beaches and in the pass. Jeff Moffett from Illinois was down visiting for a few days and was nailing over slot and a few slot sized snook from the north jetty of Johns Pass fishing the shadow line of the west side of the Johns Pass bridge using live greenbacks. He reported the incoming tide through the daytime was when he saw his best bites. Also, in the early morning hours he was catching huge trout instead of snook some in the twenty four inch plus range. Tim Jensen, from Pinellas Park, was fishing the boardwalk working spro jigs along the bottom through the morning catching huge flounder along the bottom and nice trout before sunrise. The bite is definitely on inside the pass, make sure to pop by the store for your bait, beer, ice and fishing tips and tricks.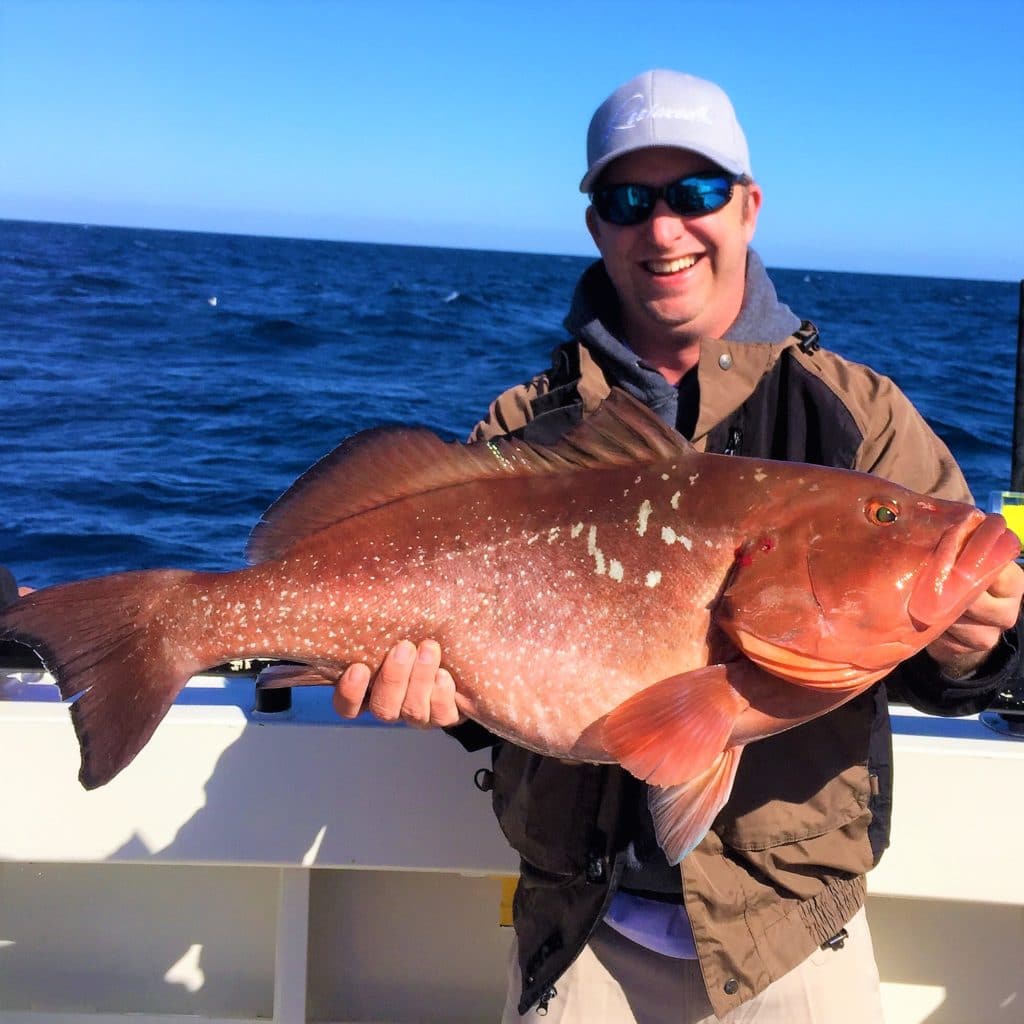 Near shore– The fishing is finally starting to pick up behind the bad low pressure weather we have had. This high pressure settled into the area keeping the weather nice but the east breeze blowing, which is fine for near shore fishing but has the daytime fishing a little slower due to the stagnant high pressure and full moon allowing the fish to feed all day and night instead of primarily all day.  Despite this, we have caught some really nice hogfish on the 5 and 10 hour trips the past few days. Red grouper are still creeping into the nearshore waters, but the big boys are still out deeper. Kingfish and mackerel took a little break, but were starting to hit them hard again now that the weather has cleared up.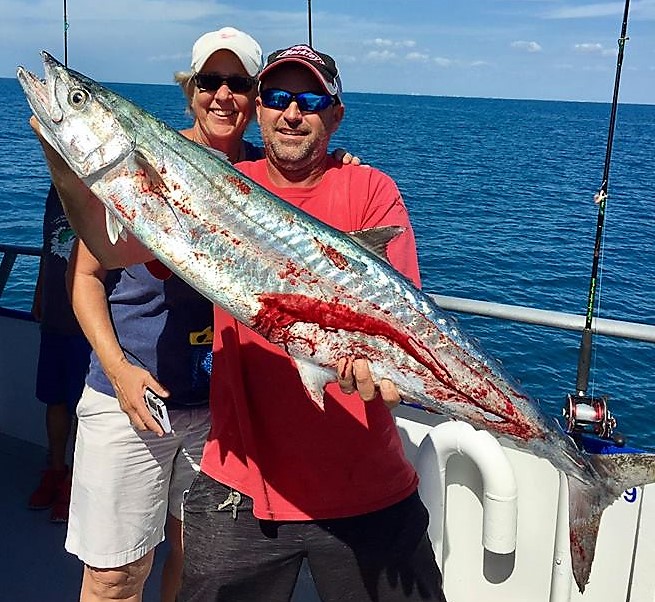 Offshore– fishing the backside of this full moon on our recent mid-week 39 hour deep sea fishing trip paid off well during the night bite, as soon as baits touched bottom the mangrove snapper were on fire. The night continued with steady aggressive snapper action with the occasional almaco or bar jacks mixed in. The kingfish were also prolific on the flat lines and the tuna made way for them only letting us land one tuna during the trip. Seemed like the kings were taking baits before the tuna ever had a shot. The day light brought on a much slower bite due to the full moon and high pressure discussed above, but we managed to grind out enough red grouper and some day time snapper to make the trip a great one. When the fishing is slow, stick and move works well hit the area let your baits soak and if they don't pop off time to go. We like to fish the hardest bottom and wait 20-30 minutes to allow the baits to get the smell going before checking out of an area.
Want to read the past reports? Check out this link: https://www.hubbardsmarina.com/hubbards-marina-fishing-reports/
Tampa Bay Ferry and Taxi news
The manatees are back in the area, we spotted quite a few yesterday while the water taxi was making its rounds great time of year to take a boat to Johns Pass instead of your car!
The water taxi is a great way to get your pets around the area with you, we do allow friendly pets on board along with your coolers and even bicycles! We want to ensure you're able to take what you want or need with you while exploring our beautiful local waters.
The Madeira beach water taxi is still running five days a week Wednesday until Sunday 10am-10pm and we have updated our website, check out the new look: http://www.tampabayferry.com/madeira-beach-taxi-route/
There's tons of stuff to do while catching a ride with the Madeira beach water taxi, check out all the things to do: http://www.tampabayferry.com/things-to-do/
Spring break has sprung, definitely a great time to utilize the water taxi and avoid the chaotic beachside traffic jams and struggle of finding and baying for beachside parking. If you park at stop number seven called Jungle Prada you can get free parking and it's easy to access from Park Street. Then you can hop on the ferry and water taxi and enjoy your ride to the beaches instead of fighting the traffic. Also, stop number four Madeira beach Municipal marina also offers free parking and that stop is well away from beach traffic on Gulf Boulevard. For more info on these stops like their address, check this link:  http://www.tampabayferry.com/madeira-beach-taxi-route/
Captain Jack's dolphin corner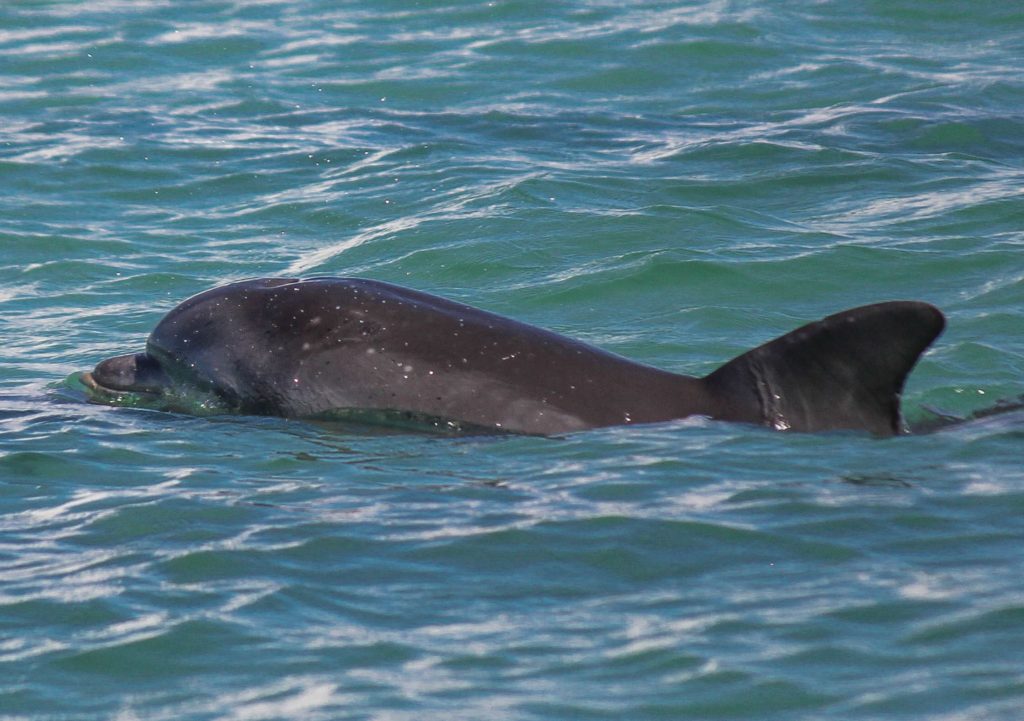 Manatees are back in the area, were starting to see the first groups of manatees returning from the northern springs. Great to see the water has warmed enough to allow these beautiful marine mammals to return home to our Boca Ceiga bay waters. They feed in the back bays on our plentiful and healthy turtle grass beds.
The local bald eagle that seems to be roosting atop a cell tower along the route of the dolphin watching nature cruise and eco tour boat here inside Johns pass is getting fat with the many mullet we have spotted him swooping up along the back bay waters.
Great time of year to visit Egmont key! The weather isn't too hot quite yet, plus during spring break the Egmont key alliance has been opening the island's guard house to the public and it acts as a museum. This is a great additional value to any island visitors that want to learn more about this pristine nature preserve and historic island paradise.
Dog Leg key, our local island Rookery, has plenty of baby seabirds on the island right now. The most visible ones are the baby pelicans they are all white with brown feathers along their backs. Also, we have lots of baby egrets on the island too. The Roseate spoonbills have nested and eggs have hatched but they roost so deep in the island you won't spot their juveniles until they start leaving the nests. All this to say it's a great time to join Hubbard's Marina for a dolphin watching nature cruise and eco tour to spot all the baby birds at the nesting island.
The gopher tortoise population at Egmont key has been very active lately and it's great to see them all over the beautiful island. They are very populated now around Egmont key and you can spot them sunning themselves all over the island.
Want to learn more about dolphins this winter? Check out the new great Johns Pass dolphin facts series on our Hubbard's Marina YouTube channel to check out to see them all watch our dolphin playlist here: https://goo.gl/2mYjX2
Upcoming up at Hubbard's Marina
April 22nd we have a 2pm Bass pro shops seminar, join Capt. Dylan Hubbard to talk offshore fishing! We will even give a FREE 10 hour trip to one lucky attendee who stays for the entire seminar. To see more about the event, and to show your friends you're going check out the event page: https://www.facebook.com/events/646020485589348/ be sure to click 'going' or 'interested' and share the event with your friends on your timeline!
May 5th Friday 39 hour has tons of room on board, with only 15 people booked right now there's tons of great real estate left for you and your friends. These light loads give a great opportunity for plenty of fishing area and more one on one help from the captain and crew. Call us to book a spot, (727)393-1947 or reserve online: http://HubbardsMarina.com/reservations
The Tampa bay ferry and water taxi service has expanded to 5 days a week! It's a great way to see the area and get to the beaches while avoiding traffic and beach parking chaos. For more info about the routes, stops and schedule check out this link: http://www.tampabayferry.com/madeira-beach-taxi-route/
To book trips on our site, check out this link: https://www.hubbardsmarina.com/reservations/
Want to stay up to date with the latest catches, reports and more from Hubbard's Marina? Follow the new live video segments that Hubbard's Marina is posting daily to Facebook! Also, more Instagram photos and videos are popping up too! Plus, were on the FishBrain app now too and they were nice enough to add Hubbard's Marina as a fishing location so now on your future trips you can upload your catch to our location. If you have questions or want more info about all this message Dylan Hubbard on the Hubbard's Marina Facebook page or shoot him an email: info@HubbardsMarina.com
Regular's club
Hope you all can join us for our April 22nd two pm seminar at the Tampa bass pro shops! We will be giving away a free 10 hr. all day to one lucky attendee and we will be talking offshore fishing. Please bring your friends and questions and hopefully Capt. Dylan Hubbard can help teach you a little something to add to your fishing tips and tricks. Don't forget to wear your Hubbard's Marina gear too!
If you have not renewed yet for 2017, please do so before booking your 2017 trips and you definitely want to get it done before January first. If you do not, we will be changing you to the FREE Johns Pass club which does not give you benefits you're used to. Once in this club, you can always upgrade again to a paid club but if you book using your number while it's a FREE Johns Pass membership you will not have your discount tied properly to your trips so get renewed before you book!
Captains Mark and Dylan Hubbard
Vice president and Regular's club manager Hubbard's Marina
(727)393-1947 ext 306