Fishing report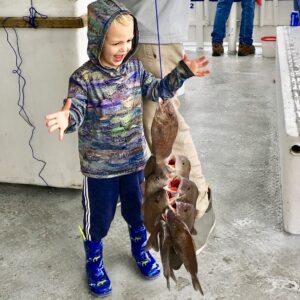 Inshore- Sheepshead fishing continues to be a consistent winner as far as action inside the pass goes, especially from shore. The sheepshead spawn is in full swing and they are biting well, but this warm spell may spread them out a bit through the weekend. Trout fishing continues to impress as the big gators have shown up to the area in the 14-18 inch range inside Johns Pass and Upper Boca Ceiga bay. The pompano fishing should be picking up quite a bit this week with the more mild consistent weather settling back in the area. They love the Nekid Ball jigz bounced along the sandy bottom beaches or jetty of Johns Pass especially the 1/4oz and 1/2oz sizes.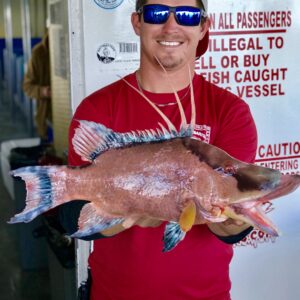 Near shore- Black seabass fishing is at its peak this time of year and were seeing some true monsters being landed. In our area a monster seabass is 14-18 inches not quite the huge ones they see in the north east but still great eating and fun to catch. The grey snapper and porgies are biting well right now too. Yesterday's half day brought in piles of grey snapper, porgies and some monster seabass plus some nice hogfish. Thursday's all day also had a similar catch just much more plus big lane snapper and nearly 10 big hogfish.  The weather looks awesome for the next week so the fishing should only improve in the coming week.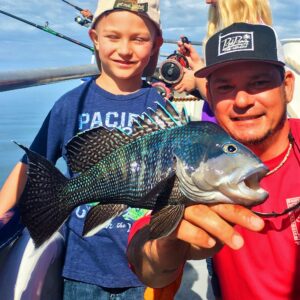 Offshore- We have been doing well on the big lane snapper, hogfish, tuna and red grouper offshore lately. Plus, we have seen a large push of mutton snapper in our offshore waters as well. The tuna fishing is always at its best during the month of February and flat line and vertical jigging action is always a great way to pick up some big blackfin tuna this time of year offshore. We're looking forward to a super light load on our 39 hour this weekend it should bring in some nice Mutton snapper, big blackfin tuna and hopefully a pile of fat red grouper too along with the mangrove snapper, yellowtail snapper and more! Sunday's 12 hour extreme has a super light load too and the red grouper and tuna action should be steady along with yellowtail and more!
Want to read the past reports? Check out this link: https://www.hubbardsmarina.com/hubbards-marina-fishing-reports/
Captain Jack's dolphin corner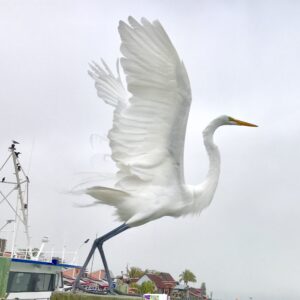 What is great to see right now is that we have reddish egrets and tons of roseate spoonbills nesting on the island as well. This year is the most roseate spoonbills we've ever seen nesting and we have two reddish egrets roosting. These reddish egret nests are super special as they are on the endangered species list currently.
This time of year the mating plumage is starting to show up on the local seabirds. This makes the views around the bird nesting islands even more unique and enjoyable.
Bald Eagles have shown back up to our area and were spotting quite a few during our dolphin watching nature cruise and eco tours at Hubbard's Marina. Plus, we see them often aboard the Madeira Beach water taxi or Egmont key ferry boats.
The baby birds are really showing up in force at the bird nesting island inside Boca Ceiga bay, and our dolphin watching nature cruise and eco tour is the best way to get an upfront view of this gorgeous local island rookery. We have baby blue herons, baby egrets, and even baby pelicans on the way!
During the past few weeks, spotting dolphins has been very difficult. While the water is cold, they feed heavily to keep themselves moving and their digestion helps to warm their internal core temperatures. Also, they get in larger groups to hunt the outflowing mullet schools heading into the gulf from the back bayous. However, great news is that they are now much easier to find and spot from our trips and seem to be very playful right now too!
Shelling is awesome this time of year at the Island thanks to the cold fronts and winter weather it stirs up the bottom of the gulf and pushes plenty of fresh shells, sharks teeth and more onto our beautiful gulf beaches. Great time of year to visit Egmont key, plus the weather allows for enjoyable exploration in the interior of the island without the chance of any type of bugs to bother you.
Hubbard's Marina Sea Adventures, Tampa bay ferry and taxi, and the Madeira beach water taxi are all now proudly power by Honda Marine! If you come visit us for a dolphin tour, sunset cruise, Egmont key island trip, snorkeling, shelling, water taxi ride or any type of ferry or pleasure cruise trip then you will be riding a boat powered by Honda Marine! These new motors look great, are super quiet and are great on fuel economy! It was tough to get four boats re-powered with new engines but it was well worth the change and were very happy! Hope you get a chance to see these brand new super cool engines at work on board one of our pleasure cruise and ferry boats! To learn more about Honda Marine engines for your boat, check out their website: https://marine.honda.com/ They have the best warranty in the industry right now, you get a full 5 years and you just can't beat that!
Upcoming up at Hubbard's Marina
NEW SEMINAR DATE – Want to win a FREE 10 hour all day or FREE 5 hour half day at Hubbard's Marina? Join Captain Dylan Hubbard (https://www.facebook.com/CaptainDylanHubbard/) for a great seminar at Bass Pro Shops Tampa Saturday February 17th at 2pm! For more information, check out the Facebook event: https://www.facebook.com/events/2033606443521616/
If you want to do a customized private fishing charter with the ORIGINAL and longest running private charter fishing fleet in Florida, Hubbard's Marina is the place to be! We do all types of unique private charter fishing options, plus were the only ones in the area that can accommodate larger groups of 7 or more on our private charter fishing trips out of Johns Pass Madeira beach. We have four custom built private charter fishing vessels at Hubbard's Marina that can be privately chartered for you and your group's fishing adventure.
Next long range specialty trip is a 39 hour long range deep sea fishing trip on Feb 16th, and it has a SUPER light load. This is the trip if you want a chance at some great eating blackfin tuna! Also, it will give you a great opportunity for some red grouper, mangrove snapper, yellowtail and vermilions and more while fishing around the new moon.
2018 specialty trip schedule is now LIVE on the Hubbard's Marina website! To see all the 12, 39, 44 and 63 hour trips for the next year check it out here: https://www.hubbardsmarina.com/specialty-fishing-trip-schedule/
We have changed around a lot of stuff on our website, you should check out the added material on our FAQs page to further explain bait options, best spots on the boat, rod rental options and lots more helpful information to hopefully help first time anglers with us have a more quality experience. To see the changes, check out the FAQs: https://www.hubbardsmarina.com/faqs/
Gag grouper also open up June first and remain open until the end of 2017 so get ready for some big grouper fishing action with us at Hubbard's Marina.

Regular's club
PLEASE sign up for the 2018 clubs or renew your 2017 membership ASAP, we are doing our end of year cleaning of the club and your membership will be changed to inactive if you don't renew soon!
Don't let your membership laps and loose seniority, call us today and get set up for the 2018 regular's club membership!
Remember, this is a loyalty program not a discount program so you got to go fishing often to make it worth it for yourself.
Captains Mark and Dylan Hubbard
Vice president and Regular's club manager Hubbard's Marina
(727)393-1947 ext 306
CaptHubbard@HubbardsMarina.com
View this week's coupon CLICK HERE