Right now, in shore we're seeing the sheepshead really influx in our area the sheepshead is getting concentrated and prolific around local structures. Docks Piers bridges jetties and a lot of different structures are holding concentrated sheepshead. Sheepshead love small pieces of shrimp or cut oysters or clams as well. Sheepshead will also take fiddler crabs or sand fleas too. Some people will even use barnacles while targeting sheepshead with great success. Most of the time you want to use a smaller around one aunt to size 1 hook that's strong enough and won't break with the strong mouth of a sheepshead. Lighter leader is a good idea around 15-to-20-pound fluorocarbon is typical. Minimal weight is also a good approach from a split shot to a very small egg sinker and if possible, no weight at all.
Snook action is still happening around our passes despite the water temperatures cooling down. Most of the snow have moved into the Back Bay and we're seeing the best snook action closer to the mouths of creeks rivers and bayous in the area. However, some guys are still having the left catching snook in the early morning hours prior to sunrise inside and around John's pass.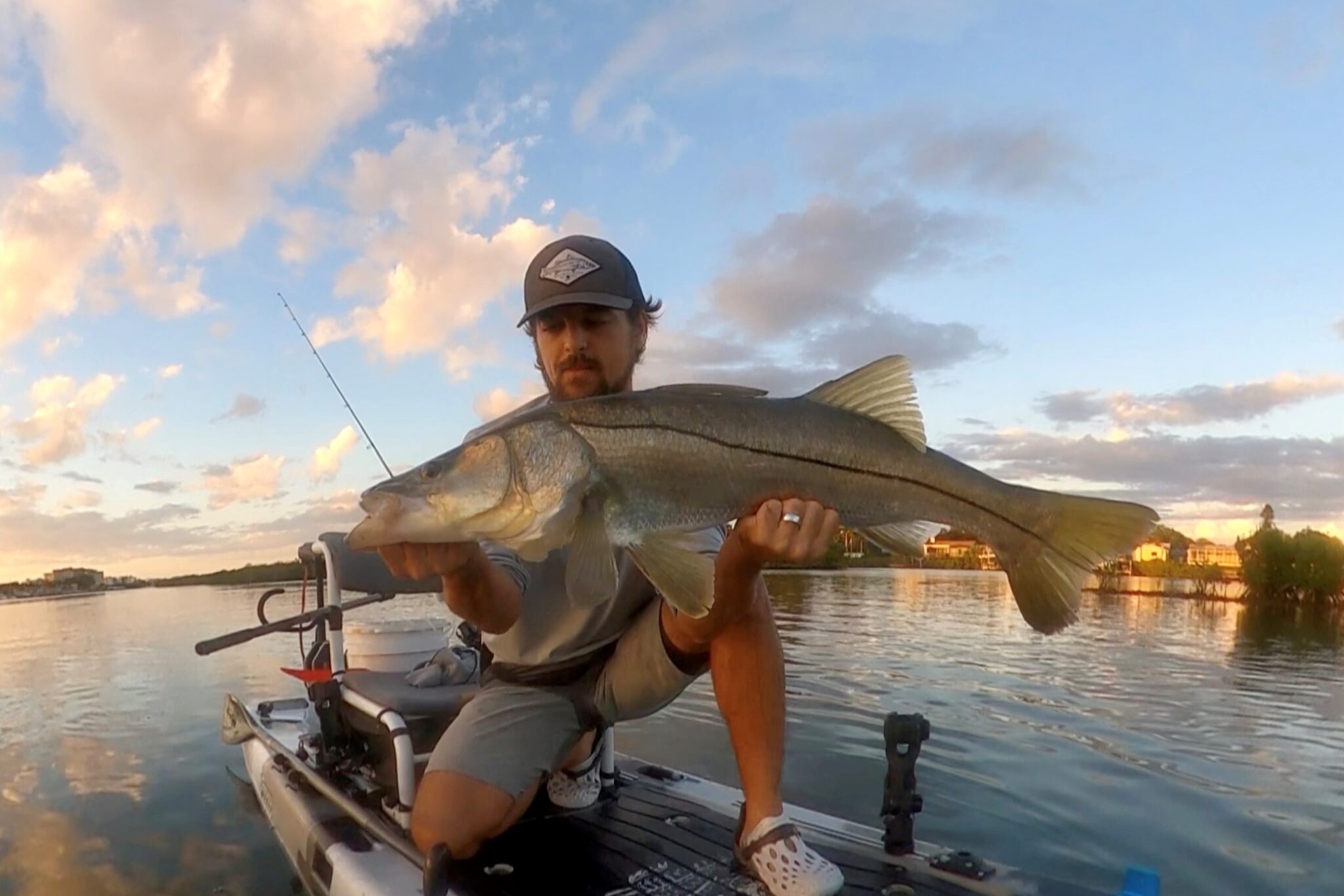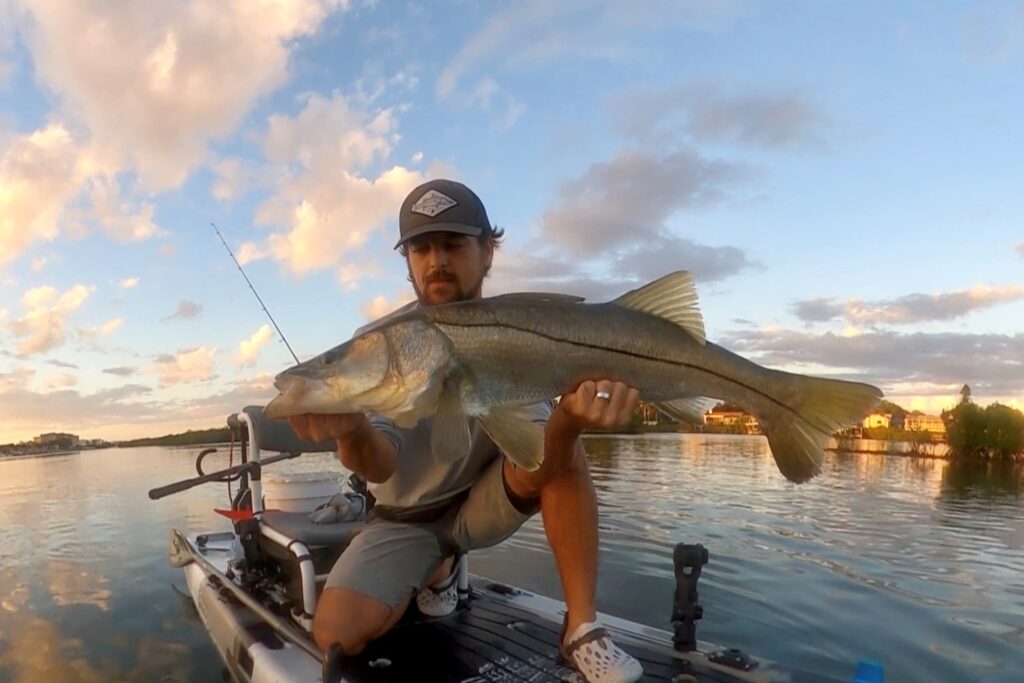 Pompano have returned to our local passes a lot of local anglers are catching some nice Pompano off the North and South Johns pass jetties currently. You can also find Pompano inside the pass around the mangrove islands especially the northernmost mangrove island on the South side there's a little channel that typically holds good numbers of Pompano. One of my favorite areas to target Pompano would be the blinds pass bridge or blinds past sandbar as you exit blinds pass on the north side of the channel. Pass a grille sandbar and pass a grille jetty are also good locations to target Pompano. Pompano are looking for live shrimp on the bottom, but they love sandfleas as well. I have heard people having success using fiddler crabs for Pompano as well but it's not something I have tried. One of the best method methods for Pompano would be using a Pompano jig bounce slowly along the bottom. Just keep in mind Pompano feed right on or just above the bottom so when you're working those Pompano lures you only want it bouncing about four to six inches off the bottom.
Flounder have picked up around the area we're seeing flounder around our local piers bridges jetties docks. Flounder love live shrimp right on or just above the bottom they will also take slow moving soft plastics too. To target bigger flounder a medium to large Creek chub or mud minnow is a good idea but they also will bite smaller pin fish too. Flounder our ambush predators that hang out right on the bottom, so your bait must be in contact or within a few inches of the bottom to attract a flounder to bite. They are mainly only on sandy bottom adjacent to structures. Typically, on the downside side waiting for bait to be pushed through the structure by the current. Keep in mind flounder are closed and not able to be harvest until December 1st.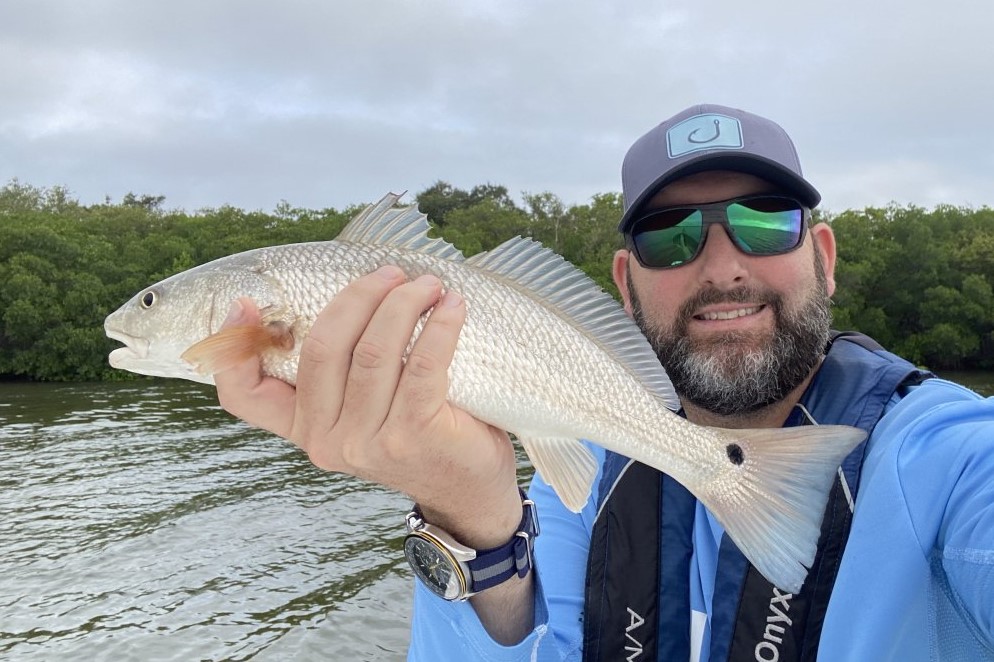 Redfish have started to trickle back in from their near shore spawns and we're starting to find redfish moving through the past during the day and along the jetty. Most of the red fish are heading quickly through the pass back to the Back Bay grass flats and mangrove shorelines. Slow moving soft plastics are a great option for redfish and slow-moving swimming too.
Trout have started to move a little shallower and get more aggressive with the cooling waters this time of year. Trout are hanging on the edges of shallower flats and right on the flat in about anywhere from 2 to 4 foot of water. Trout love live shrimp small pin fish or slow-moving soft plastics.
         Mackerel are super thick around our inshore waters especially at the mouth of Tampa Bay and the mouth of virtually any pass in the region. In the early morning hours, you can find them more in the Bay and then through sunrise they typically move out of the passes or out of the mouth of the Bay with the outbound tide. We're seeing the mackerel hang right around the mouse of the passes and along the beaches during the day. Look for deeper faster moving water where beta is congregated typically given away by birds presents diving down on the water. We're catching mackerel using fast moving flashy or lures like gotcha plugs or casting spoons.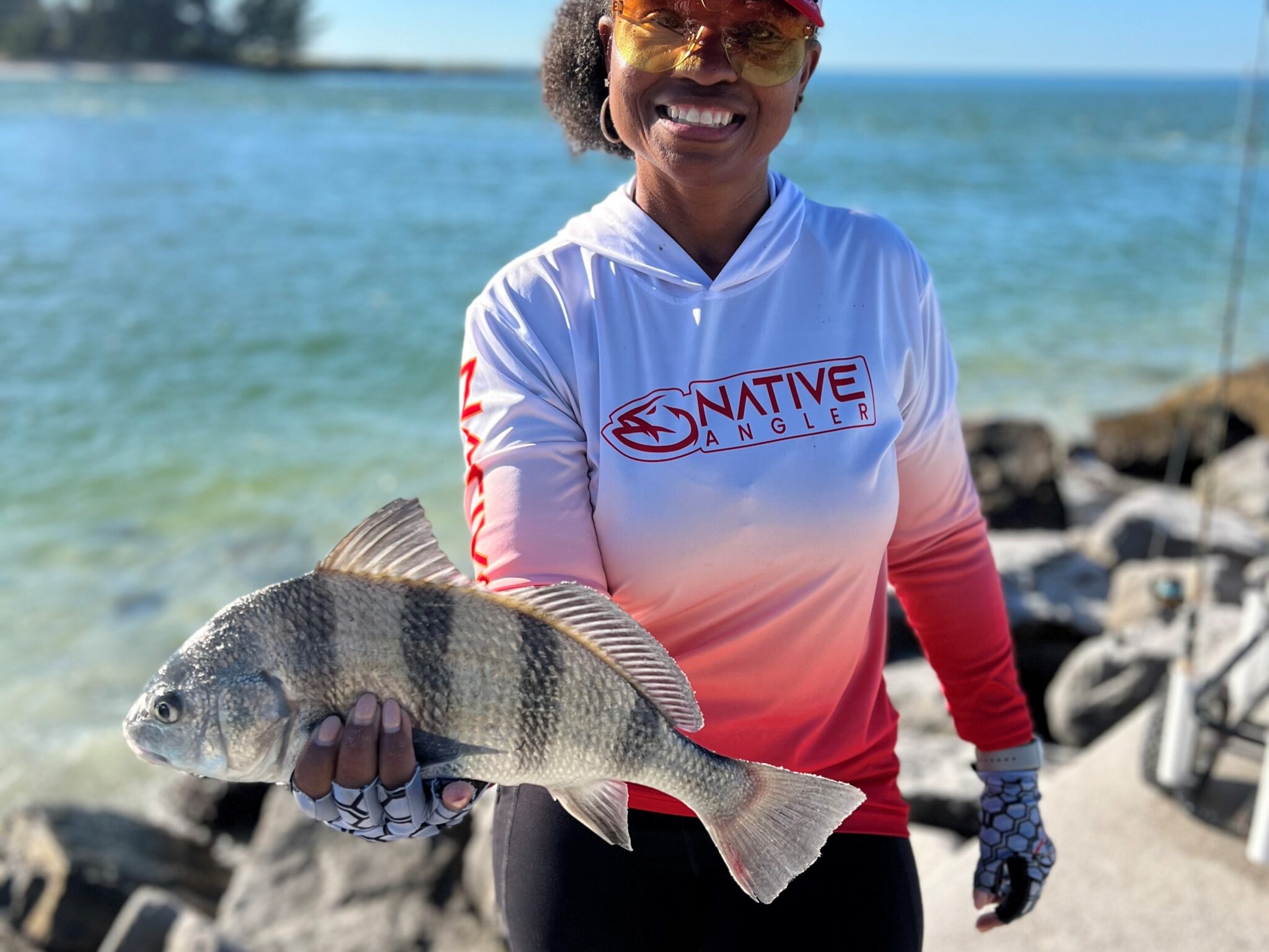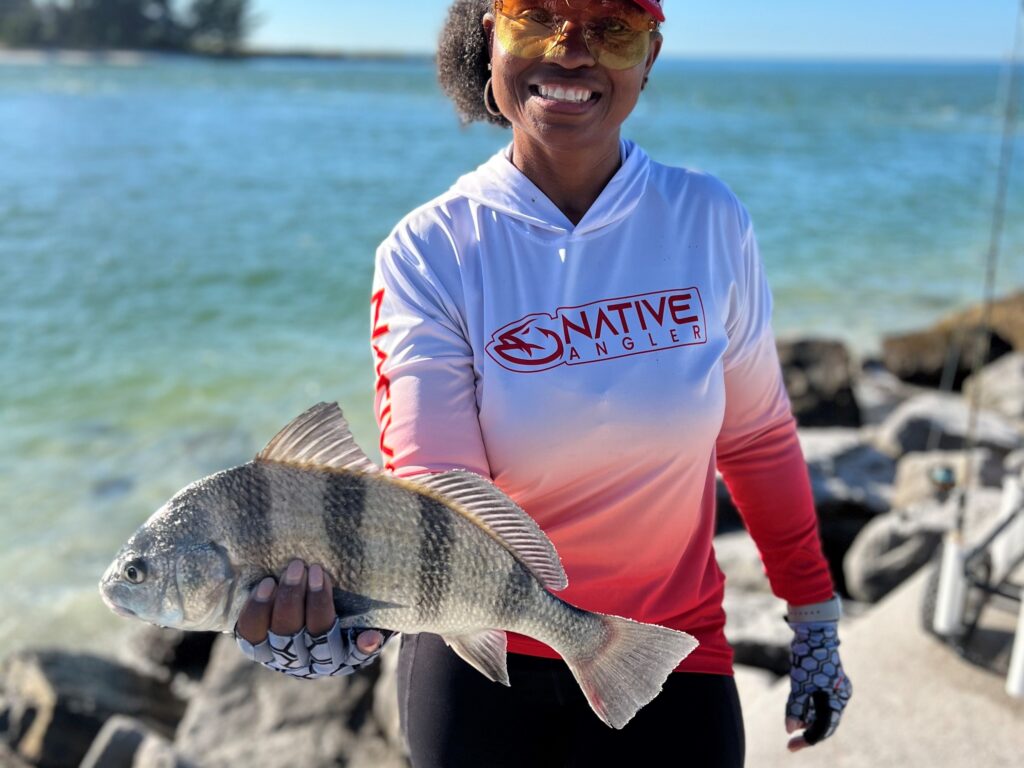 Black drum have still been prolific around our Back Bay and pass areas. We're seeing pretty good numbers of black drum being caught along the Johns pass jetties on both the North and South side. Black drum love live shrimp. However black drum will also take small crabs from past crabs to Blue Crabs to also fiddler crabs too.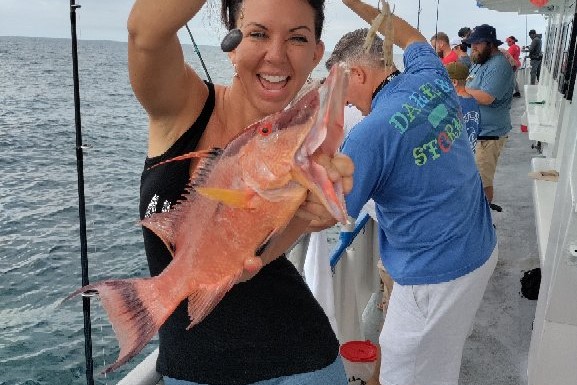 The hogfish bite has been great near shore and has really picked up and continues to be impressive. We are catching a good number of hogfish on our five-hour half days and also our 10 hour all days. The best area to look for hogfish is typically around 30 to about 70 feet of water. They love live shrimp or fresh dead shrimp with lighter tackle. We typically recommend around 30-pound fluorocarbon when targeting hogfish. Lighter weight is a good idea around one to two oz brings us good luck when near shore fishing targeting hogfish. About a three to four odd hook is a great option for the hog fish as well. Look for them on smaller structures like smaller ledges rock piles or areas of flat hard bottom and even shell bottom adjacent to the hard bottom is a good area to find hogfish scavenging for crustaceans along the bottom. The best trip to target hogfish would be a private fishing charter or a 10 hour all day giving you more time more flexibility to concentrate on catching hogfish. We are seeing a good number of hogfish on the half day, but it just doesn't give you a lot of fishing time and not a lot of flexibility to really dial into the hogfish. On some recent 10 hour all days we've been catching so many hogfish that experienced anglers with some good luck have been catching limits of hogfish. If you ever wanted to catch a hogfish now until around March or April is the best time to get them.
Lane snapper and mangrove snapper have also been biting well near shore too. We are catching them using live shrimp while targeting hogfish. However, we can also catch them using bait. Lane snapper love live shrimp sardines thread fins and even shrimp too. Mangrove snapper typically like cut thread fins or sardines but love the shrimp as well. We're typically seeing more lane snapper once we're beyond about 50 to 60 feet of water. Mangrove snapper can be caused shallower but the majority of them are being seen once we get beyond about 60 to 70 foot of water period
Mackerel or extremely thick near shore we're seeing a lot of mackerel while trolling out on our five-hour half days. Typically, the 10 hour moves too fast to troll but sometimes using specialized trolling tackle we can't even troll on 10 hour all days but we have more success while traveling more slowly on our five hour half days optimal trolling speed is around 7 to 9 knots which is perfect on a 5 hour half day. Trolling a number one planer with about 14 to 18 feet of 40 to 60 pound monofilament to a 6 inch drone spoon has been a great option for catching mackerel and the occasional kingfish near shore. Big fish action near shore has been slow we haven't been seen very many kingfish, but they are around and we are catching them. However, it would be false if we said we were catching a lot of them very often.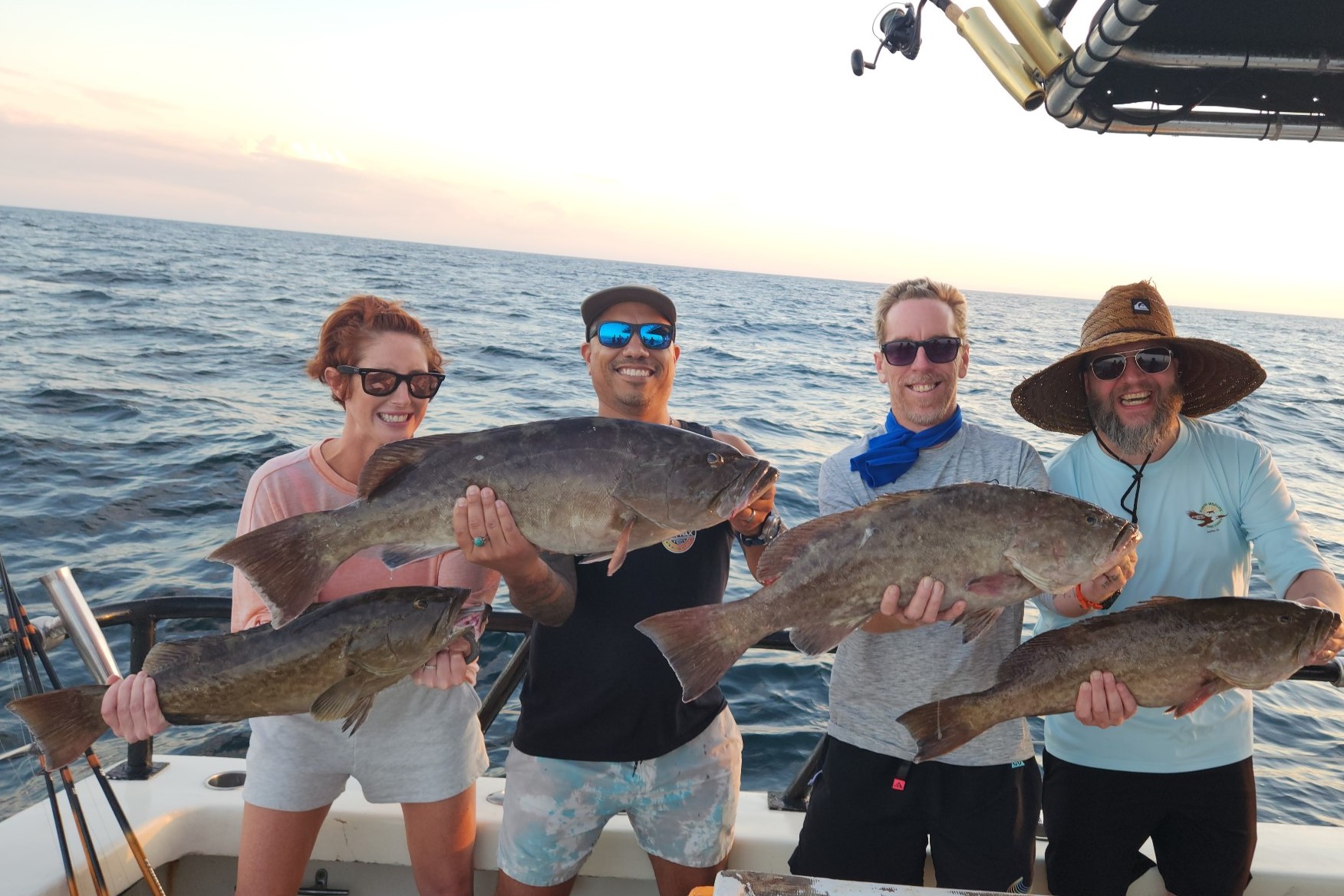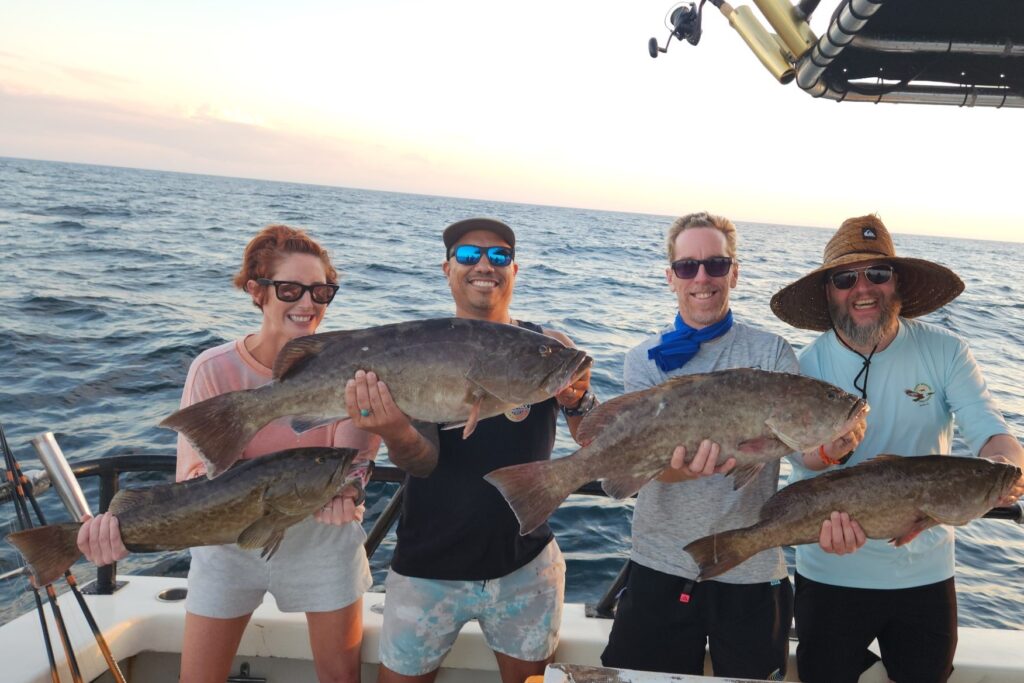 The gag grouper have also moved in near shore and some even in shore as well. We are catching a lot of gag grouper trolling on our hub private fishing charters. We are using the mural lure 25 plus lipped diving plug with great success trolling for gag grouper anywhere from about 20 foot of water up to about 60 feet of water. We are also catching gags while anchor fishing with live pin fish or whole thread fins. However, when targeting gags near shore the success using trolling plugs has been high because you're less likely to get rocked up by these very aggressive hard fighting fish. When trolling the gags don't have a chance to Rock You up because when they bite the inertia of the vessel pulls them away from their rocky homes. We're typically utilizing around 65-pound braided line and a 6 to 8000 series spinning reel to troll for gag grouper. We add around 8 feet of 60-pound fluorocarbon on top of the braid tied straight to the lip diving plug. You want to make sure that plug is near the bottom but not in contact with the bottom or you'll lose a lot of plugs that way. Come out and join us for a hub private fishing charter to see the gag grouper trolling in full effect many trips on our private charter boat have been catching a limit of gags trolling on five-to-8-hour trips.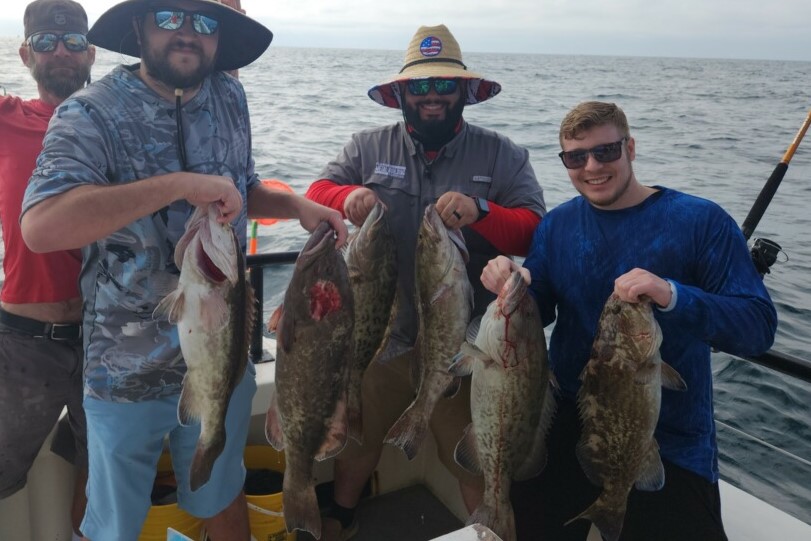 Gag grouper have been our focus offshore right now with big live baits and big debt baits hitting big ledges rock piles in any area we can find these big keeper gag grouper. We're having some pretty good success on our long-range trips finding hungry gag grouper as they move in inshore and nearshore we still see good numbers of gags offshore and deeper water. Plus while targeting gags, we often will encounter scamp grouper as well especially when fishing a little deeper scamps are most frequently encountered once we're beyond 100 foot of water and we see the big ones once we're passed about 160 to 180 foot of water.
Mangrove snapper fishing offshore is going well right now uncut pieces of threadfin with the double Snell rig. We have great success catching some big mangrove snapper this time of year the overall size generally is a lot larger this time of year as well. It's a great time to Get out there and target some big mangrove snapper. The biggest mangrove snapper will also buy live pin fish the small to medium size.
Yellowtail snapper have been present offshore for us as well catching them on small strips of squid live shrimp and even the cut threadfin on the double Snell rig.
Big Vermilion snapper I've been present offshore and we've been seeing a mix of al macOS and porgies in the mix with Vermilion too. Great time to get offshore when you can find the weather windows and there's plenty of fish to be had once, you're out deep.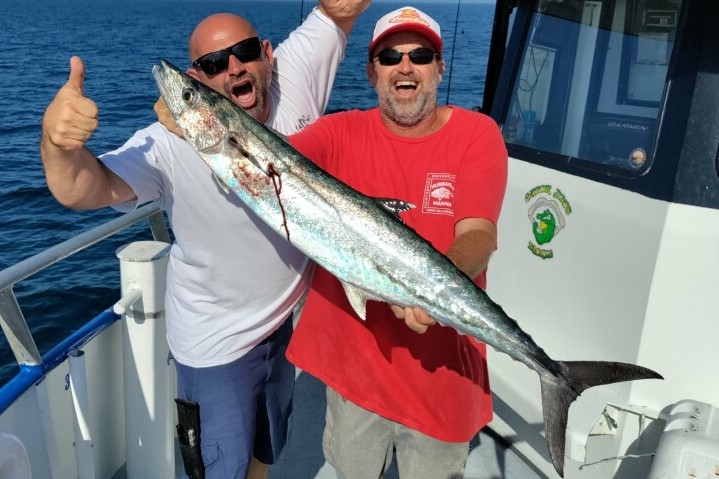 Pelagic wise offshore we've been seeing a handful of the blackfin tuna still and the big kingfish have been very prolific. We have the most success trolling for blackfin tuna, but we've lately caught them on the flat line and also while vertical jigging too. Kingfish are similar most of the time we catch them trolling but we do find them on the flat line and even while dropping live baits to bottom.