Fishing report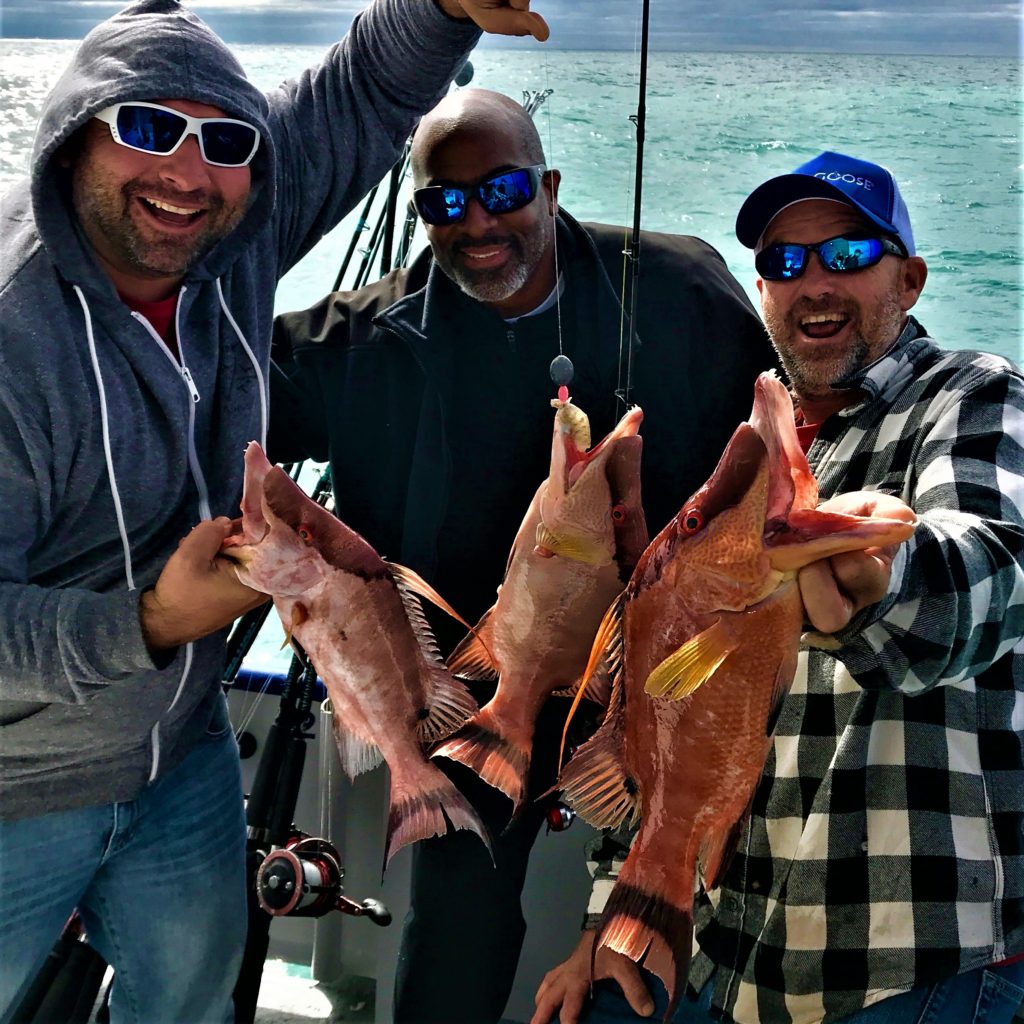 Inshore- Weather has been a little wild yet again this week, but we have had some weather windows allowing some good fishing opportunities. The sheepshead bite has been great this week with plenty being caught around Johns Pass Bridge and the jetties in the pass. We are seeing lots of silver trout and whiting being caught around the Jetties of Johns Pass and from the beaches as well especially on live shrimp weighted to the bottom with about a 2ot hook. The black drum are still around we saw a few big ones cruising the seawalls around our docks at Hubbard's Marina. Plus, the redfish bite has been good in the back bay waters around the oyster bars especially with the full moon tides the night bite has been hot.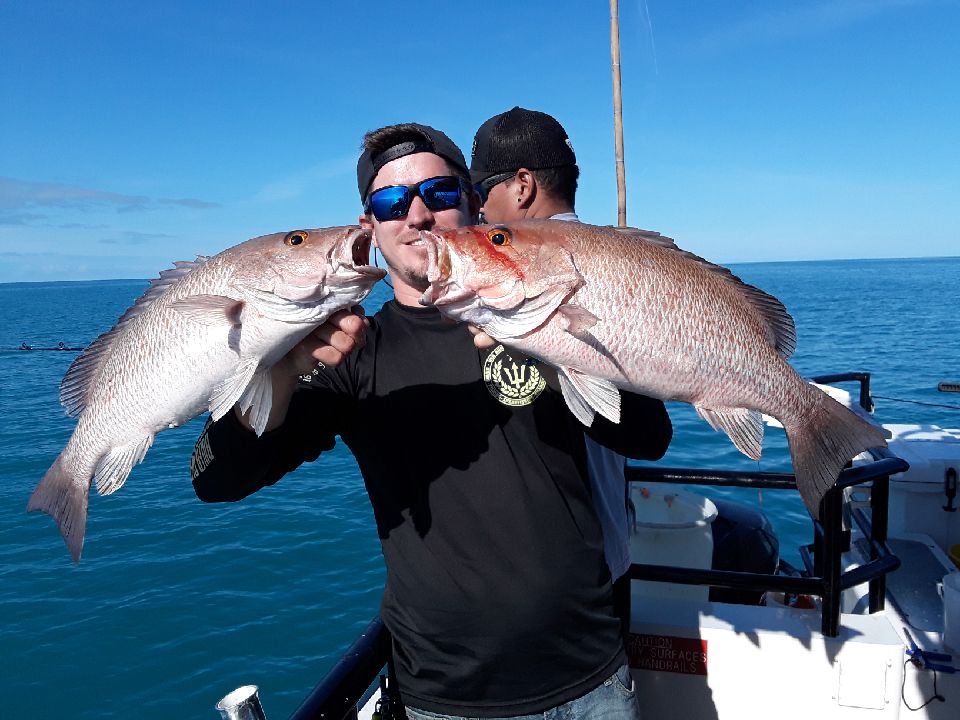 Near shore– This is the last weekend for gag grouper fishing action before they close at 12:01am on January first 2019 making December 31st the last day to land keeper gags until June first 2019. The weather for Saturday, Sunday and Monday looks perfect for hunting gag grouper near shore or offshore! Also, the gag bite has been great when the weather has allowed us to get out and it's been clear enough for the gags to feed well. Behind the fronts we had a few slow days due to the water being so stirred up, however, for the most part the gag action has been wild! Also, the hogfish bite has been steady along with the gag grouper action too and they will remain open into the New Year. The mangrove snapper action and lane snapper have both been great too and they will be open into the New Year as well. Also, red grouper will remain open into January so after the first when gags close the focus will shift to hogfish, red grouper, mangrove snapper and anything else that is feeding well!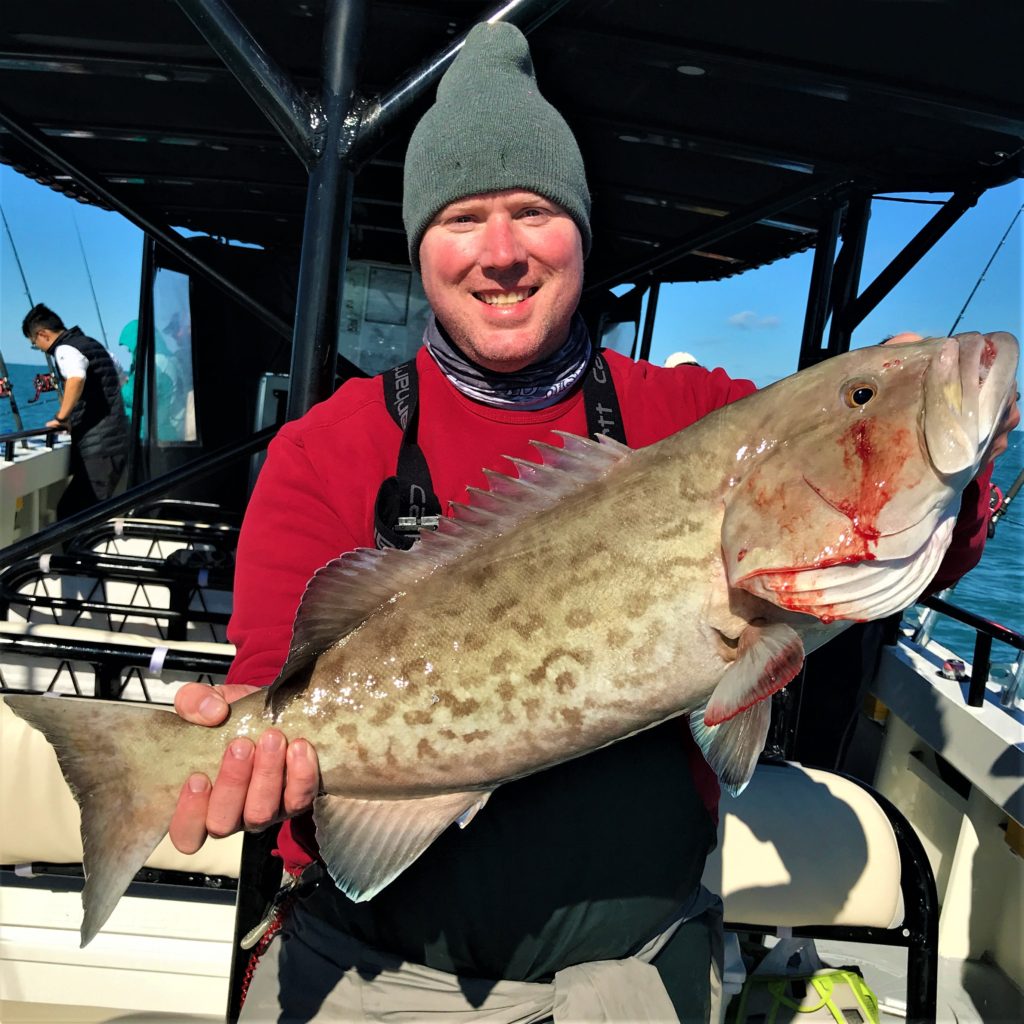 Offshore – Offshore fishing has been tough lately with the weather, but we have gotten a few long range trips out there for some deep water fishing. The gag grouper fishing was a little tough at the beginning of this week behind that super strong front last weekend the water was stirred up even out past 100ft of water and that kind of shut down the gag grouper action but we did get a few nice gags and the mangrove snapper really turned on helping filling the gaps. The full moon typically makes the day bite a little tough but the stirred up murky waters must have made the snapper wait till the daytime with extra sun penetration to feed well. As the waters cleared up, the gag grouper action really picked up well for us offshore.
Want to watch Capt Dylan Hubbard's Daily video reports? Check out the Hubbard's Marina YouTube channel and don't forget to SUBSCRIBE! – Hubbard's Marina daily fishing & boating report
Upcoming up at Hubbard's Marina
January 4th, 2019 is our first 39 hour fishing trip of the new year and it has a super light load right now with only 24 people going out there to load up on the hungry mangrove snapper, yellowtail snapper, red grouper, scamp grouper, tuna and many other species too!
Red tide is completely gone in the state of Florida, all reading levels are below 'background' ratings! This is great news, now hopefully they tell the national news about it too!
2019 TRIPS FILLING FAST Book your 2019 10,12, 39 or 44 hour trip TODAY while there's still tons of open room, these trips will fill quickly so book NOW. Last year red snapper trips were filled up by end of January, so don't miss your chance at securing your favorite trip TODAY. Here's the link for all your 2019 12,39 and 44 hour trips – https://www.hubbardsmarina.com/specialty-fishing-trip/
Want to learn more about fishing locally? Don't forget we have the Weekly fishing conversation or seminar by Capt Dylan Hubbard LIVE on the Hubbard's Marina Facebook page if you don't want to leave your house to catch a seminar! We also then upload this video to the Hubbard's Marina YouTube page shortly after the live video is over. This is weekly on Sunday nights from 8:30pm until 9:30pm, check out the event page and PLEASE LIKE AND SHARE the event if you have a Facebook page, and invite your friends as well! Here's the page to find the facebook event link, and view all the past LIVE Q&A fishing shows –  https://www.hubbardsmarina.com/past-qanda-live-streams/
Want some FREE fishing trips with us at Hubbard's Marina? Want to learn more about near shore and offshore fishing? Check out the upcoming Bass pro shops fishing seminar with Capt Dylan Hubbard at the Tampa bass pro location. The next seminar will be Saturday January 12th at 2pm. The fishing seminar or fishing conversation will be about an hour long of fishing conversation, tips, tricks and more! Plus, at the end of each seminar Capt Dylan gives away a FREE 10 hour all day for two guests and a FREE 5 hour half day for two guests to two lucky winners of the FREE raffle. To be entered in the raffle you just have to show up around 2pm and stay for the hour seminar. Check out the Facebook event for this upcoming seminar here – https://www.hubbardsmarina.com/bass-pro-fishing-seminars/ You can also view all the past bass pro shops seminars at this page too!
Don't forget about your Hubbard's Marina gift certificates for Christmas, if you're looking for a great present for the fisherman, dolphin cruiser, island lover of sunset enthusiast in your family the Hubbard's Marina gift certificate makes a killer gift for your friends, family and loved ones! Check out our gift certificate purchase link right here, you can send them to yourself and print them out for a gift at Christmas or you can email it to them directly it's up to you! Here's the link to buy your certificate today: https://www.hubbardsmarina.com/gift-certificates/
Captain Jack's dolphin corner
Red tide is completely gone from the state of florida finally! Great time to get out on the water and see the local wildlife, especially around the bird nesting islands, Egmont key or on our dolphin cruise at Hubbard's Marina!
The dolphins have been active lately around Hubbard's Marina feeding on large schools of mullet flushing out of the pass and working the seawalls for the plentiful sheepshead this time of year. Also, you can get lucky and spot the adult dolphins playing 'catch' with the fish throwing them to the juvenile dolphins to teach them how to better utilize their sonar for hunting prey.
Great time of year to join us for a dolphin watching nature cruise and eco tour, behind the fronts we have very active large groups of dolphins chasing the mullet schools flushing out of the pass into the Gulf of Mexico. These dolphins are actively feeding and spend plenty of time on the surface. Sometimes you can even get lucky and see them playing 'catch' with the mullet to teach the young juvenile dolphins how to hunt and use their sonar to catch these now stunned mullet when they get tossed back and forth. Here's all the information on our dolphin watching nature cruise and eco tour – https://www.hubbardsmarina.com/dolphin-watching-cruises/
Also, our sunset cruise with FREE beer and wine has been often spotting dolphins along the beaches feeding on the mullet so it's a beautiful time of year for a relaxing and fun 'party' cruise during the sunset tour at Hubbard's Marina. To learn more about the fun filled sunset cruise with free beer and wine check out this link – https://www.hubbardsmarina.com/sunset-cruise/
Hubbard's Marina Sea Adventures and Tampa Bay ferry are both proudly power by Honda Marine! If you come visit us for a dolphin tour, sunset cruise, Egmont key island trip, snorkeling, shelling, water taxi ride or any type of ferry or pleasure cruise trip then you will be riding a boat powered by Honda Marine! These new motors look great, are super quiet and are great on fuel economy! It was tough to get four boats re-powered with new engines but it was well worth the change and were very happy! Hope you get a chance to see these brand new super cool engines at work on board one of our pleasure cruise and ferry boats! To learn more about Honda Marine engines for your boat, check out their website: https://marine.honda.com/ they have the best warranty in the industry right now, you get a full 5 years and you just can't beat that!
Tampa bay ferry News
This is a great time of year to ride the Egmont key ferry from Fort De Soto's bay pier out to the island! The weather is perfect for exploring the interior of the island and checking out the fort on the island.
Also, the gopher tortoise at the  island are easy to find this time of year due to the cooler weather they are often spot sunning themselves trying to stay warm during the cooler mornings.
This time of year our shell key ferry from Fort De Soto's boat ramp is not running but come March 2019 the shell key ferry will start operating once again!
The Egmont key ferry is running daily as well with multiple rides out to the island from Fort De Soto's bay pier. Tuesday, Thursday and Saturday there's an afternoon ferry option too instead of just mid-morning. Check out the website for ferry prices and times. Plus, while on the island they offer a snorkeling trip too!
https://www.hubbardsmarina.com/egmont-key-ferry-cruise/
Regular's club
We have finished 2019 regular's club renewals and we are starting on signing up NEW MEMBERS, if you are interested in becoming a 2019 regular's club loyalty program member please reach out to Capt. Dylan Hubbard by sending him your name and cell number via email to CaptHubbard@HubbardsMarina.com. He will be in touch in the coming few weeks about the loyalty program that offers discounted trips if you fish more than 10,15 or 20 times a year with us at Hubbard's Marina. It also comes with some free gifts and other benefits too besides discounted trips, but it's NOT simply a discount program. It's a loyalty program and it requires fishing often and being a model Hubbard's Marina guest and showing the passion shared by all of us at Hubbard's Marina for fishing and our fellow anglers.
PAST AND PRESENT MEMBERS: be sure to renew your membership before 2018 ends!
Captain Dylan Hubbard
Vice president and Co-Owner
(727)393-1947 ext. 306
CaptHubbard@HubbardsMarina.com
Fishing Report Special
Half price 2019 fishing calendars ($5 with coupon) – all the best fish from 2018 showing you what we catch each month, plus it has the moon phases to help better plan your 2019 fishing trips at Hubbard's Marina! View Special Here
Preferred partner spotlight